Welcome to day 3 of my trip report!  For day 1, which covers Universal's Portofino Bay Resort and dinner at the Universal CityWalk, click here.  For day 2, which covers our day inside the Wizarding World of Harry Potter at Universal Orlando, click here.
Day 3 started with us waking up to find out how our youngest daughter, who had a fever the night before, was doing.  Thankfully, her fever was gone and she was feeling normal!  Yeah!  We all got ready and headed for the car.  This would be our first time driving to and parking at the Magic Kingdom.  I had done enough research to know that we needed to park at the Ticket and Transportation Center (TTC) and then take either the monorail or a ferry to Magic Kingdom.  I got my GPS all set up and we were on our way.
The park opened at 8:00, but our first Fast Pass wasn't until 8:30 so we left the hotel around 7:30.  The drive was supposed to take about 30 minutes, and I knew that catching the monorail would take some time too.  We followed the instructions on my GPS and eventually found the TTC parking lot.  I say eventually because my phone did not take us on the most direct route.  For a while, we thought we were way off course but we stayed on it and did finally come to the entrance.  We're not sure if my phone was rerouting us around some traffic or what, but we made it.  At the ticket booth we decided to pay for premium parking ($40 vs. the regular $20) which meant that we could park close enough to the monorail station that we wouldn't have to take a tram.  This was more convenient in the evening when we were all tired just wanted to get to the car ASAP.
We parked the car, walked a short distance to the monorail and then after a quick ride we were finally there!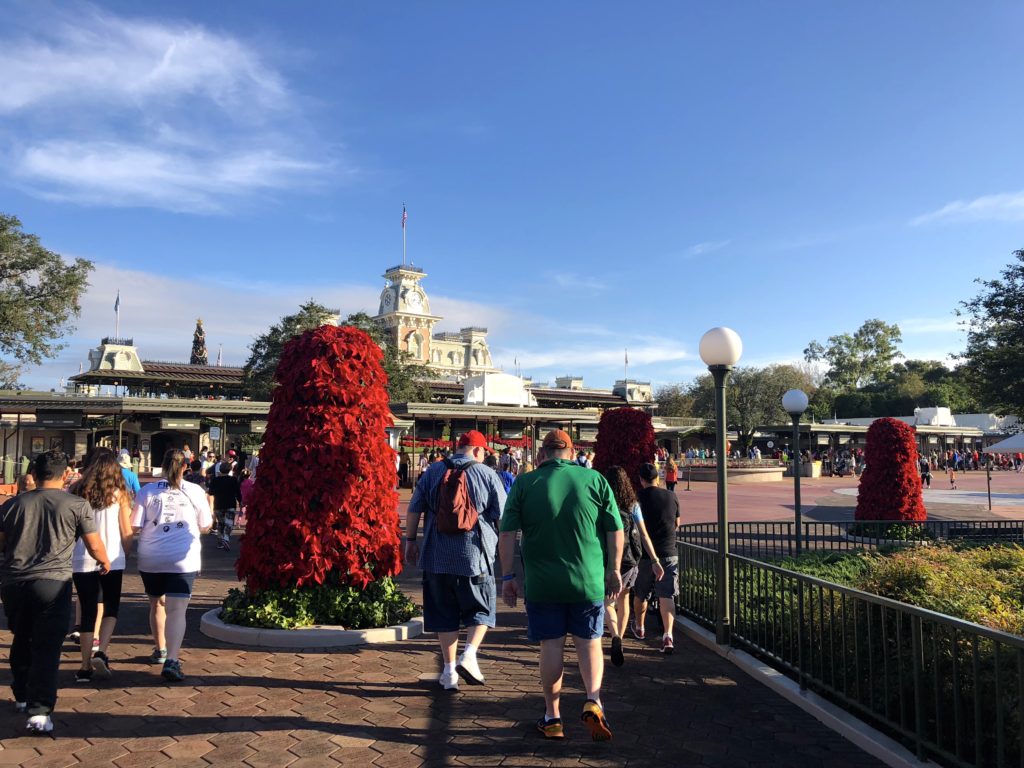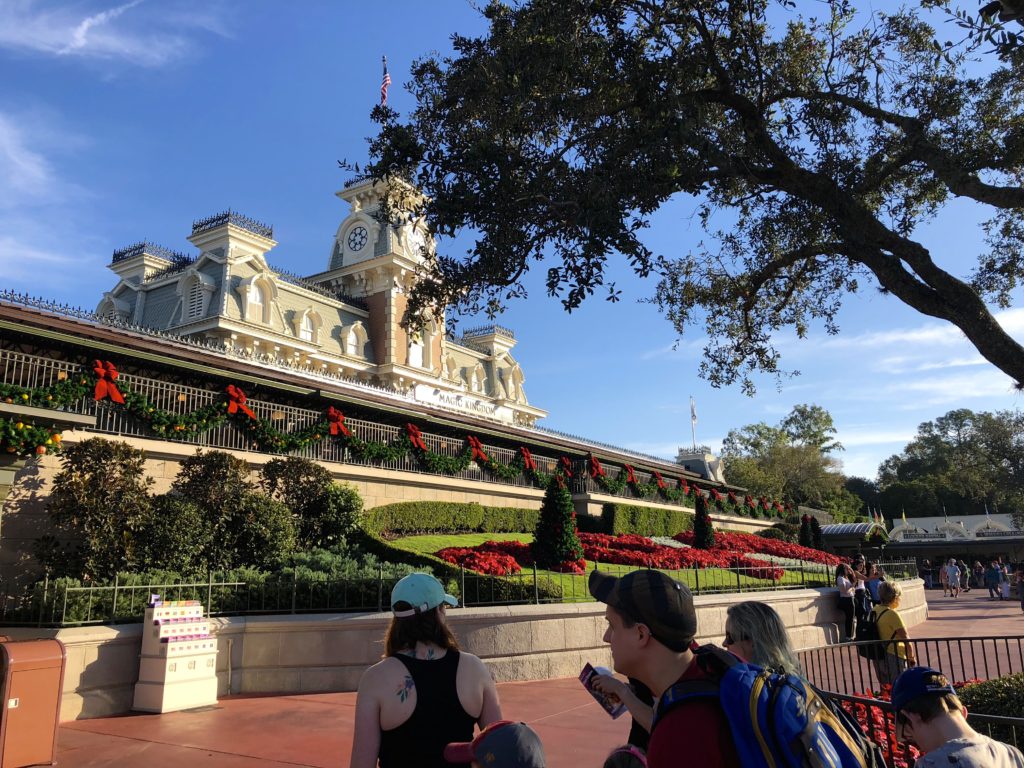 The first thing we did when we entered the park was go to Guest Relations at City Hall.  Since we weren't staying on property, our park tickets were cards instead of Magic Bands.  When our cards arrived in the mail, the paperwork didn't tell me which card was for which person, which meant that I didn't know who needed to use which card for their Fast Passes (we did not all have the same Fast Pass schedule).  I looked in the app and couldn't find it there either, but the nice man at Guest Relations looked it up in the computer and wrote all of our names on the correct cards.
After that, it was time to go to our first Fast Pass – Splash Mountain!  Along the way we checked out all of the holiday decorations.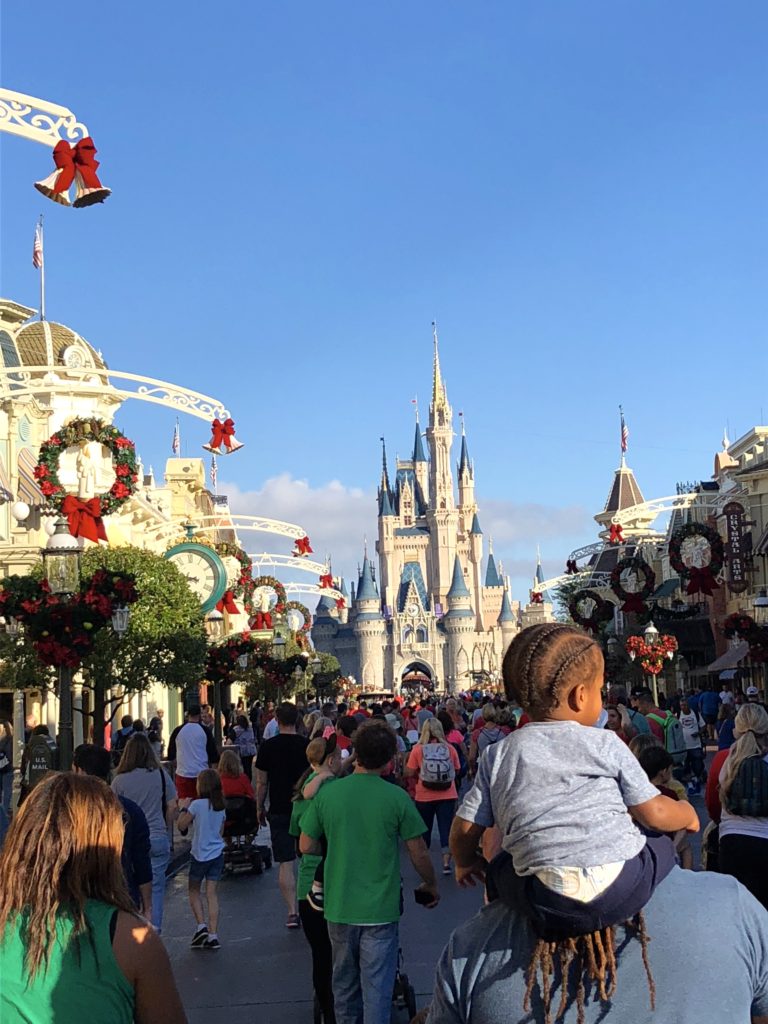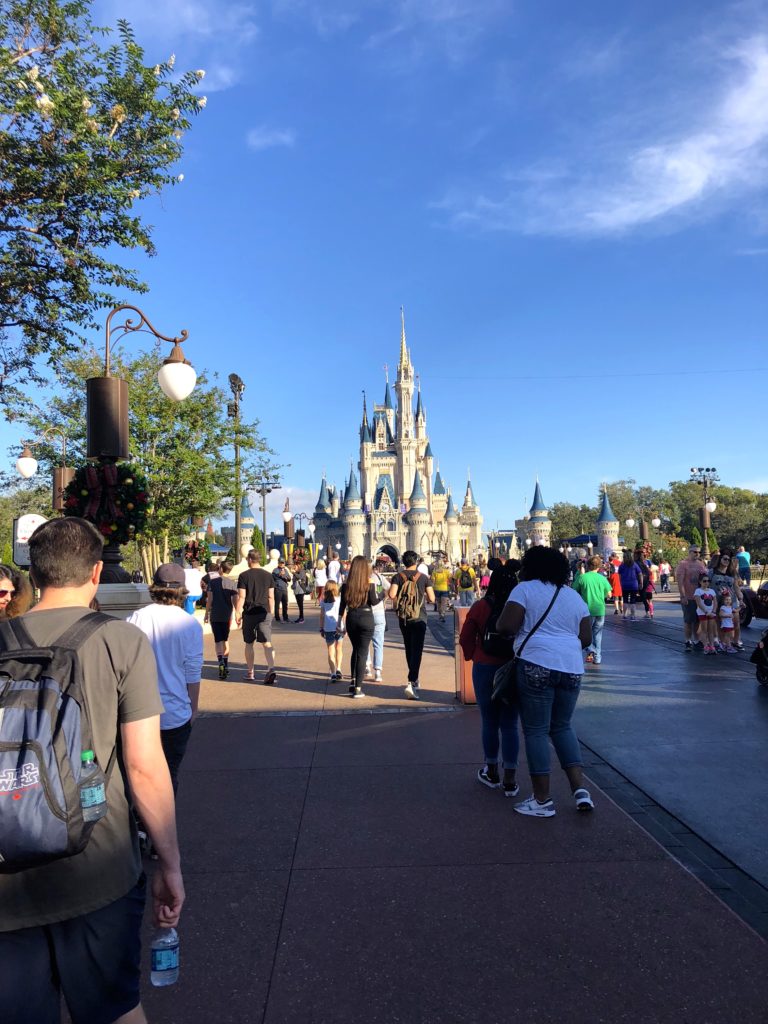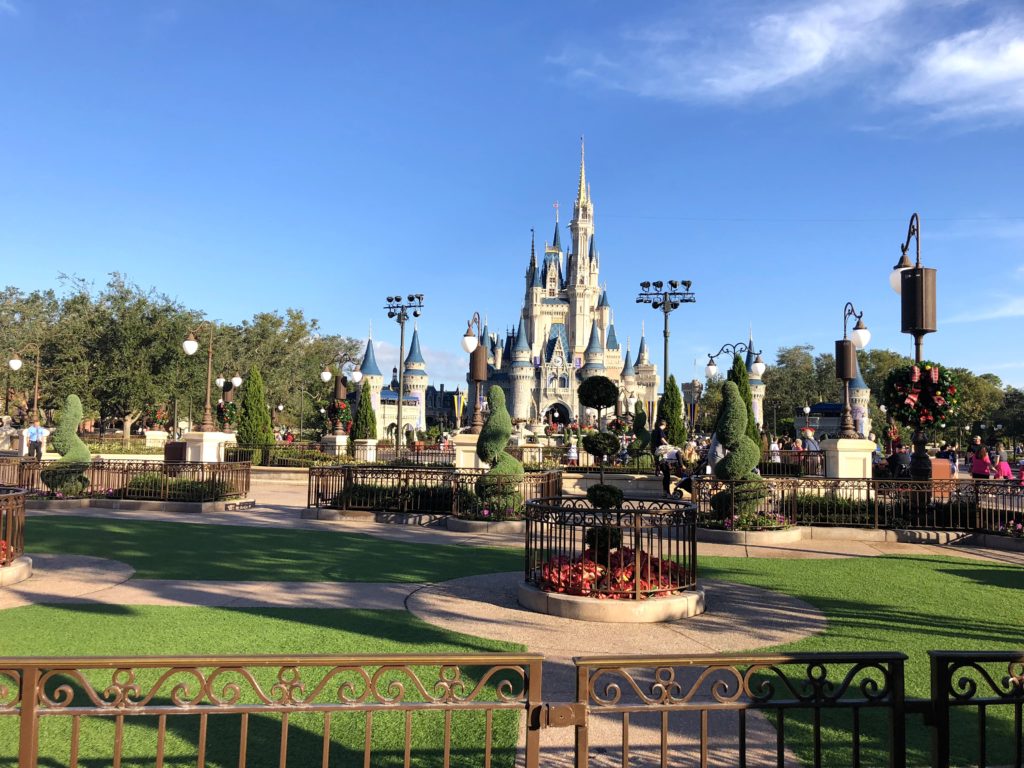 Let me pause for a minute and tell you a little about our plan for the day.  We had reserved the Ultimate Disney Classics VIP Tour for 1:30.  This tour is a group tour (not private) that provides your group with 2 VIP guides who give you access to the Fast Pass line at up to 10 of the classic attractions, all of which have no height requirement.  You don't know ahead of time which rides you will get, but it definitely won't be any of the ones that have height requirements.  On our last trip to Disney World, we did the Private VIP Tour which you can read about here.  That was before FastPass+ came along, when you used to have to run all over the park to get the paper Fast Passes.  We were also visiting at one of the busiest times of the year (the week before Easter) so for those 2 reasons we splurged on the Private VIP Tour at that time.  This time, however, the crowds were low (I think they were a 3) and getting Fast Passes is so much easier now that we decided to save some money and try out a much cheaper VIP Tour.  So, our plan of attack was to get Fast Passes in the morning for all of the rides with height requirements, which we were able to do (minus Seven Dwarves Mine Train – we could only reserve Fast Passes 30 days out so there was no hope of getting one for that).
Our first Fast Pass was for Splash Mountain.  When we got there about 8:30, the line was so short that we didn't even need the Fast Pass, but oh well.  We didn't have to wait at all to get on this one.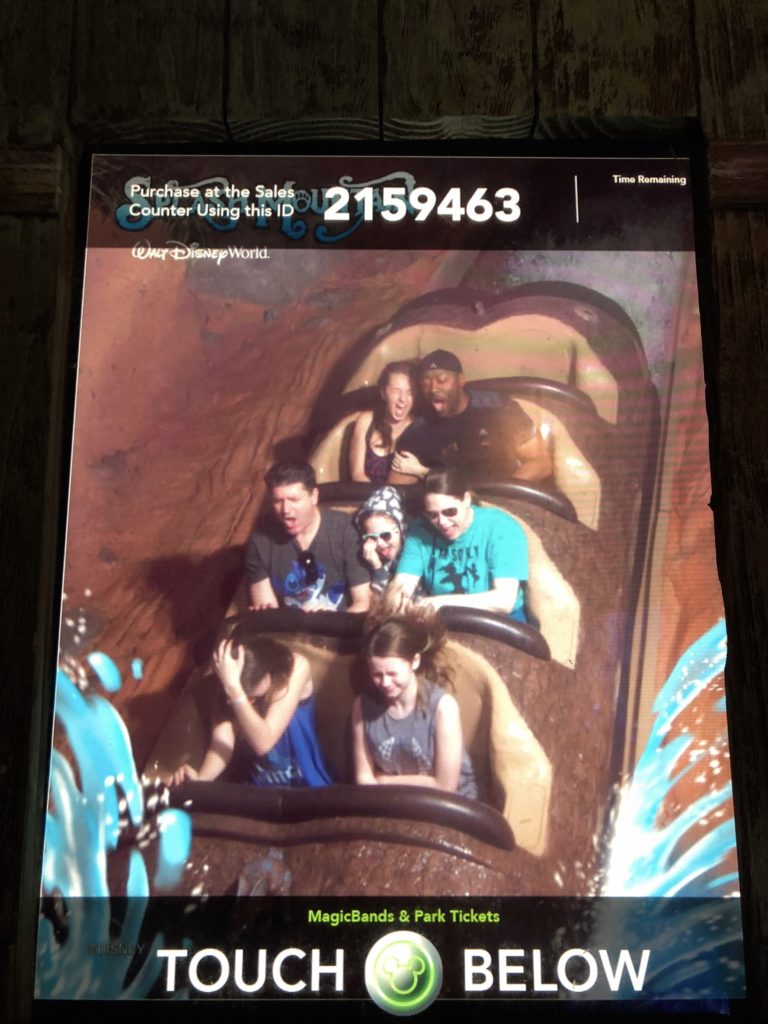 Next we had some time to kill before our next Fast Pass, so we walked over to Sleepy Hollow for the Nutella waffles!  Of course I forgot to take a picture before we started eating, so this is the best I got: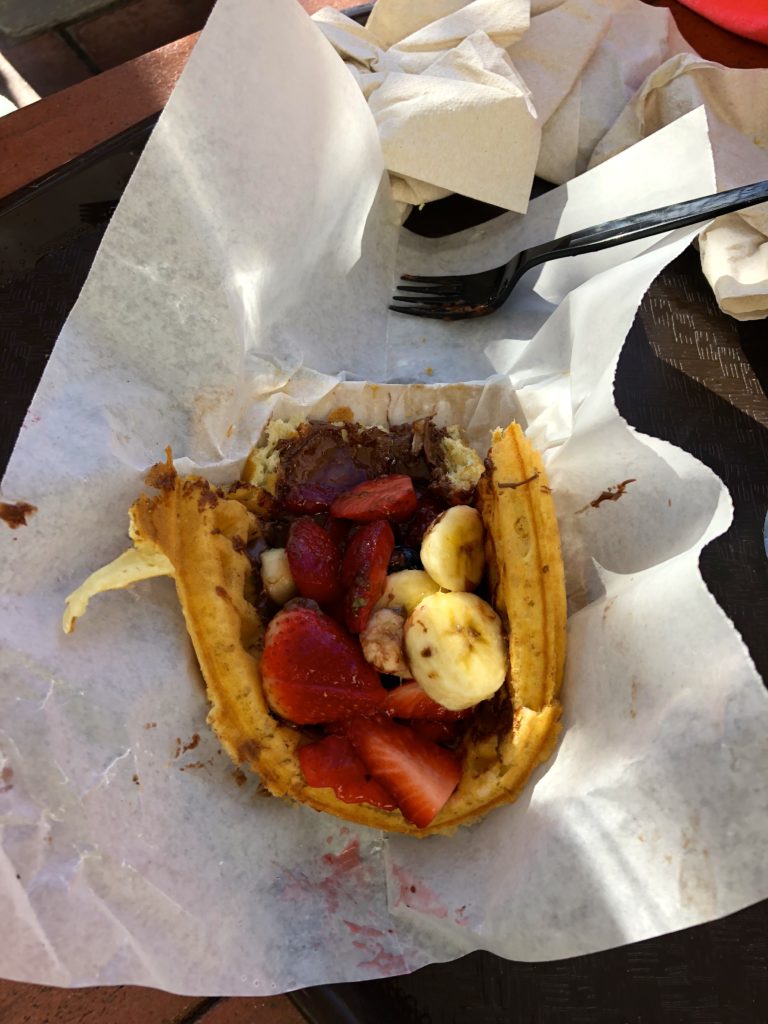 Next it was time for Big Thunder Mountain Railroad.  Somehow I didn't get any pictures of this.  The line was pretty long so the Fast Pass came in very handy for this one.  After Big Thunder Mountain, our next Fast Passes were for Space Mountain (hubby + older 2 girls) and Buzz Lightyear's Space Ranger Spin (me + youngest) so we walked over to Tomorrowland.  We got there a few minutes early so we decided to ride the PeopleMover to kill some time.  While we were on it, we looked down into a shop that had a huge Stitch section.  We are big Stitch fans so after the ride, we went over to the shop to check it out.
Of course the girls all found something they liked.  They tried to talk me into this, but I was a party pooper and said no.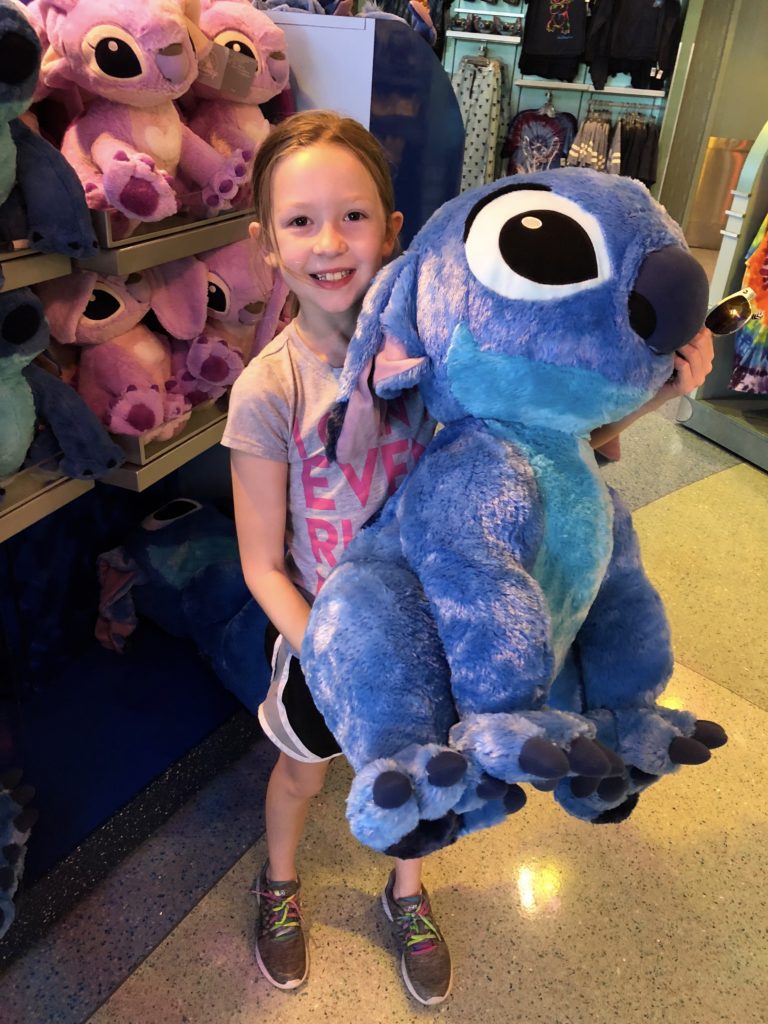 Our youngest picked out a really cute Stitch jacket, the middle one chose a Stitch ear hat, and the oldest chose a set of Stitch pins.  You will see the jacket and hat in some of the pictures from here out.
Next we split up for our Fast Passes, with the hubby and older 2 going to Space Mountain and myself and the youngest to Buzz Lightyear's Space Ranger Spin.  After that, we were ready for lunch so we walked over to Columbia Harbour House.  On the way, we stopped to do this: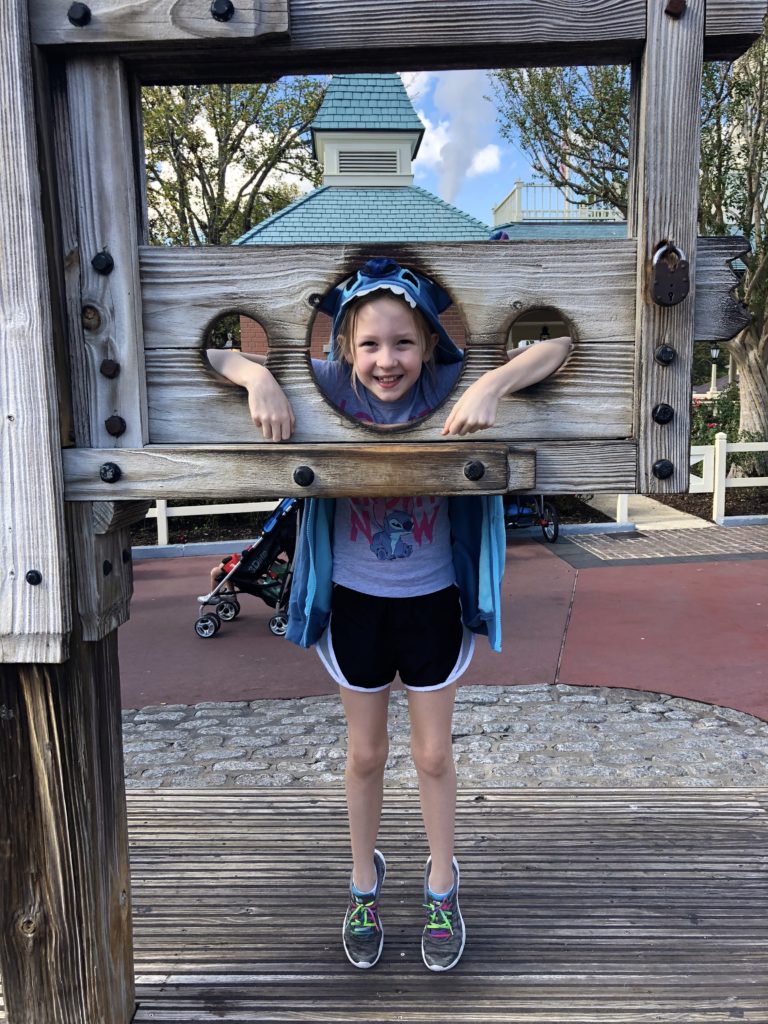 I forgot to take pictures of our food all together, but we got lobster rolls and they were good.  The restaurant was also not crowded at all which was really nice.
After lunch, the girls asked for ice cream and we had a little bit of time before we were supposed to report for our VIP tour at 1:15.  So, we walked to Main Street and got them ice cream from the Plaza Ice Cream Parlour.  We sat at a table outside while they ate and had a great view: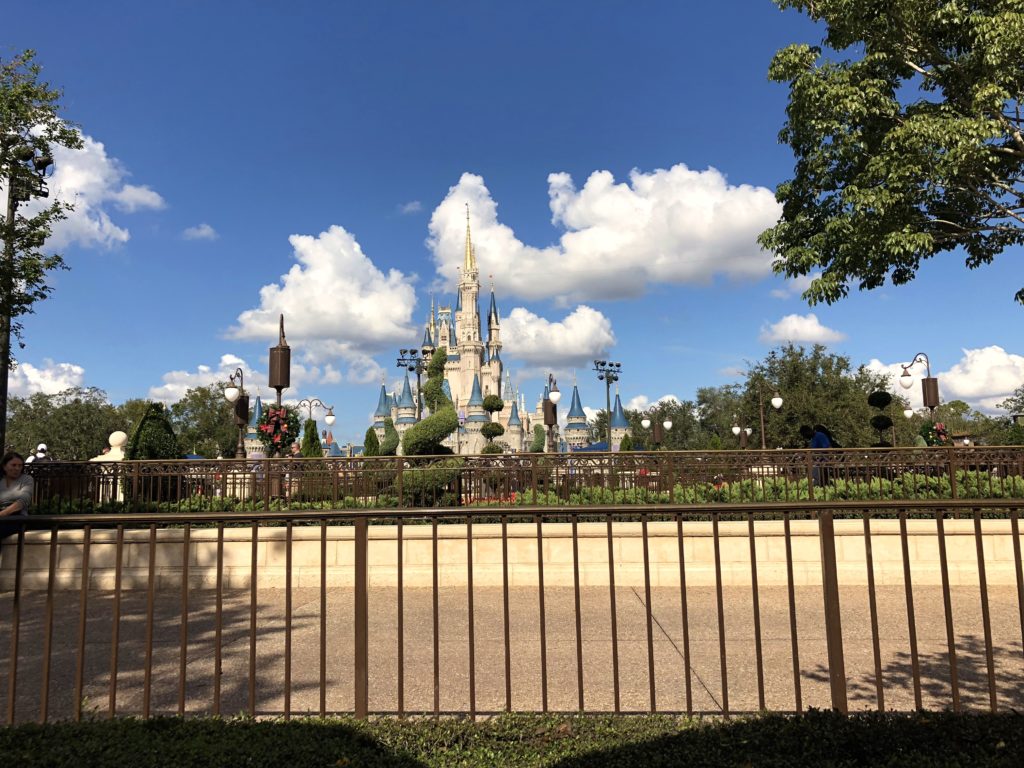 This was my view in the other direction: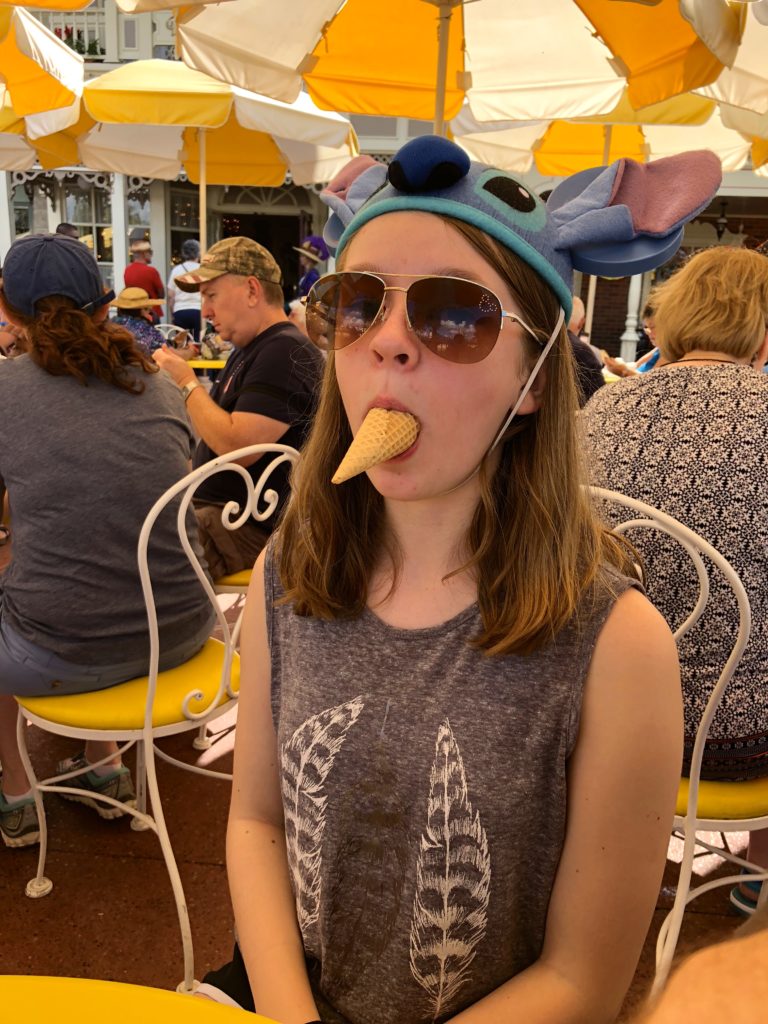 Next it was time to go to the Town Square Theater for our VIP Tour.  We checked in at the table and took a seat to wait.  They offered us bottled water and gave us these stickers to wear: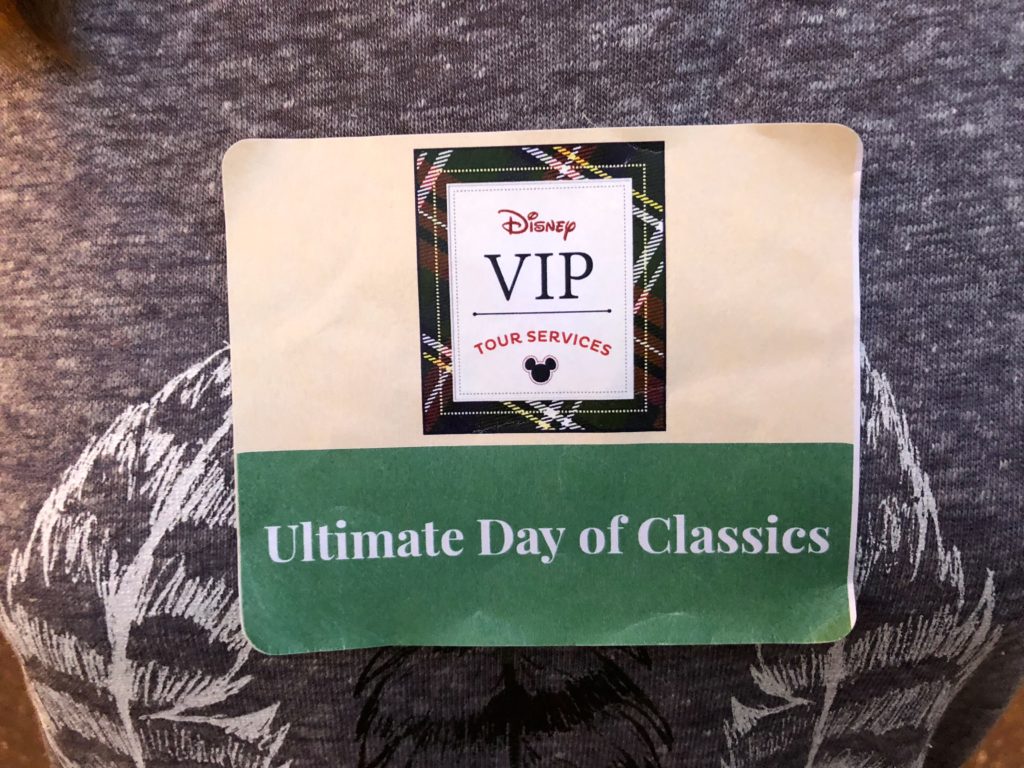 This is the lobby of the theater where we waited: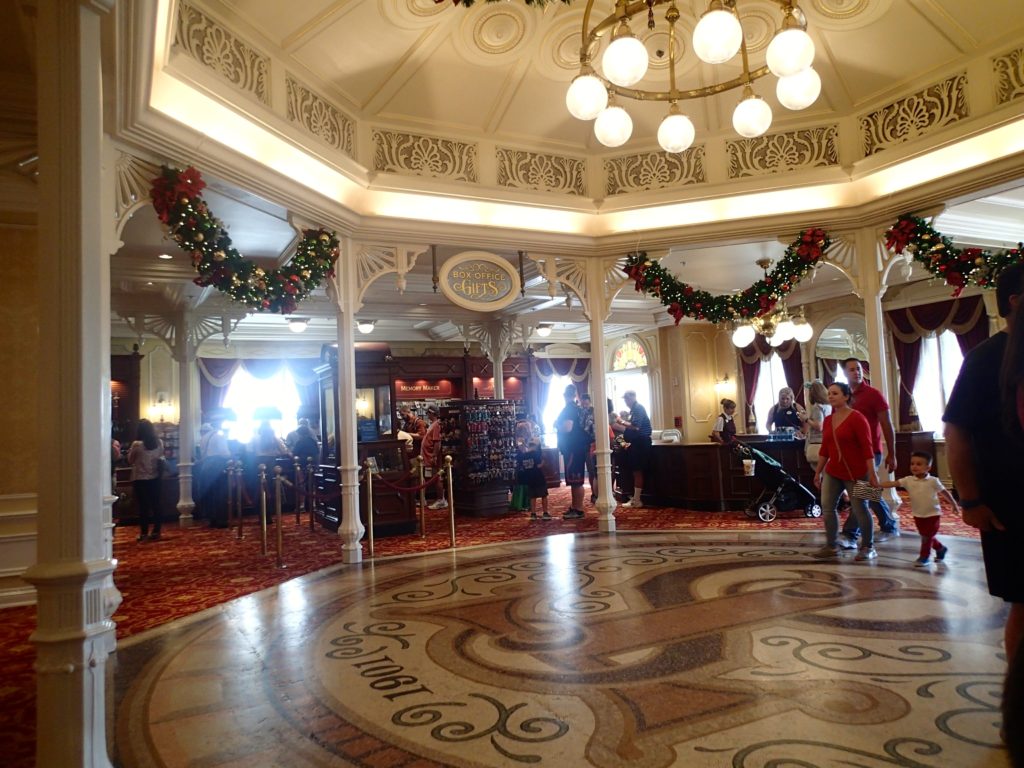 At 1:30, everyone in our group had arrived and our guides introduced themselves.  I think there were 31 people in our group, which sounds like a lot but it didn't seem like that many as we walked around – maybe because a lot of the kids were in strollers?  Our guides were Kelsey and Kendra and they were very sweet.  One would usually lead the group as we walked and the other walked behind to make sure the group stayed together.
Our guides led us out of the theater and towards Fantasyland.  When we left the theater, we went through a backstage area and I noticed this sign as we were about to enter a public area.  I love seeing behind the scenes stuff.  On our Private VIP Tour a few years ago, we got to drive around the back side of Epcot which was fascinating to see.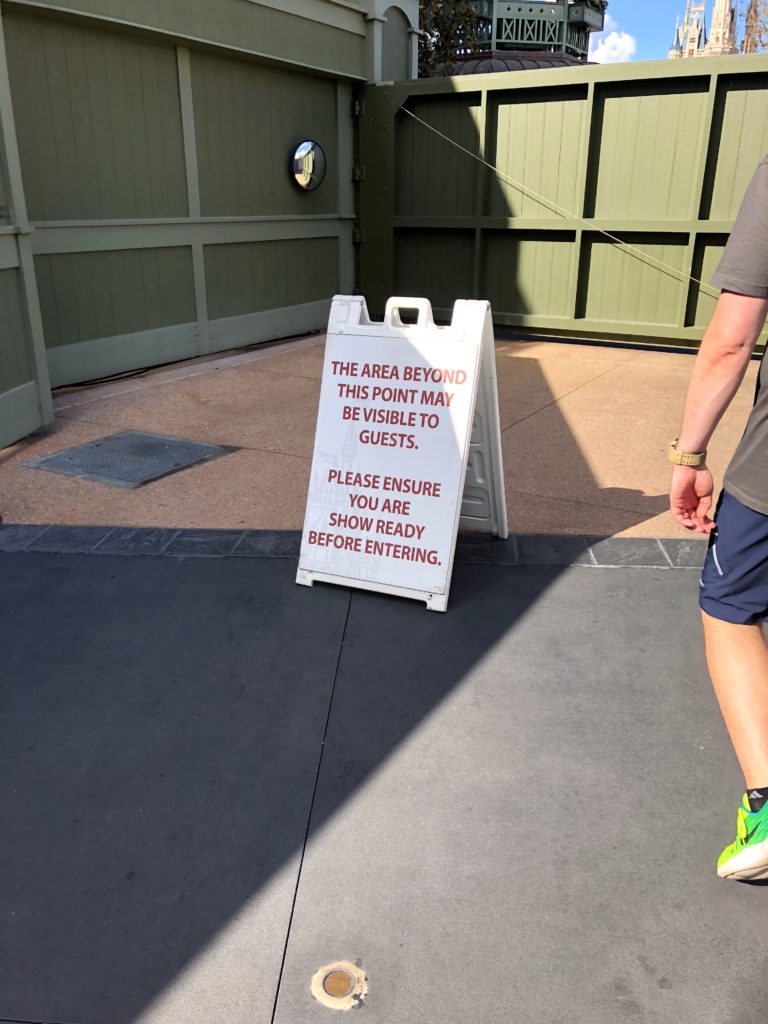 Our first ride was…….
Winnie the Pool!  For each ride, our guide put us through the Fast Pass line.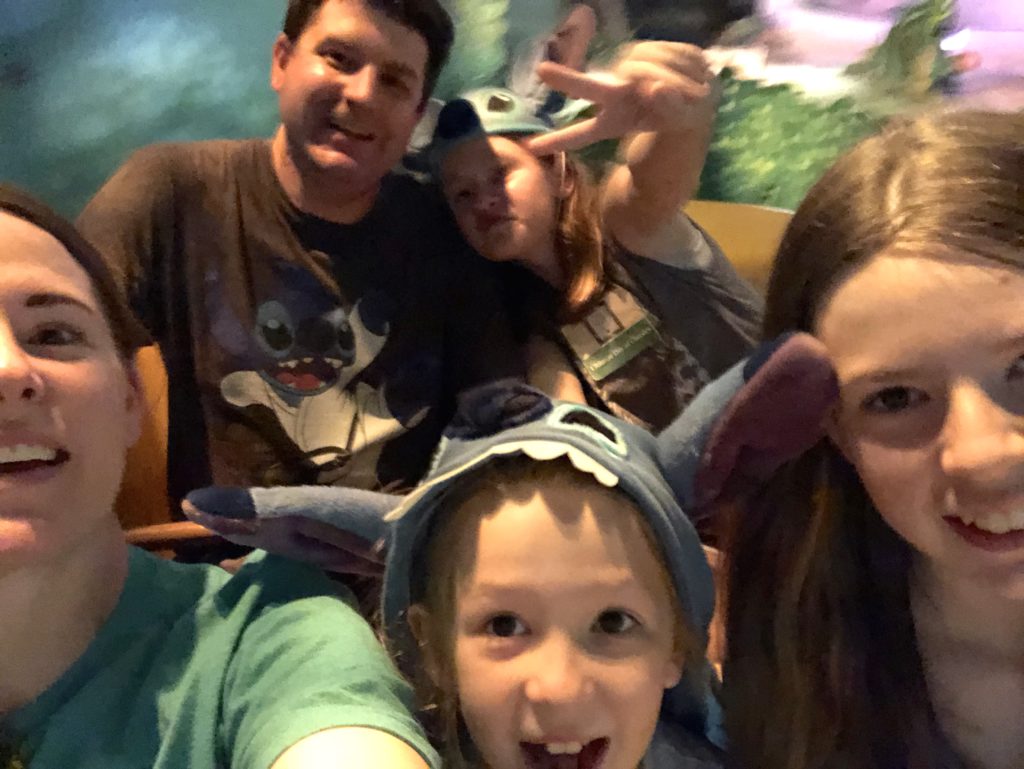 Next we walked over to the Mad Tea Party.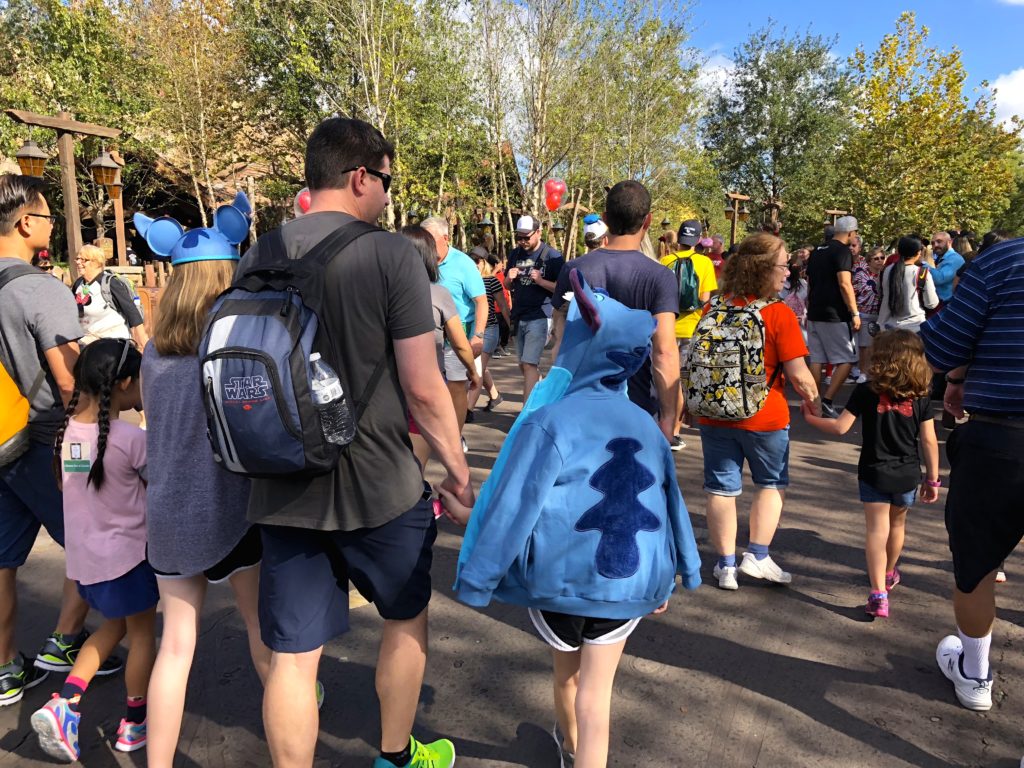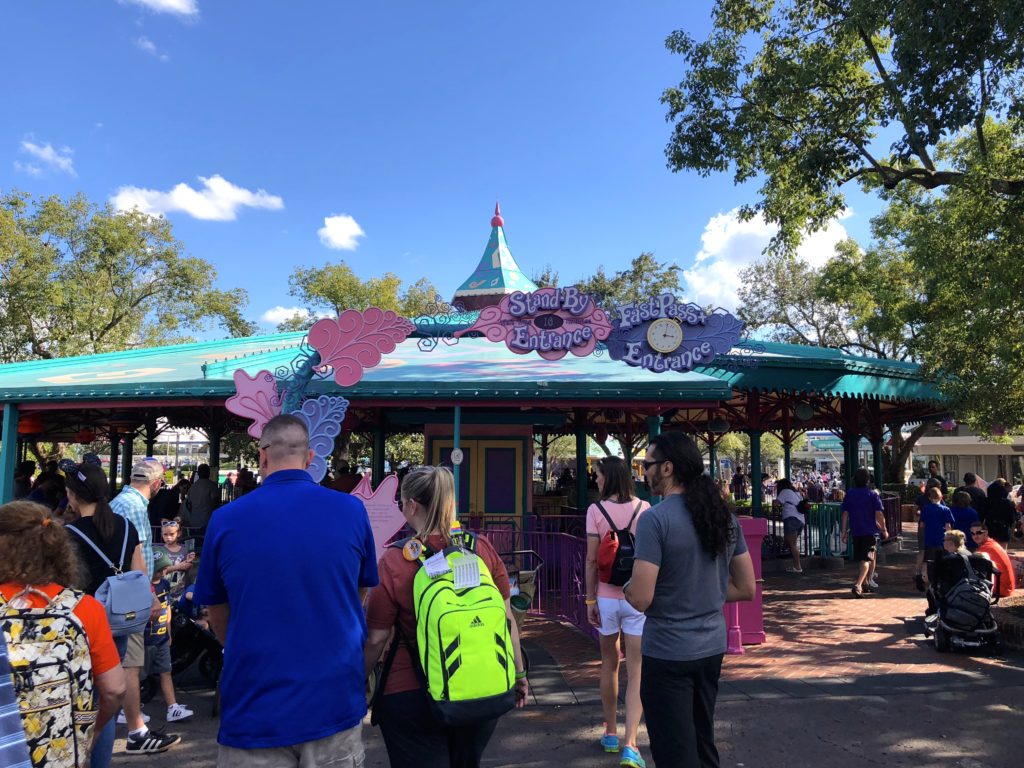 Our oldest daughter and I don't like spinning rides, so we sat and watched.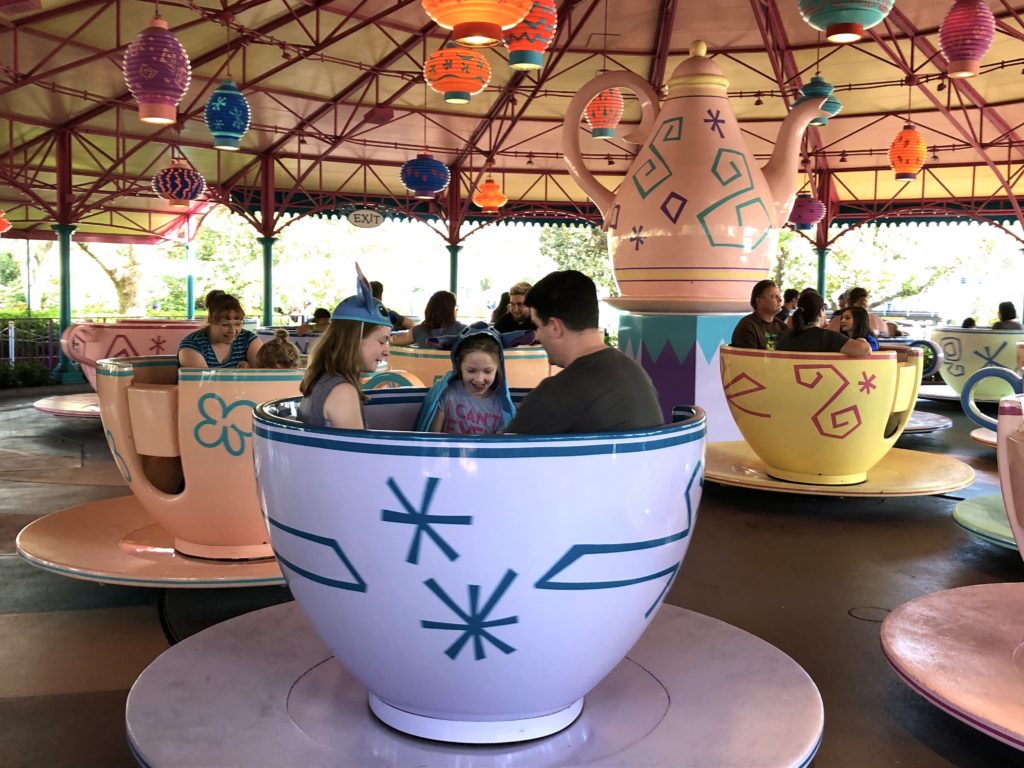 Next it was time for Dumbo.  The woman on the right in the picture below was also in our group and I enjoyed chatting with her.  She had 2 daughters who were 6 and 8.  She asked me if my girls ever fought or if it was just hers – ha ha!  I made her feel better about that.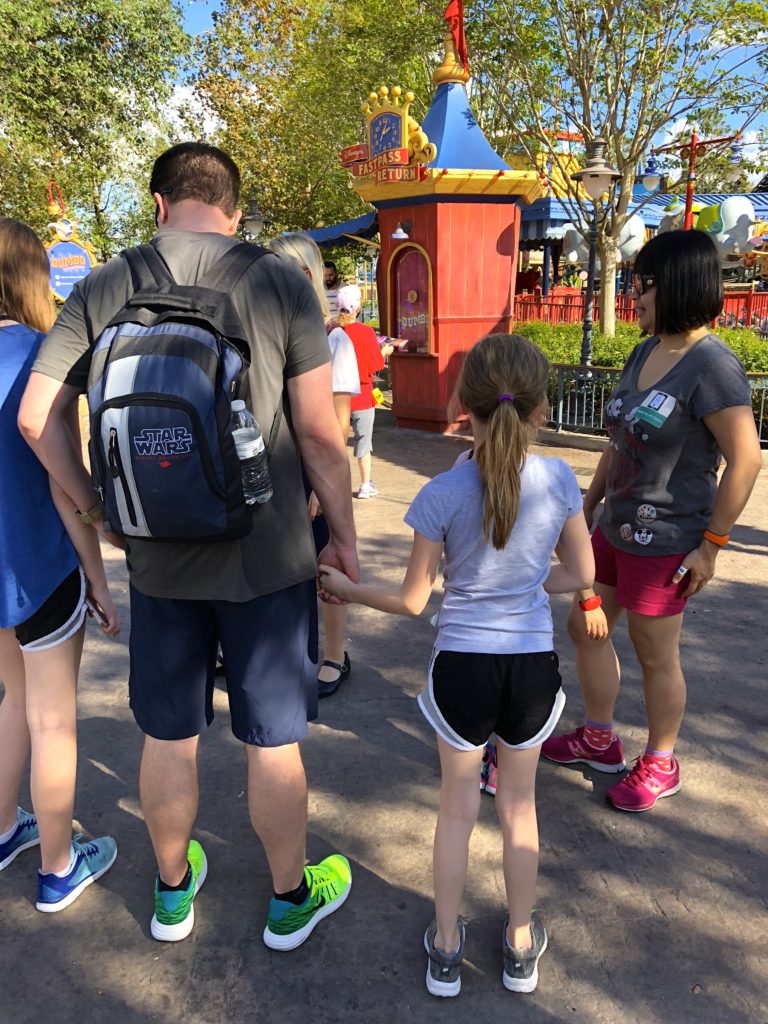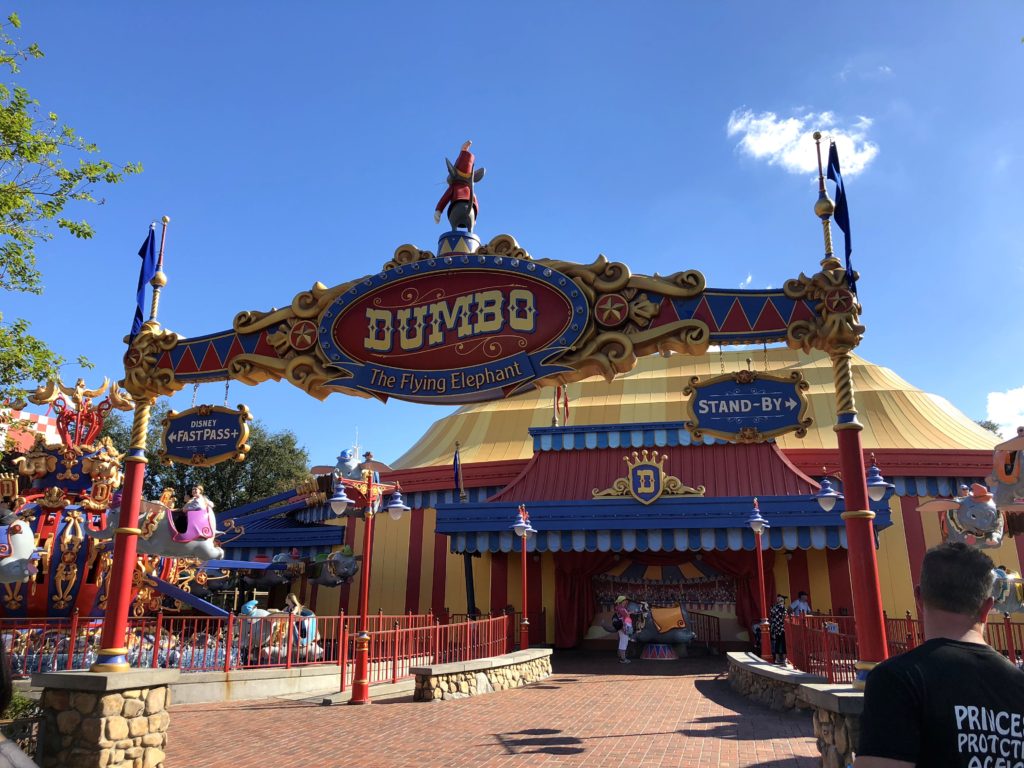 I got to ride by myself on this one.  The girls kept apologizing like it was a bad thing and I assured them that I didn't mind. 🙂  The sun was also really bright here – can you tell?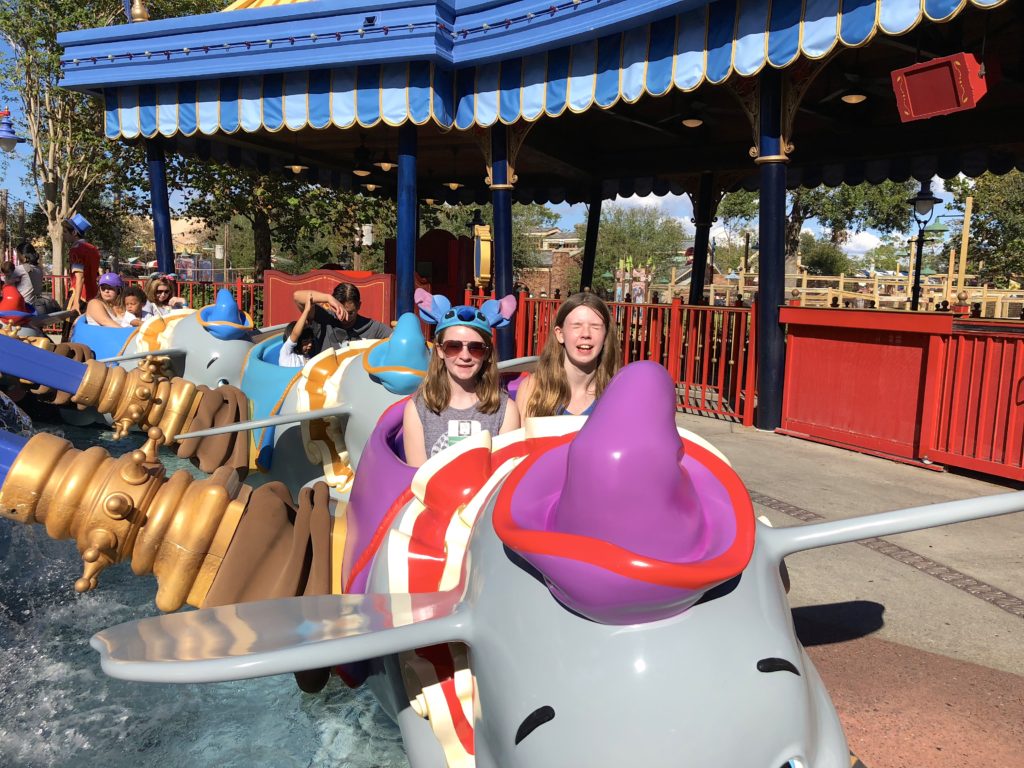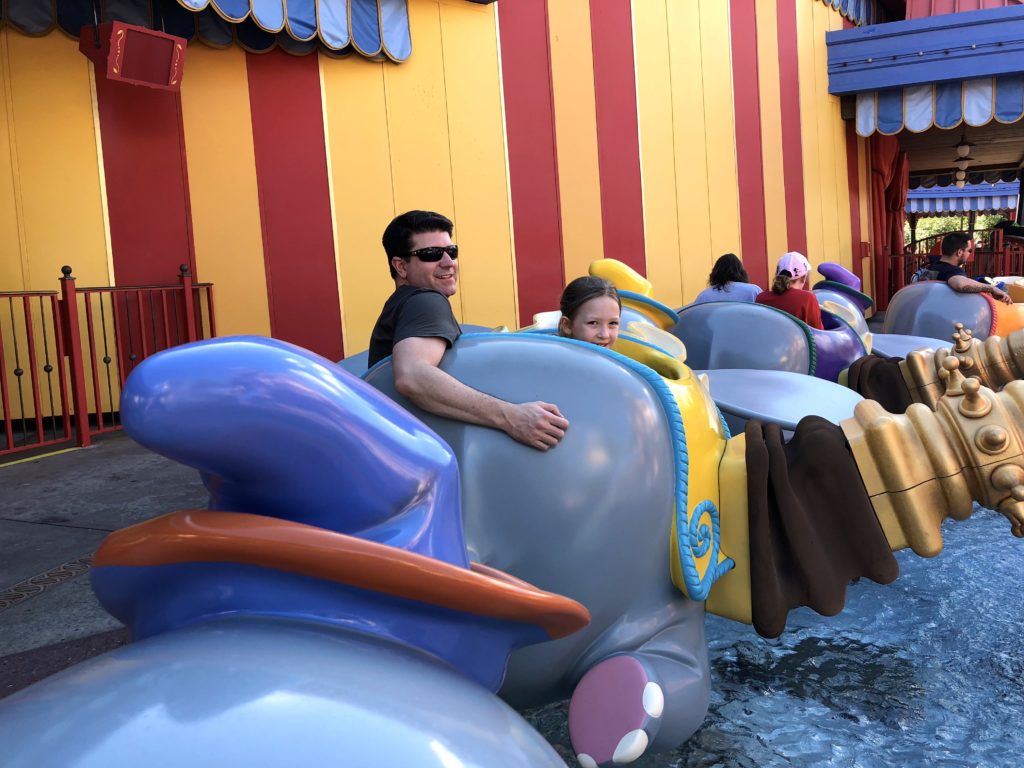 Next it was time for Under the Sea – Journey of the Little Mermaid.  For some reason, I took a picture of Ariel's Grotto instead of the ride entrance.  Oops!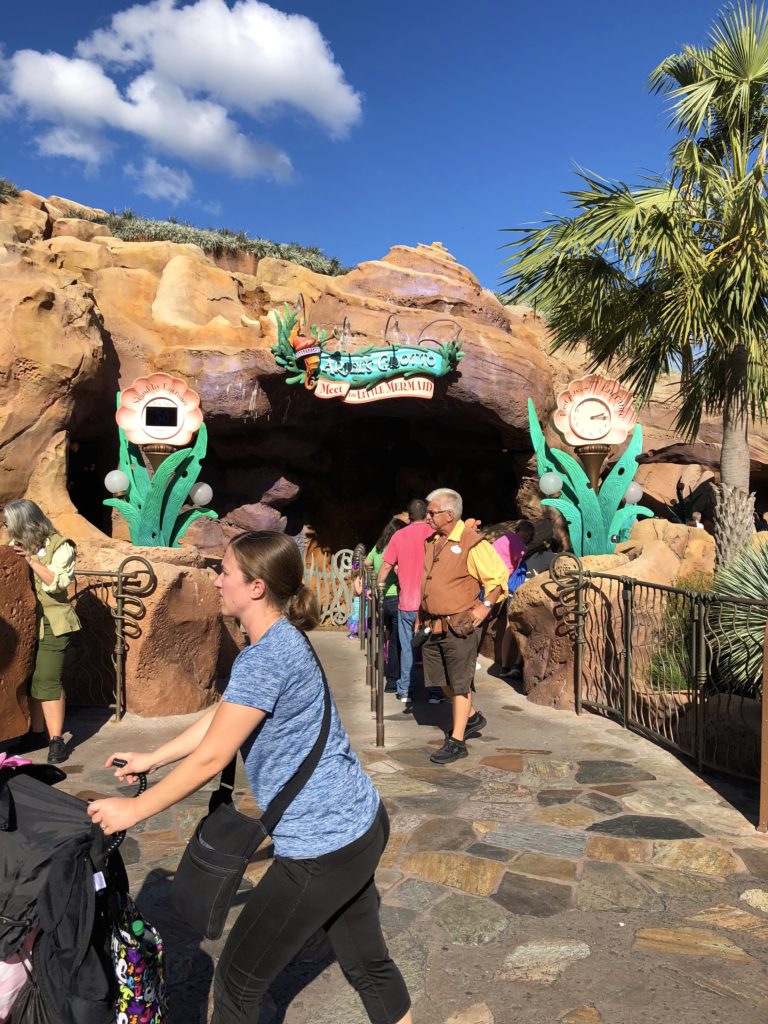 I also think I saw a marriage proposal go awry here.  Right at the ride entrance, a guy reached out for his girlfriend's hand and said something like, "Before we go on this ride, I want to ask you something first".  What looked to be the guy's parents were standing right by them, each holding up their phones taking pictures/video.  That's what caught my eye initially was the parents recording it.  The girl got very embarrassed and acted like she didn't hear him (but there's no way she didn't because I did and I was much farther away) and walked towards the ride entrance.  Then the guy tried to pull her back over towards his parents, saying he had to ask her something first.  Now she was VERY embarrassed and pulled her arm away and tried to walk away but was still smiling – it was weird.  So by now, the guy can totally tell that she is brushing him off and het gets mad and stomps off, leaving his parents looking bewildered.  The girl chases him and grabs his arm, but he pulls away and won't talk to her.  At this point our group started to enter the ride so I had to stop watching and couldn't see how it ended, unfortunately.  It was quite dramatic.
Next it was time for our scheduled snack break at Gaston's Tavern.  Each of us received a cinnamon roll (with holiday icing!) and LeFou's Brew, which is a frozen apple juice drink.  They had tables already set and reserved for each family in our group and our guides showed each family where to sit.  It was at this point that we got the nickname "The Stitch Family" because 3 of us were wearing Stitch shirts, and of course we also had the new jacket and hat.  "Stitch family, you're at this table!"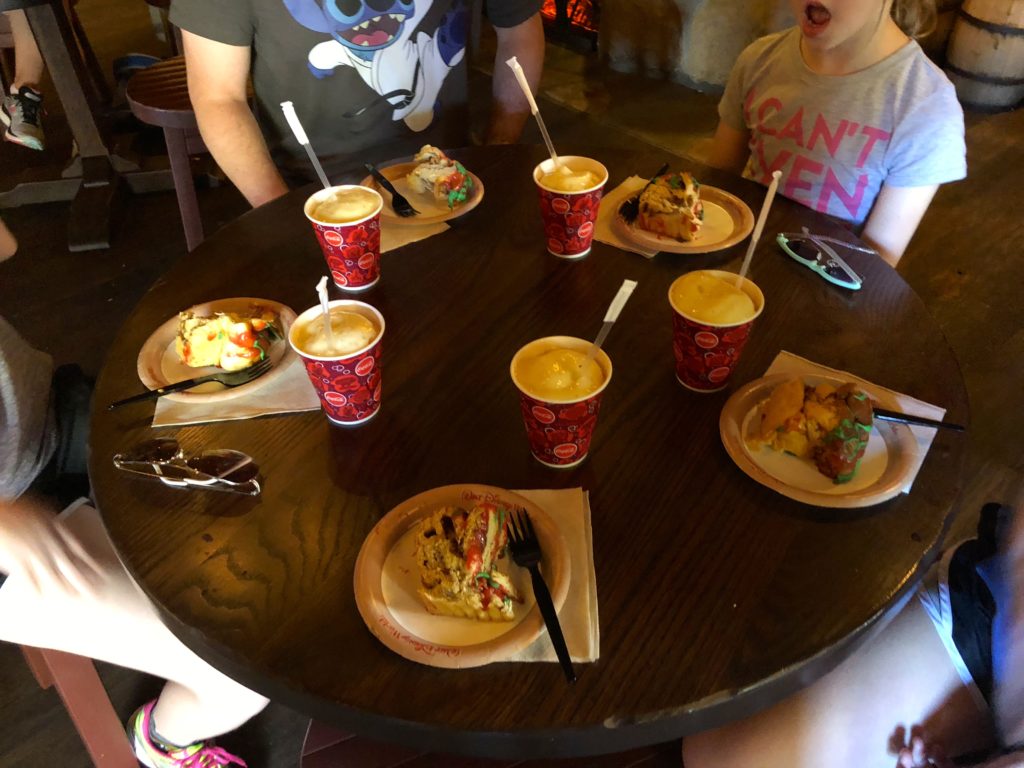 I didn't taste the cinnamon roll (I had taken Excedrin earlier in the day and it always messes with my stomach, but that's better than a headache!) but everyone else gobbled them down and said they were delicious.  I did taste the drink and thought it was very good, but it was so sweet so I couldn't finish it.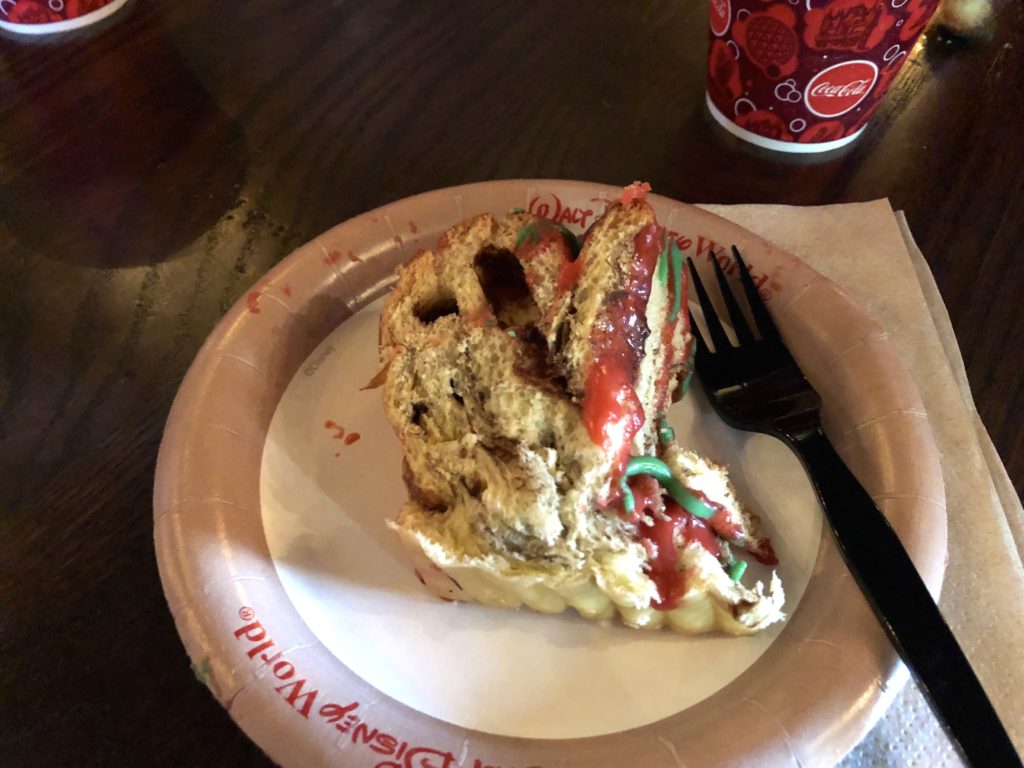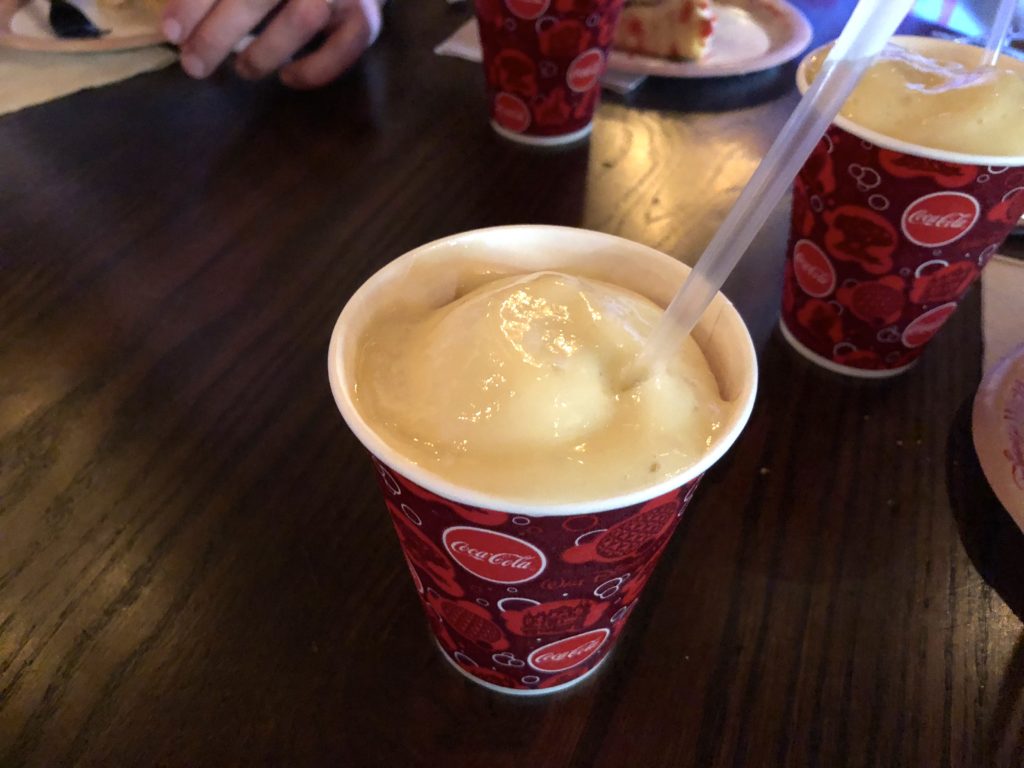 I thought the details in here were great: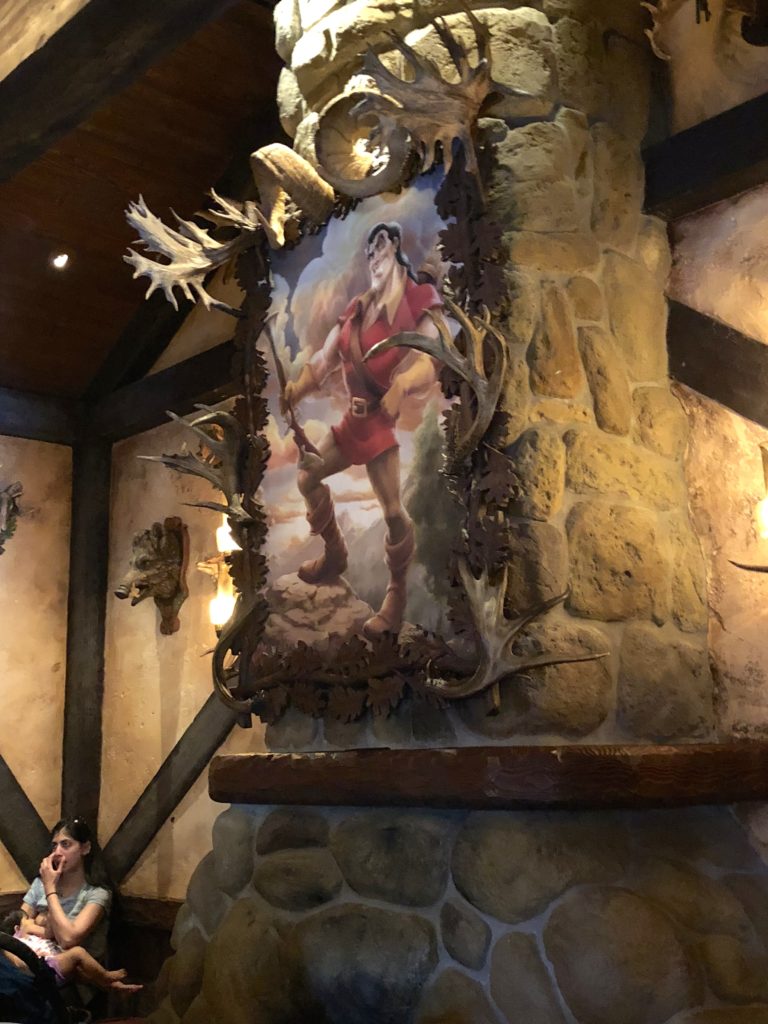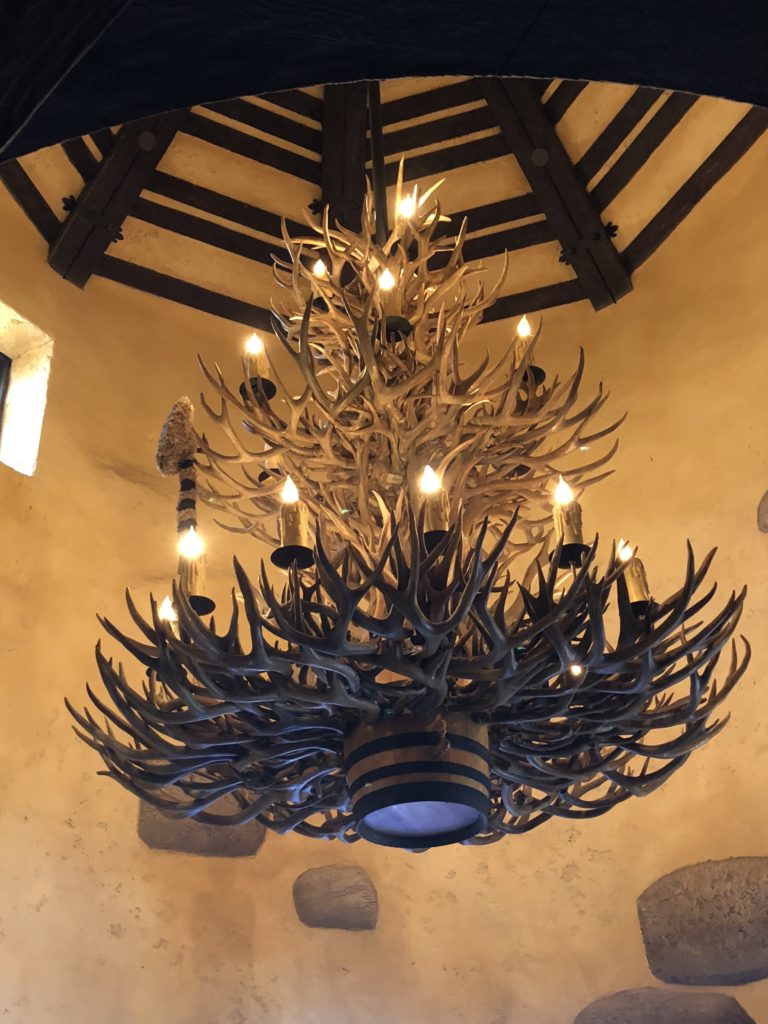 After we finished eating, our guides suggested we use the restroom and told us to meet up at the fountain.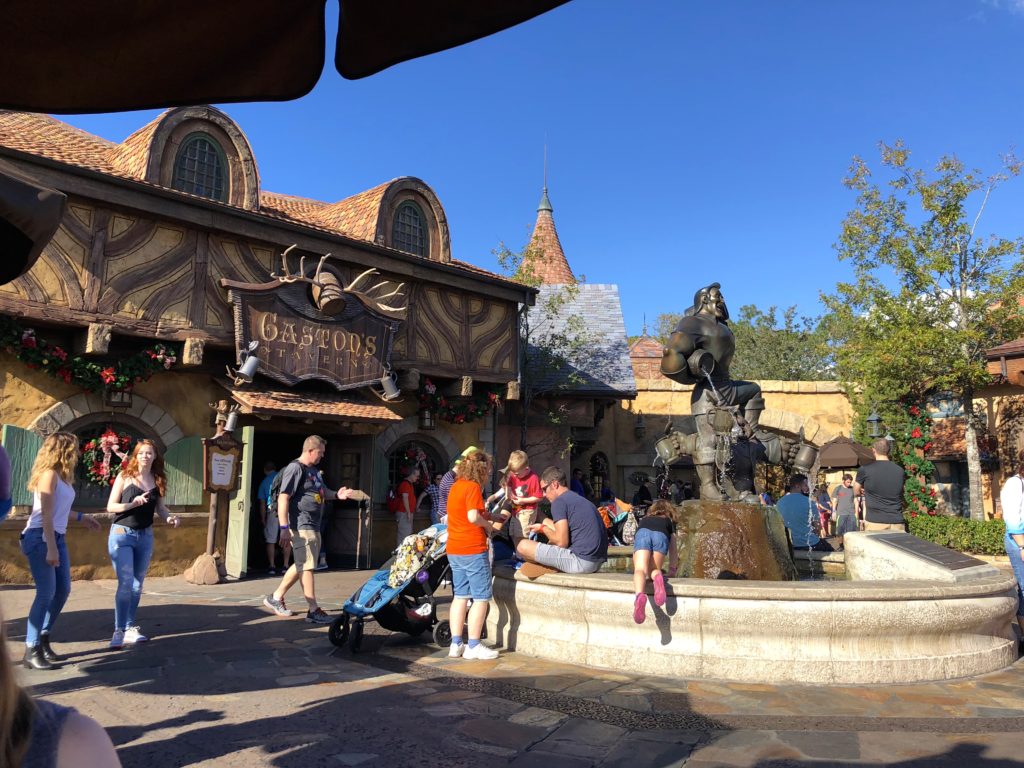 Once the group was back together, we went to It's a Small World.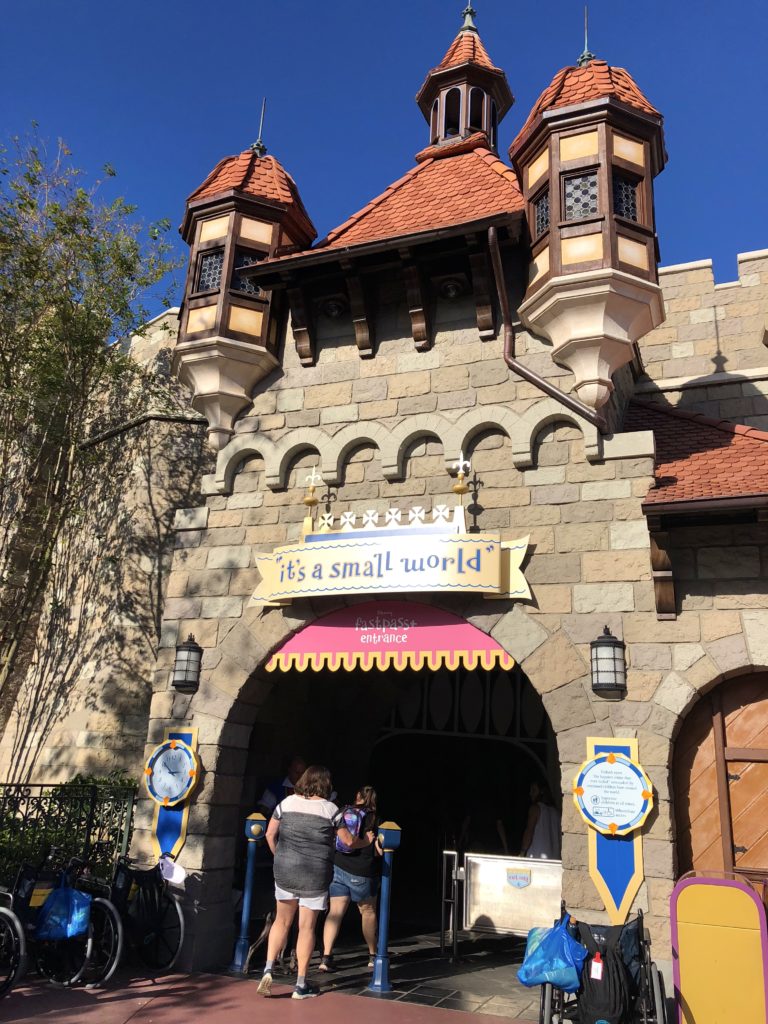 I'm pretty sure we were supposed to ride Peter Pan's Flight as well but the ride was down and it had been all day.  I was pretty bummed because that's one of my favorites.  So, instead we went to the Haunted Mansion.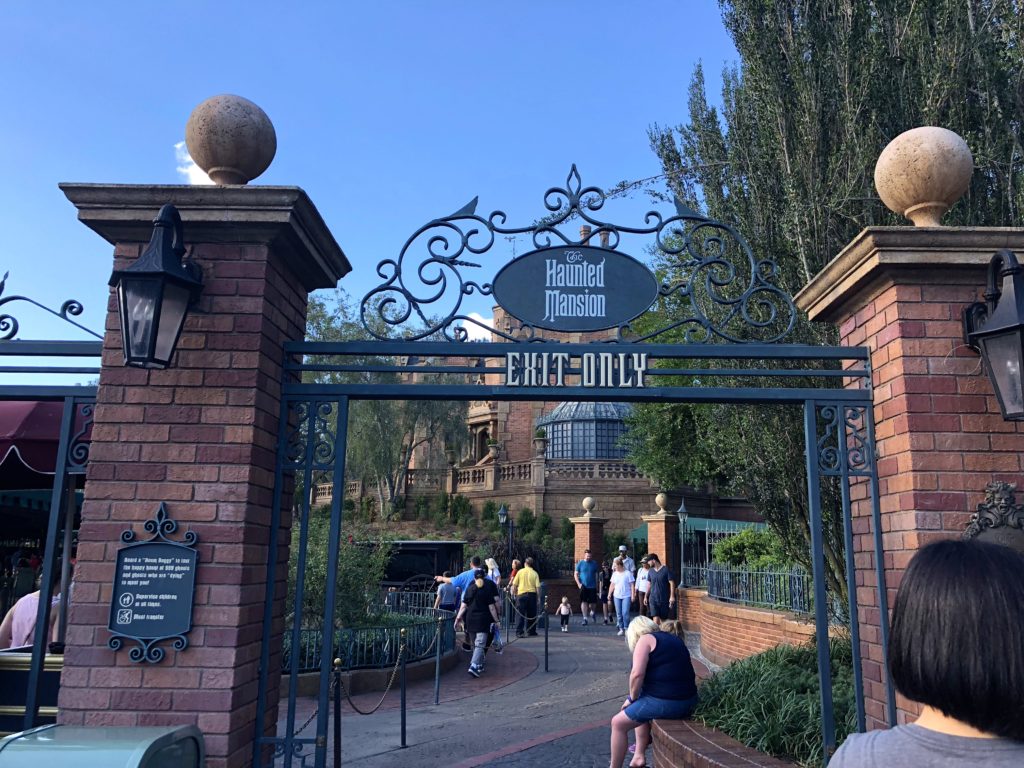 This was the only ride where we didn't go through the Fast Pass line.  Instead, our guides took us through a back entrance.  After that it was time for Pirates of the Caribbean.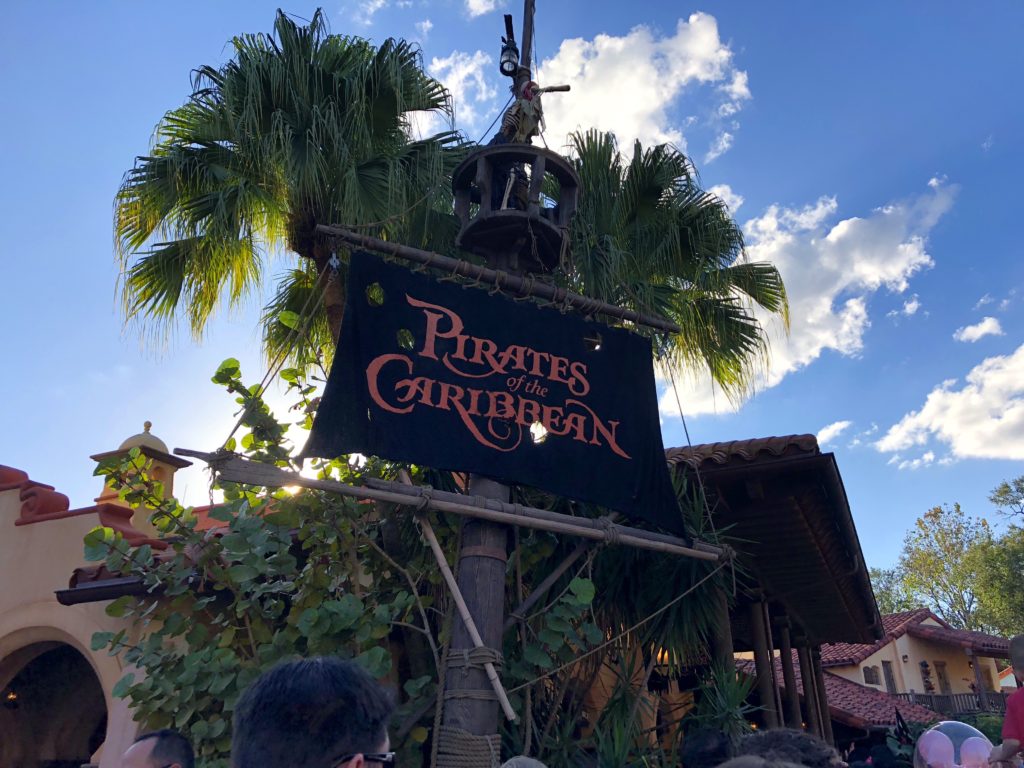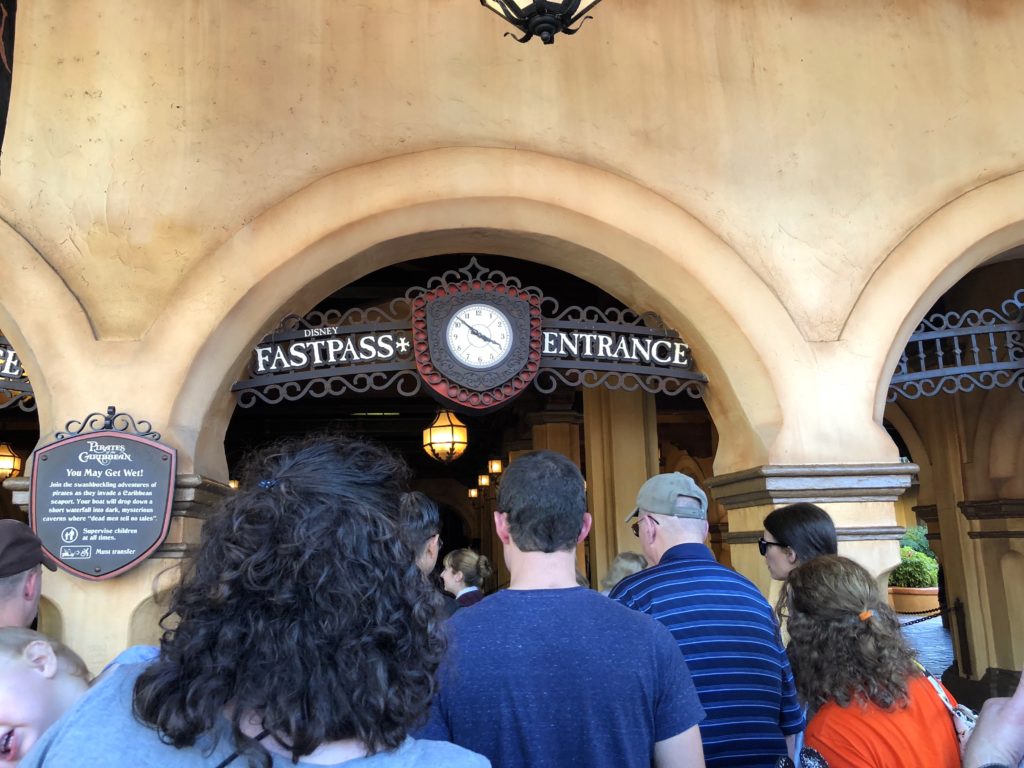 Next, the guides took us to the Magic Carpets of Aladdin.  I was really thirsty and wanted to buy a soda, so I told the others I was going to sit this one out.  When our group were the next people up, the ride broke down.  They waited for 10-15 minutes and then our guides gave up and got everyone out of the line and took us to Jungle Cruise, which right now is called Jingle Cruise.  Of course I forgot to take a picture of the cute sign.  This was actually the only picture I took which is very unlike me.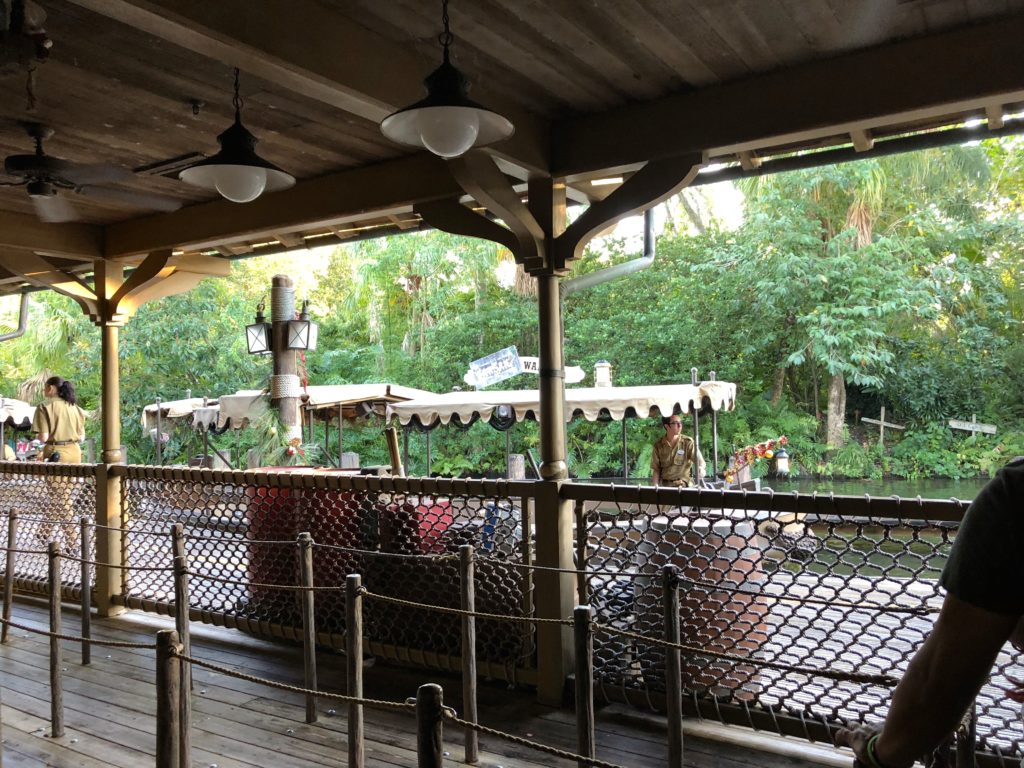 After the Jingle Cruise, the Magic Carpets were up and running again so we went there.  I still sat this one out but I can't remember why.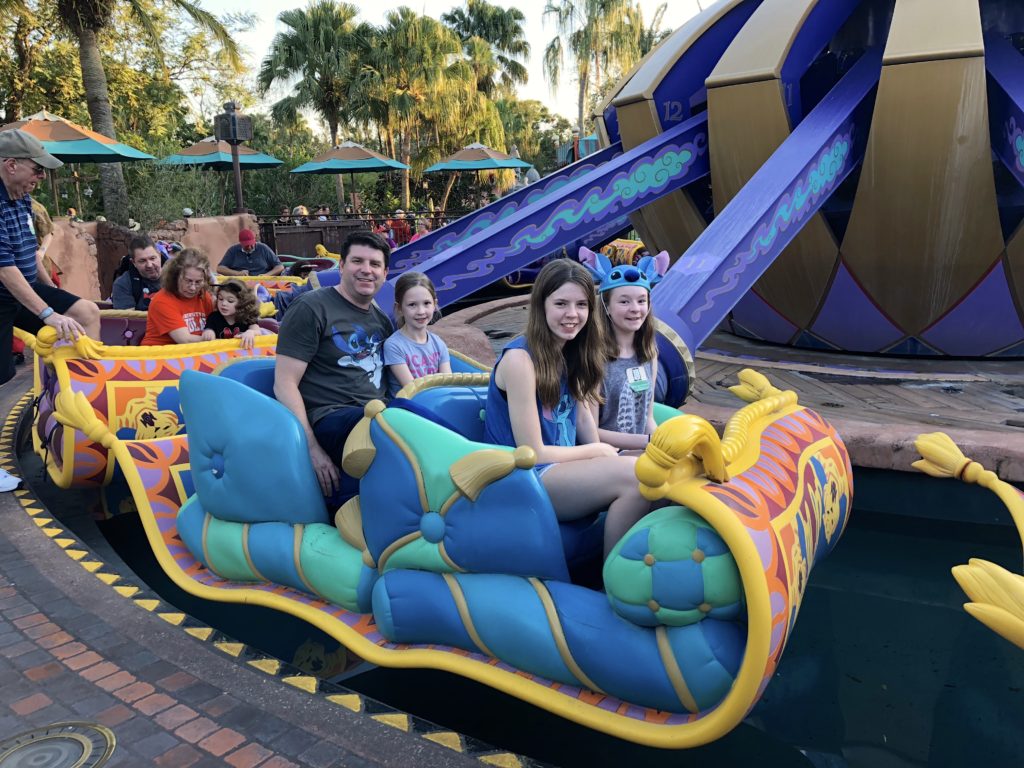 And just like that, our tour was over.  We got through 9 rides in about 3 – 3.5 hours which I thought was good.  Other than missing Peter Pan, I was happy with the ride selection.  Our guides said their good byes and offered to hang around for a few minutes in case anyone had any questions or comments.  Overall, I was pleased with the experience.  I don't think we could have gotten through as many rides without it.
By this time it was almost 5:00, we were all pretty hungry for dinner and the park was going to be closing at 6:00 for Mickey's Very Merry Christmas Party.  In addition, our youngest was starting to not feel well again and just wanted to go back to the hotel ASAP.  I knew we needed to eat something quick to avoid any hunger meltdowns, so we stopped at Sleepy Hollow again on our way out of the park.  This time, we got the sweet & spicy chicken waffles and corn dogs.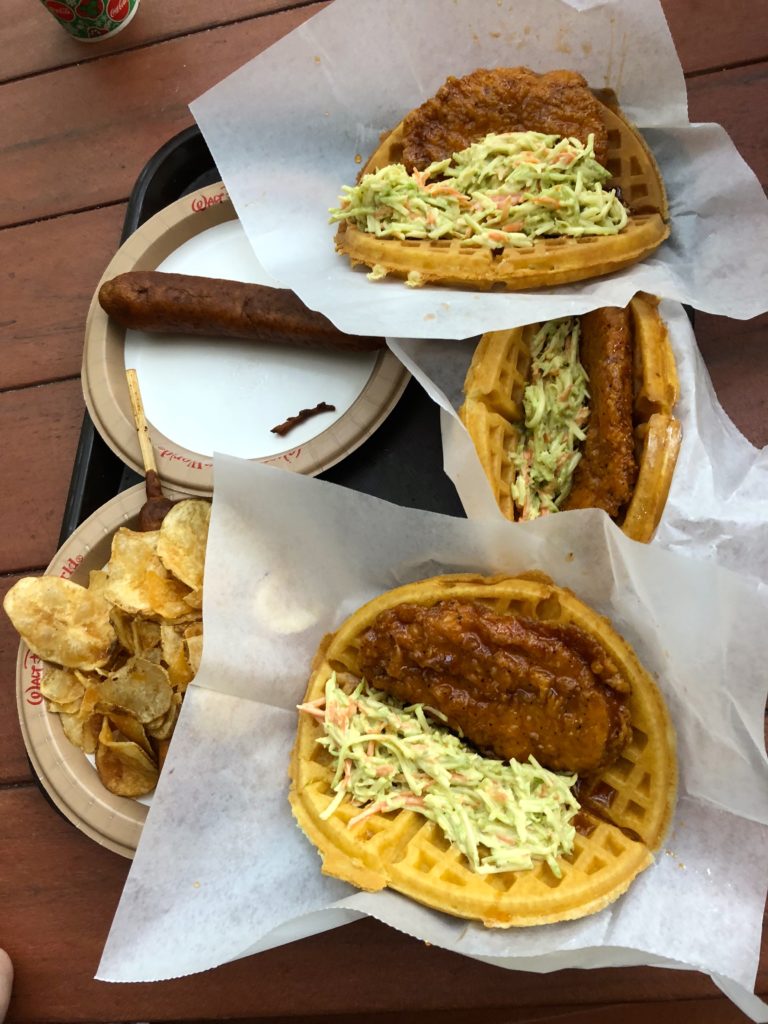 After we ate, it was time to make our way towards Main Street and the park exit.  It was neat to see all of the lights coming on as we were leaving.  Tons of people were arriving for the Christmas party.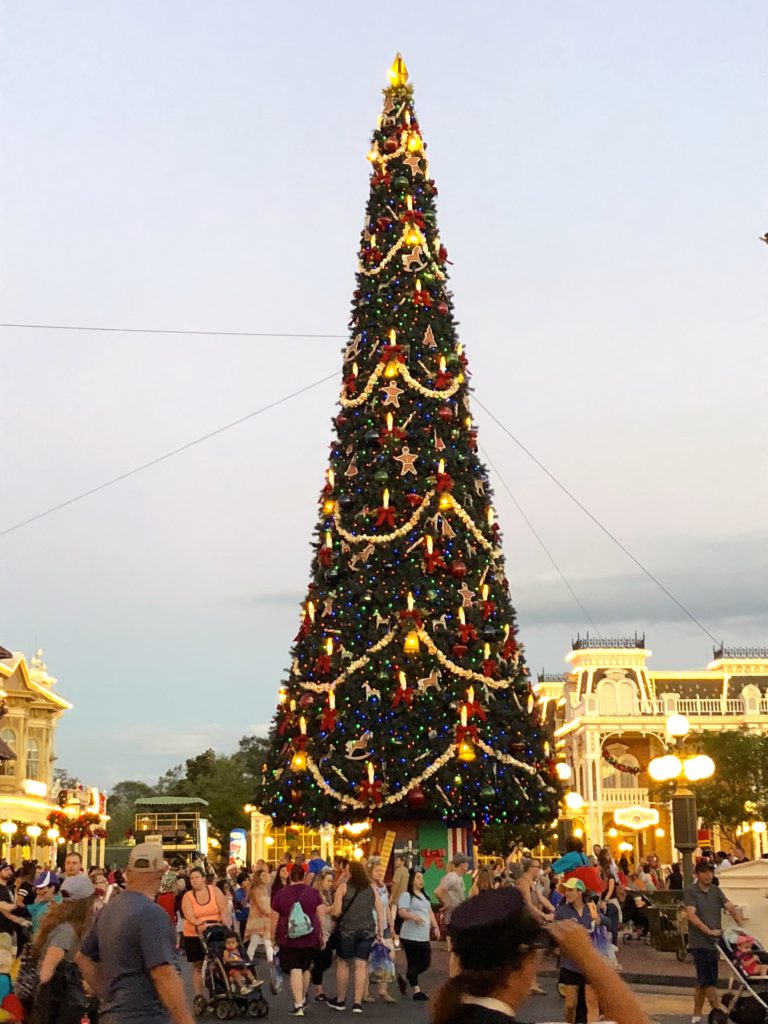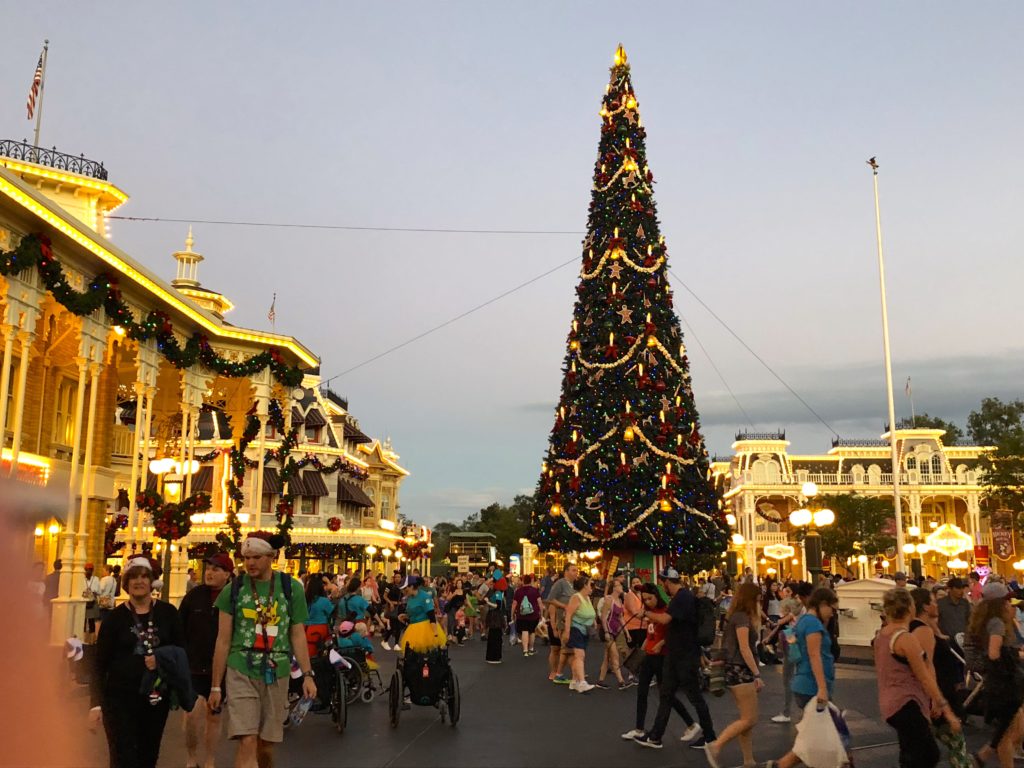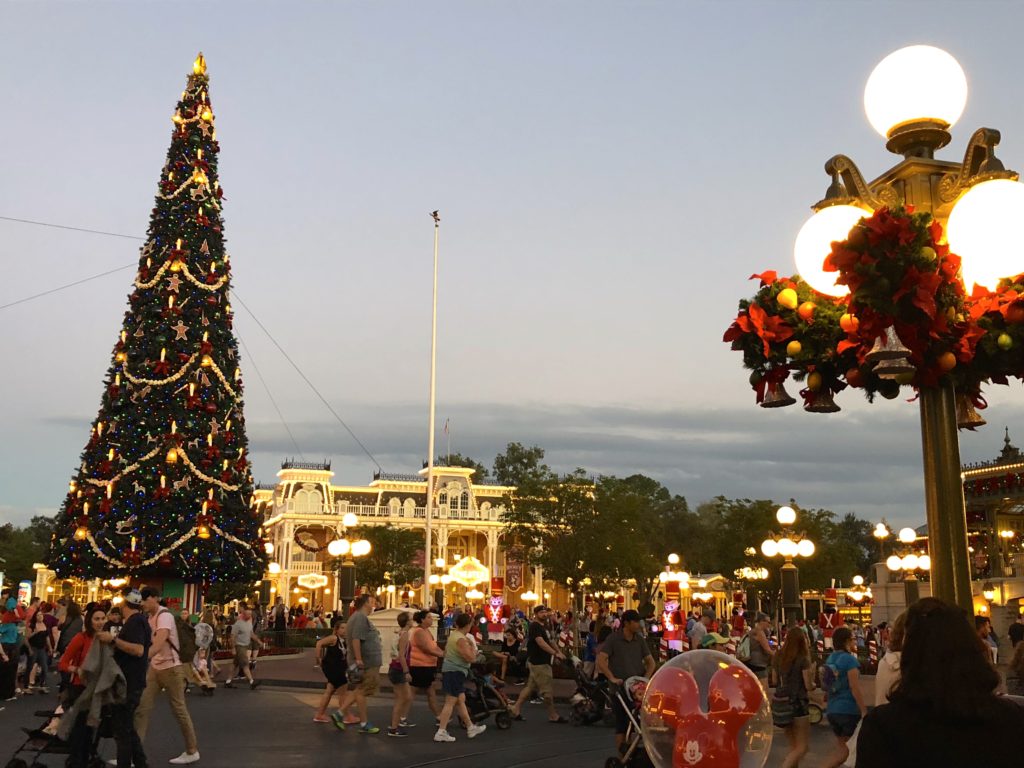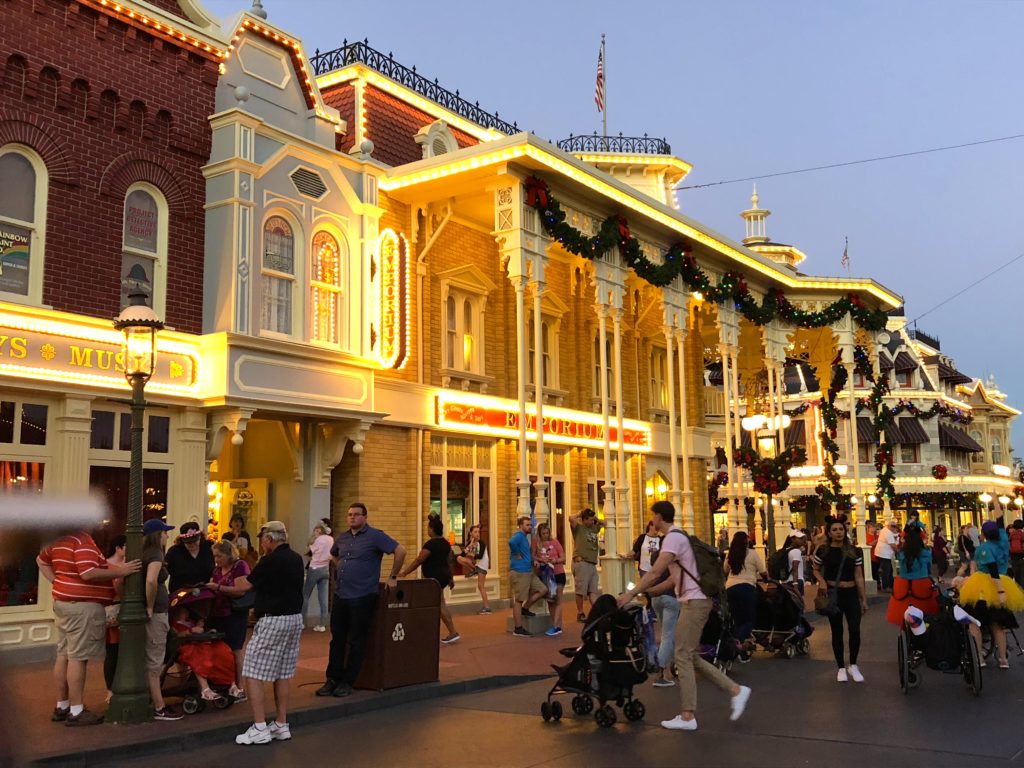 We got to the monorail station and of course there was a huge line.  We probably waited for about 20-30 minutes to get onto a monorail.  Once back at the TTC, we were thankfully able to walk just a short distance to our car instead of having to catch a tram since we had paid more for premium parking.  We then drove back to the hotel and got our youngest in bed.  Her fever hadn't returned, but now she was complaining of a sore throat.
Up Next:  Our day at the pool, what to do when your child is sick in Orlando, and a surprise when we get home!
.
As always, don't forget to like me on Facebook (click here) and follow me on Pinterest (click here) and Instagram (click here) for all of the latest Disney Cruise Mom Blog updates!