For day 1 of this trip report, click here.
Day 2 is all about our day at both Universal Orlando parks – specifically, the Wizarding World of Harry Potter at Universal Studios and Islands of Adventure.  We are huge Harry Potter fans and spent almost the whole day inside the Wizarding World.  It has been a little over a year since our first visit when we did the Private VIP Experience which was an incredible day you can read about here.  This time, though, the crowd calendar was only at a 2, and we had the Express Unlimited Pass because we were staying at the Portofino Bay Resort.  Because of those two things, we decided against another VIP tour and that turned out to be a great decision.  We never waiting in line for more than a few minutes.
On this day, Universal Studios opened at 9:00 and Islands of Adventures had early admission at 8:00.  Because we wanted to start our day in Universal Studios (and the extra hour of sleep was nice too!), we skipped out on the early admission and headed to Universal Studios on the water taxi about 8:30.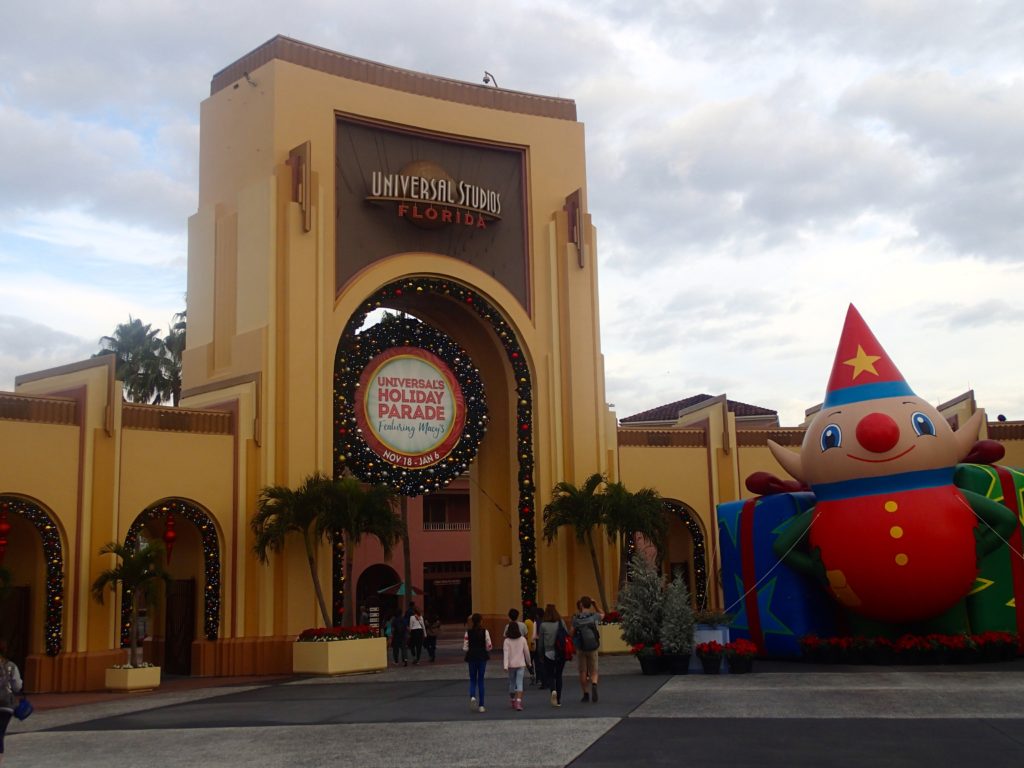 There was hardly anybody in line yet.  While we waited I noticed the VIP lounge where we began our tour last year.  These are the stairs that we walked down to exit the lounge and enter the park.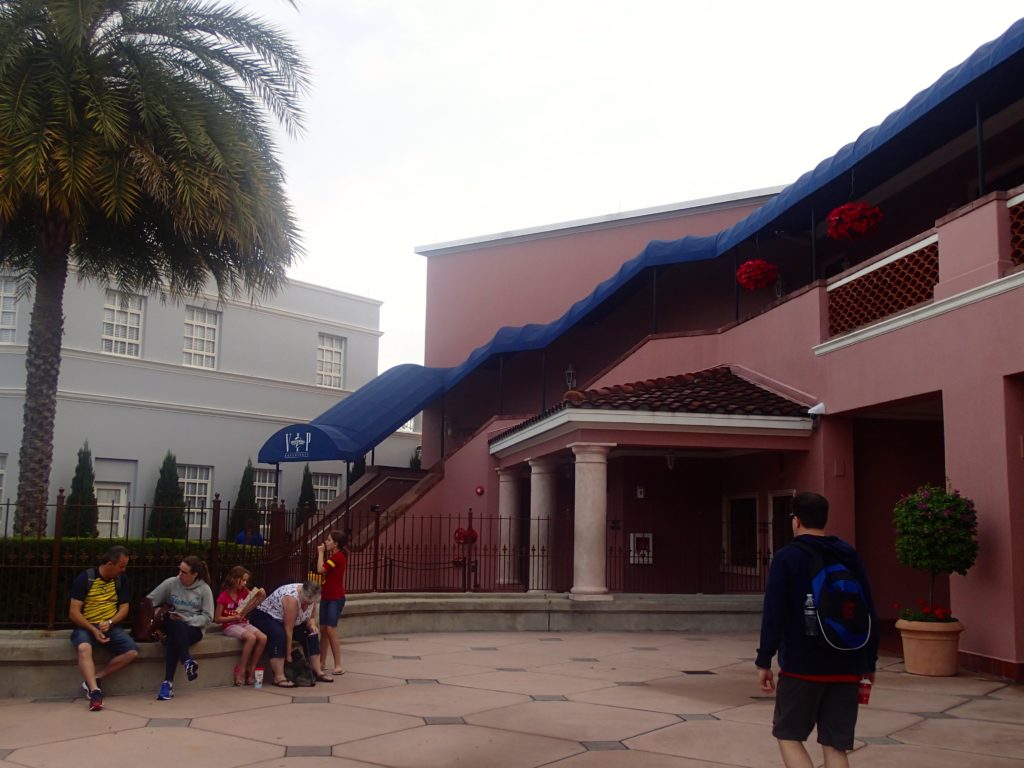 Up on the second level behind the flowers is the lounge.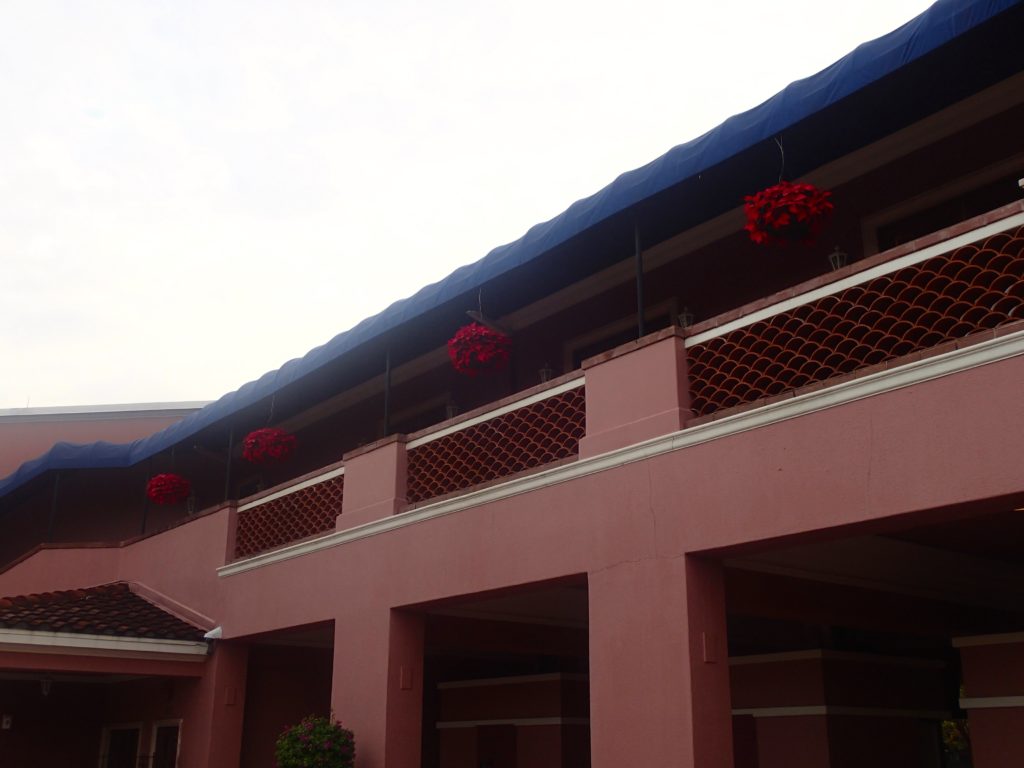 After waiting for a few minutes, we were some of the first people into the park.  We started walking towards Diagon Alley and admired all of the holiday decorations along the way.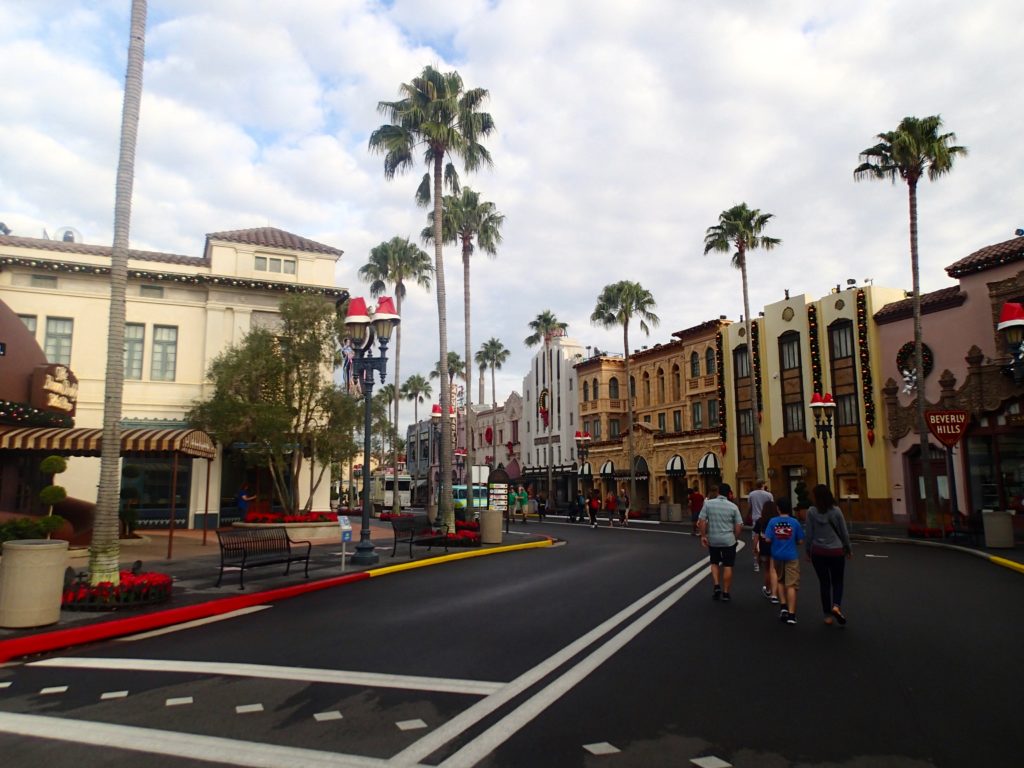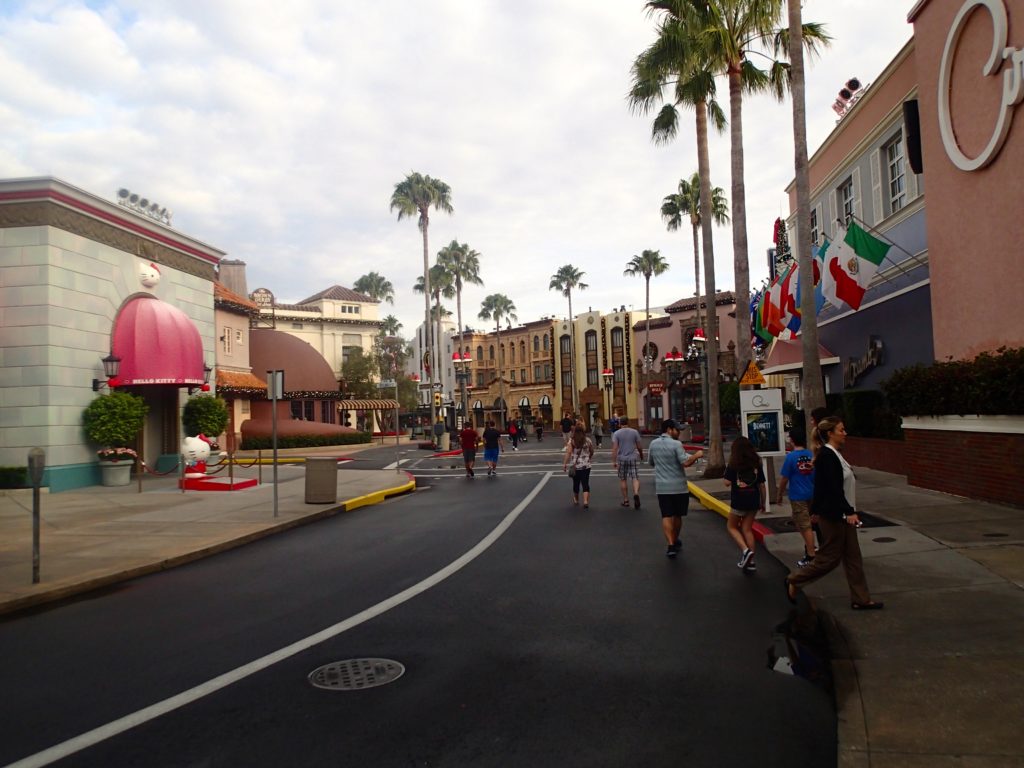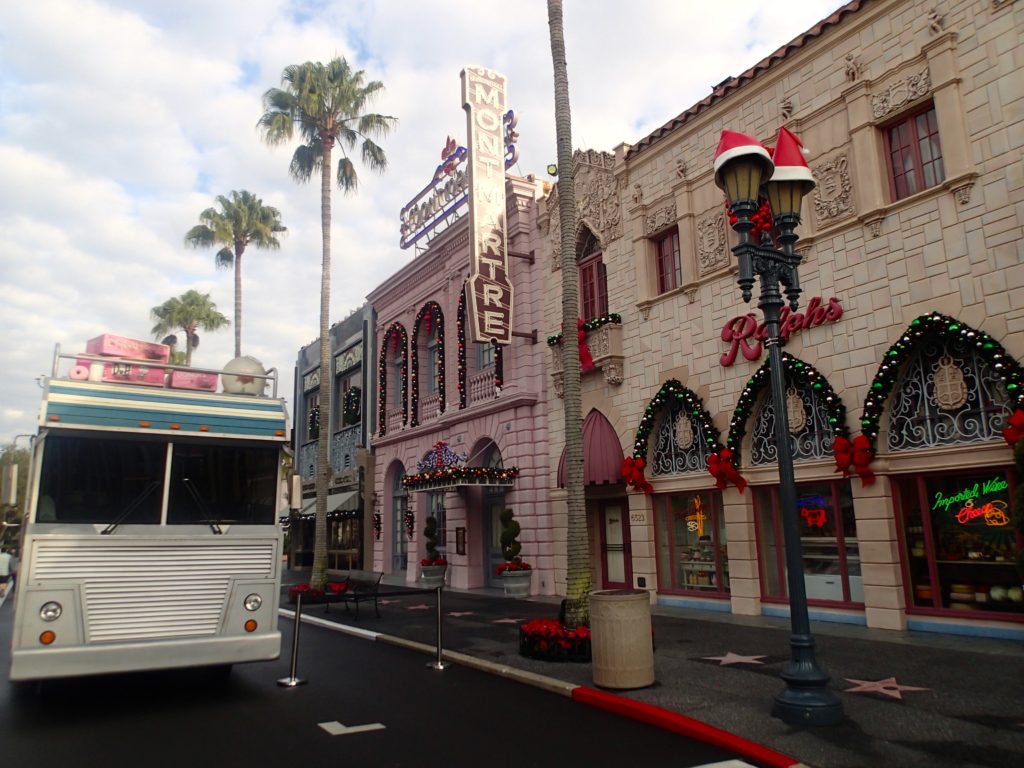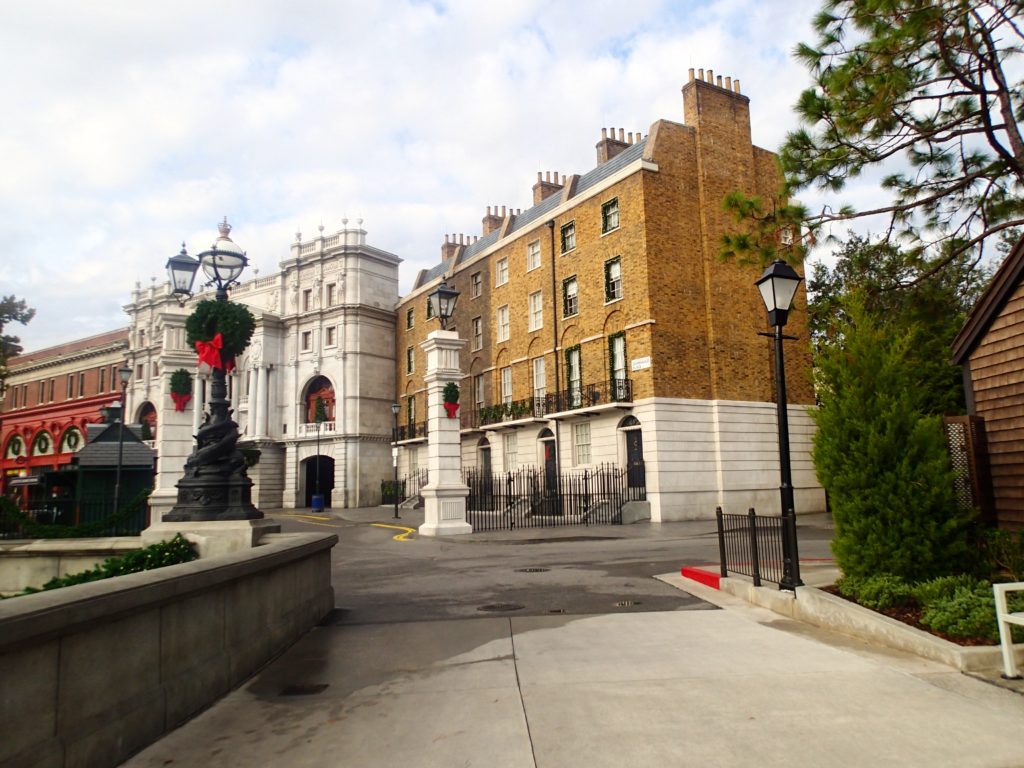 Here we are at 12 Grimmauld Place for the obligatory photo op.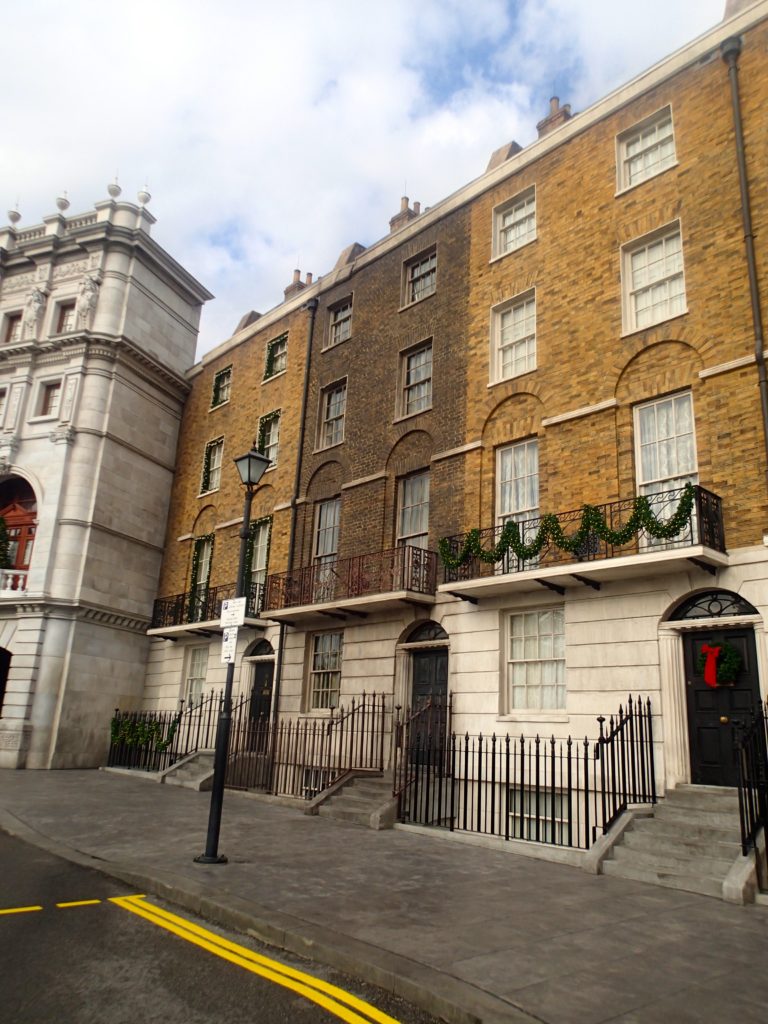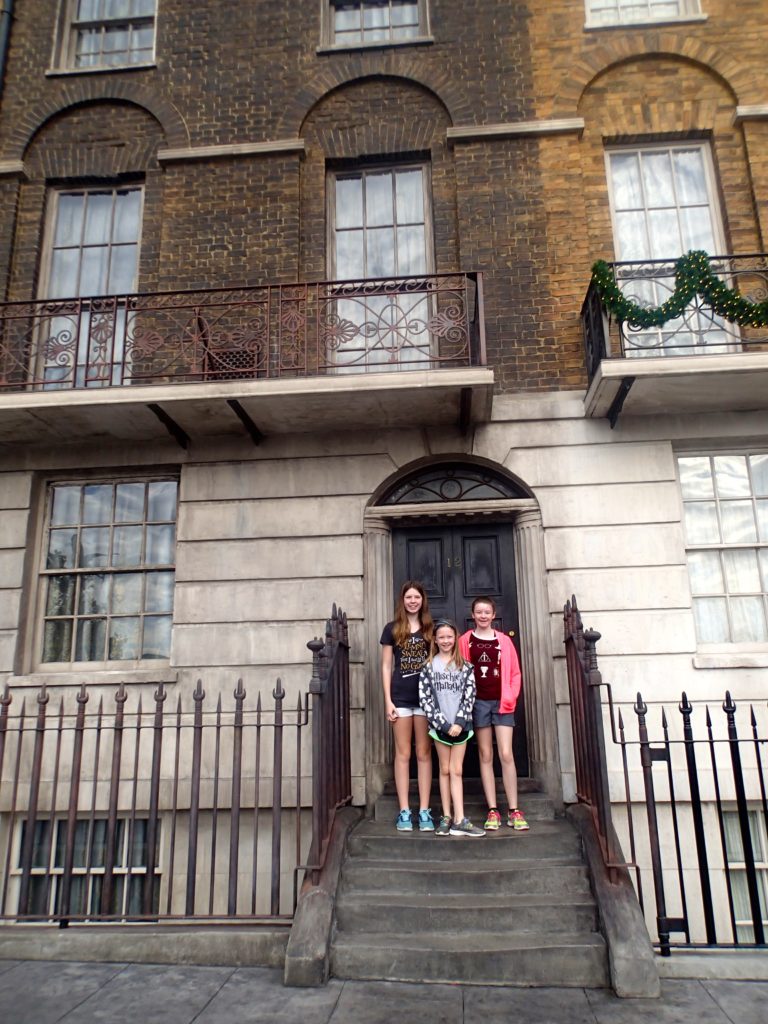 Next it was a quick stop at the Knight bus.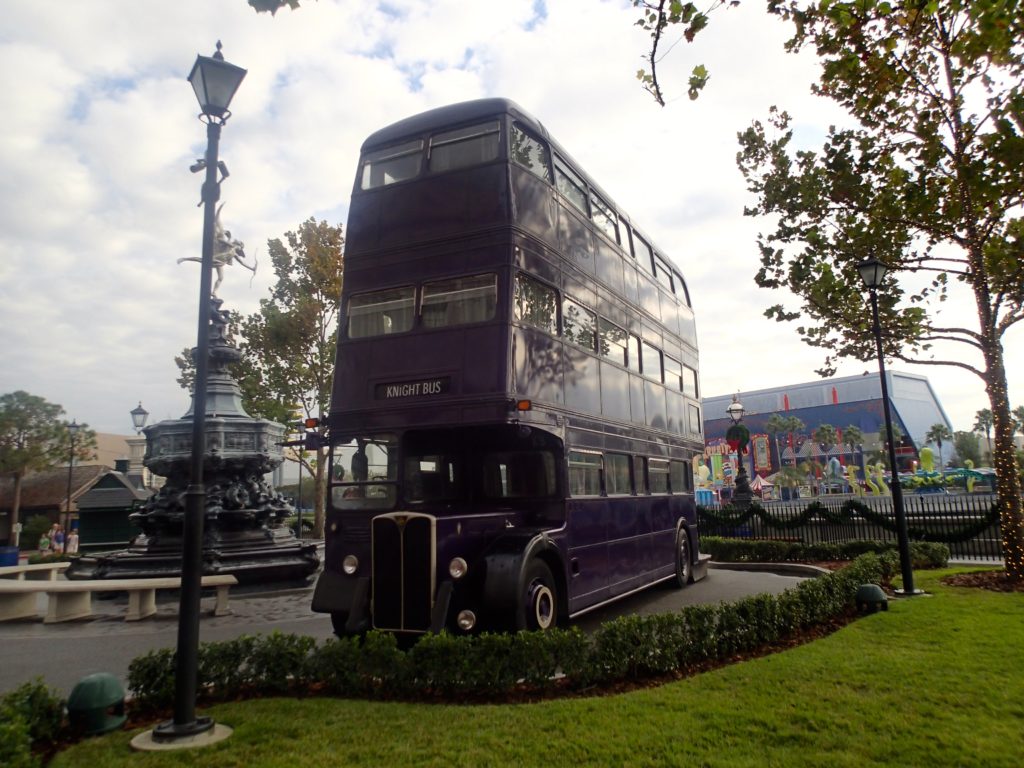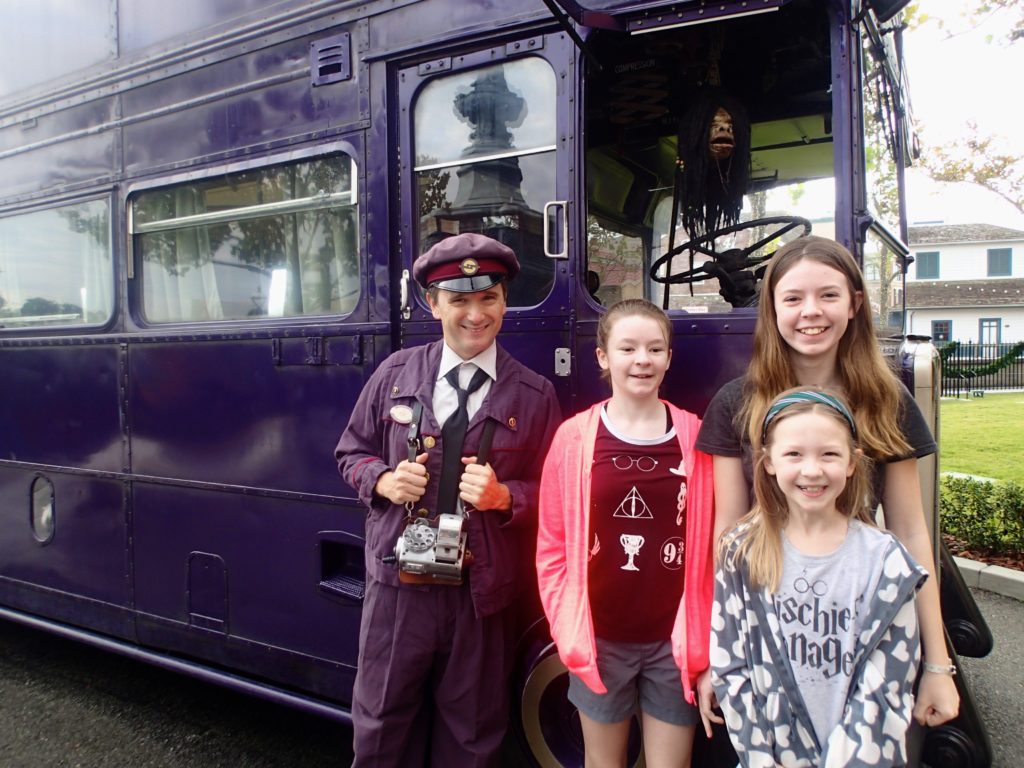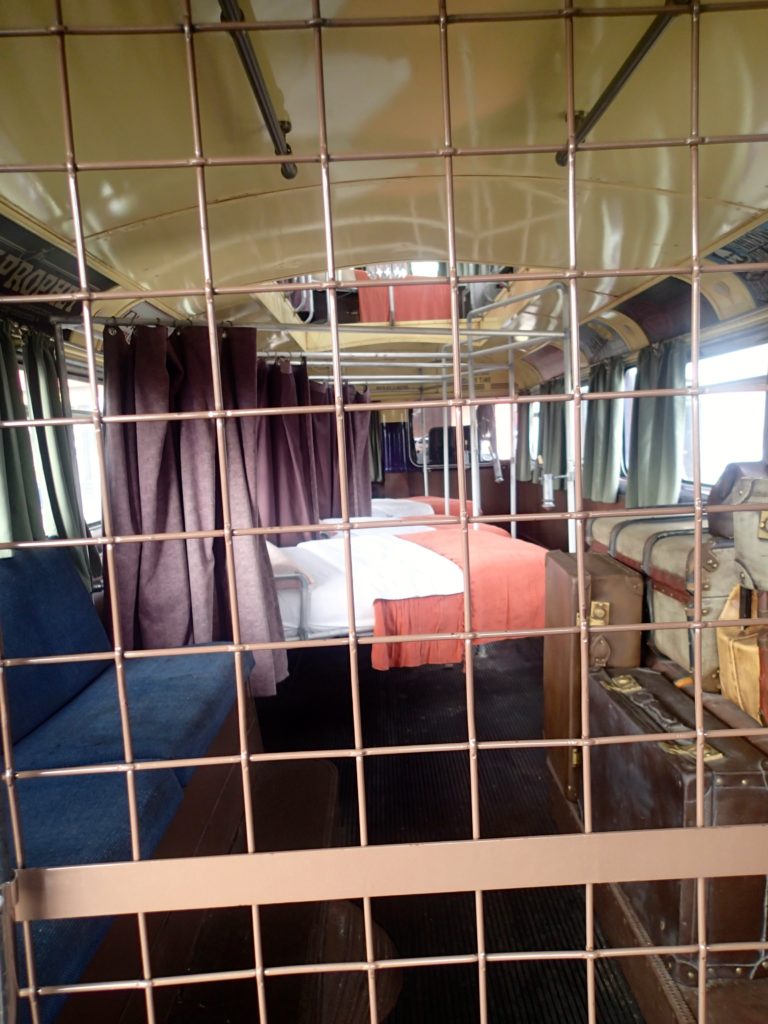 At this point we almost stood in a short line to experience the phone booth entrance to the Ministry of Magic, but I noticed a flood of people coming out of Kings Cross Station and realized that they were all coming from Hogsmeade at Islands of Adventure.  I knew that most of them were probably heading straight to Escape from Gringotts, so we decided to do the phone booth later and get to Gringotts before the line got too long.  We entered Diagon Alley and I loved seeing it so empty!  It allowed me to see so many more details than I did last year when it was much, much more crowded.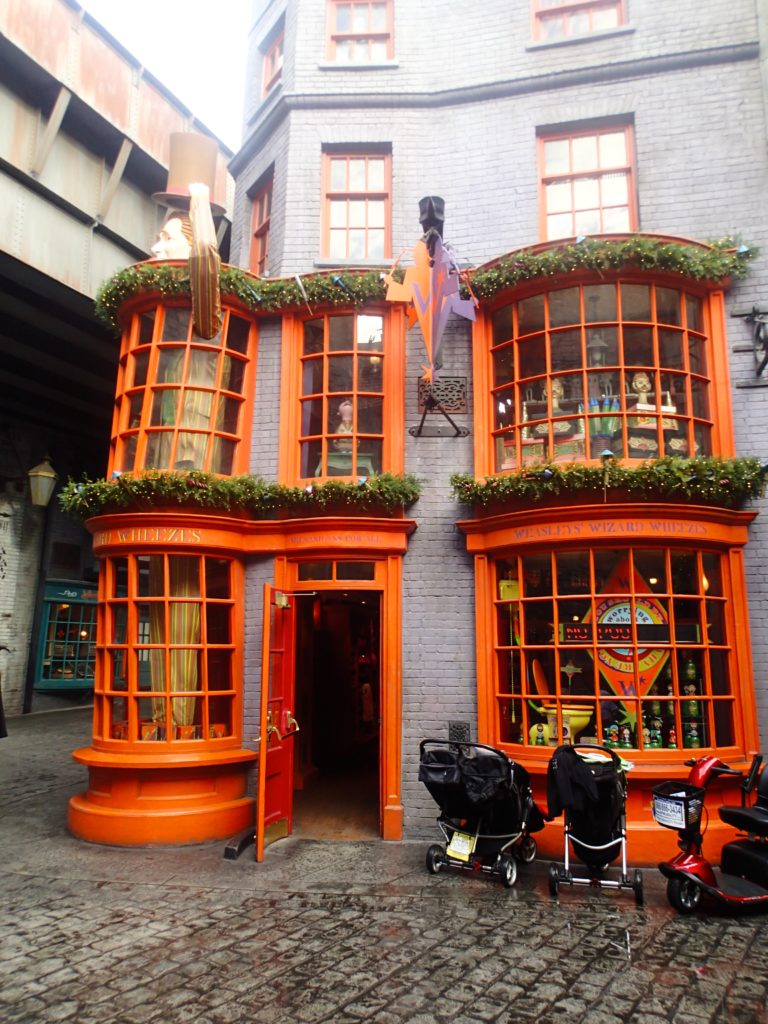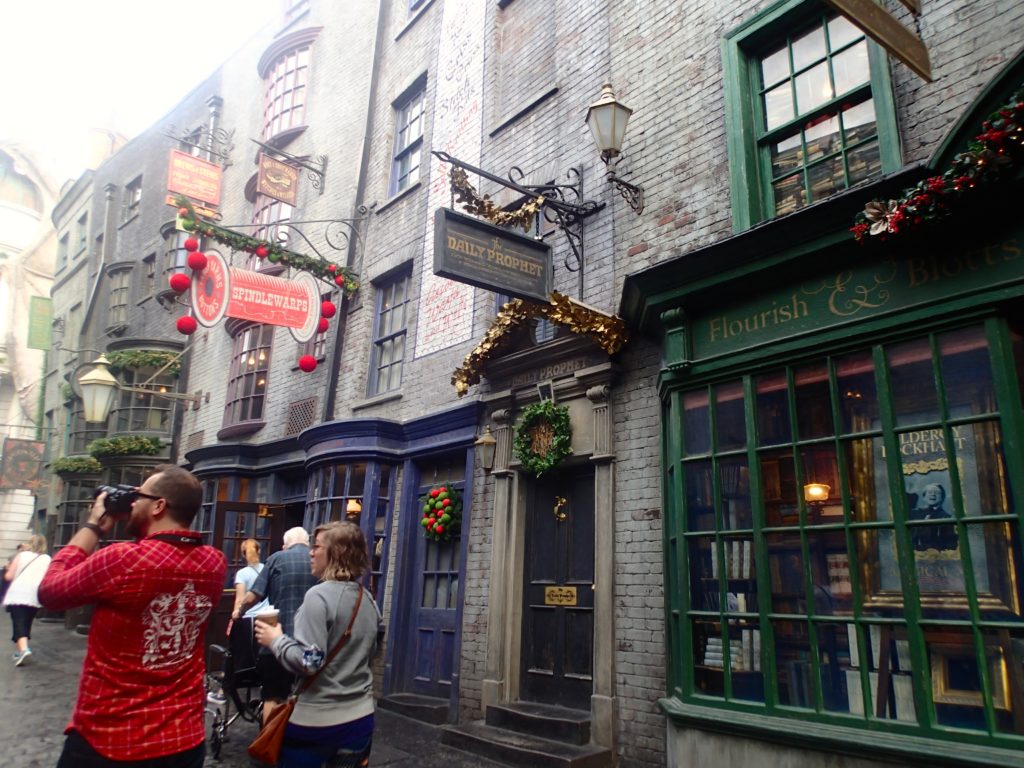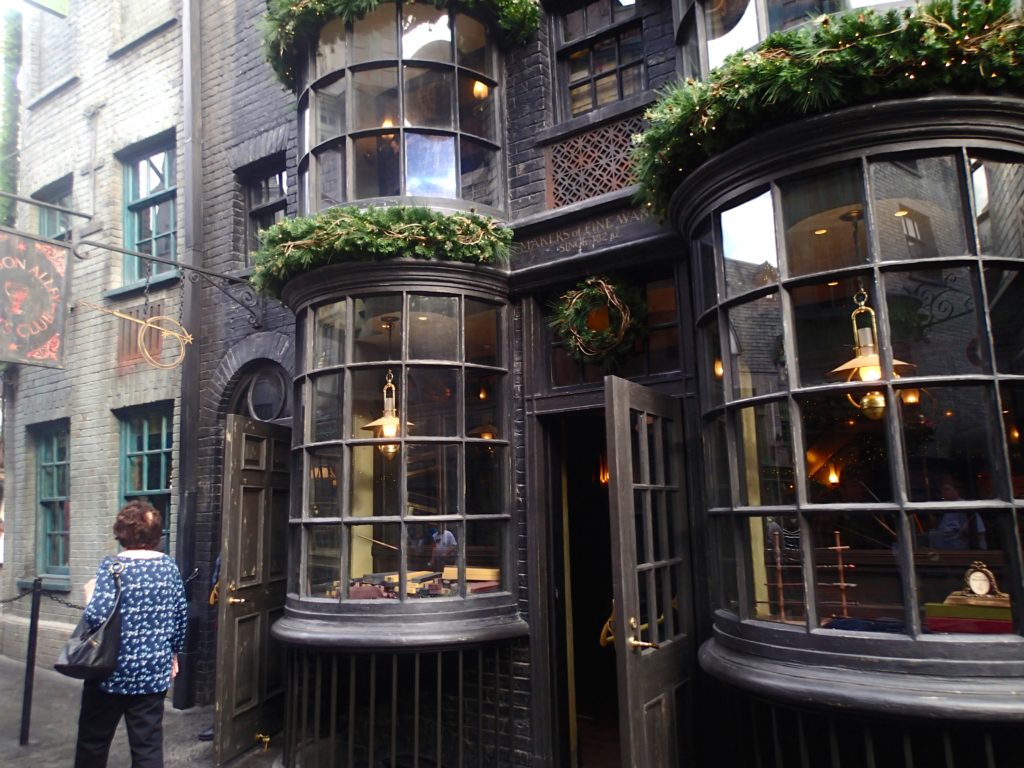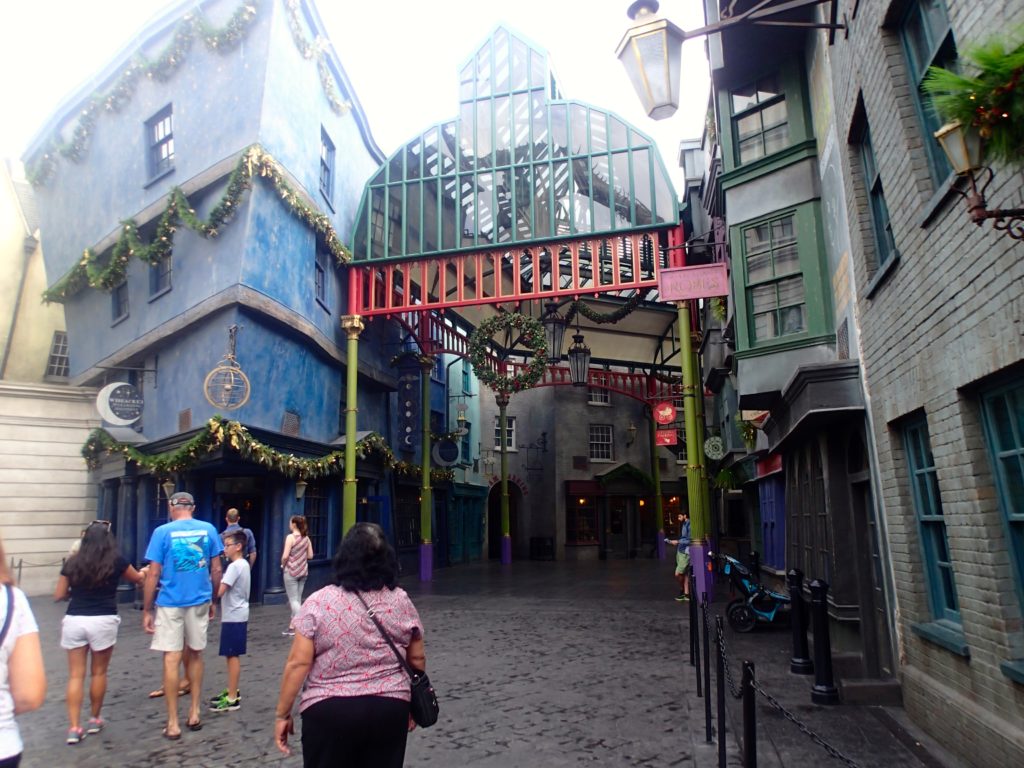 We arrived at Escape from Gringotts and figured out the locker situation.  Last time our VIP guide would hold all of our stuff on rides so this was new for us.  After taking longer than it should have to get a locker, we jumped in line.  For some reason, the team member at the line entrance just assumed we did not have express pass and pointed us to the main line.  Thankfully I noticed and questioned her about it and we got into the correct line.  It was weird that she didn't even ask us first.
The line queue inside Gringotts is one of my favorite places in the Wizarding World.  It feels like stepping onto the movie set.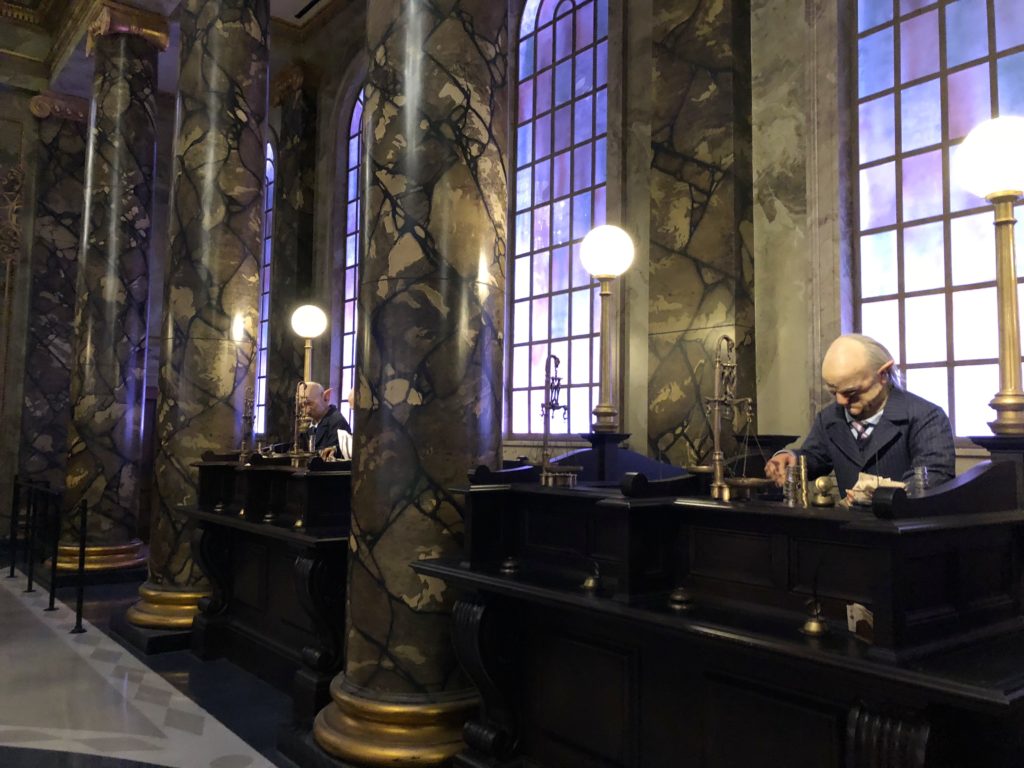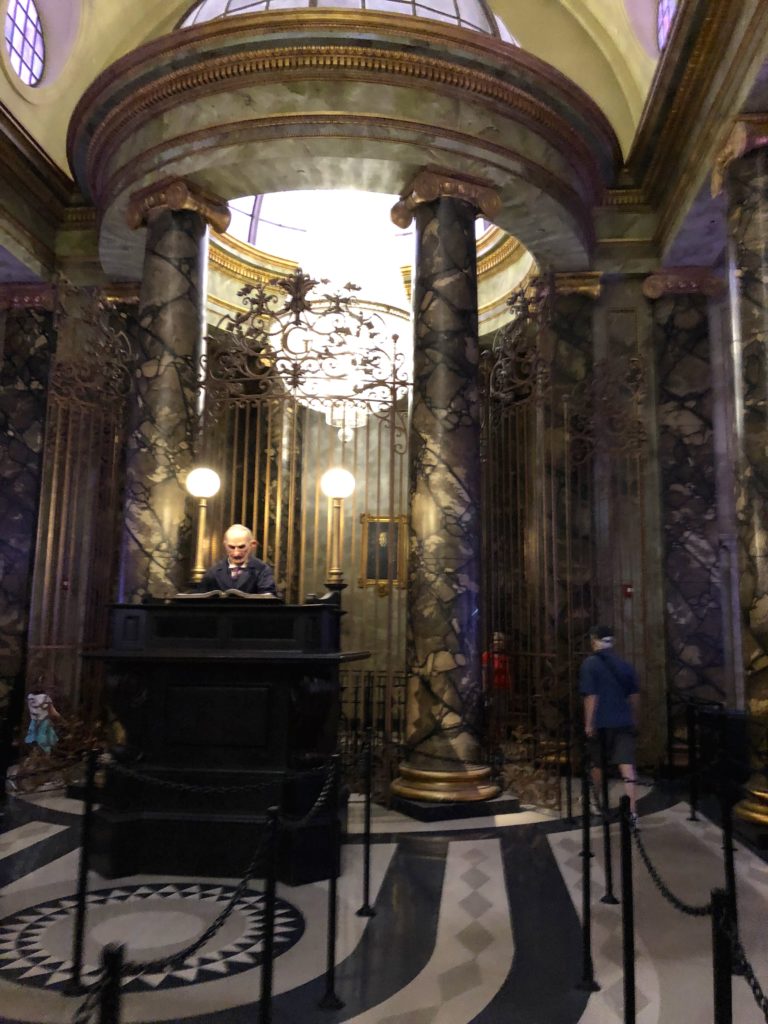 The line was really short so we only waited a few minutes until we entered Bill Weasley's office.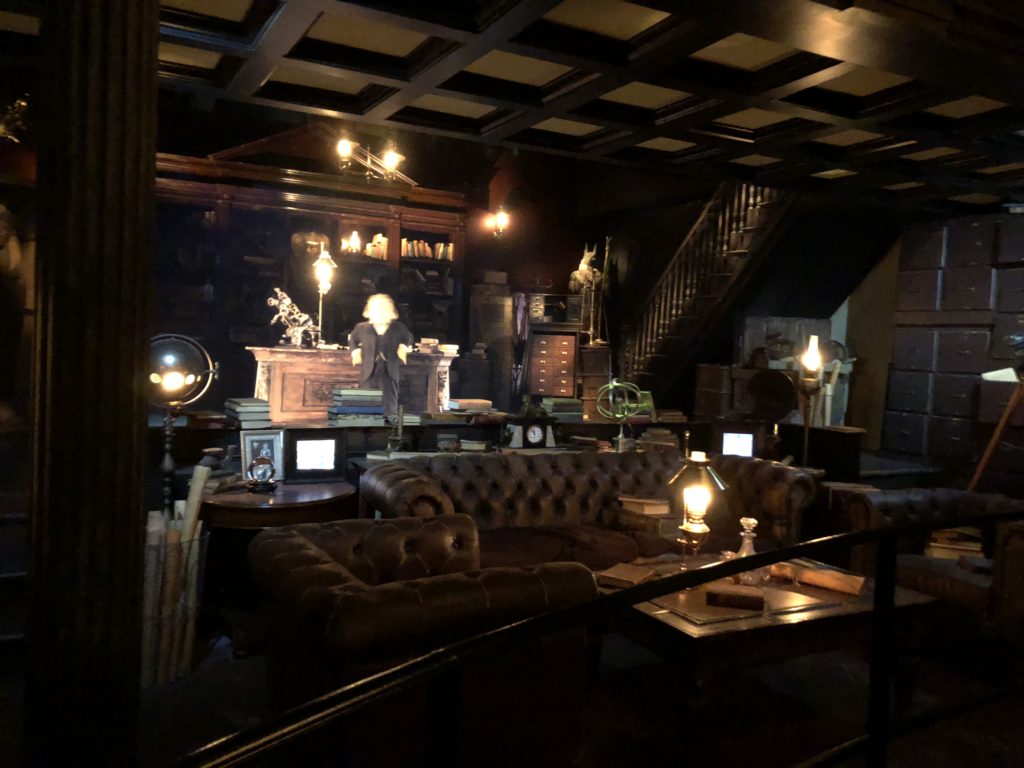 Next it was time to get into the elevator.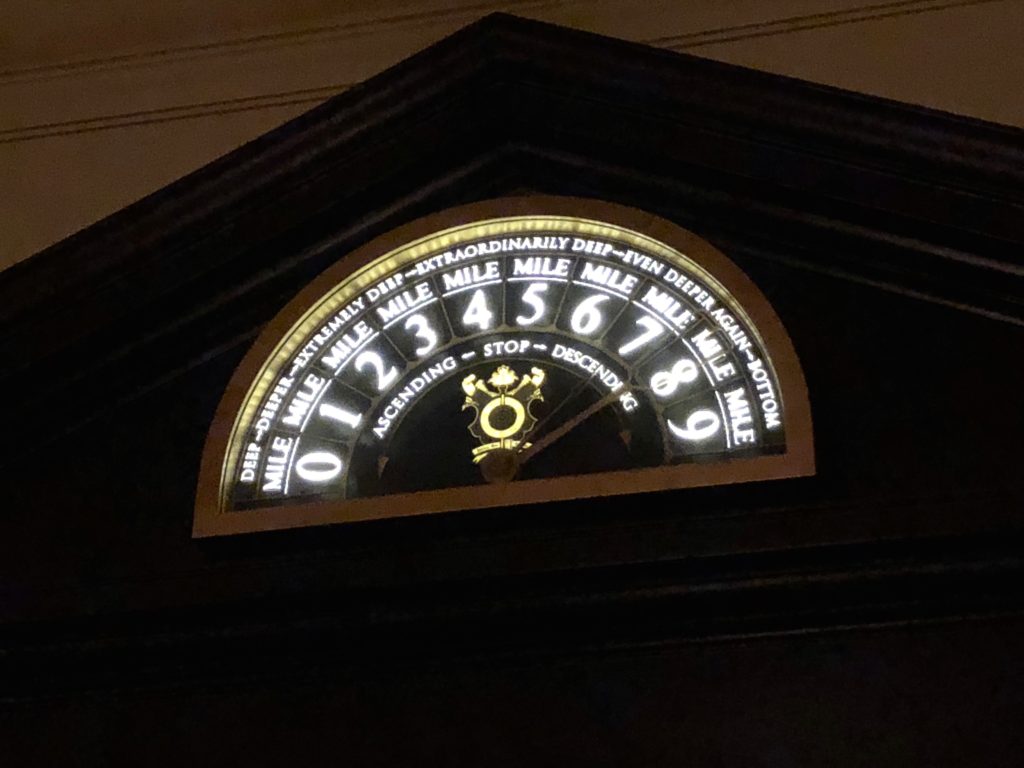 And then finally, the ride.  It was as great as I remembered it!  My husband and oldest 2 jumped in line to ride it again, but my youngest and didn't care to so she and I went to Ollivander's wand shop instead because there was no line.  We literally walked right in and then the door closed behind us.  I love the details in here too: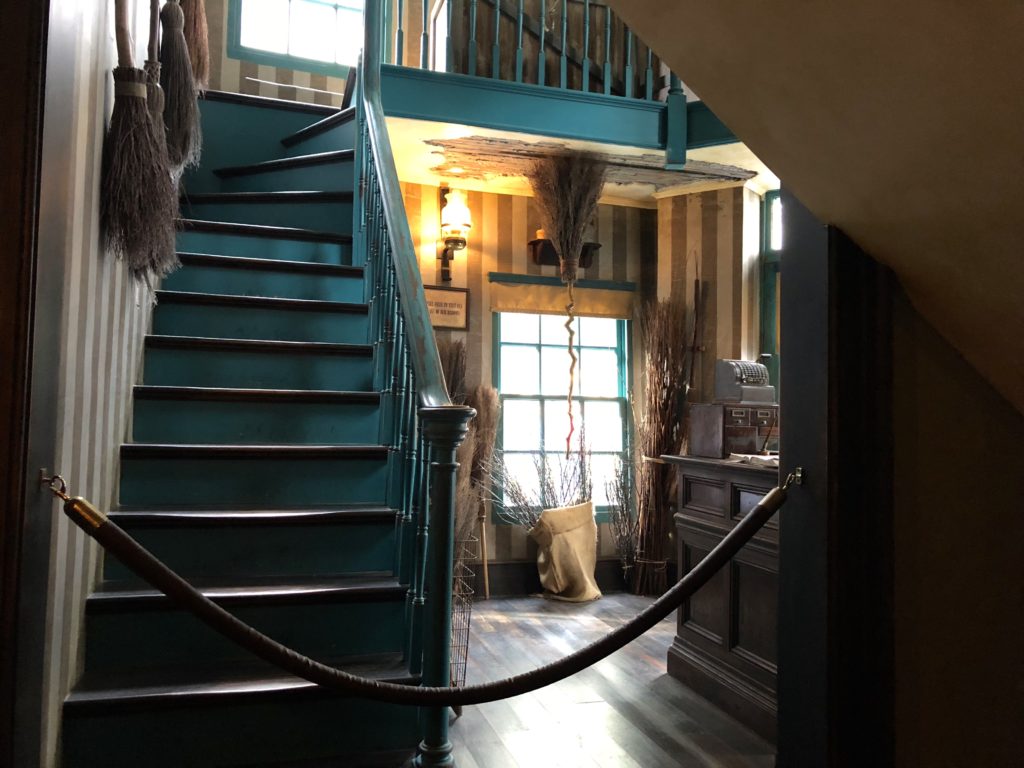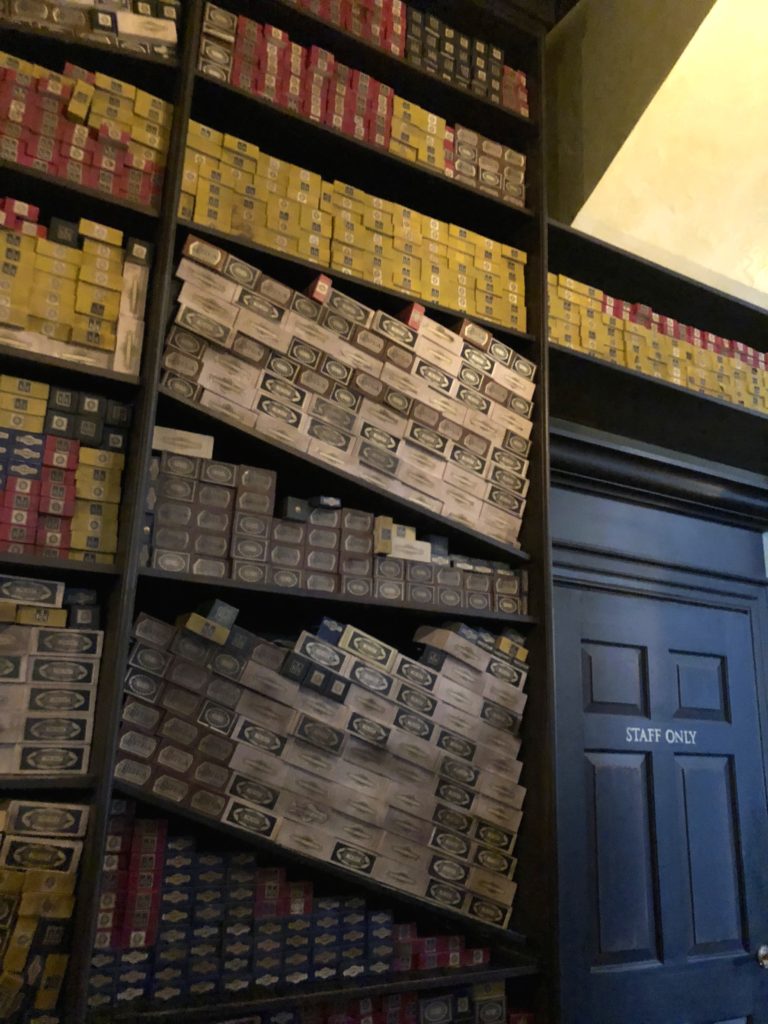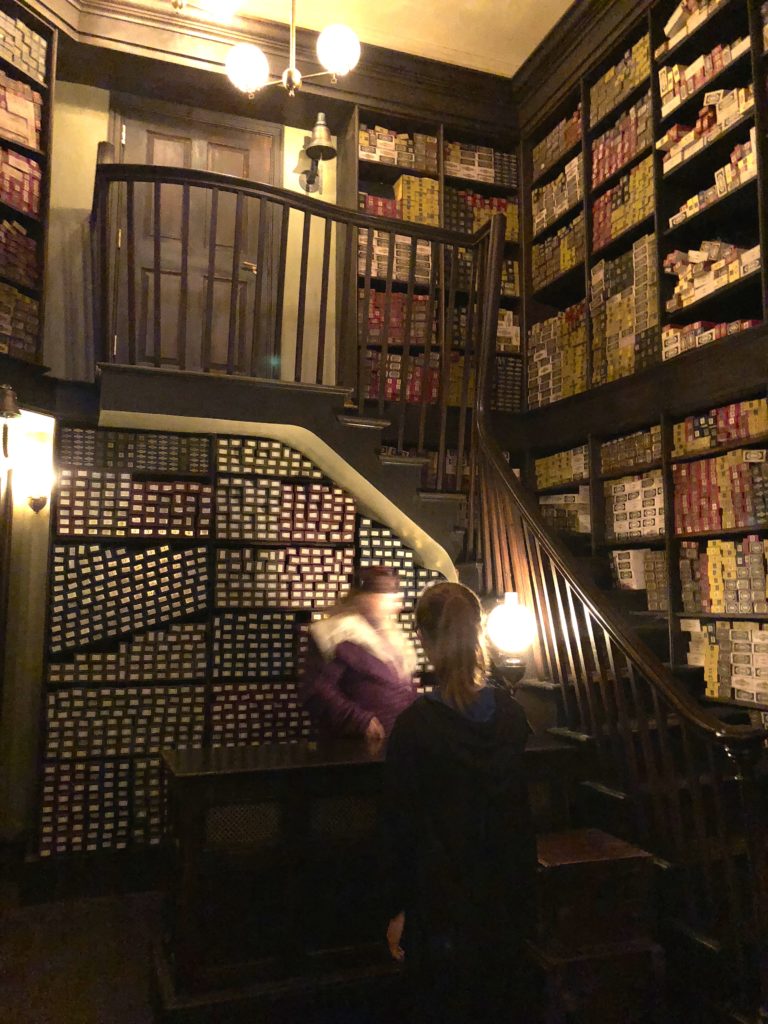 My daughter didn't want to get chosen (she was reluctantly chosen last time we were there) and she didn't so that worked out well.  The wand ceremony was a bit different than last time, so if you've done it once, don't feel like you shouldn't do it again as it might be different.  Afterwards we exited through the wand shop which was practically empty.  Last year it was shoulder to shoulder and almost impossible to shop for a wand.  The girls brought their interactive wands that they bought last year so we didn't need to shop this time.
We met up with the others and walked around Diagon Alley for a bit.  The girls used their wands to do some magic.  Here she is about the make it rain on that umbrella.  I didn't notice it at the time, but it looks like that man and his phone are about to get wet.  Oops!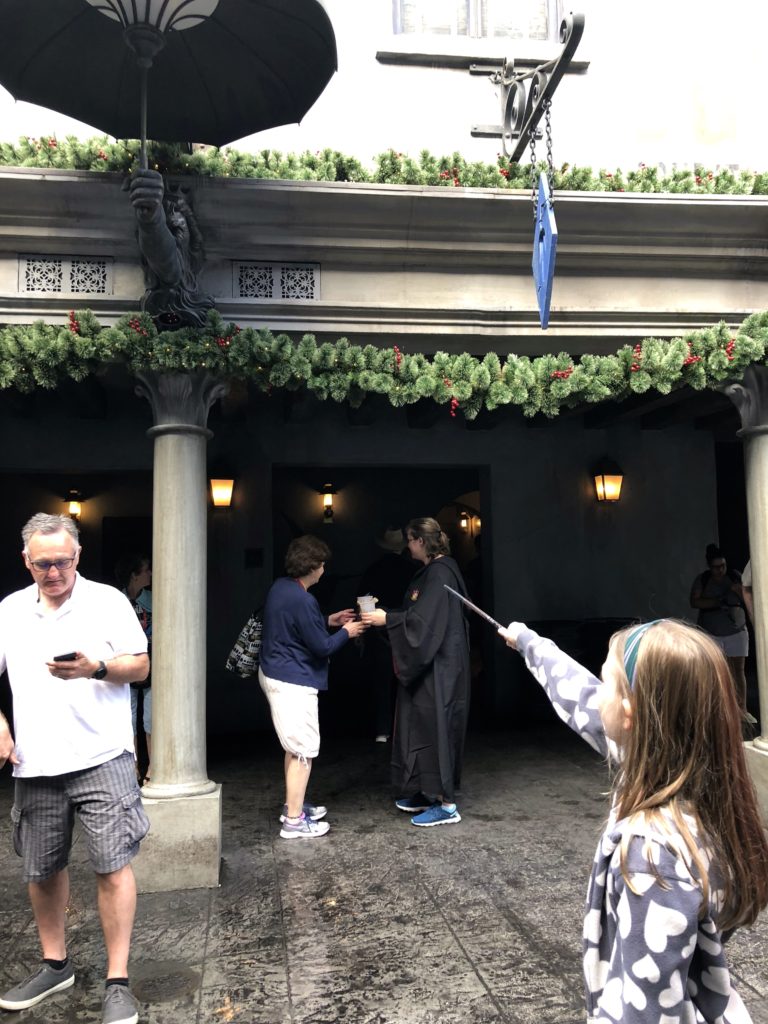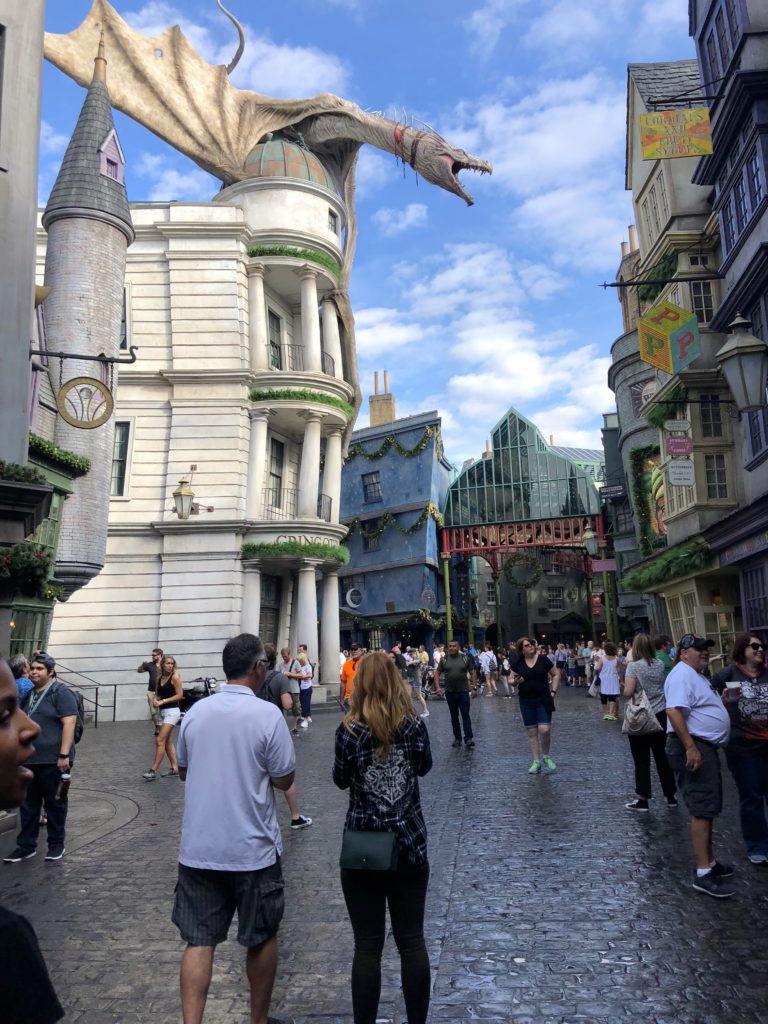 We saw the dragon breathe fire which is always exciting.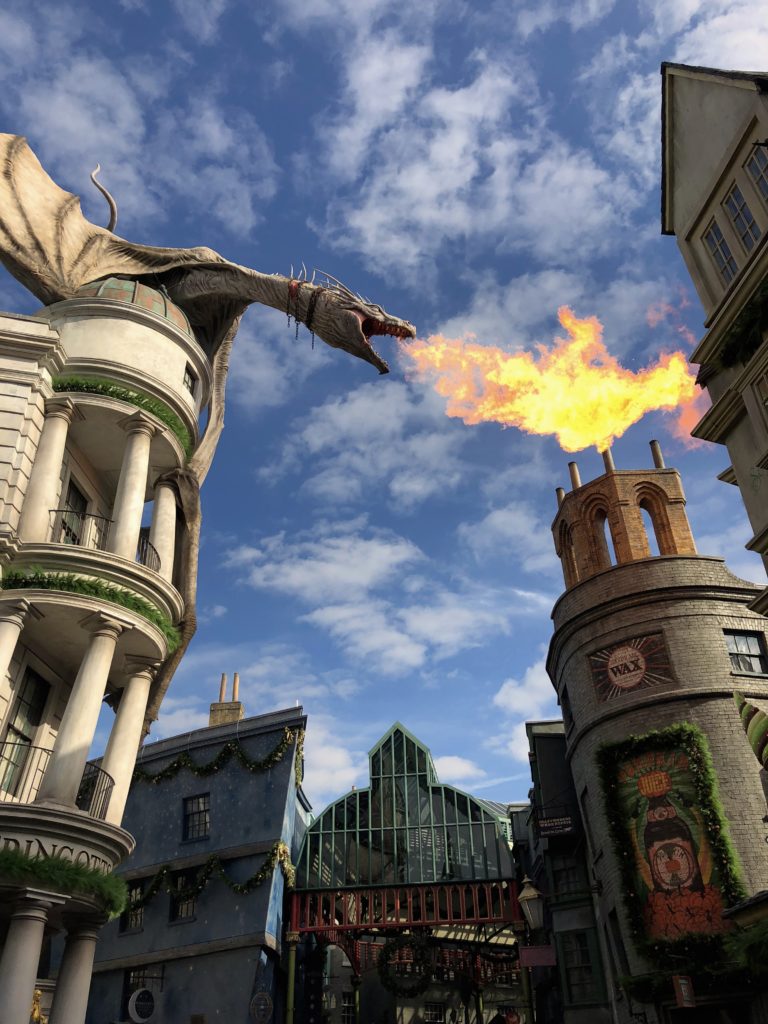 It's still pretty empty at this point.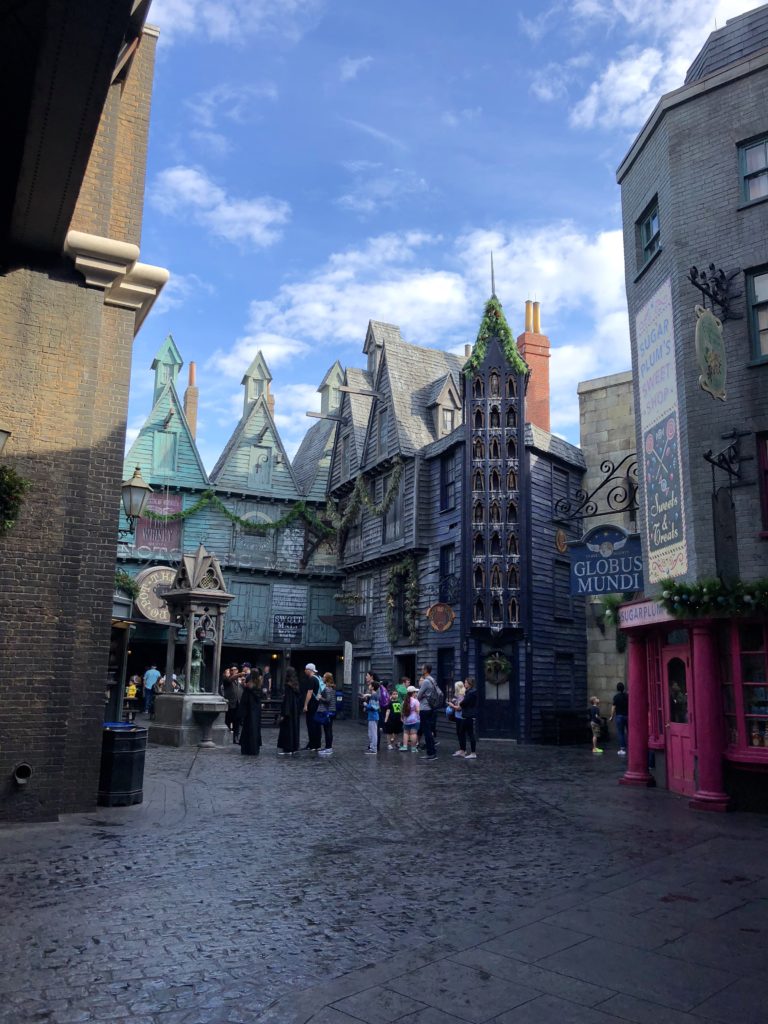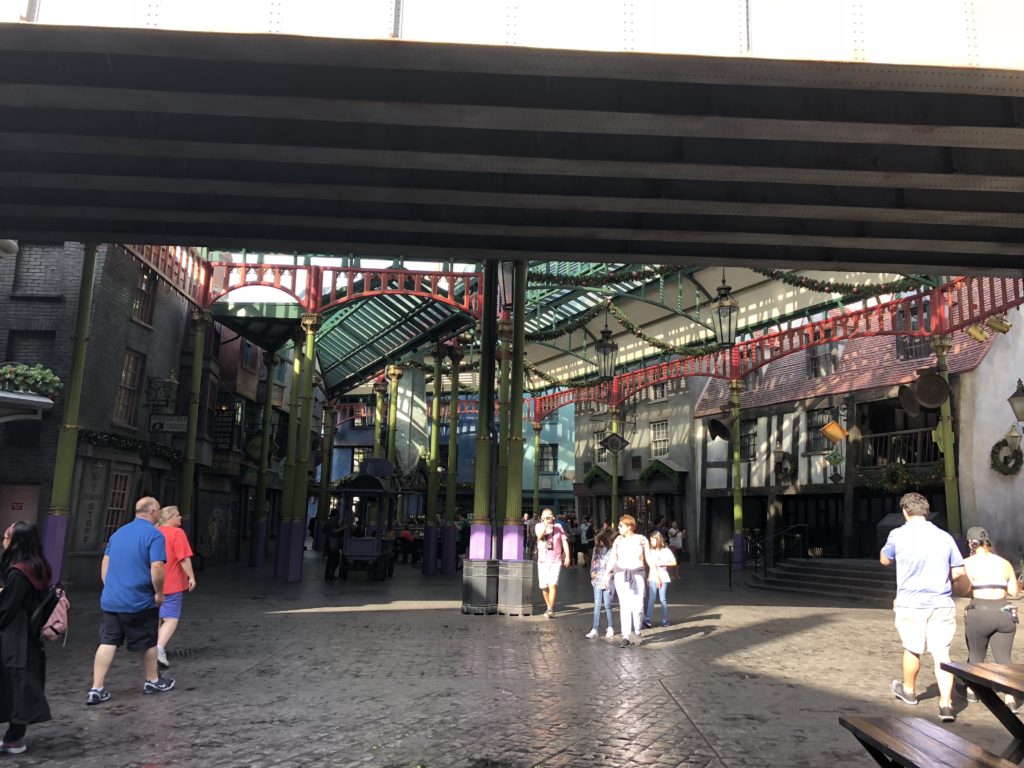 By now the girls were asking for butter beer so we stopped at The Hopping Pot and there were actually some tables available so we grabbed one.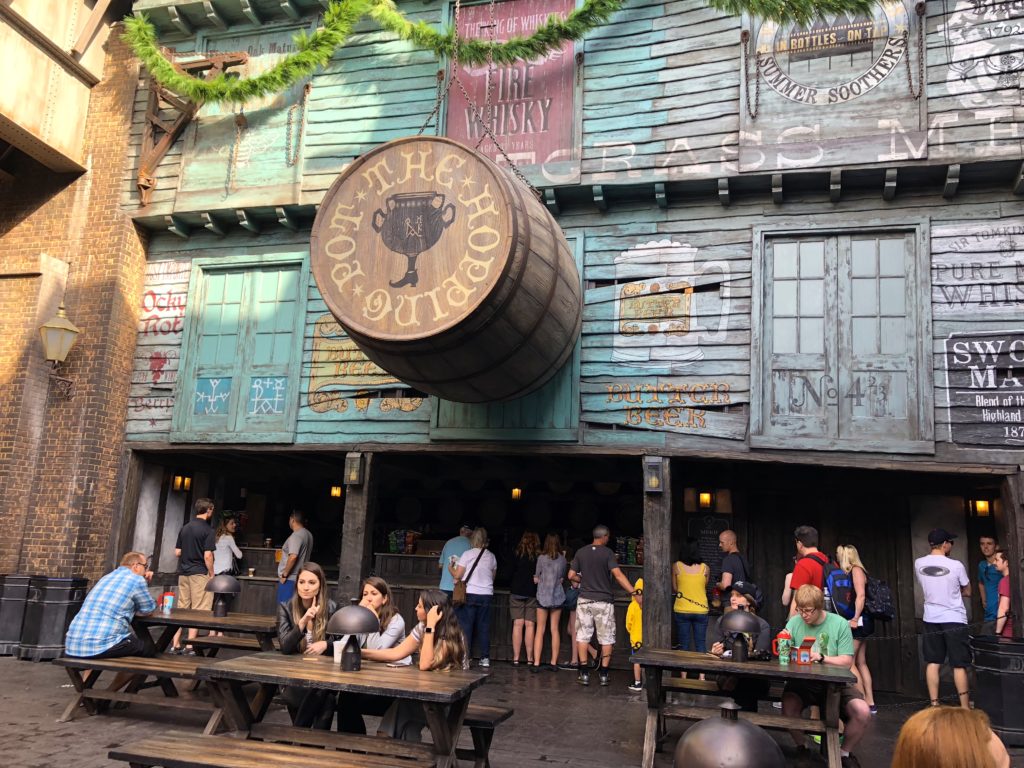 While hubby stood in line, the girls did some more magic.  This one below was particularly hard to make work and the team member was doing everything he could to help.  Eventually he nicely told my daughter to just come back and try again later. I didn't blame him.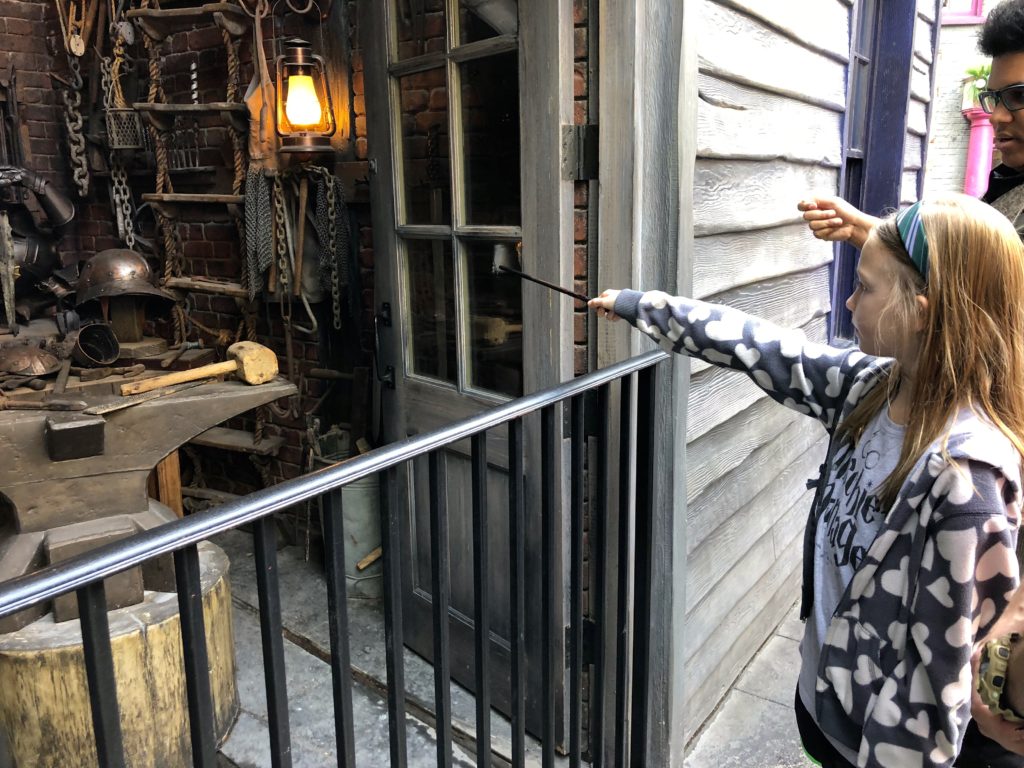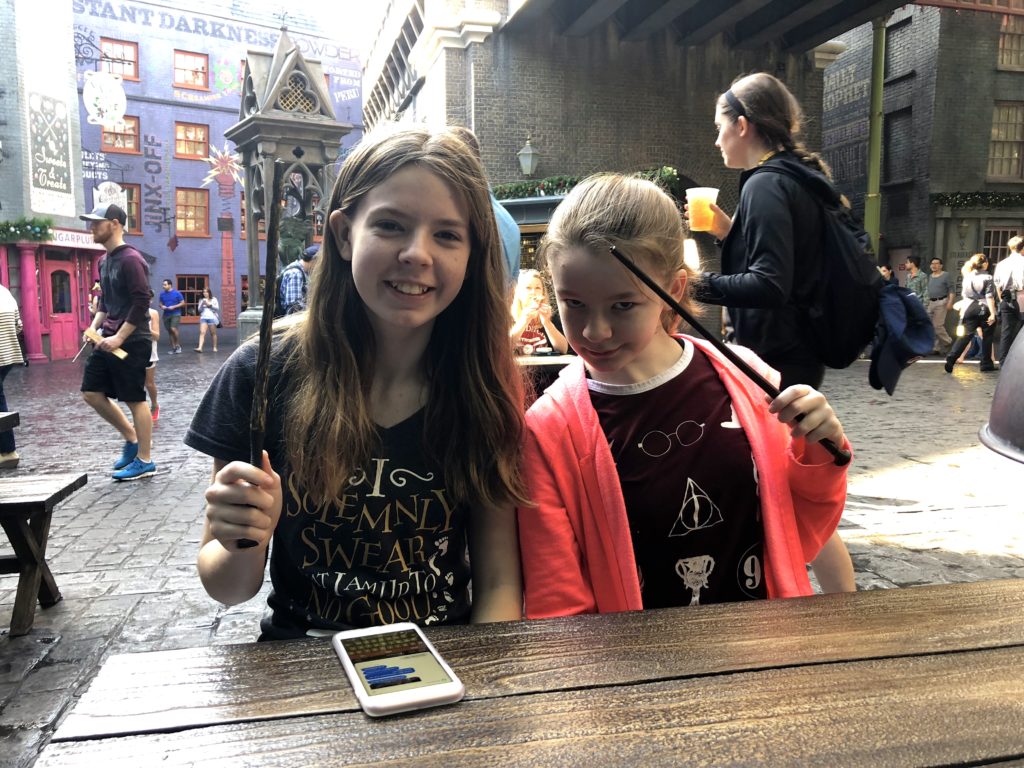 It was also at this time that my youngest started saying she didn't feel well and complained of a headache.  I always bring a small bag with a few medications to theme parks, so I gave her some tylenol.  You will hear more about this later unfortunately, but the tylenol helped for most of the day.
Finally our goodies arrived.  I think we all got the frozen version this time.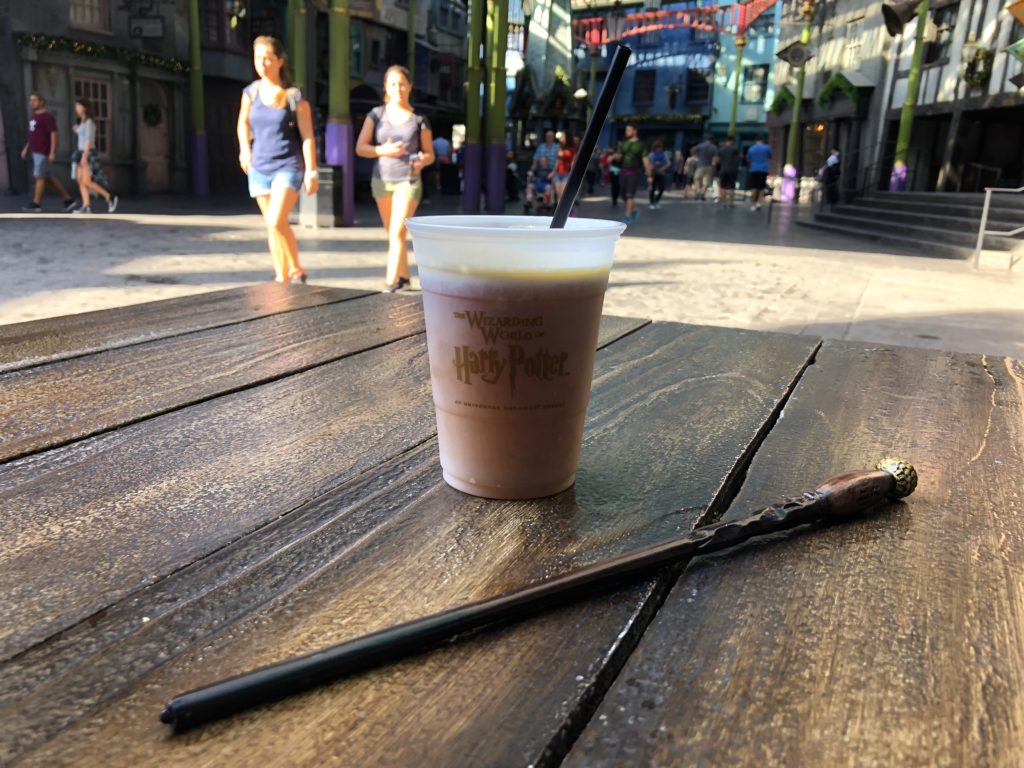 We also tried some beef pasties which were really, really good.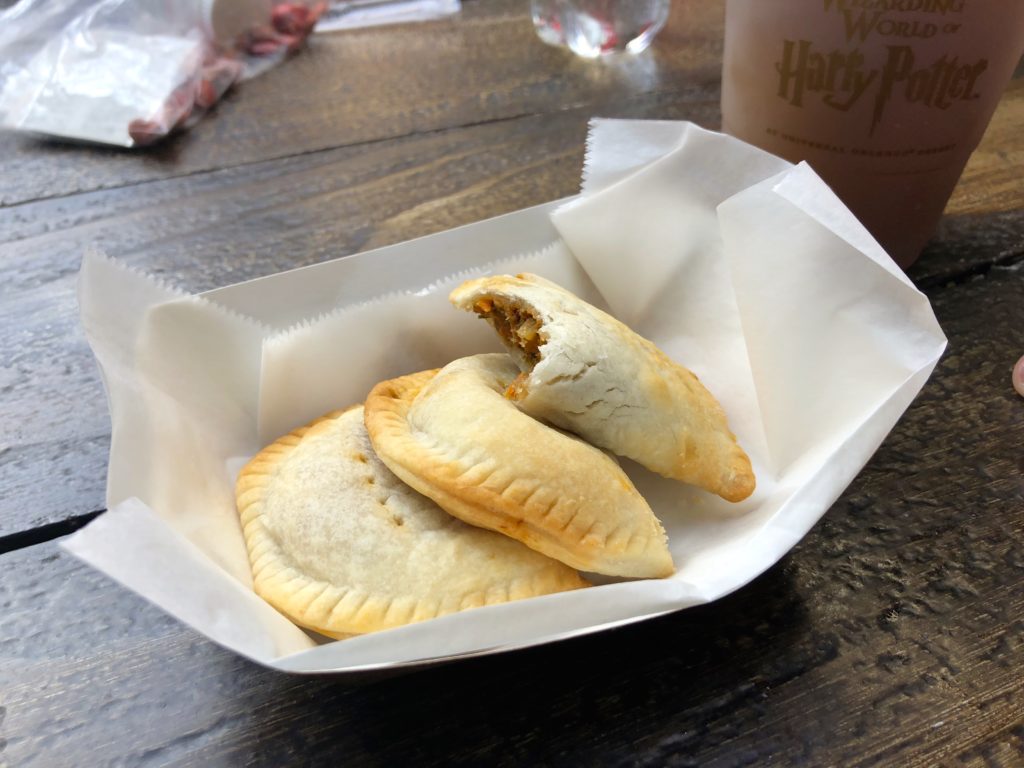 Next we wanted to watch The Tales of Beedle the Bard which was getting ready to start on the stage right next to us, but while we waited for it to start we popped into the Gringotts Money Exchange.  We somehow missed this on our last visit.  It is a place where you can trade your US currency for Gringotts bank notes (in $10 or $20 denominations) which you can then spend at shops inside the Wizarding World (you can also transfer it back if you don't use it all).  We didn't get and wizard money, but we did check out the goblin presiding over the shop because this one talk to you!  He will even answer questions if you ask him!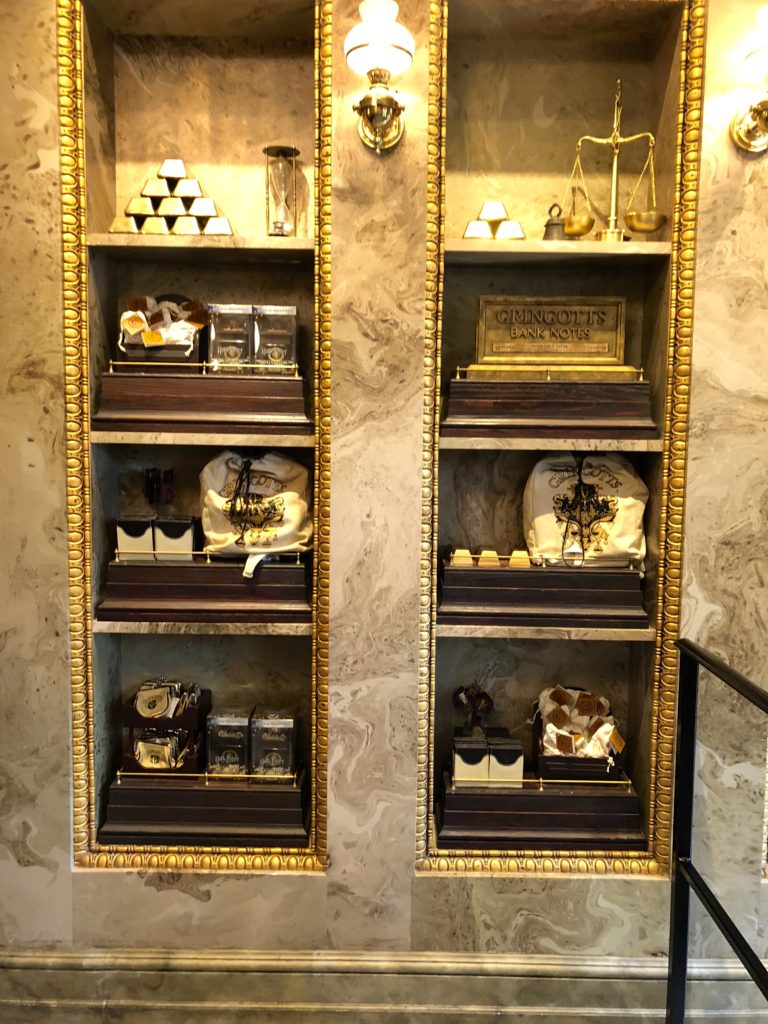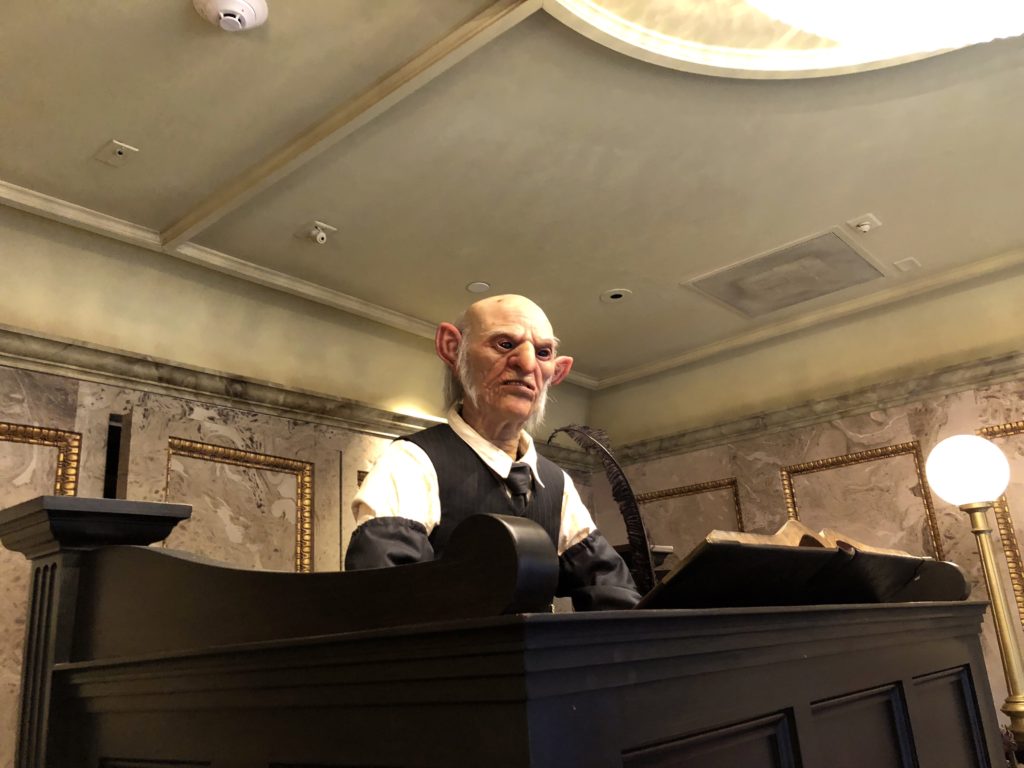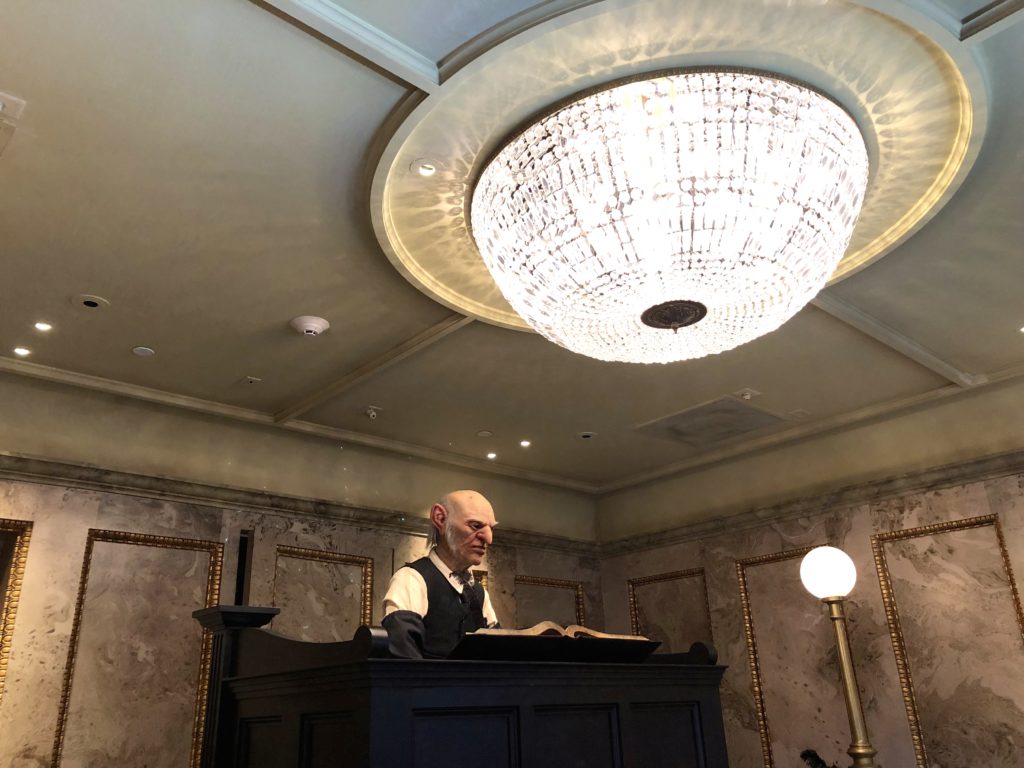 Now it was time for the show to start. This is a storytelling show that uses actors and puppets to tell either "The Three Brothers" from the Deathly Hallows or "The Fountain of Fair Fortune".  There is no way to know ahead of time which one will be performed, but we ended up seeing the second one later in the day.  This time it was "The Three Brothers".
The puppets were impressive and looked just like the animation from the movie.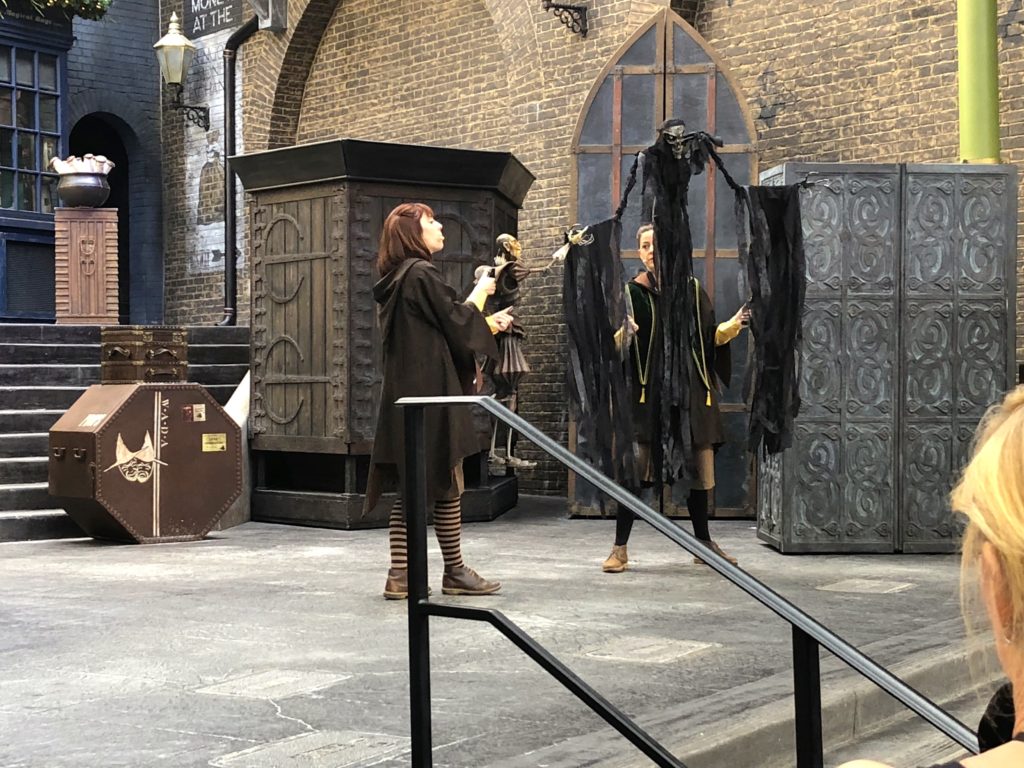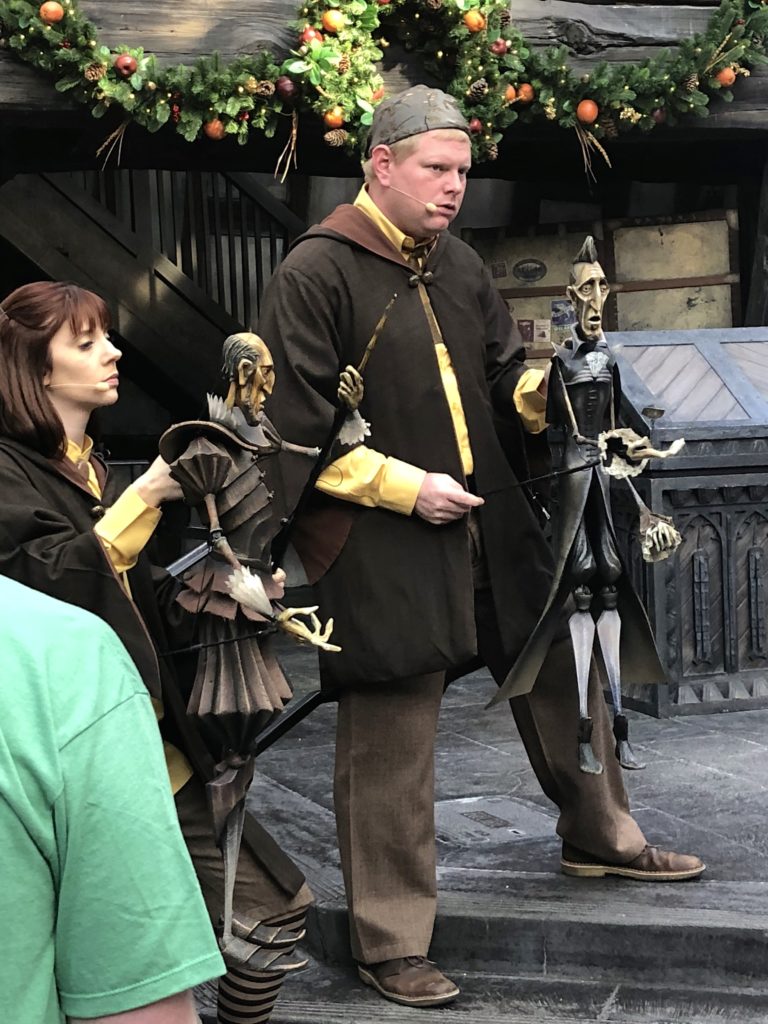 The show was about 10 minutes long and next it was time to explore Knockturn Alley.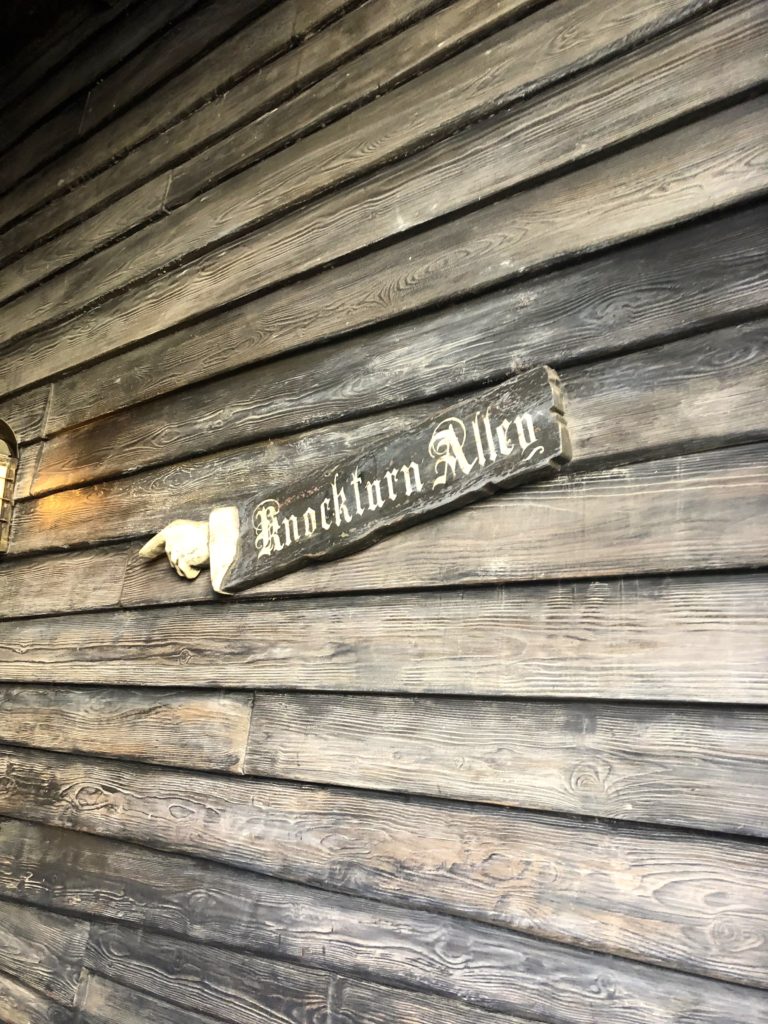 My girls like to come in here because there are lots of opportunities to perform magic with their wands.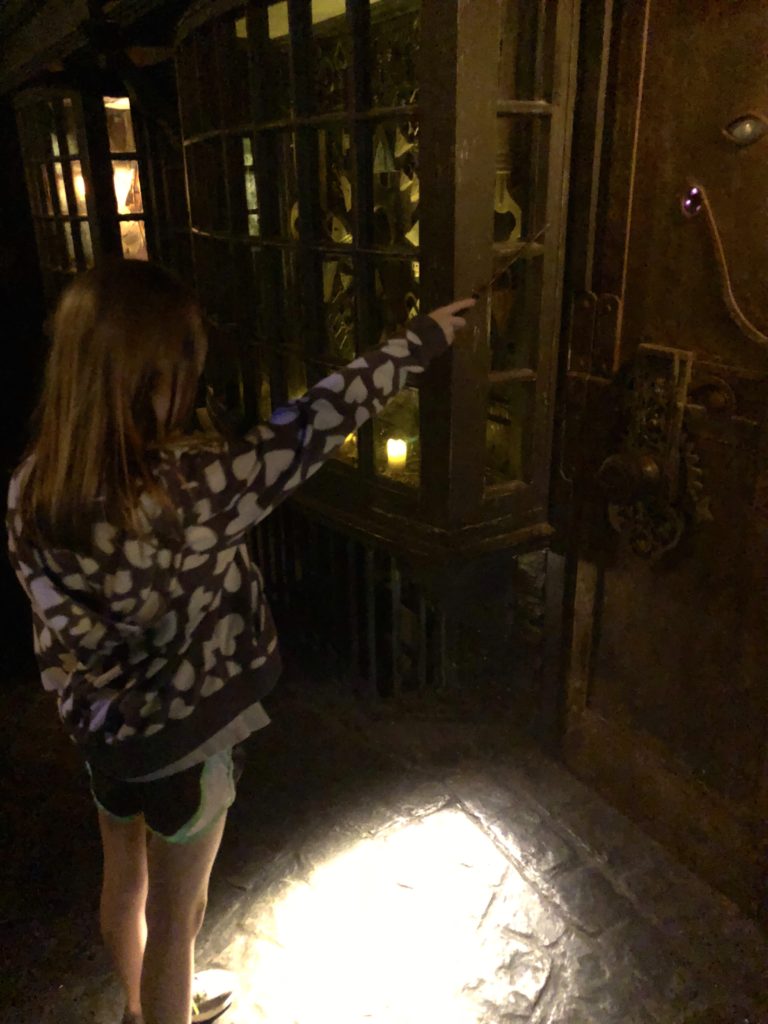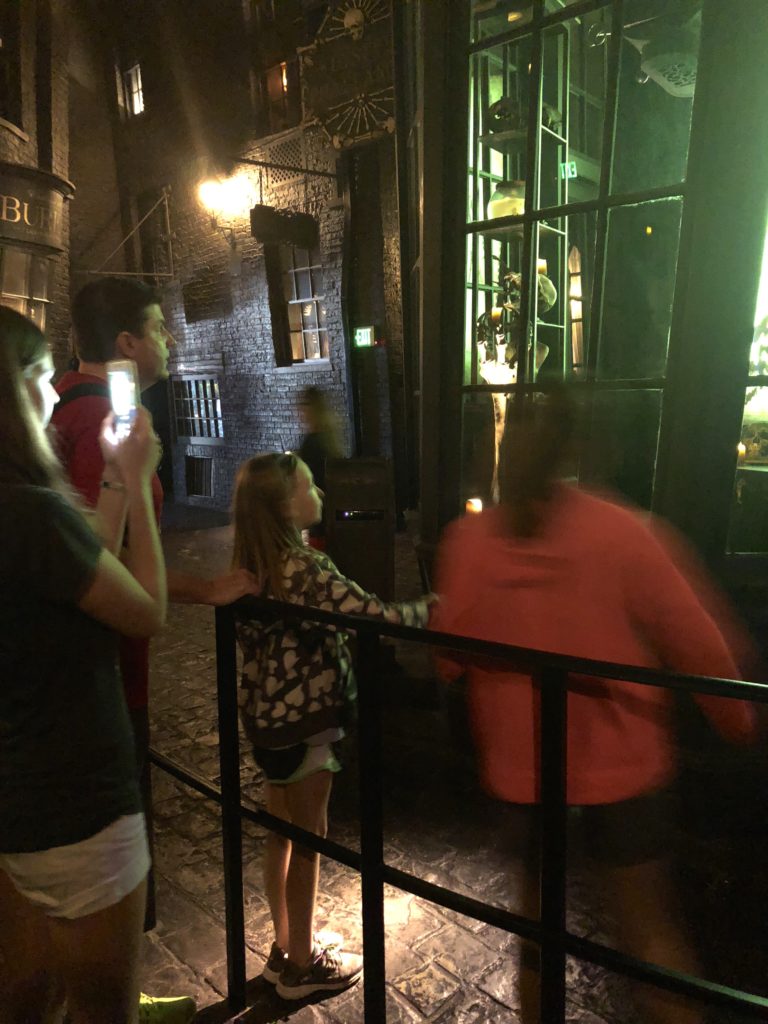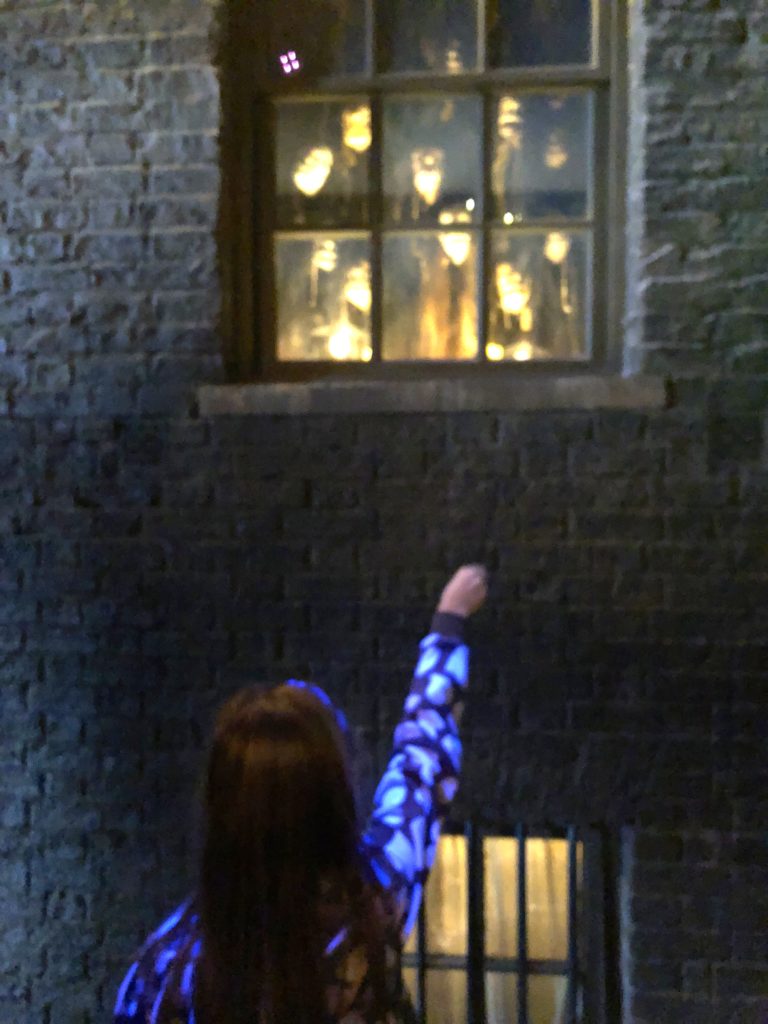 We left Knockturn Alley and headed back to the stage area because Celestina Warbeck and her Banshees were getting ready to perform.  For those not familiar, Celestina Warbeck is a famous singer in the wizarding world and Molly Weasley's favorite.  On the way we stopped for a photo on Hagrid's motorcycle: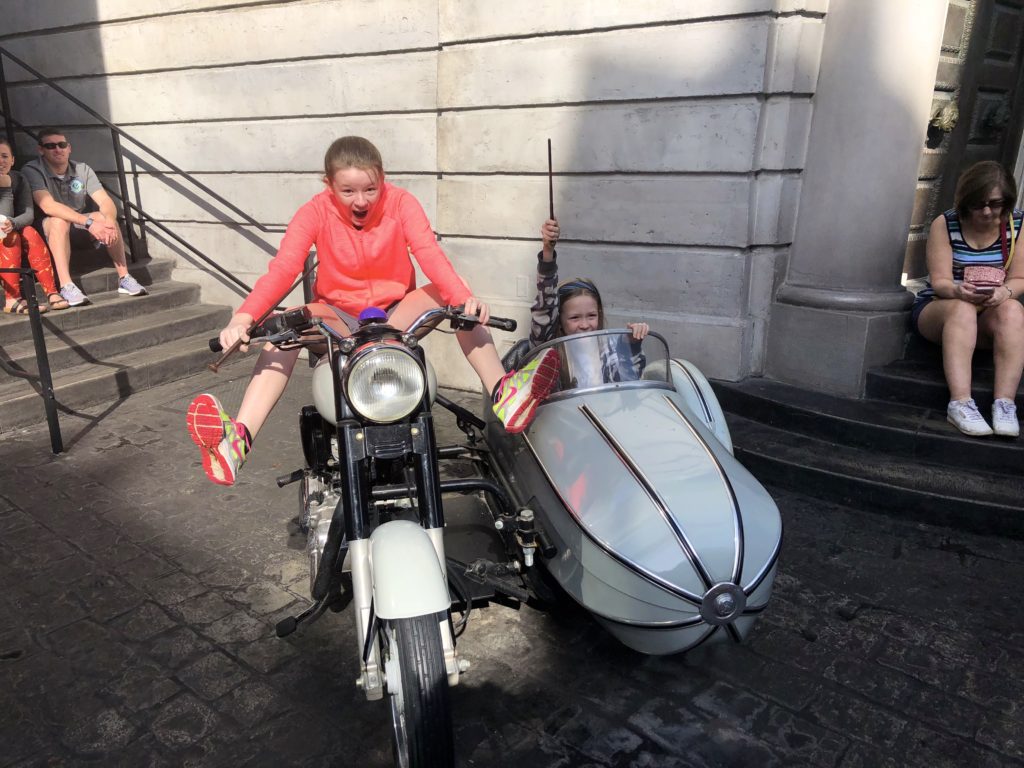 Here is Celestina making her grand entrance: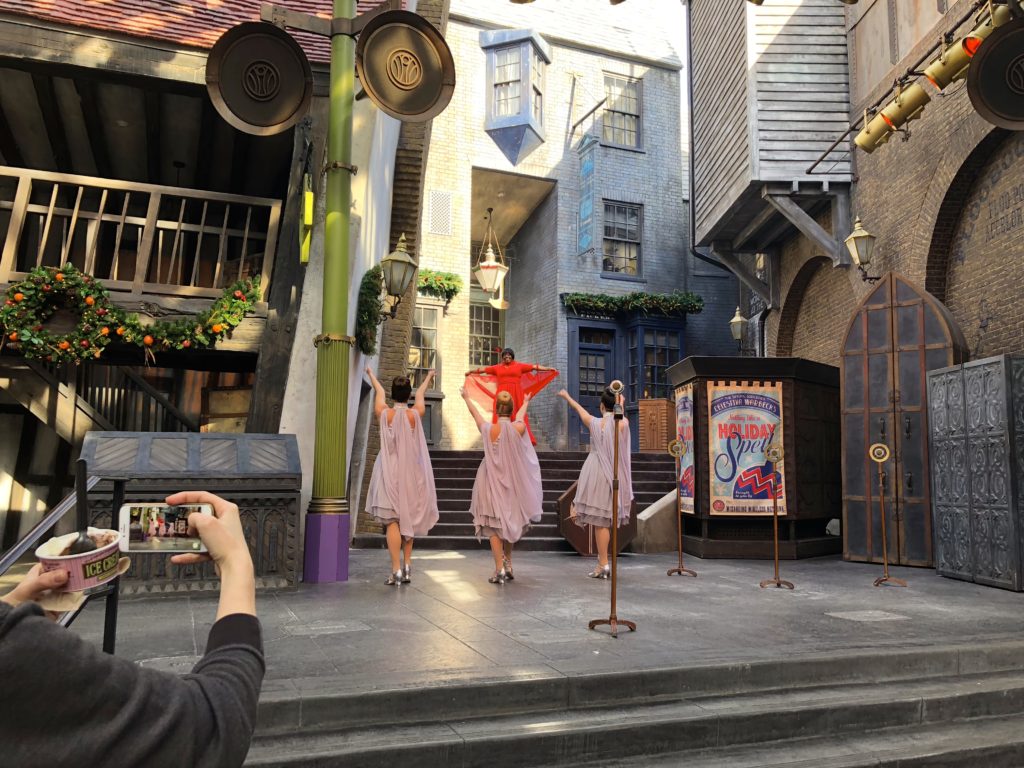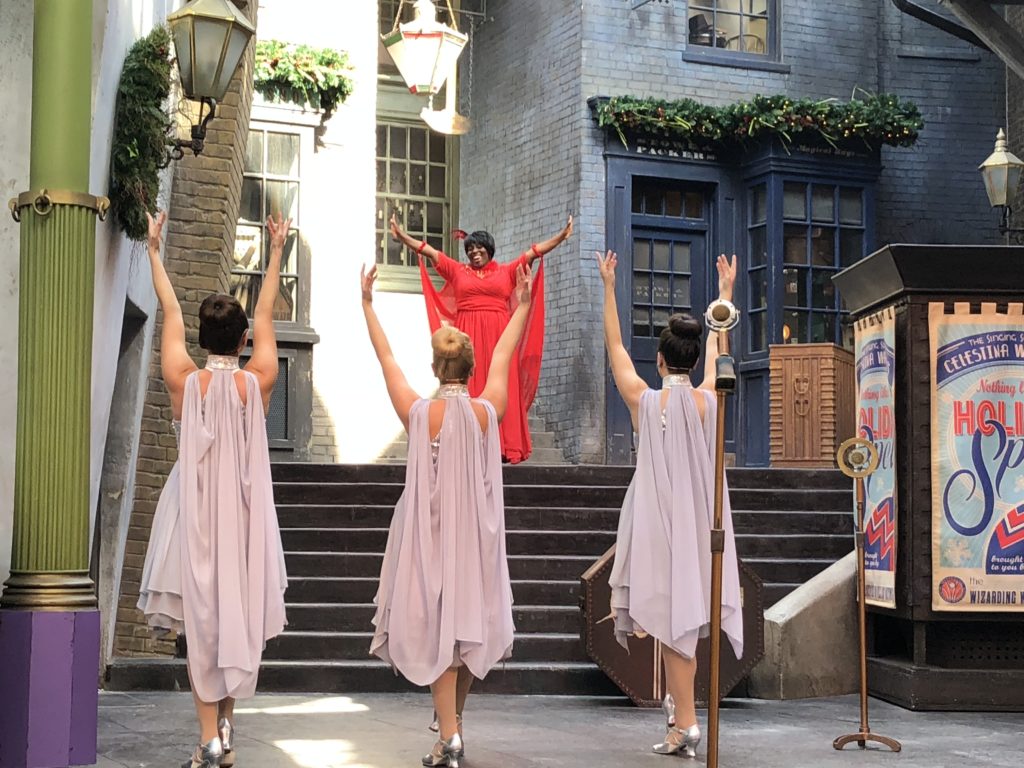 Some of the songs she sang were "Accio Christmas", "My Baby Gave Me a Hippogriff for Christmas", and "Nothing Like a Holiday Spell".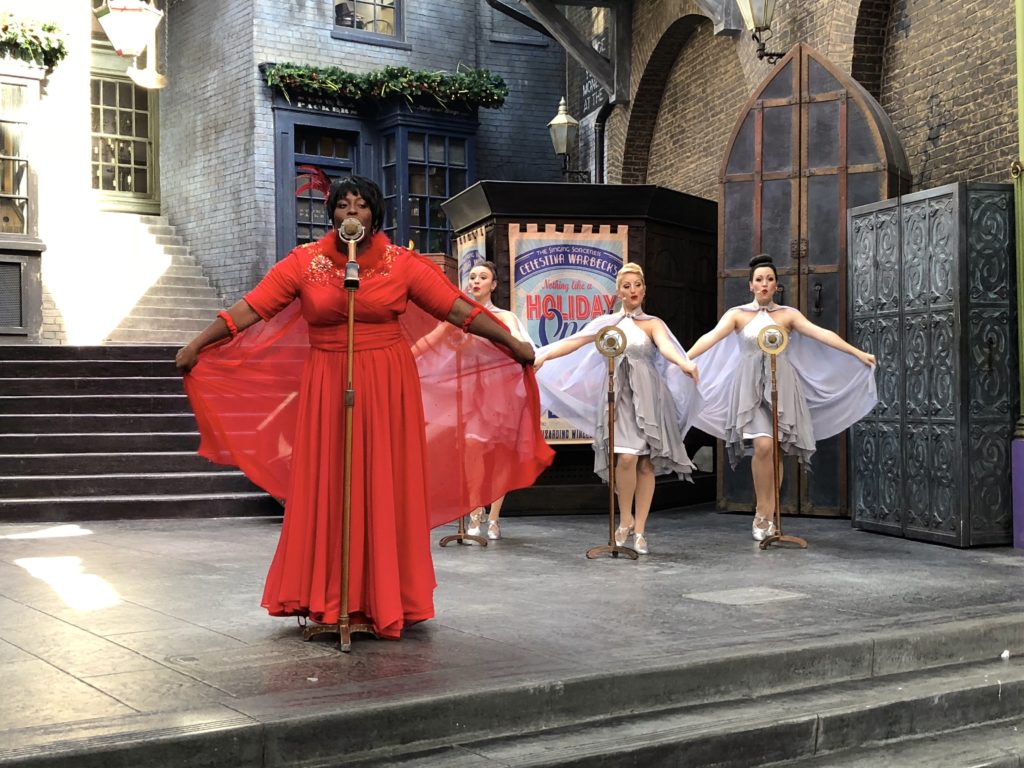 The singing was live and very good.  It was a fun show.  Now we were ready to catch the Hogwarts Express and go to Hogsmeade for some lunch at the Three Broomsticks.  On the way out of Diagon Alley we made a quick stop at Weasley's Wizard Wheezes.  This is such a fun store to look through.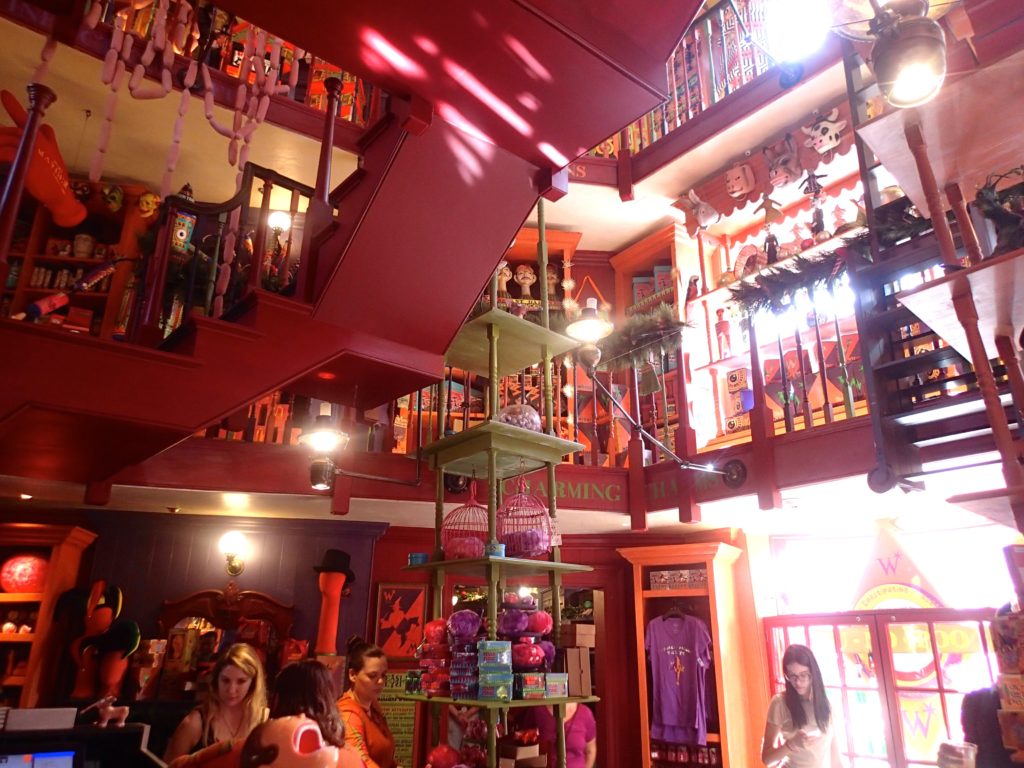 Next we stopped at the phone booth entrance to the Ministry of Magic.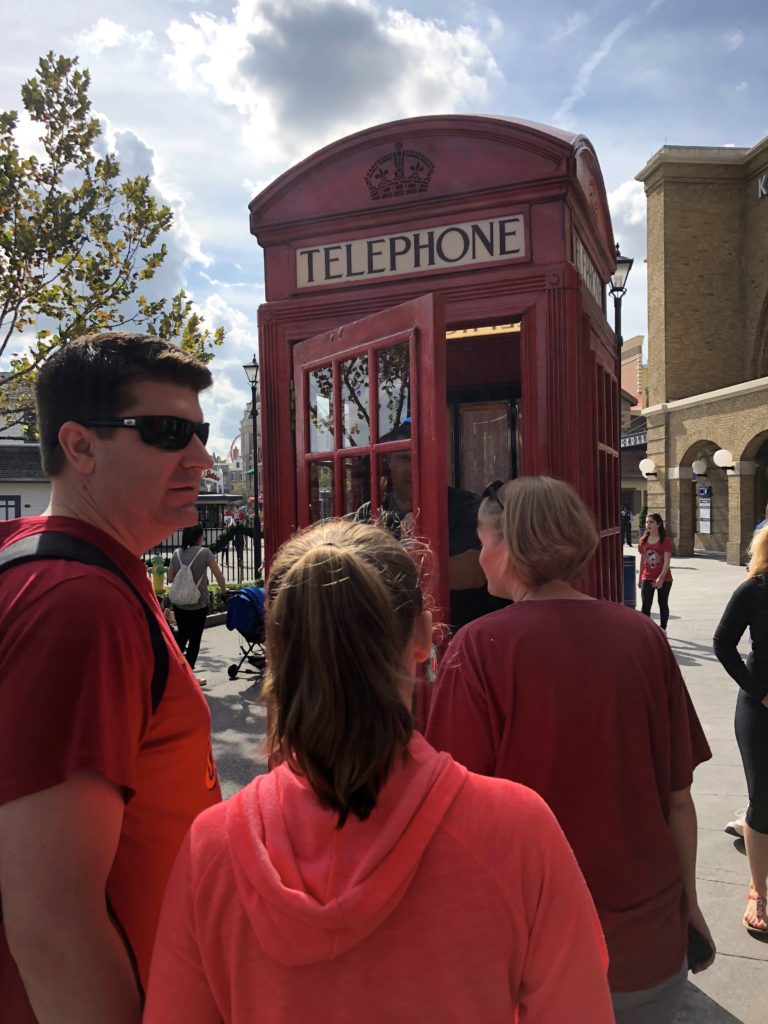 Last time the girls were completely clueless about how to operate a rotary phone.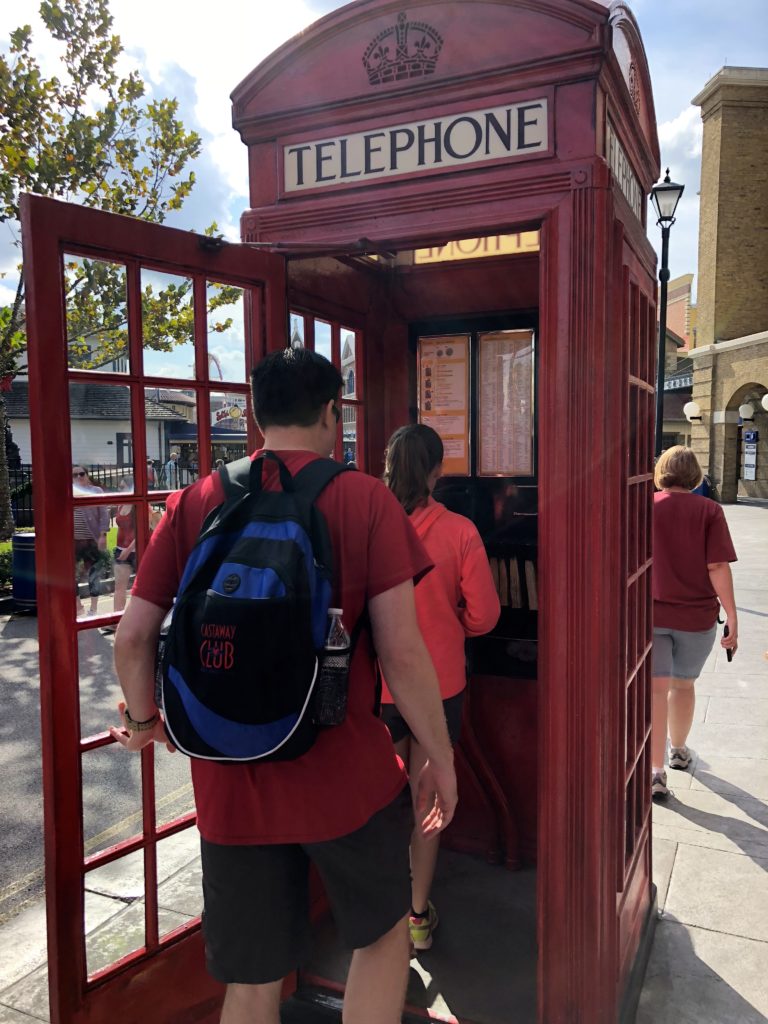 Apparently they didn't take good notes because they couldn't figure it out this time either.  Here they are asking for help: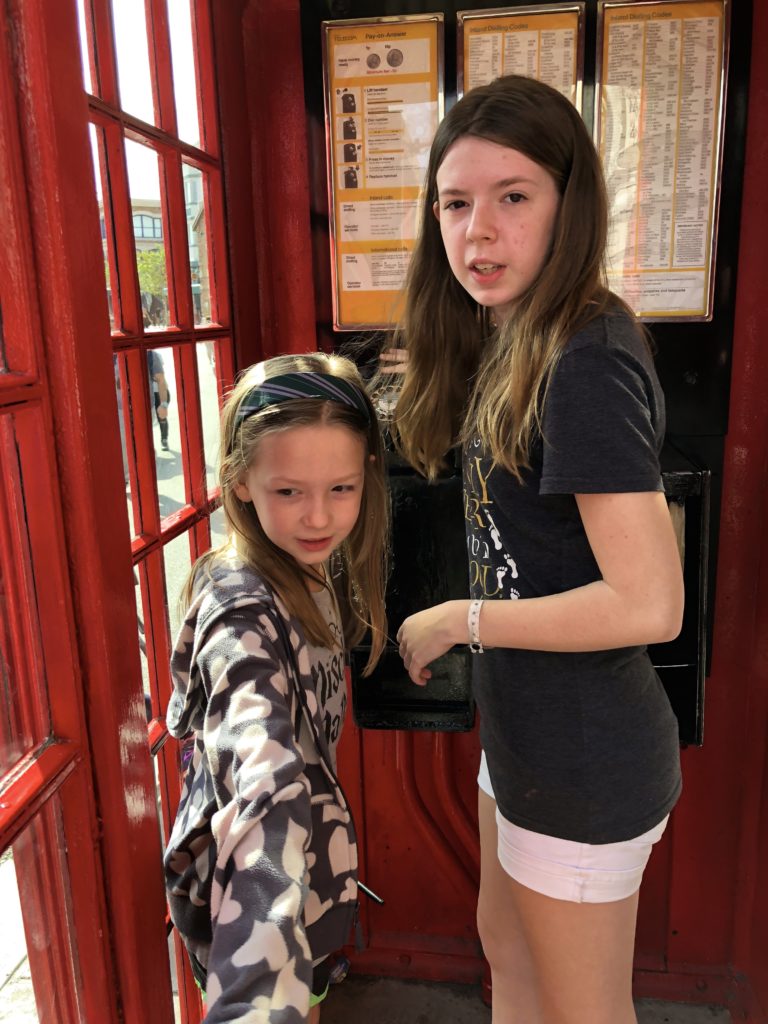 Next it was time to board the train.  Luckily there was practically no line.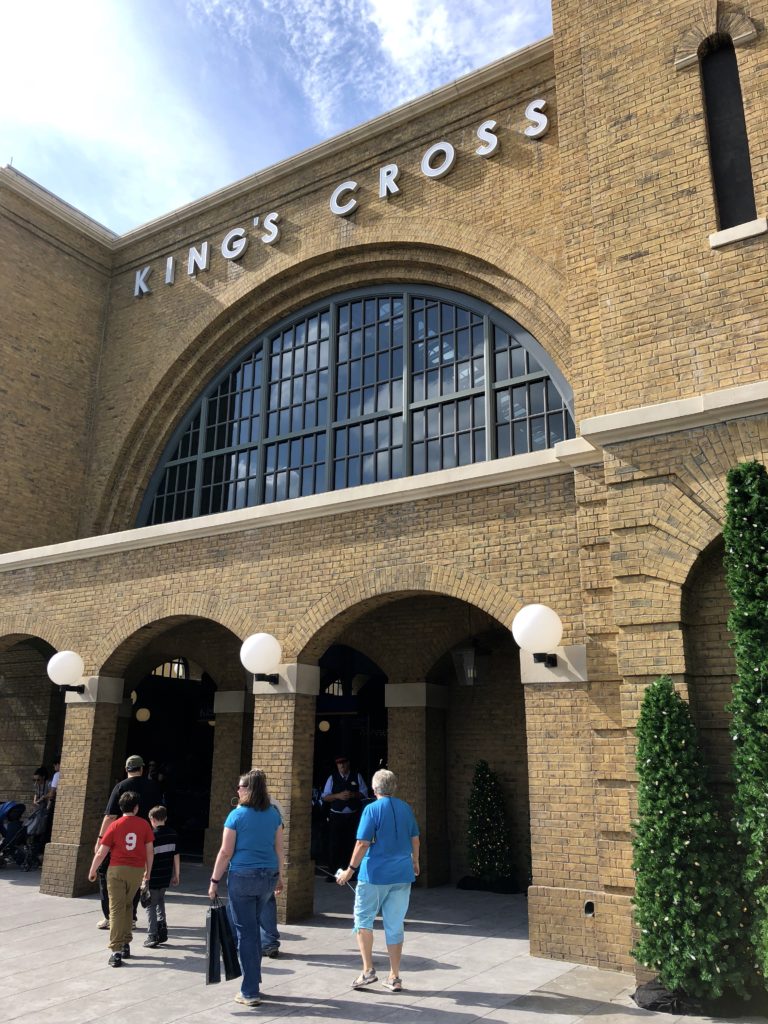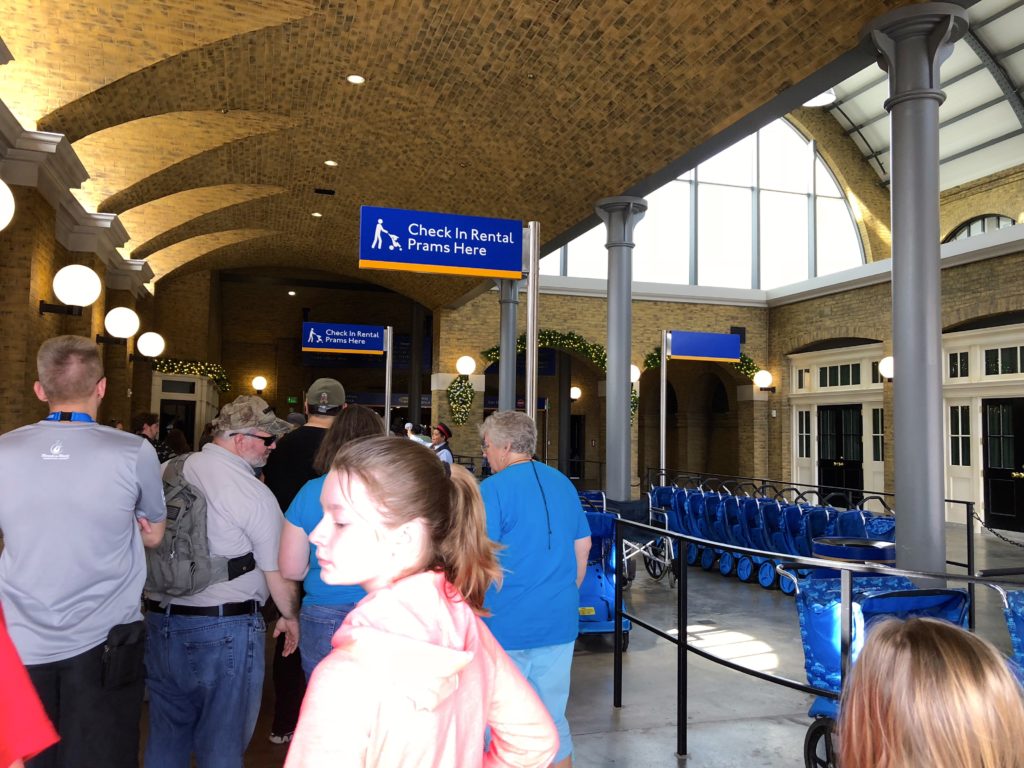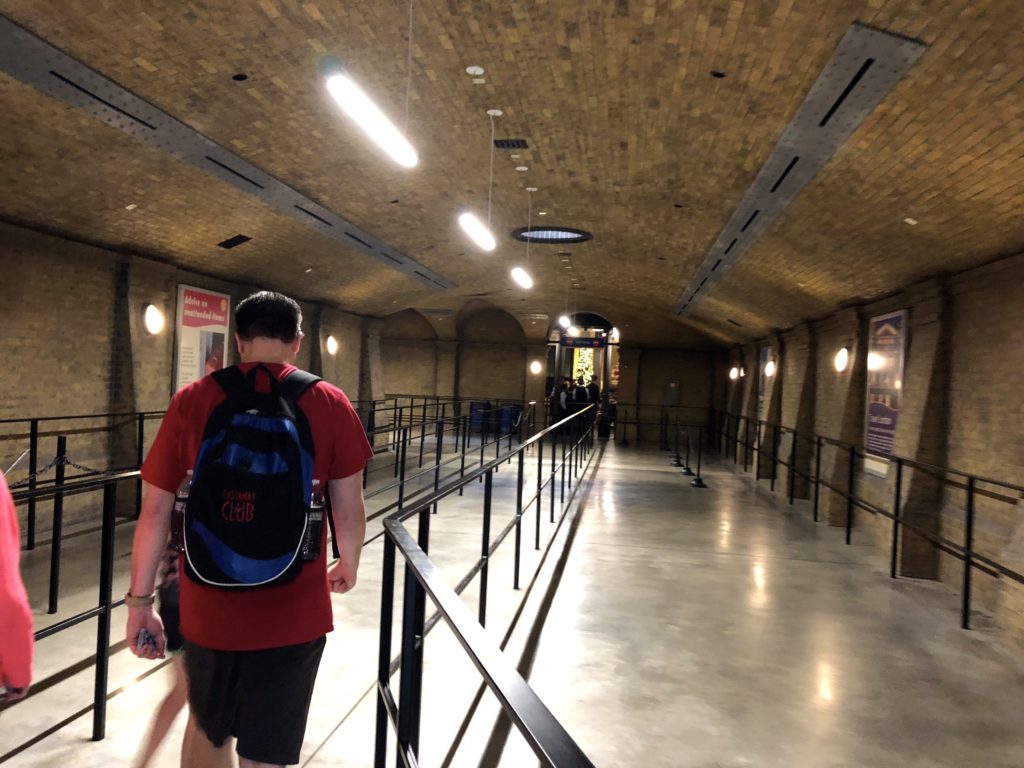 If you are a fan of the movies you will recognize this advertisement: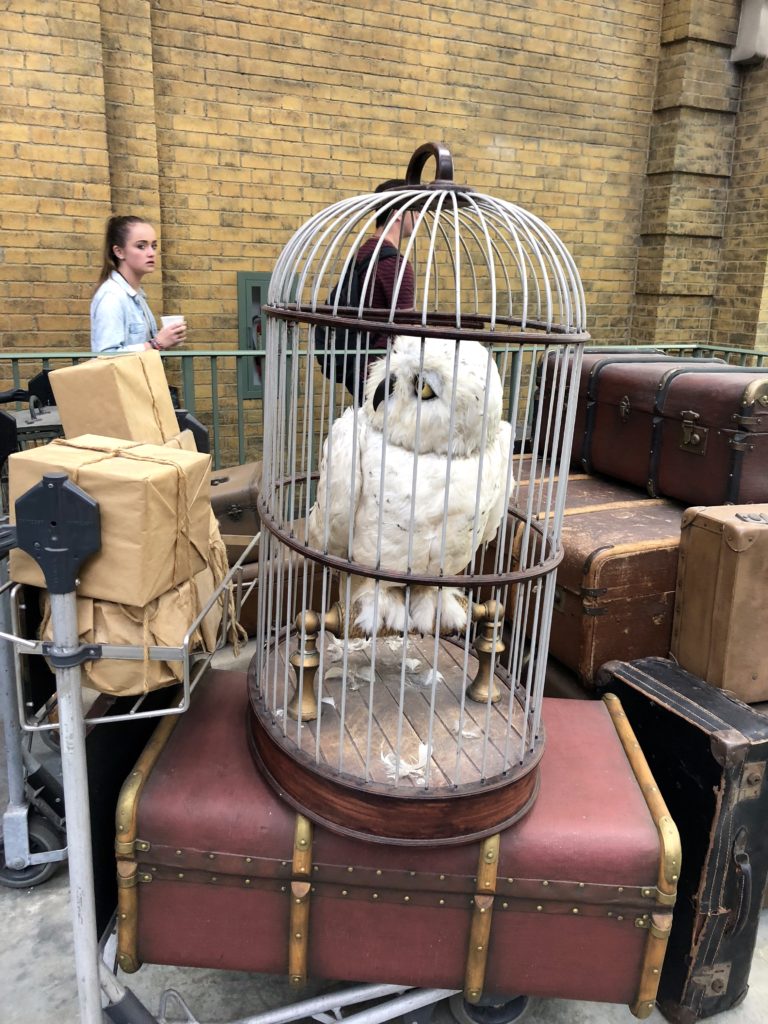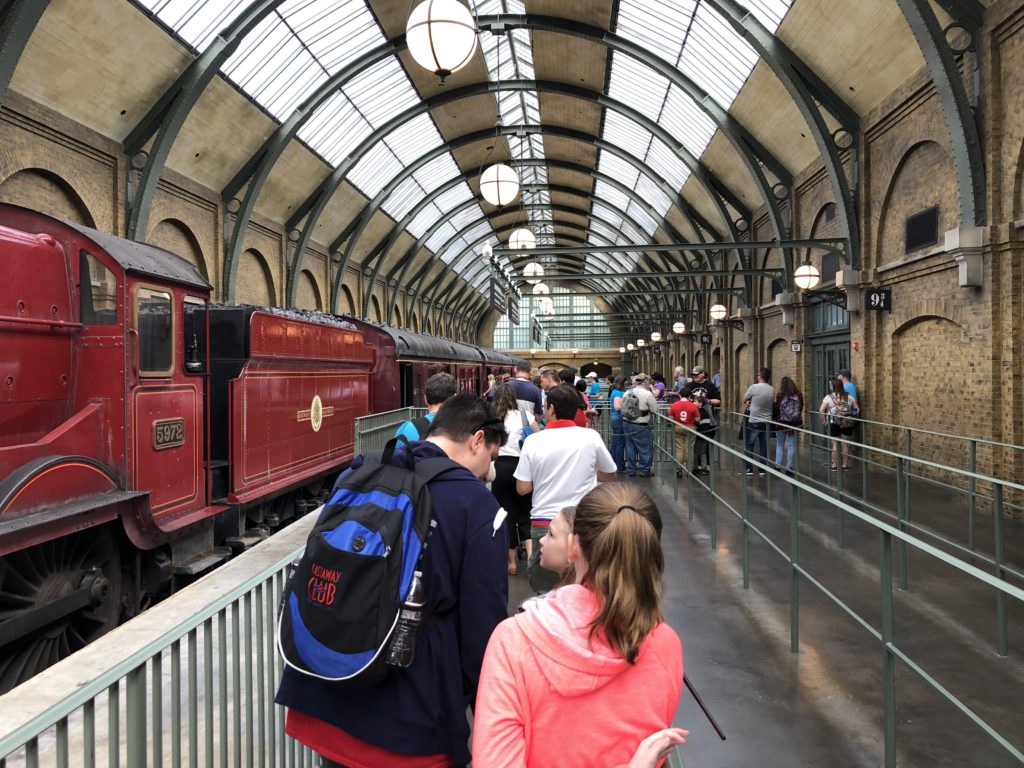 We were soon settled into a compartment watching London zoom by.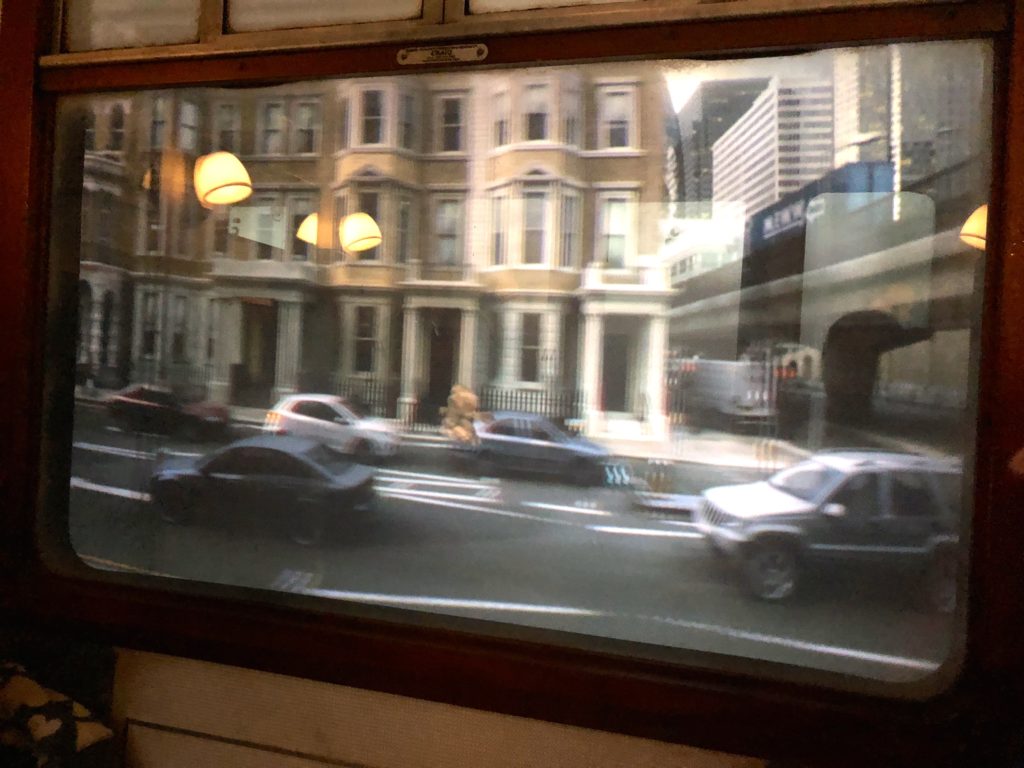 Harry, Hermione and Ron walked by.
A dementor also tried to get into the compartment: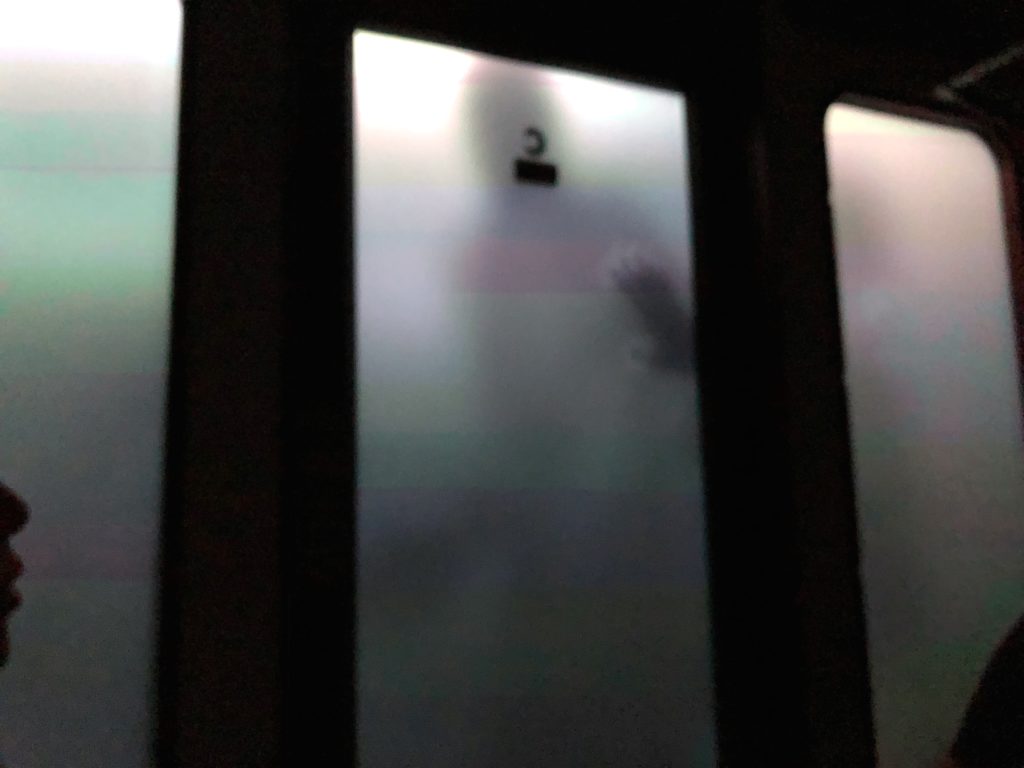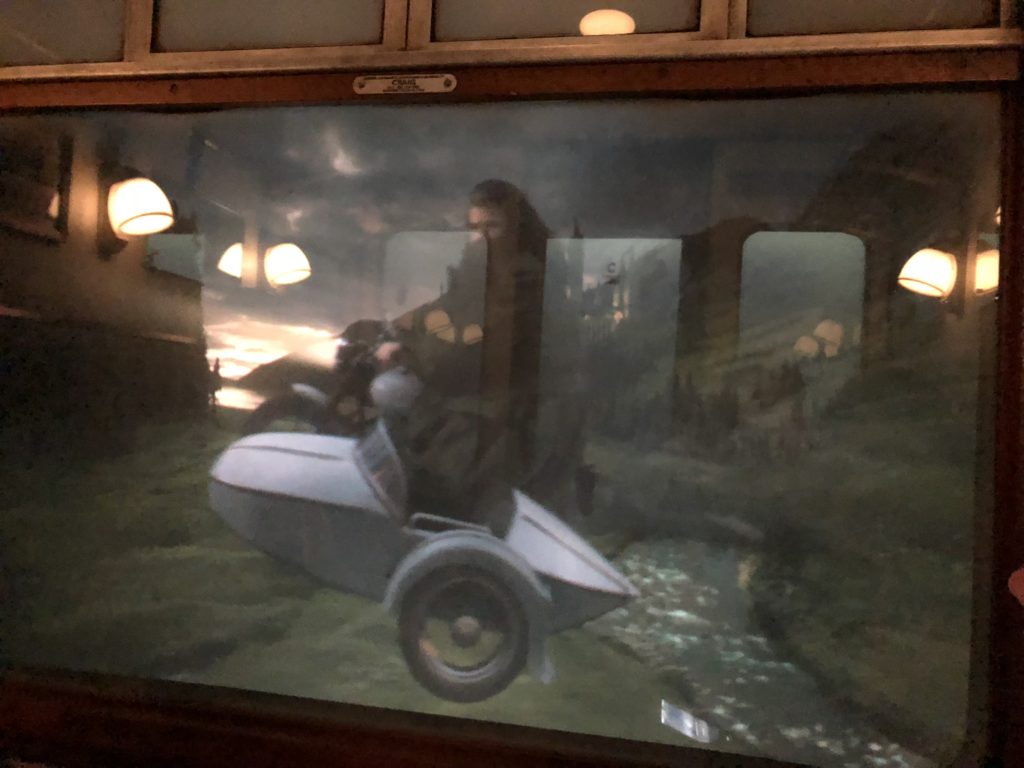 Before we knew it we were waking into Hogsmeade Village.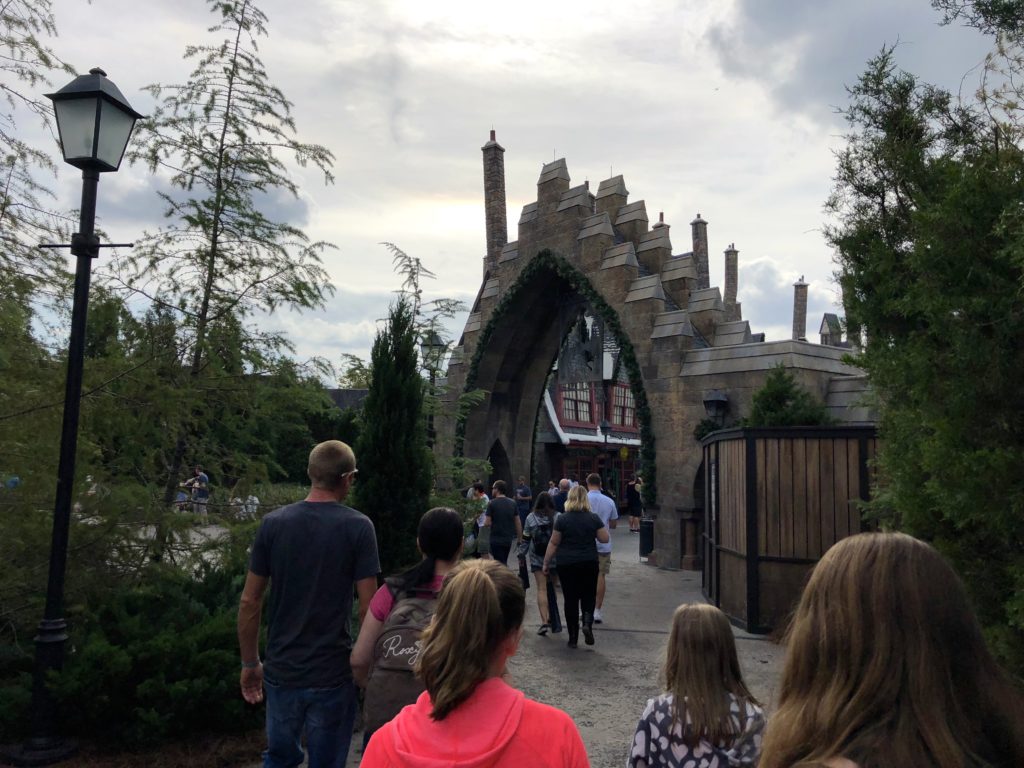 The Christmas decorations were awesome!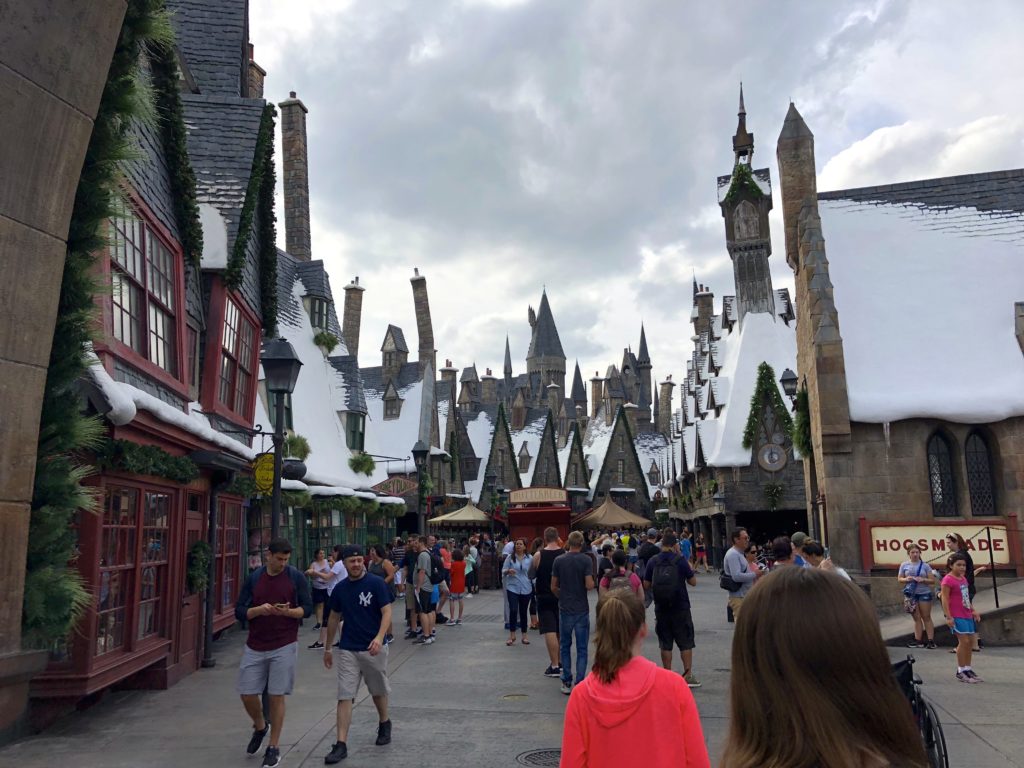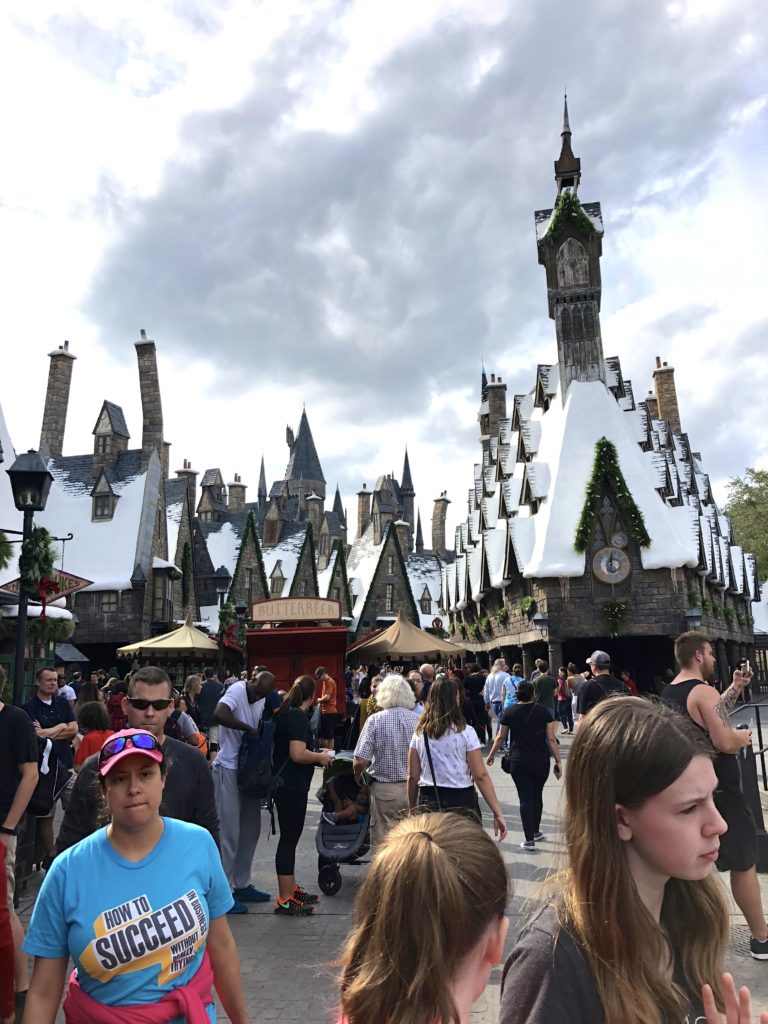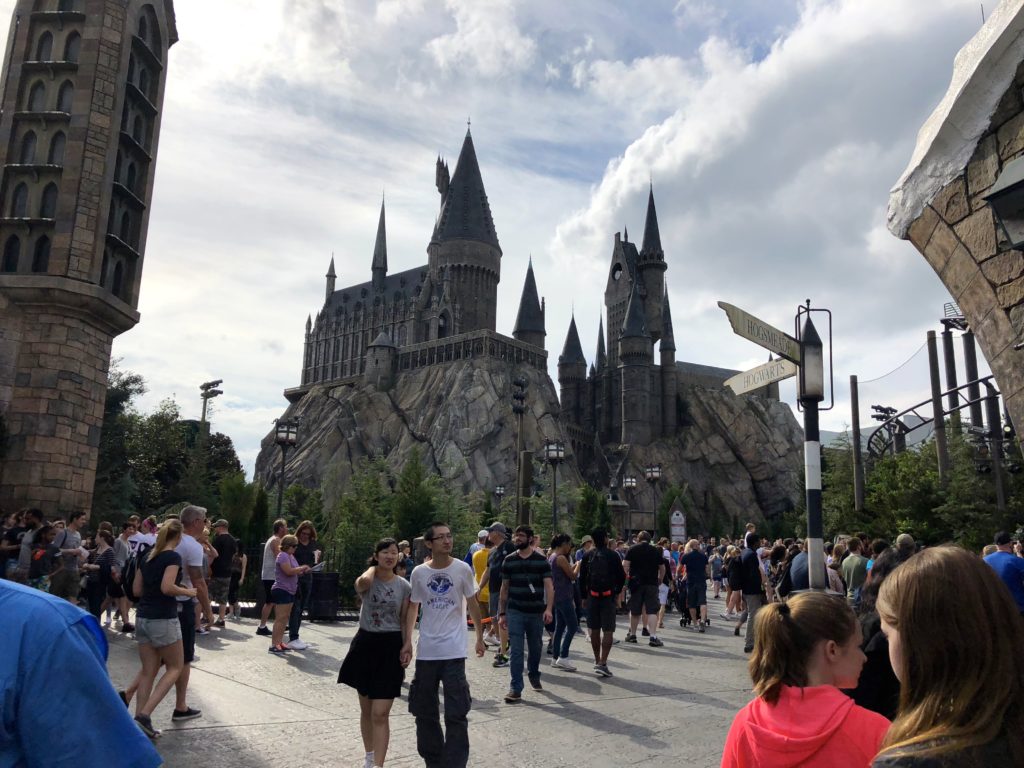 When we walked past the stage the Triwizard Rally was just starting so we stopped to watch.  The boys from Durmstrang and girls from Beauxbatons performed.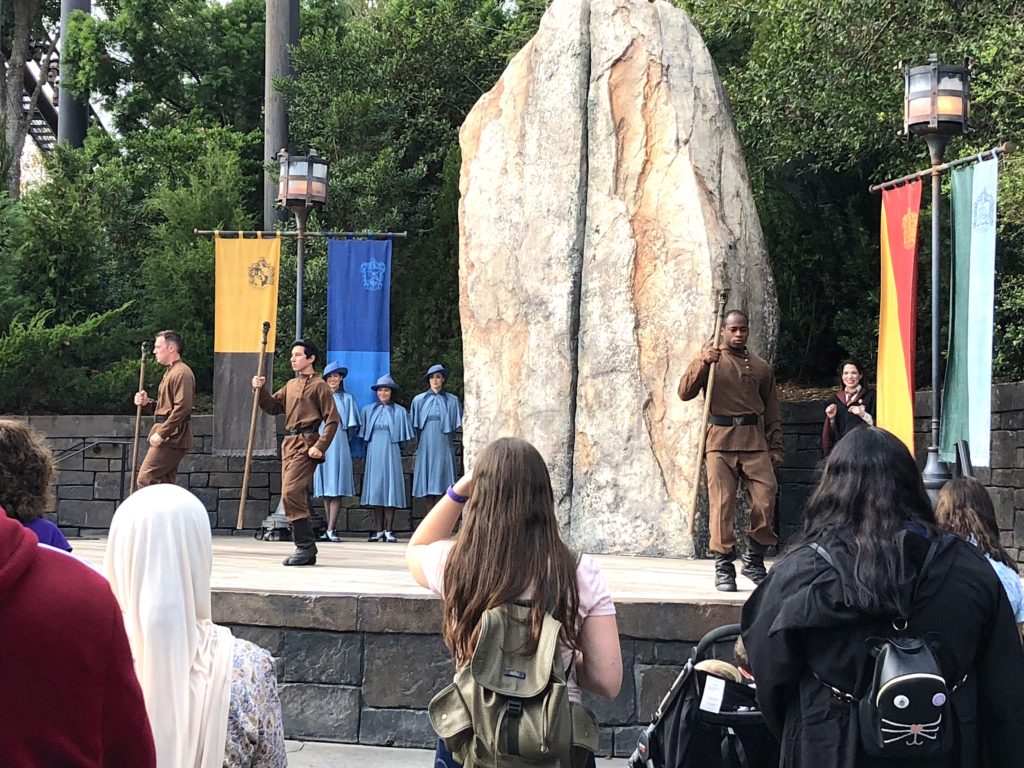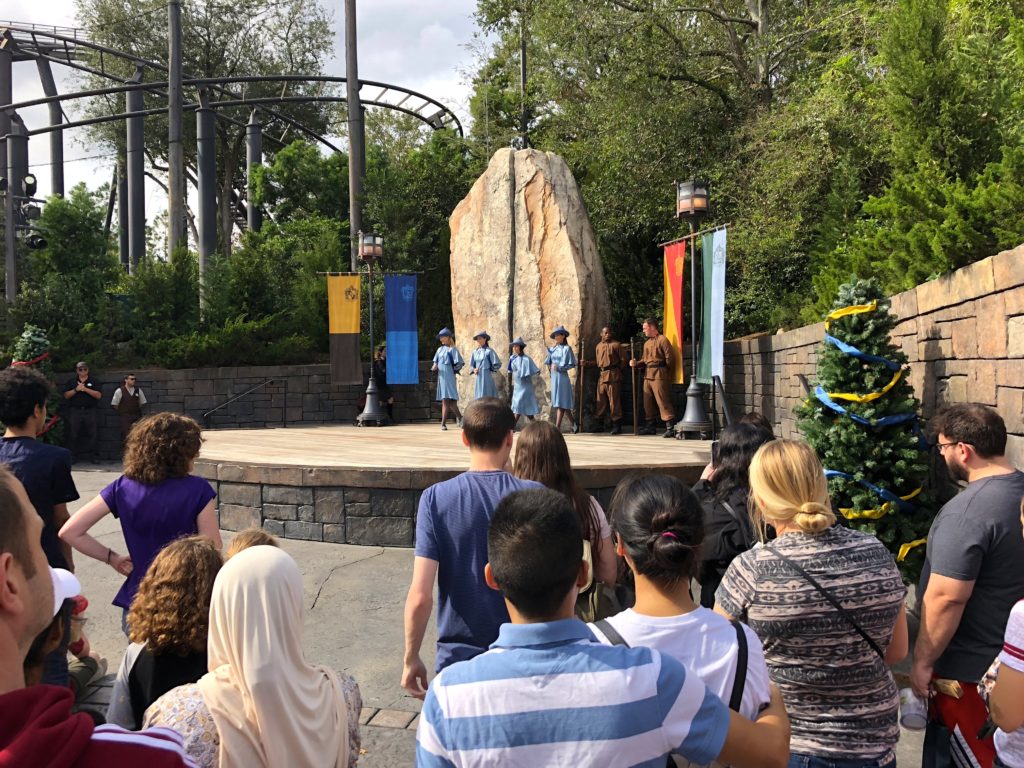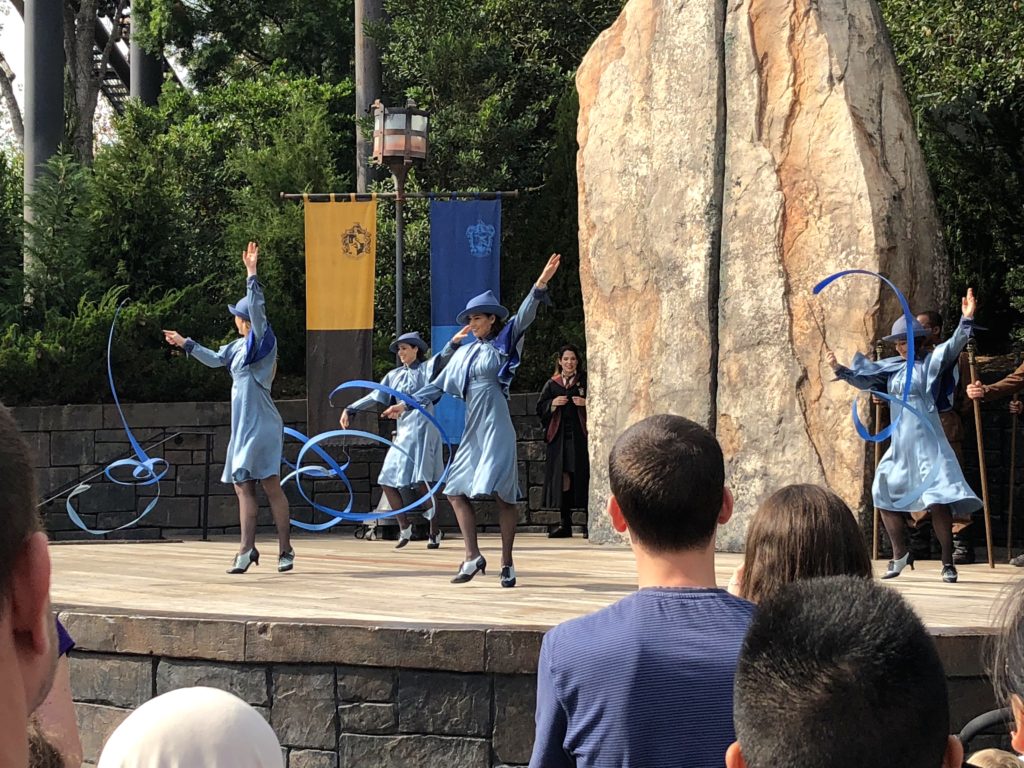 Before lunch we first had to ride The Forbidden Journey.  We knew from last time that it is better to ride this before lunch than after.  My youngest daughter and I decided not to ride it because last time it made us really queasy.  So, while the others rode it, we rode Flight of the Hippogriff which had no line at all.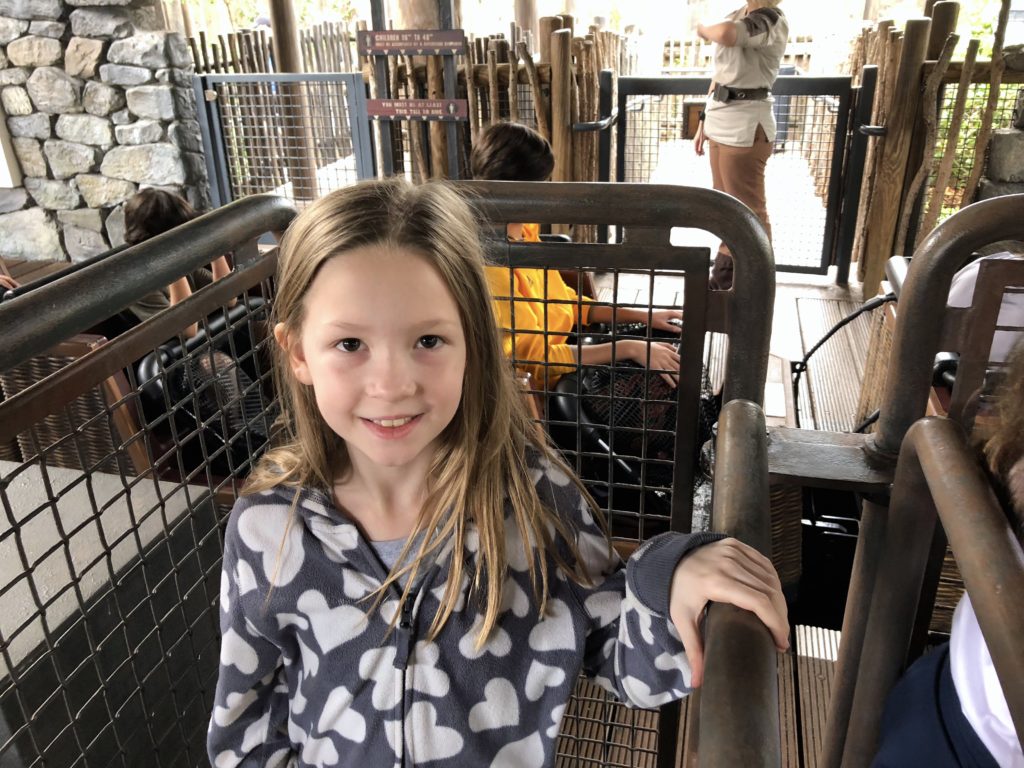 We finished so quickly that we still had to wait a bit for the others, so we went to Honeydukes.  Last time we were here it was so crowded that it was really hard to walk around and look at things.  This time it was practically empty!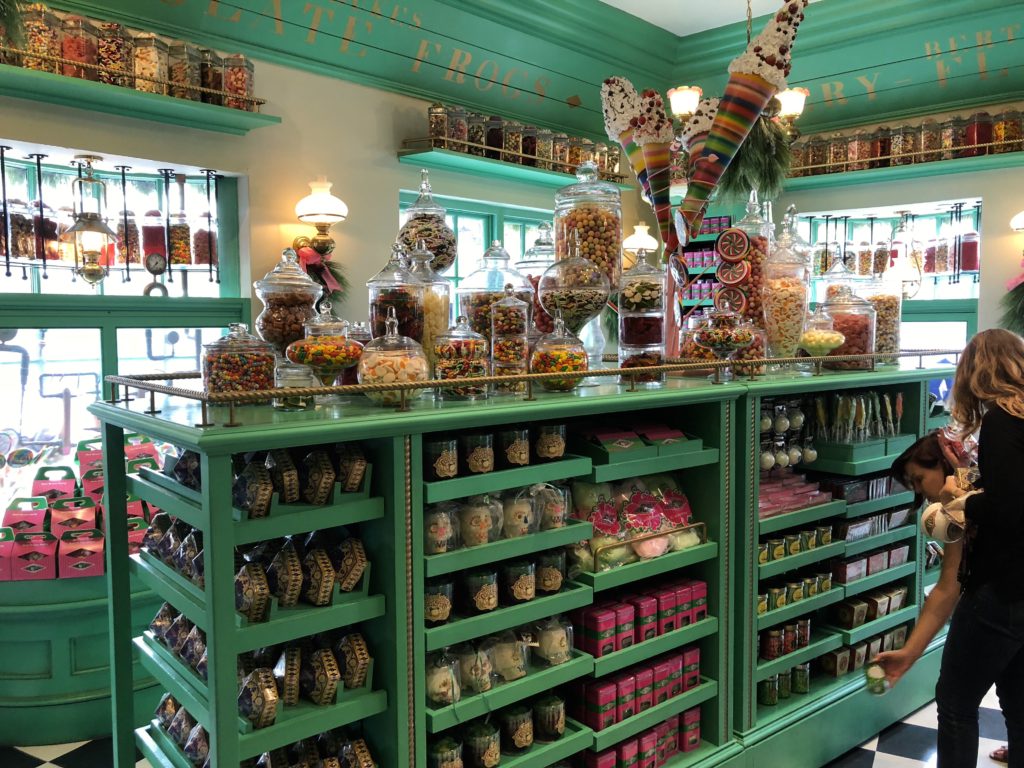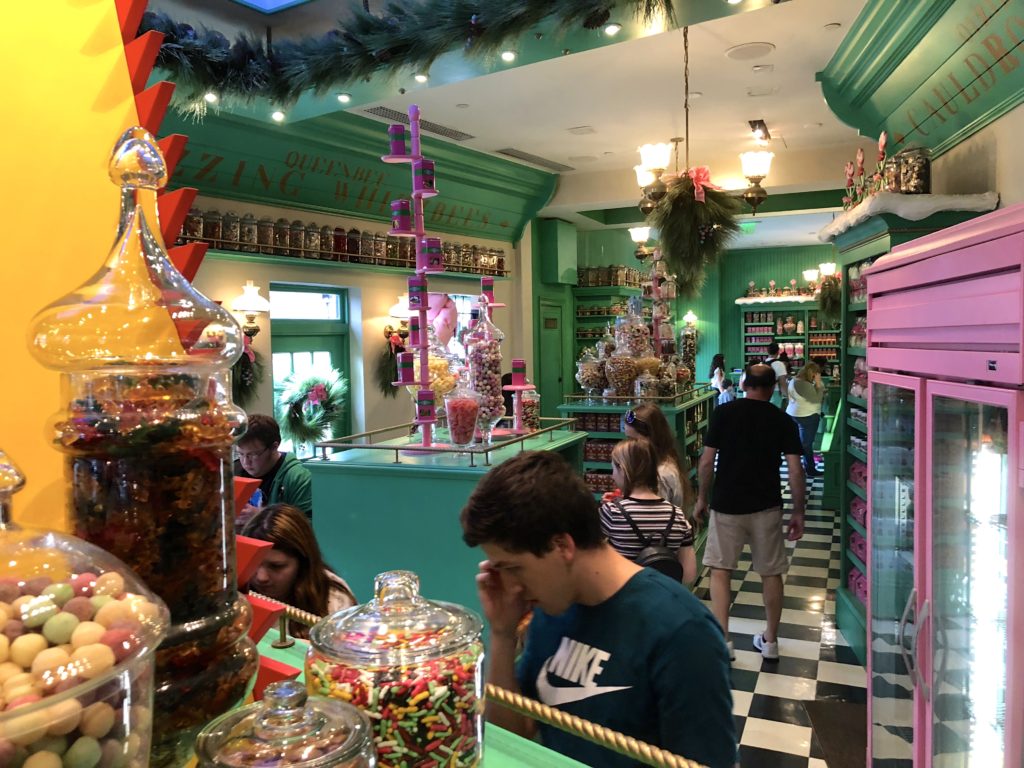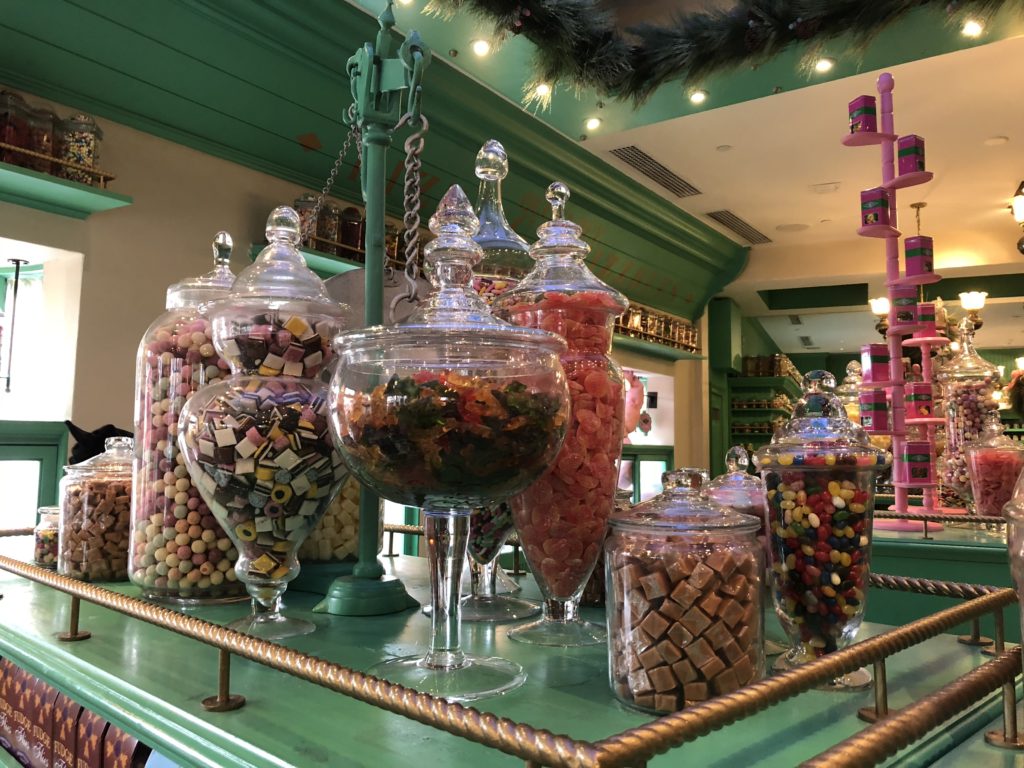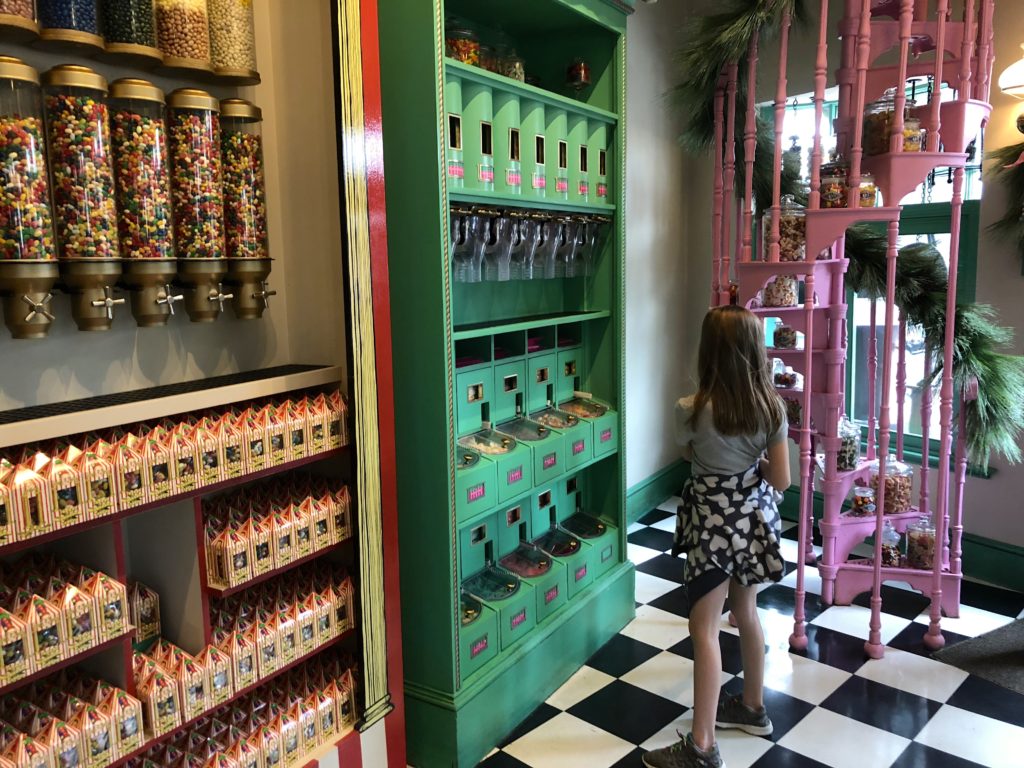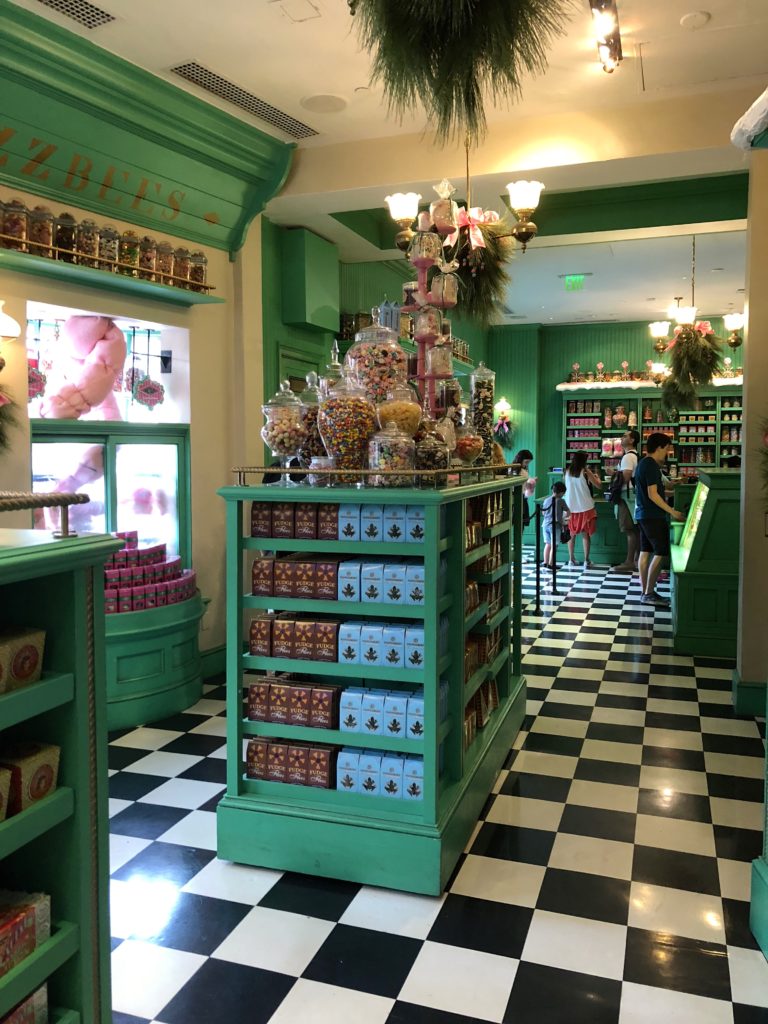 We had fun looking at everything and decided on what we would buy when we came back after lunch.  The others found us in here and we walked next door to have lunch at the Three Broomsticks.
I like how they have samples of the food options displayed to people waiting in line.  I noticed that the Great Feast had a holiday theme this time.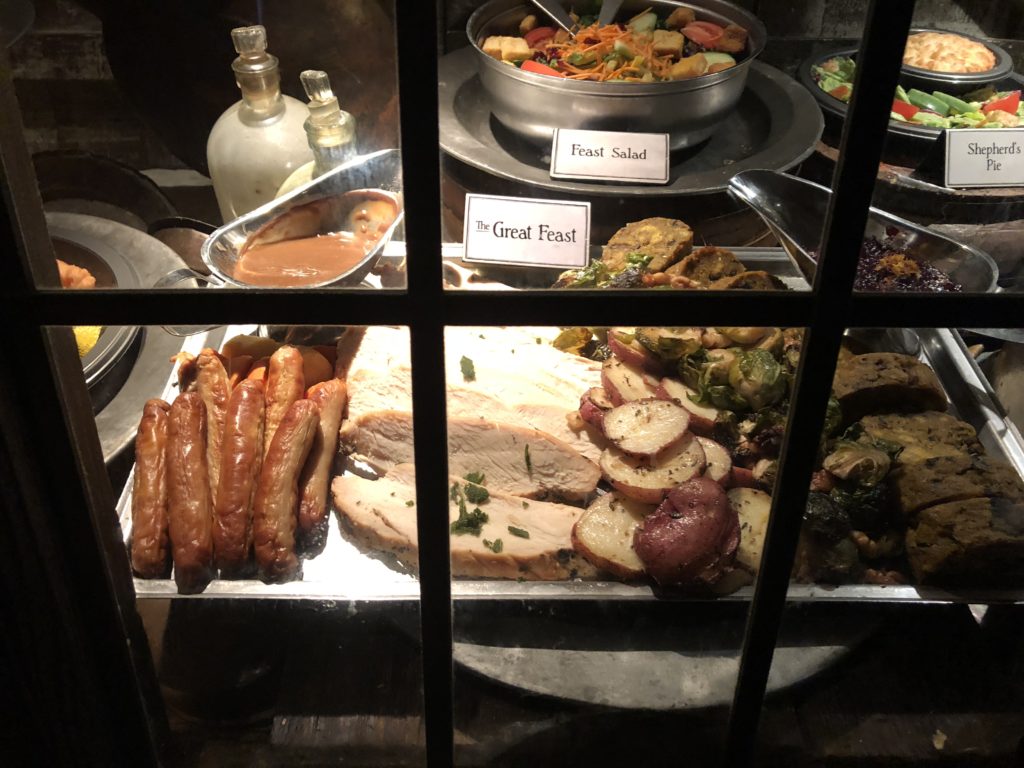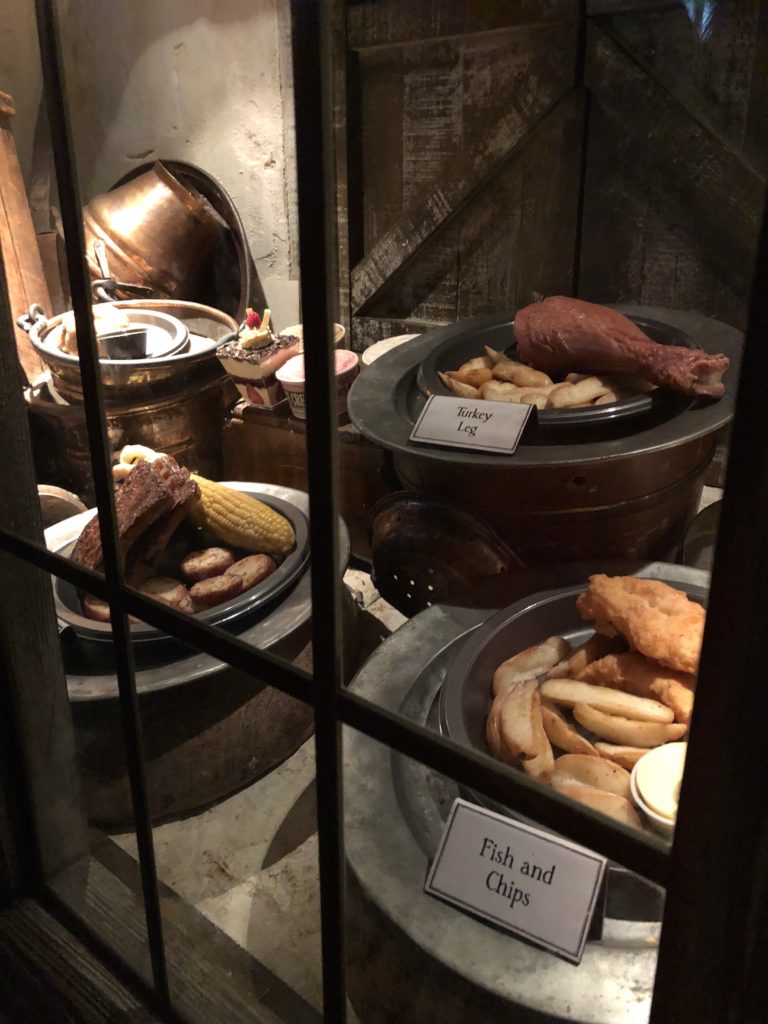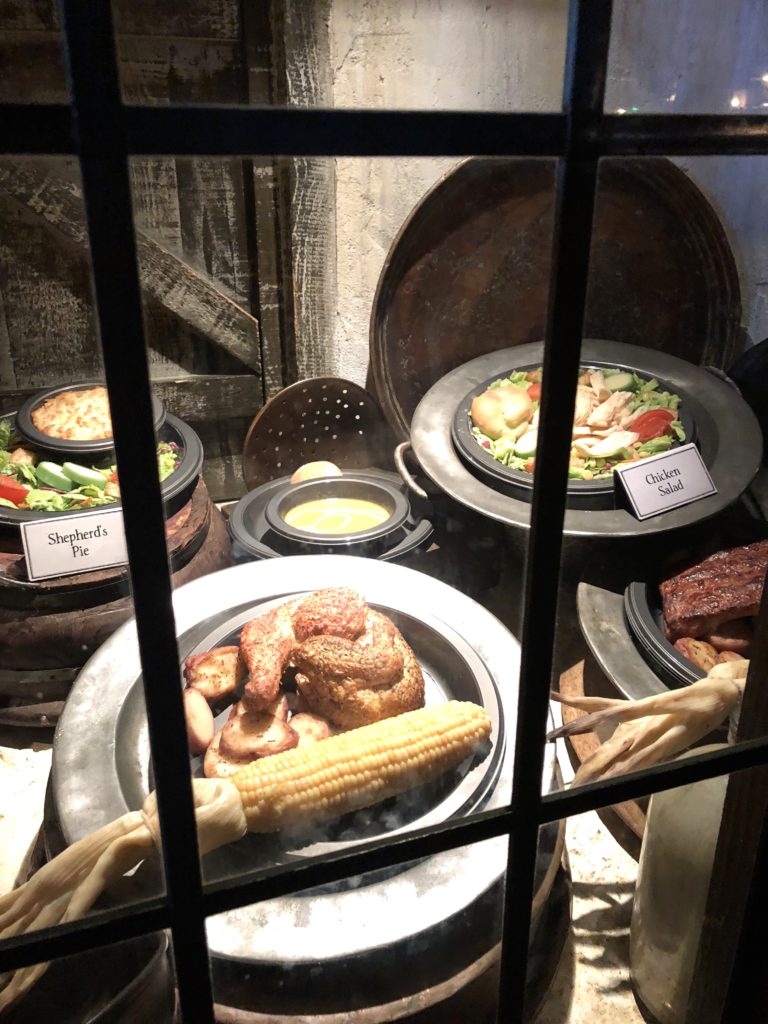 We ordered out food and found a table on the patio.  The weather was perfect (upper 70s) and we had a nice view of Hogwarts while we ate.  There were lots of fish and turtles in the water below that the girls had fun watching.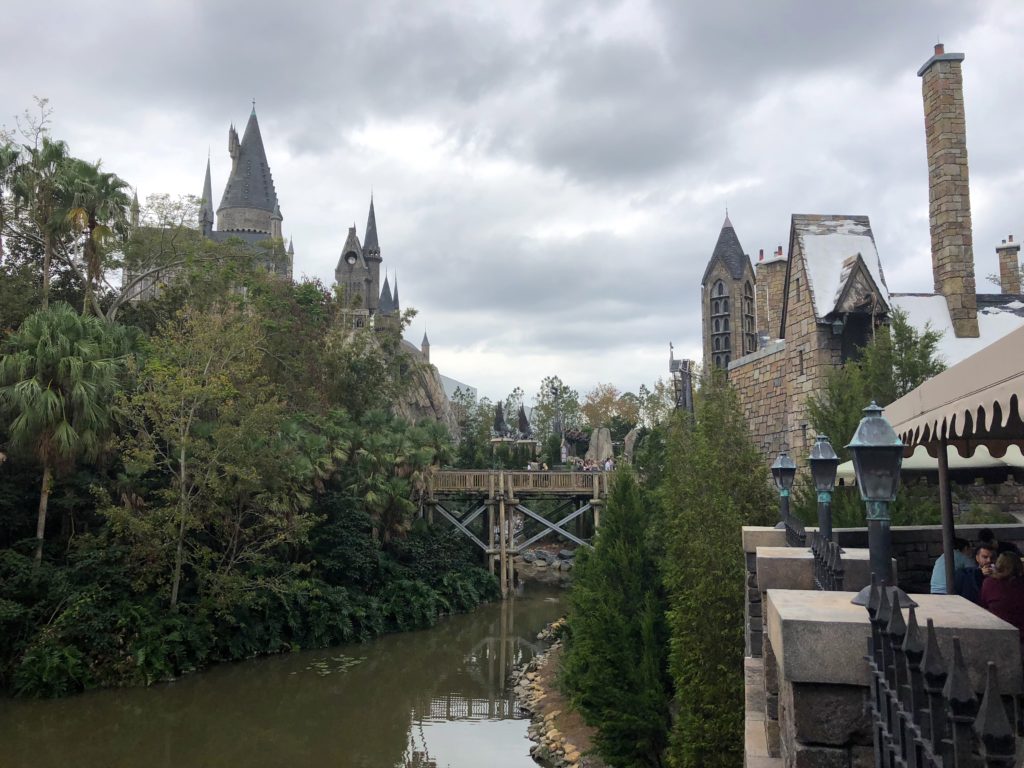 Unfortunately I forgot to take pictures of the food before we started eating. This was the fish and chips which was outstanding:
This was the roasted chicken platter which was pretty good.  The chicken was just average, but the corn and potatoes were great: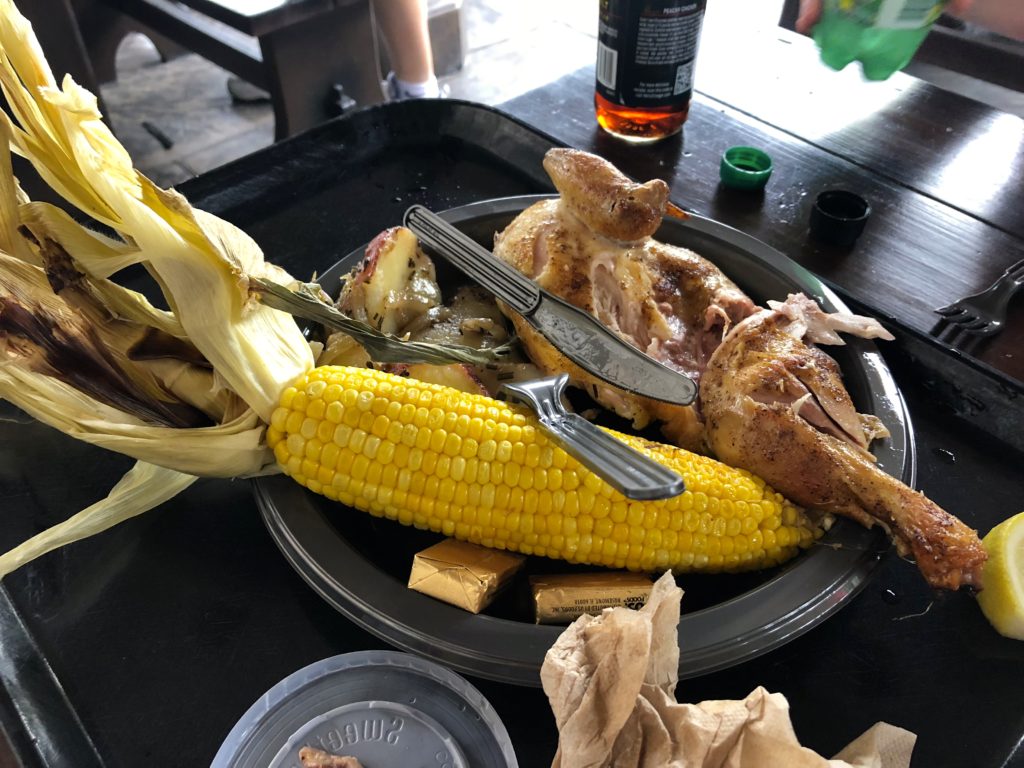 The girls got mac & cheese (outstanding!), fish and chips and chicken tenders (very good).  I wanted to get a turkey leg but knew it would have been too much food.
I didn't take any pictures of the restaurant interior, but the theming is incredible.  You can read and see more of it in last year's trip report here.  The food is also very, very high quality for theme park food.
After lunch we walked around Hogsmeade so the girls could perform some more magic.  Because the crowds were so small, I was able to notice details that I missed last year, like the displays in this store's windows: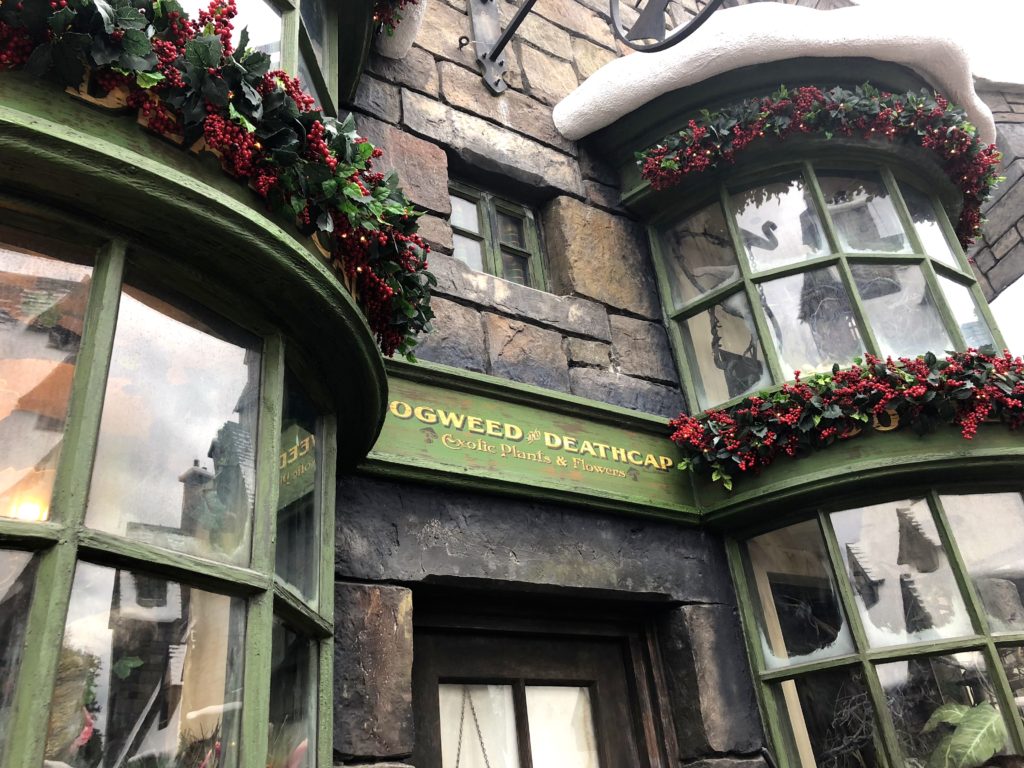 It's hard to tell because of the reflection, but there's a mandrake! It's little face is right above the window mullion.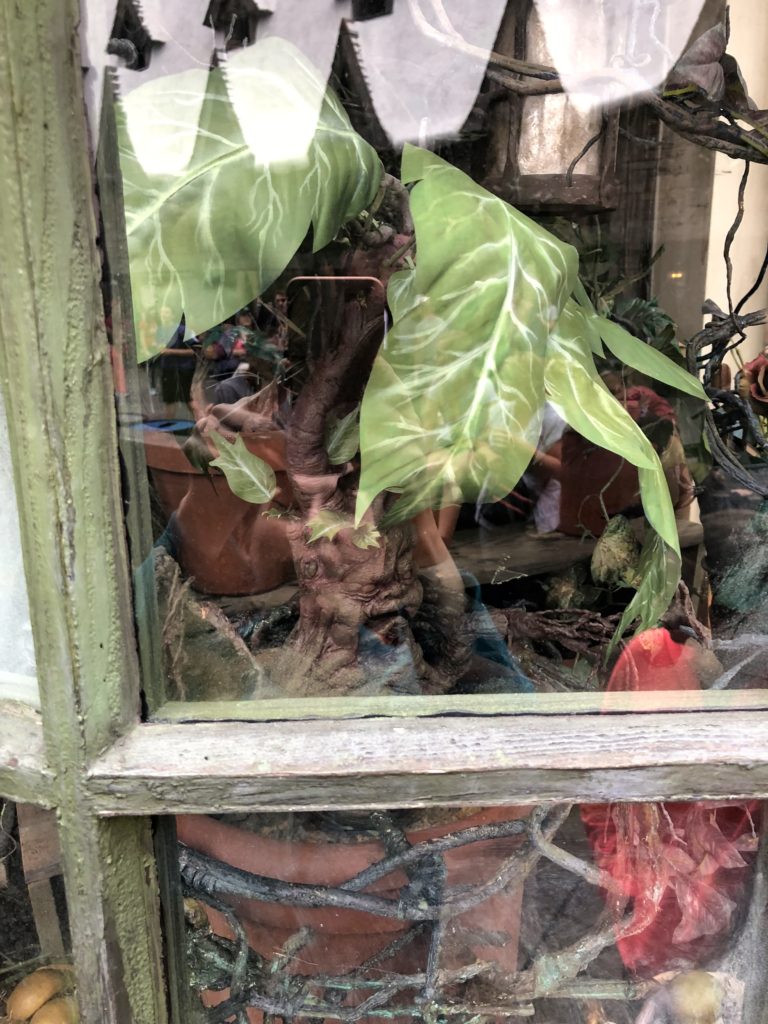 And a mimbulus mimbletonia!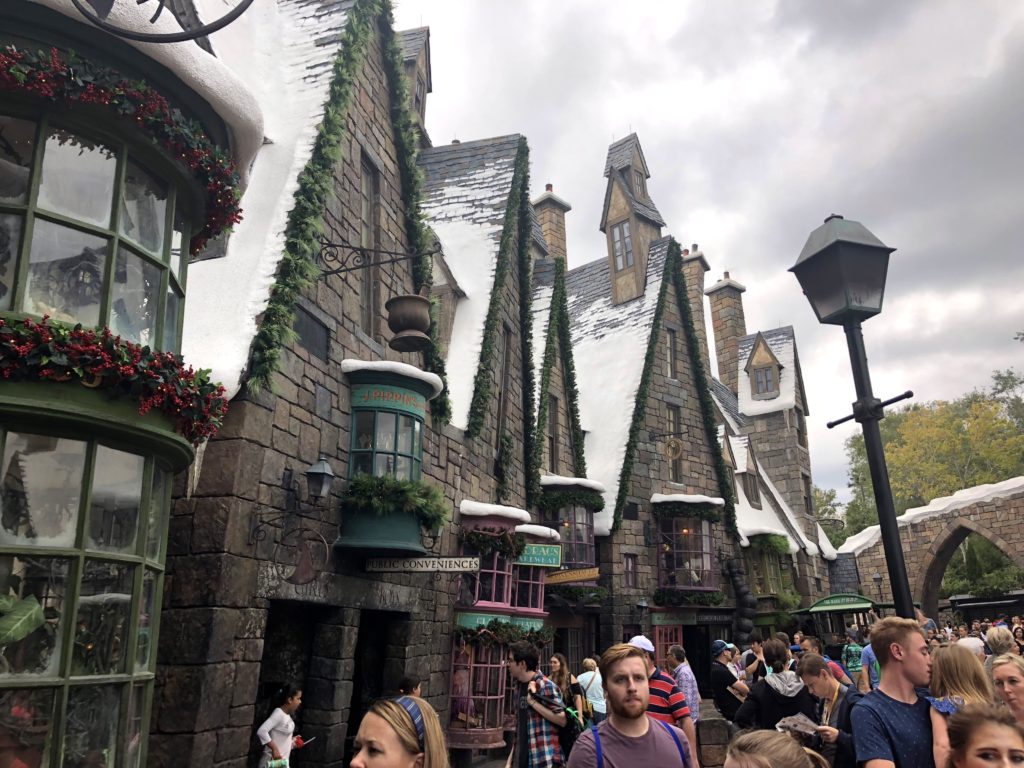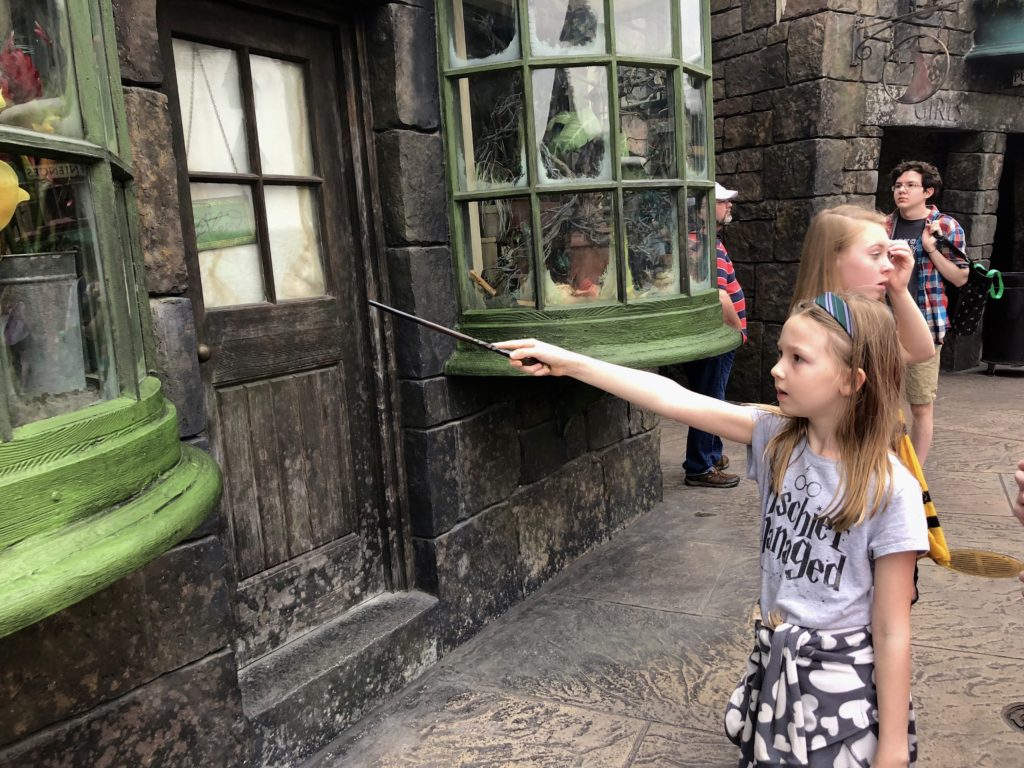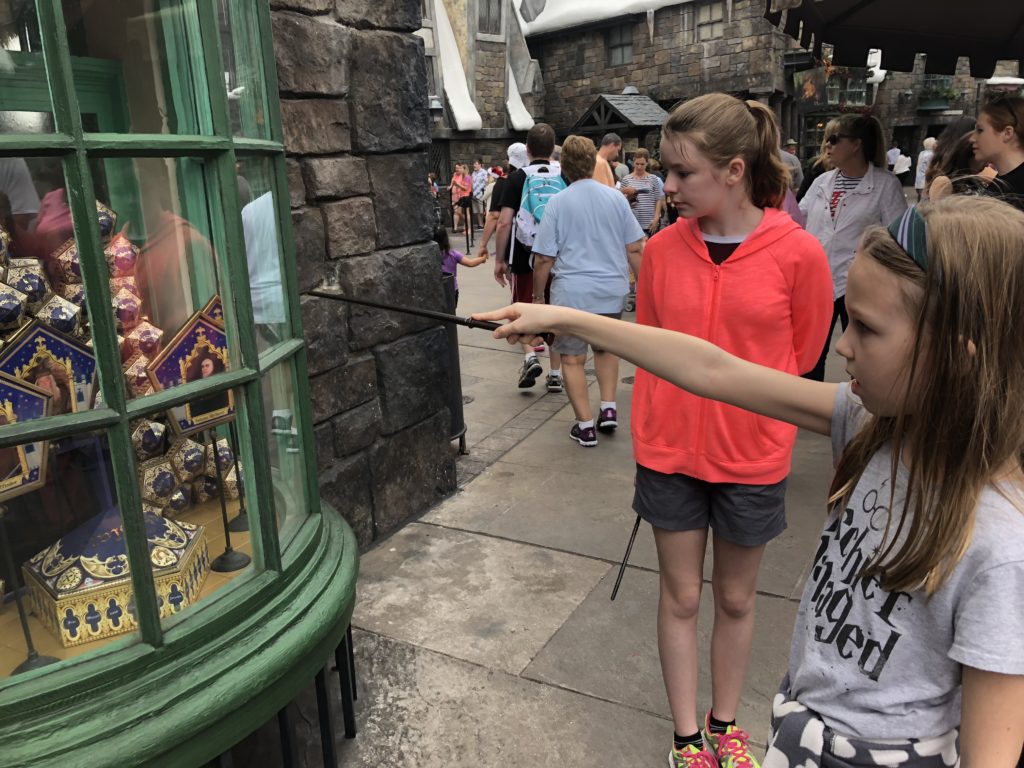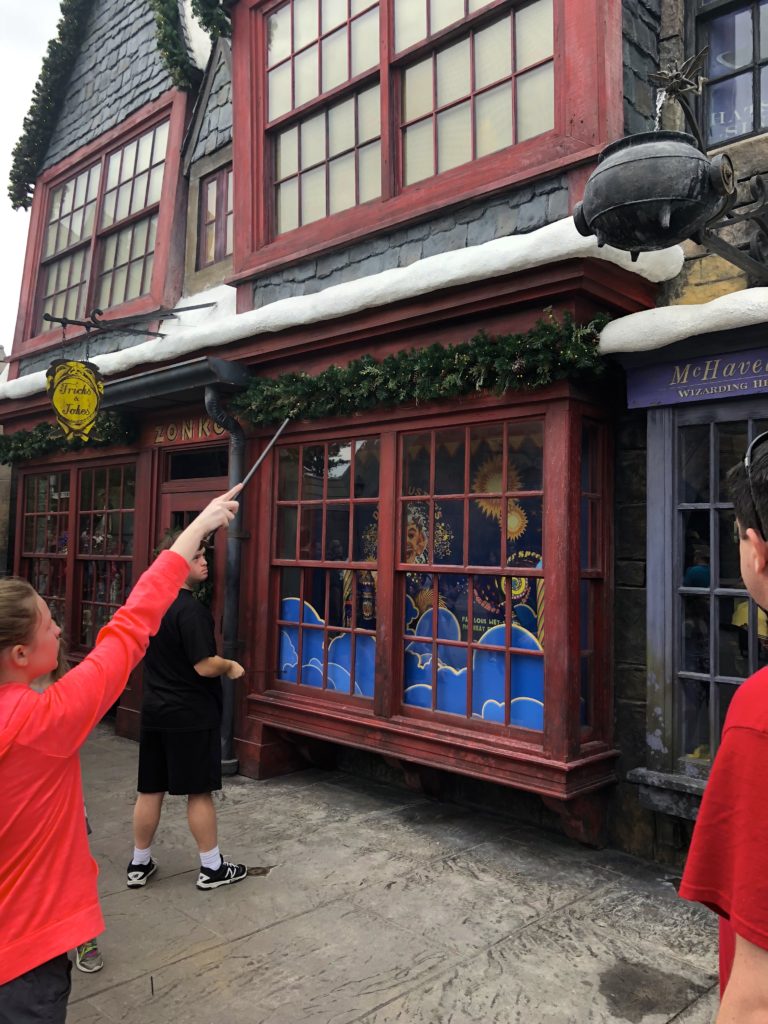 We made our way back to Honeydukes and each picked out a treat.  My husband and I both got a pumpkin pasty which was really good: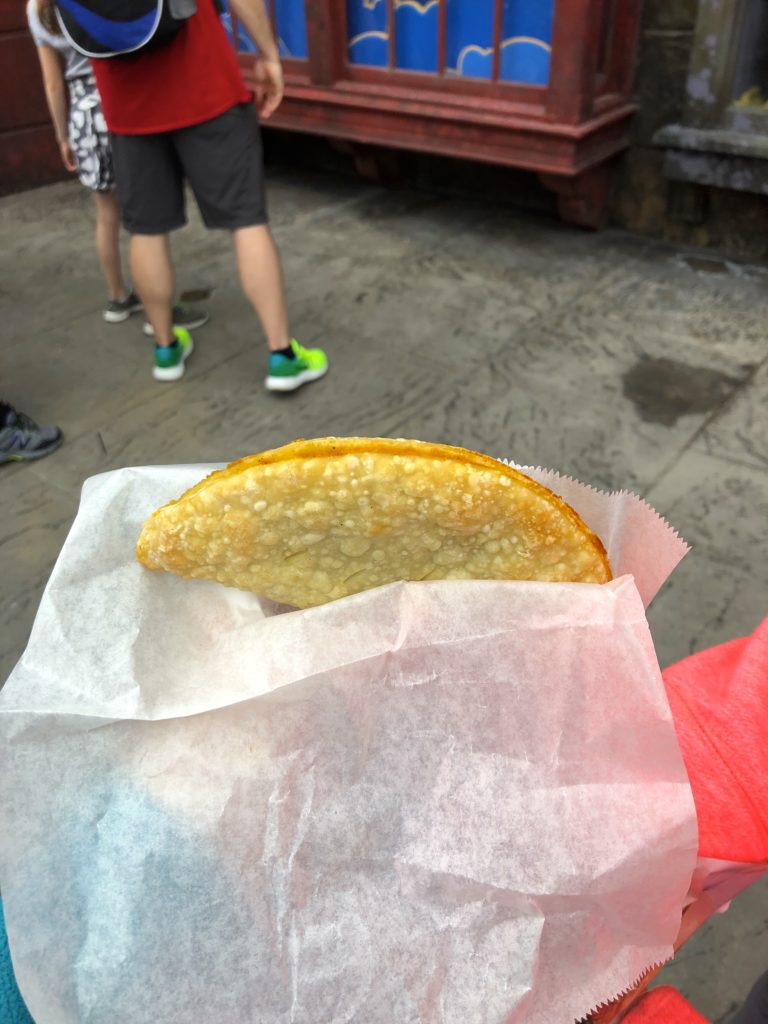 The girls each chose the same thing – a chocolate cauldron.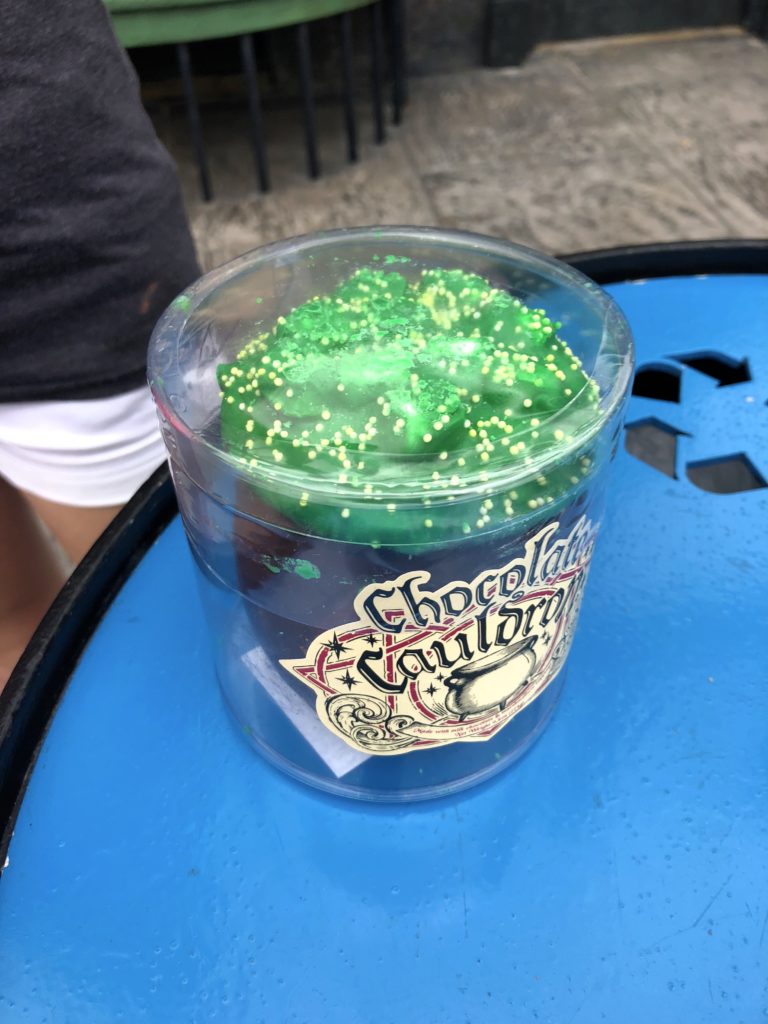 Now we decided to catch the Hogwarts Express back to Diagon Alley to buy a blanket that my youngest had seen earlier.  We typically let each girl pick out one souvenir on a day like this and she chose a pygmy puff blanket that she had seen at the joke shop.  Plus, the "show" on the train ride is different in each direction so we wanted to see that as well.  Still no line for the train: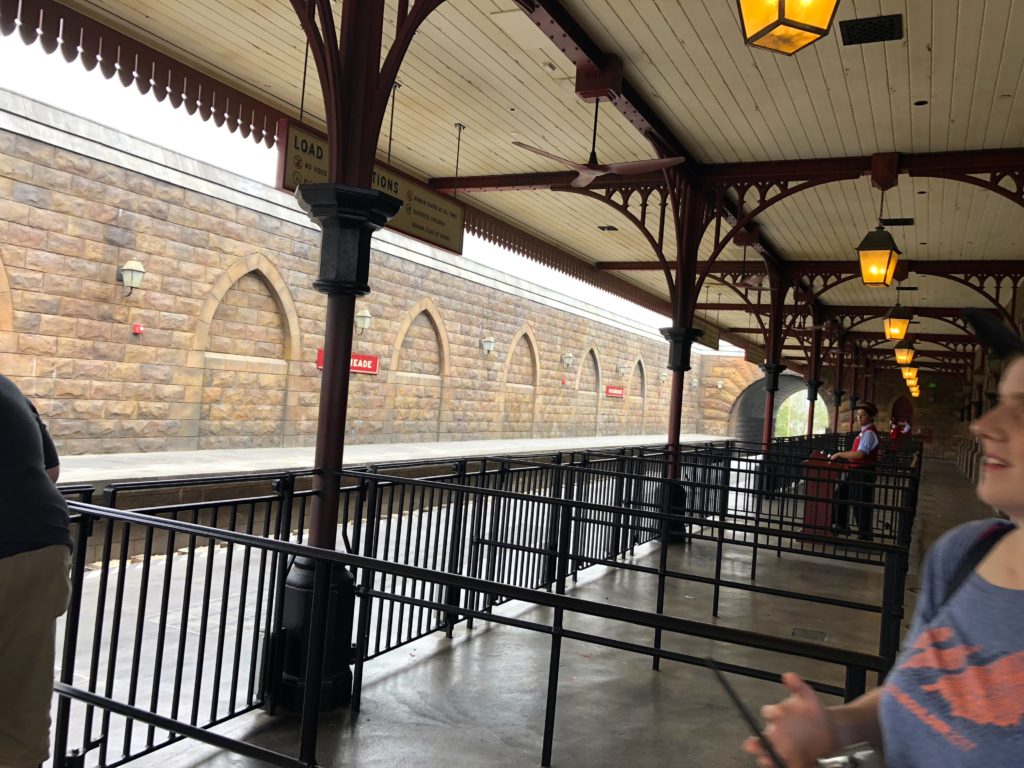 We really lucked out on the low crowds this time.  On our last visit, I remember our tour guide pointing out that there was a 2+ hour wait for the Hogwarts Express at this point in the day.
Back in Diagon Alley we purchased the blanket and then split up.  Two of the girls were getting tired and wanted to rest, but one wanted to ride some roller coasters with Dad, so off they went.  Those of us resting found a place to sit near the stage.  My youngest still wasn't feeling 100% so she laid down on my lap while we sat.  We were able to see the second story of The Tales of Beedle the Bard while we were there.  This time it was "The Fountain of Fair Fortune".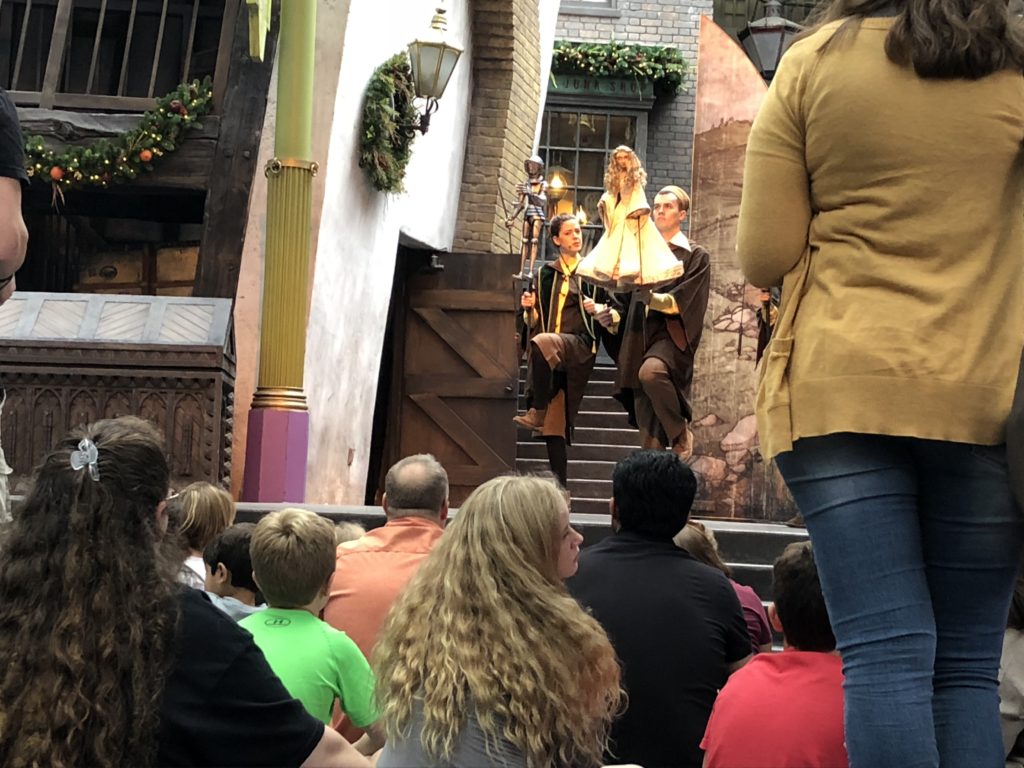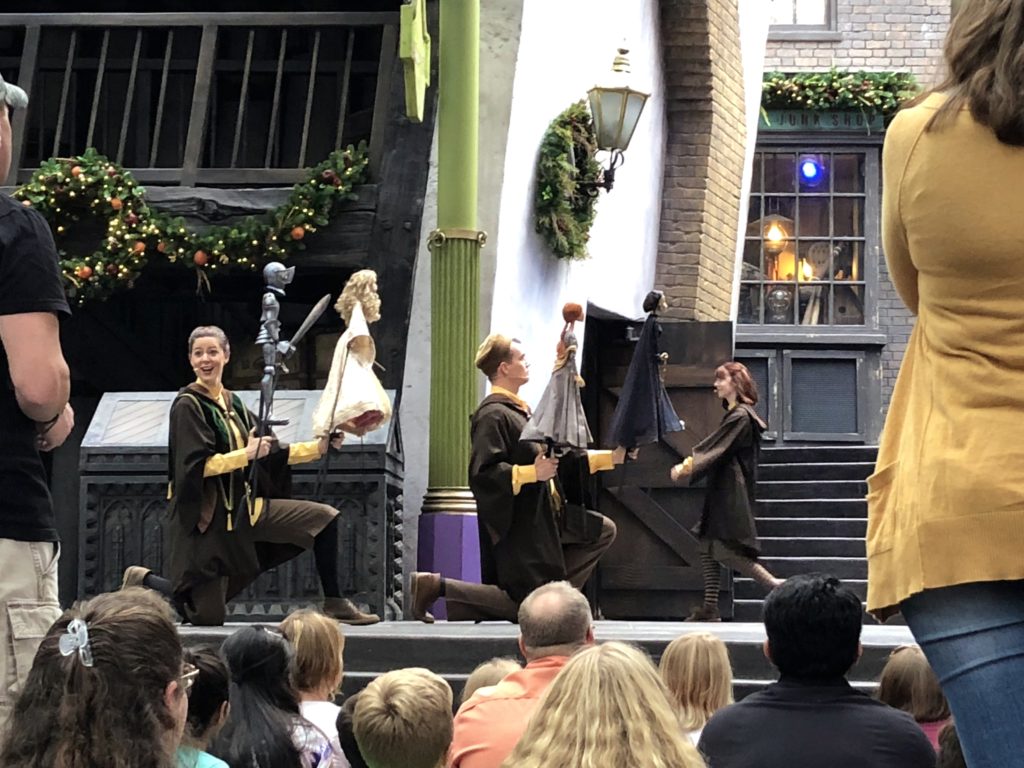 I'm not sure how long we rested, but it was at least an hour.  When the roller coaster riders rejoined us, it was time to head back to Hogsmeade village and hang out until the holiday light show at Hogwarts Castle.  There were a few more people in line, but it still was only a few minute wait.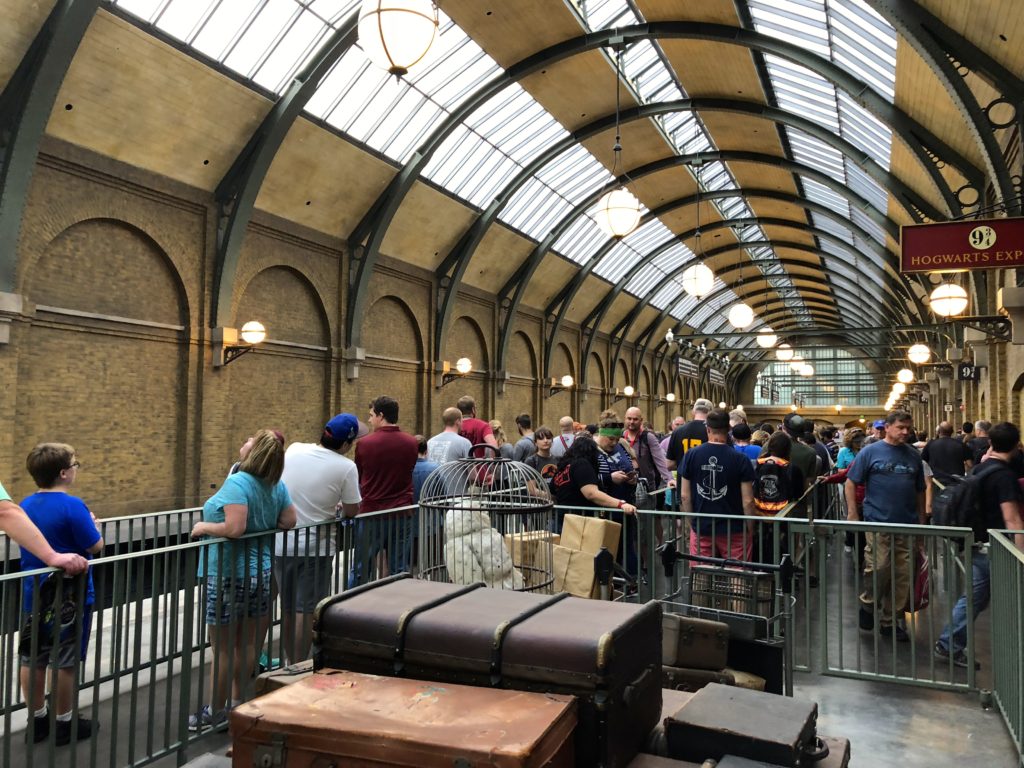 Can you tell they're getting tired?  When we go to a theme park, these two (oldest & youngest) hit a wall about 5:00 and just want to go back to the hotel.  The middle one would stay half the night if she could.  But, we had a light show to watch and I was not letting them get out of it.
When we arrived, we did a little bit of shopping and then about 5:00, the tired ones and I decided to stake out a place to watch the castle show.  The other 2 went to ride more roller coasters.  There were actually quite a few people staking out spots by now, so we ended up sitting on the ground right in front of the stage.  We were able to sit for a while before team members came around telling everyone to stand and move forward to allow as many people as possible to watch the show.  So, we ended up standing shoulder to shoulder with people for probably the last 30 minutes or so and with 2 tired kids, it wasn't that pleasant. The time passes VERY slowly when you are just standing there waiting for it to get dark.  This is what it looked like from where we were: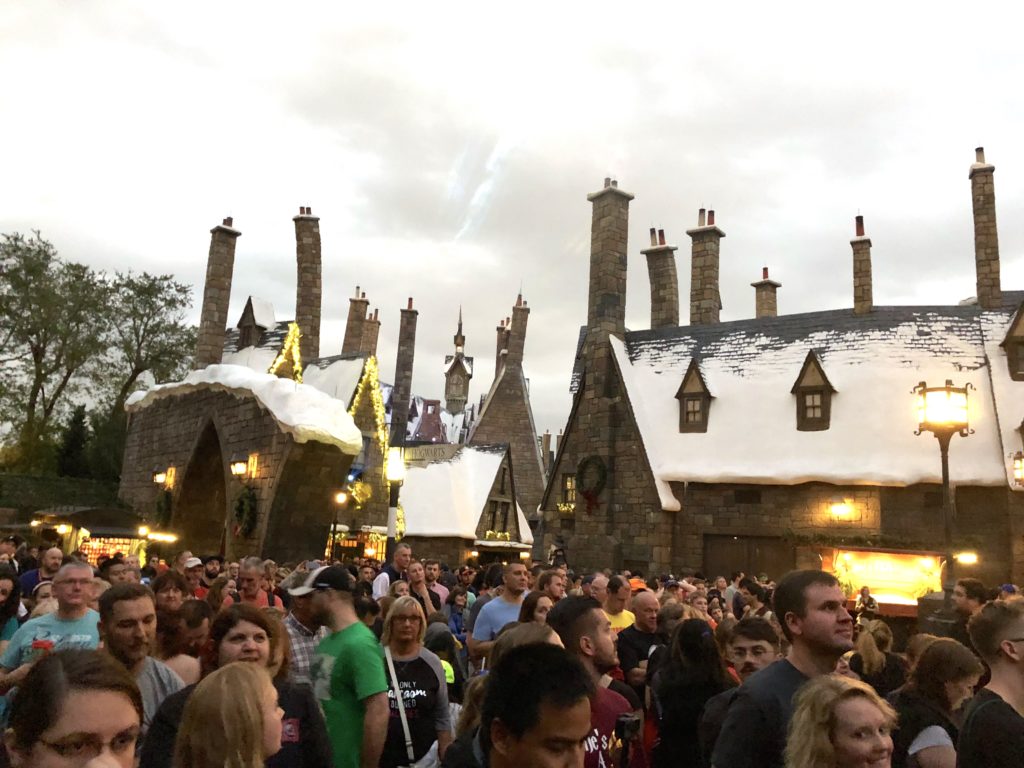 As it got darker, there were lights that made it look like there was snow on the castle which was cool: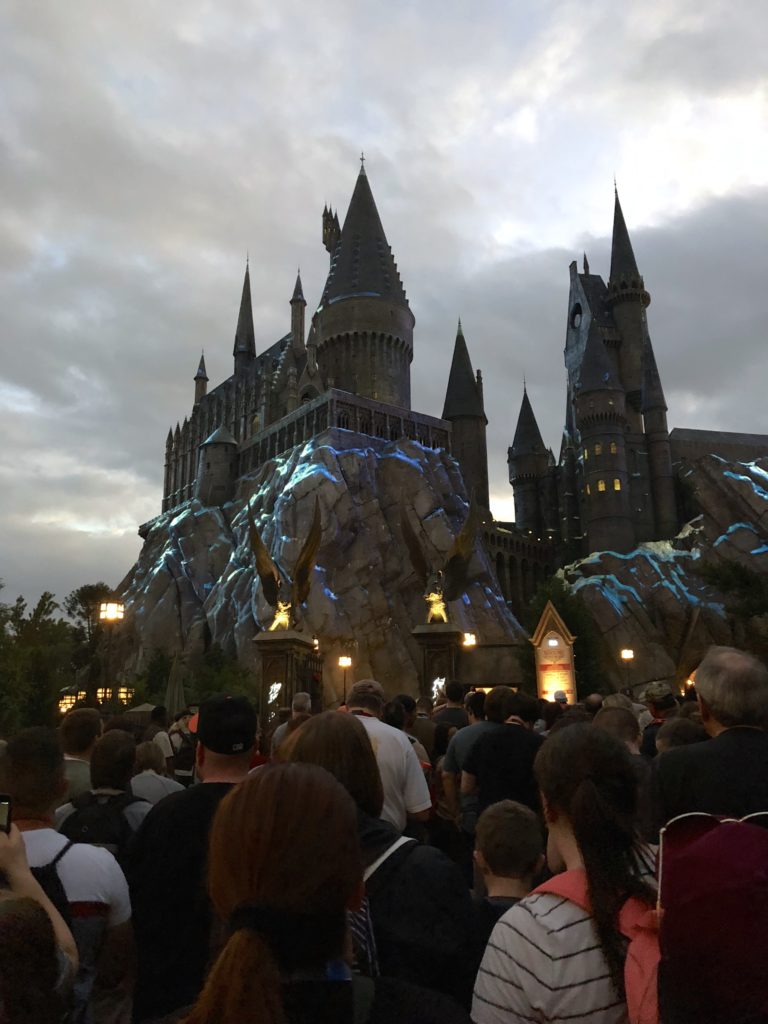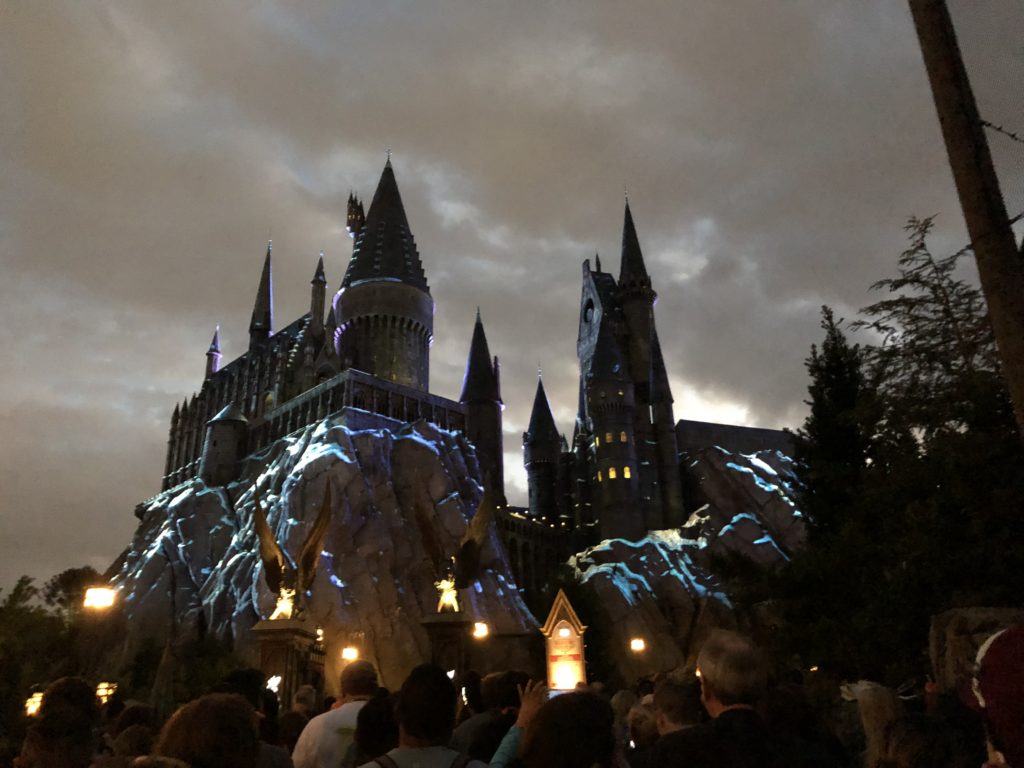 After what felt like forever, the show started.  And, it was INCREDIBLE and so worth the wait!!!  I took a ton of pictures so sit tight.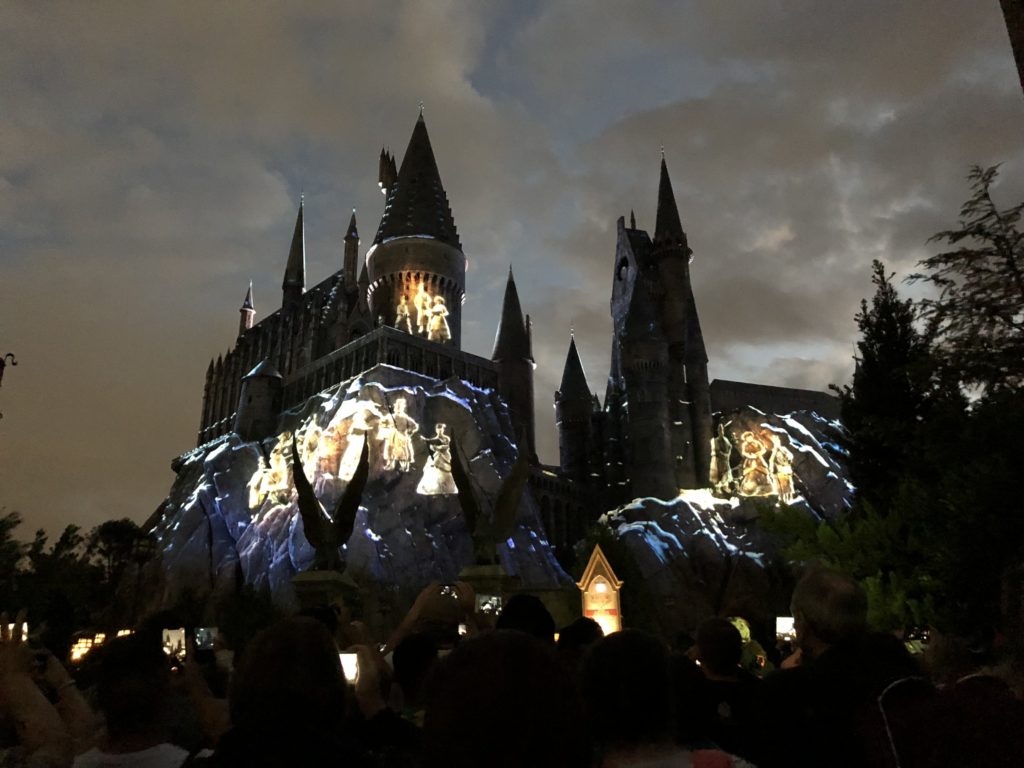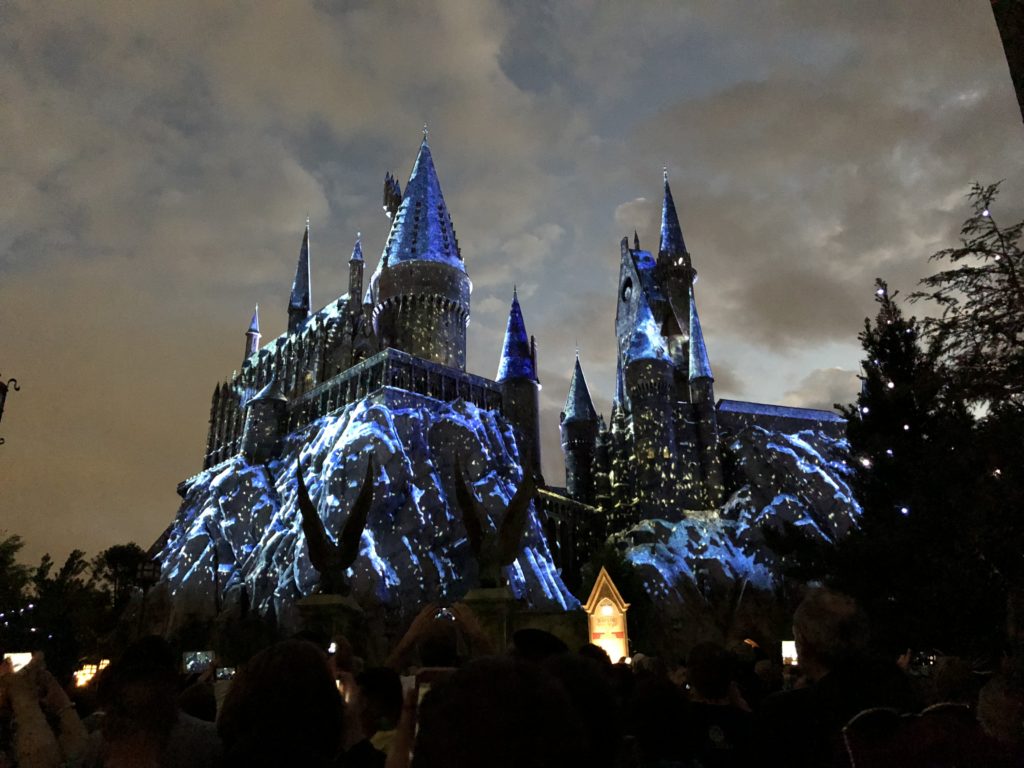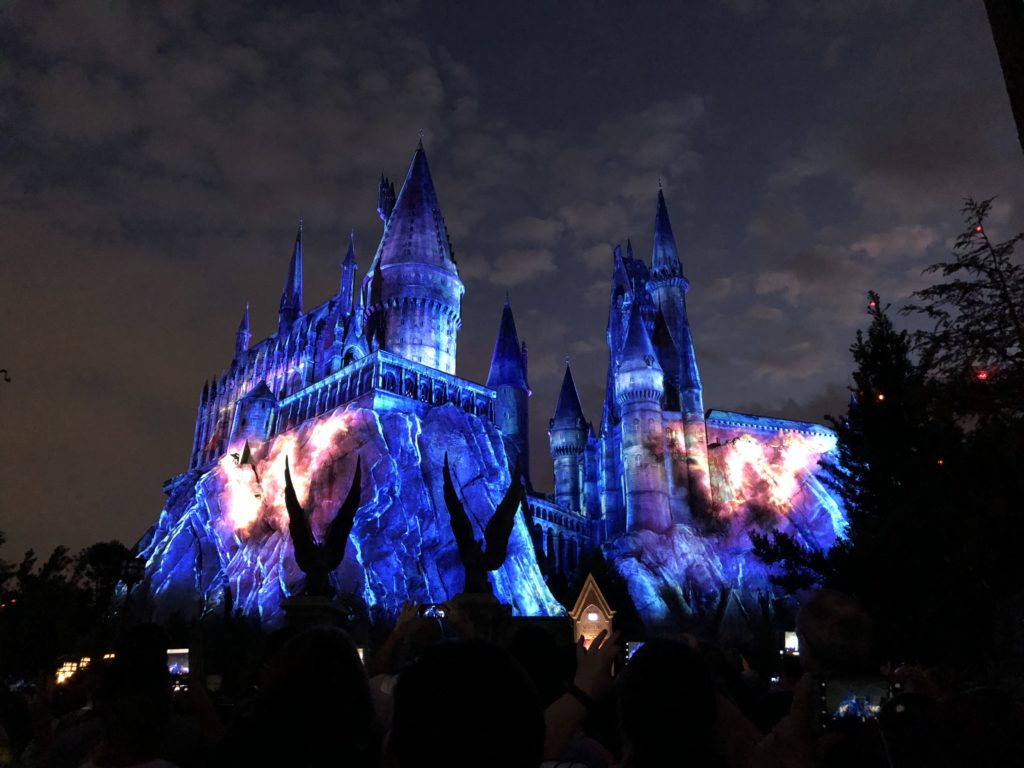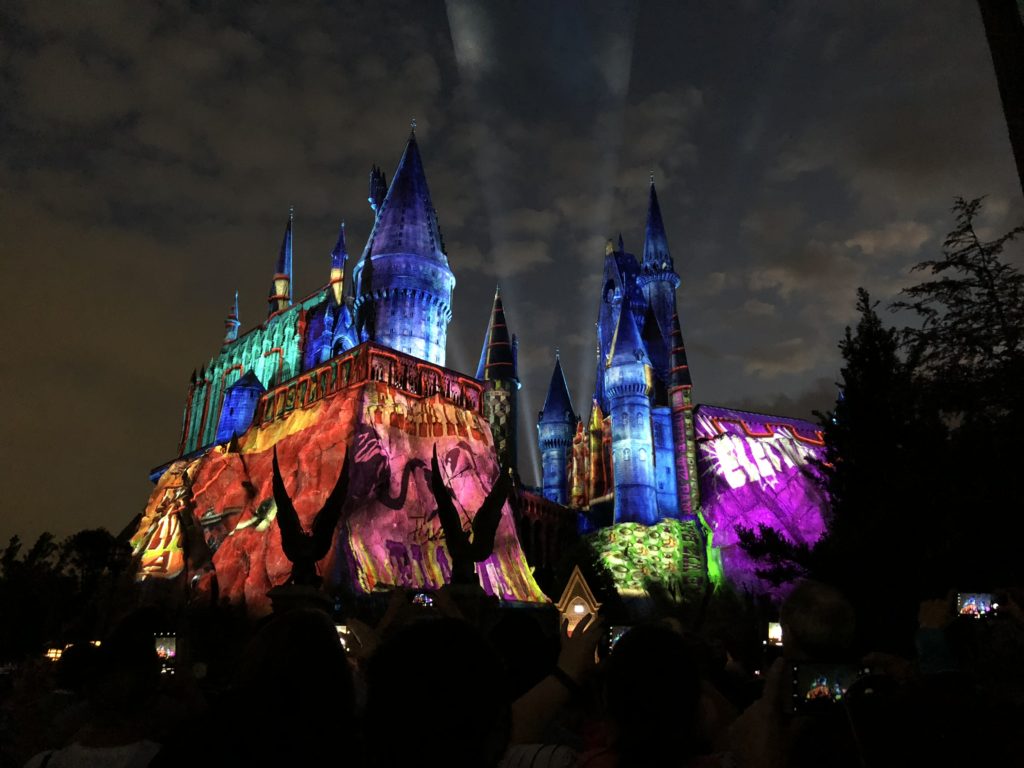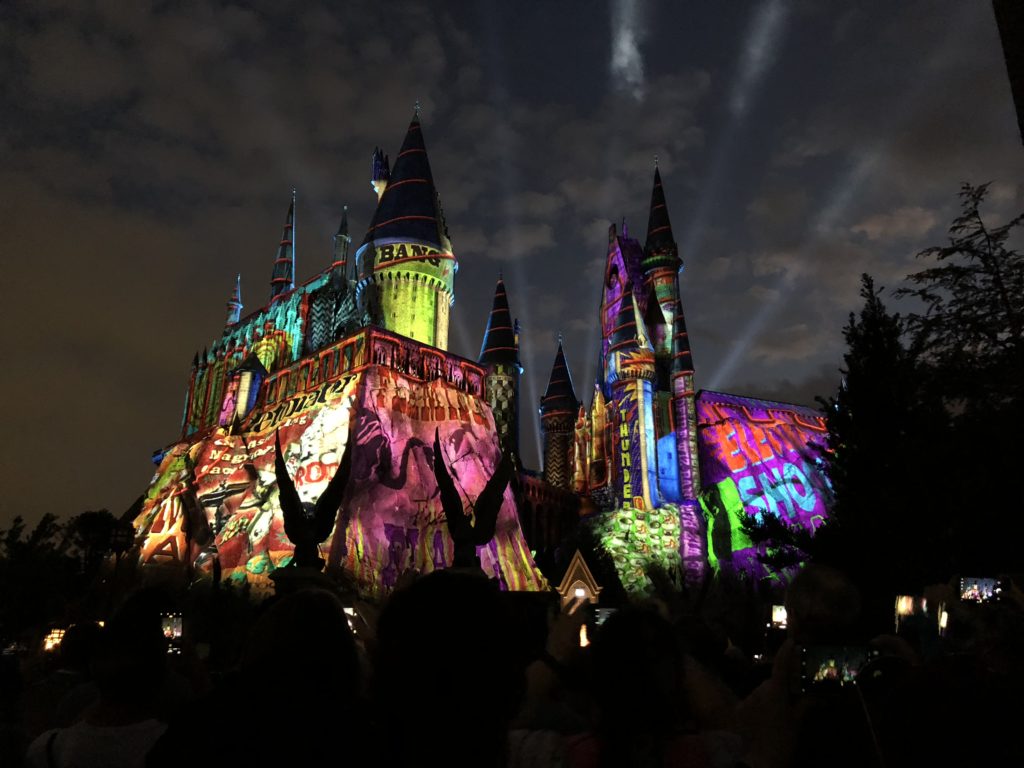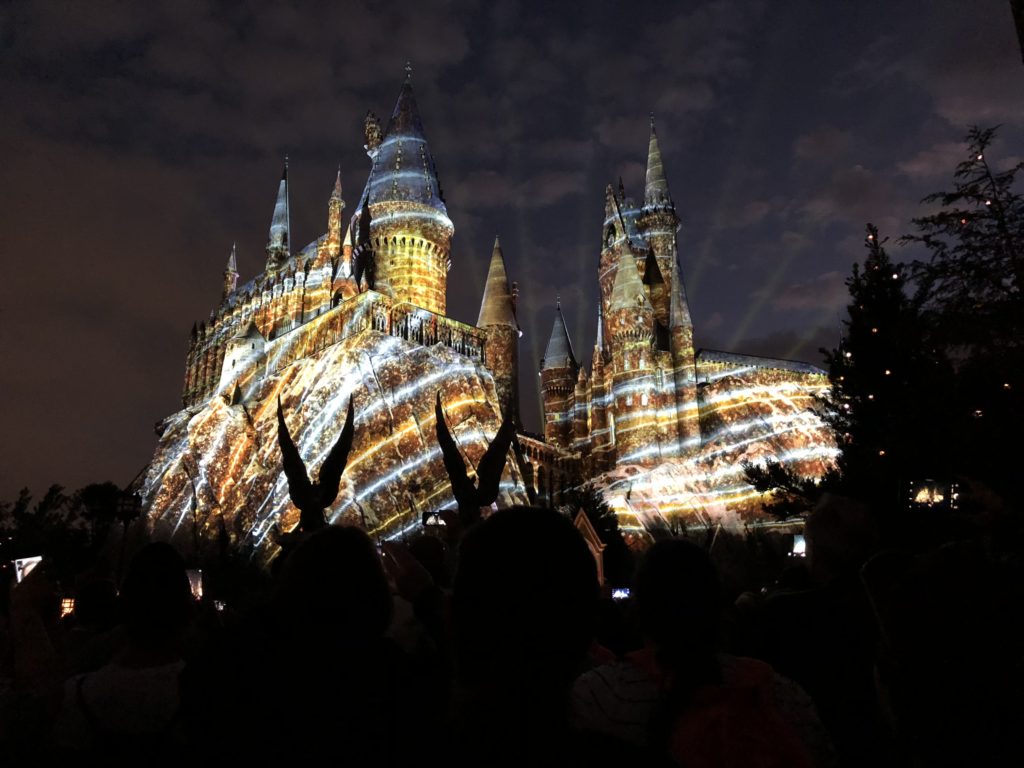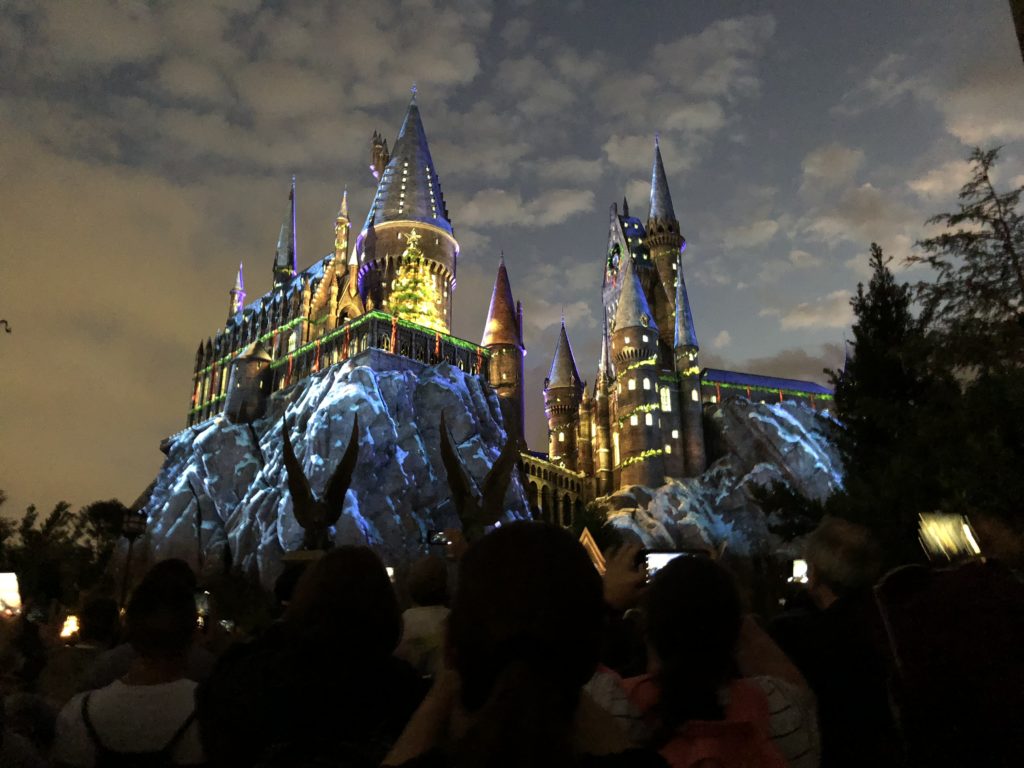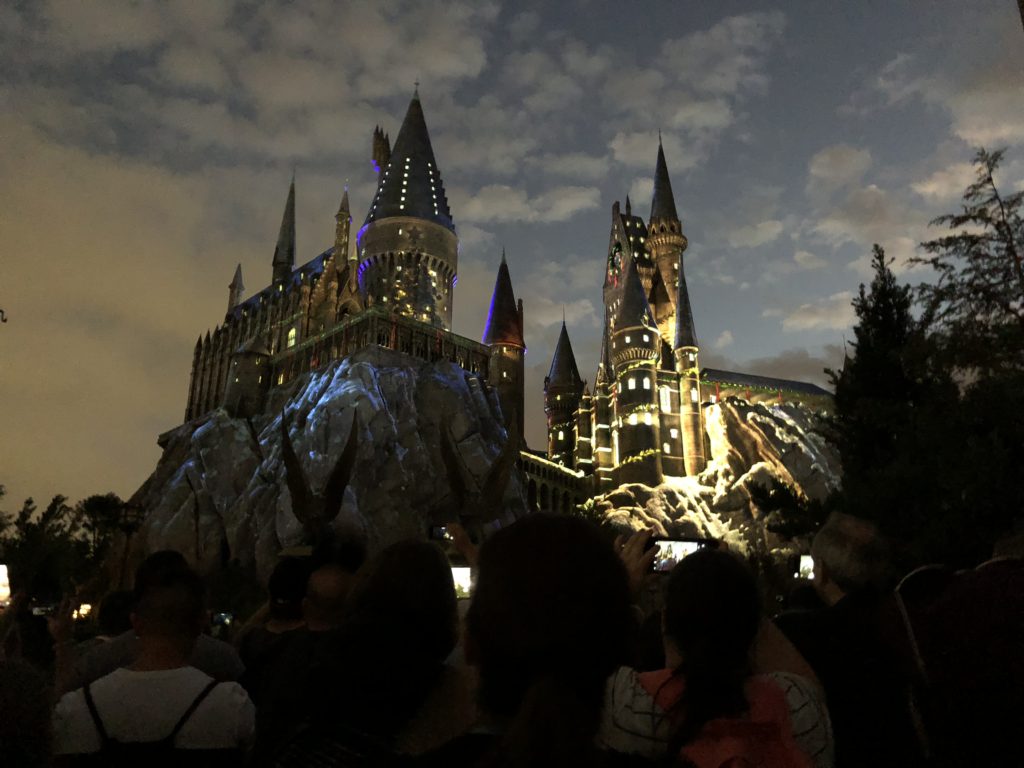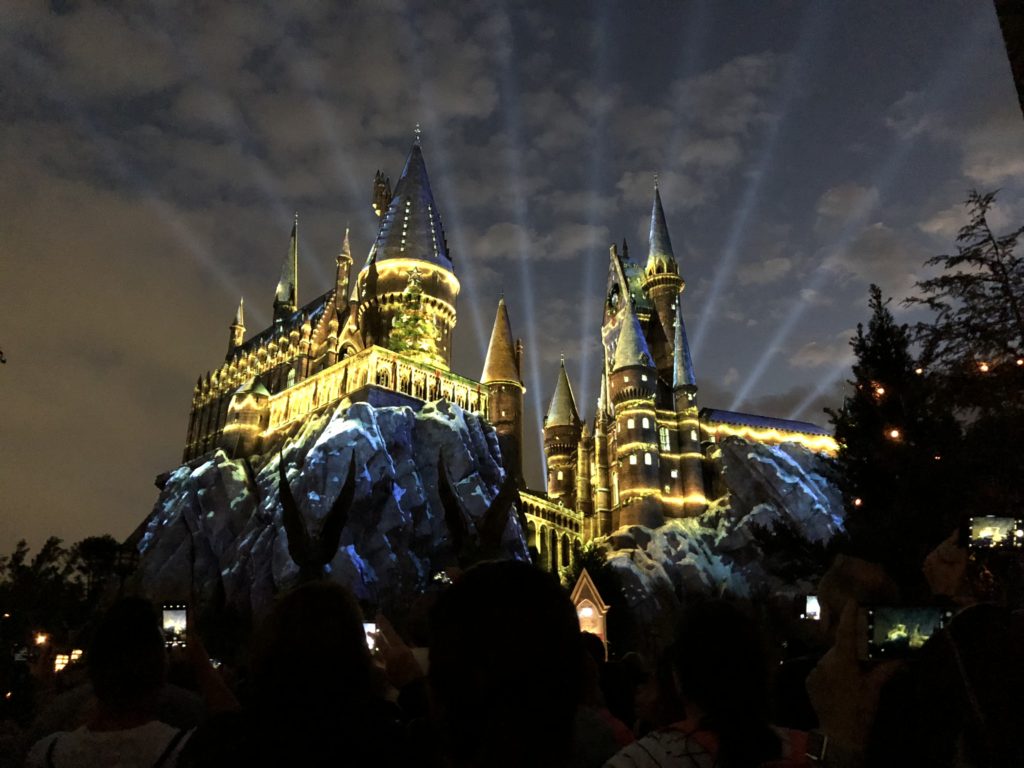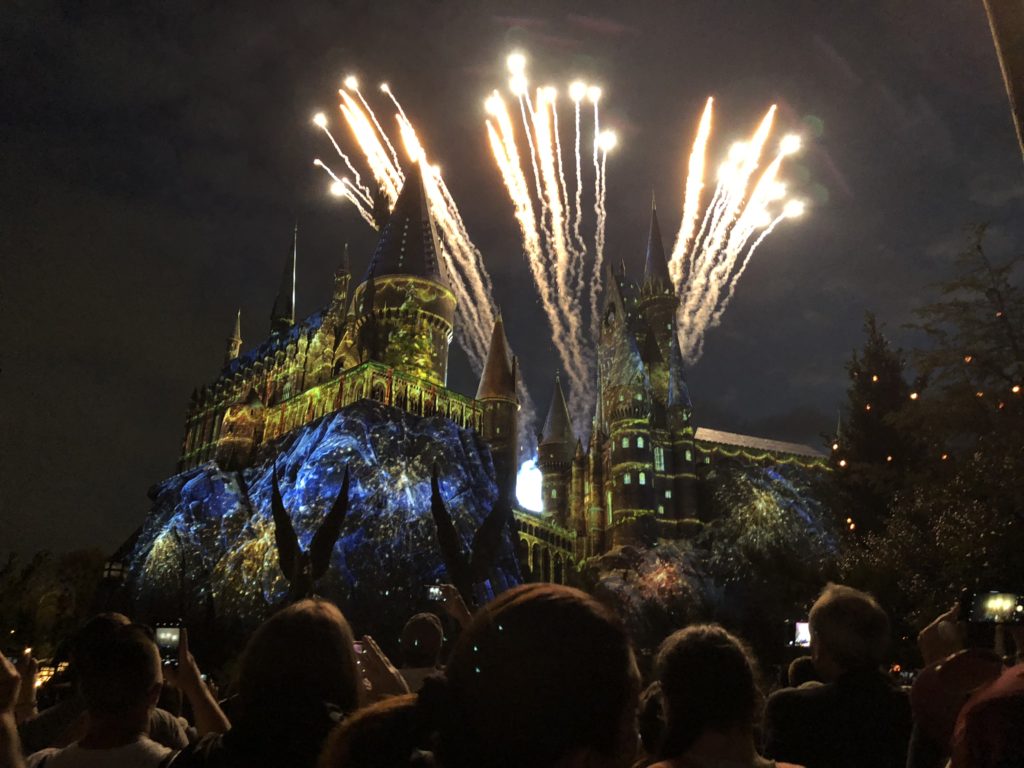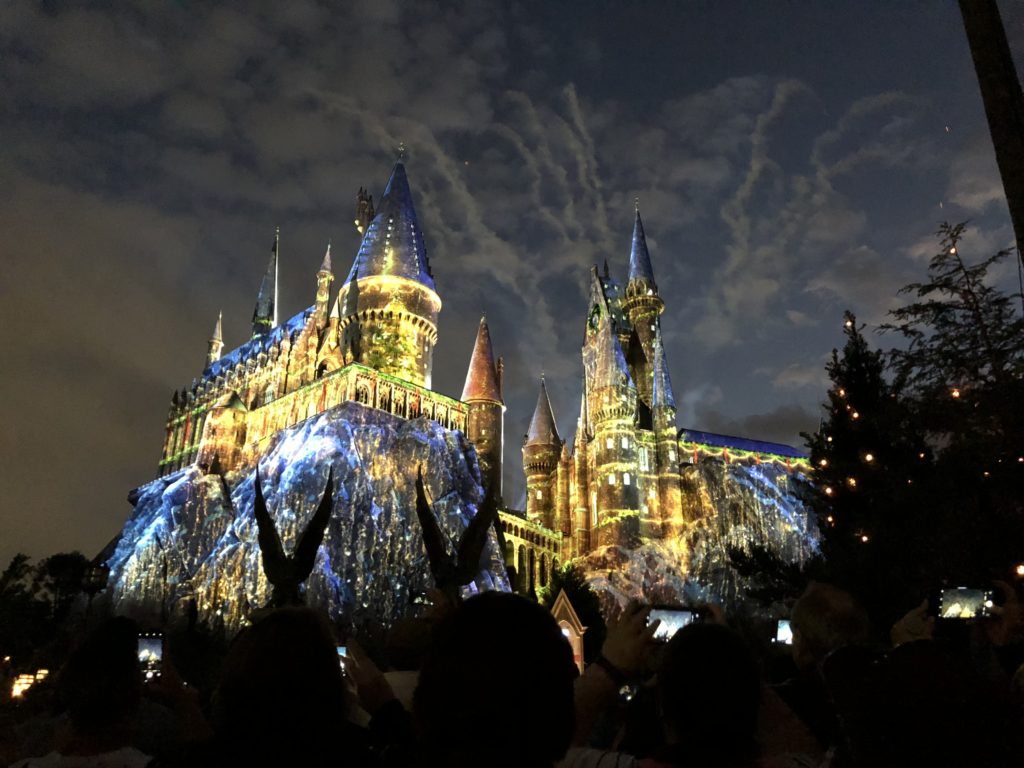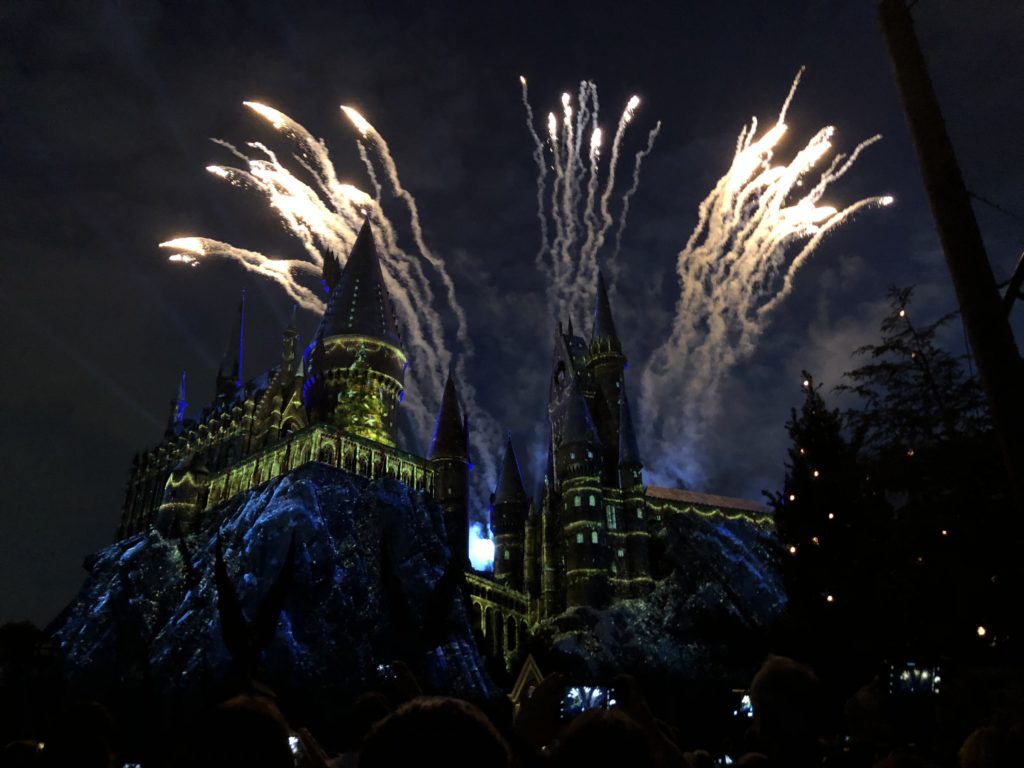 Here are some video clips as well:
As we left Hogsmeade to walk to the front of the park, I realized that there was a HUGE crowd of people waiting to see the next show.  Here you can see a team member directing us towards the exit while all of the people behind her wait to take our places.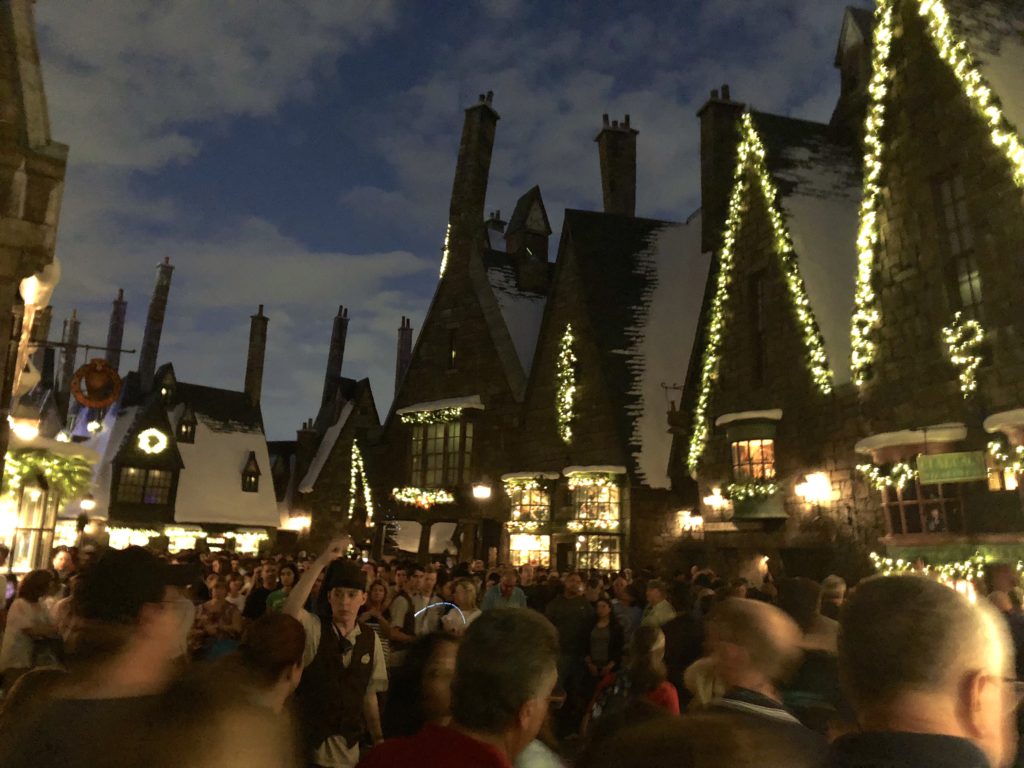 Here is a better view of the people waiting to see the next show (as well as the pretty lights in the village):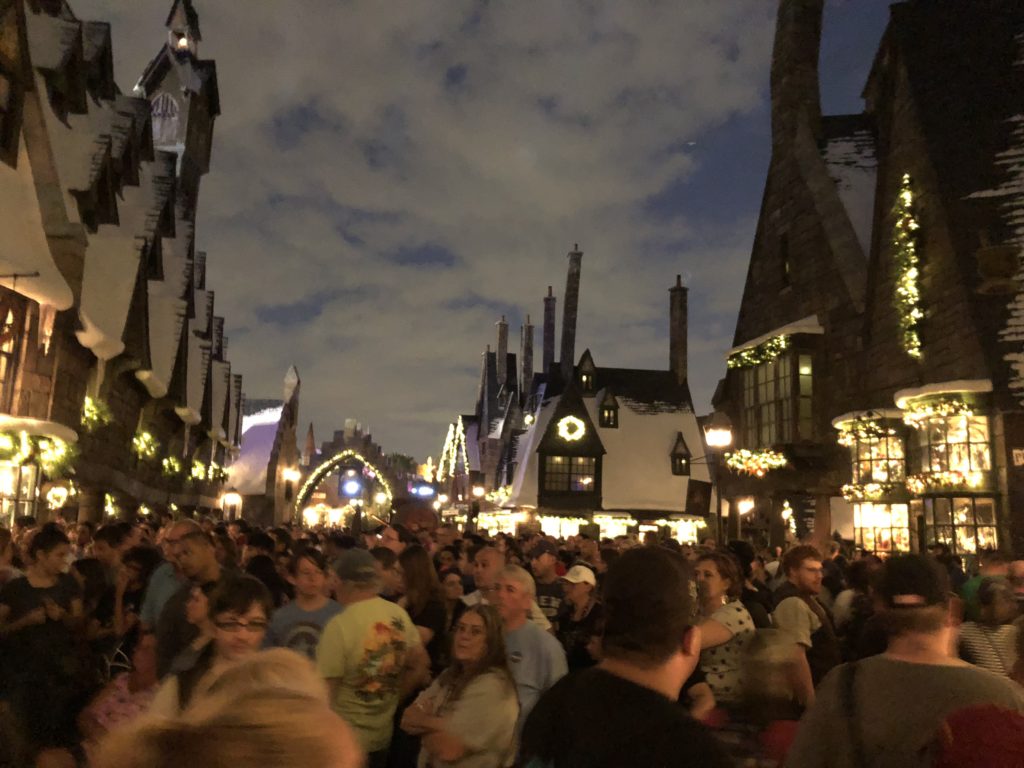 At this point I called my husband and they were done with rides and headed our direction to try and watch the next castle show.  My youngest was not feeling well at all at this point, so I told him that we were going back to the hotel and to just meet us there.  They ended up seeing the next show and arrived back at the hotel maybe 30 minutes after we did.
We got back to the hotel and my youngest went straight to her bed.  I felt her forehead and could tell she had a fever.  I always bring a thermometer on trips so I took her temperature and it was 99.9.  I still had some tylenol, but it was the chewable kind which she hates .  When my husband got back, we left my oldest in charge (she recently got a phone for her birthday which came in really handy as I felt comfortable leaving her in charge for a few minutes) and went to the hotel gift shop to buy some liquid ibuprofen.  We also picked up some pizza at a restaurant at the hotel as none of us had eaten dinner yet.  Back in the room, we ate pizza, dosed up the sick kid with ibuprofen and hoped for the best.  We had big plans for the next day and hoped and prayed that she would be well enough!
Up Next: Christmas time at Magic Kingdom and the Ultimate Classics VIP tour!
.
As always, don't forget to like me on Facebook (click here) and follow me on Pinterest (click here) and Instagram (click here) for all of the latest Disney Cruise Mom Blog updates!