Last week we spent several days at Universal Orlando's Portofino Bay Resort and we had a great time!  The weather was great, the crowds were small, and everything was decorated for the holidays.  My husband was attending a conference at the resort, and the girls and I decided to tag along for a quick trip.  Seeing the parks decorated for the holidays has always been a dream of mine!  We were able to spend one day at the Universal parks and one day at Magic Kingdom.  Today I am going to cover the resort itself as well as our dinner at the Universal CityWalk.
We arrived at the resort about 4:00 and checked in.  This beautiful Christmas tree was in the center of the lobby: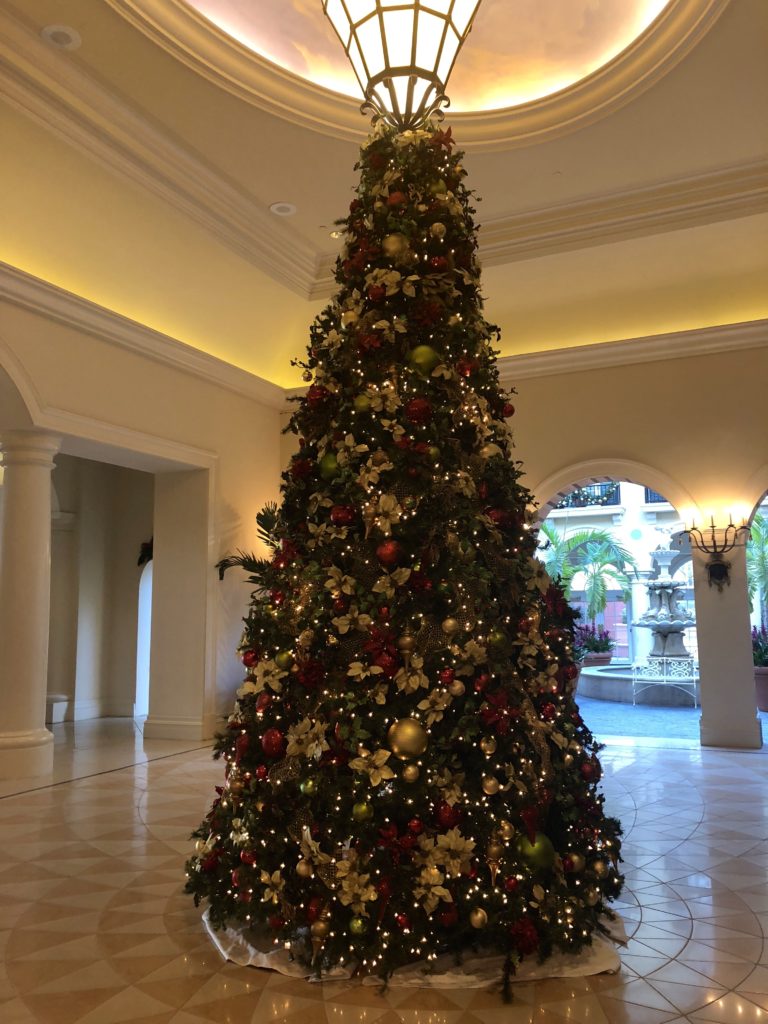 This is a large resort, and our room was in the East Guest Wing.  On the walk over we passed the outdoor courtyard area: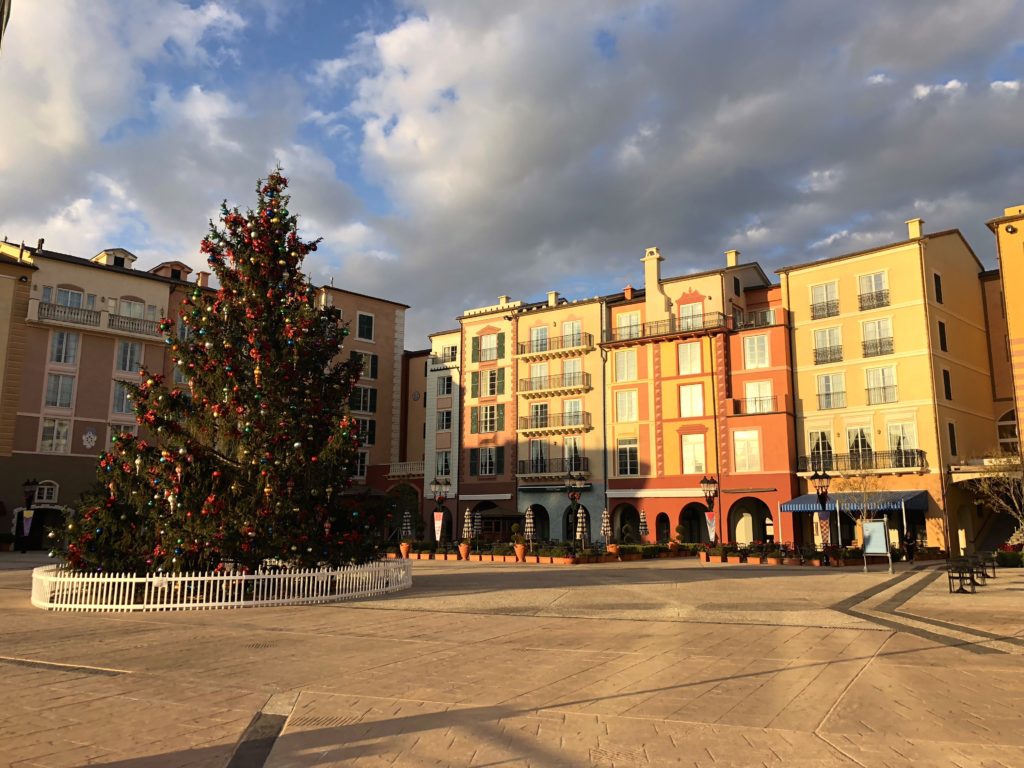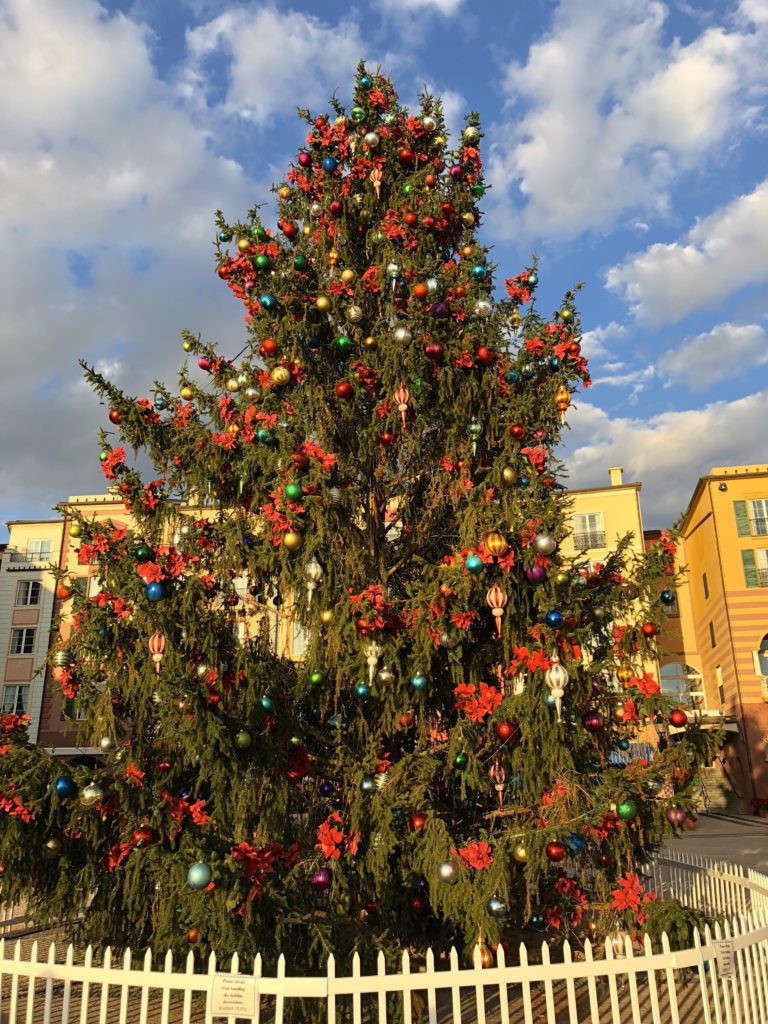 We spent a few minutes getting settled and I totally forgot to take pictures of the room while it was still clean.  I took some a few days later and even though the room's a bit of a mess, I want to show them to you because I was amazed at how large the room was.  This was a standard room, and we requested a rollaway bed.  There was a perfect spot for it in front of the window.  We brought an air mattress from home in case our request for a rollaway wasn't granted, and ended up using it as well since there was plenty of room for it and the girls prefer to not share a bed given the choice.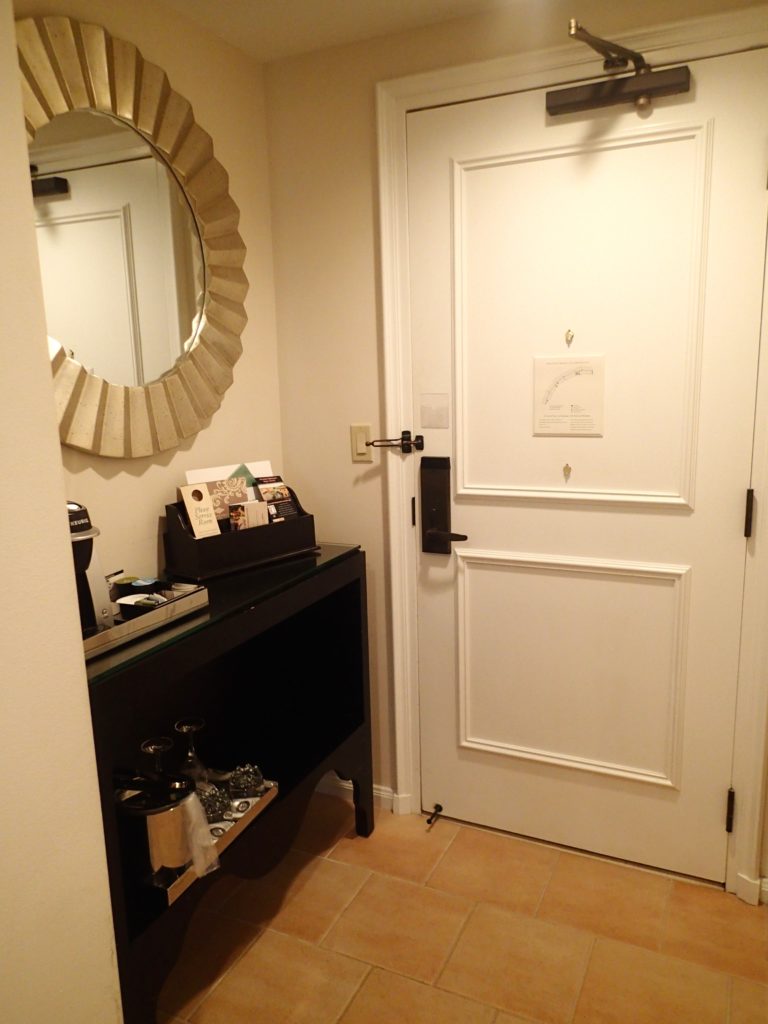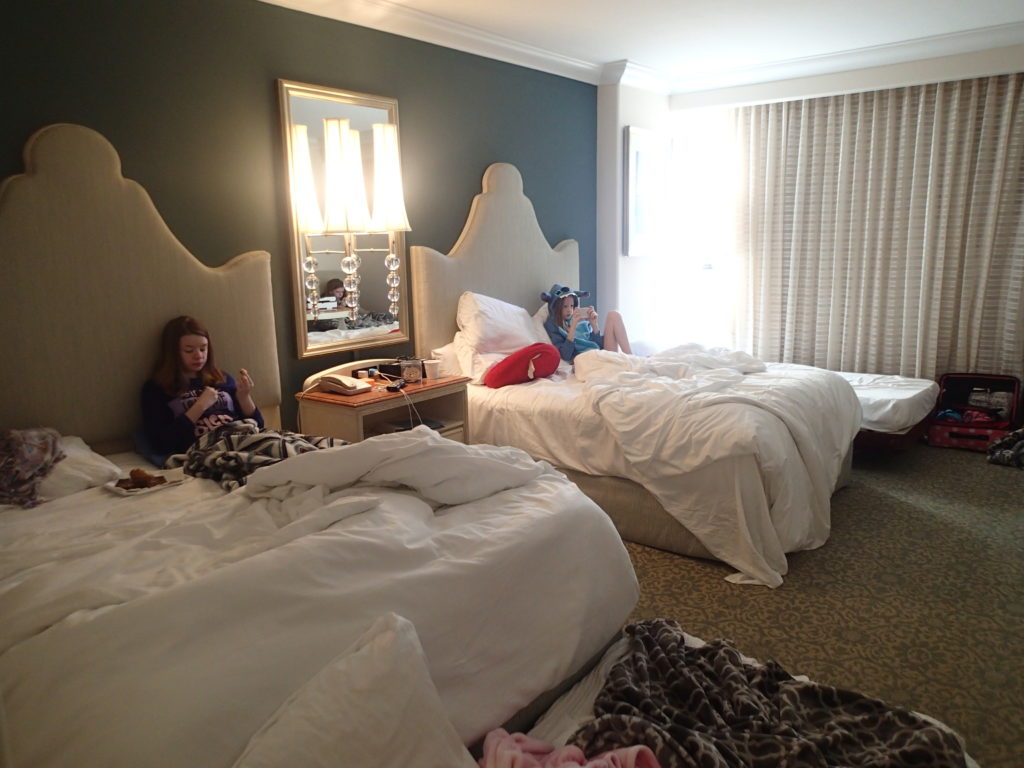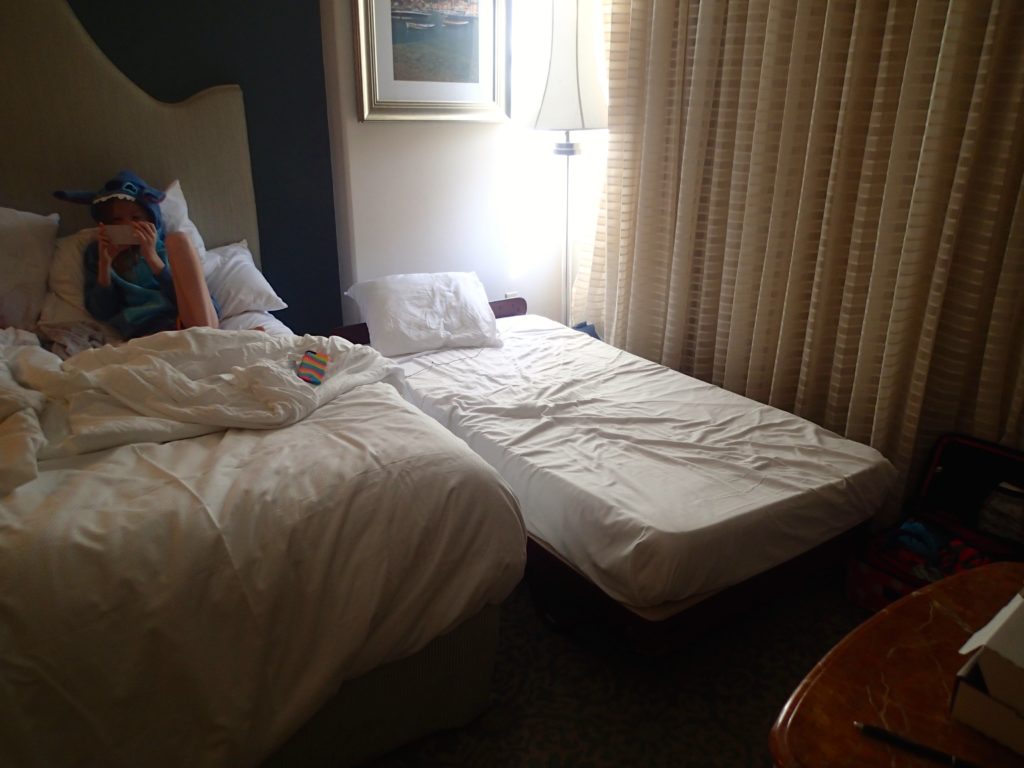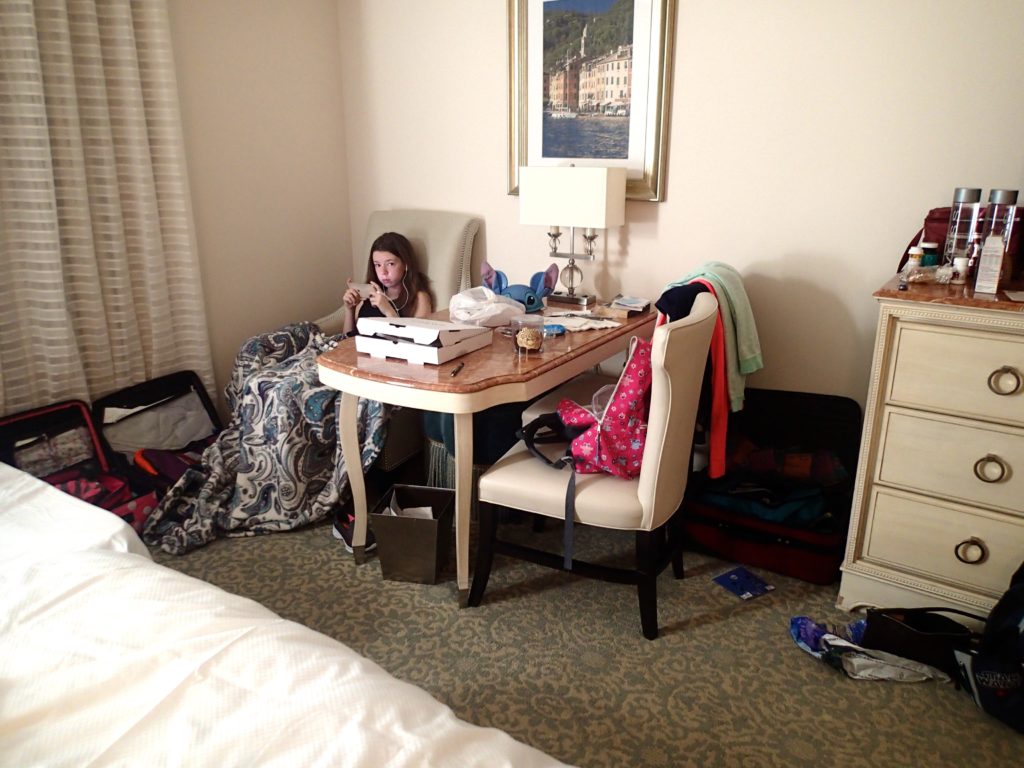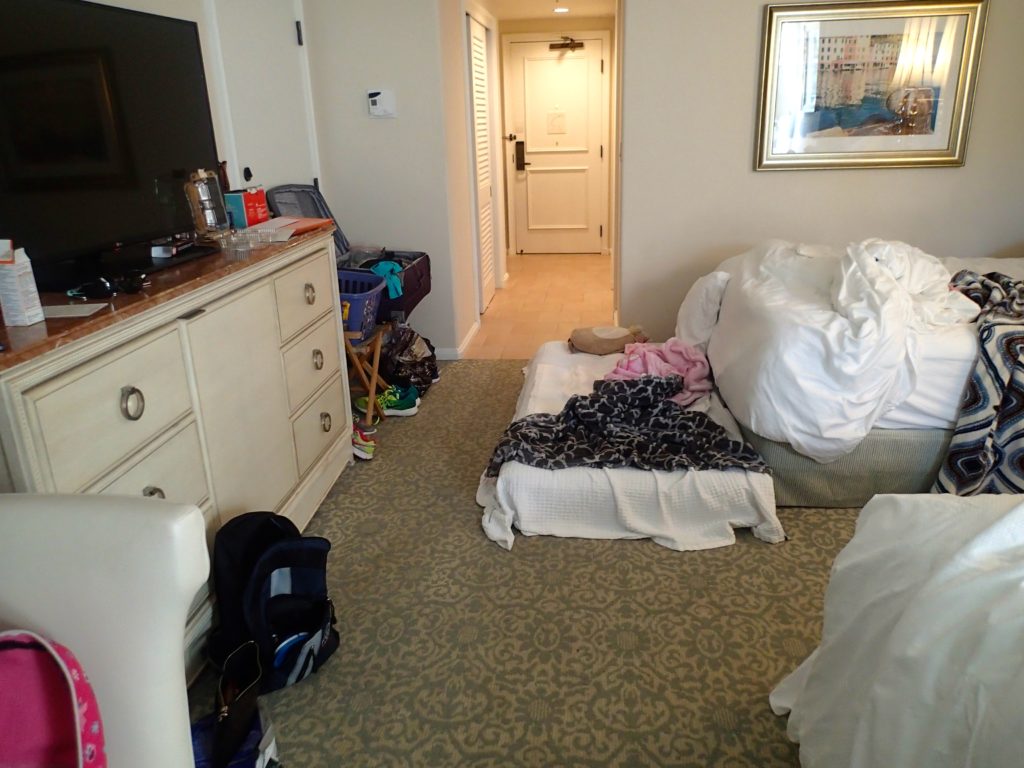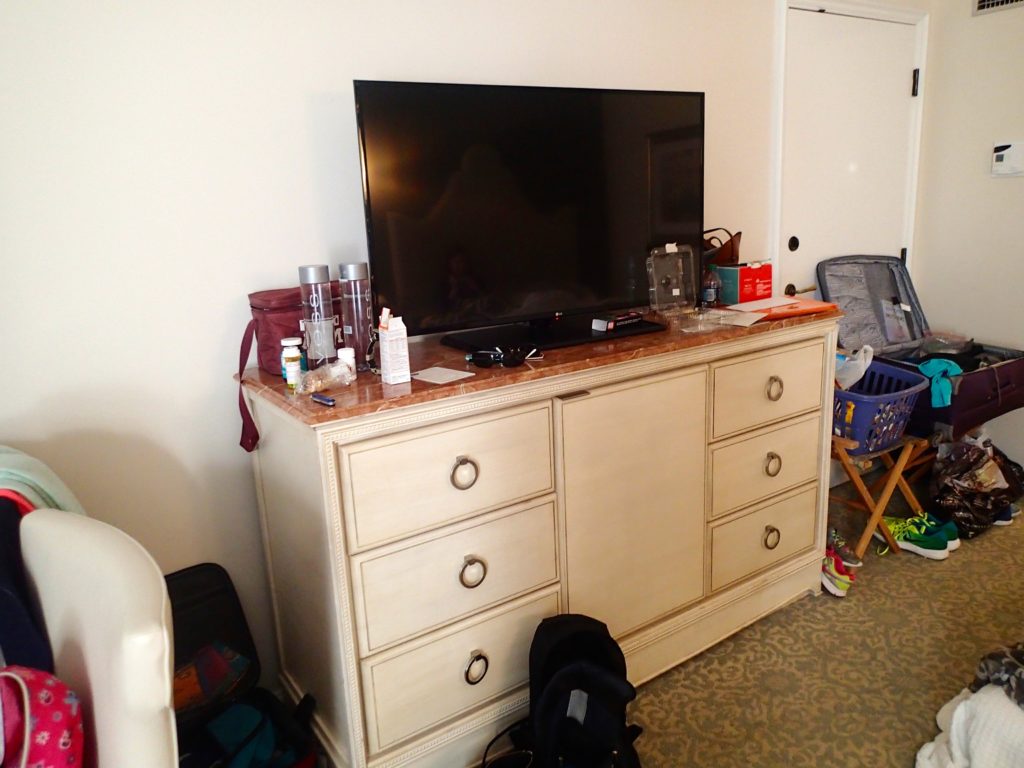 The bathroom was very spacious and I love that it had two sinks.  I also loved the storage shelves in the corner.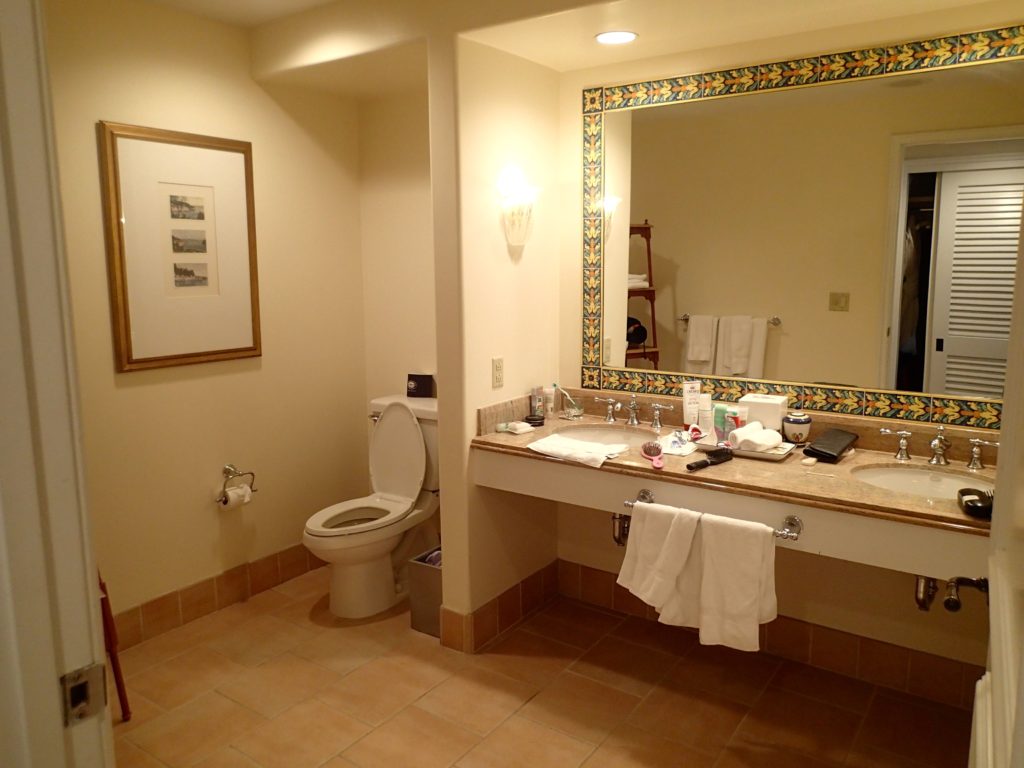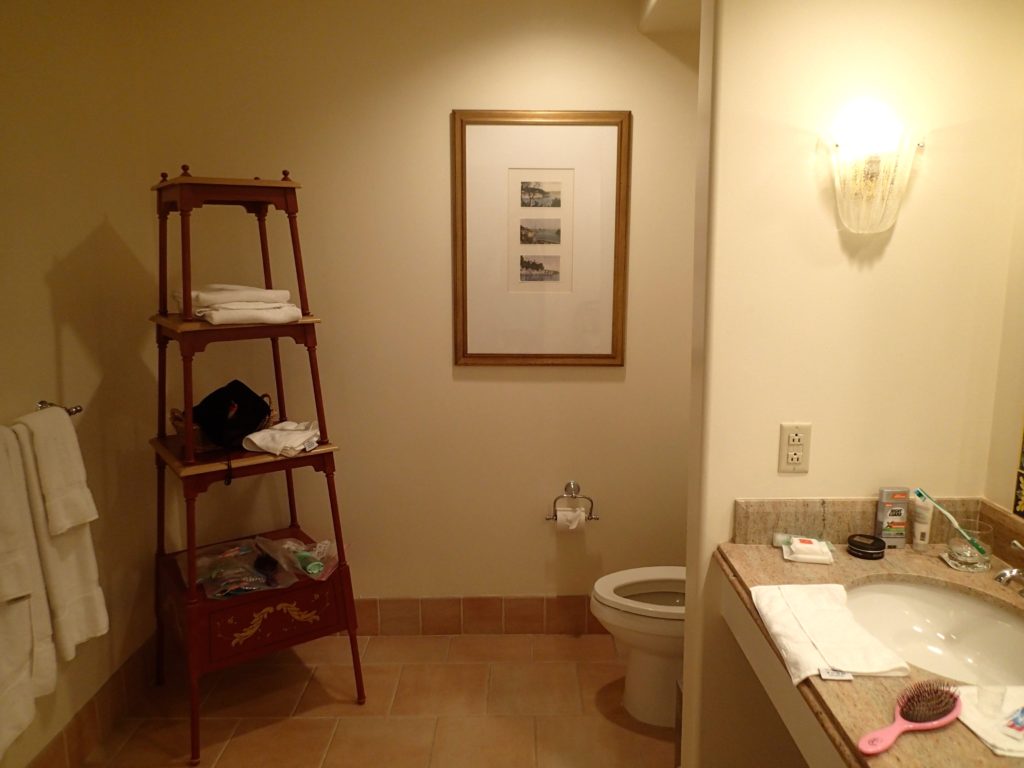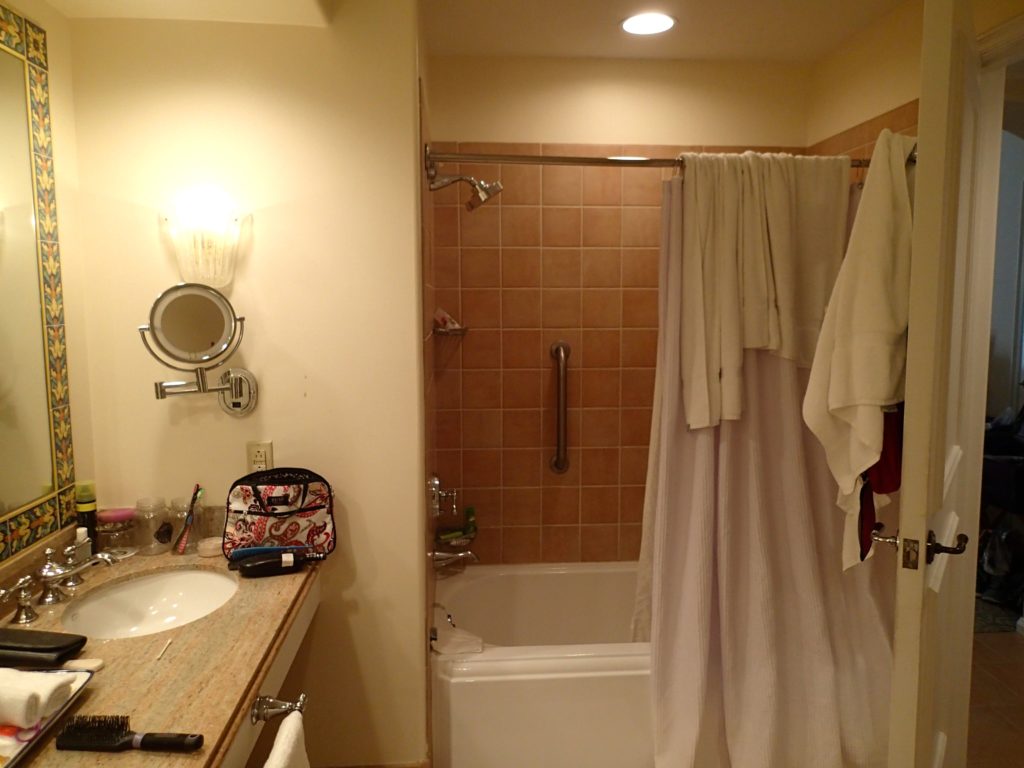 After we took a few minutes to get settled we headed over to the Universal CityWalk for an early dinner.  I wanted to get seated at a restaurant before the parks closed and things got crowded, and this turned out to be a smart idea.  There is a water taxi from the resort to the CityWalk, so we walked over towards the dock.  The sun was starting to get low in the sky and everything was bathed in a warm light.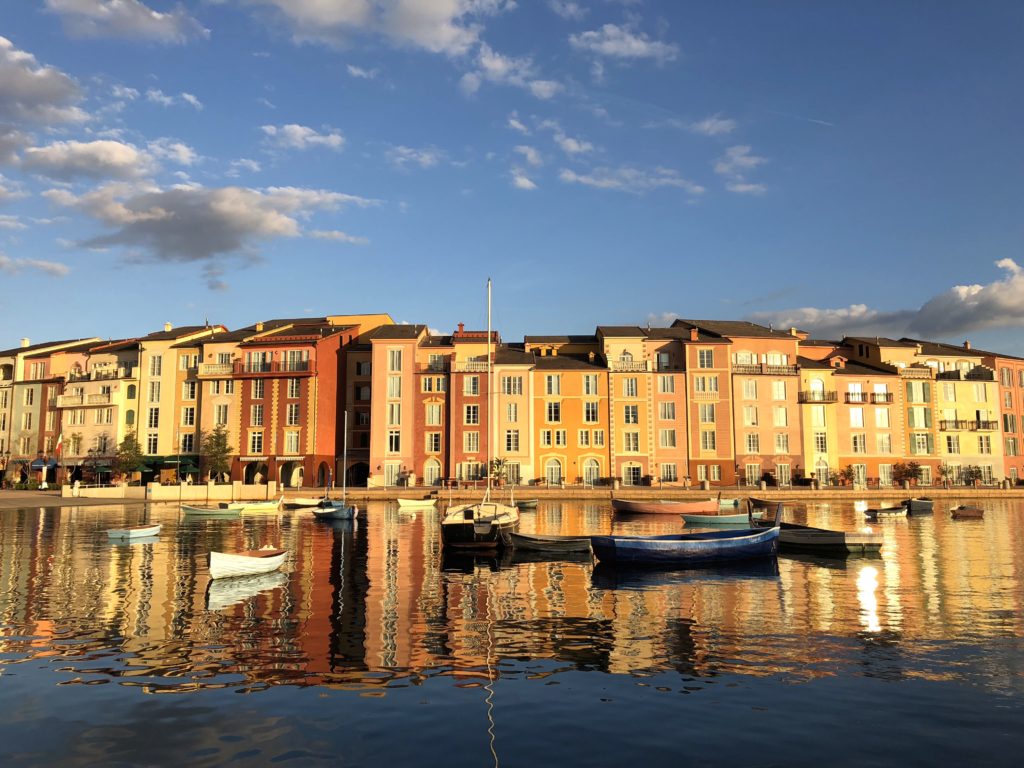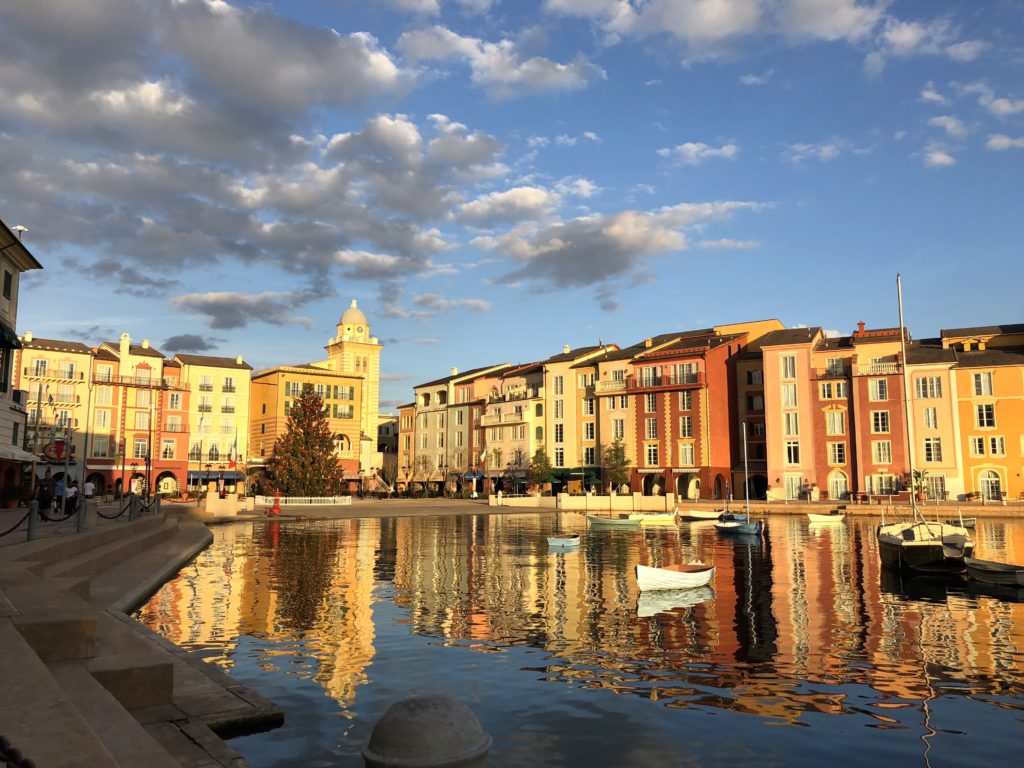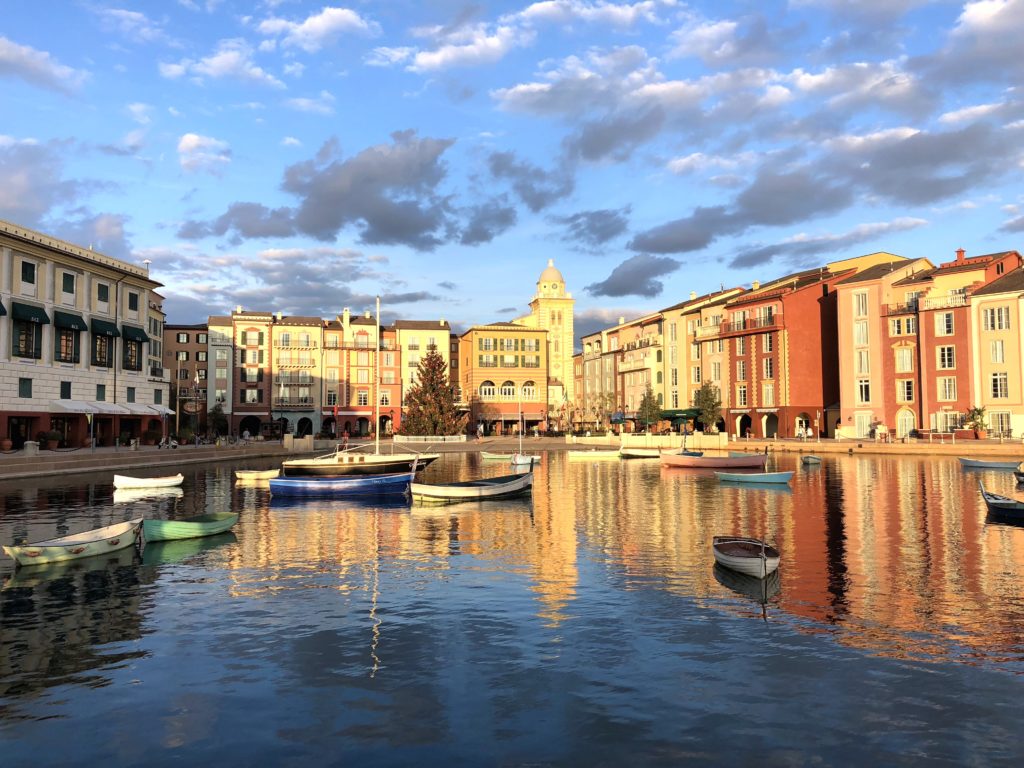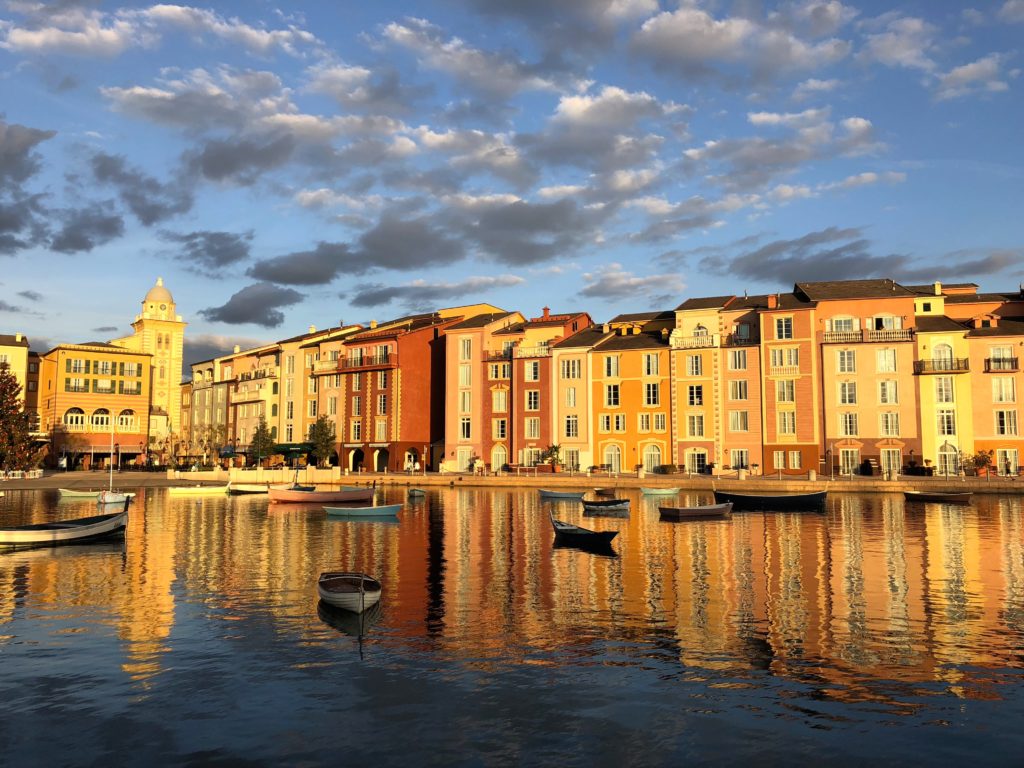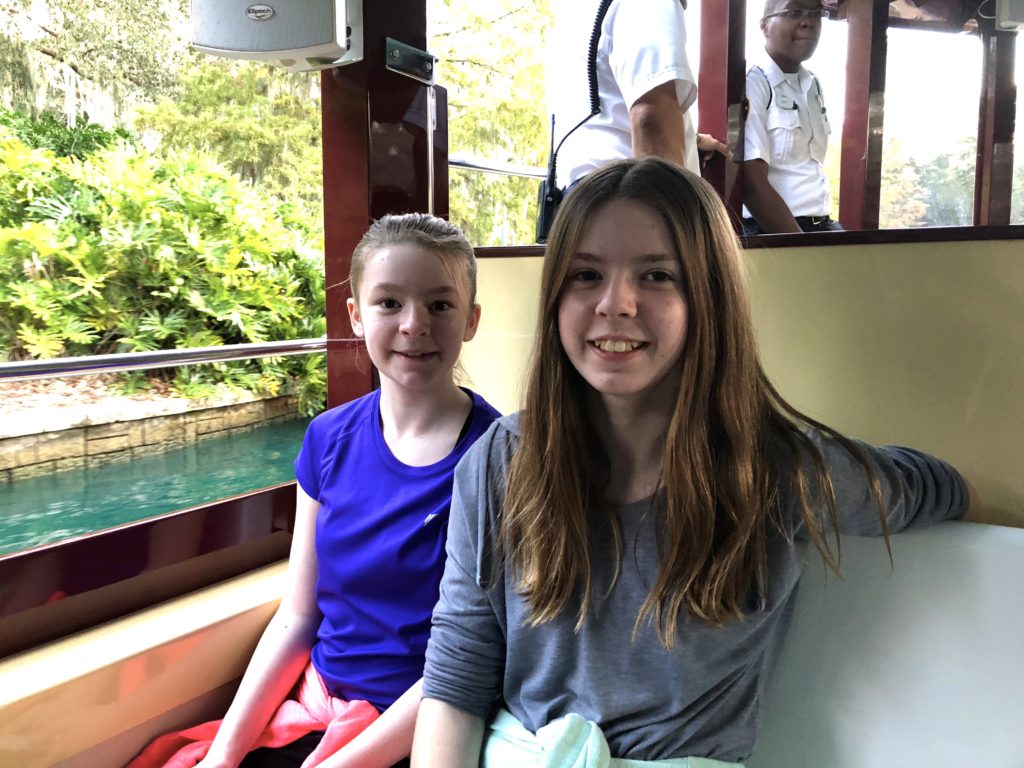 The boat ride only takes a few minutes and doesn't stop anywhere else on the way which is always nice.  We arrived to a virtually empty CityWalk and quickly saw our destination: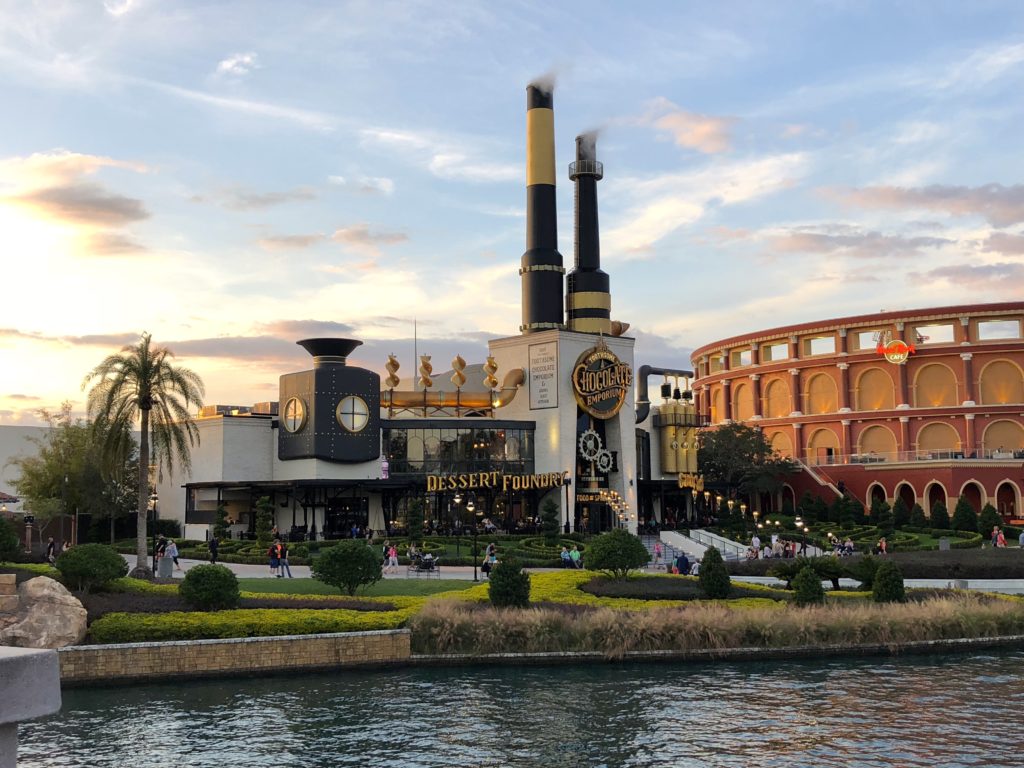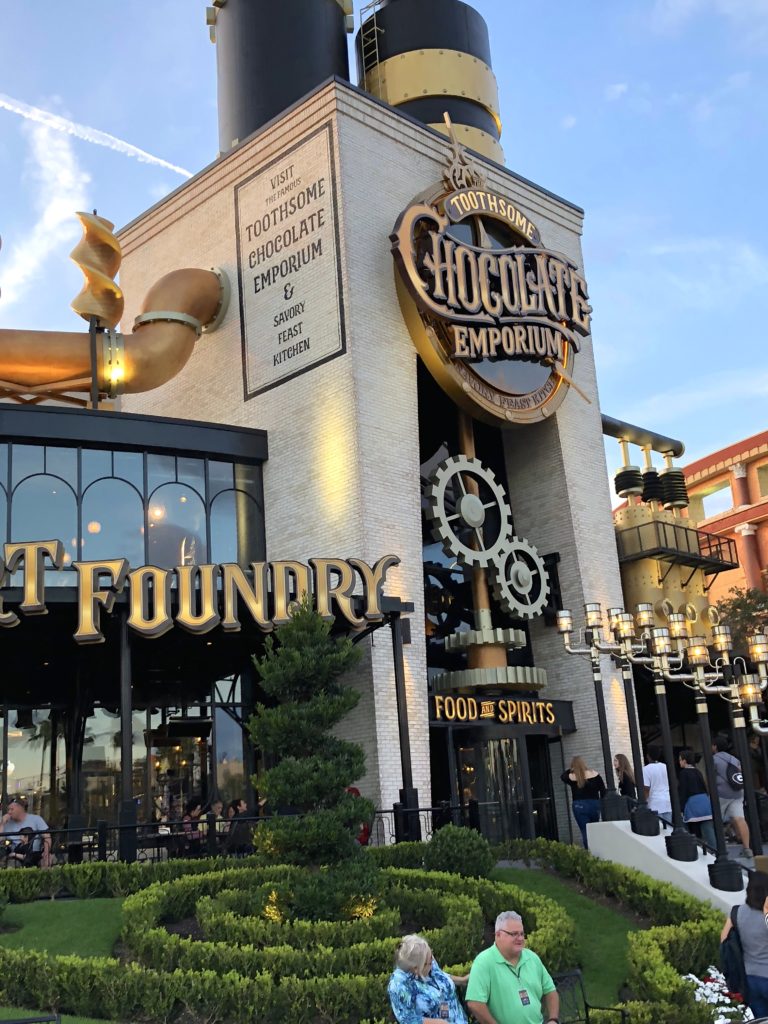 A friend had told me about Toothsome Chocolate Emporium (which has only been open for a few months) and when I looked it up online and saw the milkshakes, I was sold.  I knew my girls would love it.  I'm pretty strict about limiting sugar at home, but on vacation, pretty much anything goes.  My girls were really looking forward to this! They do not take reservations which is why I wanted to get there before the parks closed.  We were able to be seated immediately, but by the time we left the parks had closed and there was a HUGE crowd of people waiting.  I have heard of wait times here of up to 2 hours, and I imagine that's about what it was when we left based on the number of people.  My only error was that we should have visited the gift shop when we first arrived because when we left, it was too crowded to even walk through it.  I probably wouldn't have bought anything, but it would have been nice to have been able to browse.
The restaurant is themed well and there is a story behind it which you can read (along with a complete review of the restaurant) here.  It was pretty dark inside, so my pictures aren't great.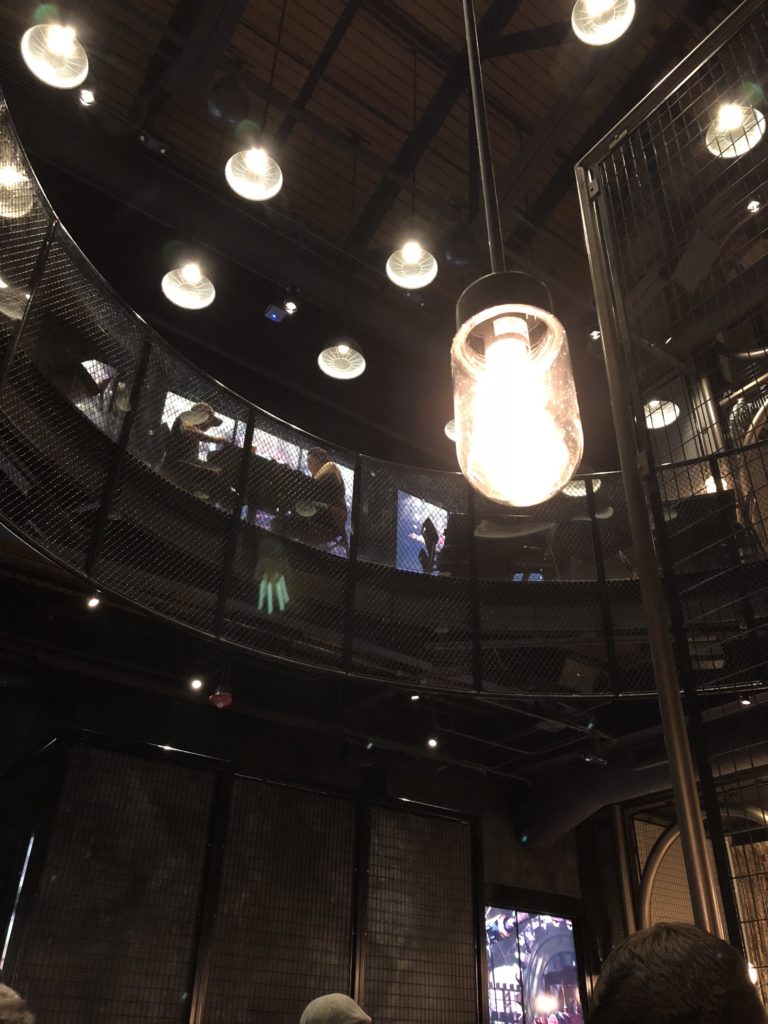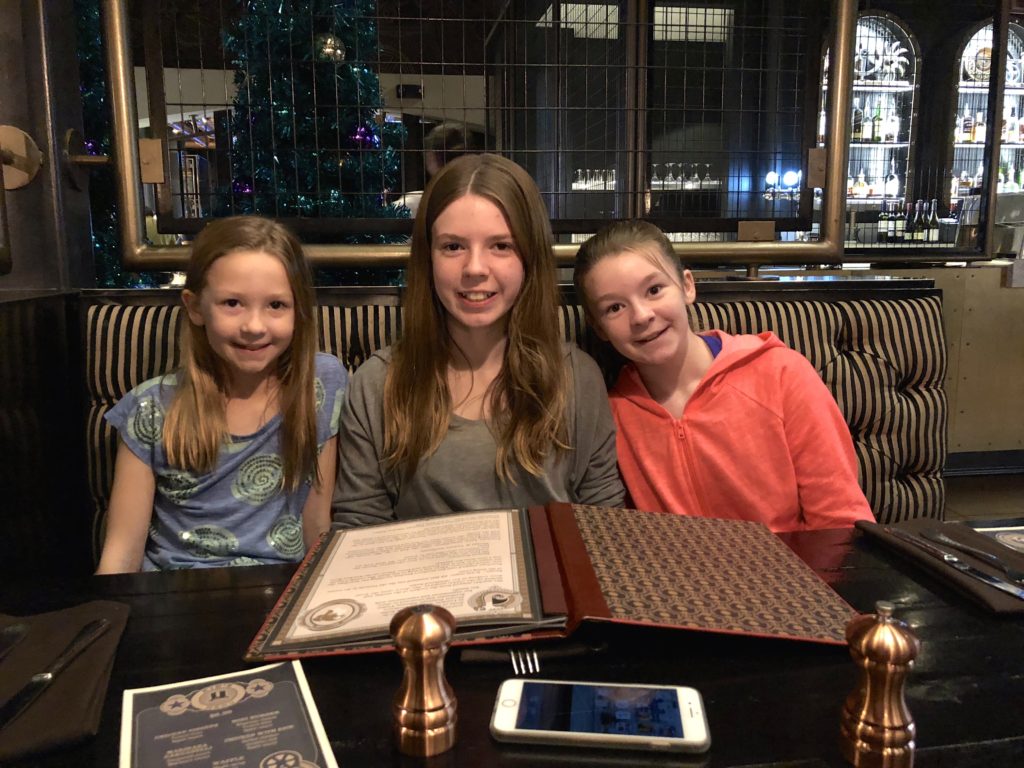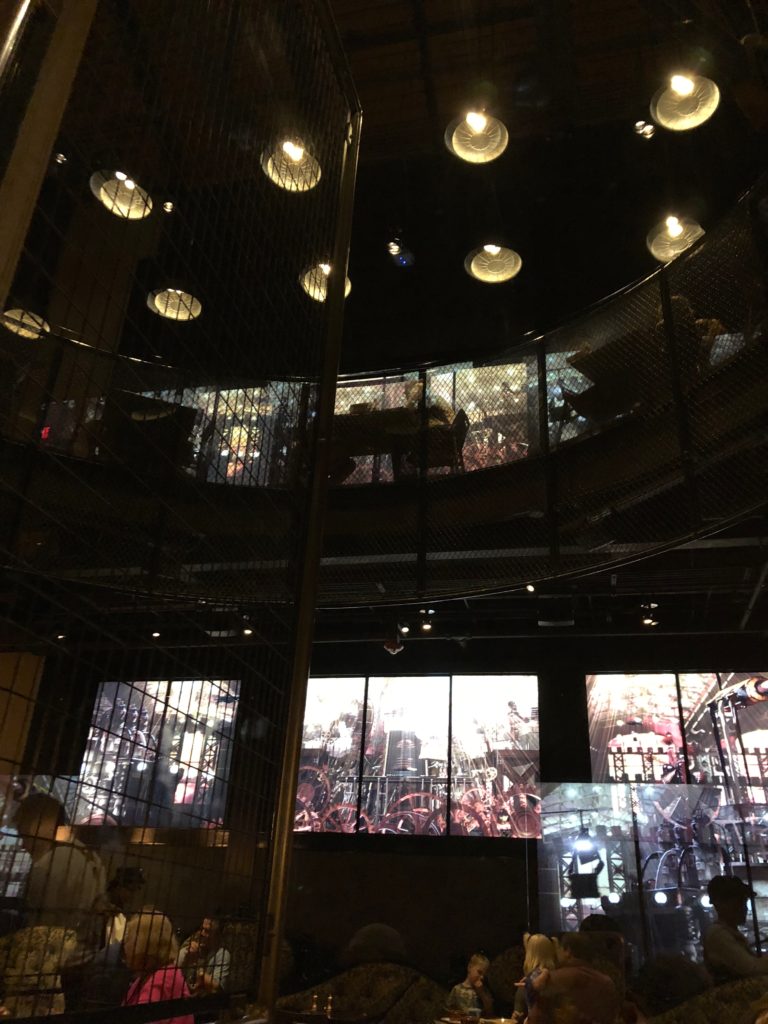 After we ordered out food we made our decisions about which milkshakes to get.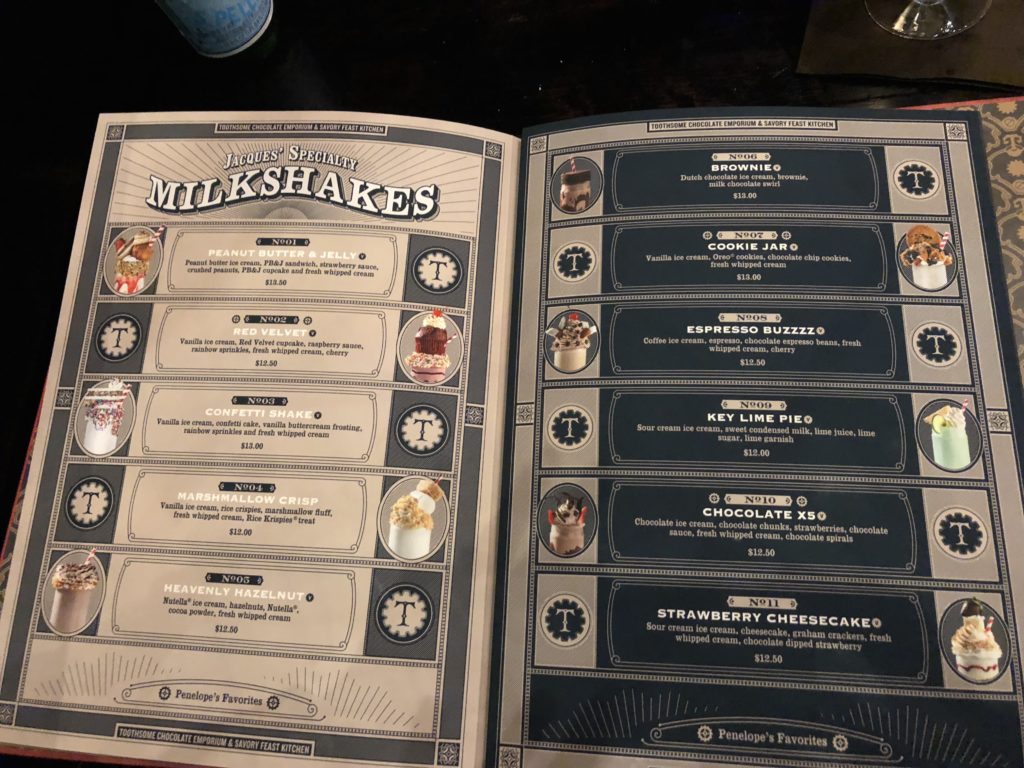 These people also stopped by our table for a chat.  They were fun to talk to.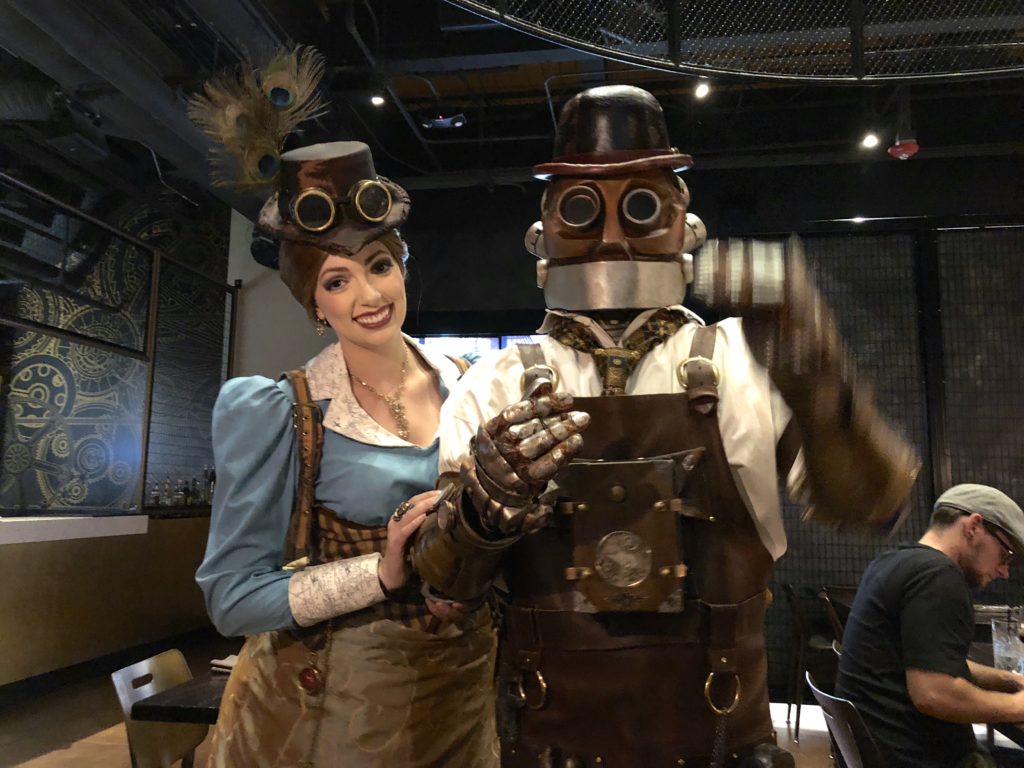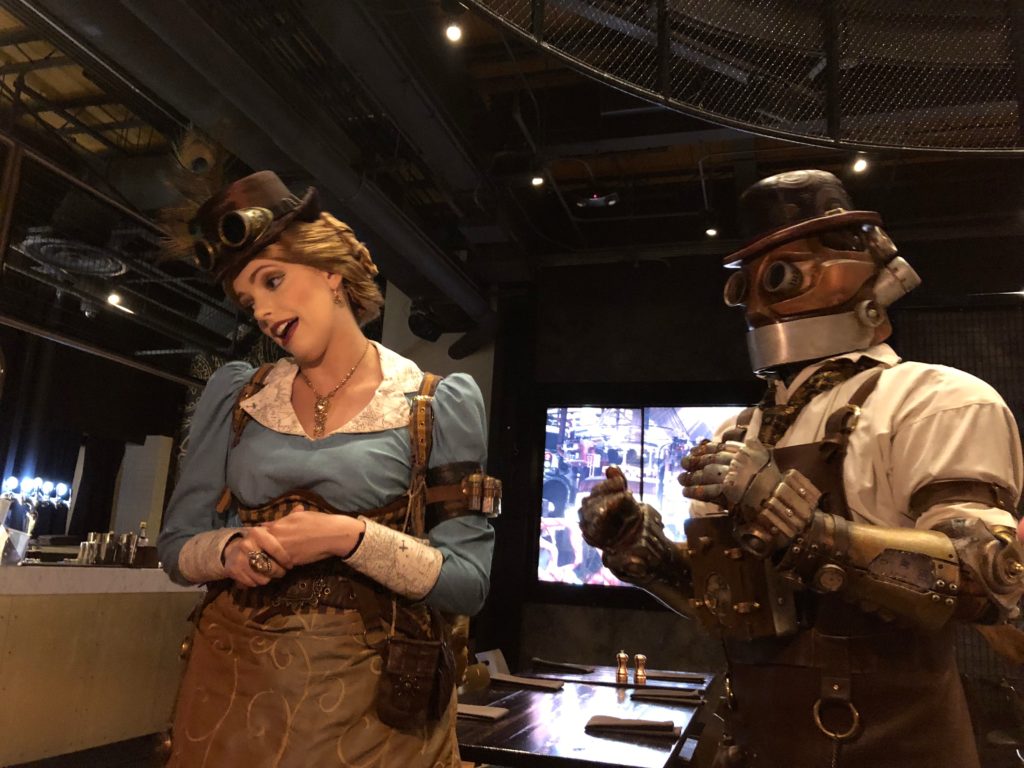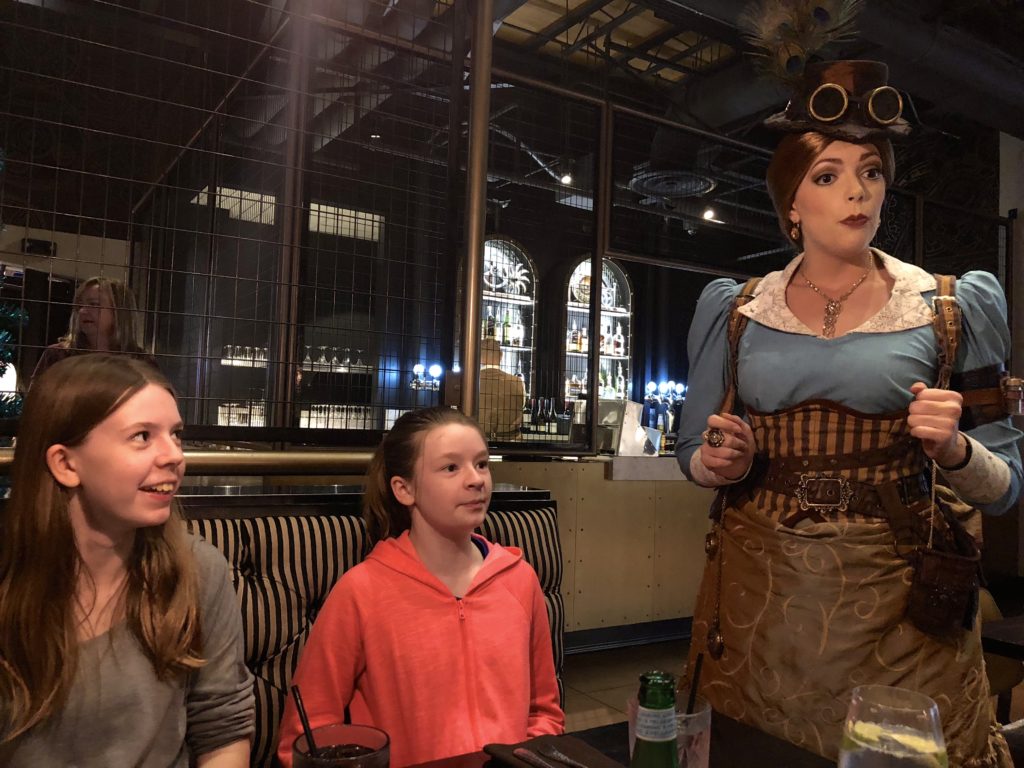 I didn't photograph the food, but I thought it was really good – definitely better than I was expecting for a place like this where the theming usually takes precedence over the food.  I was very impressed and the food was good enough to make me come back if the wait time was reasonable.  We placed our milkshake order and of course I took pictures of those!  This was the Marshmallow Crisp: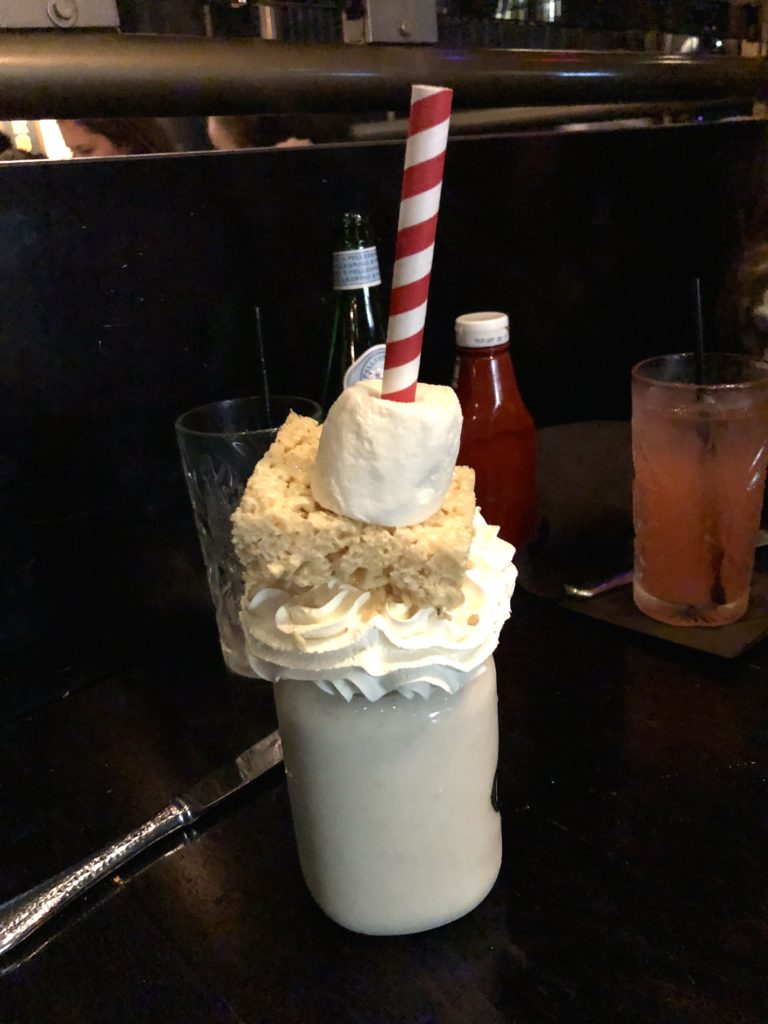 The Heavenly Hazelnut: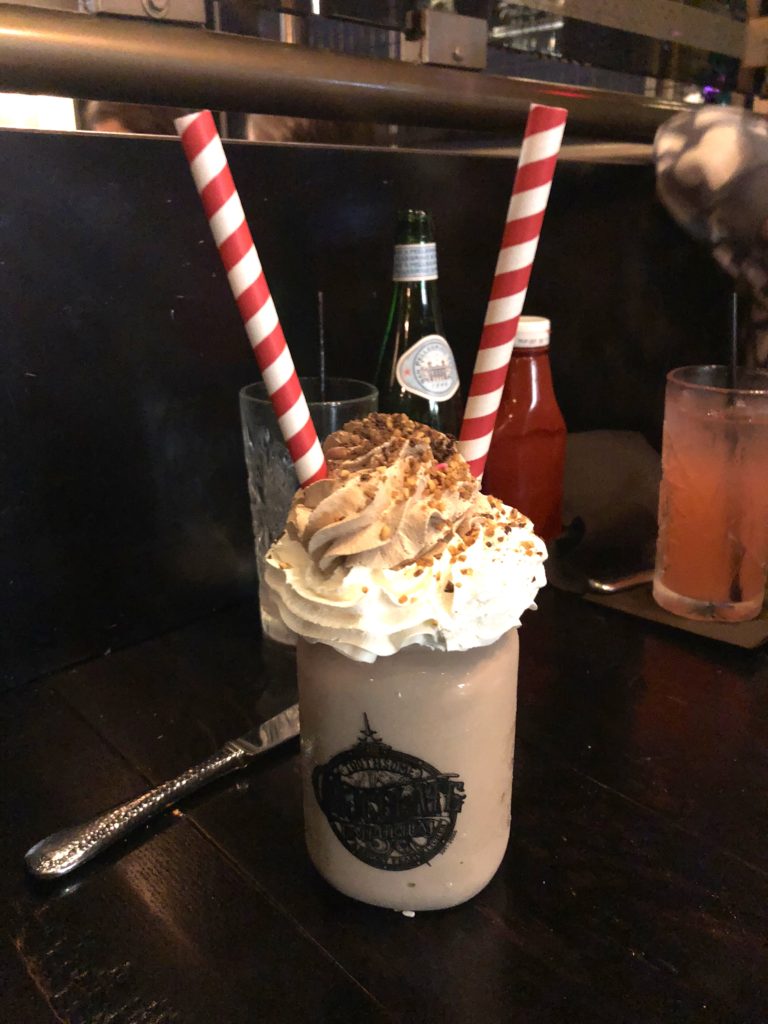 The Chocolate X5:
And the Brownie: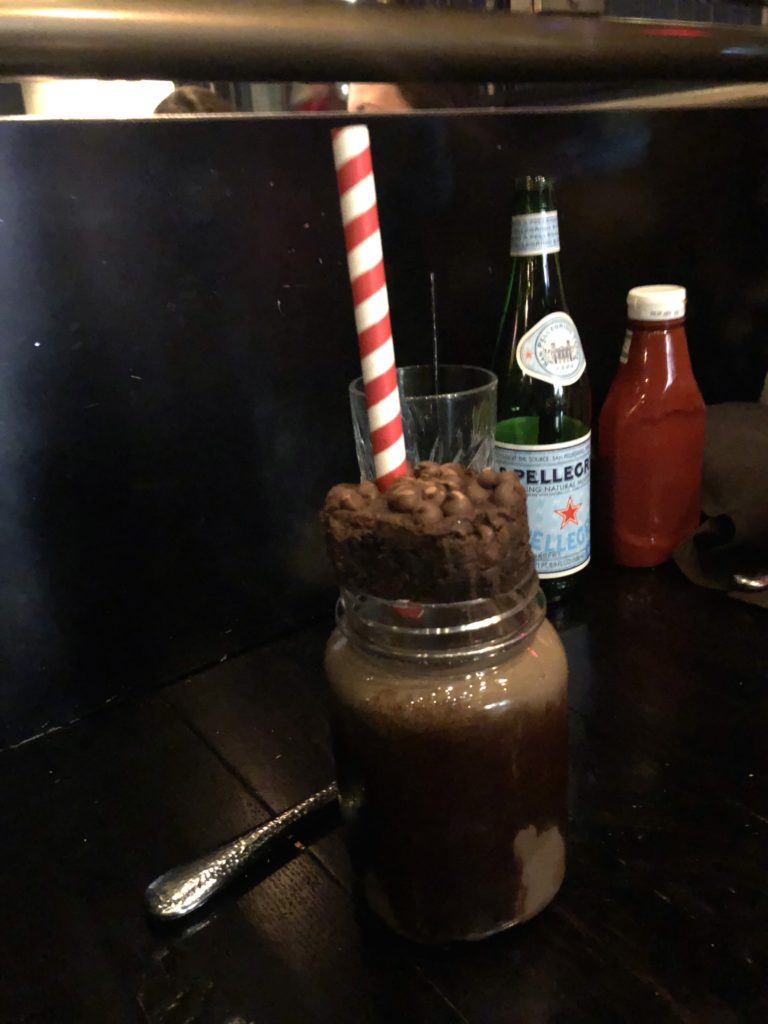 While the milkshakes were fun to look at, they were good but nothing special.  I think they're worth the $13 price tag once, but probably not again.  One nice thing is that the cup they come in is plastic and you can take it with you for a souvenir.
When we left the restaurant it was dark outside.  This was the night of the super moon which made for some neat pictures.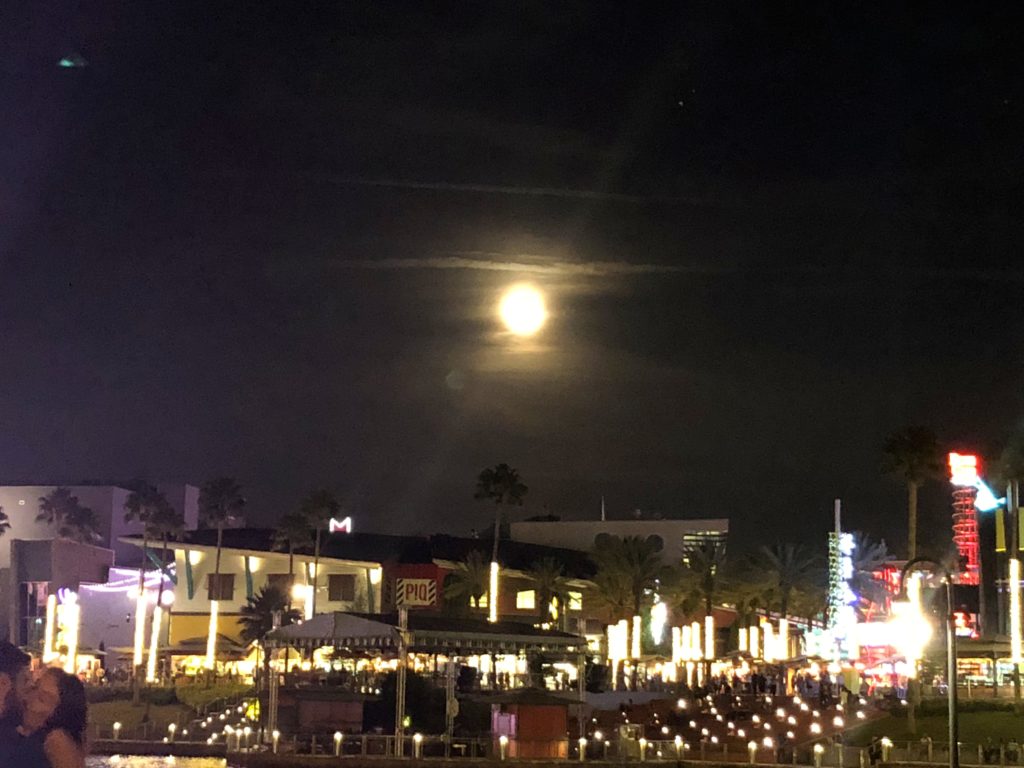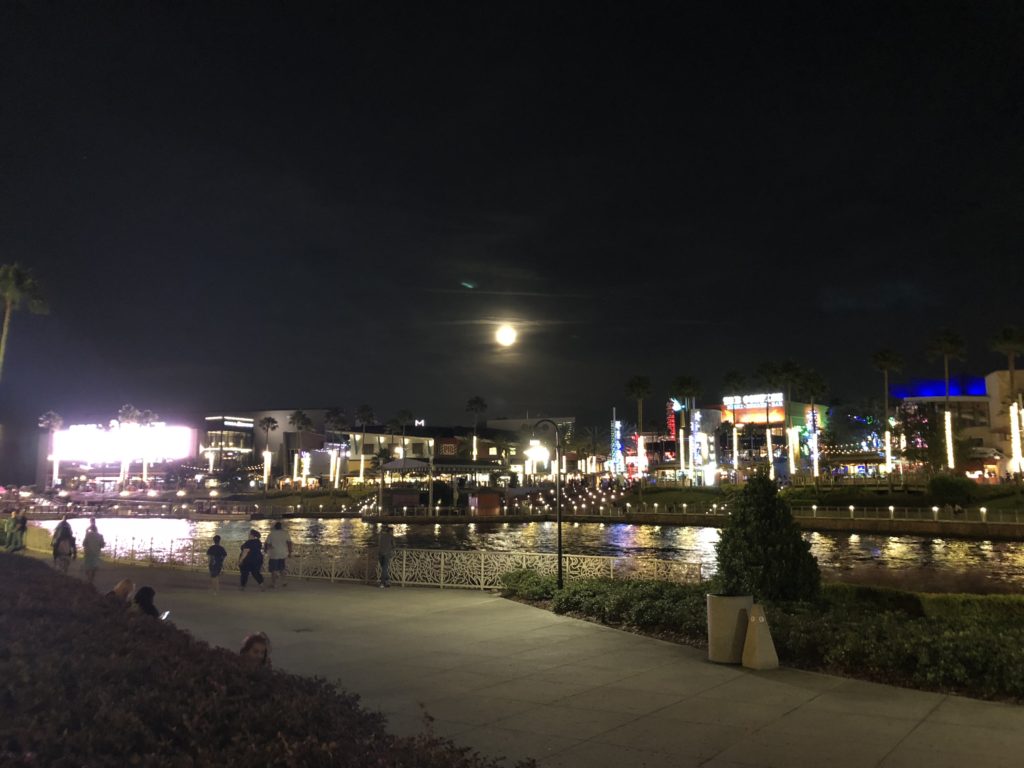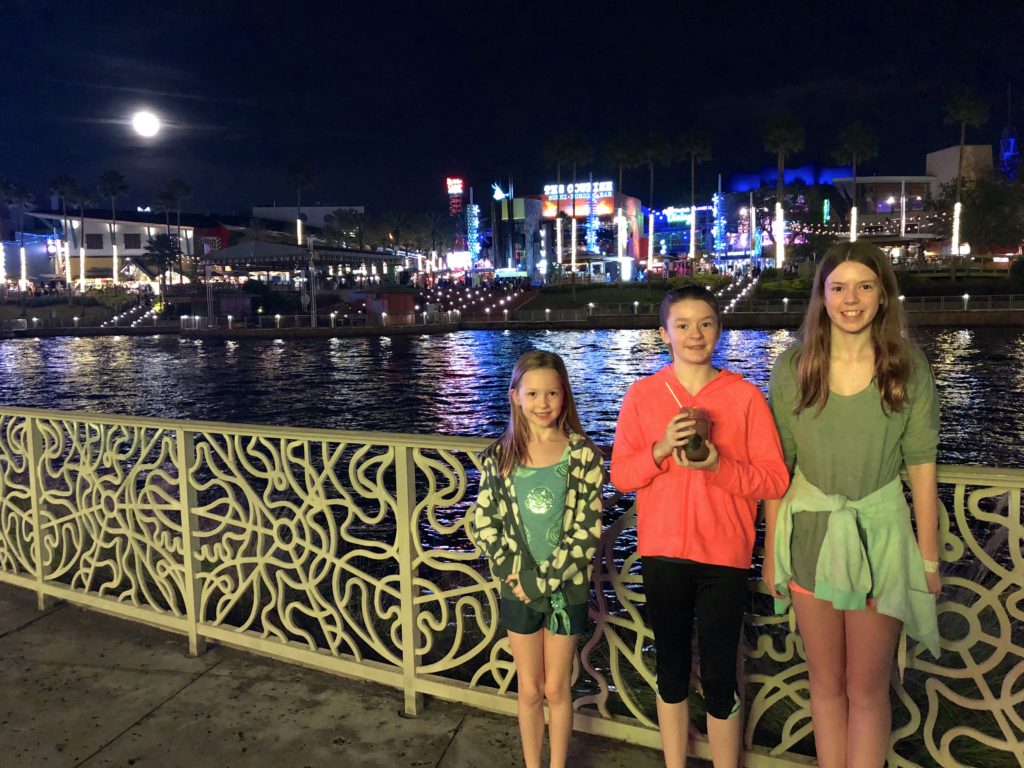 On the walk back to the water taxi we passed the entrance to Universal Studios, which was all lit up of for Christmas.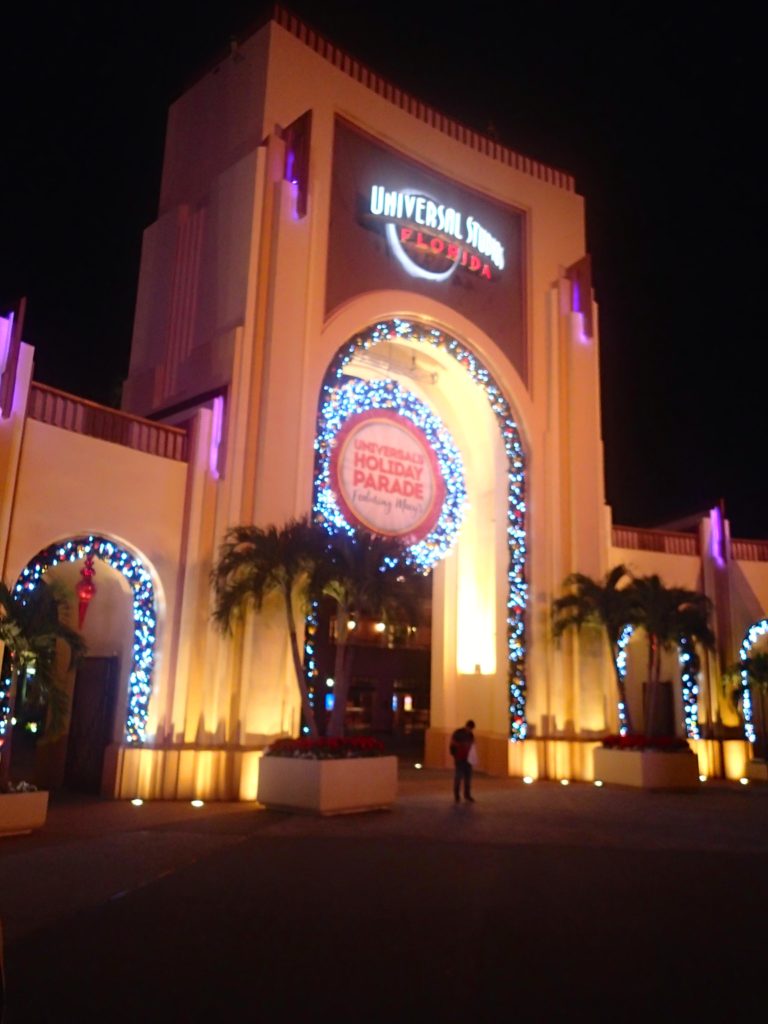 When we arrived back at the resort, the super moon was stunning.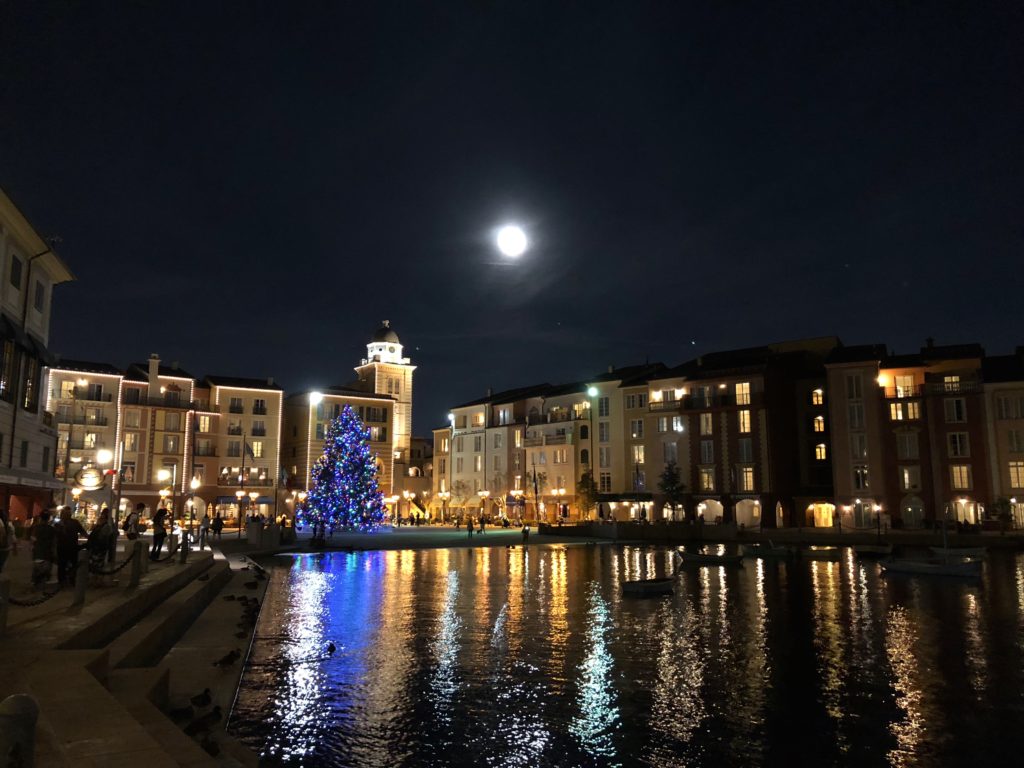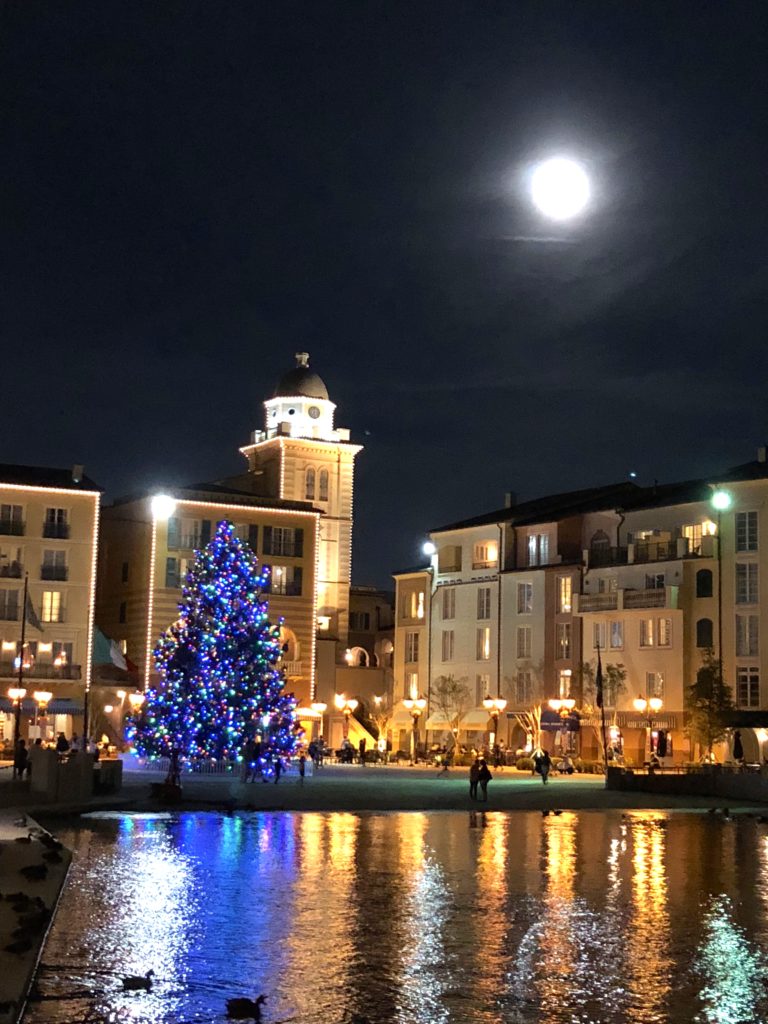 The resort has several scooters placed around for photo ops, so of course we had to take advantage: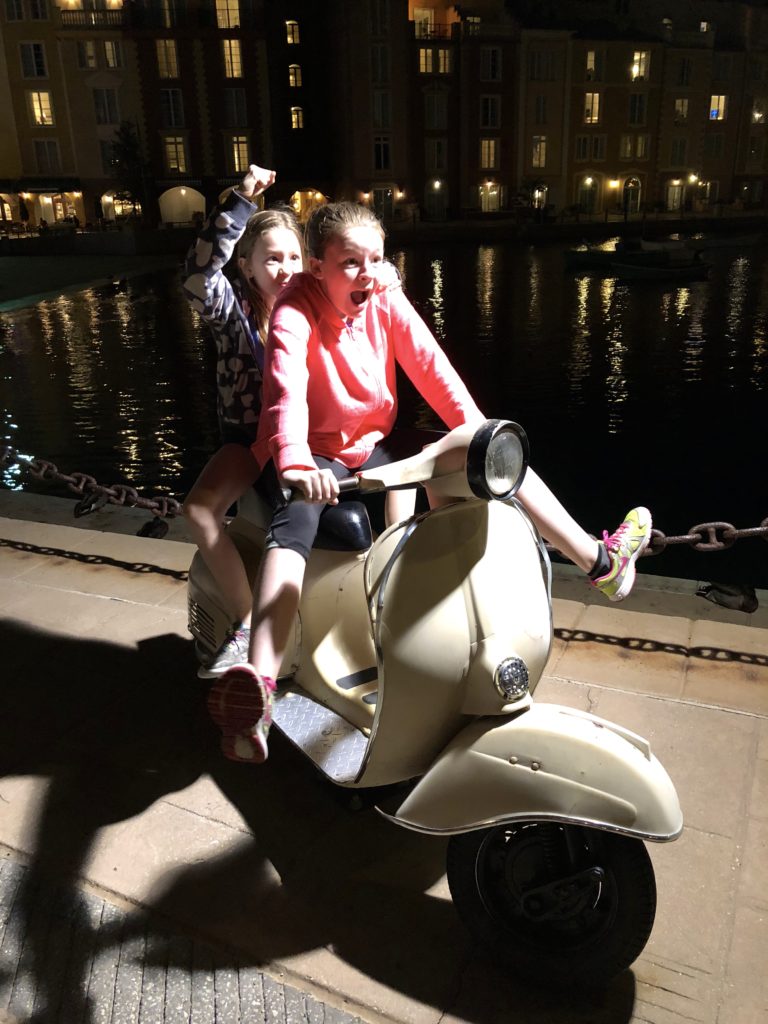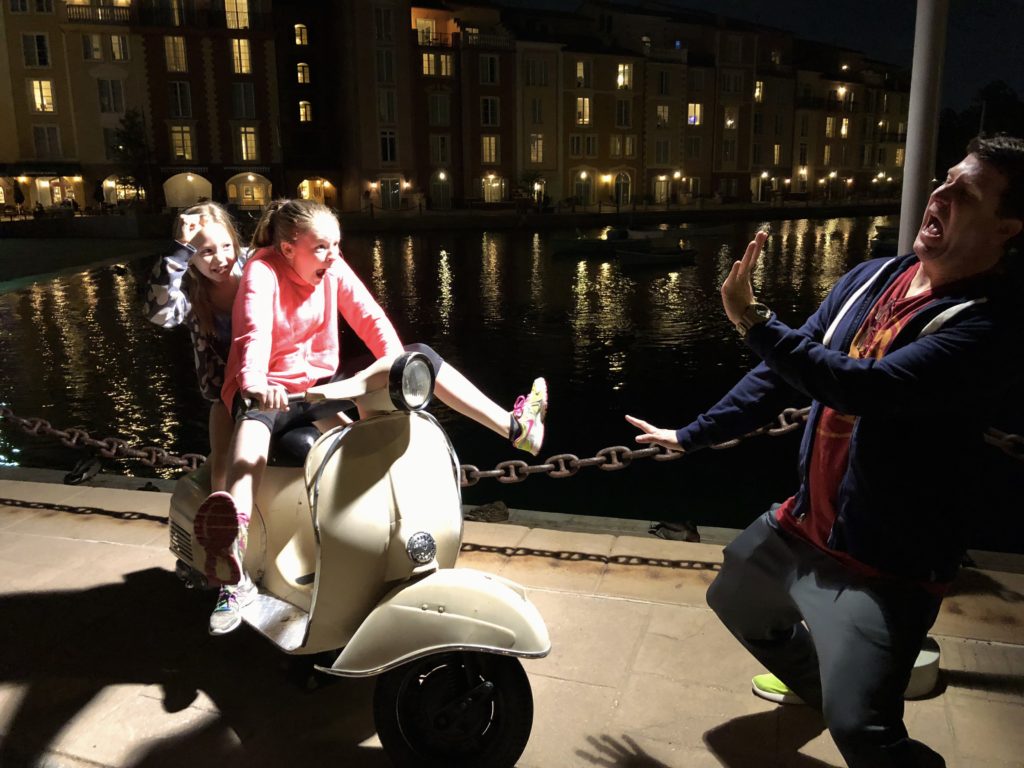 The big tree was so pretty all lit up at night: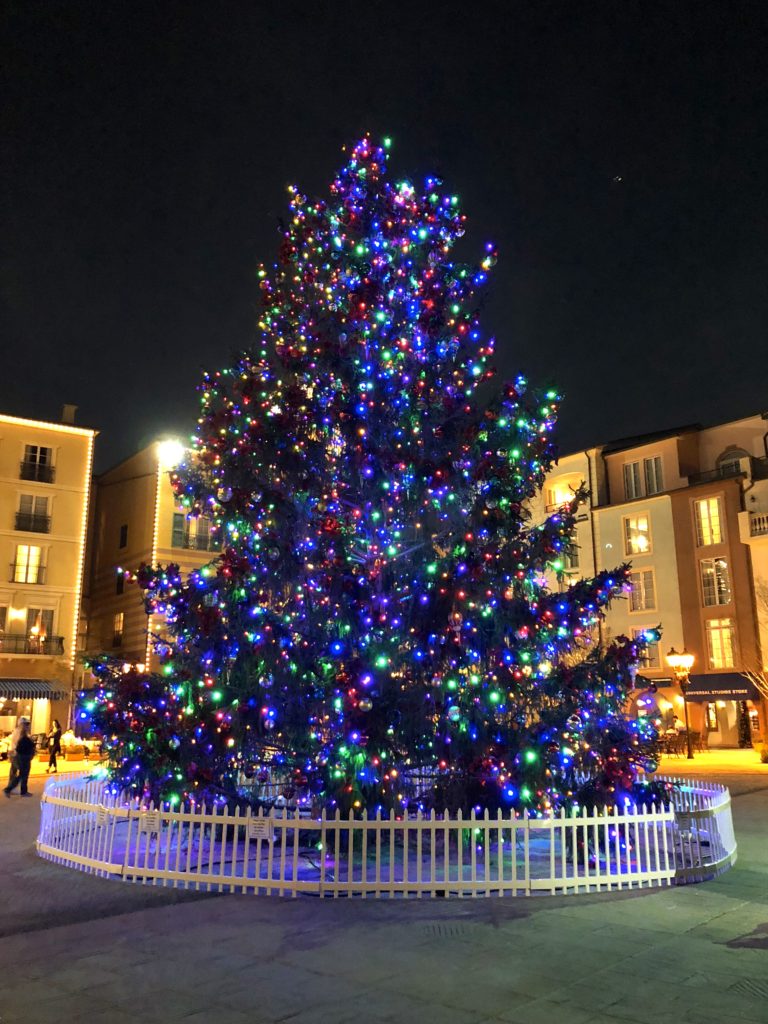 After this we called it a night to get ready for the next day at Universal Orlando.
I was originally planning to get our whole day at Universal Orlando into this post as well, but I think it will be too long so I'm going to break it up into two posts.
Up next: Day 2:  Universal Orlando and the holiday season in the Wizarding World of Harry Potter!
.
As always, don't forget to like me on Facebook (click here) and follow me on Pinterest (click here) and Instagram (click here) for all of the latest Disney Cruise Mom Blog updates!