Day 9:  At Sea
 If you would like to start this trip report from the beginning, click here.
Note: I do not feel right posting pictures of fellow cruisers who have not given me permission to use them on the blog, so I will blur out the faces of people in the background of my photos. I'm sorry if it looks funny, but I want to respect their privacy.
Also, anytime you see red text, it is a link to either product information or another one of my blog posts that gives more detailed information about that topic.
.
You can see this day's Daily Navigator by clicking here: Navigator Day 9
This morning I slept in a little bit and didn't get up until 8:30.  I was the first one up and went to deck 9 for some coffee.  When I got back, I watched the morning show and caught up on my trip notes.  At about 9:00, I got everyone up so that we had plenty of time to get the girls some breakfast before our Palo brunch reservation at 11:00 am.  While we were getting ready, Caitlin from Bibbidi Bobbidi Boutique called the room to confirm our reservation at 4:00 that I had made online before the cruise.  She said that they had lots of availability that day, so that I could change the time if I liked.  I changed it to 4:45 which turned out to be a great thing.
We went to Cabanas to get some breakfast for the girls.  The adults didn't eat because we would be going to Palo brunch.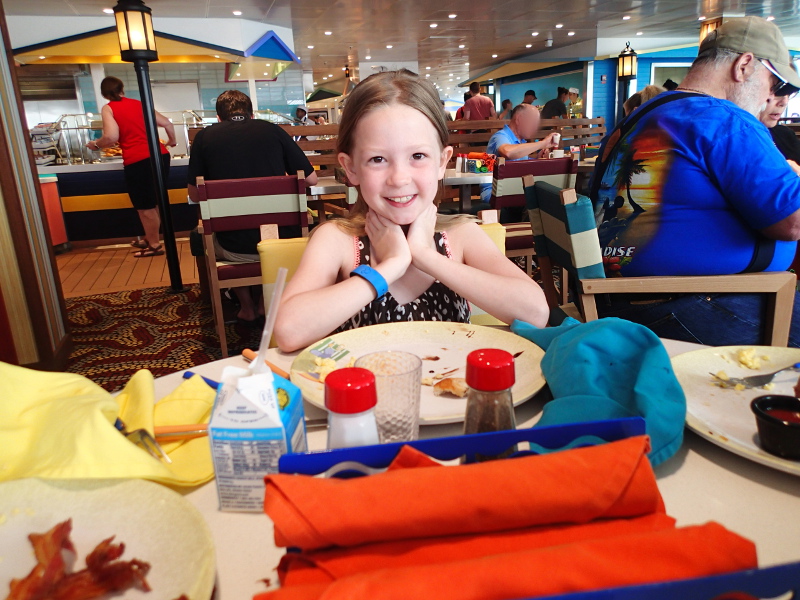 While we were there I noticed that the ceiling was dripping with condensation and there was a guy wiping the ceiling with a mop so that people didn't get dripped on.  I tried to get a picture of the guy but was photobombed.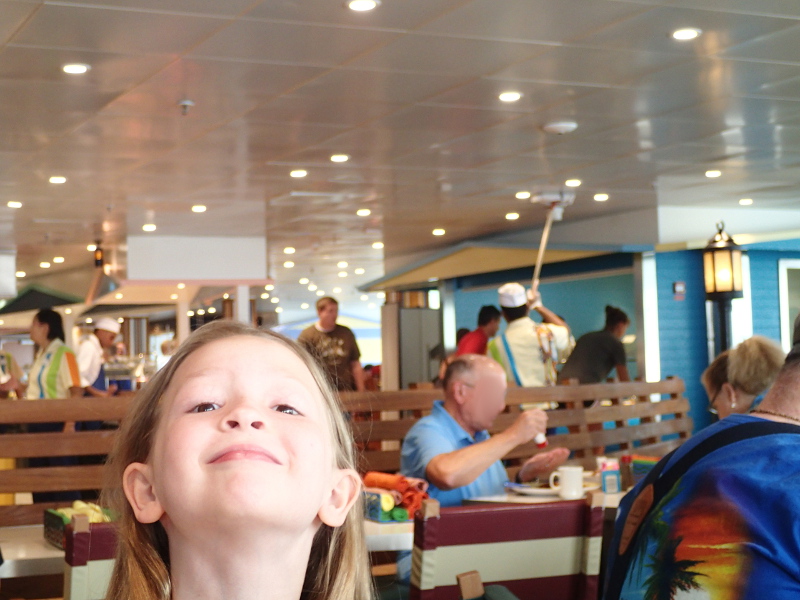 After breakfast we still had a few minutes before brunch, so we went to the Port Adventures desk to see the answers for the photo challenge the day before.  We also picked up that day's photo challenge which was crew member uniforms.  Out of the 10, we knew 8 of them immediately.  I wish I had taken a picture or kept a copy of it, but I can't find it anywhere.
It was almost time for brunch, so we dropped the girls off in the rooms and changed clothes.  For those of you who don't know, Palo has a dress code and they do enforce it:
"Dress pants, slacks and collared shirts are recommended for men and a dress, skirt or pants and a blouse are recommended for women. Jeans may also be worn if in good condition (no holes). Please no tank tops, swimsuits, swimsuit cover-ups, shorts, hats, cut-offs, torn clothing, t-shirts with offensive language and/or graphics, flip-flops or tennis shoes."
At 11:00 we went to Palo and once again Susana was our server.  We got started right away on the buffet.  These were our plates: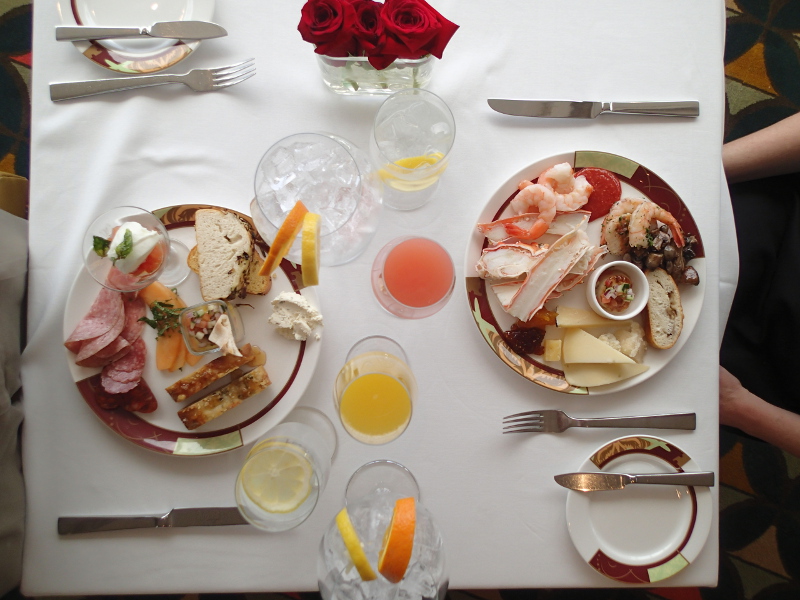 We also ordered some items from the menu.  We decided to try some things that we had never had before.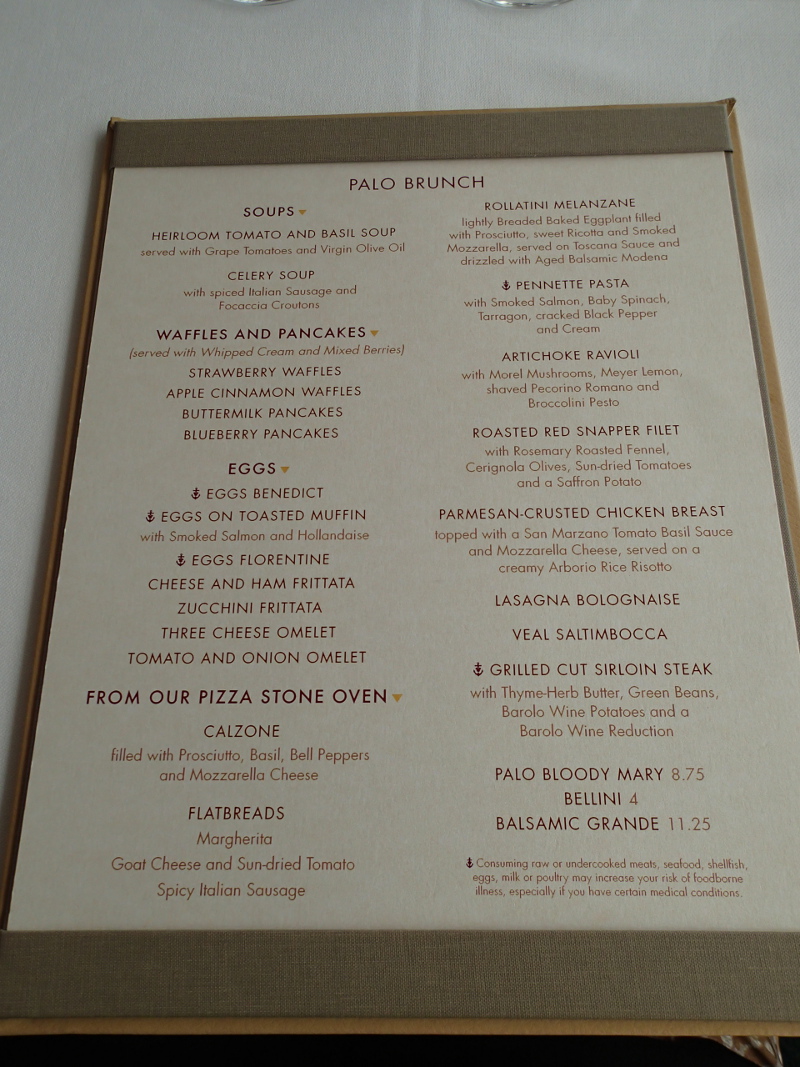 This is the Rollatini Melanzane: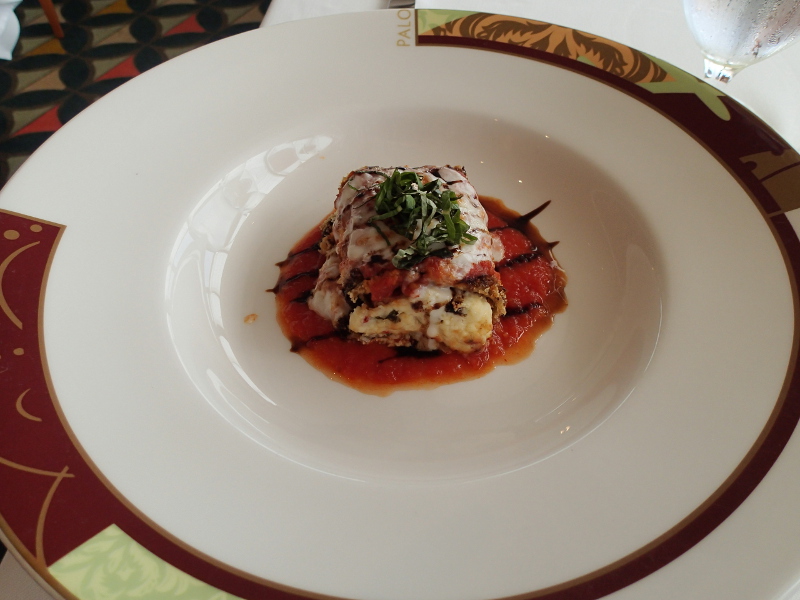 The Artichoke Ravioli: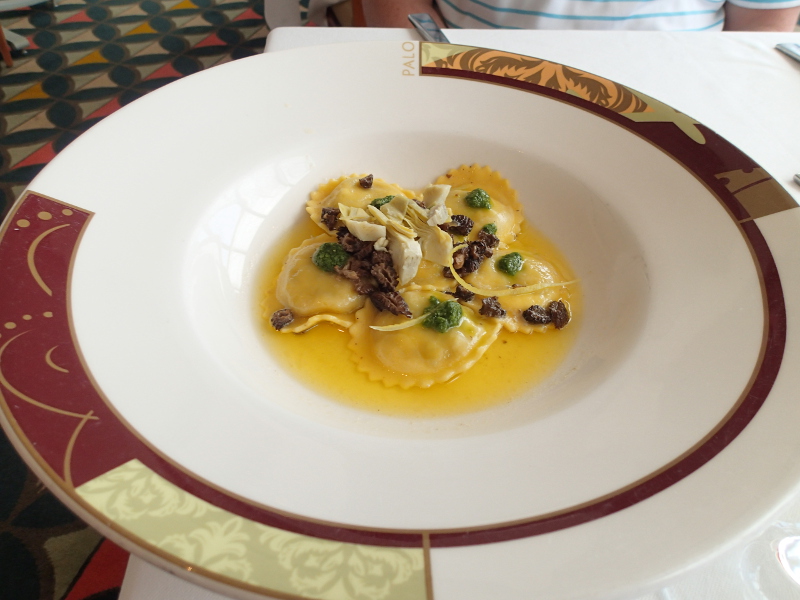 And the Lasagna Bolognese: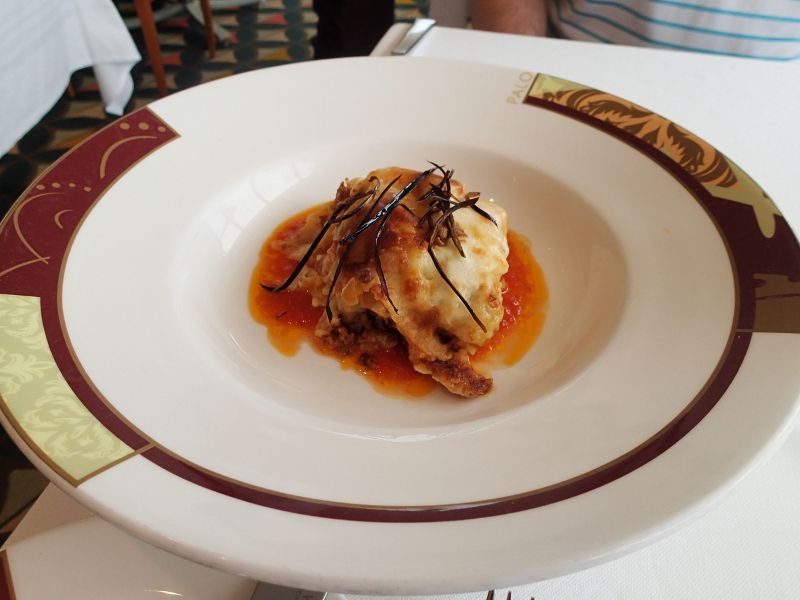 They were all outstanding, especially the lasagna.  It was light and fluffy and unlike any lasagna I have ever tasted.  My husband decided to make one more trip to the buffet.  On the right side of the plate are some soft cheese and fig preserves.  I think these 2 things together may very well be my favorite thing to eat at Palo.  There is something about the combination that is incredible.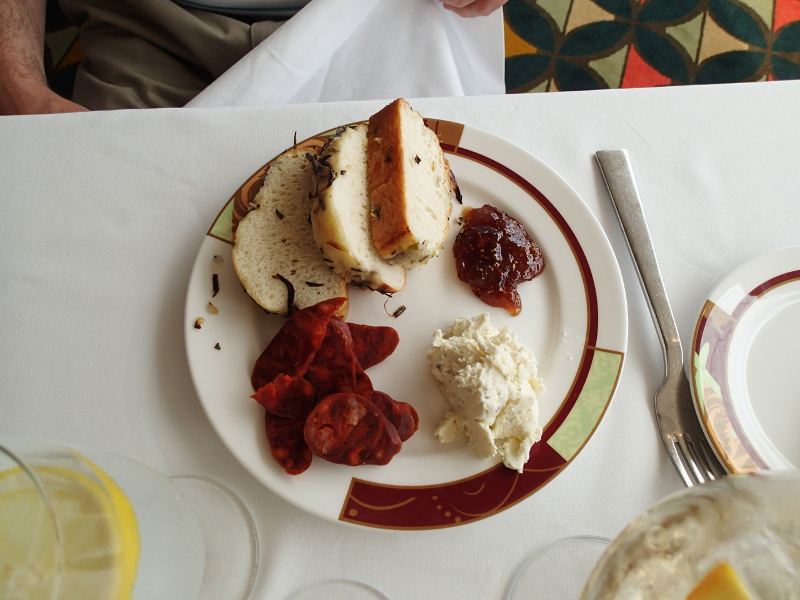 For dessert, Susana surprised us with a custom dessert that she created herself.  I don't think she had a name for it, but I'll try my best to remember how she made it.  I believe she started with some Stollen bread from the pastry table and topped it with whipped cream, berries, and a balsamic reduction.  I think she then had the kitchen place it under the broiler for a minute or so because the plate was very hot.  I may not be exactly right about how she made it, but I know for sure that it was delicious!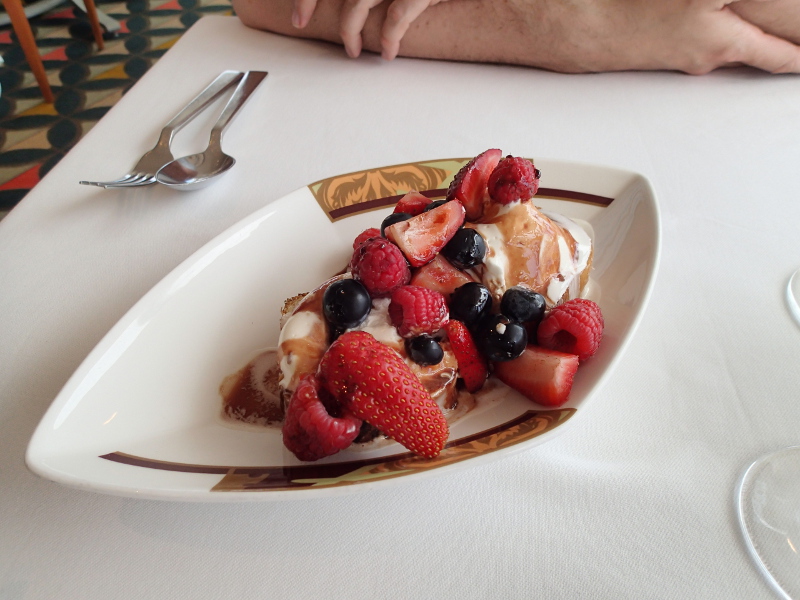 During this meal we decided on two things.  One, Palo brunch is one of our favorite places on earth.  Two, Susana is our favorite Palo server we've ever had (though all have been great).  I kept asking her questions about herself and her life on the Wonder and I found myself wishing she could pull up a chair and dine with us.  I could have talked to her for hours.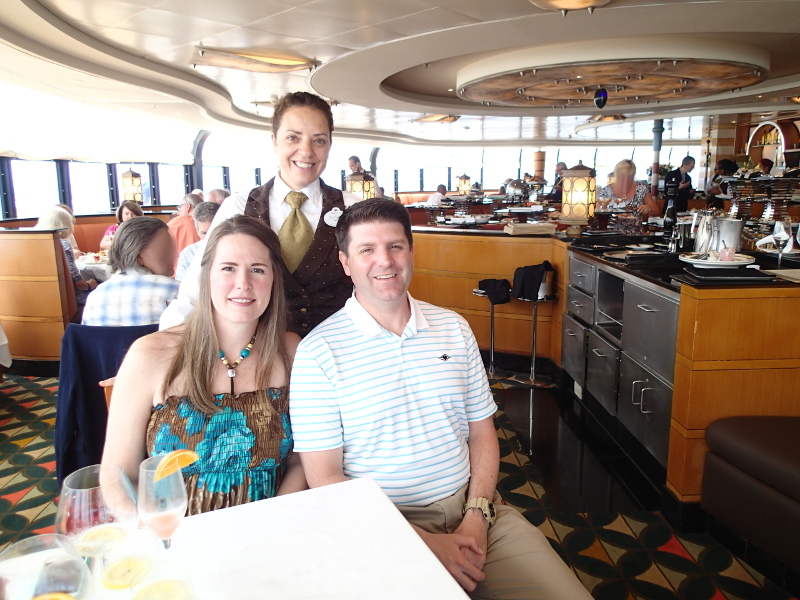 Susana also helped us with the last 2 uniforms on the photo challenge.  She wasn't sure herself, but she flagged down another server who knew the answers.  Stuffed to the brim, we waddled out of Palo for the last time on this cruise.  Susana told us that we would probably see her next year in Alaska.  She has been on the Wonder for years and was pretty certain she would be there again in a year.
We left Palo about 1:00 and went to the Port Adventures desk to drop off the completed photo challenge.  We knew the girls were anxious to swim, so we went to the rooms to get them.  I forgot to mention that during brunch, they had sent me a message that they were going to deck 9 to get some pizza for lunch, so they were fed and dressed for the pool.  They had also made this: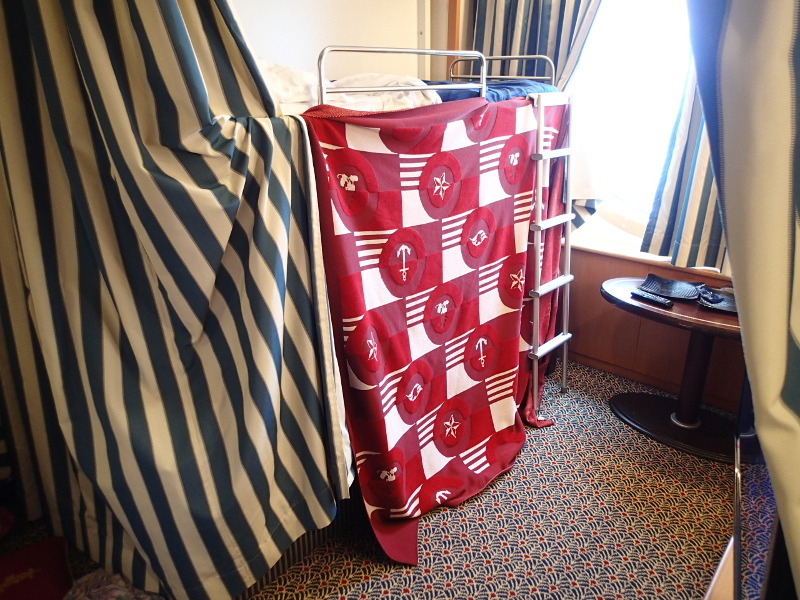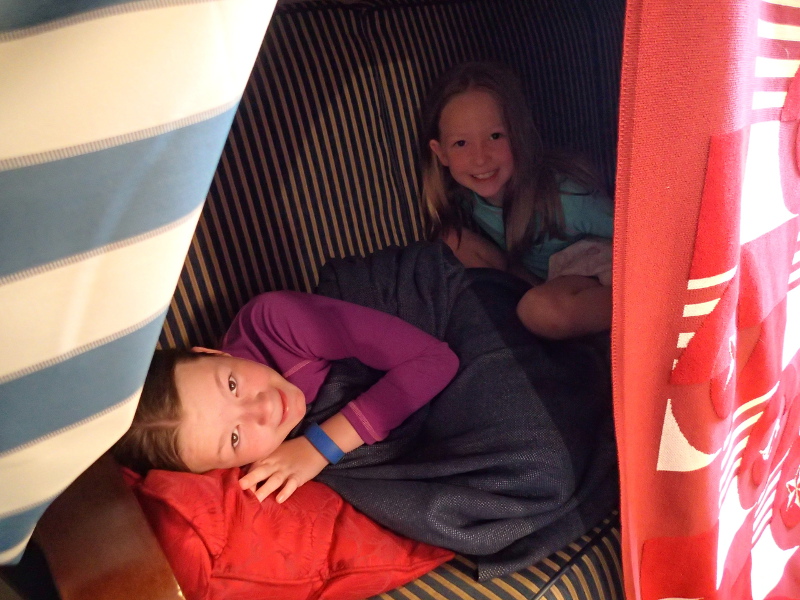 They had asked Greg to leave the bunk bed down today and they made a fort with it.  Our youngest had also gotten her things ready for her Bibbidi Bobbidi Boutique appointment that afternoon.  Can you tell she was excited?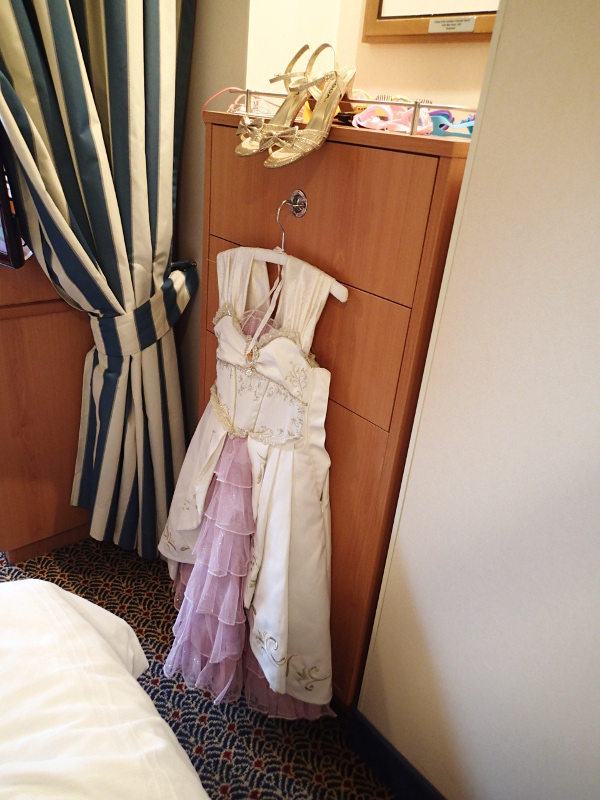 We got the the pool and The Muppets was playing on funnel vision.  Despite it being a beautiful, sunny day, the pool was not crowded.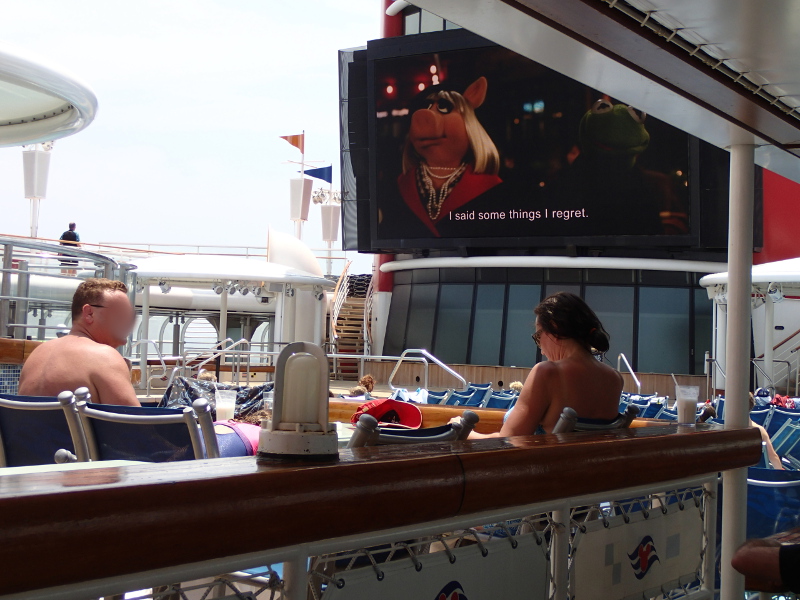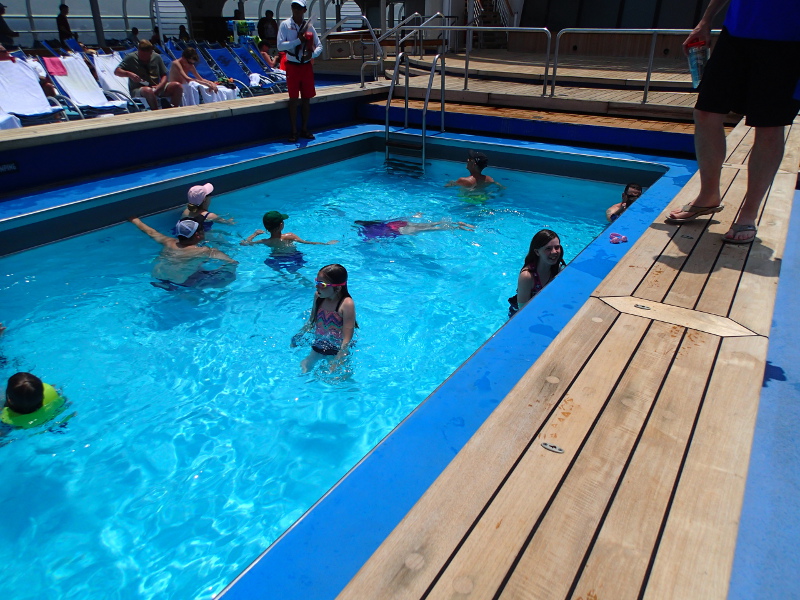 Santa was taking a nap.  I know you can't tell because I blurred his face, but his eyes were closed.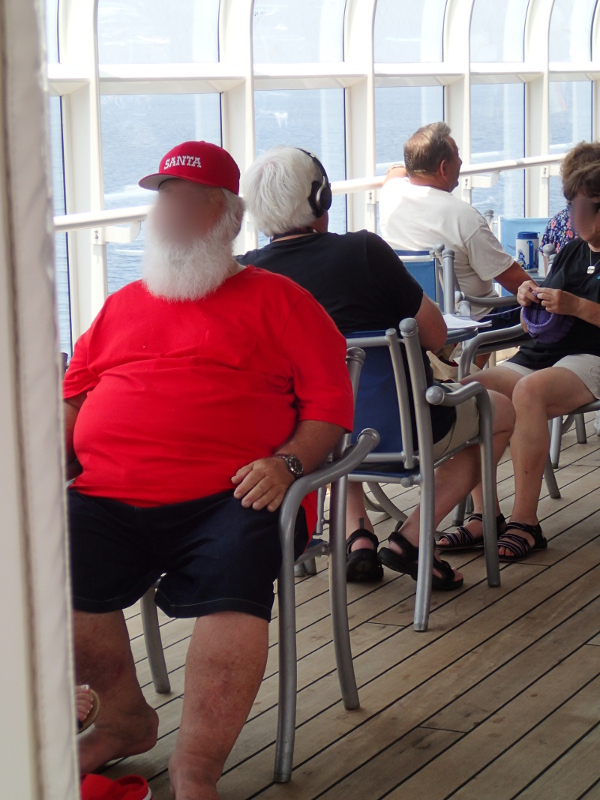 I sat in the shade, relaxed, and watched the sea.  At one point I looked down and realized that our table looked like a Sun Bum commercial.  I love this stuff!  I especially love the face stick.  It is not greasy, smells amazing, and works great.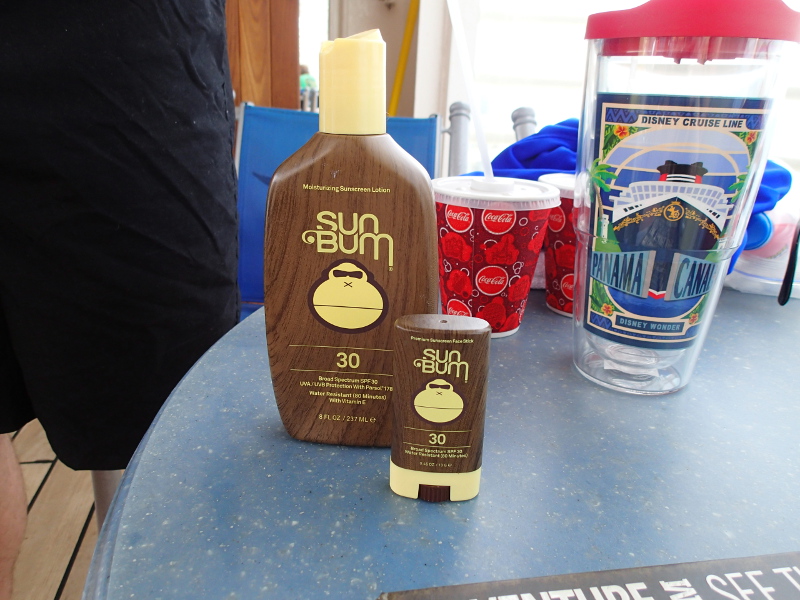 The ice cream flavors today were strawberry and banana, with the strawberry changing to blueberry at some point.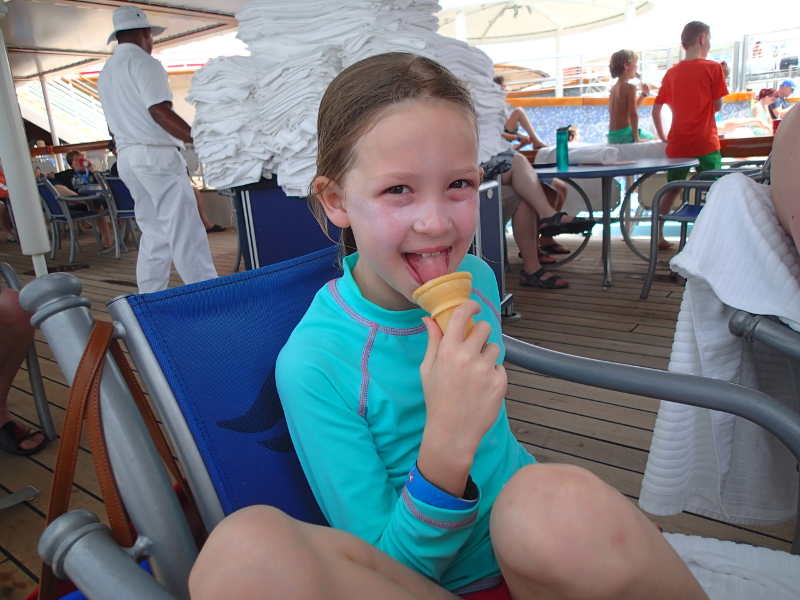 There were a lot of birds flying around the ship which was strange because we couldn't see land.  I did see a sea turtle, but didn't get a good picture of it.  You can sort of see it in this picture: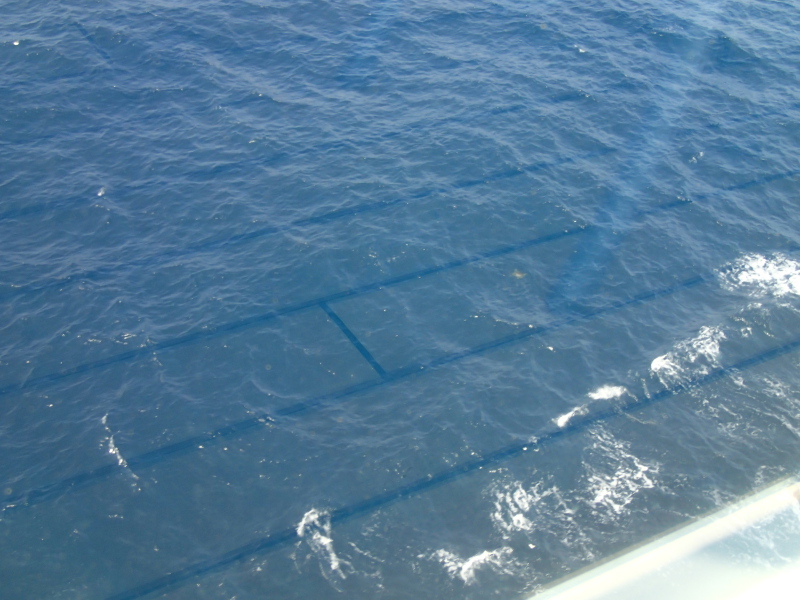 While I was relaxing, a friend texted me this article from USA Today about our historic passage through the Panama Canal.
At 3:45, our 7 year old and I went back to the rooms to shower and get ready for her BBB appointment at 4:45.  The others stayed at the pool a bit longer and watched The Incredibles on funnel vision.  Here she is ready to go up the stairs.  We chose the package that did not include a princess dress because she wanted to wear her own Rapunzel wedding dress.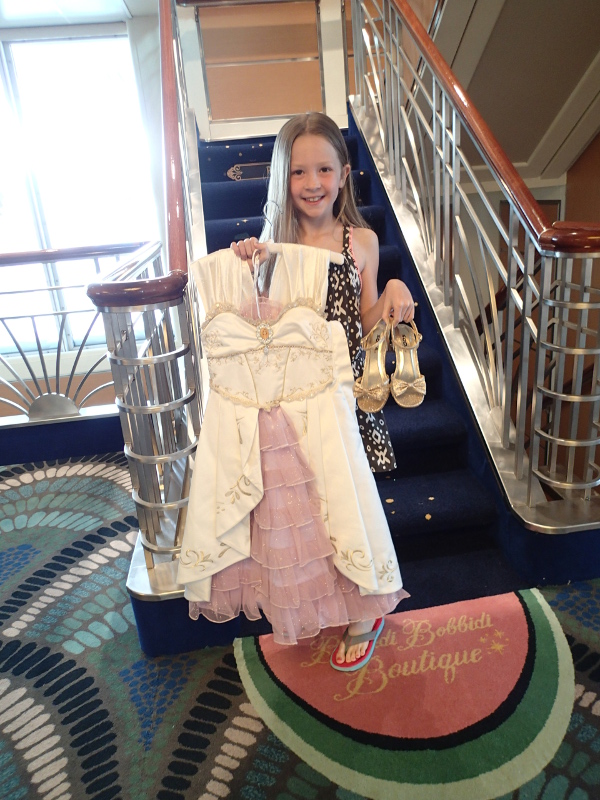 The first thing she did was change into her dress so that she wouldn't have to pull anything over her head after her hair was done.  They have the cutest dressing rooms!
Next she chose her hair style (I think there were 3 to choose from) and they got started.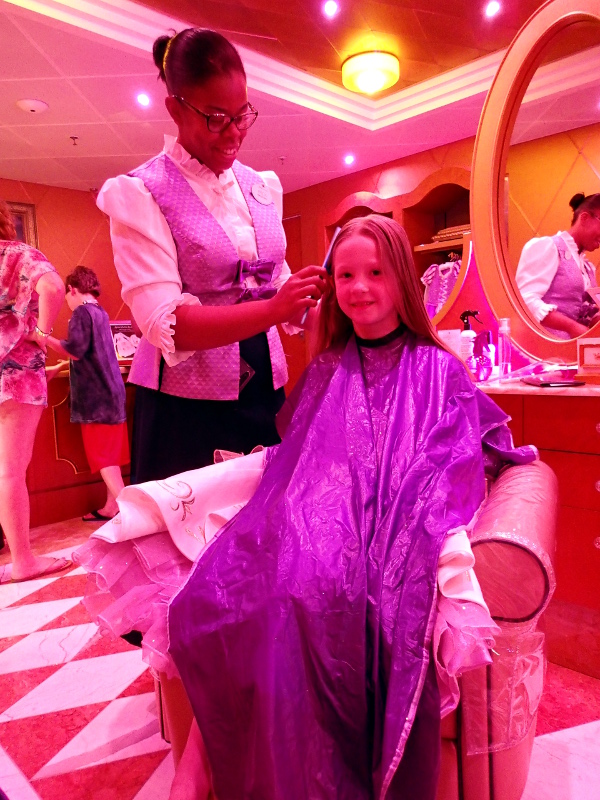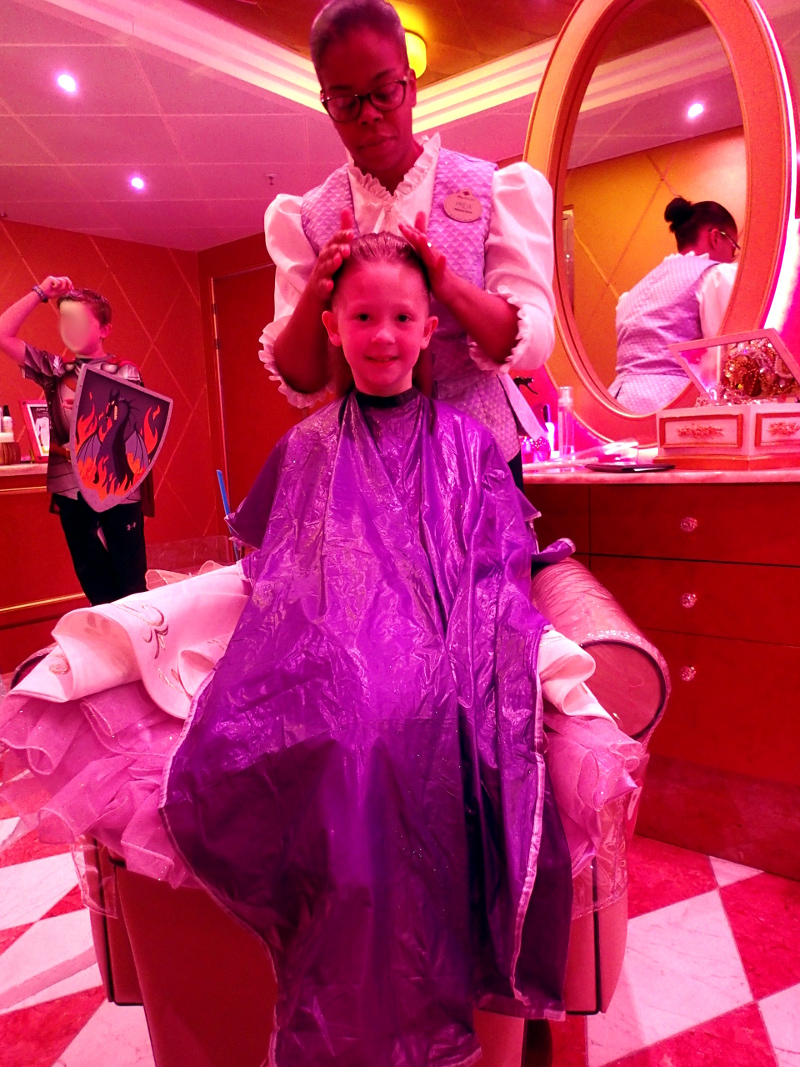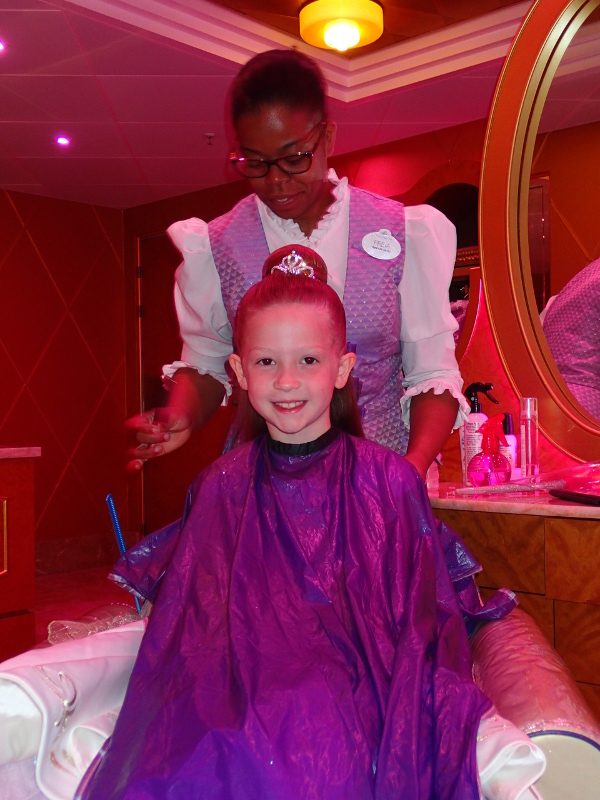 She got to choose a nail polish and she chose gold glitter.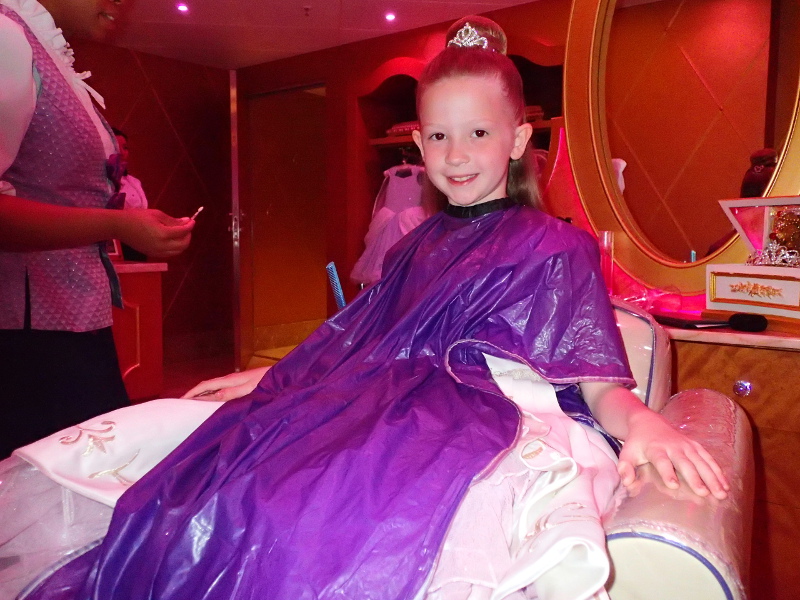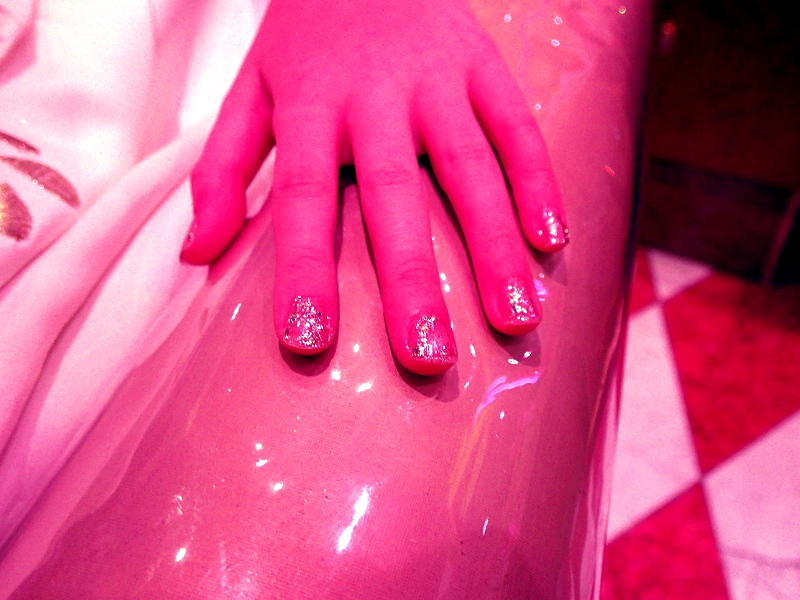 Next it was time for some eye shadow: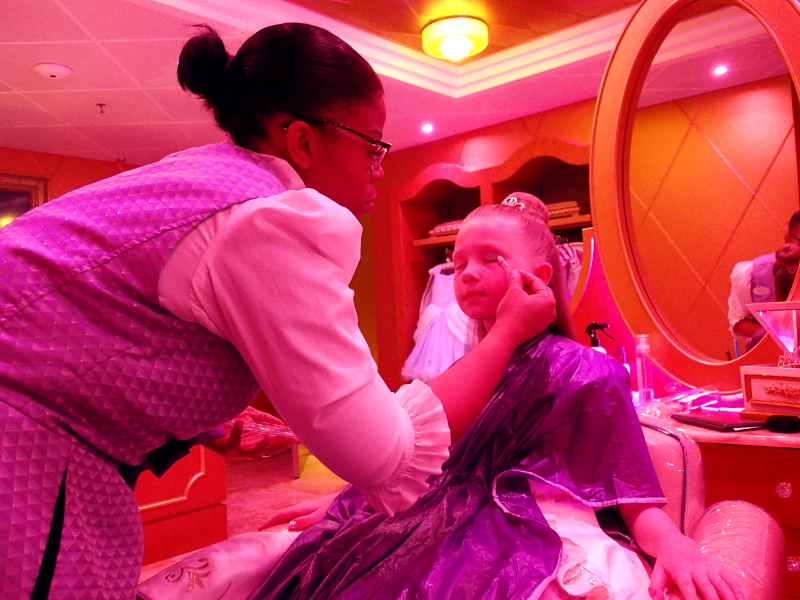 She got to choose a jewel sticker for her cheek.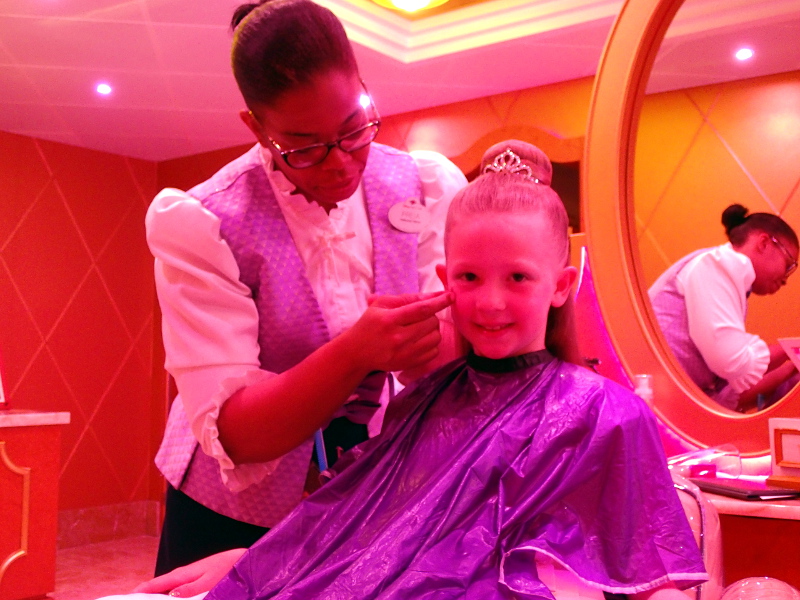 Finally it was time for the pixie dust: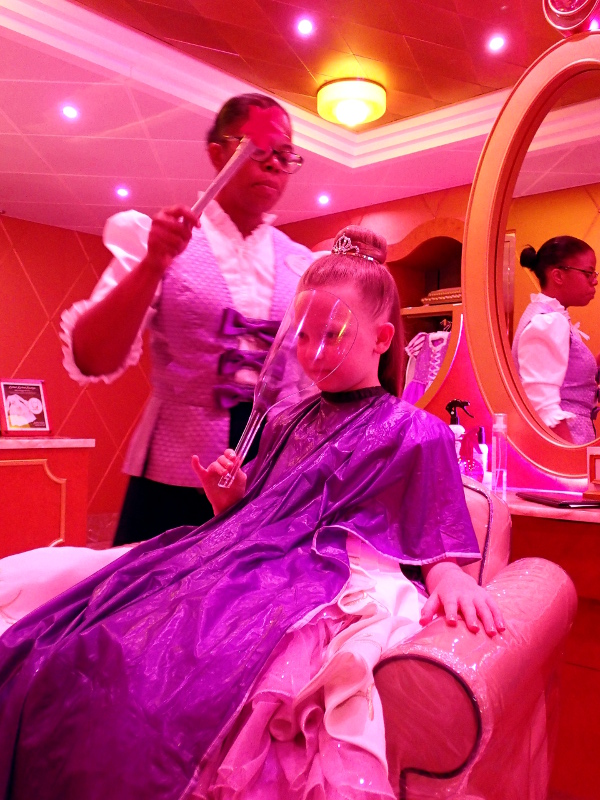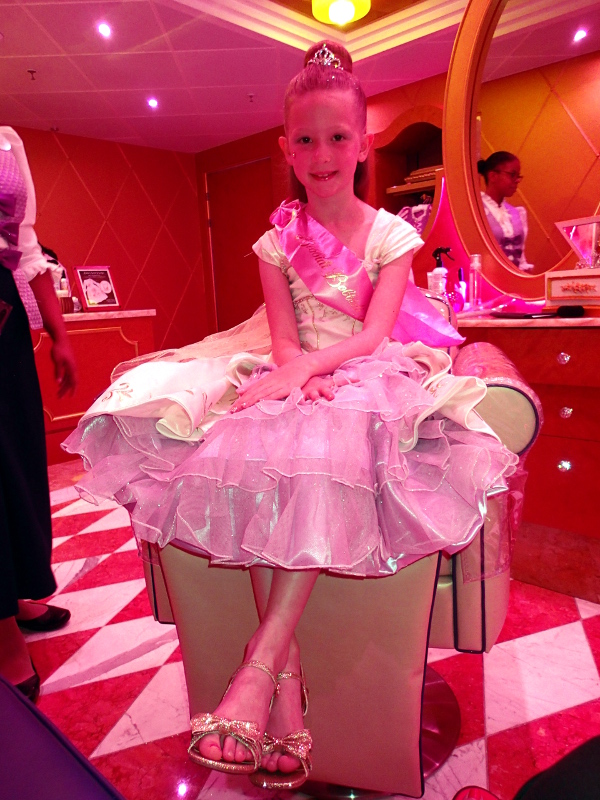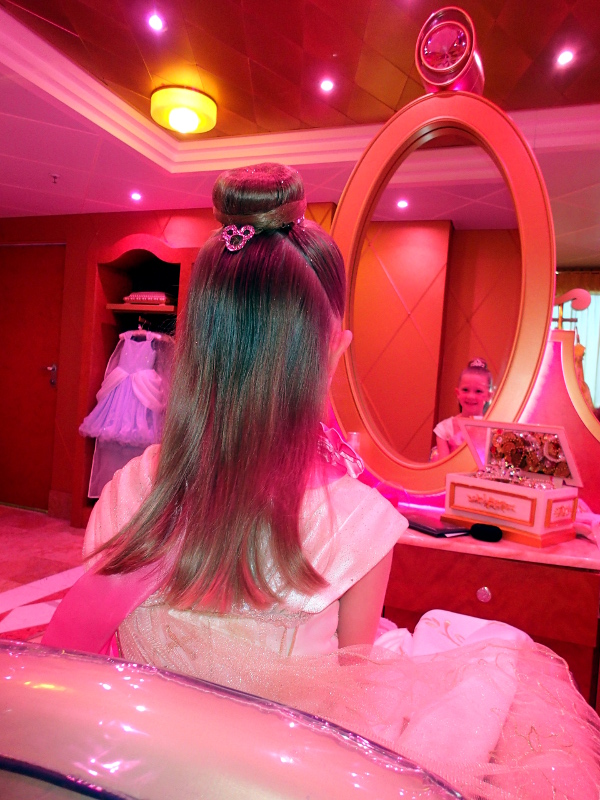 She loved every single second of it!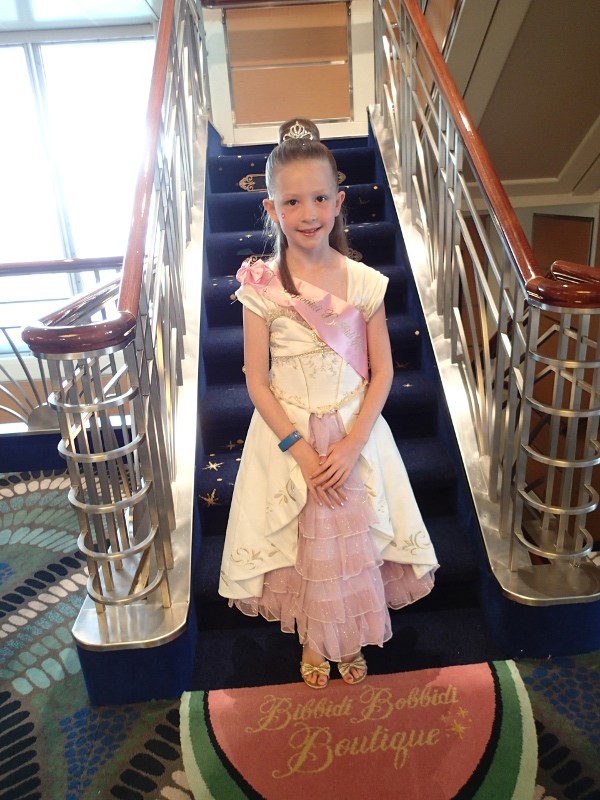 Part of the package included this sash: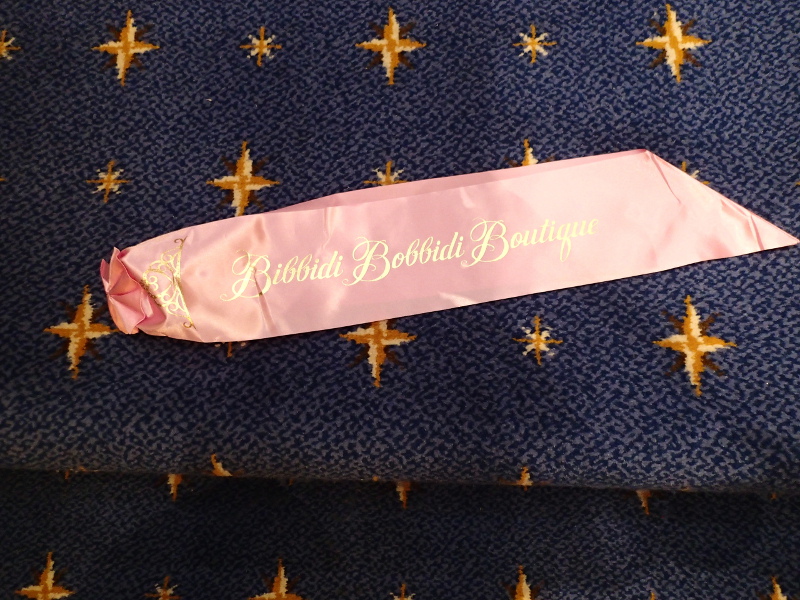 It also included this cute drawstring bag that they put her leftover makeup and jewel face stickers in: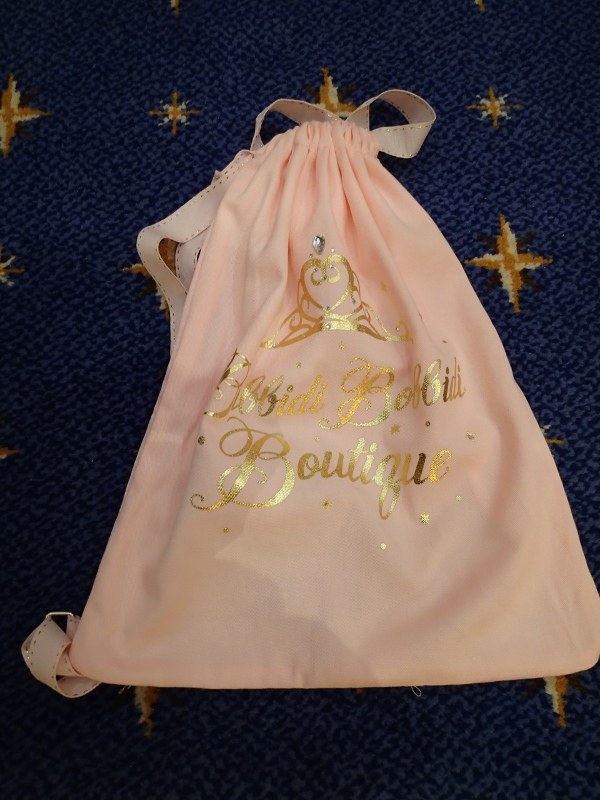 She asked me to take some close-ups of her hair: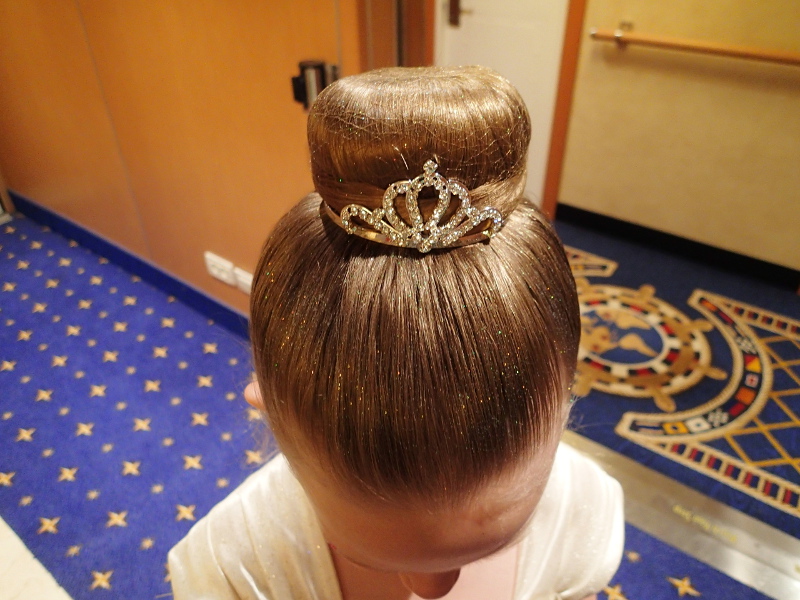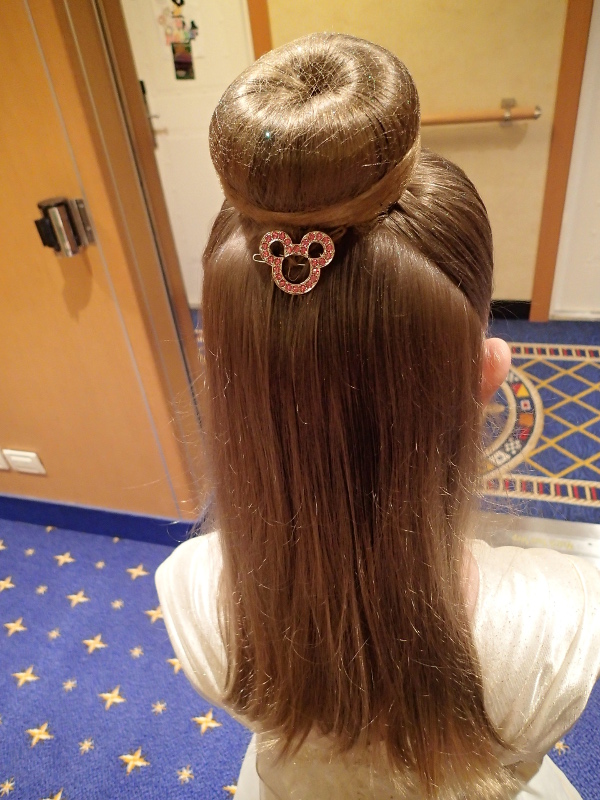 We went back to the room and everyone else was almost ready for formal night.  Tonight we were in Animator's Palate with the Frozen menu.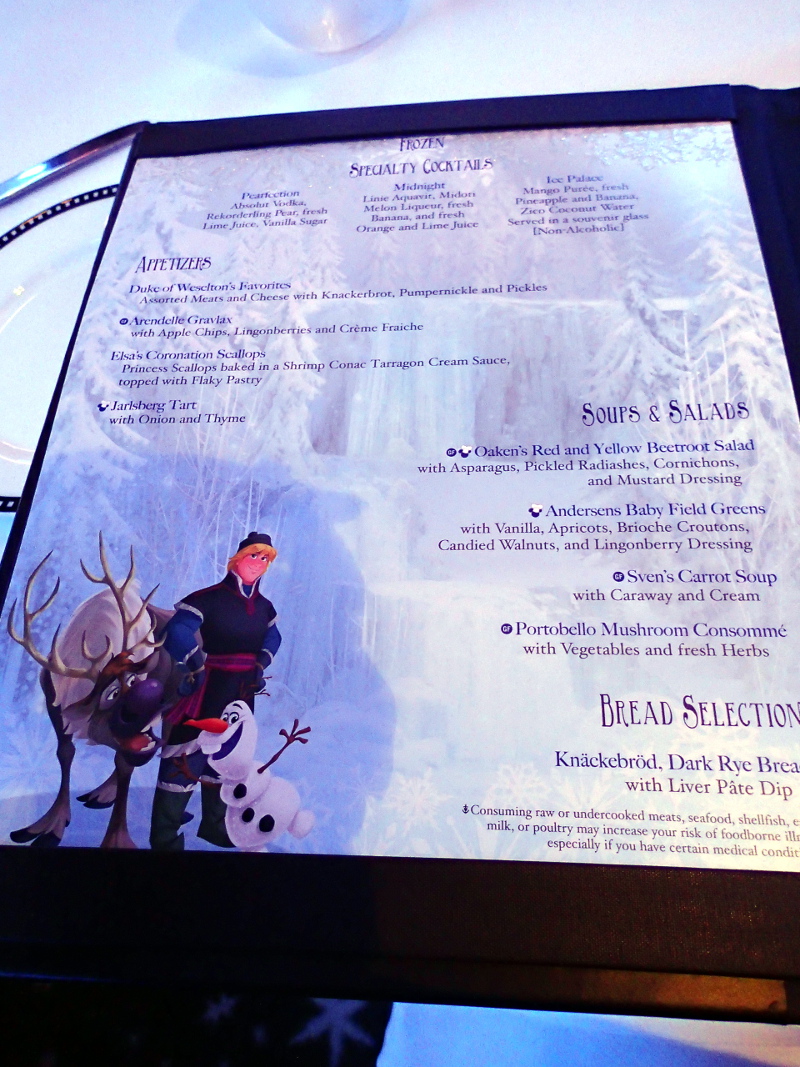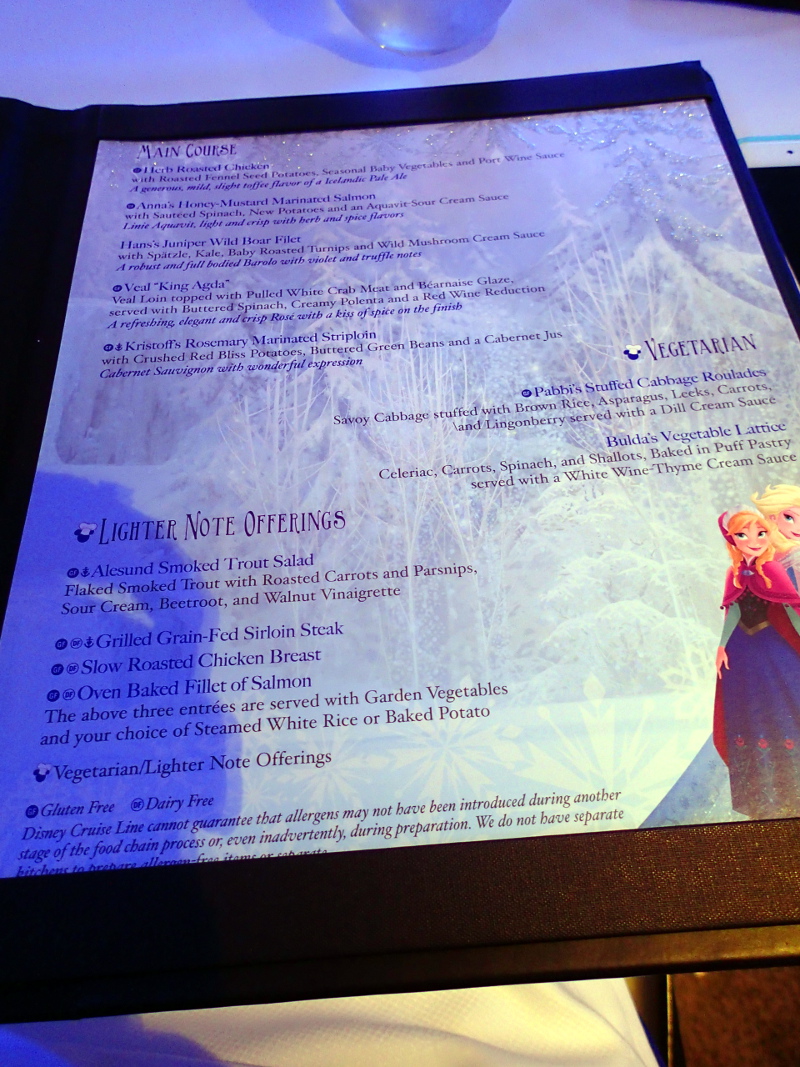 I think this is probably the best restaurant to be in on Frozen night because they use the lighting and screens to make it feel like a winter wonderland.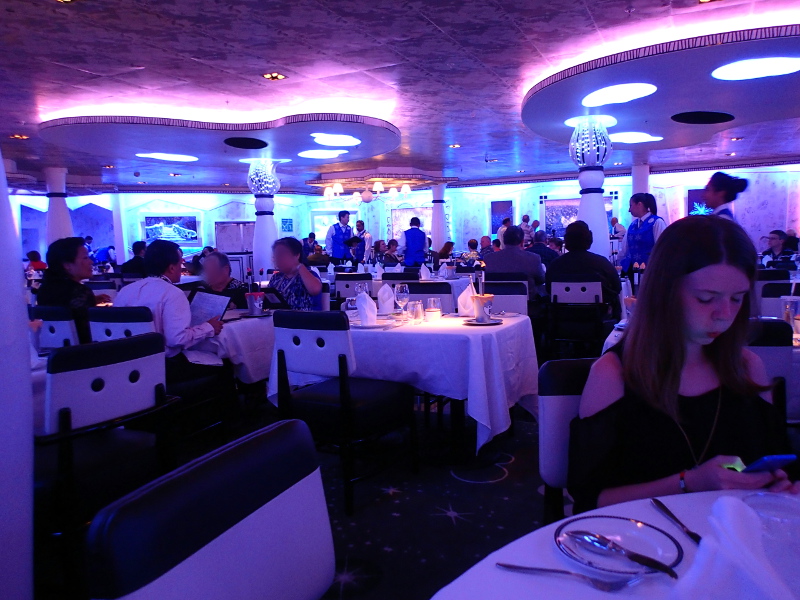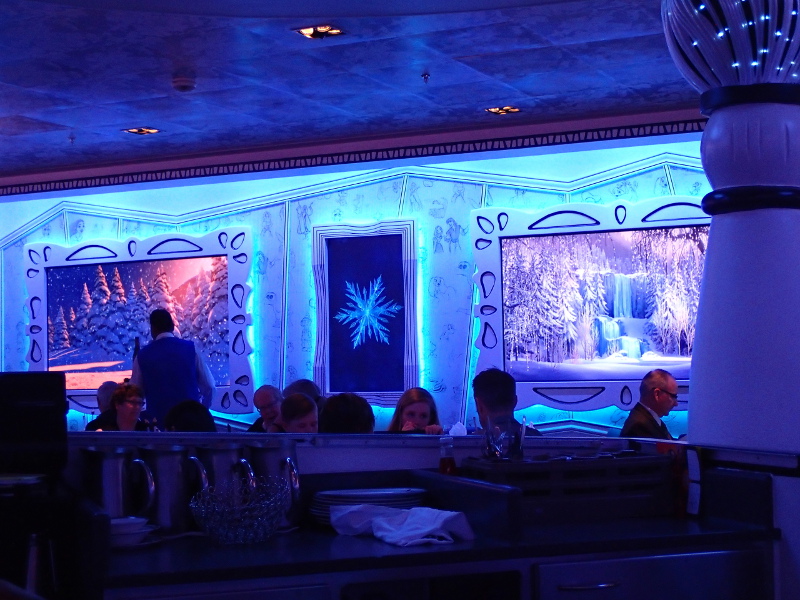 Pascal joined us for dinner.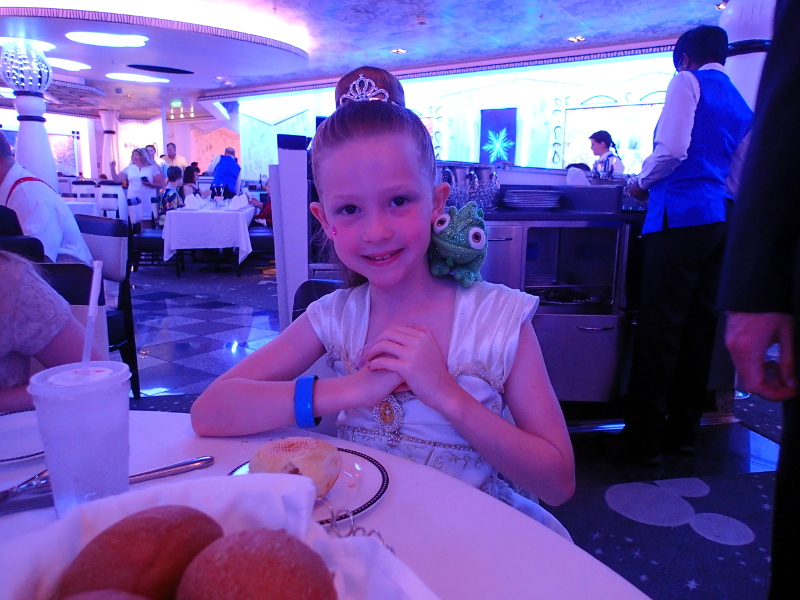 For the appetizer, we both ordered Elsa's Coronation Scallops which were outstanding.  This was one of the more memorable dishes from the entire cruise.  It was like a pot pie with scallops inside.  I apologize for the half-eaten photo.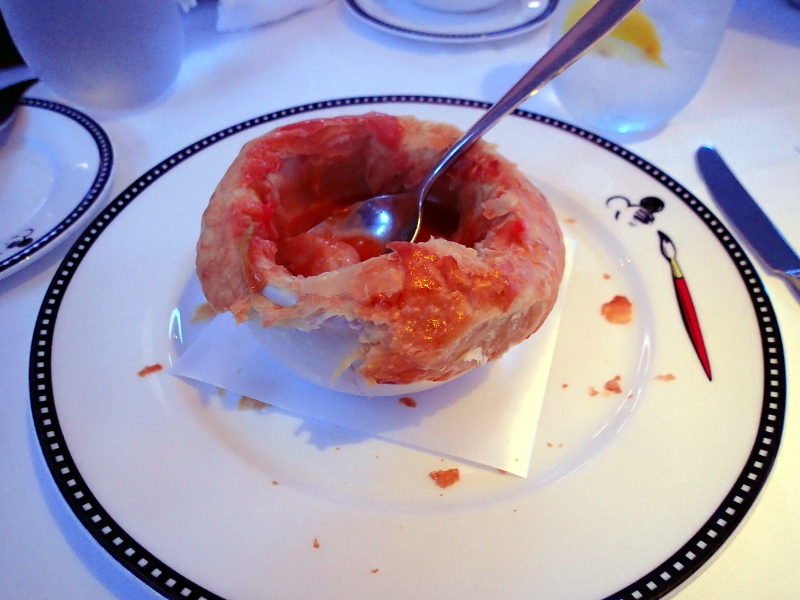 For the next course, I ordered Andersens Baby Field Greens.  Once again I forgot to photograph it before I started eating.  My husband either ordered the same thing or I forgot to photograph his all together.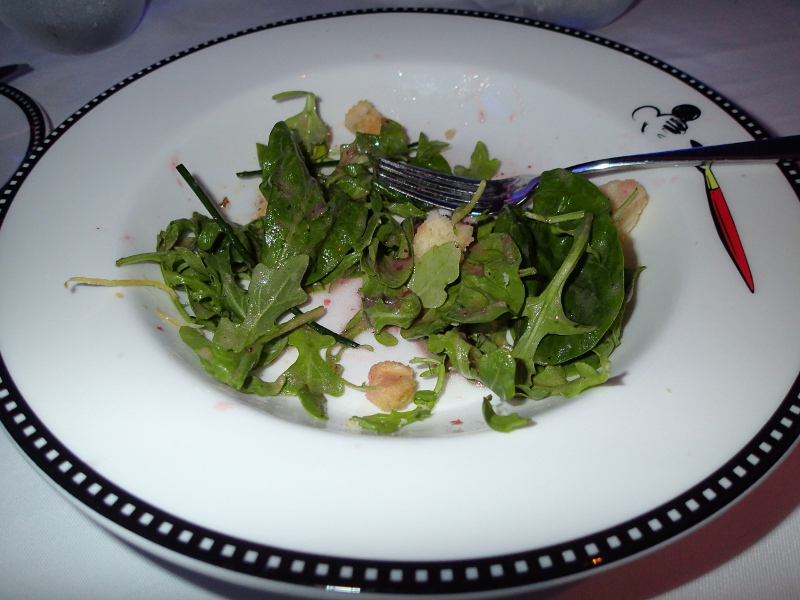 For the entree we both got Anna's Honey-Mustard Marinated Salmon which was very good.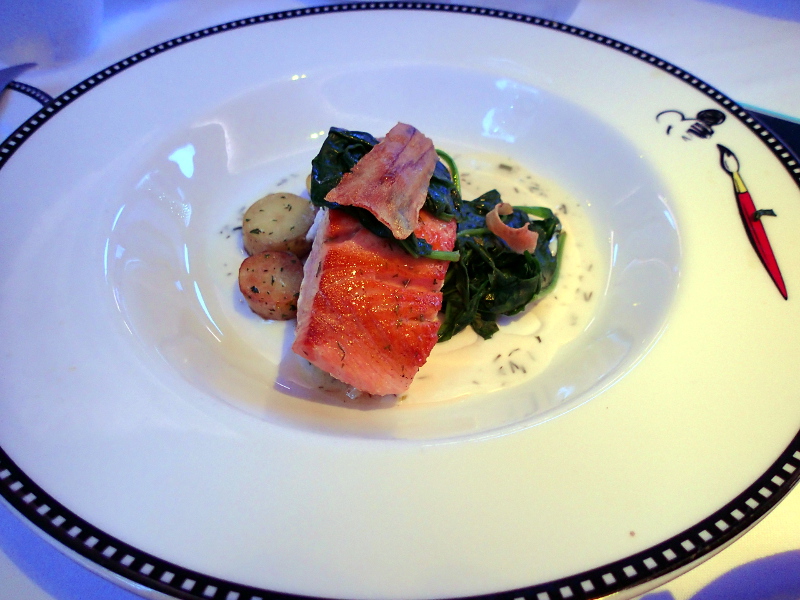 Englebert made his usual pass by the table to check on us.  I loved the head servers' costumes so much  had to take a picture.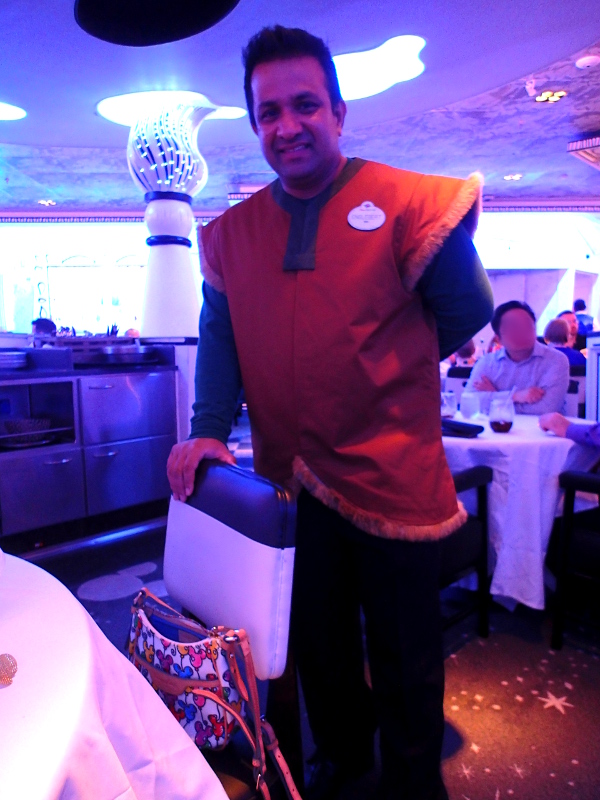 This was the dessert menu: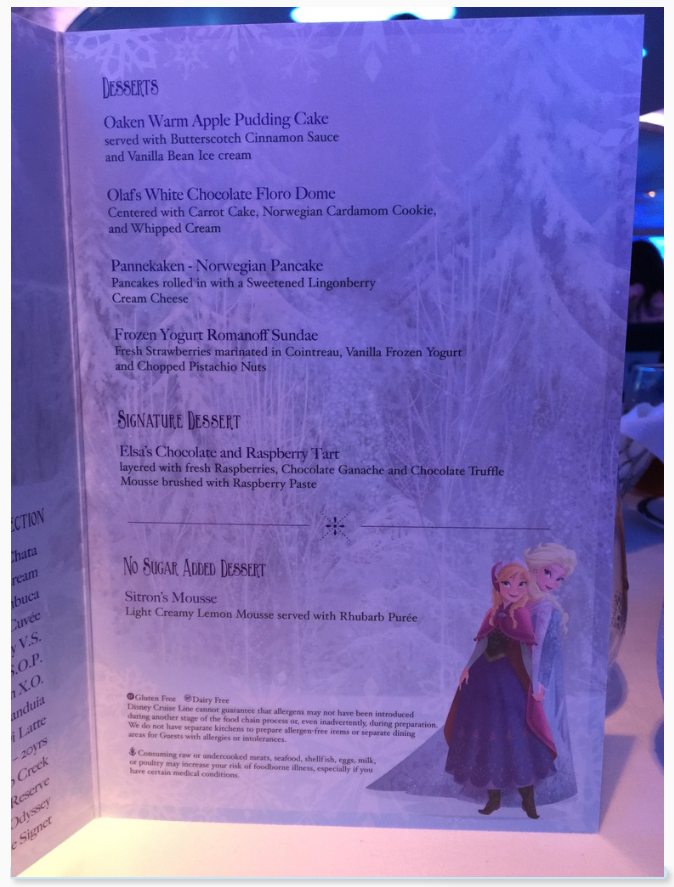 It looks like my husband and I ordered 3 things to share.  This is Sitron's Mousse, which was lemon flavored and delicious: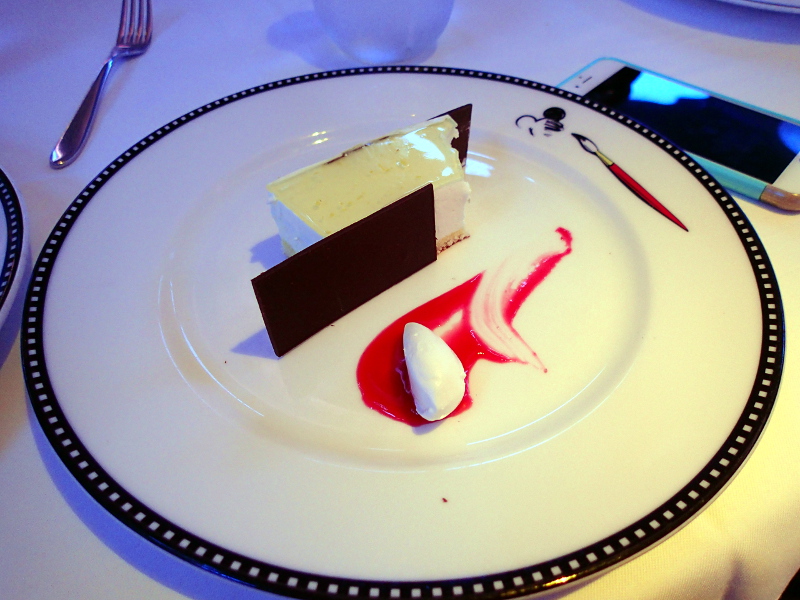 This is Olaf's White Chocolate Floro Dome: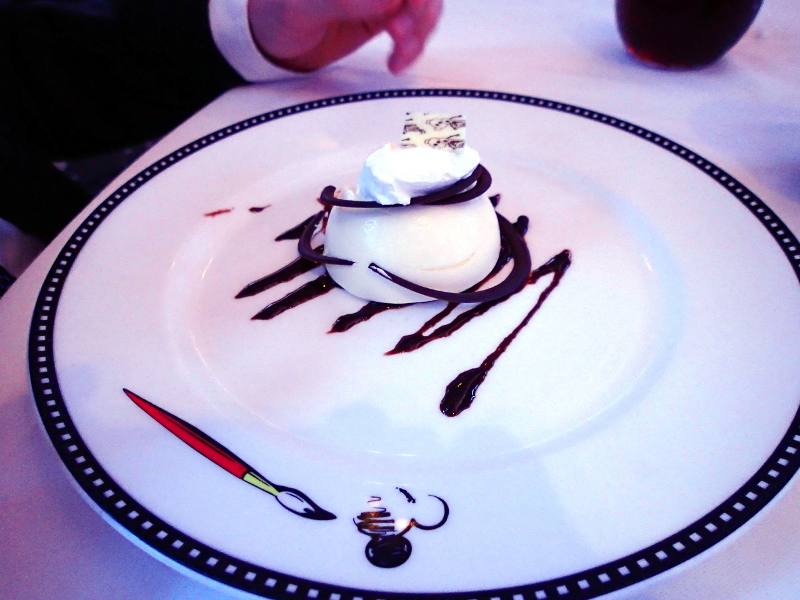 This is Elsa's Chocolate and Raspberry Tart which was one of my favorite desserts of the whole cruise: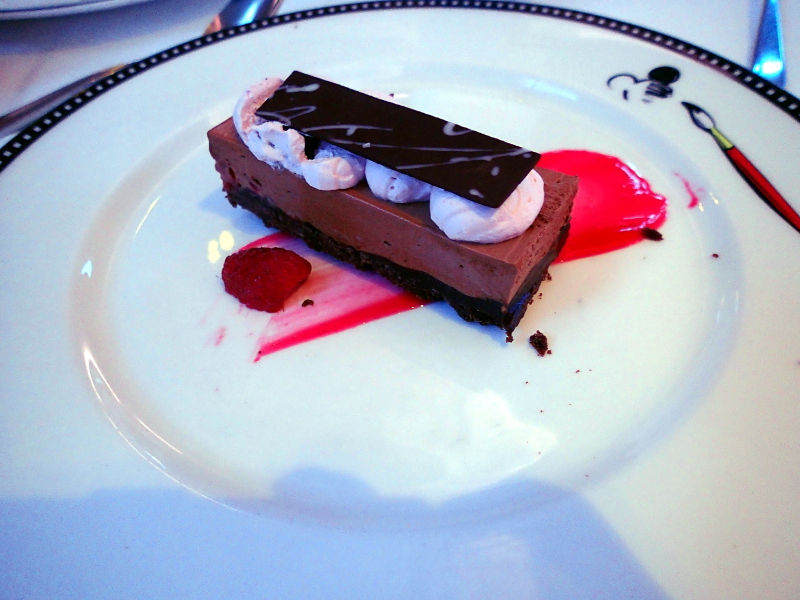 After dinner we took a few pictures.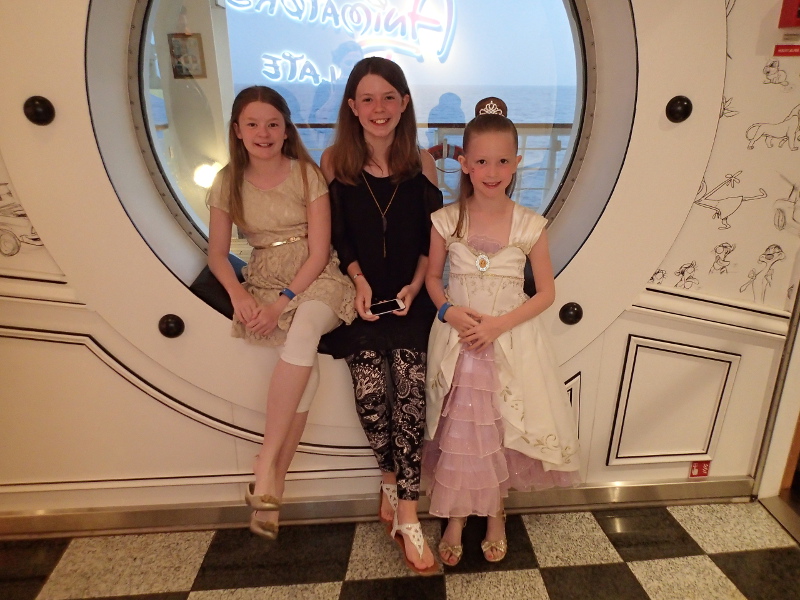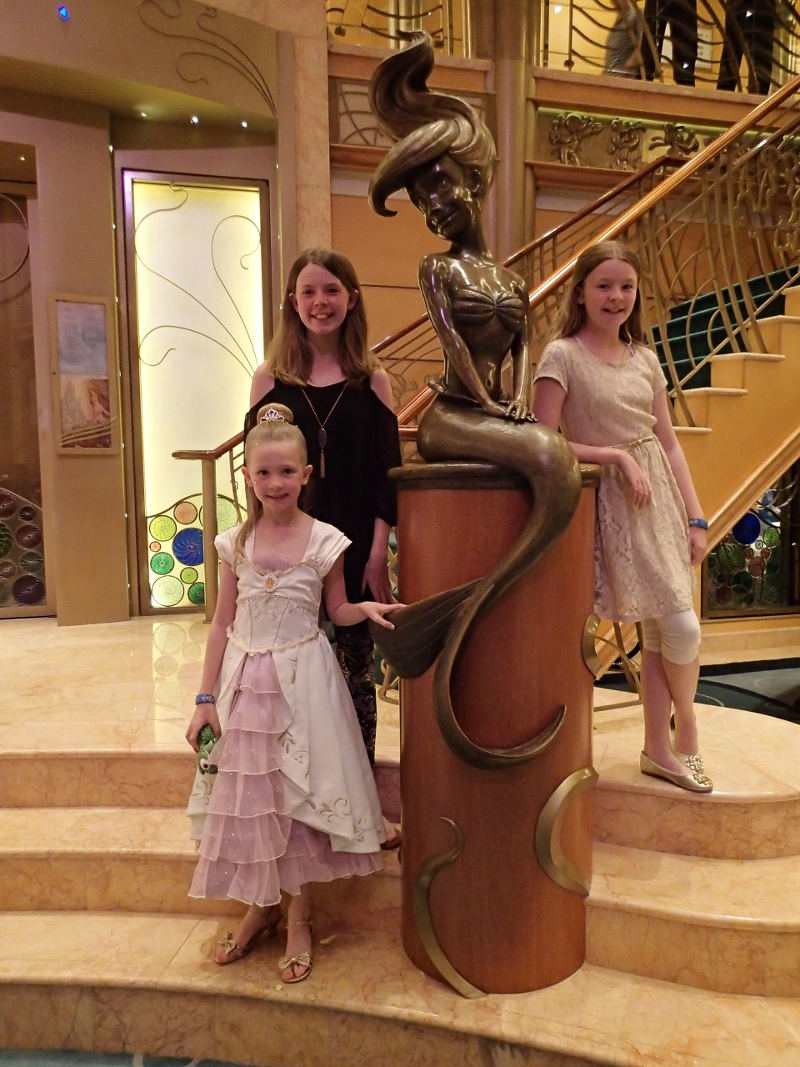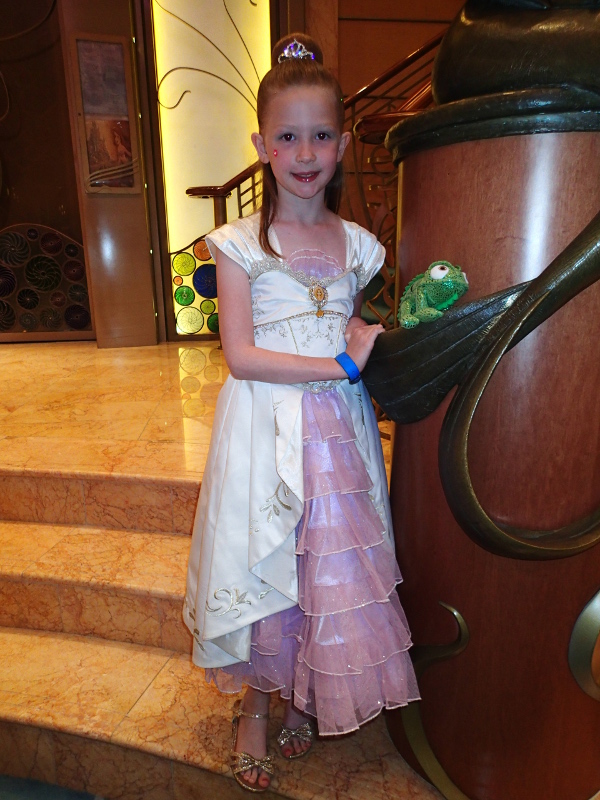 The girls wanted to change out of their formal clothes before the show, so we went to do that next.
Tonight's show was "Frozen: A Musical Spectacular" and it was a special night because this would be the very last show with the opening cast.  The same cast had been performing this show since it started in November, but they would be leaving the ship in San Diego and be replaced with a new cast.  After we changed, we walked back down to the shops and noticed that even though it was only 7:50 and the show didn't start until 8:30, there was already a line for the theater that stretched all the way to the atrium.  Ugh!  I don't know why people were lining up so early, but we felt like we needed to get in line so we did.  While we stood in line, Chip and Dale walked by in their formal attire.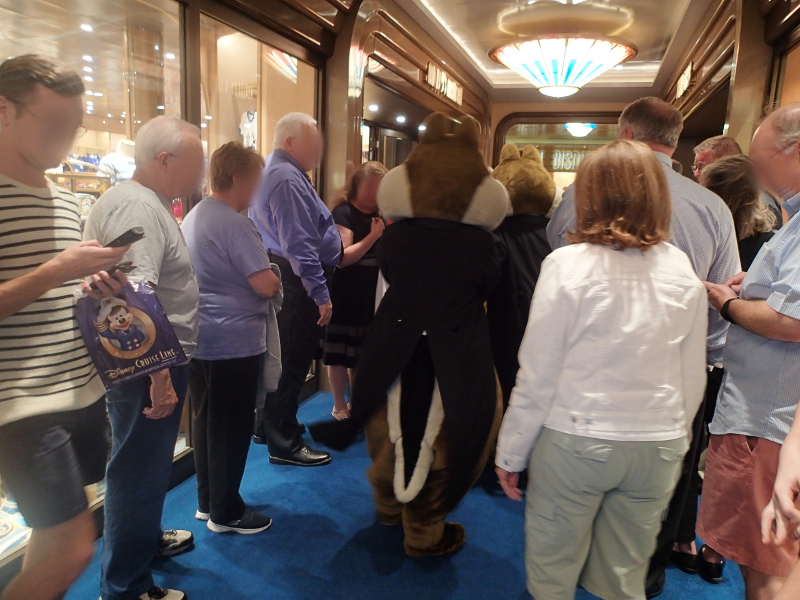 The theater doors finally opened and it was mayhem.  It was worse than Cabanas on boarding day.  It was like Shutters on the last night of the cruise.  It was like all of those crowded, chaotic places that I avoid like the plague.  I couldn't understand why everyone was acting like they weren't going to be able to find a seat when it was never a problem finding a seat on any other night of the cruise.  There were elbows thrown and I wouldn't be surprised if a small child or two were mowed over.  In fact, the first seats I chose were literally stolen from us before we could even sit down.  There were 5 seats next to an aisle, so I walked towards the farthest one and when I got there, I turned around and a grown man had shoved his way in front of my daughters and "claimed" the 3 seats nearest the aisle before they could get there.  I was beyond frustrated at this point.  Can't we all just act civil?  Thankfully my husband had spotted some seats nearby and managed to get to them in time.  We ended up in the last row of the lower section, right in center.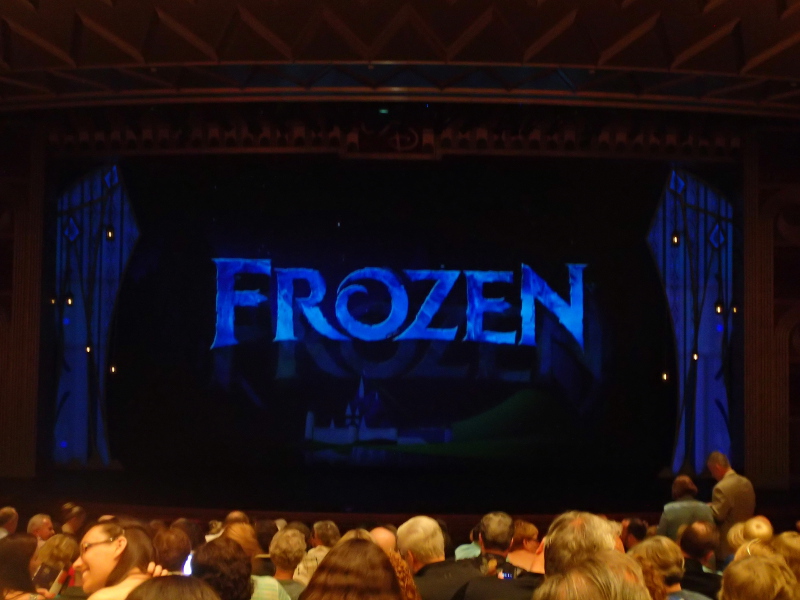 The show was awesome!  Not so much the plot as it just follows the movie exactly, but the lights, costumes, puppets and effects are definitely a step above the other productions.  We really enjoyed it despite the rocky start.
After the show, our 12 year old wanted to go to bed so she went back to the rooms by herself.  The other 2 wanted to do family karaoke at 10:30, so we had some time to kill.  First we went to the drink station on deck 9 to get some drinks.  Then we went to the atrium where the adults found some seats on level 4 and the girls went into the D Lounge where they were having the "Formal Night After Party".  This was our view: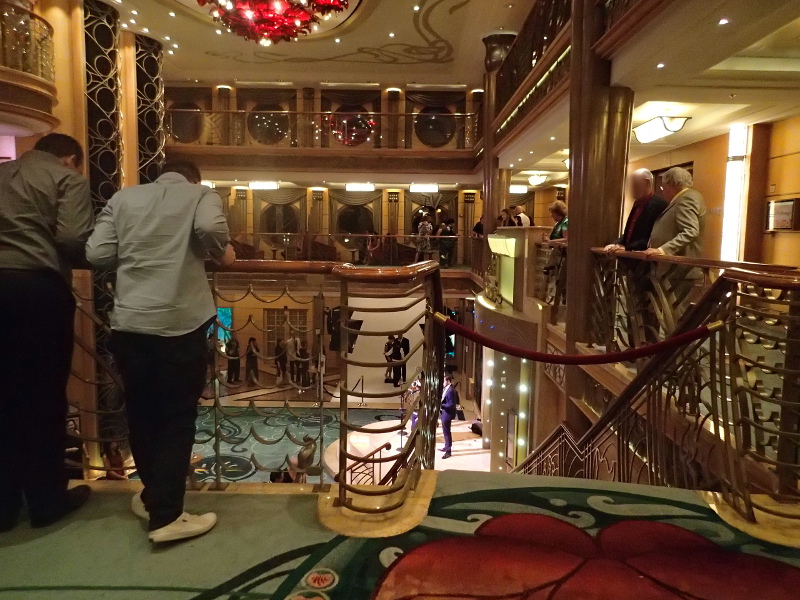 While we sat, we saw several characters walk by in their formal wear.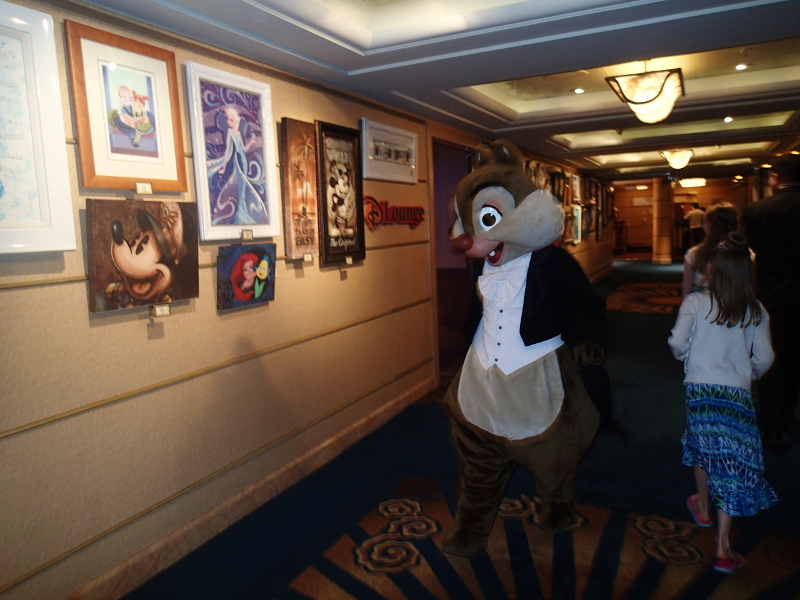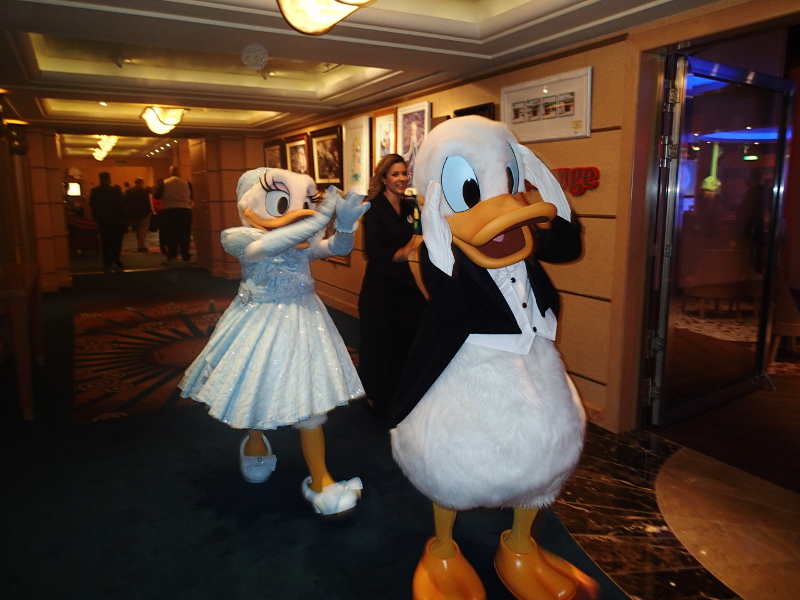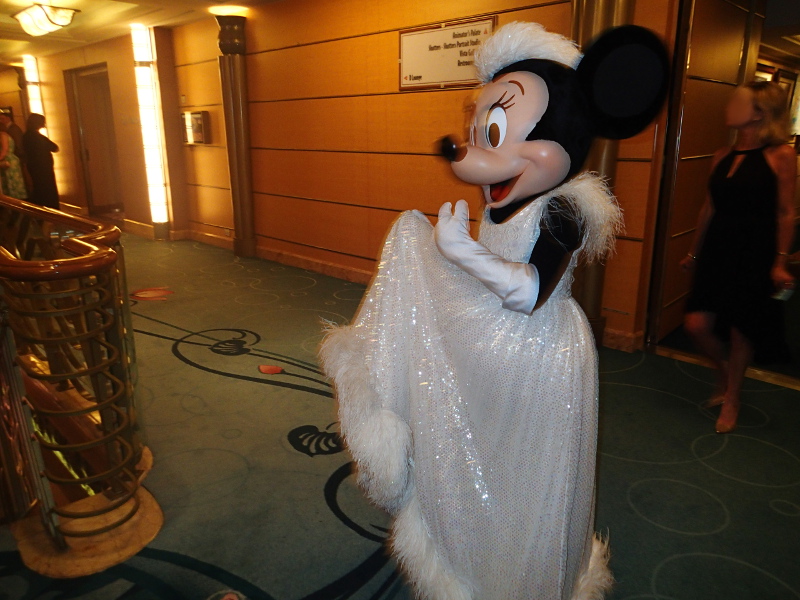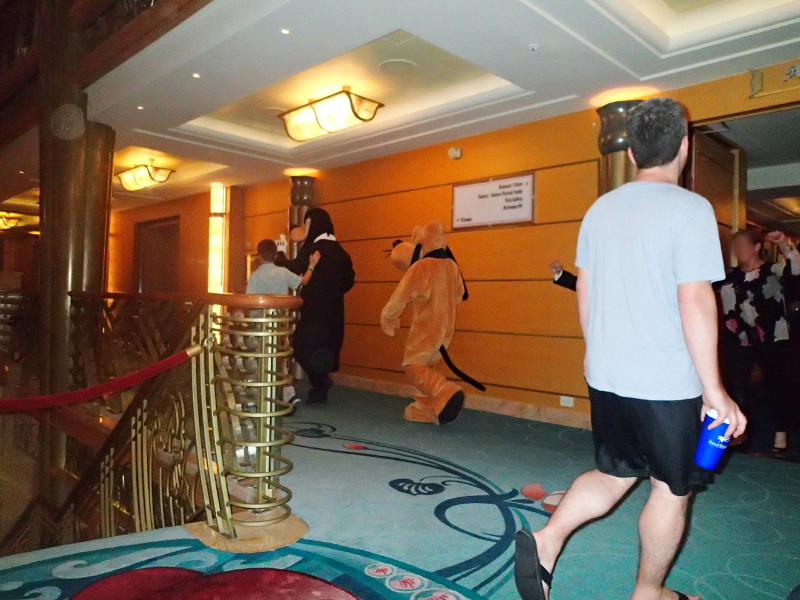 When it was almost time for karaoke to start, we went into the D Lounge and found the girls dancing away.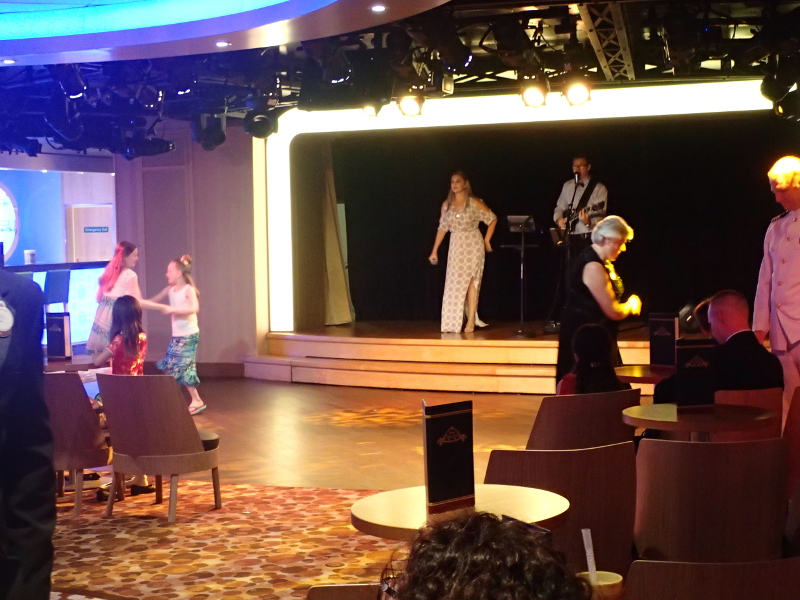 I didn't make any notes about karaoke this night so I can't tell you how many people were there or how many times the girls sang.  I did take this picture so I know they did another duet, although I can't tell you the song: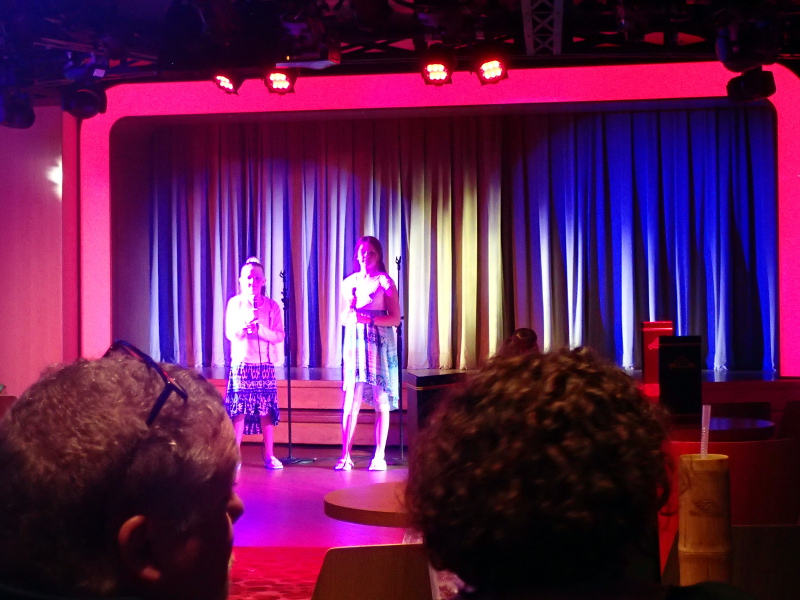 When karaoke ended at 11:30, it was straight to bed.  Tonight instead of towel animals we had towel tuxedos.  It looks like Greg gave the girls some extra chocolates.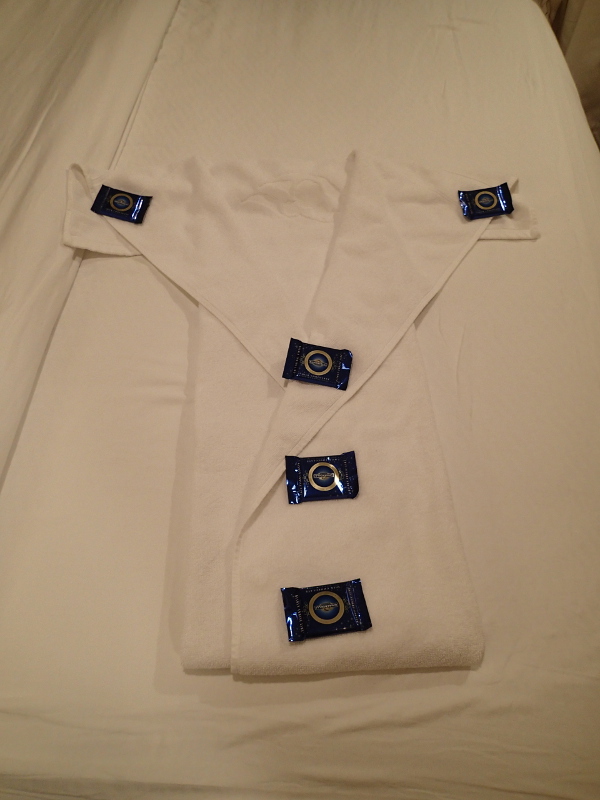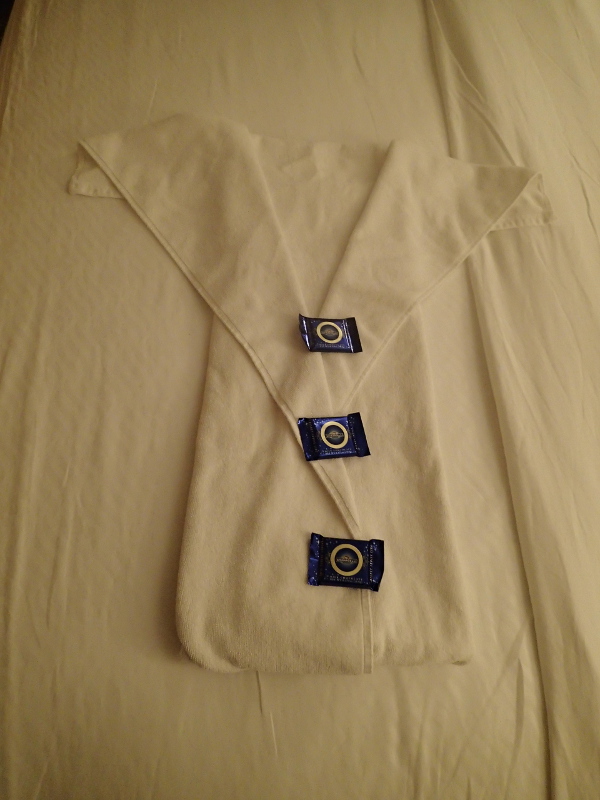 Up next:  Day 10 – At Sea
As always, don't forget to like me on Facebook (click here) and follow me on Pinterest (click here) for all of the latest Disney Cruise Mom Blog updates!
 .
This post contains affiliate links, which means that if you make a purchase through my links, the seller will pay me a small commission for it at no additional cost to you. I am grateful for your support of this site in this way, so thank you!