Day 10:  At Sea
 If you would like to start this trip report from the beginning, click here.
Note: I do not feel right posting pictures of fellow cruisers who have not given me permission to use them on the blog, so I will blur out the faces of people in the background of my photos. I'm sorry if it looks funny, but I want to respect their privacy.
Also, anytime you see red text, it is a link to either product information or another one of my blog posts that gives more detailed information about that topic.
.
You can see this day's Daily Navigator by clicking here: Navigator Day 10
This morning I woke up about 8:00.  I got dressed and then my husband and I went to deck 9 to get some coffee for us, as well as a few pastries from Cabanas for us and the girls.  While doing so, we saw the woman who had fallen in the Buena Vista theater earlier in the cruise.  She was in a wheelchair, and I overheard her husband say that she had a hairline fracture of her tibia.  She was wearing an air cast and was supposed to see a doctor after the cruise.
We dropped the pastries off for the girls, who were still sleeping, and then we went to Captain Puckett's presentation at 9:15, "The Expansion of the Panama Canal".  We must have arrived before the doors opened because I took a picture of my snack while I sat on the floor.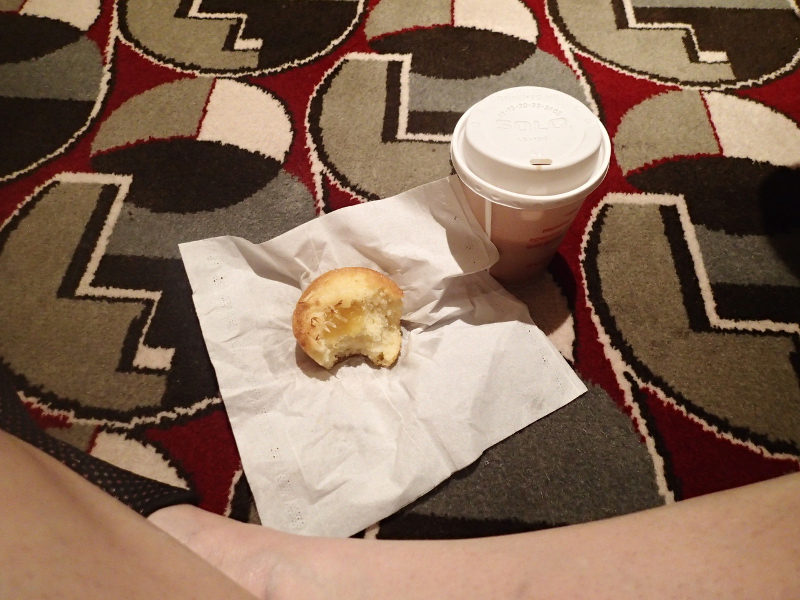 The muffin above is a coconut muffin with a lemon filling which was delicious.  They had them every morning in Cabanas and I ate a lot of them during the cruise.
Captain Puckett's presentation was great as usual.  When it was over, we quickly went to get the girls so that we could get to Cabanas for a real breakfast before it closed at 10:30.  Greg had cleaned one of the rooms while we were gone and he left us these: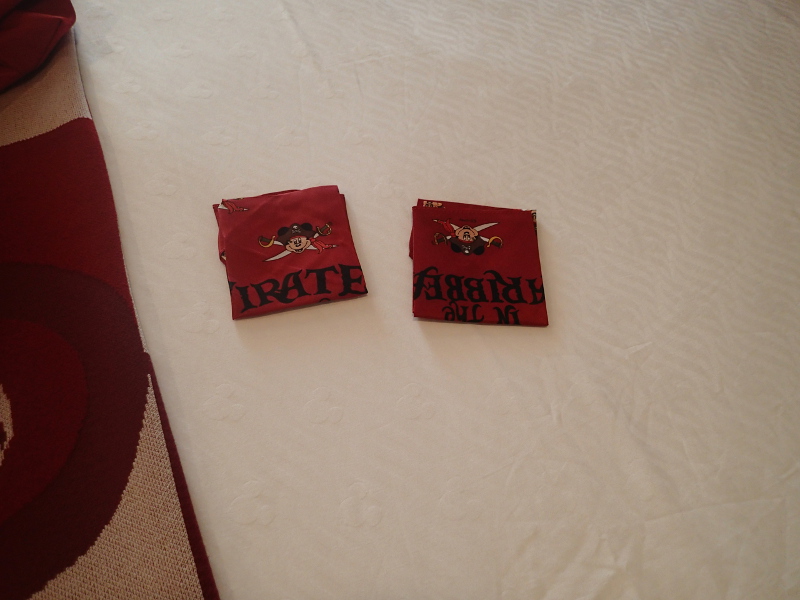 YES!  I had forgotten that tonight was Pirate Night!!!
We went to Cabanas and for the first time this cruise, we sat at a table that had a lovely view of the sea.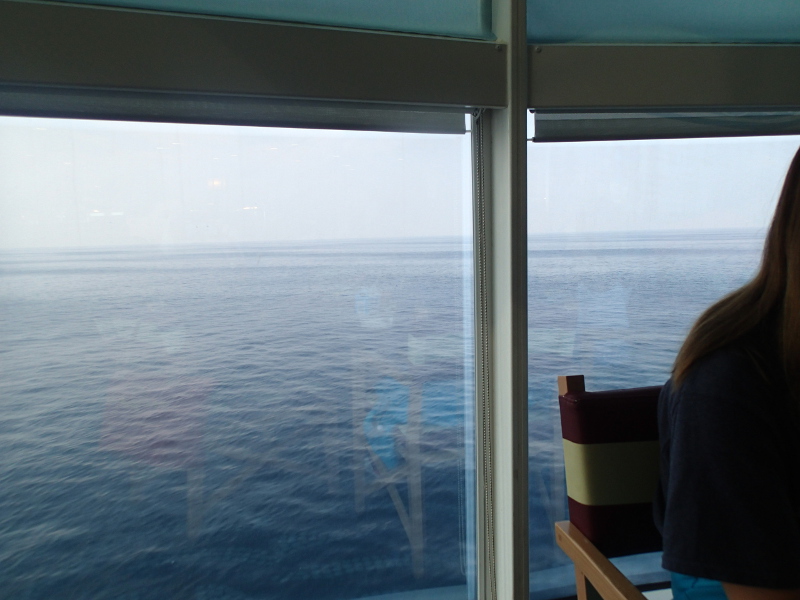 I was terrible about taking food photos in Cabanas during this cruise, but this morning I sort of succeeded.  The juice front and center is called POG juice (pineapple, orange, guava) and it is so good!  I think there was only one drink station that stocked it and the label said "Orchard's Best" which is the brand.  I highly recommend it.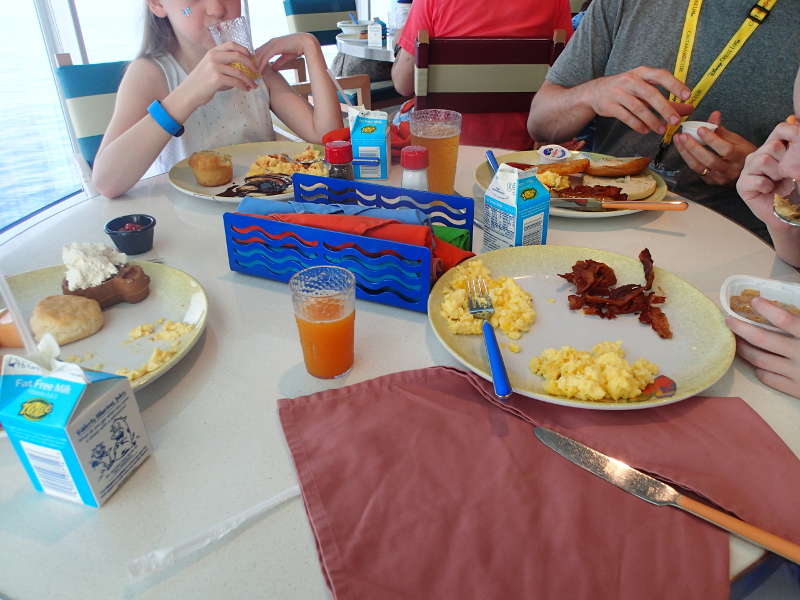 We finished breakfast about 10:30 and decided that we wanted to do "Hide and Seek with the Officers" at 11:00 in Azure.  We had a little bit of time to kill so we took a longer route than normal.  On the way, we passed Belle: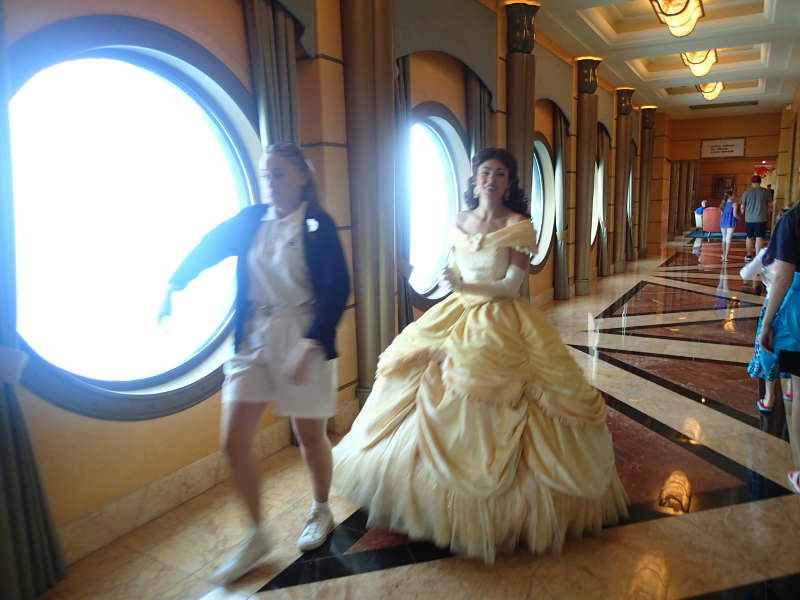 We got to Azure early and hung out in the portholes for a bit.  This was our first time to hang out here this cruise, and our first time ever since they took away the Route 66 theme.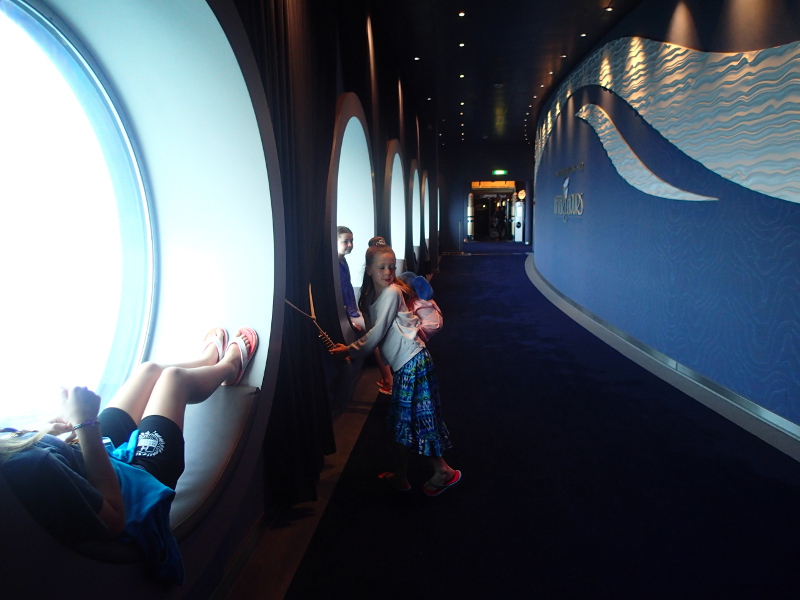 Inside Azure, the Mickey 200 was finishing up.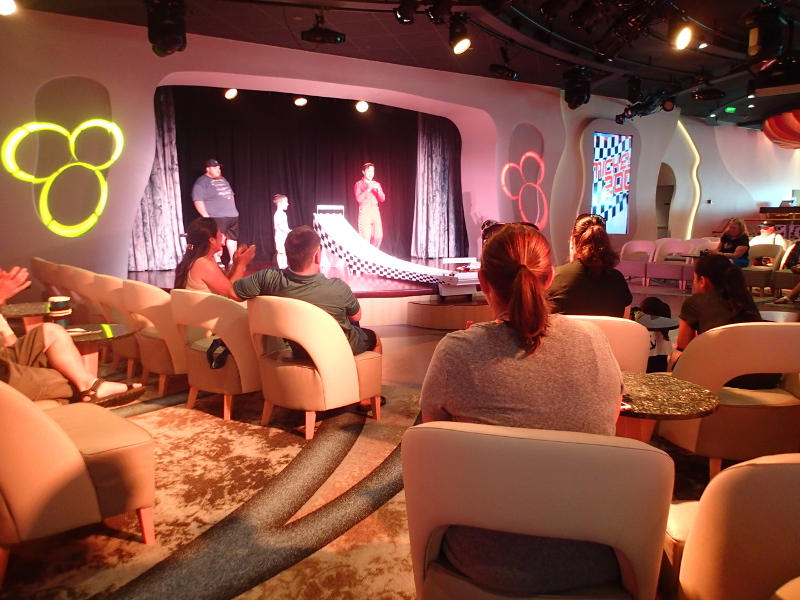 I believe this is a competition where teams make a car out of vegetables and then they race.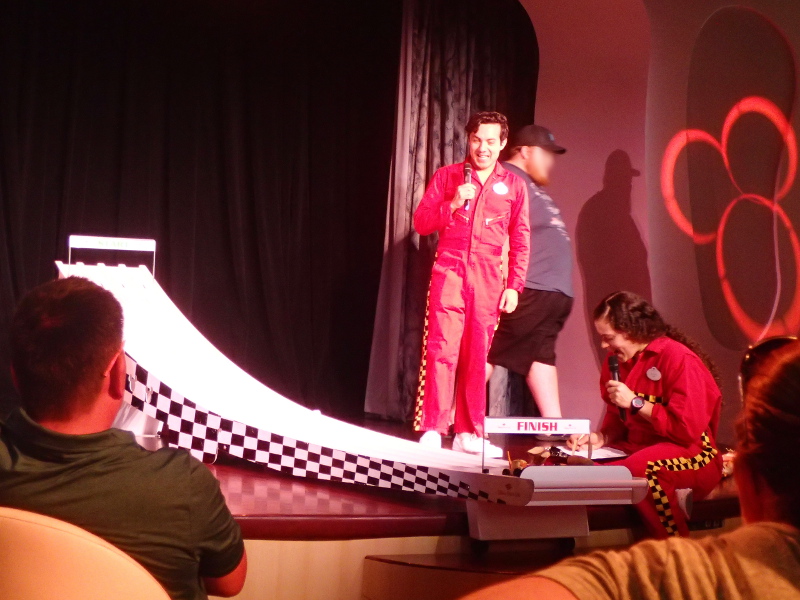 Once it was time for Hide & Seek to start, 6 of the ship's officer came out on stage.  I didn't write down their names or titles, and unfortunately I can only remember who 3 of them are.  On the far left is Cruise Director Darren, with Ship Captain Robert right next to him.  On the far right is Pierre, the Hotel Director.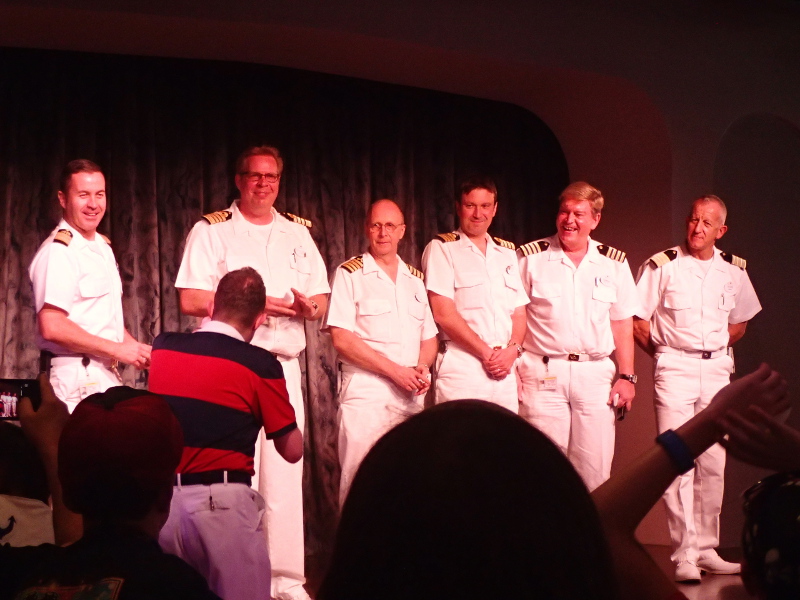 We all took a really good look at them and then they scattered.  We waited in Azure for about 10 minutes while they went to their hiding places on the ship.  If we found them, they were to hand us a ticket with their name on it.  The goal was to collect all 6 tickets in the allotted time period, which was only about 20 minutes.  I thought this was WAY too little time, and this activity could have been a lot more fun just by adding another 10-15 minutes.  When it was time, we started searching.  I had a few places in mind that I thought they might be, but we basically just checked every public space on the ship as we passed it.  I remember checking the gift shops, kids clubs, guest services, Bibbidi Bobbidi Boutique, etc.  I was pretty sure one would be dressed as a lifeguard, so we eventually made our way to deck 9 and sure enough, look who we found: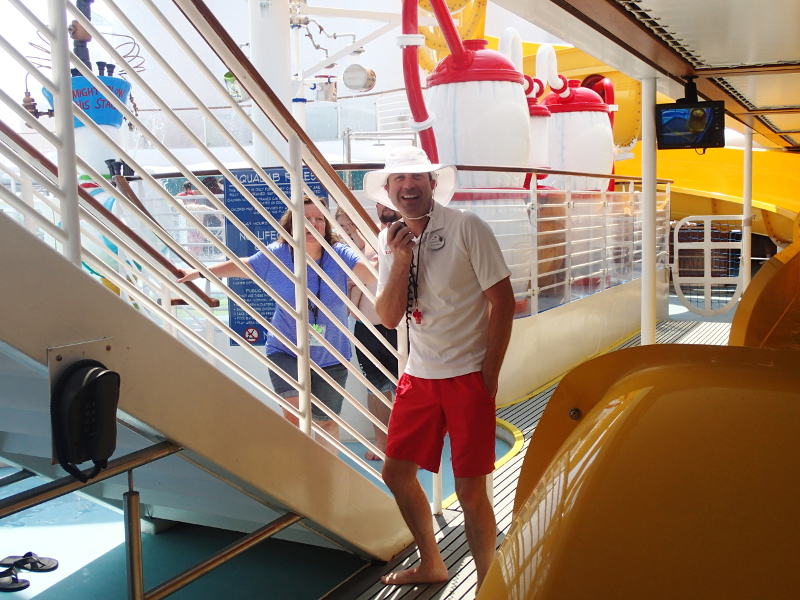 It's Darren at the bottom of the water slide!  We were near the spa, so we checked there next, looking at all of the food counters along the way.  The girls had to stay outside, but I popped in and found this guy: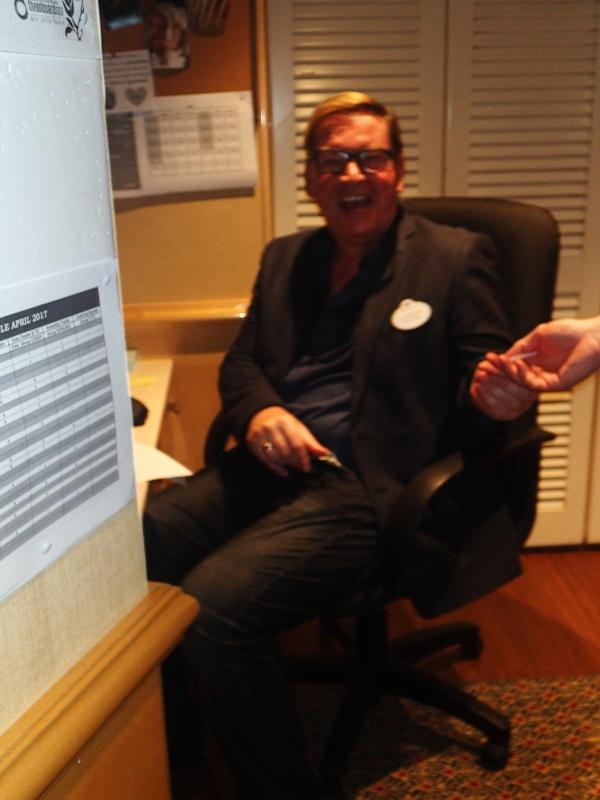 Time was now running out, but I was pretty sure someone would be dressed as a maintenance man on deck 4 so we went there next.  We walked the ENTIRE way around deck 4 and didn't find anyone, but we did see some sea turtles!  By this time it was already time to head back to Azure.  Like I said before, I didn't think they gave us nearly enough time.  When we got back, all of the officers but Darren had already returned.
Soon Darren returned, and they revealed their hiding places.  I'll go from left to right in the photo below.  First was Darren, who we found at the water slide.  Next was Pierre, who had been standing on what I think he called the "wing bridge" on deck 7.  This is the outdoor area of the bridge that hangs over the side of the ship.  He was the hardest one to find, and only 1 person found him.  I think they said that you could only see him from the smoking area.  Next was the guy posing as a housekeeper.  He had been cleaning windows at the gift shops, which meant we walked right by him and didn't notice because when we checked the shops, we were only looking at the people inside of them.  Darn!  Next, there was indeed a guy posing as a maintenance man on deck 4.  I think he must have just left by the time we got there since we got there at the very end of the time limit.  We totally should have gotten those last 2.  Next was Captain Robert, who was posing as a bartender INSIDE of Azure!  Duh!  He was right under our noses.  Finally was the guy that we found in the spa.  Next it was time to see who won.  Nobody got all 6, but there was at least 1 group that got 5 (they found everyone except for Pierre).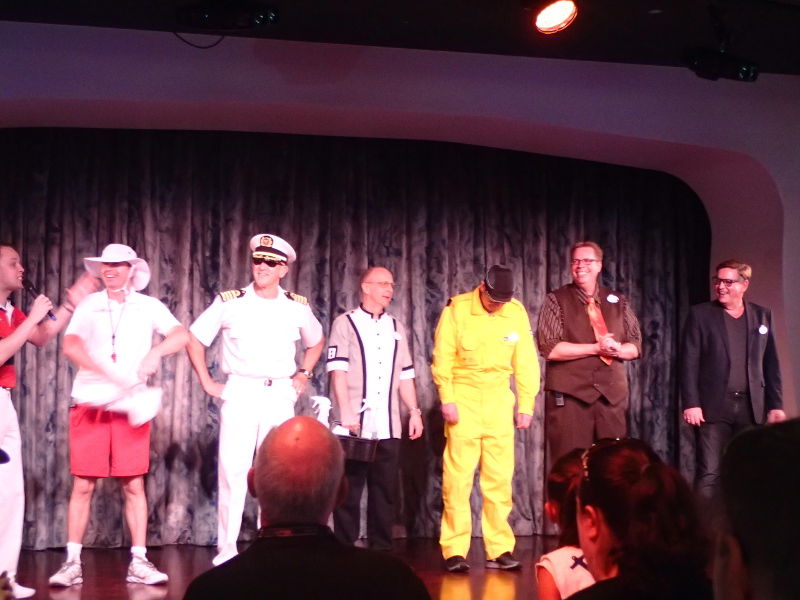 I thought that this was a really fun activity, but it was just too rushed.  In order to find all 6 in the allotted time, you would pretty much have to sprint all over the ship and that is just not realistic.  But, I'm glad we did it.
Next, we all wanted some pool time so we went to the rooms to change and got to the pool just in time to see the ice carving demonstration.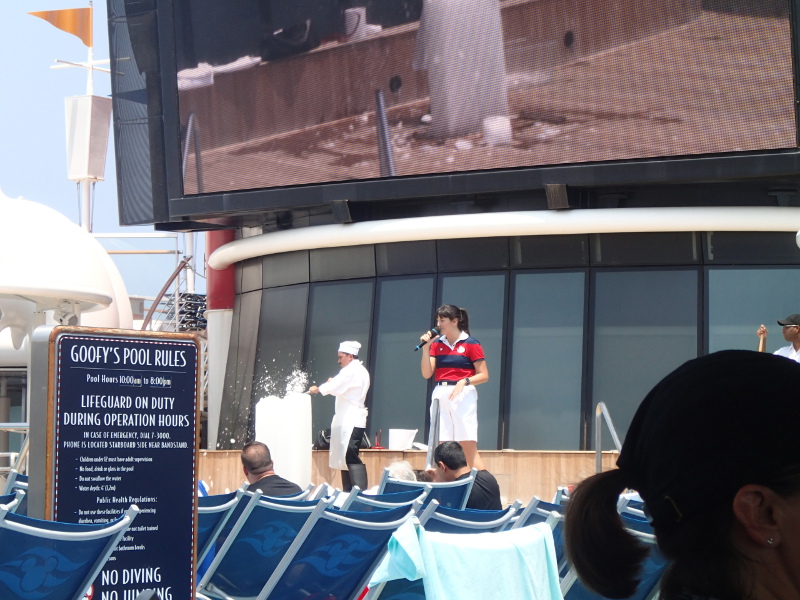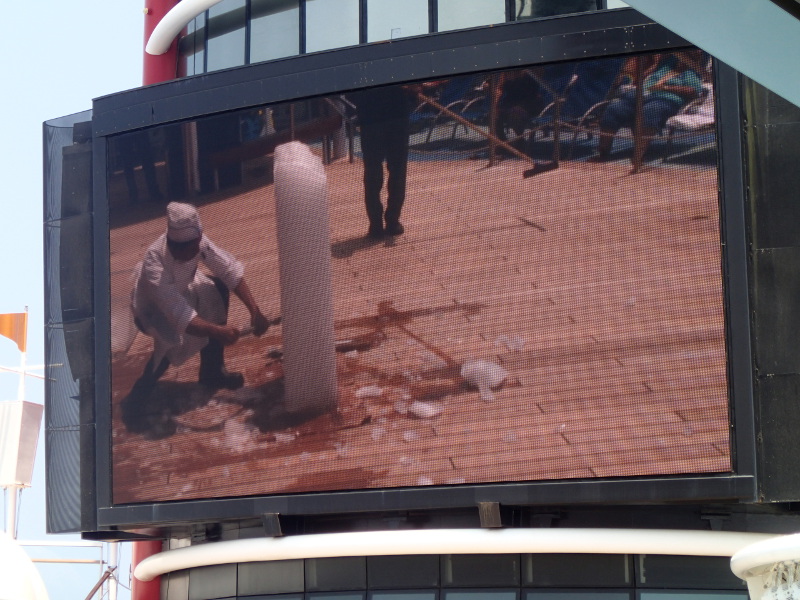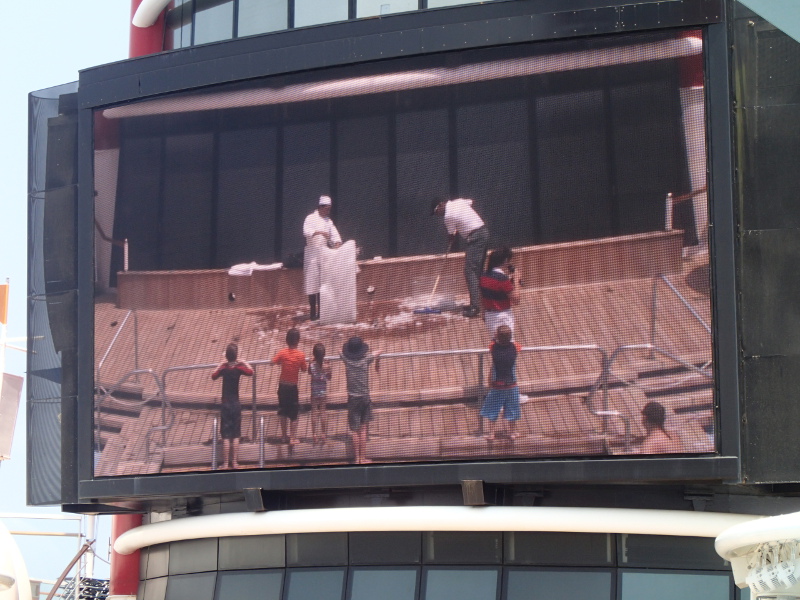 Captain Hook and Smee were out and about: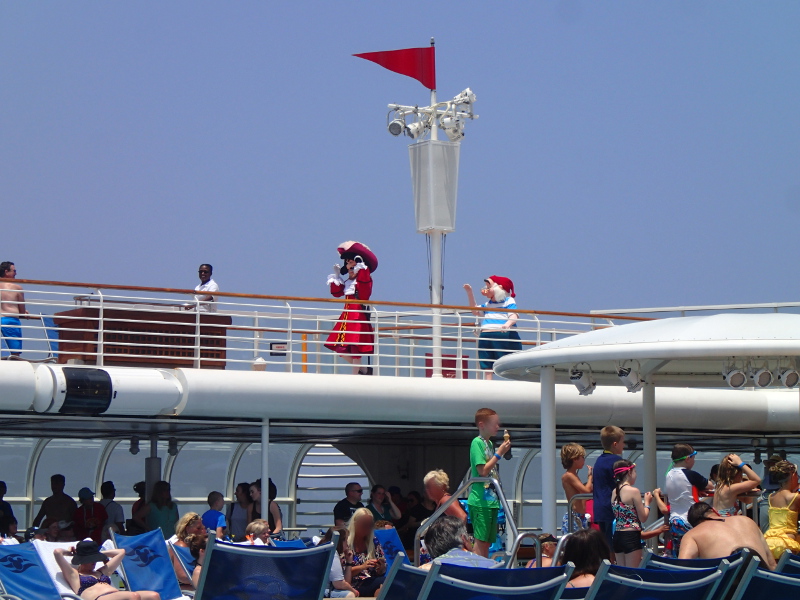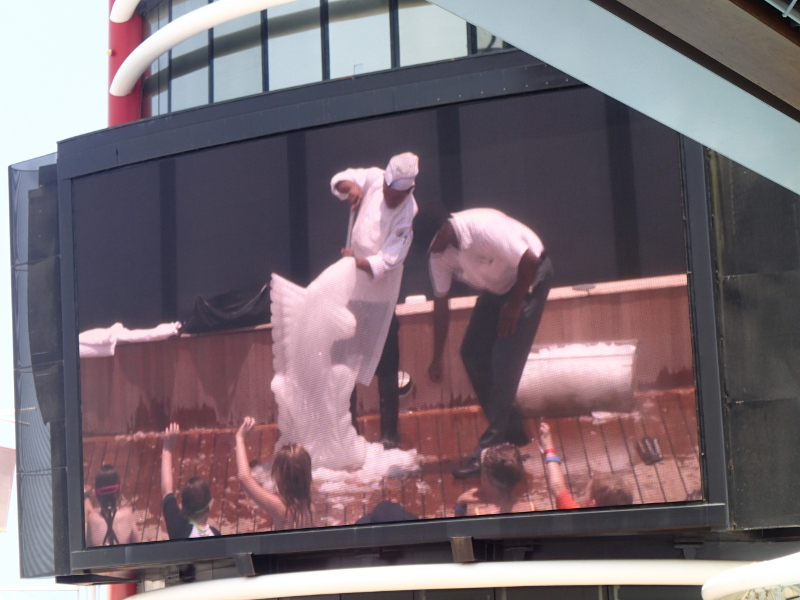 Afterwards, they wheeled the sculpture right past us.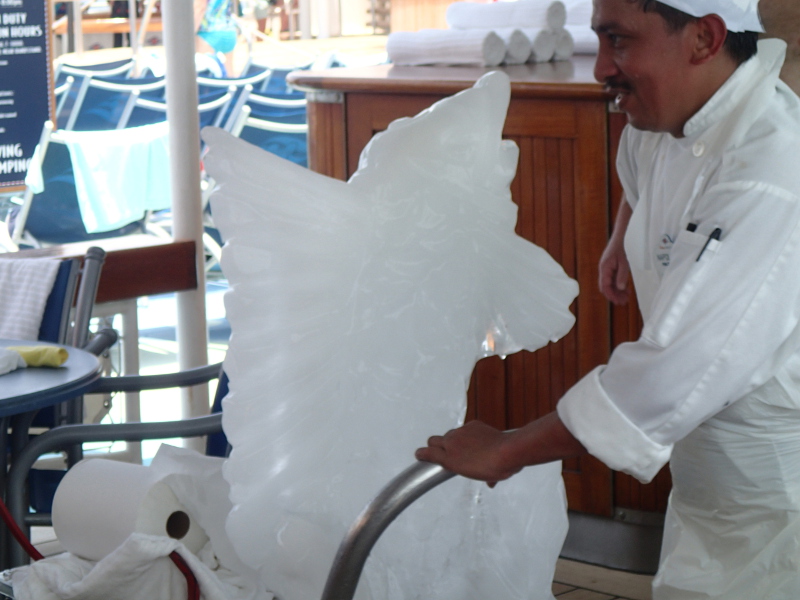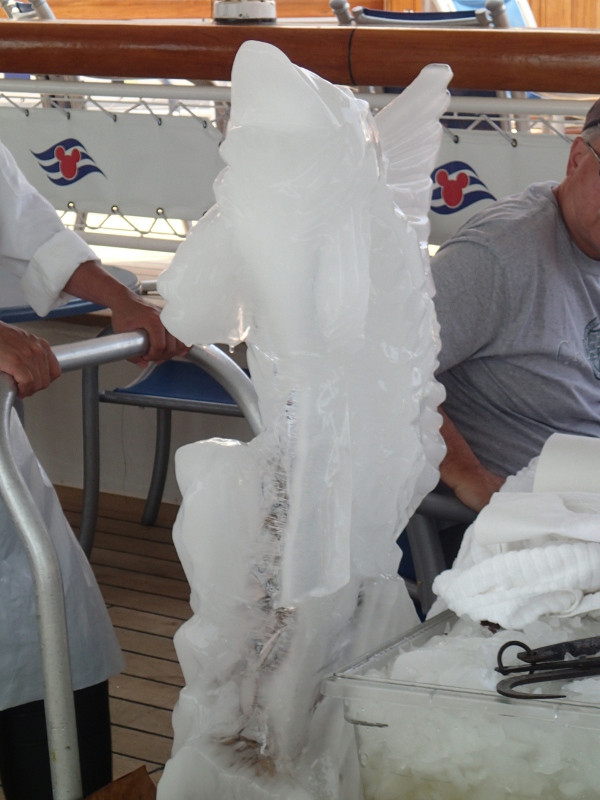 We spent the next 3 or so hours at the pool.  I saw another huge school of dolphins, but wasn't quick enough with the camera.  I know that I got some lunch from Cabanas, but forgot to take a picture.  I'm sure the girls had their usual pizza and chicken tenders, and the ice cream flavors were blueberry and banana.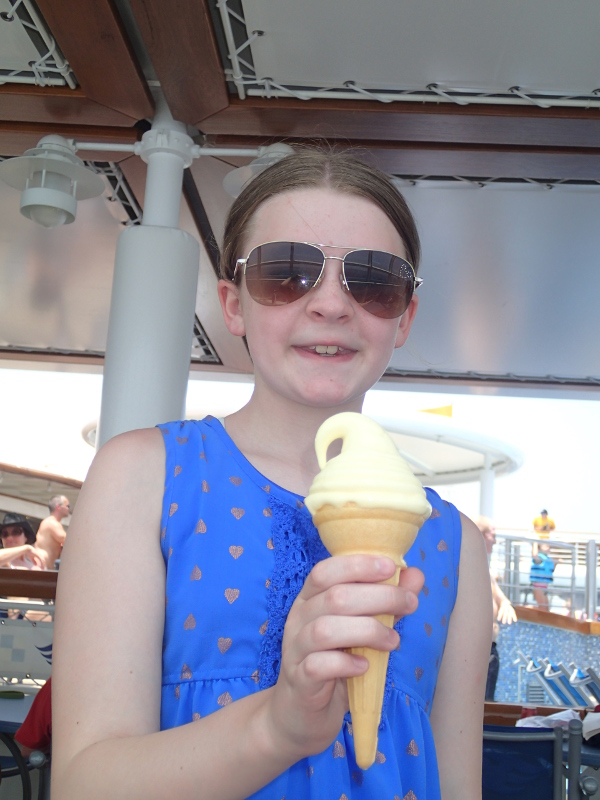 Robin Hood was on funnel vision.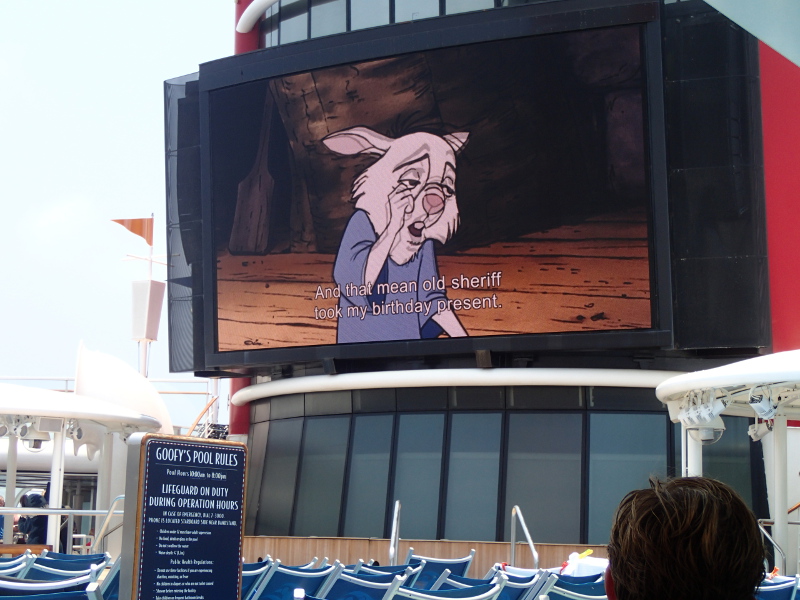 At one point, Chuck Wagner walked by with an ice cream cone.  I love seeing the entertainers enjoying the cruise and acting like regular guests on their time off.
After a few hours of swimming, this one bit the dust.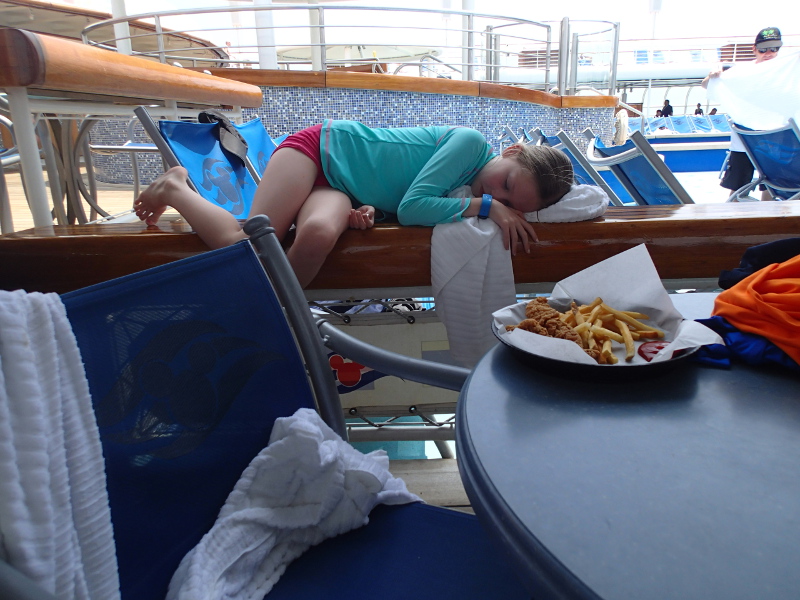 I guess that wasn't very comfortable, because later I found her like this: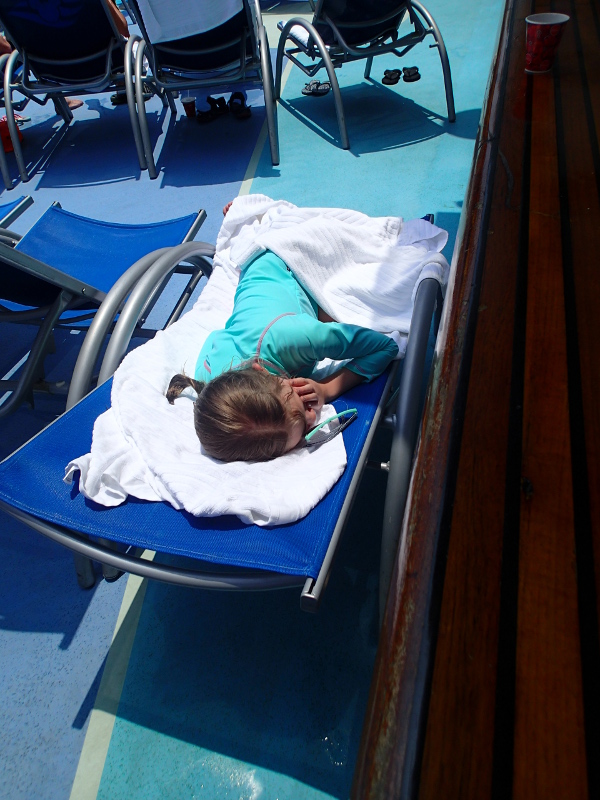 When Robin Hood finished, the girls wanted to go back to the room and rest.  My husband and I went to the Quiet Cove Pool for another hour, and then at about 4:15 we went back to the room as well.  It was Pirate Night, and we had to get ready!
Even Stitch dresses up for Pirate Night!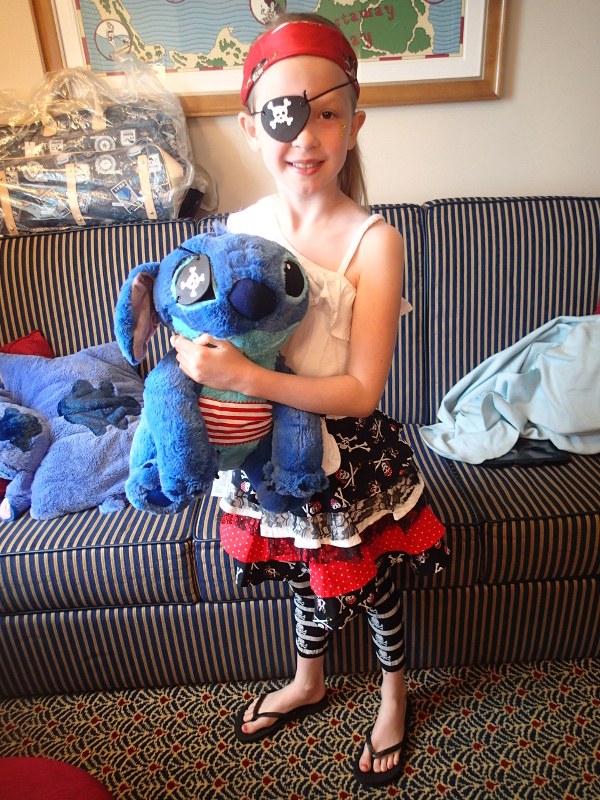 We were all ready by 5:30 and went to the atrium to try and get at least one good group photo.  The characters were out in their pirate gear.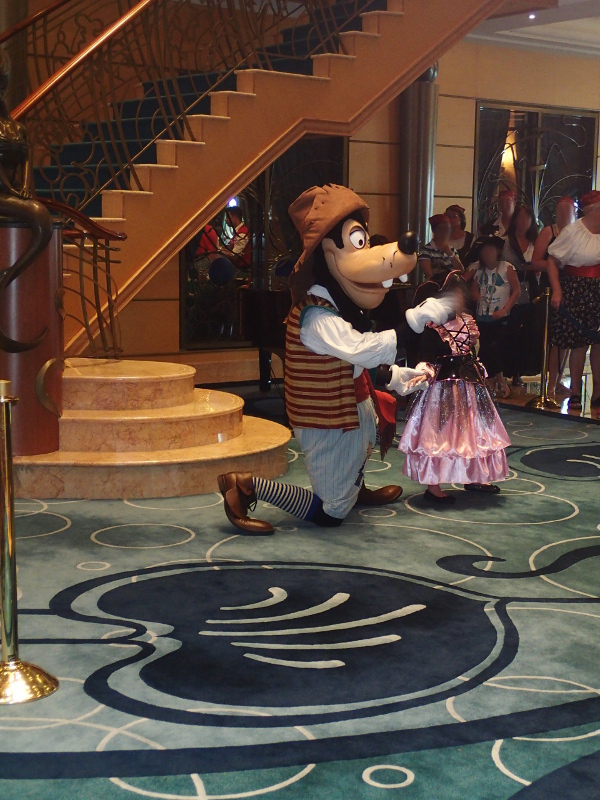 We had to wait in line for a few minutes, so I took these while we waited: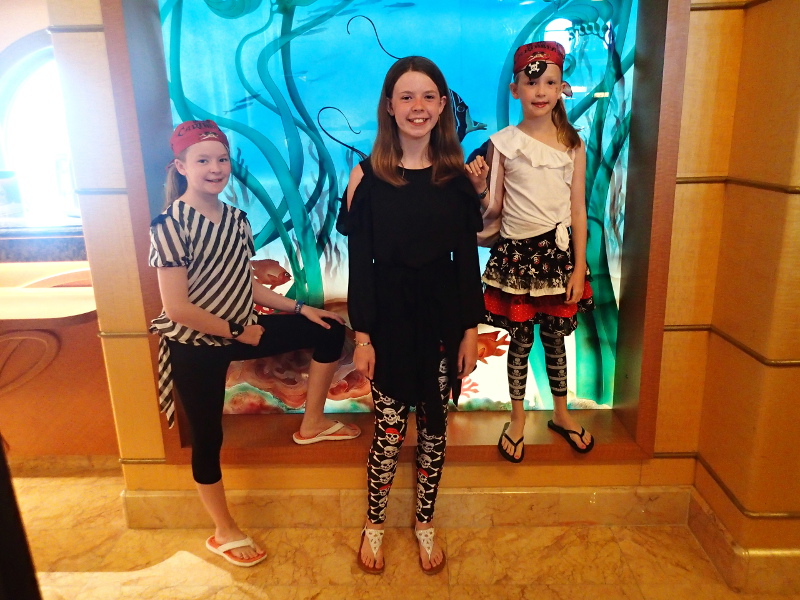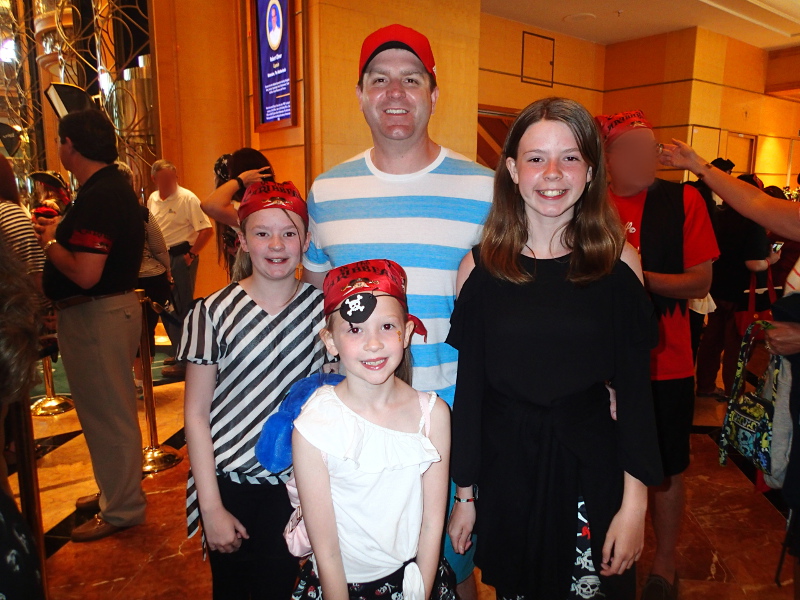 This was the best one we got.  I am happy with how it turned out.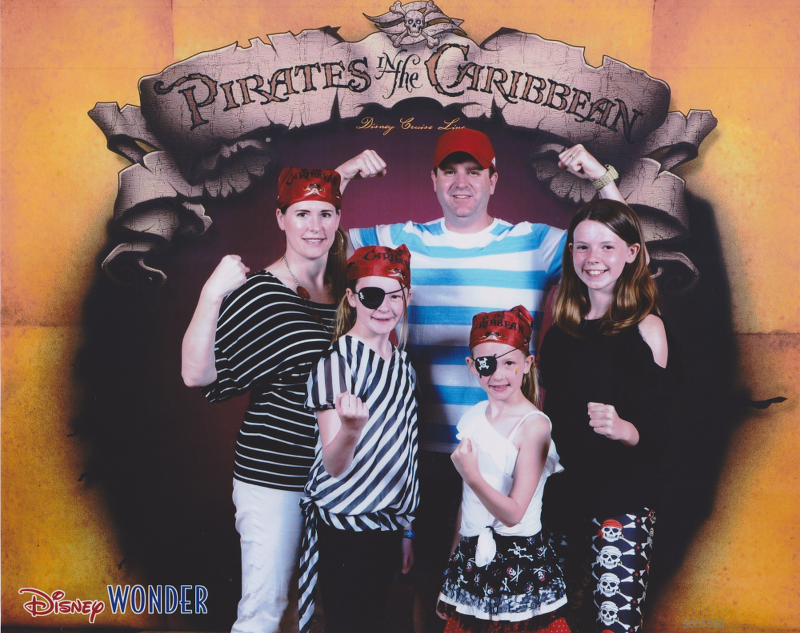 Tonight for dinner we were in Tiana's Place.  I knew that the Pirate Night menu had changed since we last sailed, and I was glad to see that they still had the pirate hat kids menus so that this one could keep up her tradition of putting on the hat and posing like a pirate.
Here are 2 pictures I dug up from past cruises: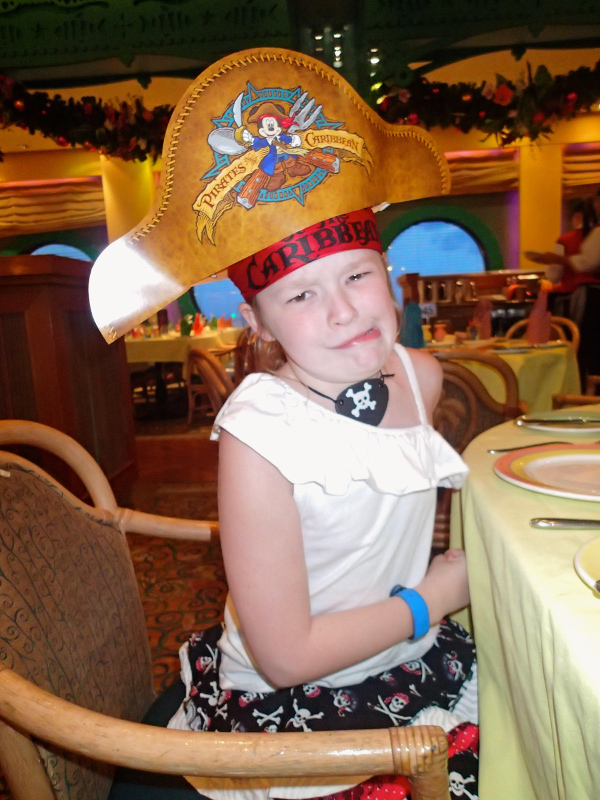 Anywho………the new menu!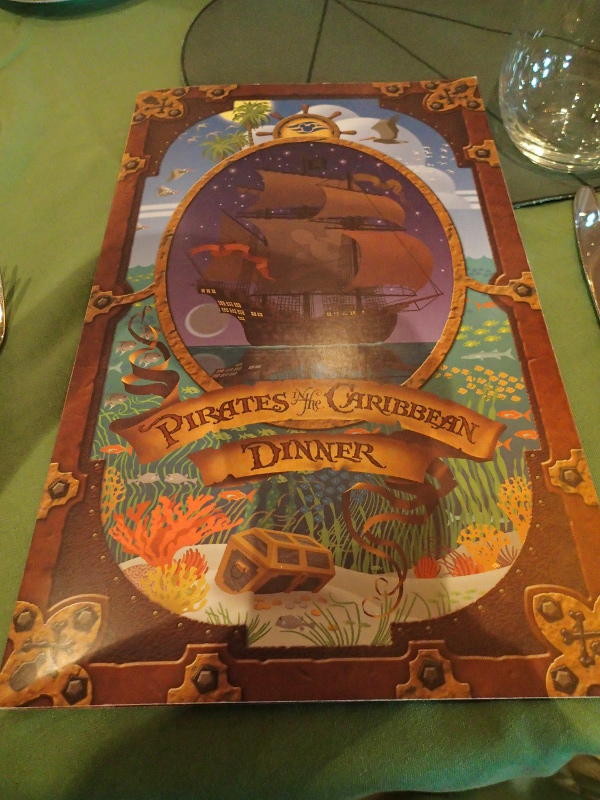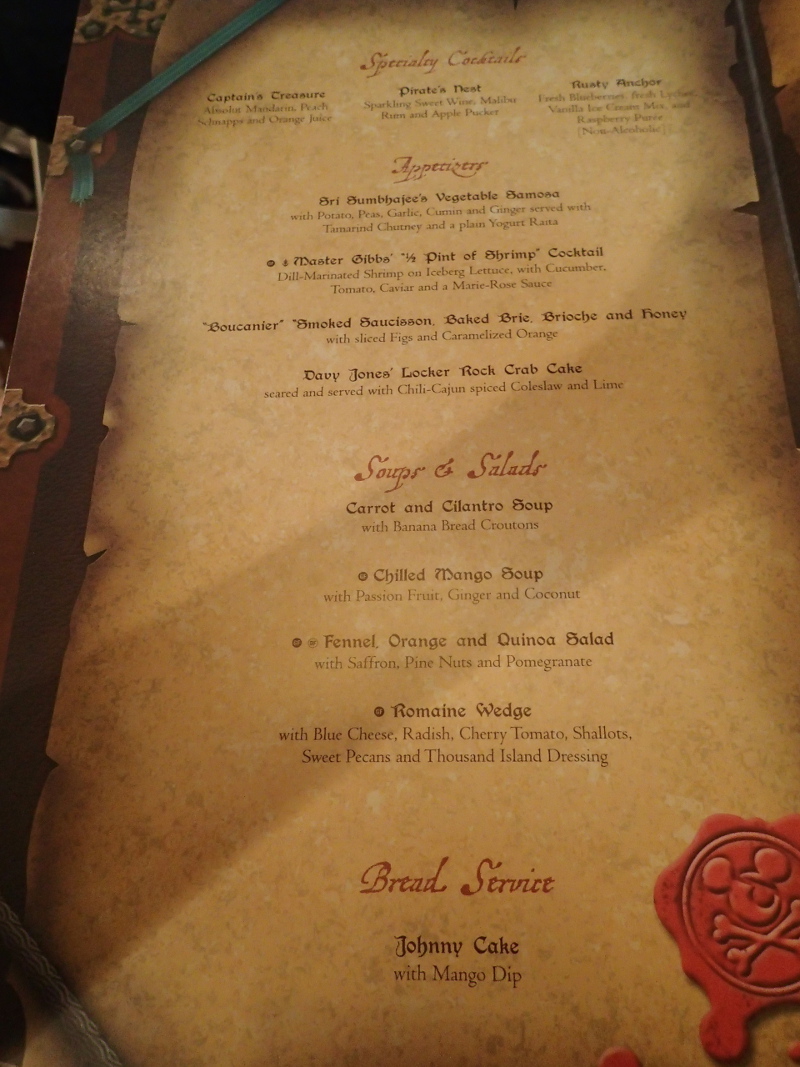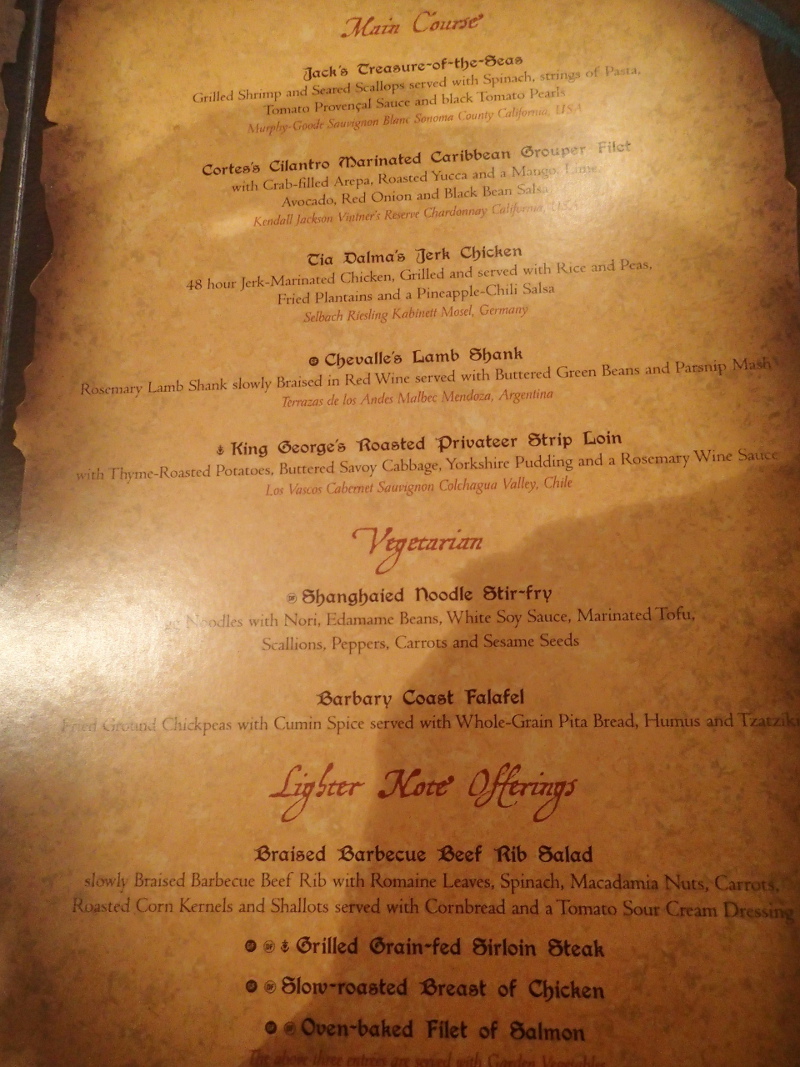 The bread service tonight was one of my favorites of the cruise – cornbread with a mango spread.  If you are a mango-lover like me, you would love this.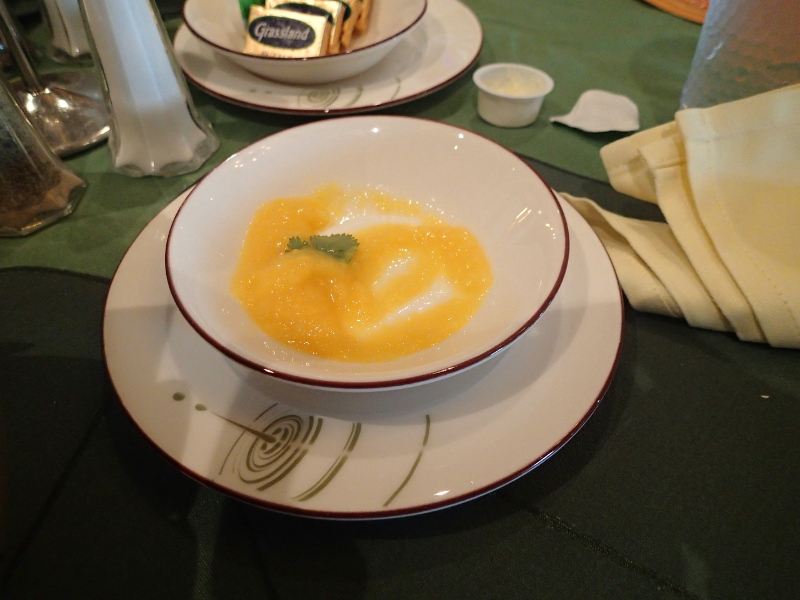 For my appetizer, I got the crab cake which was just okay.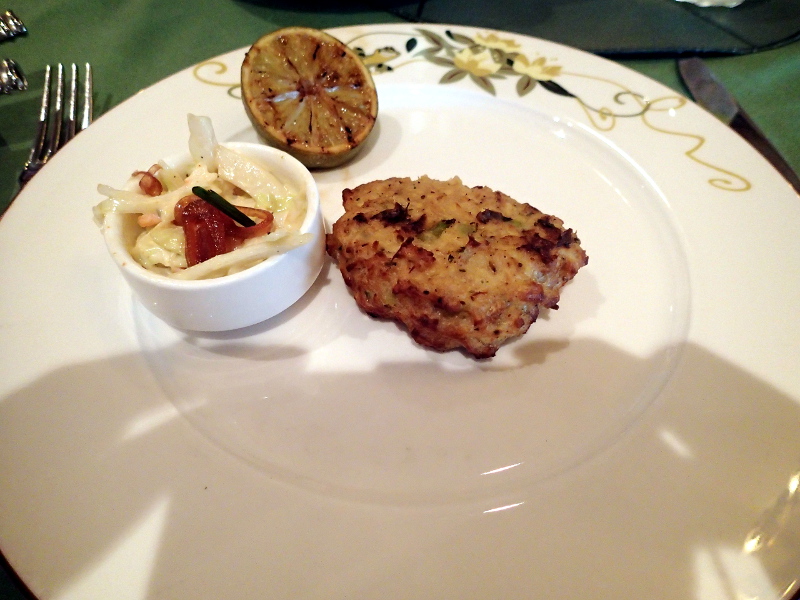 My husband made the wiser choice and got the Smoked Saucisson, Baked Brie, Brioche and Honey.  It was delicious!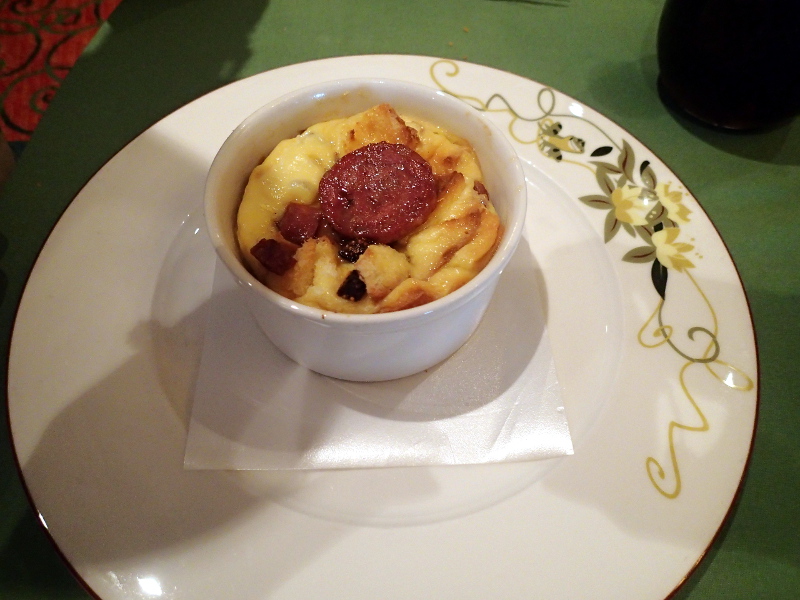 For the next course, mu husband got the Carrot and Cilantro Soup.  I don't think he cared for it very much.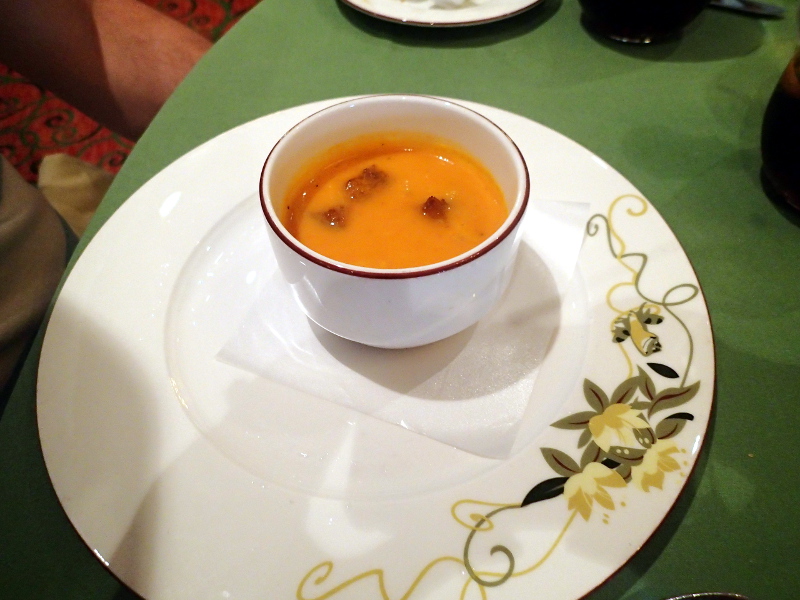 I chose 2 options for this course.  First, the Chilled Mango Soup which was wonderful!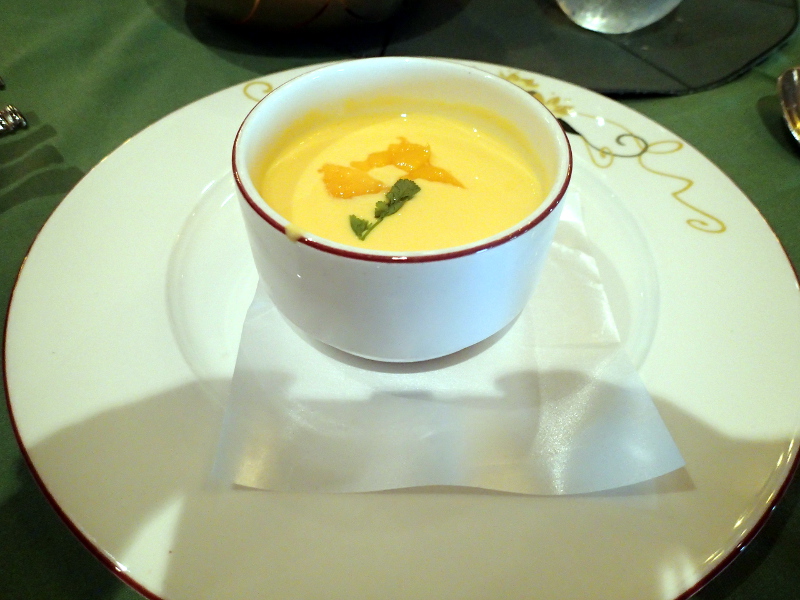 Next, the Fennel, Orange and Quinoa Salad which was just okay.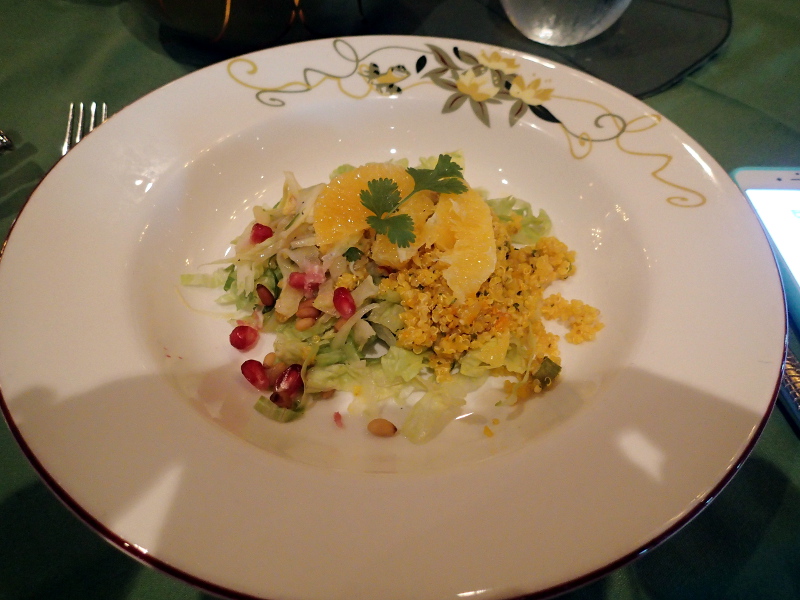 The head waiter for the section next to us, Geffrey, tried to steal Stitch.  He was a really funny guy who will make another appearance later in the trip report.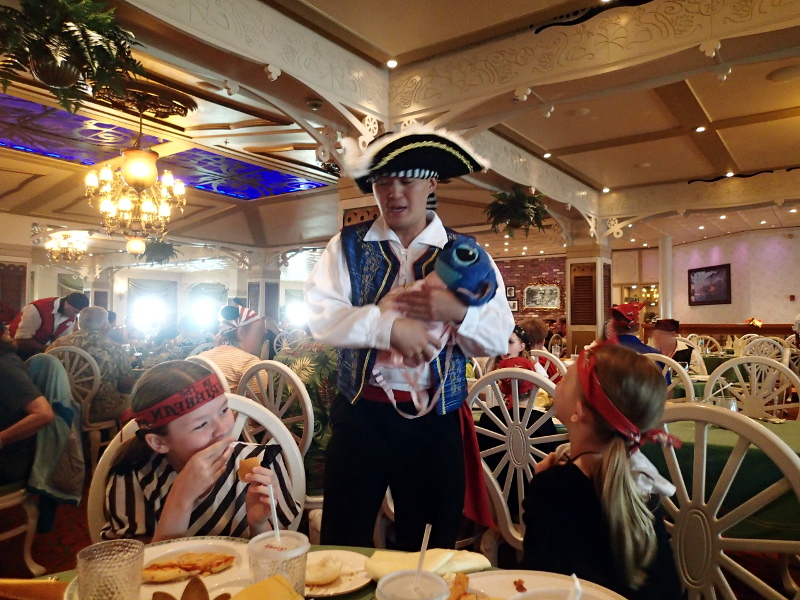 For the entree, I ordered Jack's Treasure-of-the-Seas: grilled shrimp and seared scallops served over spinach and pasta. It was good.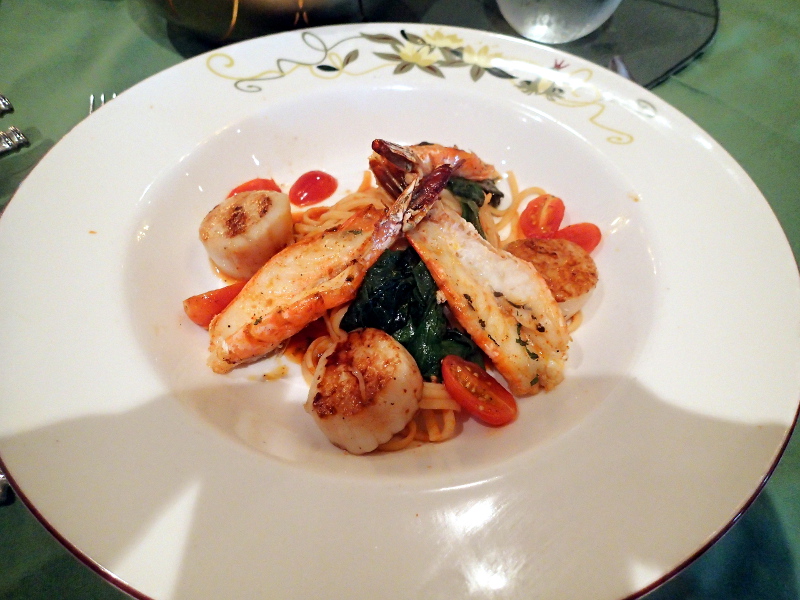 My husband ordered the Jerk chicken and he enjoyed it.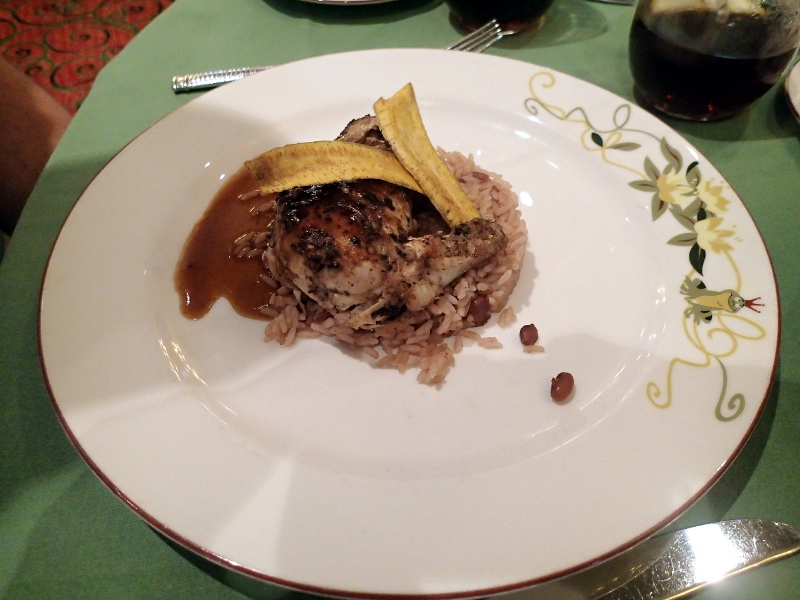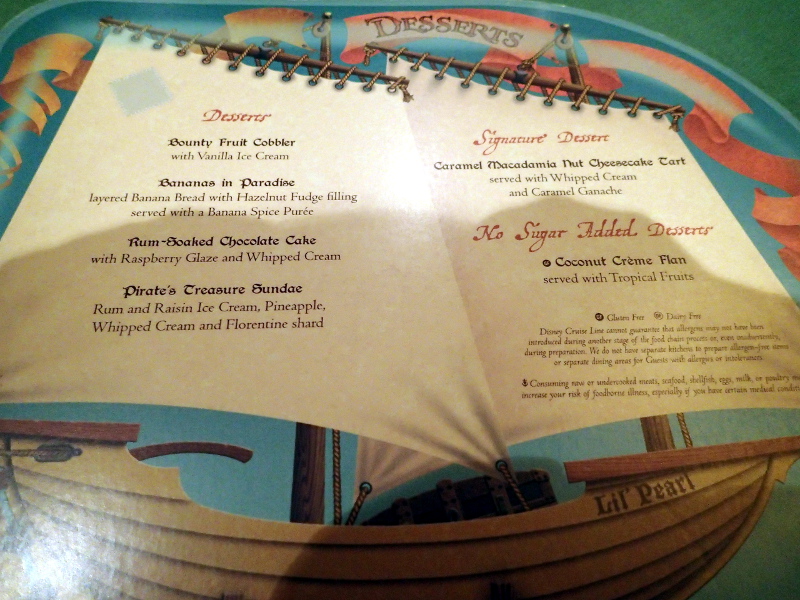 For dessert, I ordered the Rum-Soaked Chocolate Cake which was very good.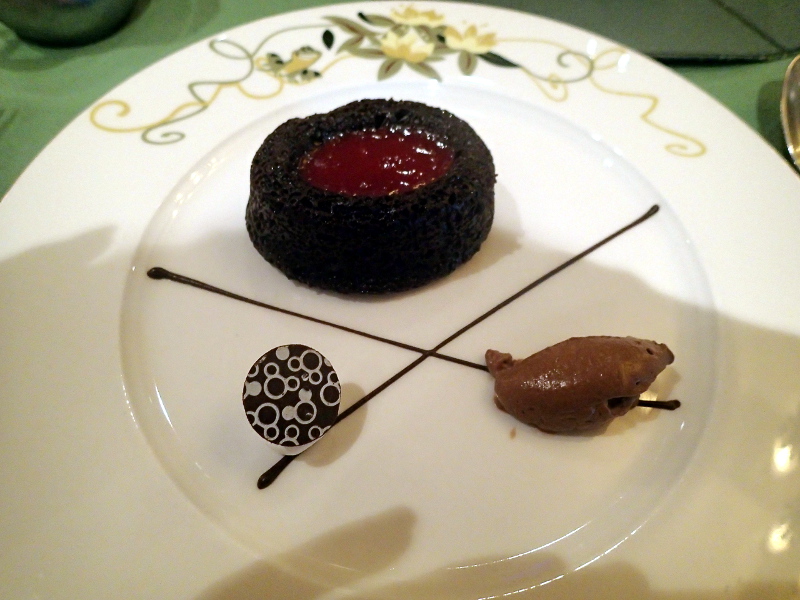 My husband ordered the Caramel Macadamia Nut Cheesecake Tart and said it was delicious.
We also ordered the Bananas in Paradise to share, and it was very good.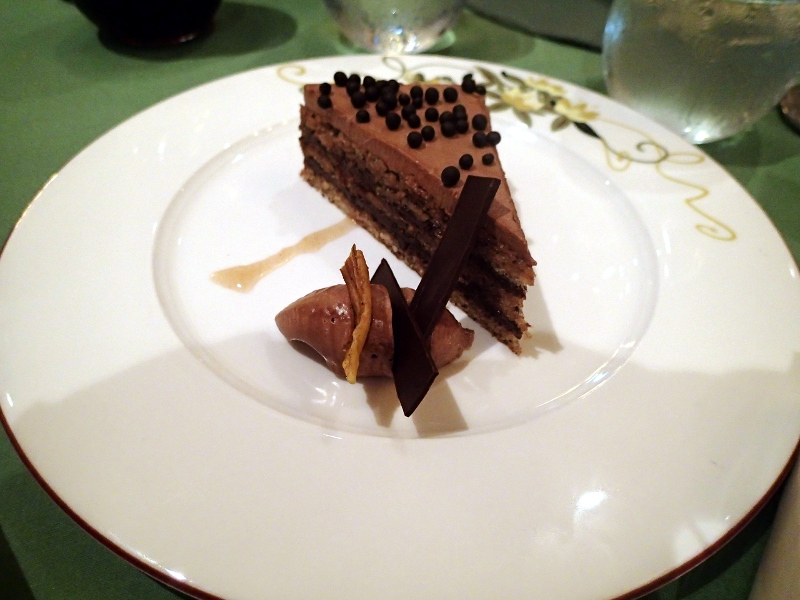 About the time we ate dessert the pirate parade started.  I just love this and it is one of the reasons I prefer the Magic and Wonder to the Dream and Fantasy – the dining rooms are small enough to do things like this.   I will be very sad if they ever stop doing this.  If you don't know what I am talking about, be sure and watch the video below.
After dinner we decided that we were going to skip the evening show, "The Sounds of Liverpool Legends" which was a Beatles tribute band.  The girls aren't familiar with the Beatles, and Muppet Treasure Island was playing on funnel vision which they love.  To get to deck 9, the girls took the stairs like we all did most of the cruise.  We hardly ever took the elevators, and the girls were much faster at climbing the stairs than the adults so they got into this routine where they would sit at the top of the stairs and act like they had been there for ages by the time we got there.  Well, since we had just eaten dinner, the adults decided to take the elevator this time and we actually beat the girls to deck 9.  We turned the tables on them and sat down on the floor acting like we had been there for ages.  When they got to the top of the stairs and saw us, they died laughing.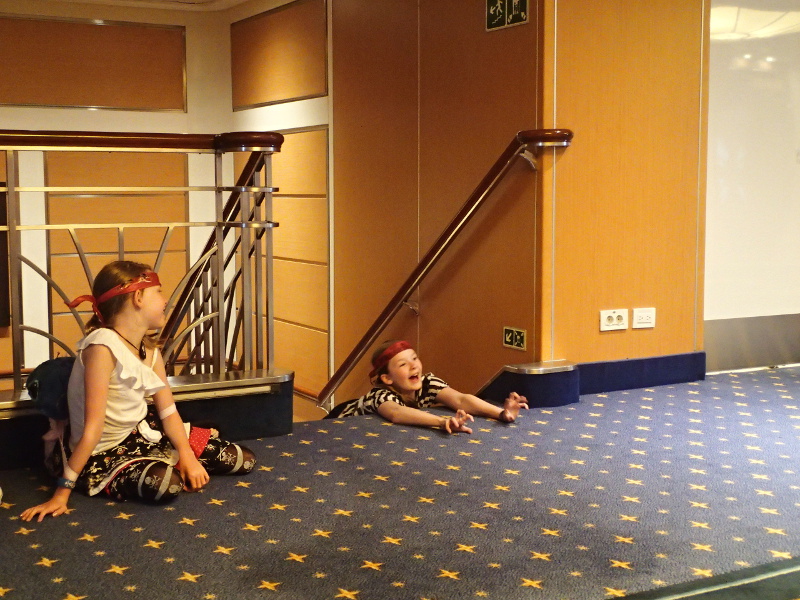 They were laughing so hard they ended up on the floor too.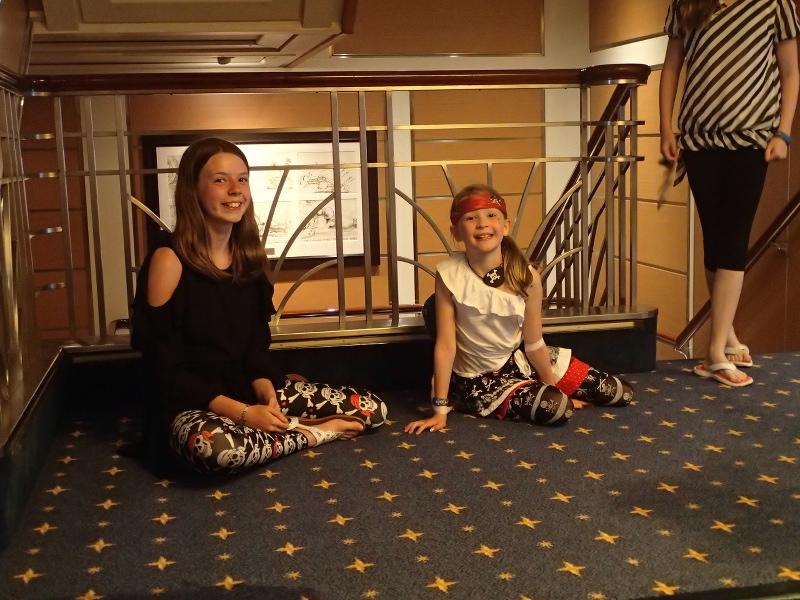 One of them told me to take a picture so that she could photobomb it, and I had to explain to her that if you plan it, it is no longer a photobomb.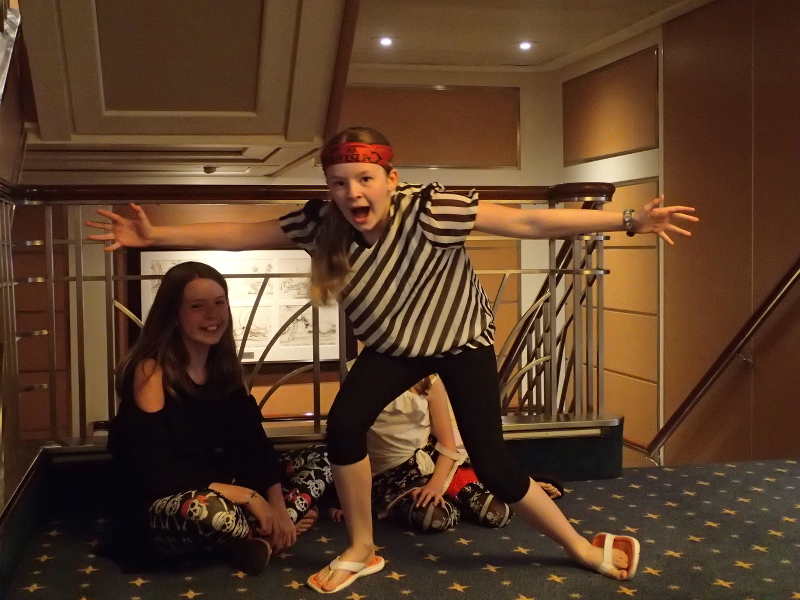 The pool deck was pretty much deserted and we made ourselves comfortable watching the movie.  At one point I remembered that we had lost a pair of goggles at the pool and went down to Guest Services to check the lost and found.  They had several pairs of goggles, but not ours.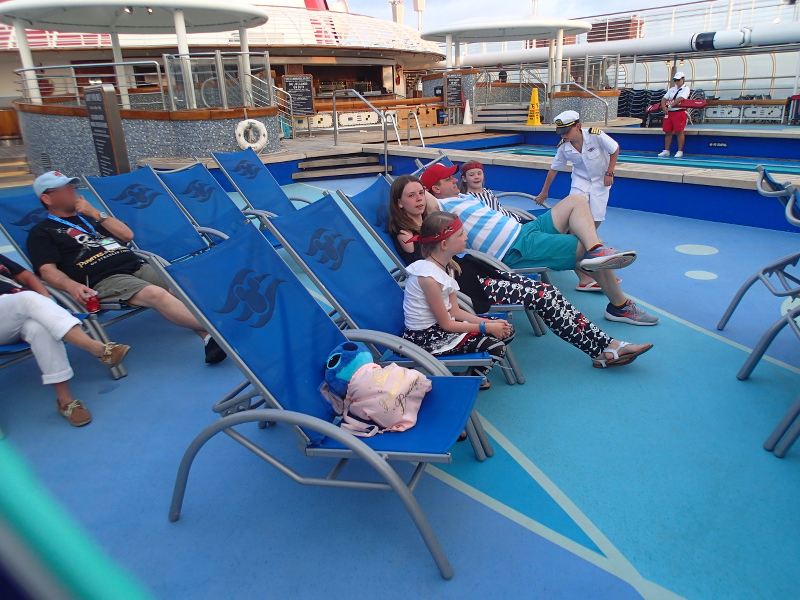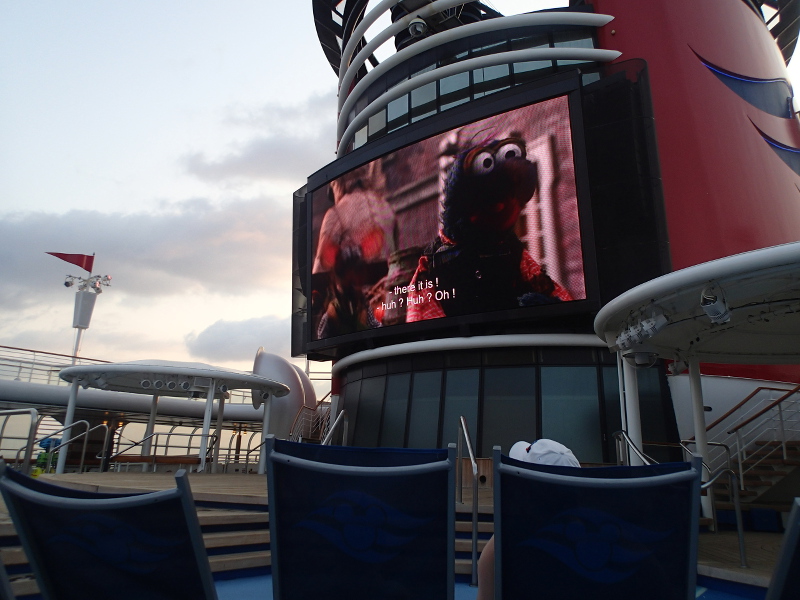 It looks like the captain decided to join us.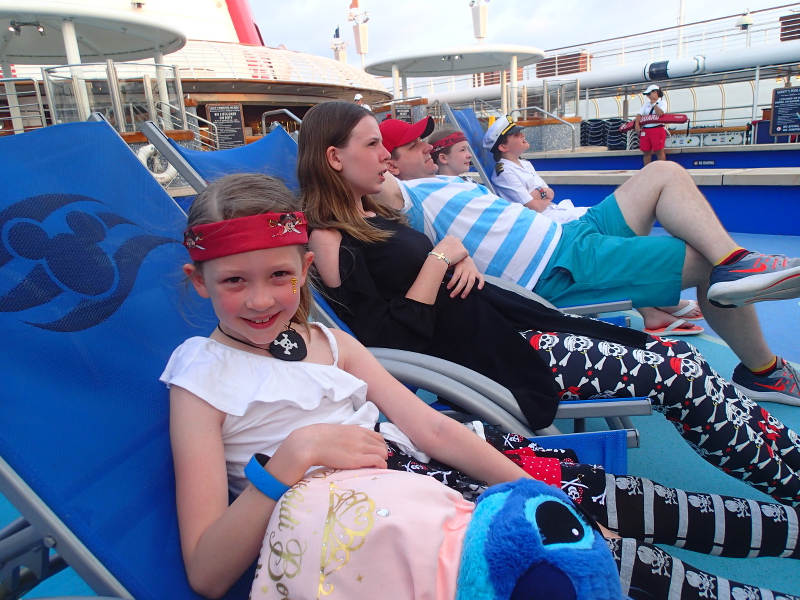 I noticed that the sun was setting, so I went up to deck 10 to get some pictures.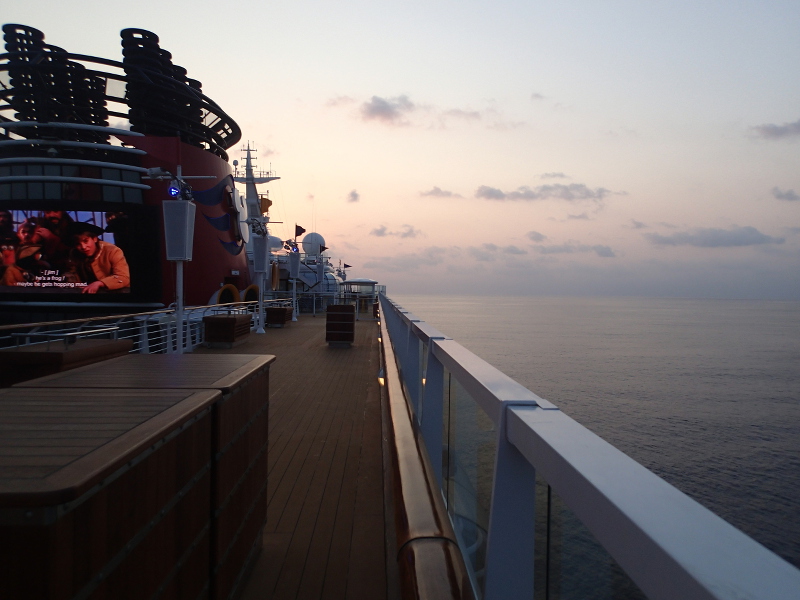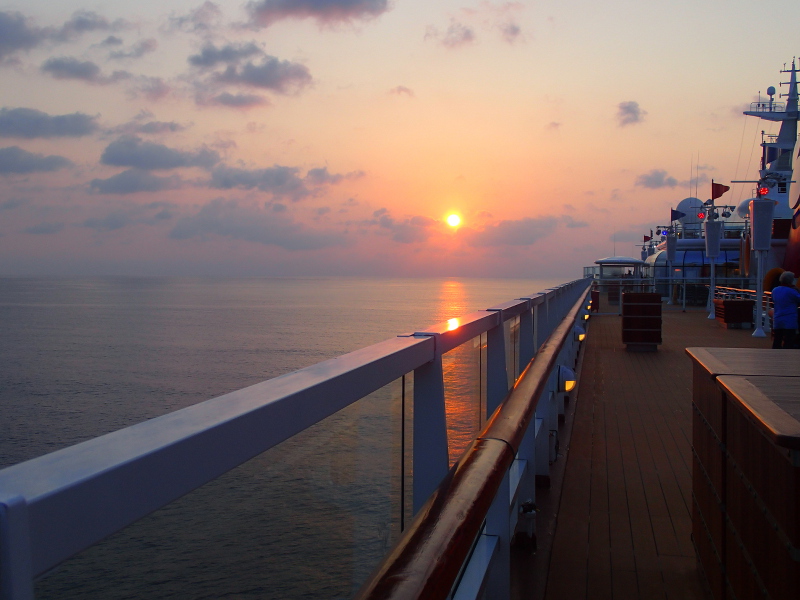 Sunsets on a Disney cruise are incredible!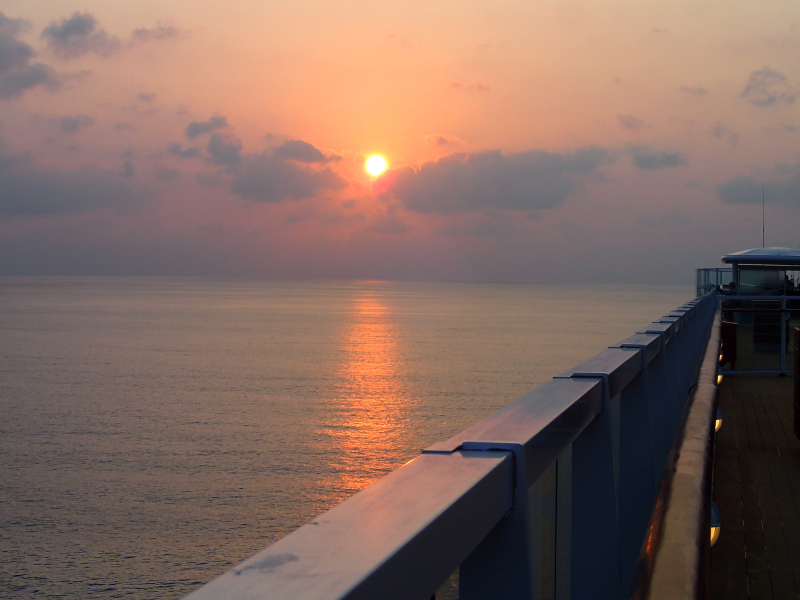 Santa was totally ready for pirate night!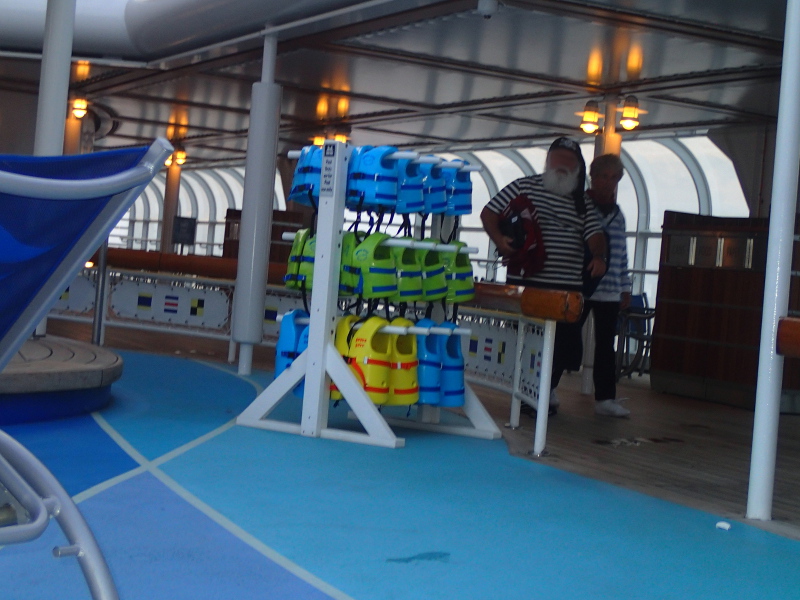 The movie ended at 8:45 and they shooed us away (nicely of course) so that they could set the area up for the pirate deck party.  It didn't start until 9:30, so we had some time to kill.  We went to the shops and Preludes area for a while.  I'm glad I was able to talk my daughter into wearing these leggings because they were SO cute!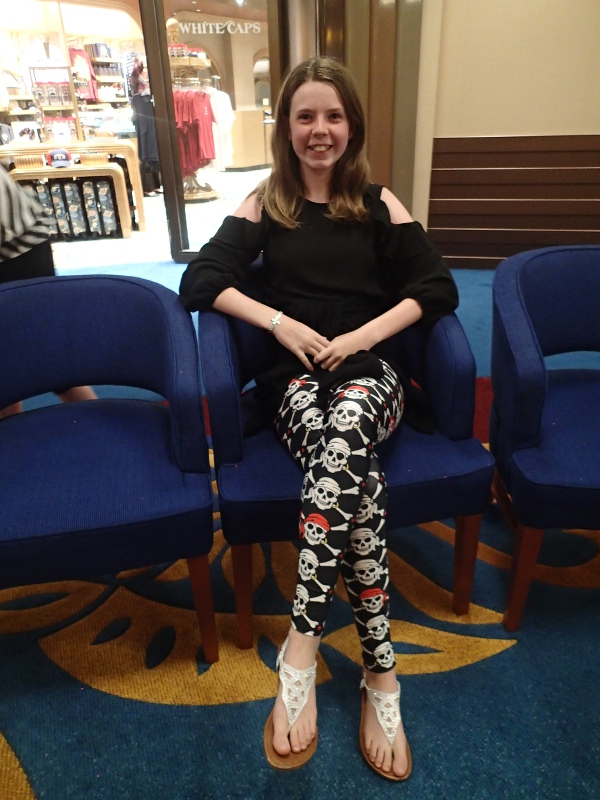 The Beatles show was happening at this time, and my husband stepped in the back of the theater to watch it for a few minutes.  He thought we made the right decision to skip it.  Eventually, we headed back up to deck 9 for this!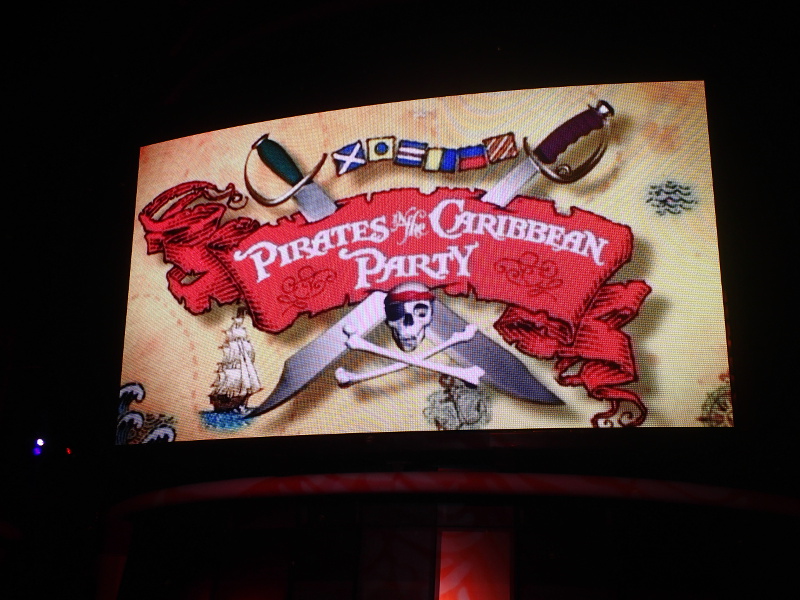 We got there early and were some of the first people there.  The cart full of glow stuff was up and running: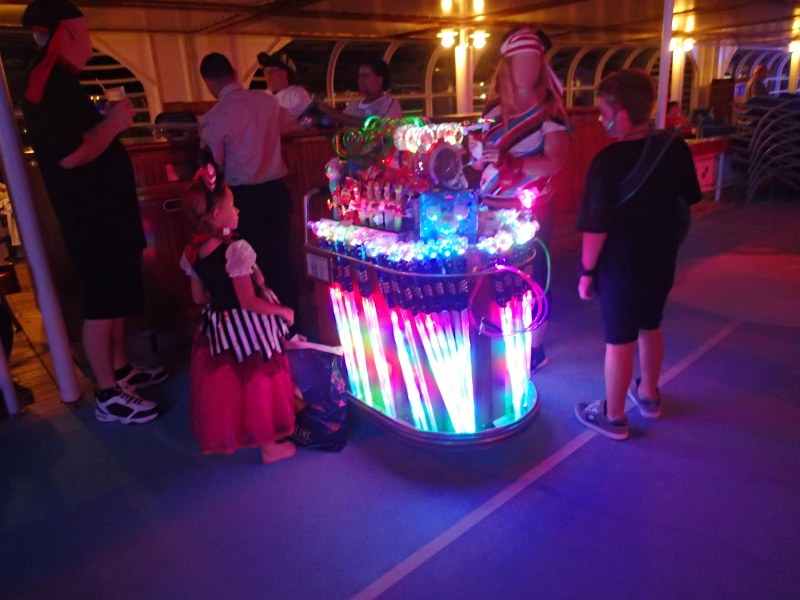 There was hardly anyone there so we could stake out our spot with no trouble.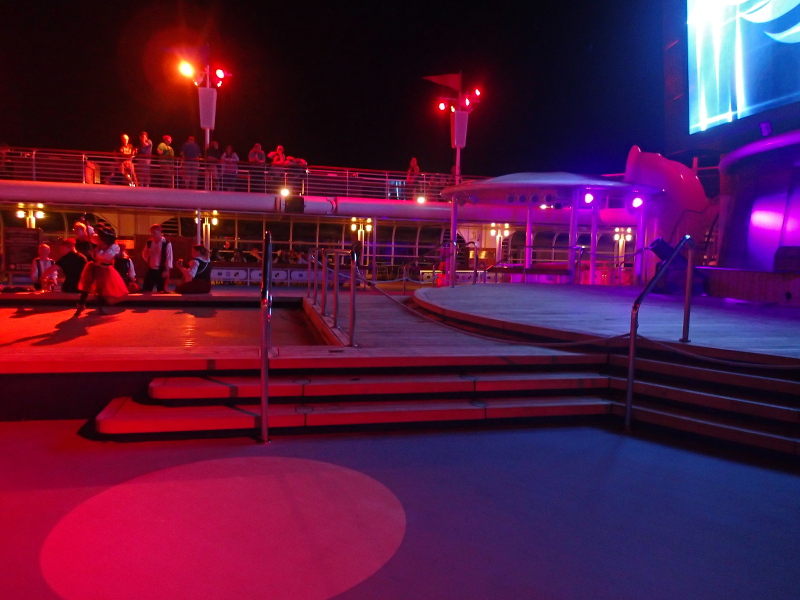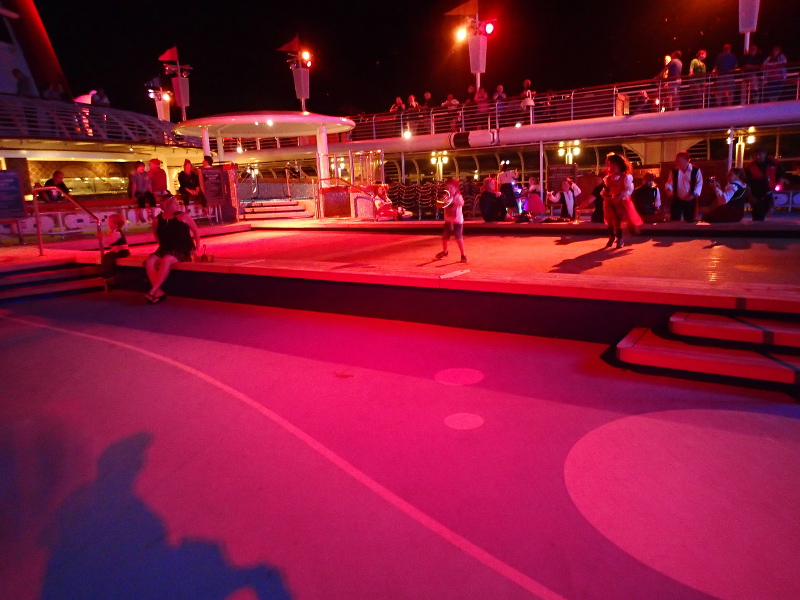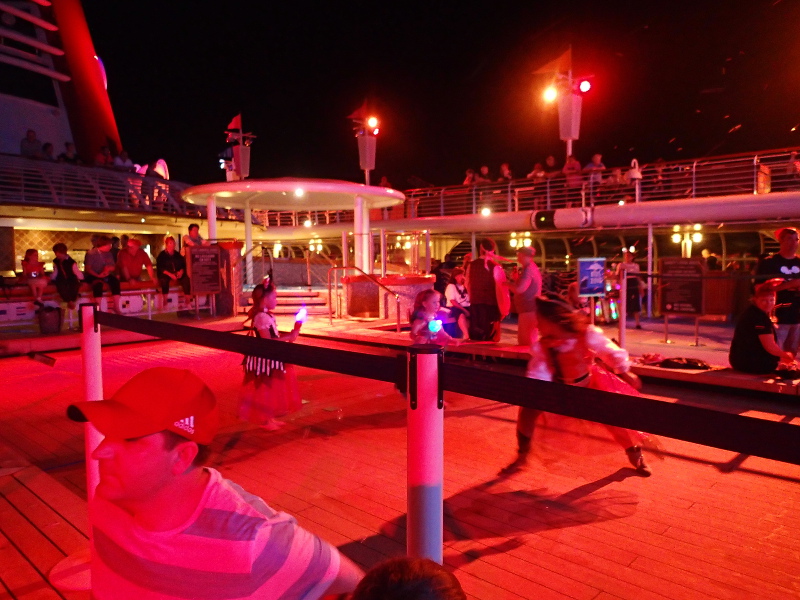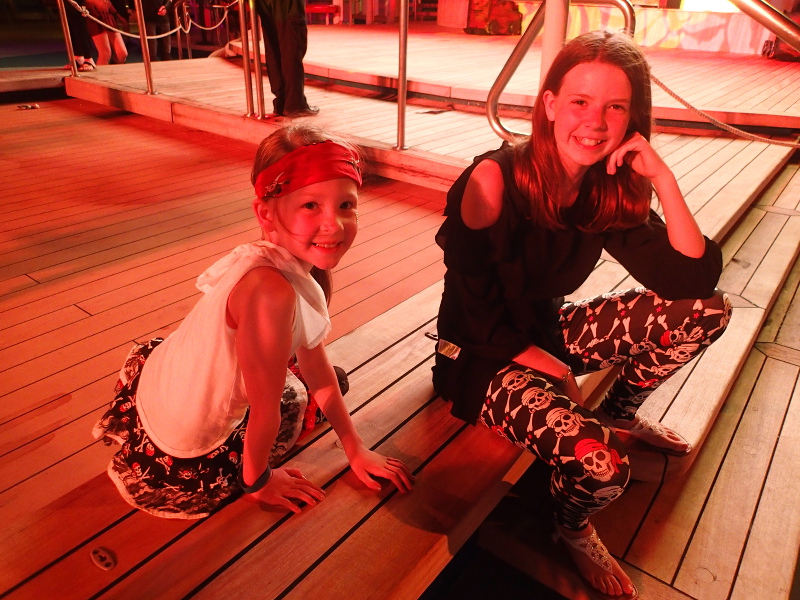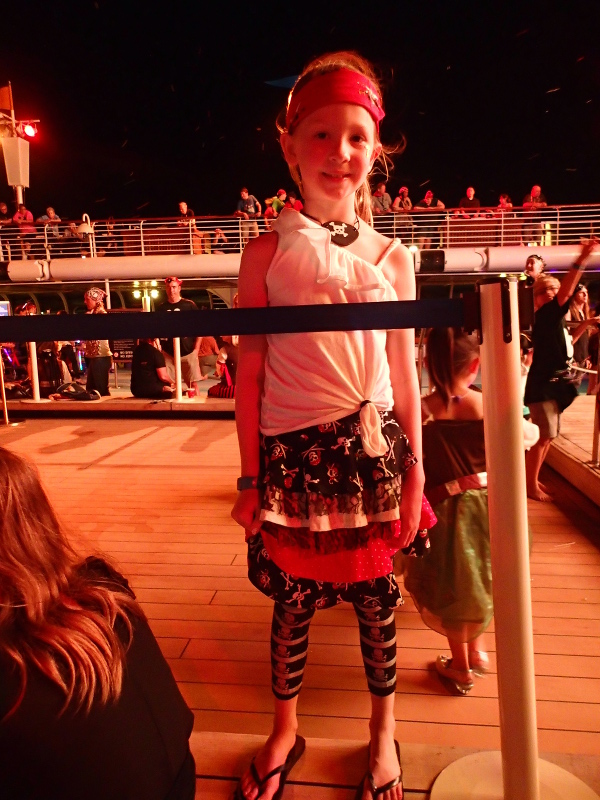 The kids lined up for a front row view.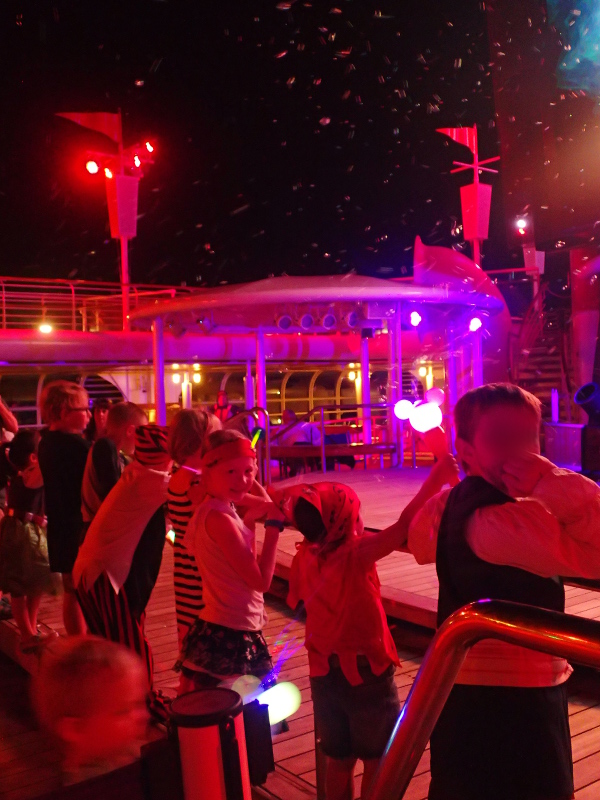 Finally it was time to start!  The first 15 minutes is called "The Challenge of Davy Jones" and is sort of a game with the funnel vision screen.  The crew members get the kids into it and it is sort of like a warm up for the party.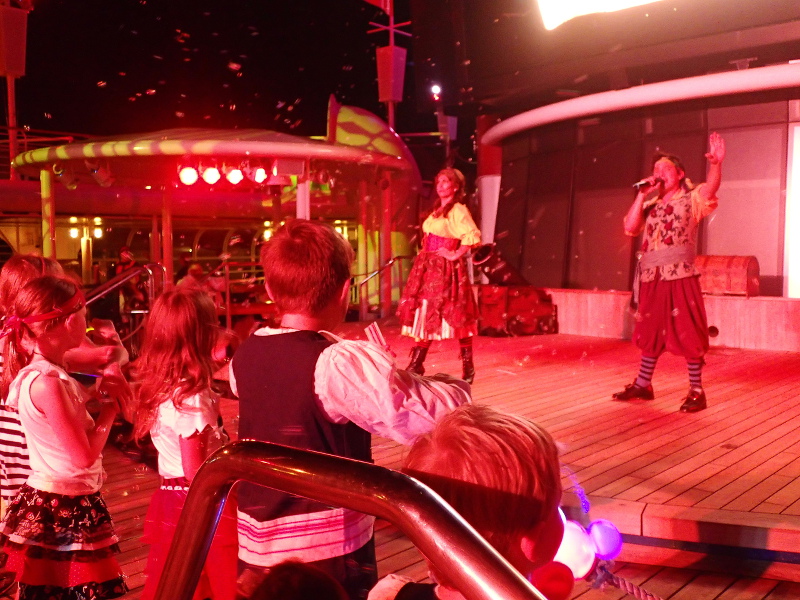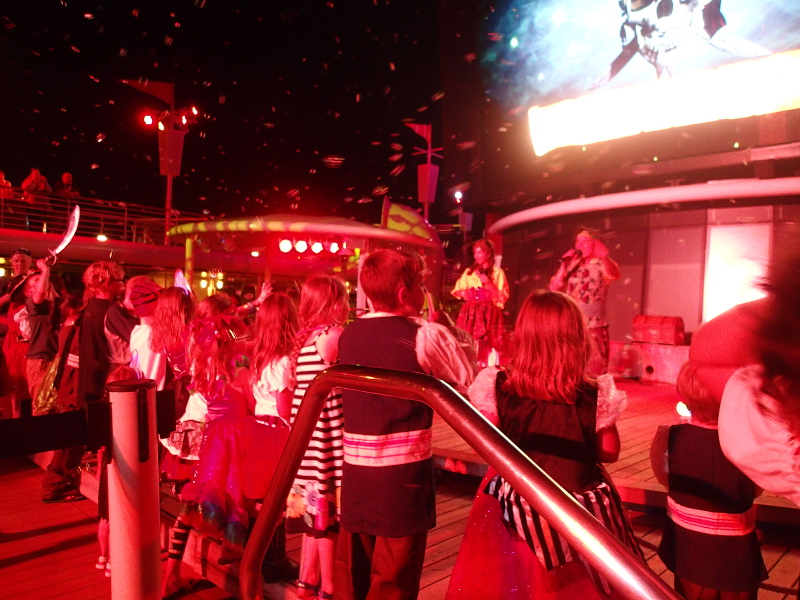 This is by far the least crowded pirate party I have ever been to.  It was awesome.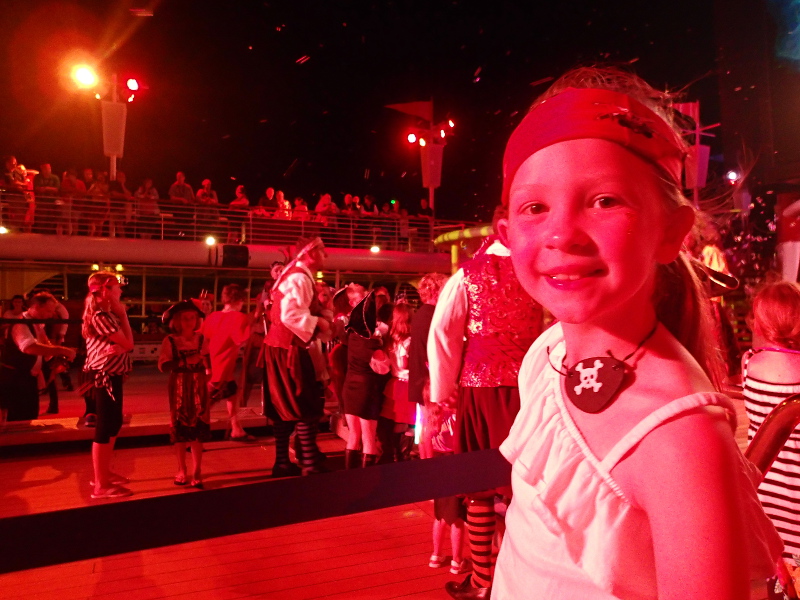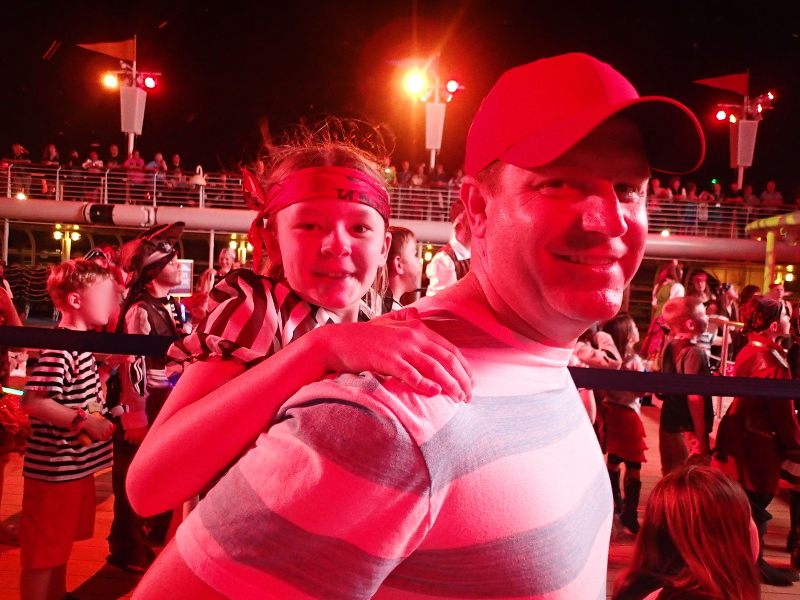 At 9:45 the Pirates in the Caribbean Party was officially underway.  We settled on a spot on the right side of the stage, which has become our go-to spot lately for deck parties.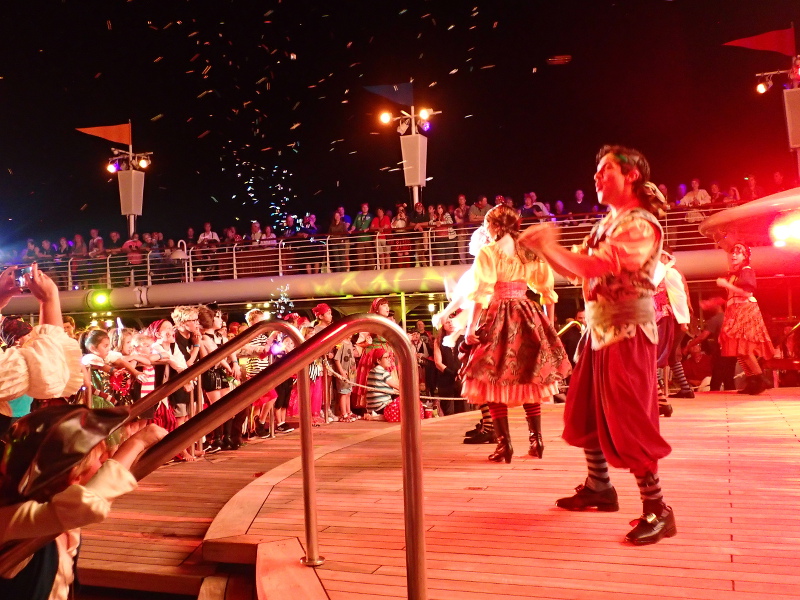 See the group of young people in the bottom left corner below?  They were stage performers that we recognized from the shows.  One of the shorter girls was definitely Mulan from The Golden Mickeys.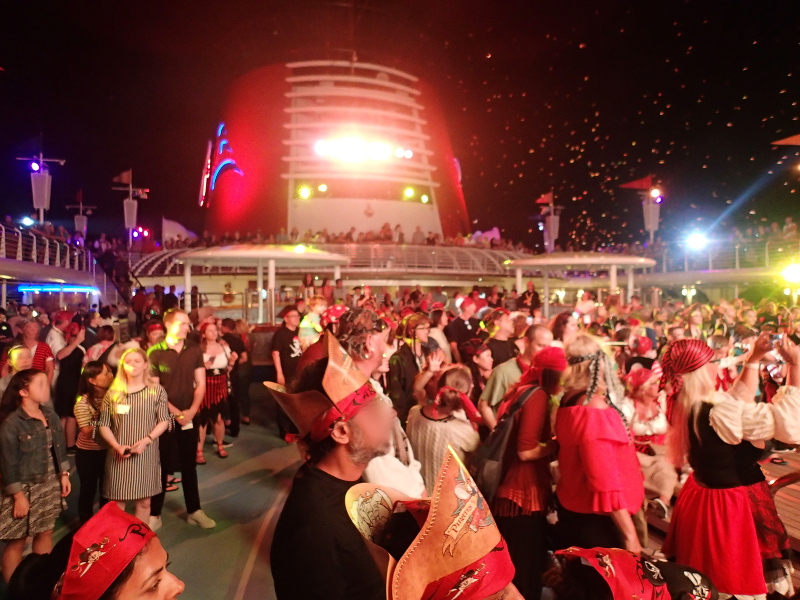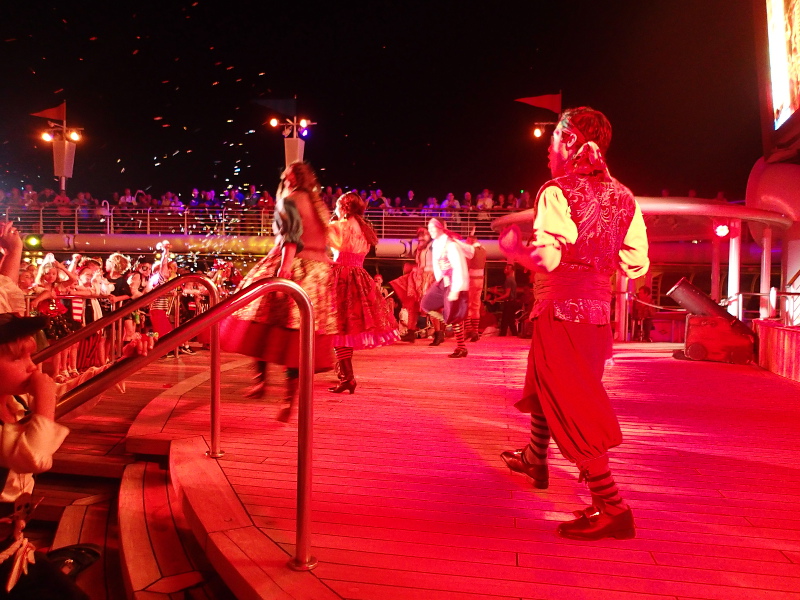 I love it when the characters join in.  I'm always impressed with how well they can dance in those costumes.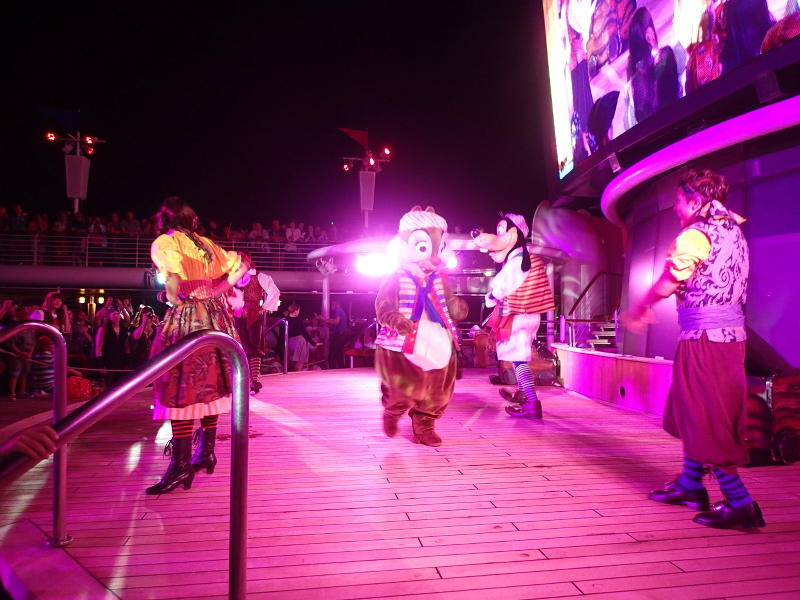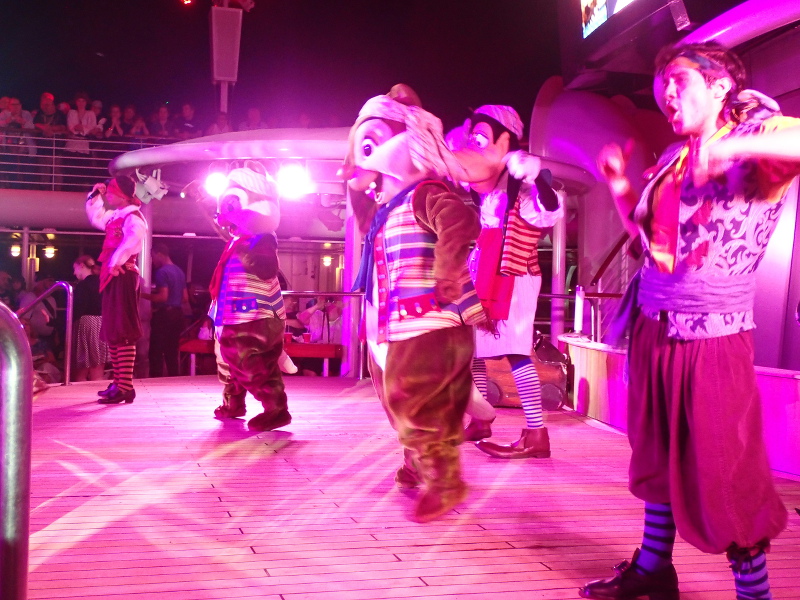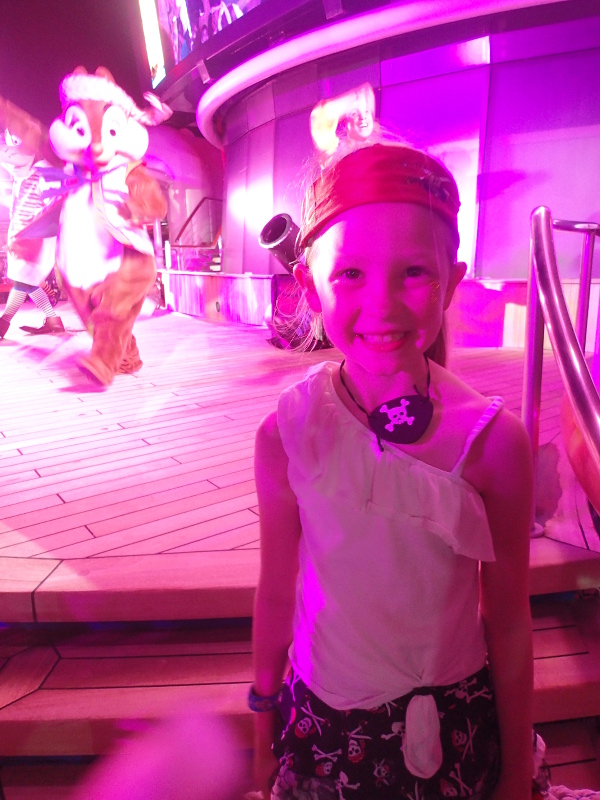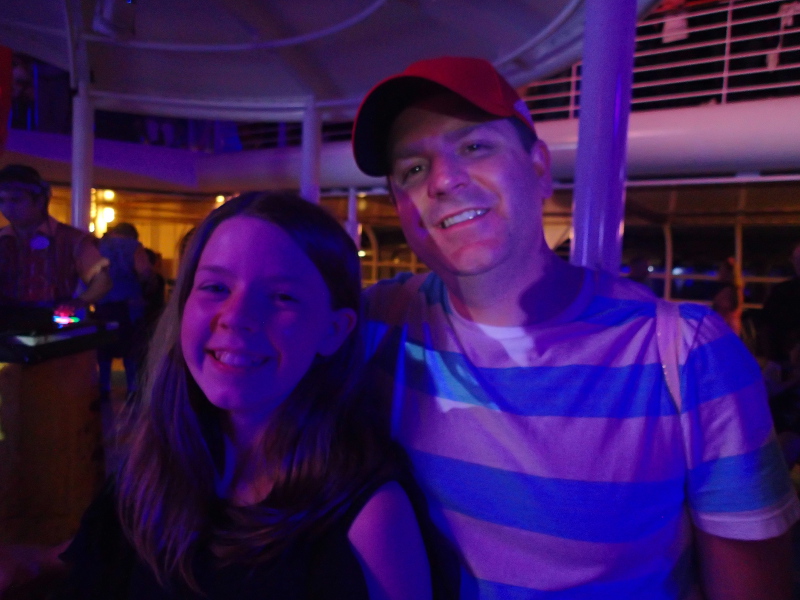 One thing that the smiles above remind me of is how glad I am that my kids are a bit older now and we can all enjoy the pirate party without meltdowns and crankiness.  We started cruising when they were 3, 6 and 8 and it was so hard for them to stay awake that late.  We would usually try to stay up for the fireworks (although I remember at least once we didn't even even attempt it), but it inevitably ended with meltdowns, cranky kids and cranky parents.  I love that we can now all make it through and still be smiling at the end.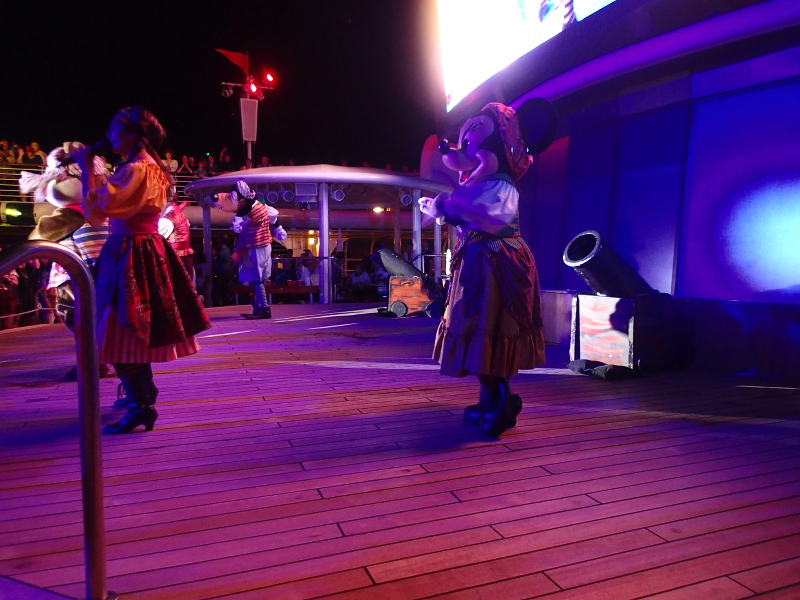 This guy came over for some high fives.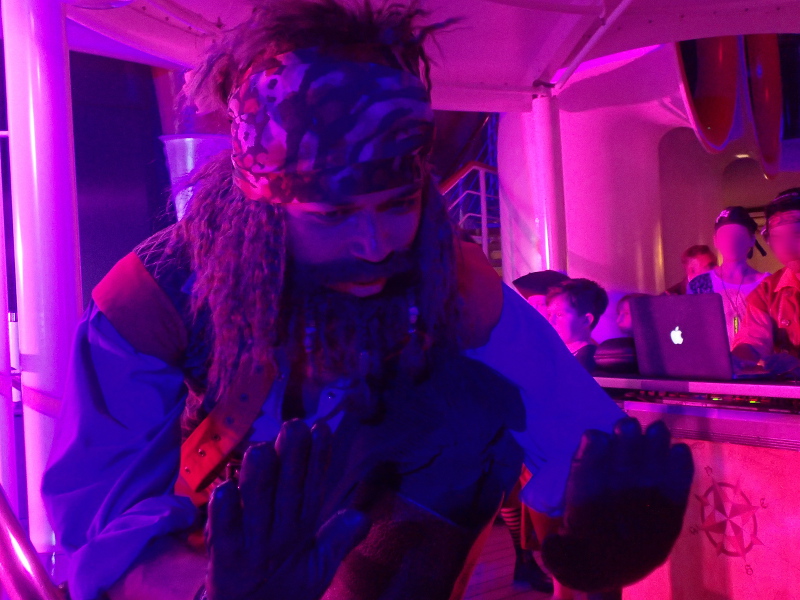 I liked him until he made a wise crack about us listening to 8 tracks.  I'm about 10 years too young for that mister.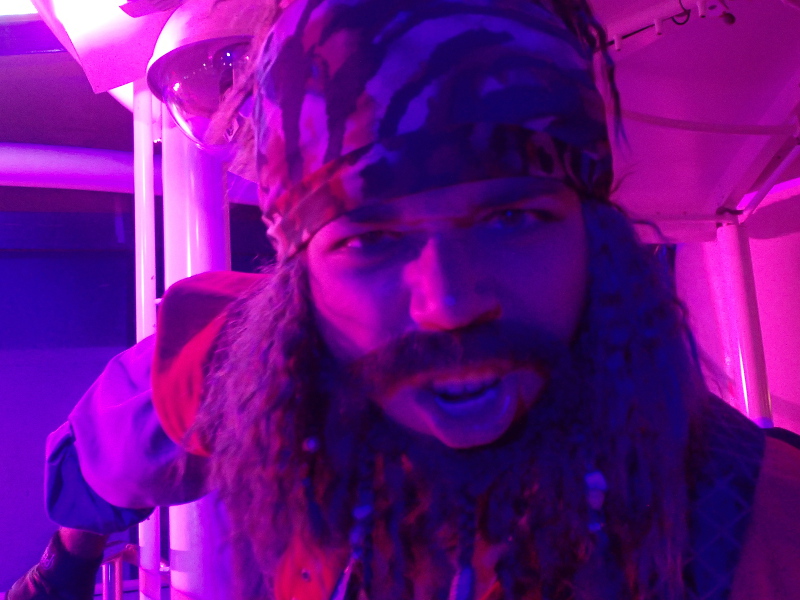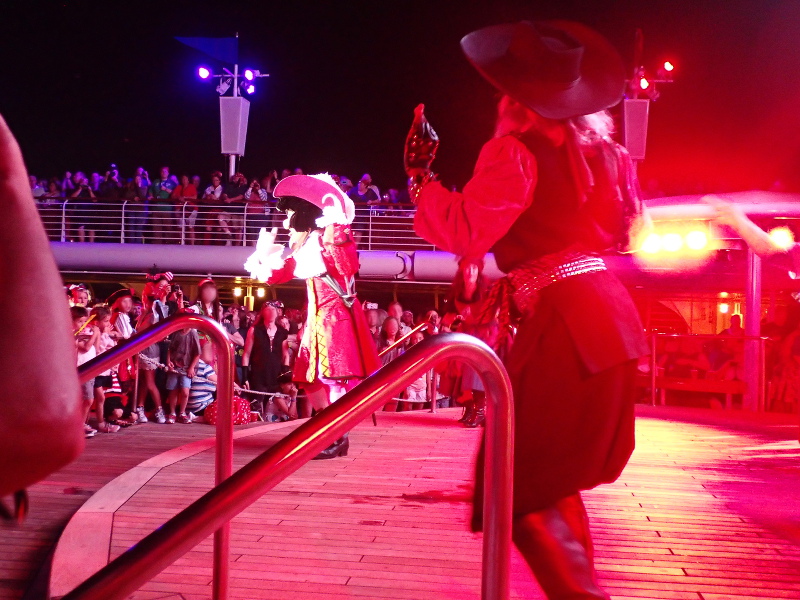 It looks like they got some Dads from the audience to jam out on stage.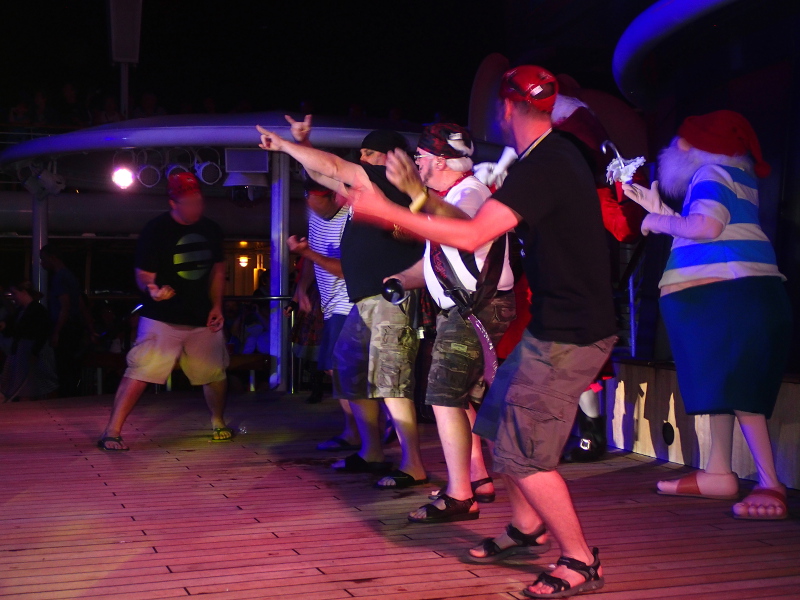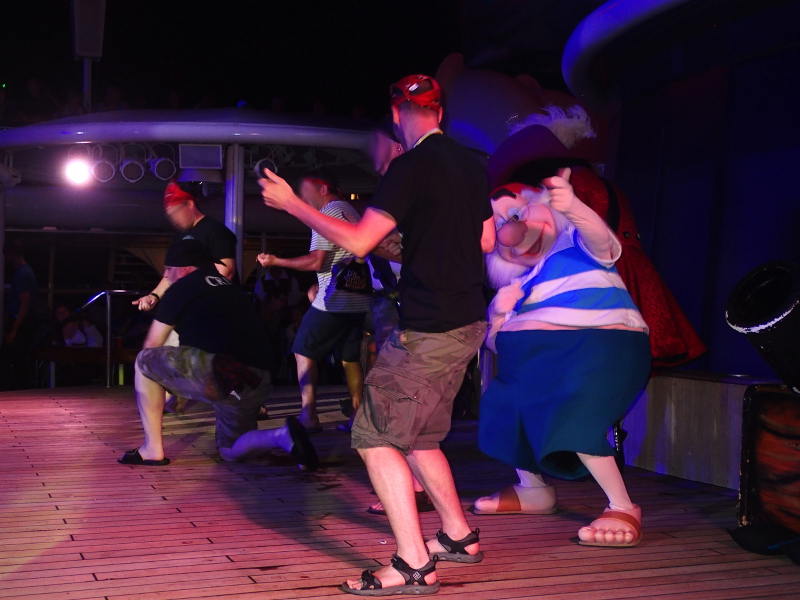 Cruise Director Darren and Assistant Cruise Director Anthony were partying right next to us.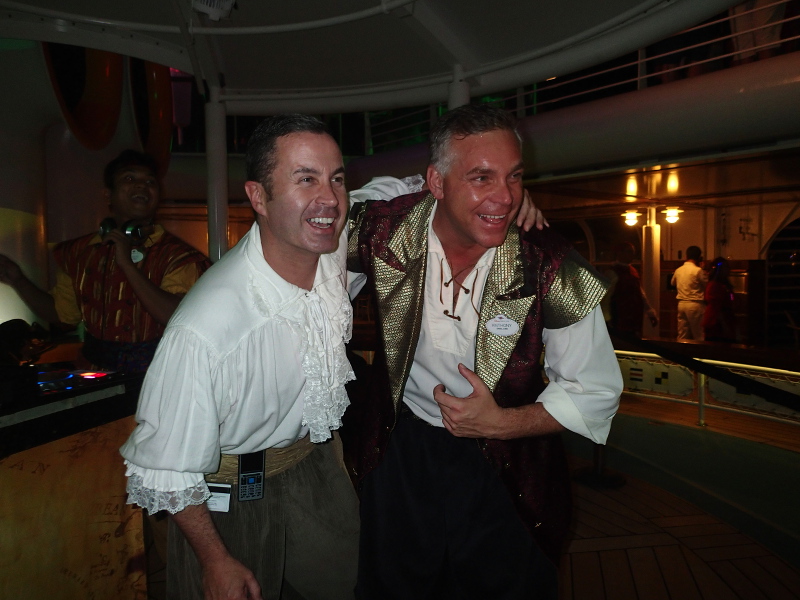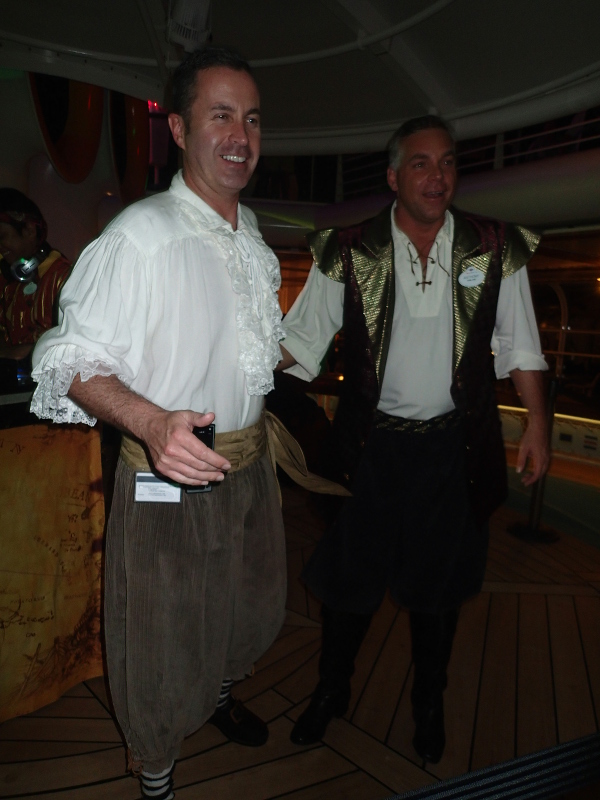 That's a look of pure happiness right there: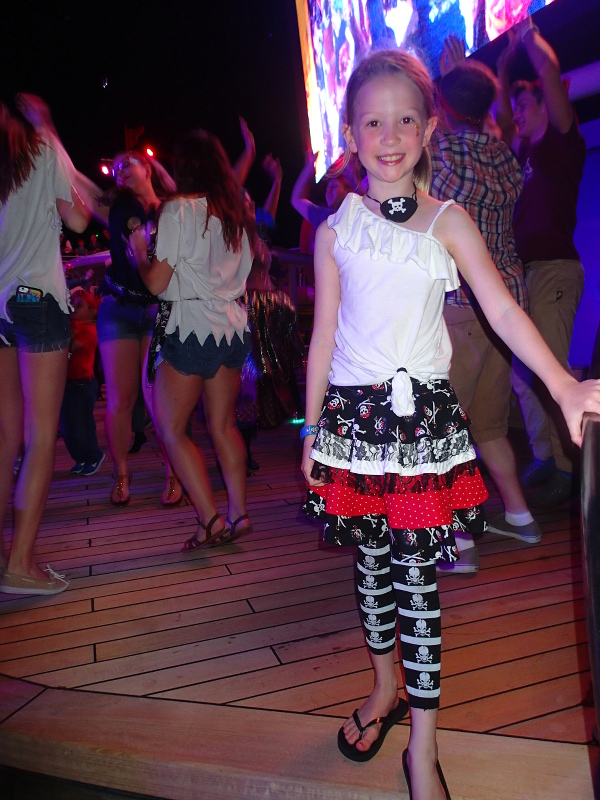 Here's a short video montage of the party:
Once the party was over, we took the girls back to the rooms to get ready for bed.  On the way, we passed "our room".  The other 2 times we sailed on the Wonder we stayed in room 8532 so we sort of feel like it is our room now.  We were sad not to be in it this time, but the cost for a 1 bedroom suite on this sailing was over twice as much as we paid for 2 connecting ocean view rooms so there was really no way to justify paying that much.  The difference in cost could literally pay for another 7+ night cruise and then some.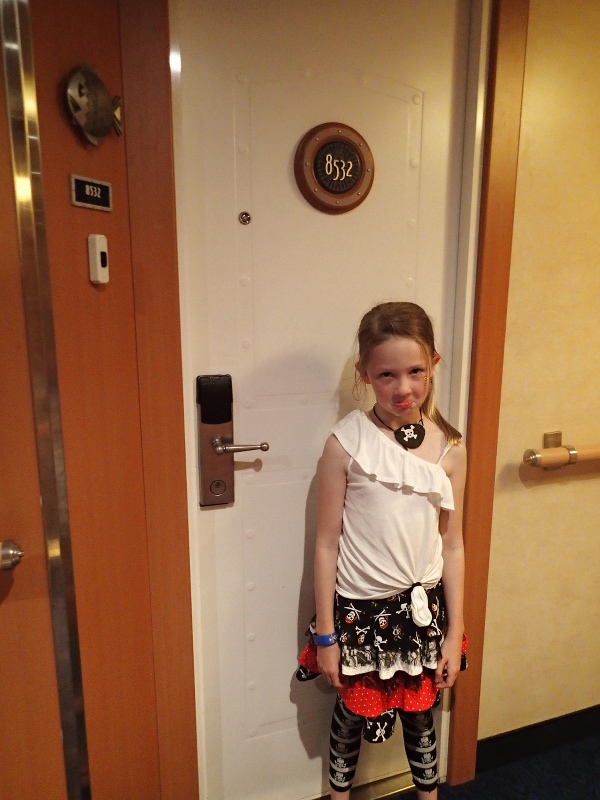 After dropping off the girls, my husband and I wanted to go check out the pirate buffet in Cabanas from 10:15-11:00.  This was my 8th cruise and I have never made it to the pirate buffet before so I wanted to see what it was all about and get some pictures for you guys.
We arrived at Cabanas at 10:30 and only one side was open.  There was a huge mob of people waiting to get inside, and nobody was moving.  I thought this was strange because it supposedly started 15 minutes ago.  It was very hot and humid and we stood there, shoulder to shoulder, for about 10 minutes before throwing in the towel and going back to the room.  I have no idea what was going on, but I was too tired and hot to find out.  I wonder if/when those people ever got in.
These were our towel animals for the evening: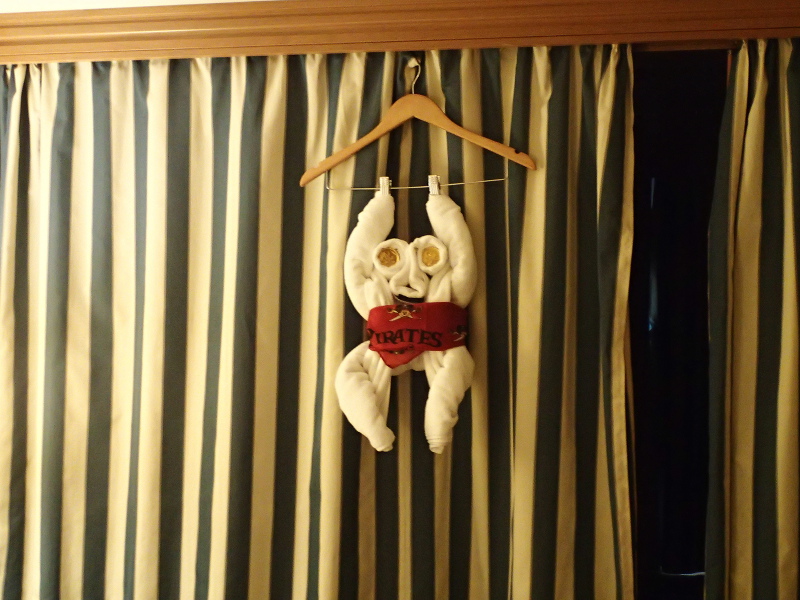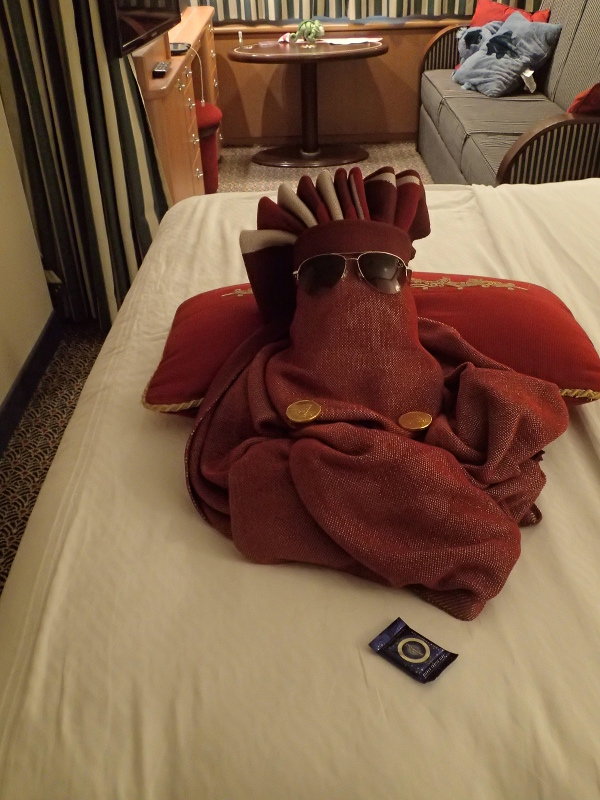 Up next:  Day 11 – At Sea
As always, don't forget to like me on Facebook (click here) and follow me on Pinterest (click here) for all of the latest Disney Cruise Mom Blog updates!
 .
This post contains affiliate links, which means that if you make a purchase through my links, the seller will pay me a small commission for it at no additional cost to you. I am grateful for your support of this site in this way, so thank you!