Day 11:  At Sea
 If you would like to start this trip report from the beginning, click here.
Note: I do not feel right posting pictures of fellow cruisers who have not given me permission to use them on the blog, so I will blur out the faces of people in the background of my photos. I'm sorry if it looks funny, but I want to respect their privacy.
Also, anytime you see red text, it is a link to either product information or another one of my blog posts that gives more detailed information about that topic.
.
You can see this day's Daily Navigator by clicking here: Navigator Day 11
 I set my alarm for 7:15 with intentions of going to Captain Puckett's 9:15 lecture, "History and Culture of the People of Panama".  When the alarm went off, I didn't feel like getting out of bed so I skipped the lecture today.  There was another one at 10:30, and I can't remember why I didn't end up going to that one either.
I finally got up at 9:00 and tried to wake up the girls.  Only the oldest felt like getting up for breakfast, so we left the younger two sleeping in the room and went to Cabanas.  We brought some food back for them and they finally got up and dressed a few minutes before 11:00.
At 11:00, we went to the "Nautical Knot Tying" activity in Azure.  On our way out the door, one of our toilets started flushing by itself and wouldn't stop.  We saw Greg in the hallway and let him know.  He said he would call maintenance to take a look.
We got to Azure and picked up some ropes and printed instructions.  There were several yellow jumpsuit guys there ready to teach us.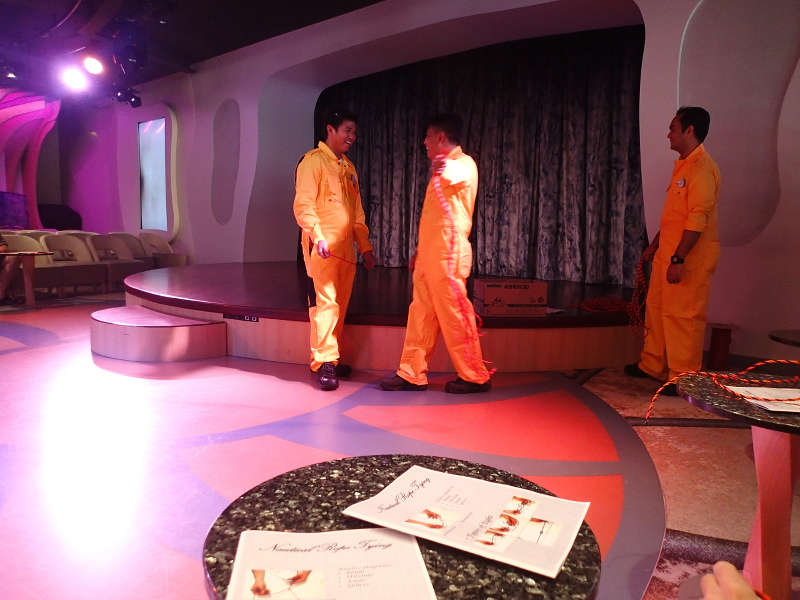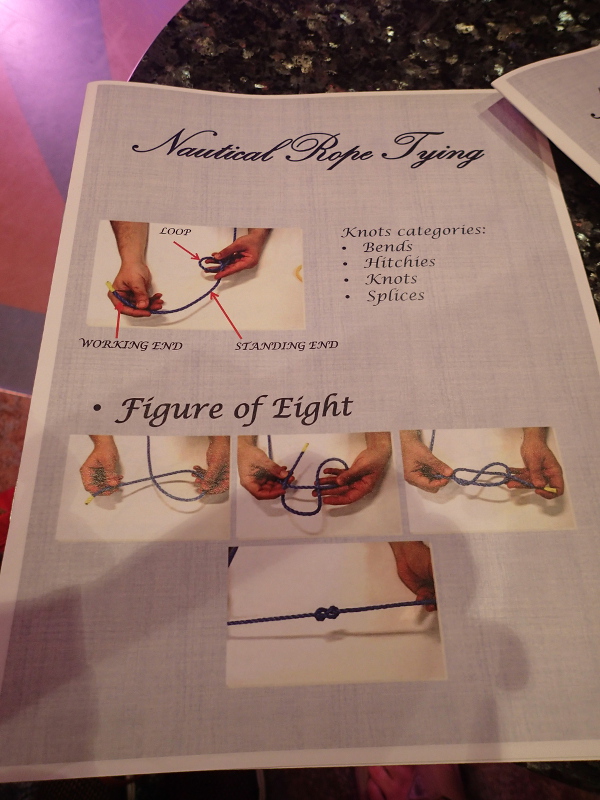 The girls were into it for a little while and then lost interest.  Tying these knots was not easy and we had to wave a guy over to help us with almost all of them.  They guys were very helpful and patient.  In about 10 minutes the girls went from this: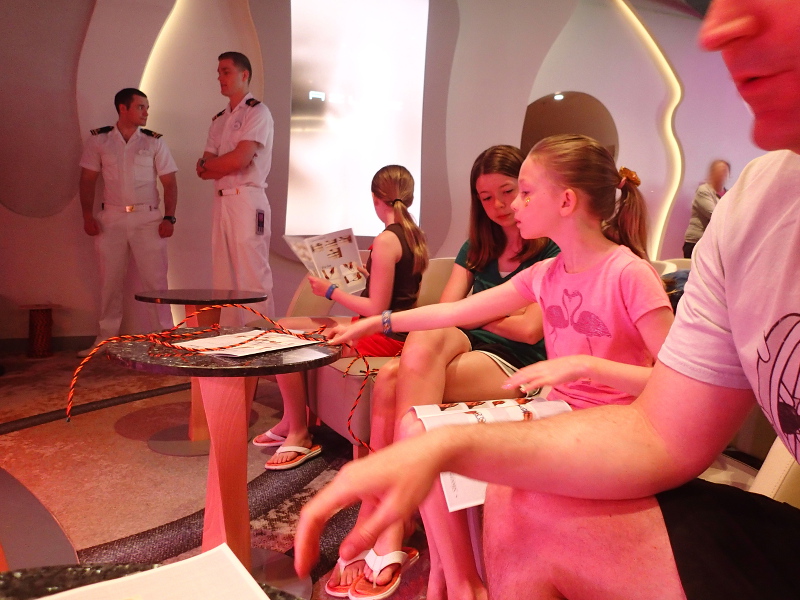 To this: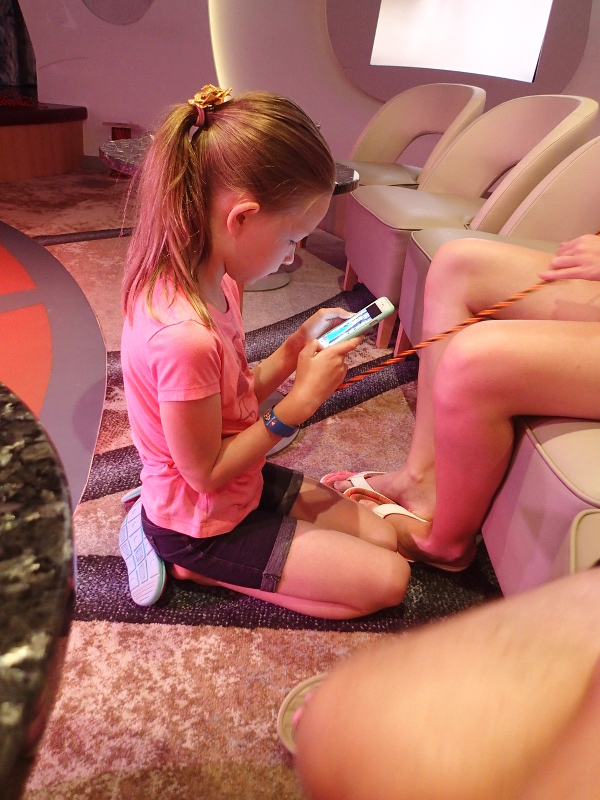 My husband and I managed to do most of the knots and then decided to work on the day's photo challenge, which was carpets.  Well, technically it was floors because some of the ones pictured were not carpet.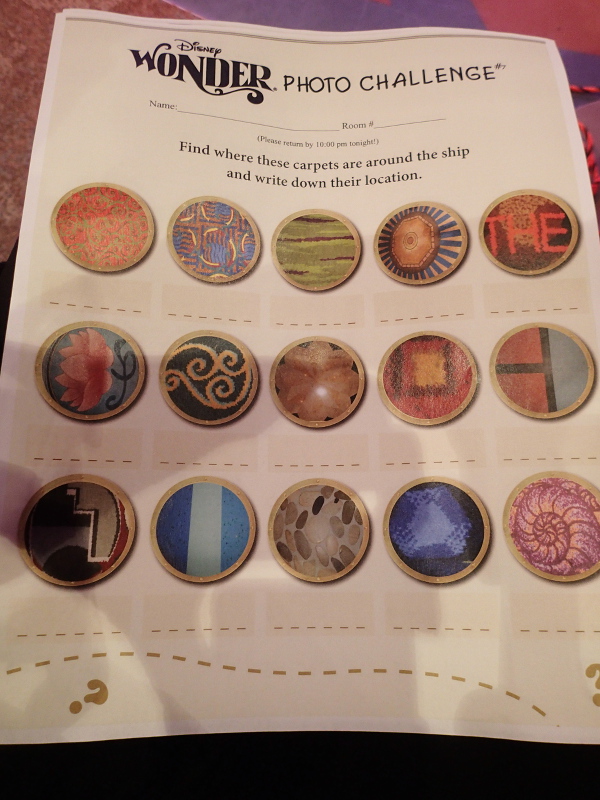 We knew 7 of them right away without even looking, but we walked around a bit and found some of the others.  After a while we were ready to hit the pool so we went back to the rooms to change. Maintenance was there working on our toilet, so we all changed in the other room.  We got up to the pool about 12:00 and stumbled upon "Goofy & Max's Boat Building Bash".  I am so glad we did because it was so much fun!  Darren had been talking about it all throughout the cruise and encouraging people to build boats, but I didn't really pay attention because I didn't realize how awesome it would be!  This is another activity that they only do on the longer cruises.
It was crowded and people were supposed to take their boats up to the stage to get checked in.  I don't remember the exact rules, but I do know that you had to use supplies that you found on the ship (obviously) but you couldn't take/use anything that was actually "part of" the ship – meaning the Wonder.  Apparently they have had issues with this in the past???  It was supposed to be able to float in the pool holding a full can of soda.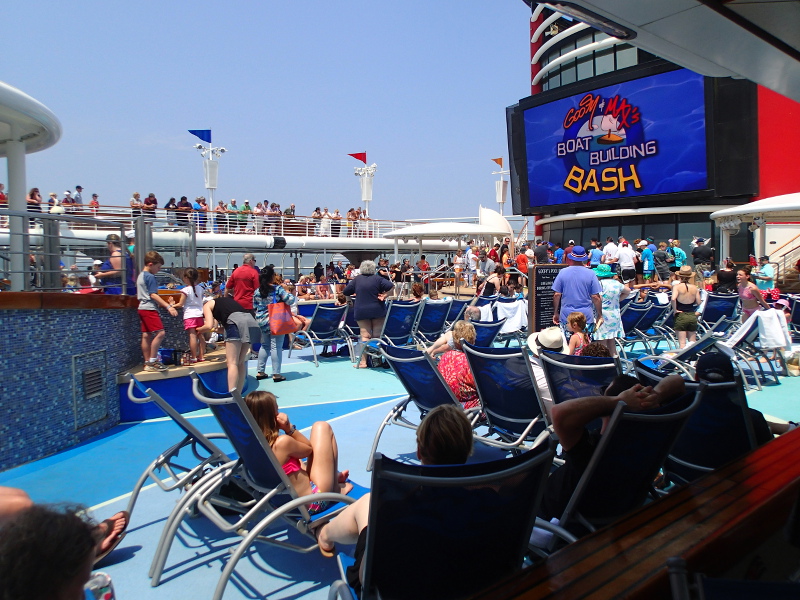 I walked up to the stage area and got pictures of some of the boats: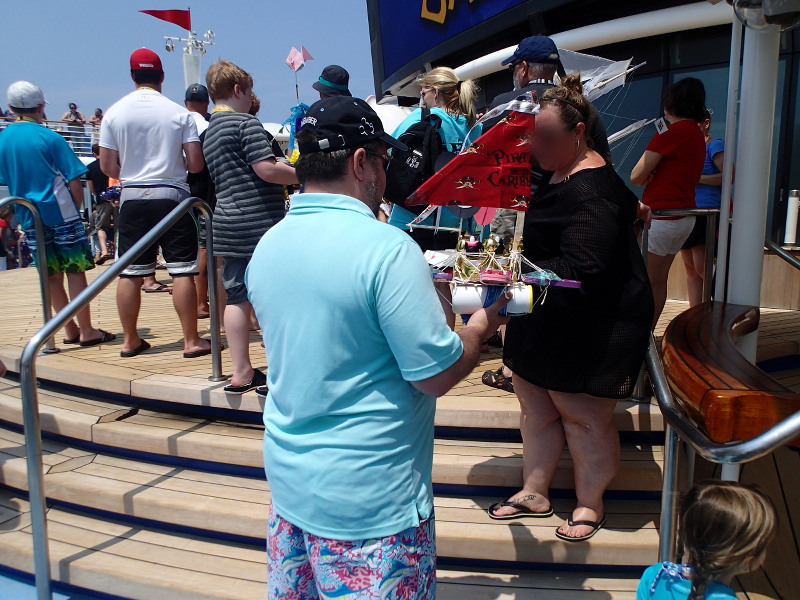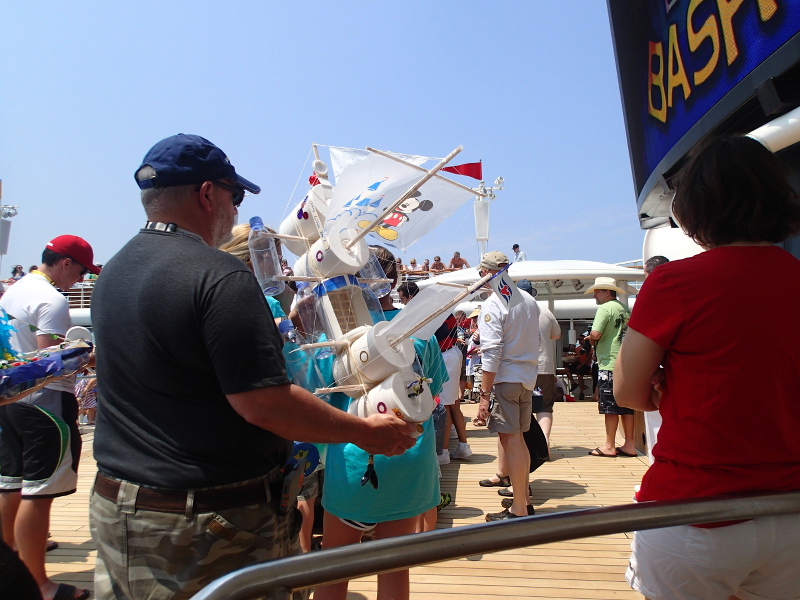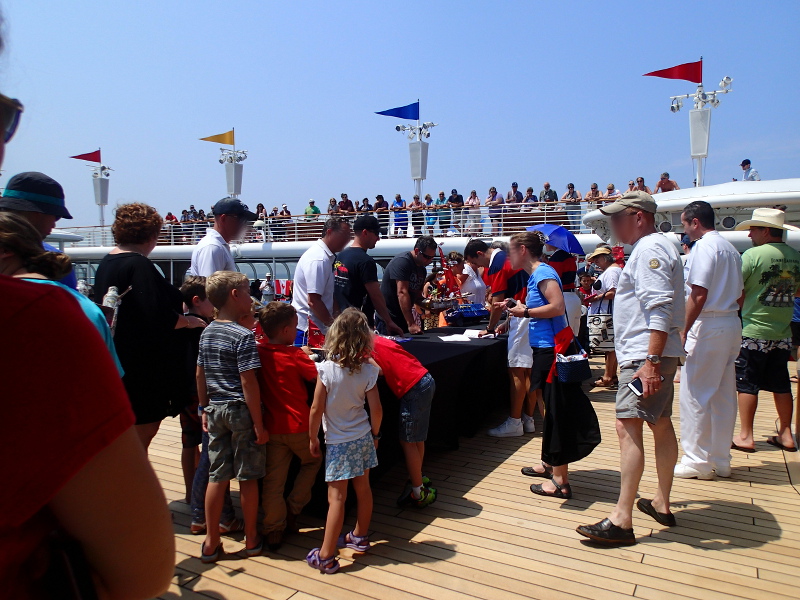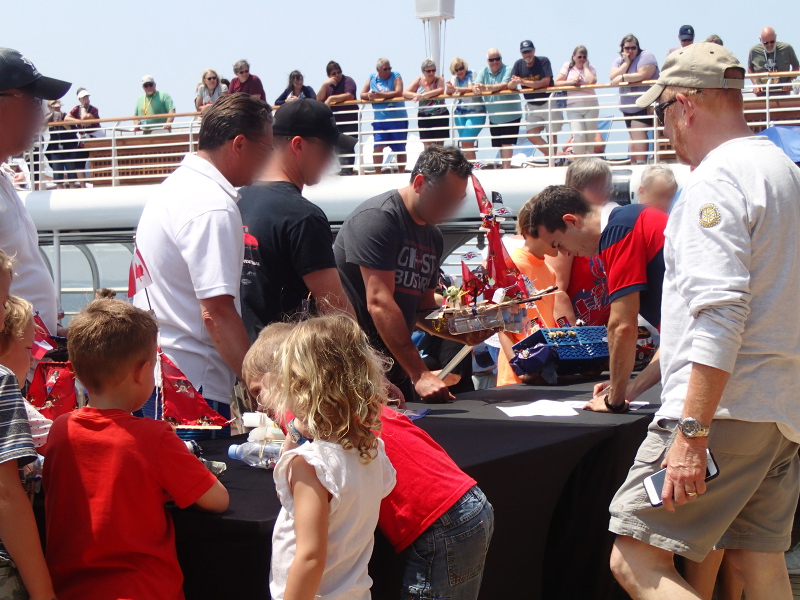 Some of them were huge!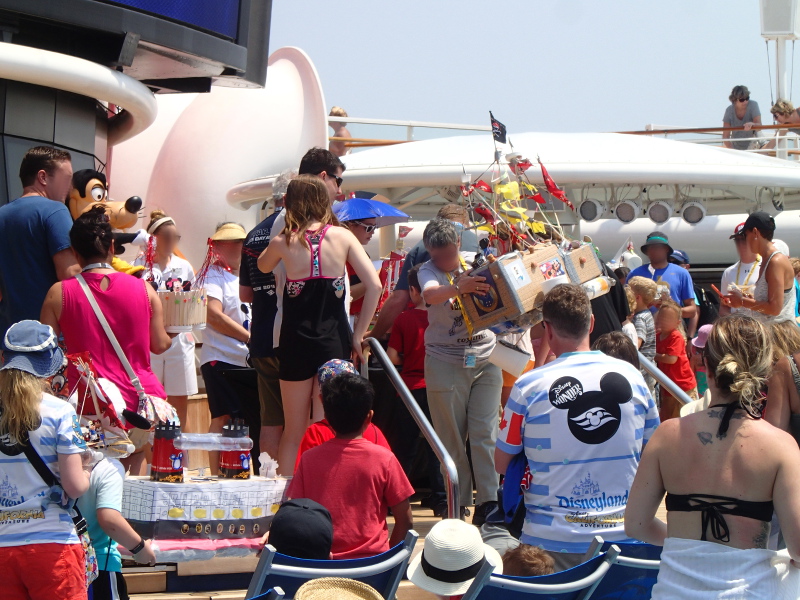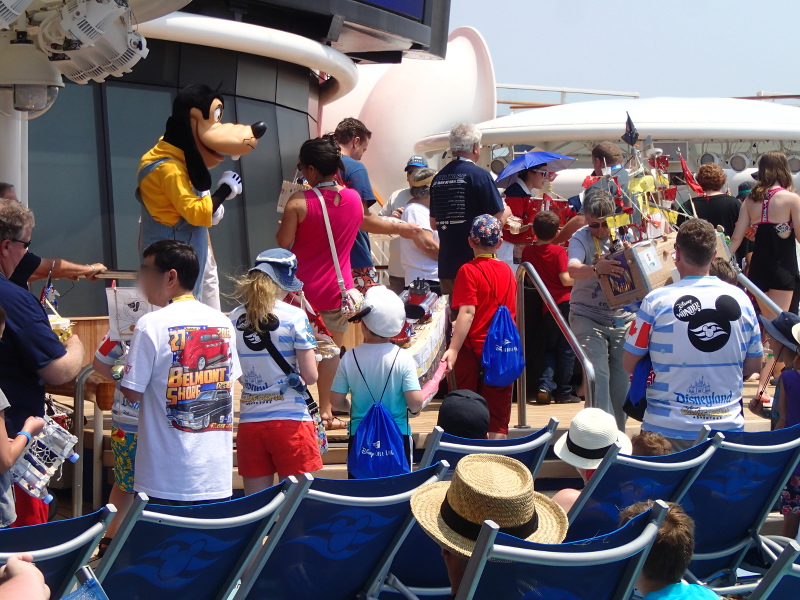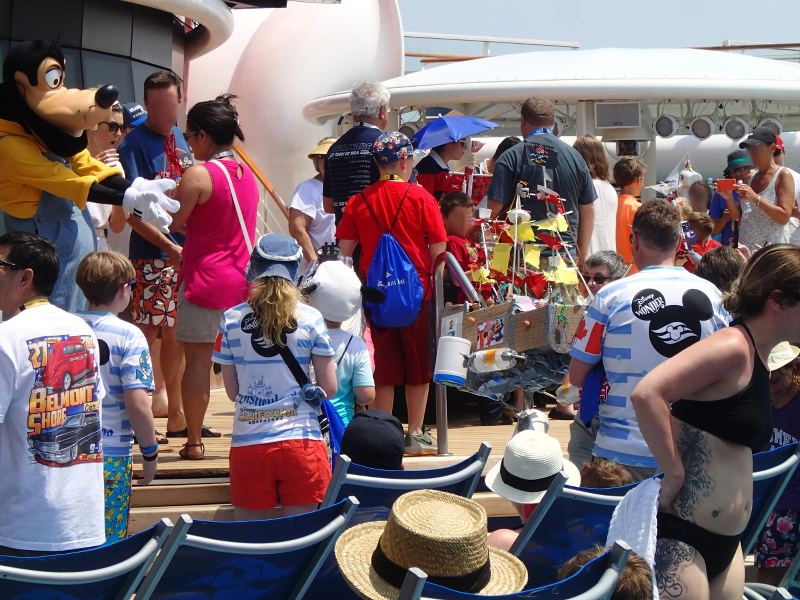 When it was time to start, I walked down to the other end of the pool to try and get a good view.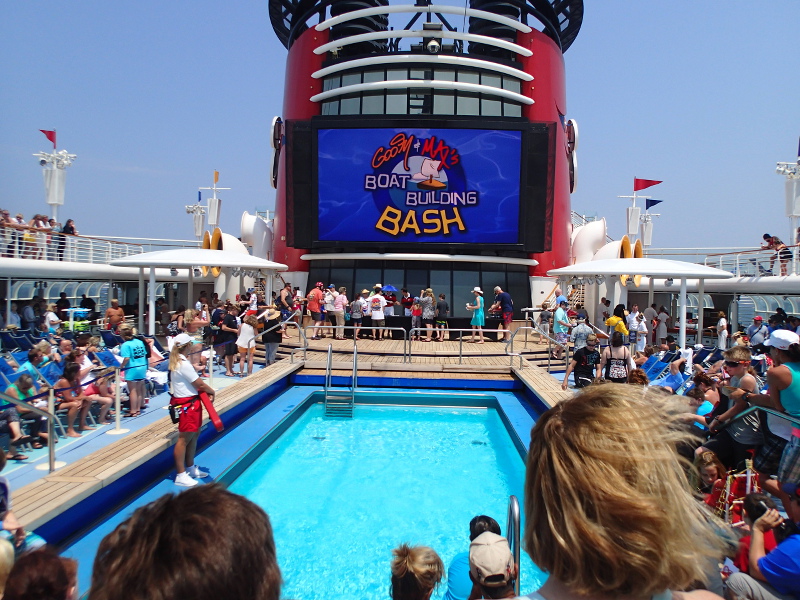 Santa was there taking it all in: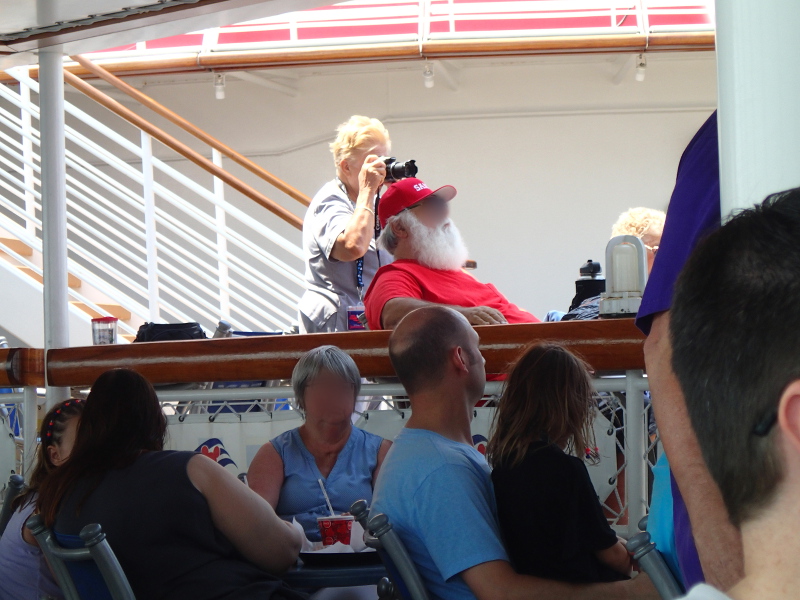 One by one, the lifeguard in the pool would put in a boat and see what happened.  Some did really well, but some flipped over right away.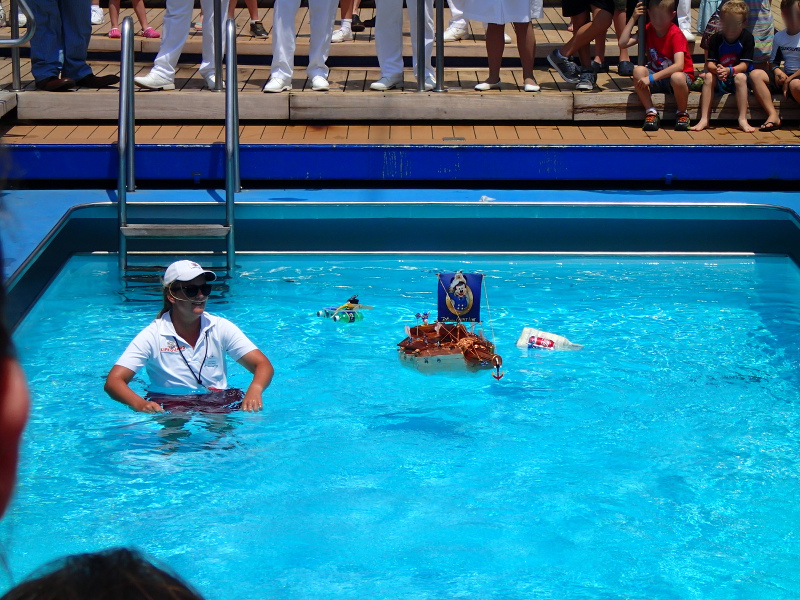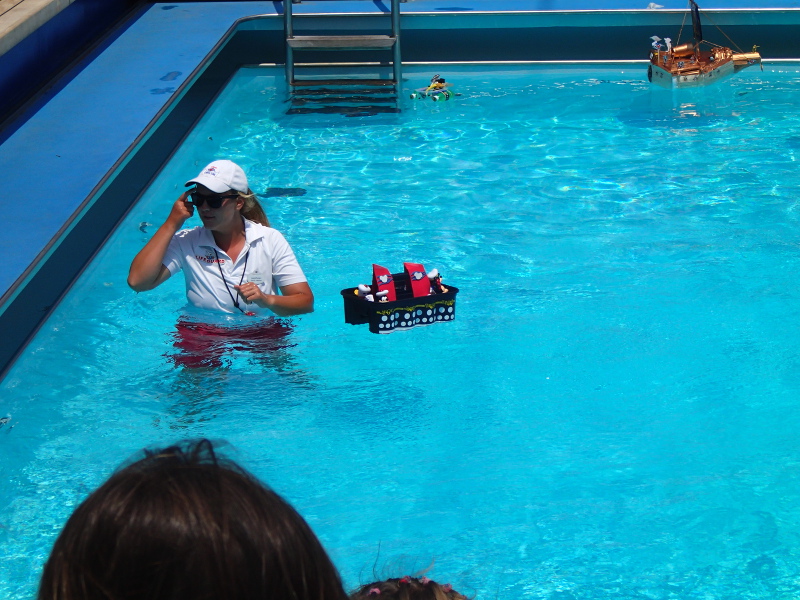 The judges were a group of officers: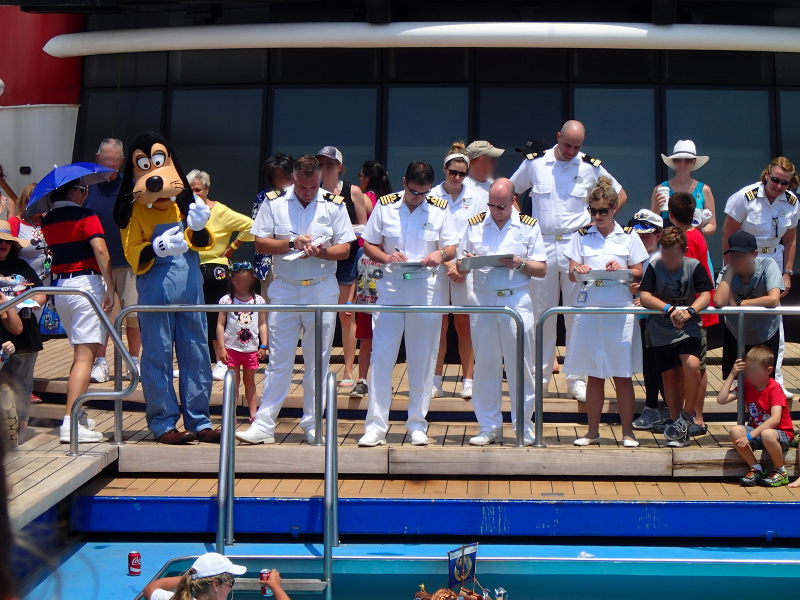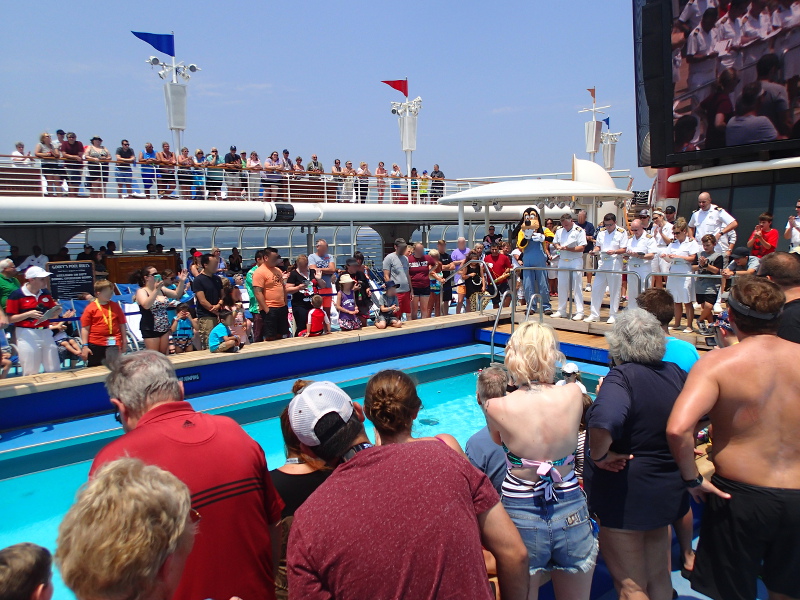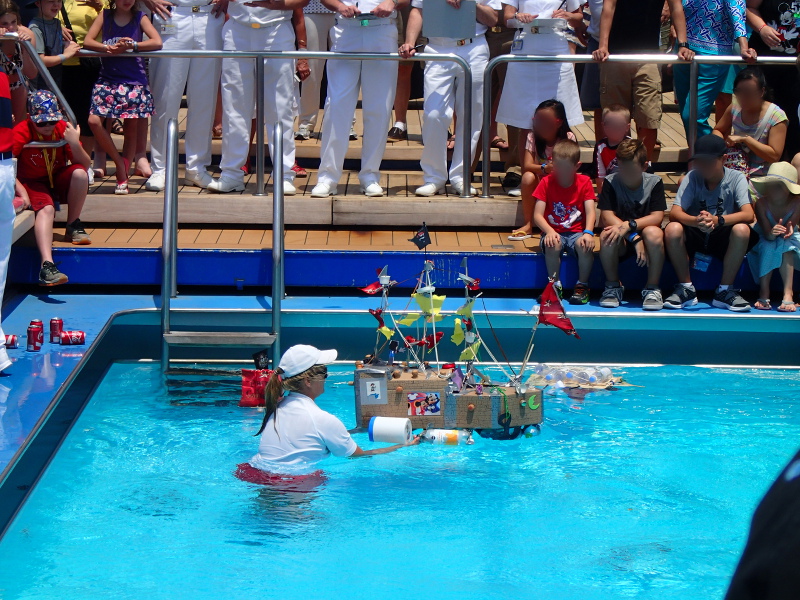 This one looked like the Wonder!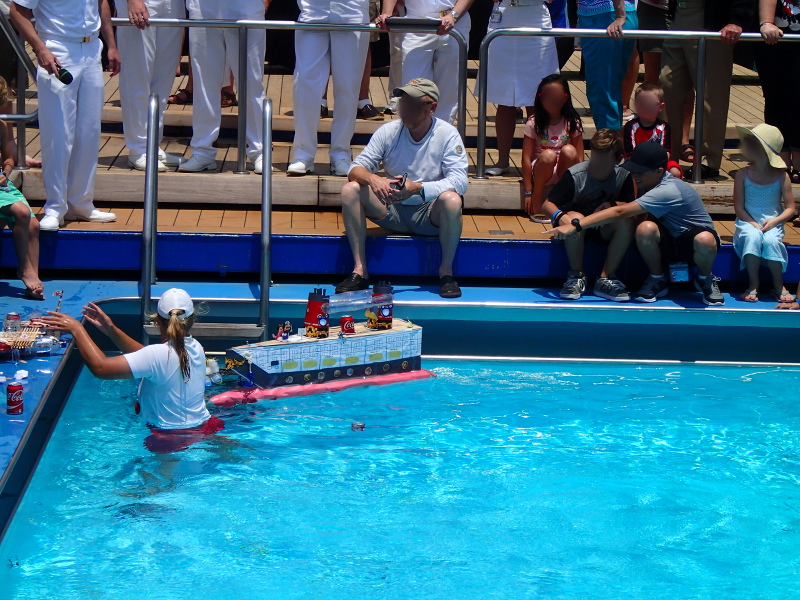 At one point I walked back over to the stage to check out the table again.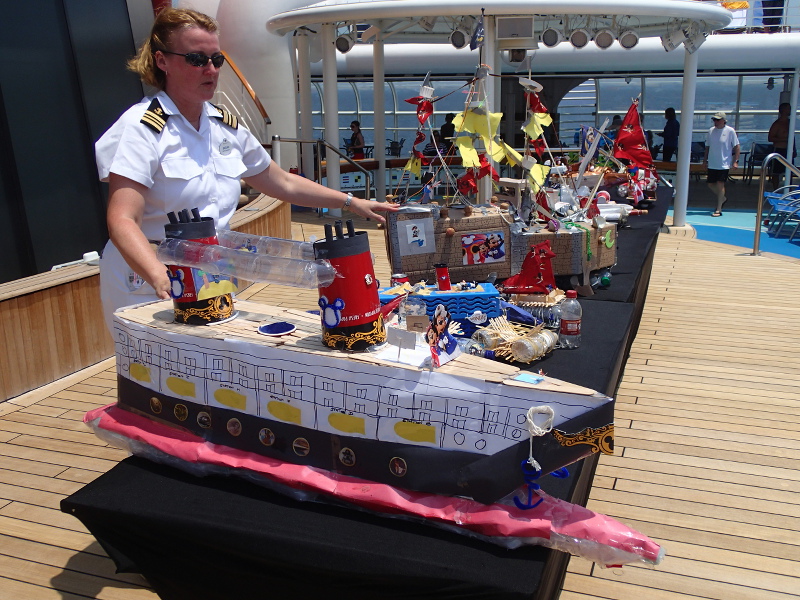 I didn't see who ended up winning, but this was such a fun activity.  If we ever have the chance again, we will definitely participate.  While all of this was going on, I grabbed a plate of lunch from Cabanas (sorry about the half-eaten picture).  It looks like today was Mexican food day.  Each day there was an area at Cabanas that had a different theme:  Mexican, Asian, Sushi, etc.  I saw a lot of people walking around with tacos on this day.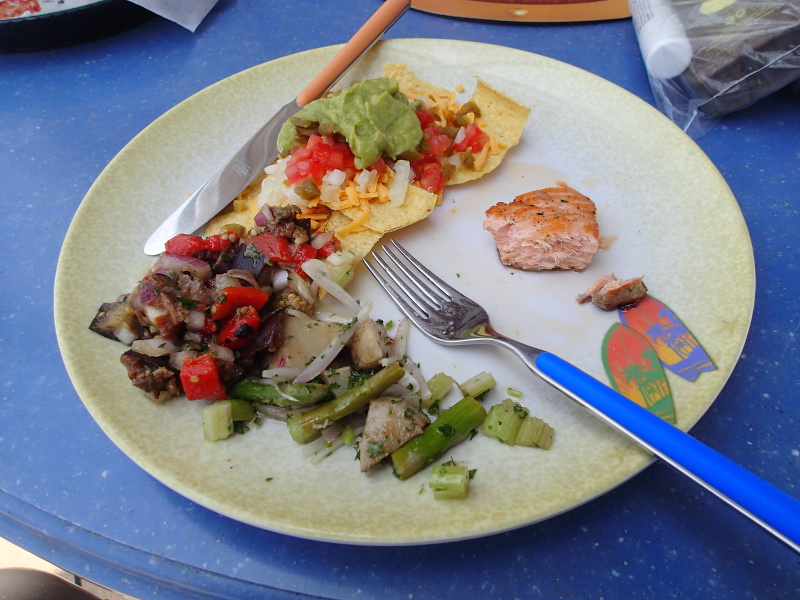 The ice cream flavors were blueberry and banana, although the blueberry switched to pina colada sometime during the afternoon.
There was also some maintenance happening on one of the funnels.  This guy was doing something to Mickey's zip-line platform that was very loud.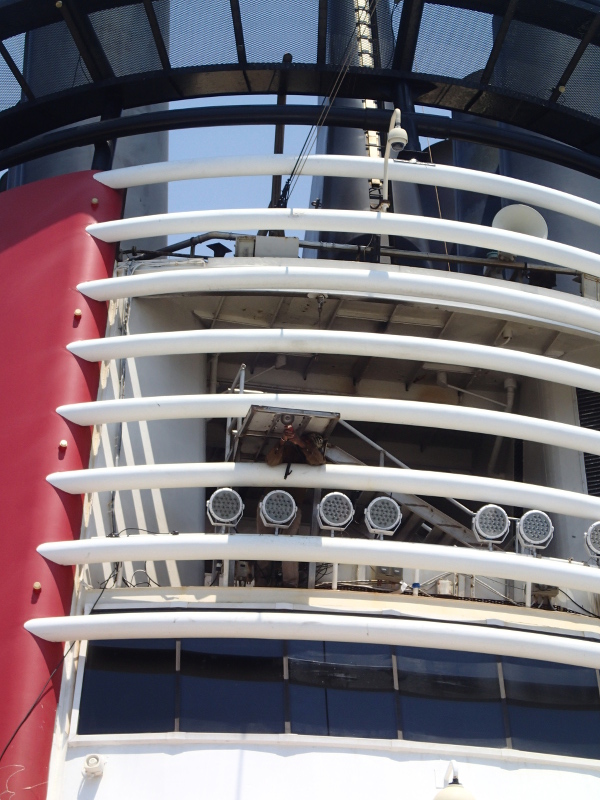 Pluto was also strolling around the pool deck.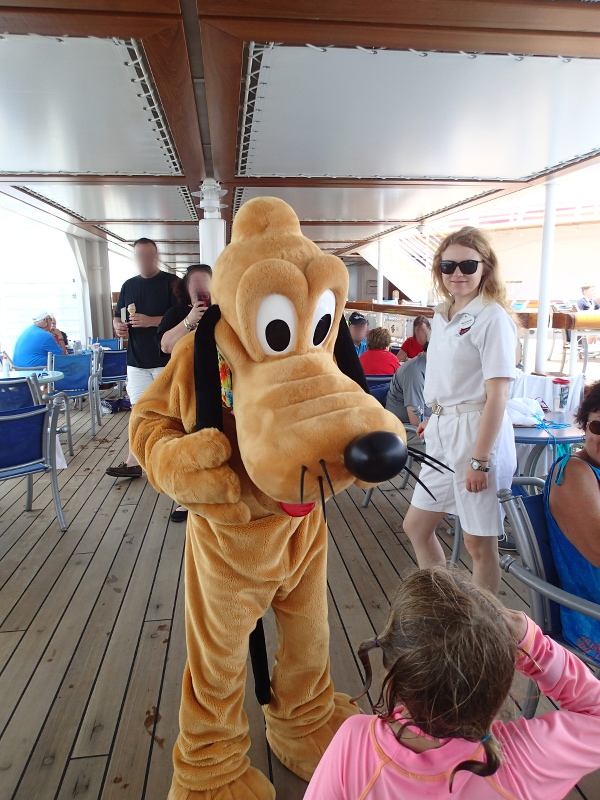 We could see a rocky shoreline in the distance.  This would have been Mexico since we were stopping in Puerto Vallarta the following day.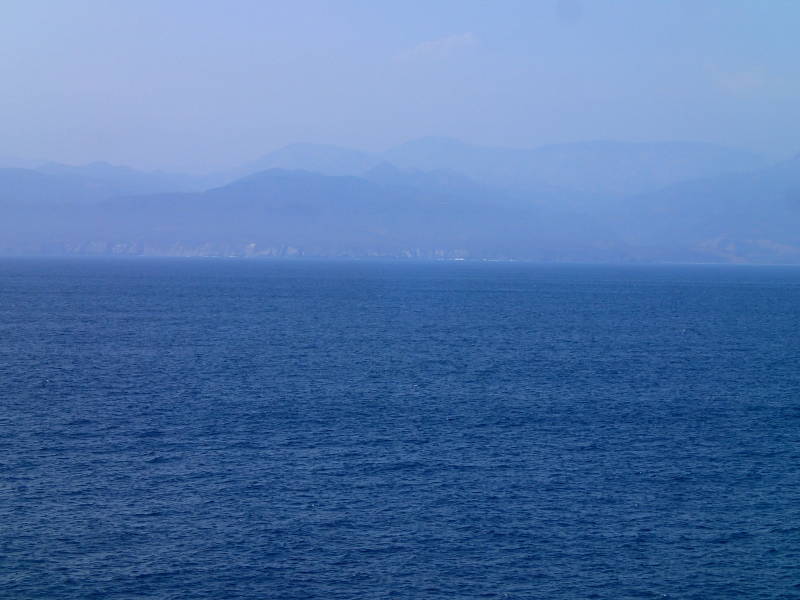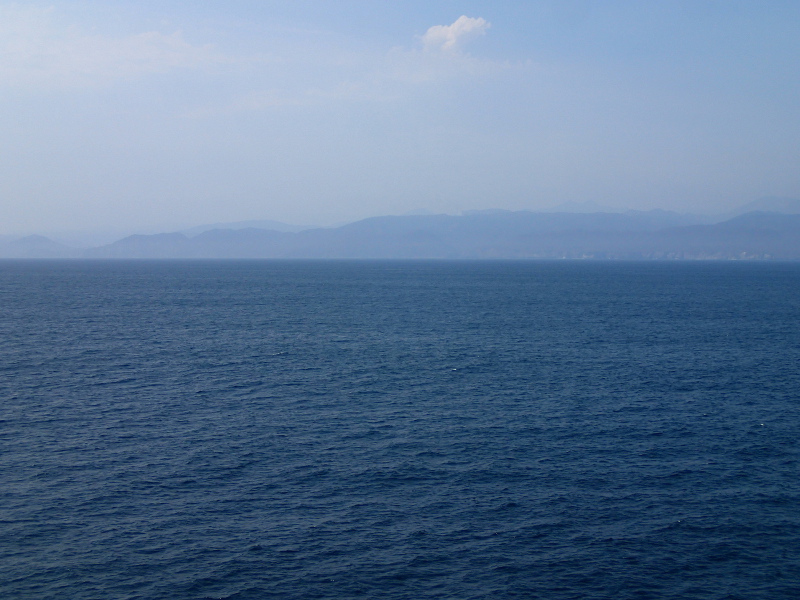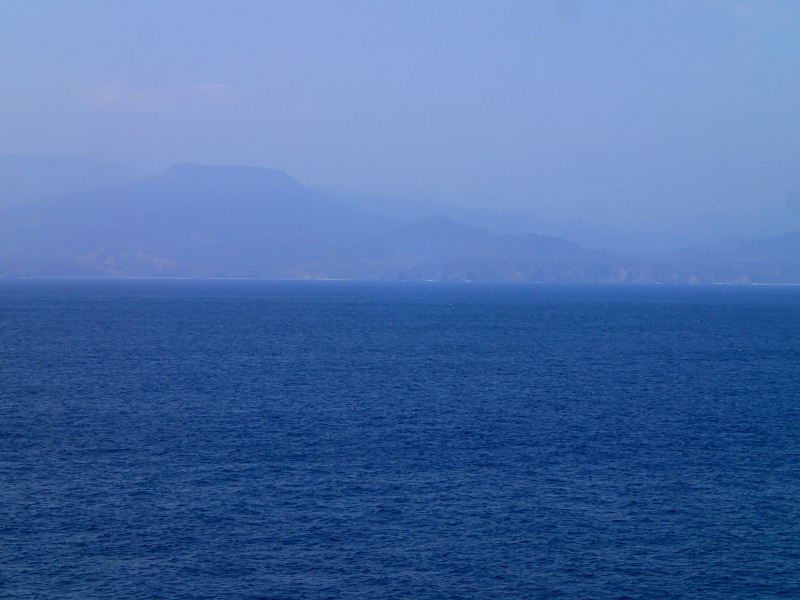 When the boat bash ended at 1:15, the crowd thinned out and the pool opened so we stayed for a few hours.  We watched the Lion King on funnel vision at 2:30.  Today the weather was much cooler than it had been.  The breeze was so cool that I actually used a towel to cover up with while sitting and watching the girls swim.
At about 4:00, we headed back to the rooms to get ready for dinner.  We were ready by 5:00 so we decided to try and finish the photo challenge before dinner.  We just had one more floor to find, and I thought it might be in Palo so we went to the aft elevators to go up to deck 10.  We got onto an elevator and a man in there with us asked us what we were doing.  I explained the photo challenge to him and how we had one left that we just couldn't find anywhere.  As I was explaining this, my 7 year old looked down at the elevator floor and yelled "there it is!"  It was the elevator floor!!!  We all had a really good laugh about that and then went to Port Adventures to turn in the form.  We passed Mrs. Incredible in the atrium, who I had never seen before on a cruise.
Tonight we were in Triton's with the Captain's Gala menu.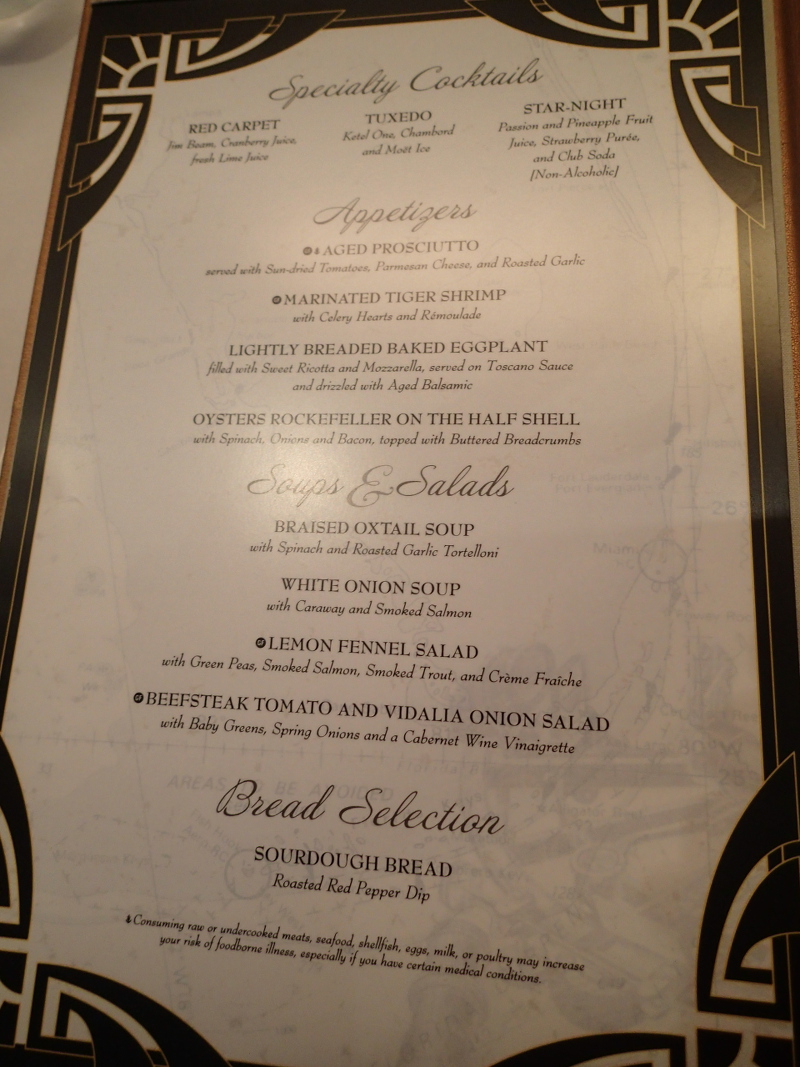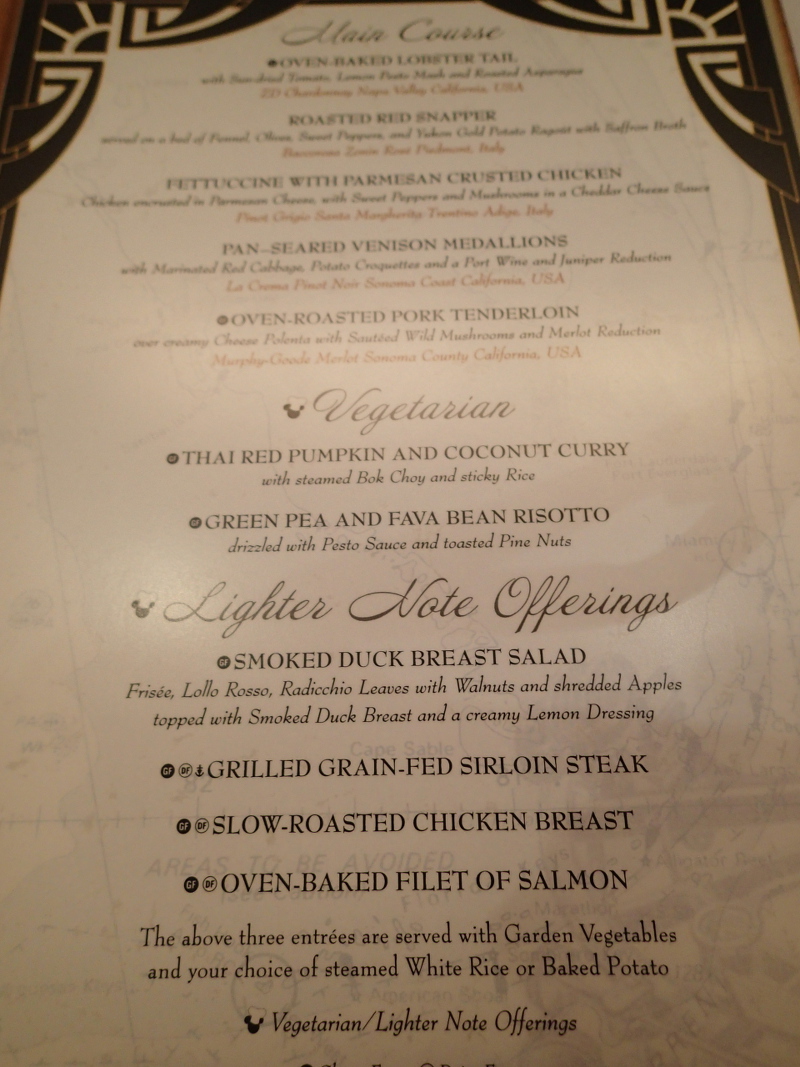 For my appetizer, I had the Marinated Tiger Shrimp which were delicious: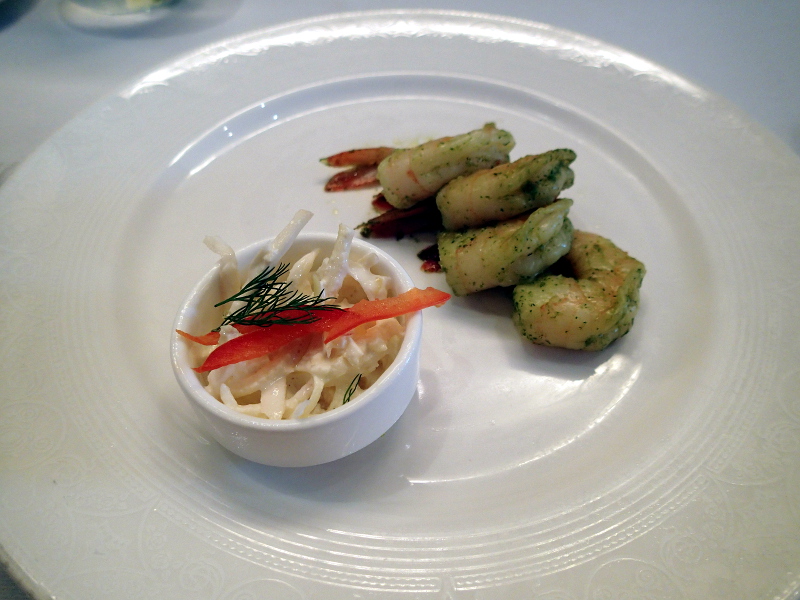 My husband had the Oysters Rockefeller which he said were very good: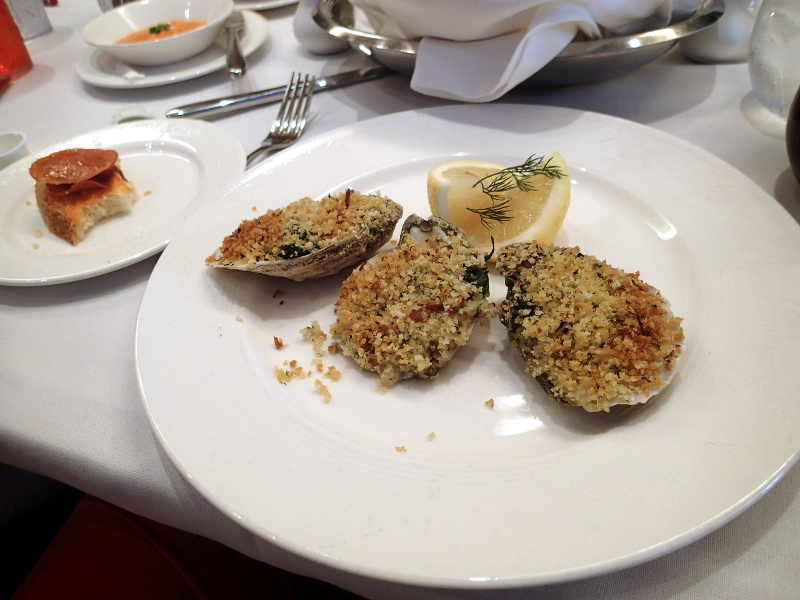 I think we skipped the second course this night because we weren't very hungry.  For my entree, I ordered the Oven-Roasted Pork Tenderloin which was good: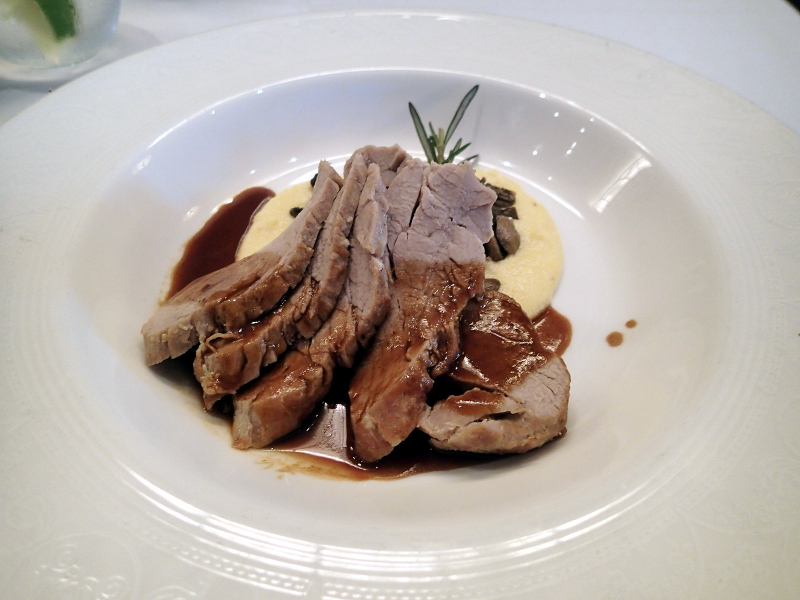 My husband ordered the Fettuccini with Parmesan Crusted Chicken which he enjoyed: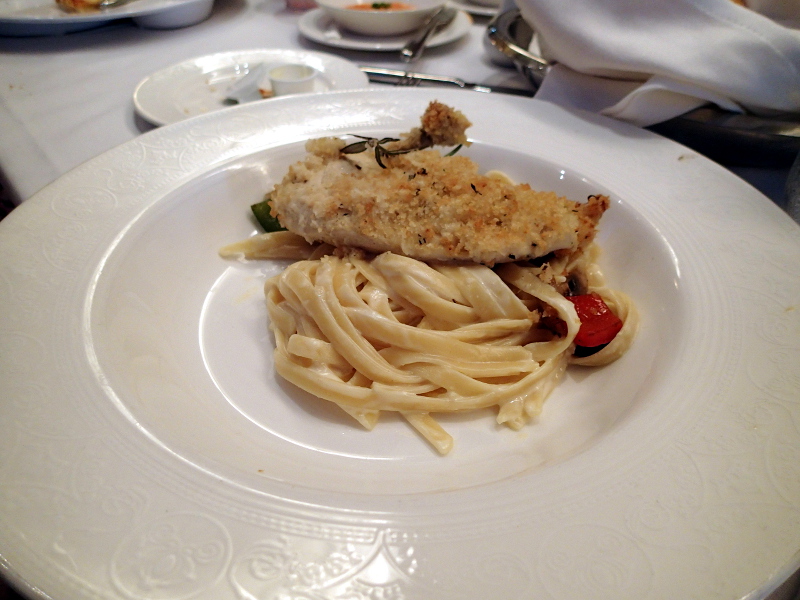 I forgot to photograph the dessert menu, but it looks like we both got the Chocolate Lava Cake.  At first, Levy just brought us the cake: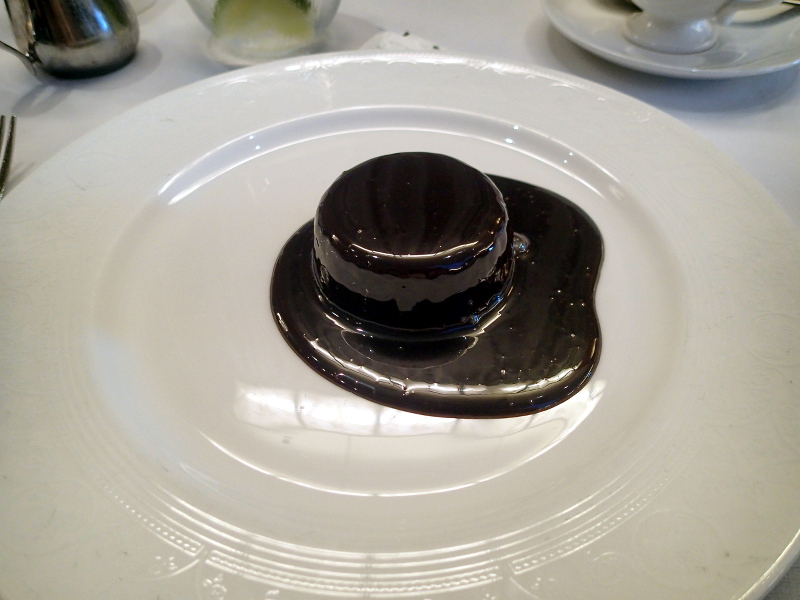 Then he came by and placed a scoop of vanilla ice cream on it.  I liked how they served the ice cream at the table so that it didn't melt.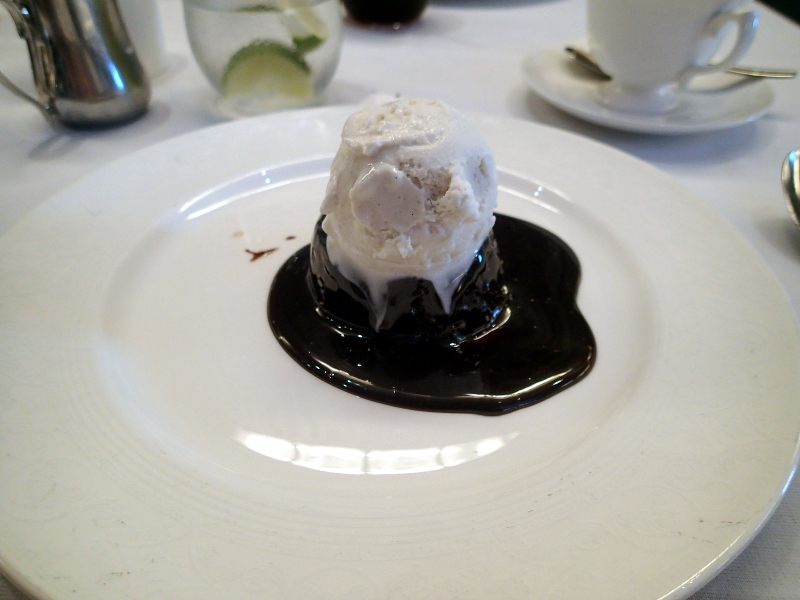 It goes without saying that it was delicious!  During dinner they didn't something that I have never seen on a cruise before.  Ariel walked through and made an appearance.  I didn't get good pictures because I wasn't expecting it and she was walking very fast.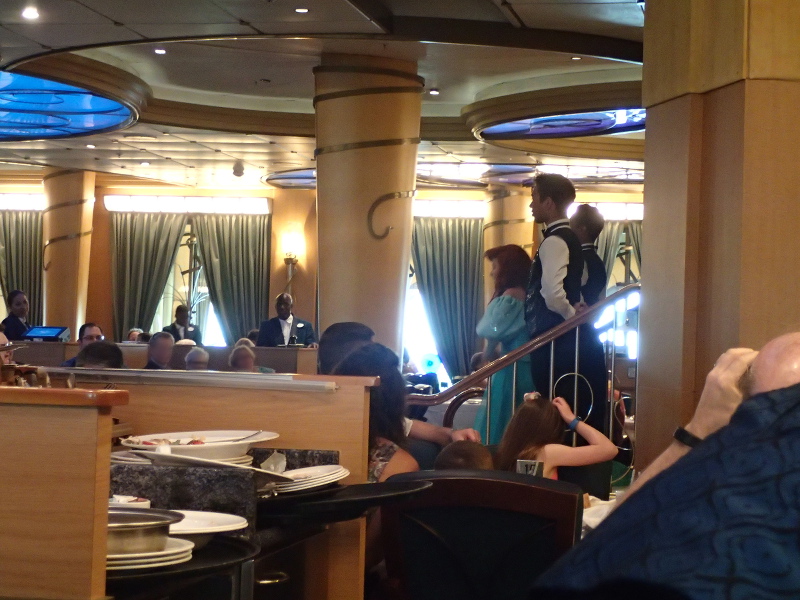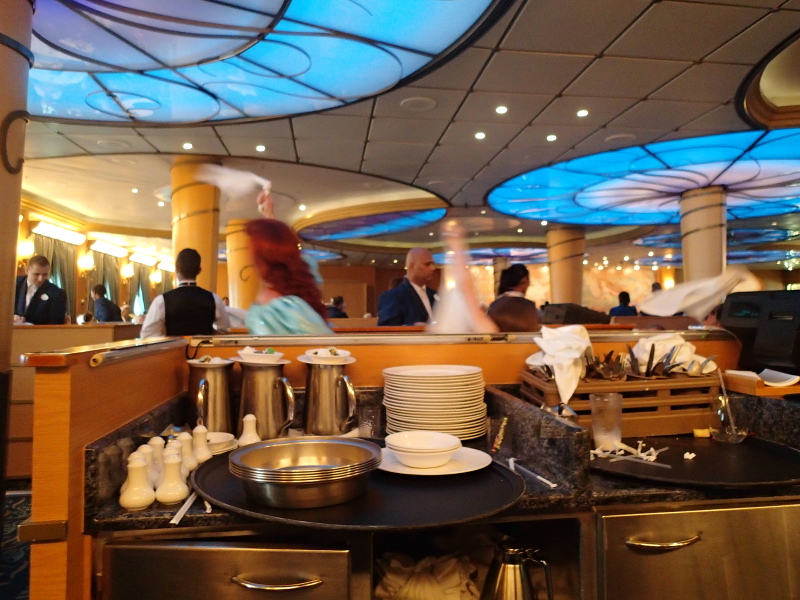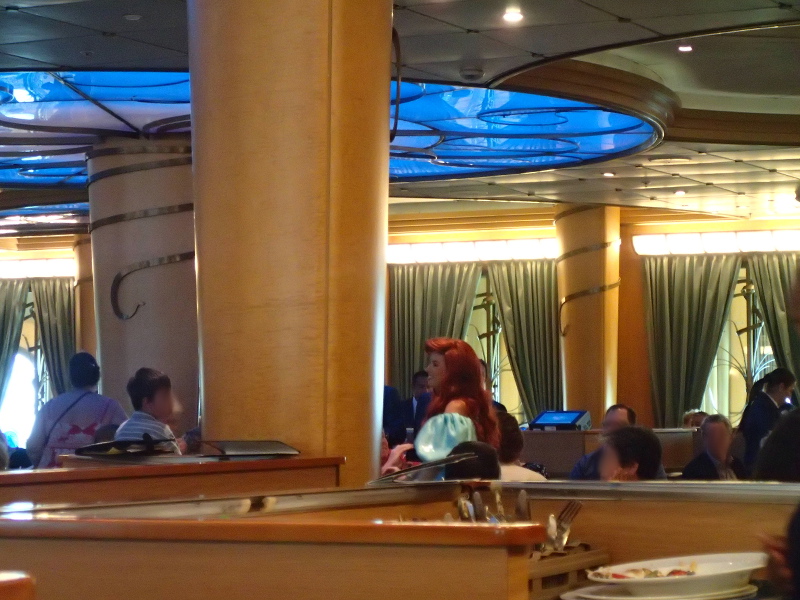 Apparently something really funny happened but I can't remember what or why I took a picture: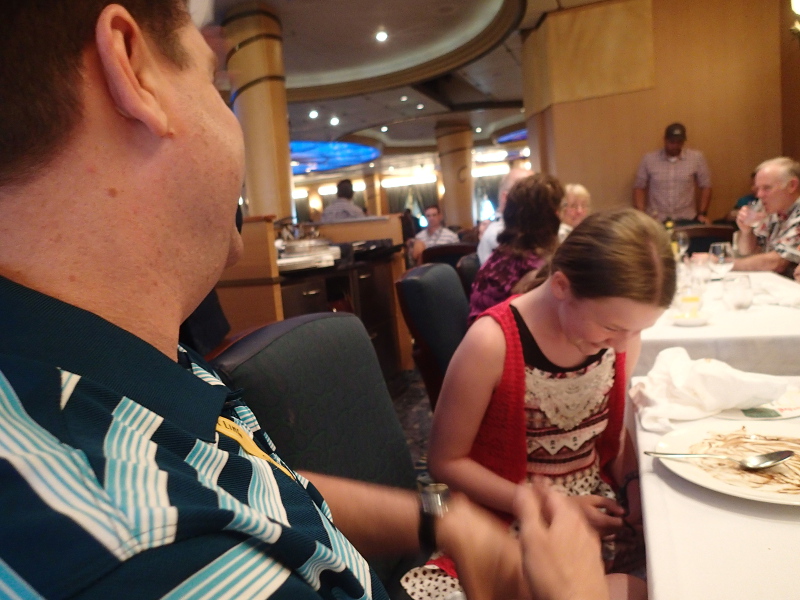 We left dinner promptly to got to family karaoke at 7:15.  Yeah for another early karaoke session!!!  They were also having it at 10:15 but going to the early one got us out of staying up for the late one.  We stopped for a photo in the portholes along the way: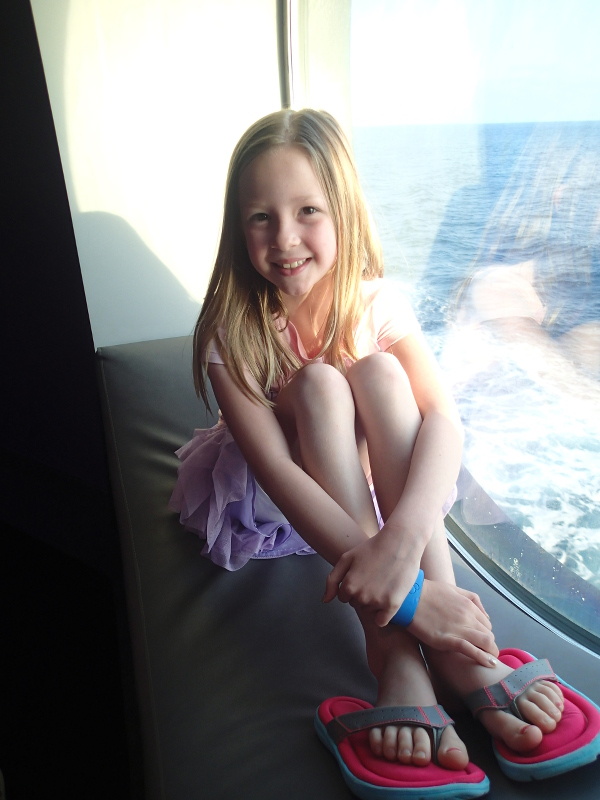 For some reason, karaoke was held in Azure tonight instead of the D Lounge.  Because they don't usually hold karaoke in Azure, they were having some technical difficulties.  My 7 year old went first and had to sing Let it Go without the words on the screen.  She still did a great job and the crowd helped her out when she needed it.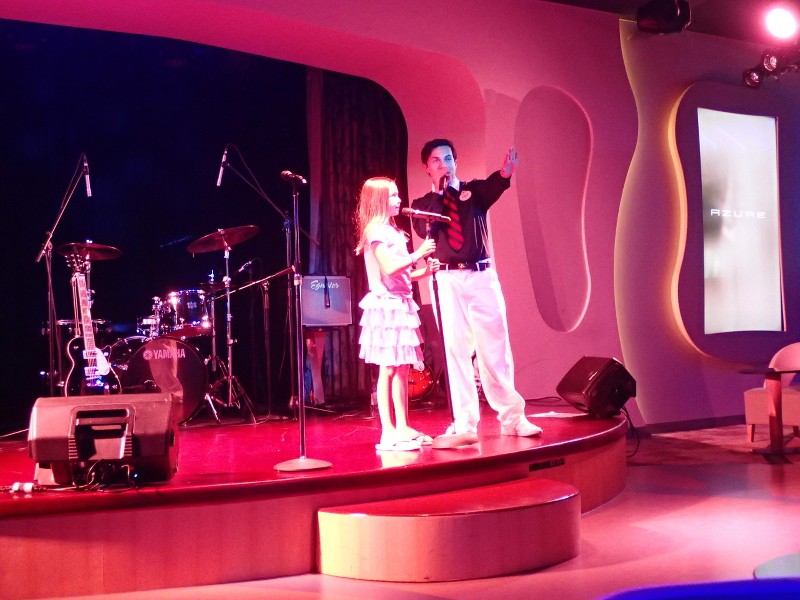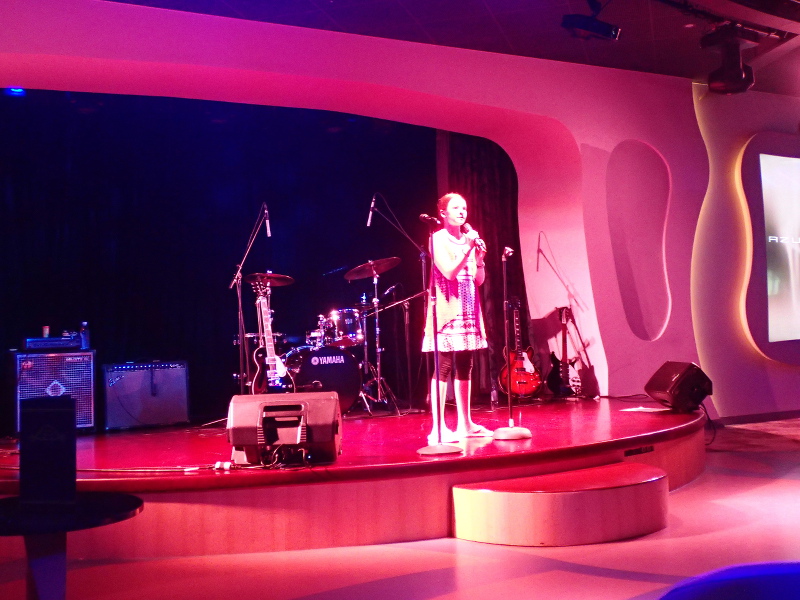 Tonight's show was something we had been looking forward to the whole cruise – the Crew Talent Show!  They only do this on longer sailings and I had heard great things about it.  At about 8:15, we headed to the Walt Disney Theater for the 8:30 show.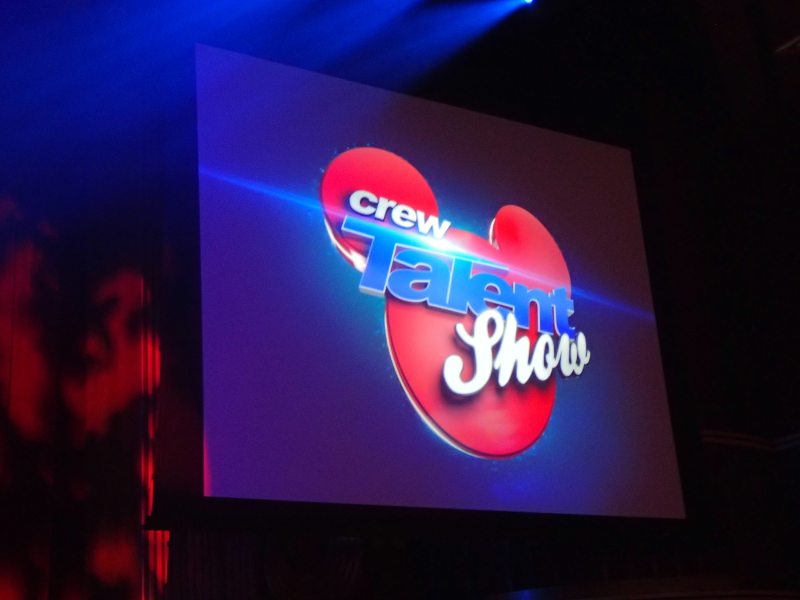 It was a great show and there are some very talented crew members!  One of the youth counselors sang Colors of the Wind and she was incredible.  I mean, she sounded straight out of the movie. There was a big finale at the end which was so much fun: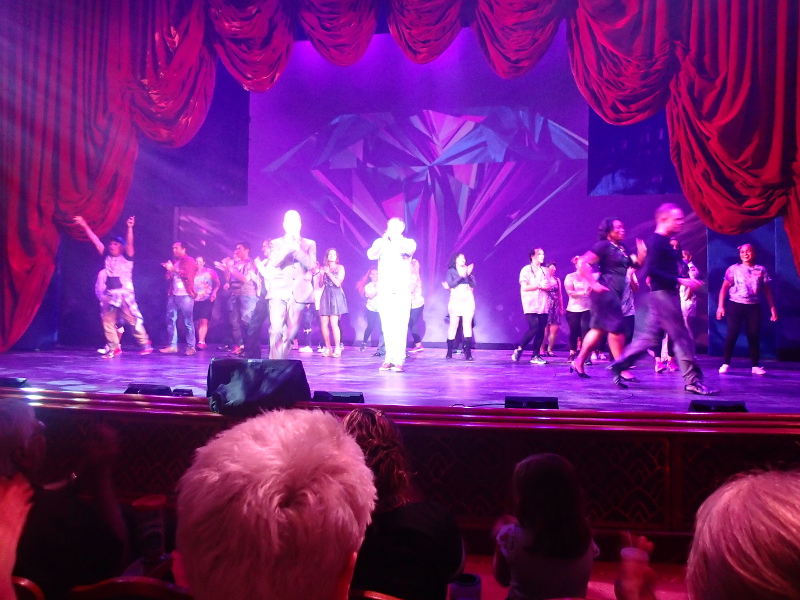 It was a really fun show and it's neat to see crew members having so much fun since we usually only see them working.  The show ended with a bang, literally, as 3 of us were pelted with confetti bombs.  I don't know if they malfunctioned or what, but as the confetti was flying, 3 of us were all hit with projectiles.  We couldn't stop laughing.  Consider yourself warned if you sit in the 3rd row front and center!
After the show we went to bed because we were getting up early for an excursion the next morning.  These were our towel animals for the night: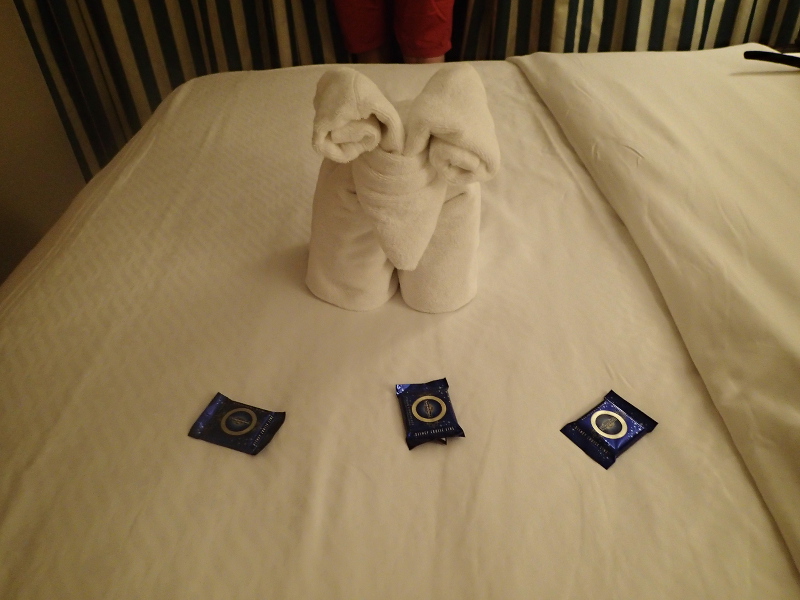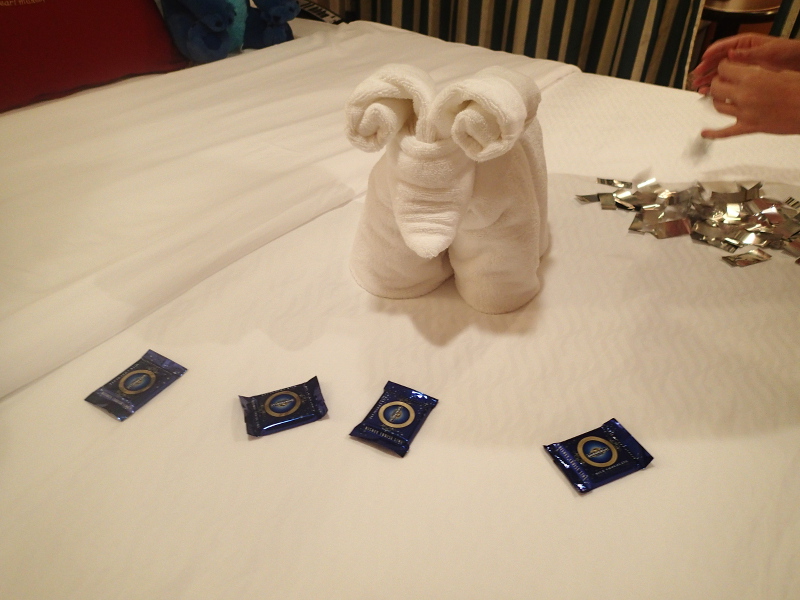 Notice the confetti in the photo above.  I guess the girls felt the need to bring back a souvenir from our assault in the Walt Disney Theater.
Up next:  Day 12 – Puerto Vallarta Part 1
As always, don't forget to like me on Facebook (click here) and follow me on Pinterest (click here) for all of the latest Disney Cruise Mom Blog updates!