Day 12 Part 1:  Puerto Vallarta
 If you would like to start this trip report from the beginning, click here.
Note: I do not feel right posting pictures of fellow cruisers who have not given me permission to use them on the blog, so I will blur out the faces of people in the background of my photos. I'm sorry if it looks funny, but I want to respect their privacy.
Also, anytime you see red text, it is a link to either product information or another one of my blog posts that gives more detailed information about that topic.
.
You can see this day's Daily Navigator by clicking here:  Navigator Day 12
I have been looking forward to writing about this day for a long time because it was, hands down, the most fun day of our cruise.  Because of the large number of photos,  I am going to break it up into two posts.
First, a  little bit of background on our excursion choice.  For years I have read great things about the Las Caletas Hideaway excursion in Puerto Vallarta offered through DCL.  I knew that if we ever went, that would be our first choice.  Well, when our online booking window opened, Las Caletas was not an excursion choice for our day in Puerto Vallarta.  I was seriously bummed out.  There was nothing else that really interested me, so I procrastinated on choosing an excursion and thought maybe we would just not do an organized excursion there.  But, to my great surprise and joy, it suddenly appeared as an option a couple of weeks later.  I'm so glad I noticed and when I did, I scooped up 5 spots for us right away.
Okay, now let's get started on our day.  We were supposed to meet for our excursion at 8:15, so we got up about 6:30 and started getting ready.  At 7:30, we were all ready with our bags packed so we went to Cabanas to get some breakfast.  We were already docked at this point and I took some pictures from deck 9.  It was a very pretty port area.  Please excuse the reflections in the windows.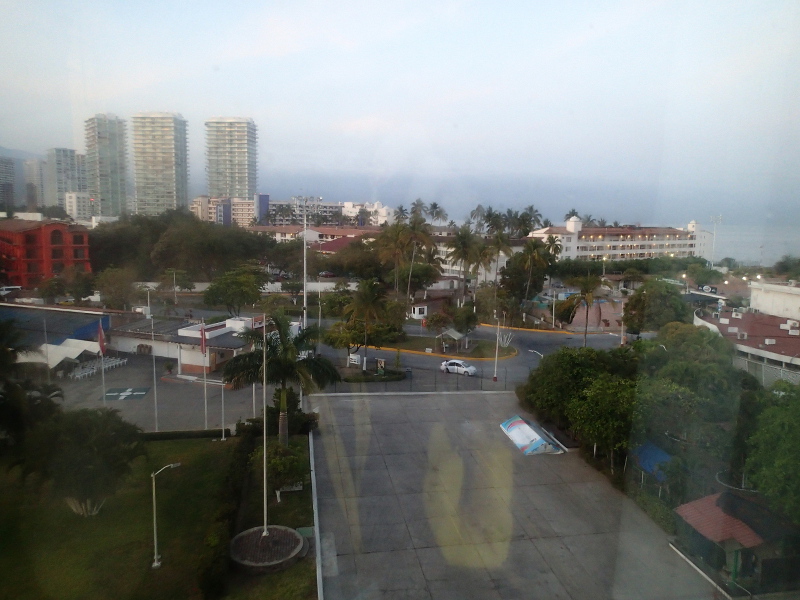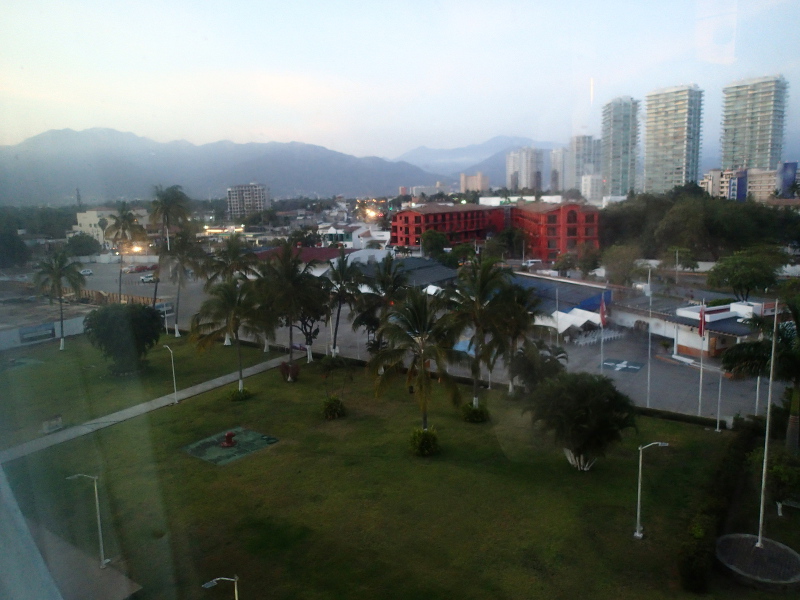 This is the area where cruisers get on and off the ship: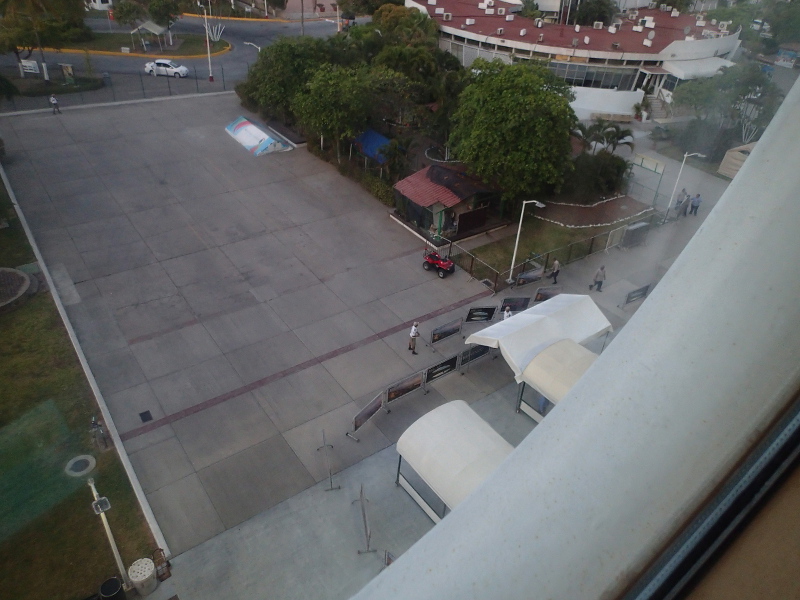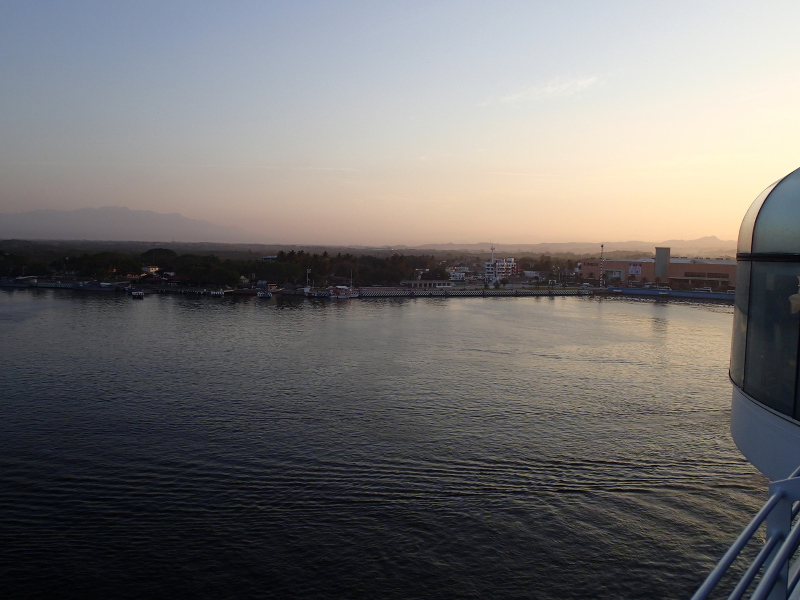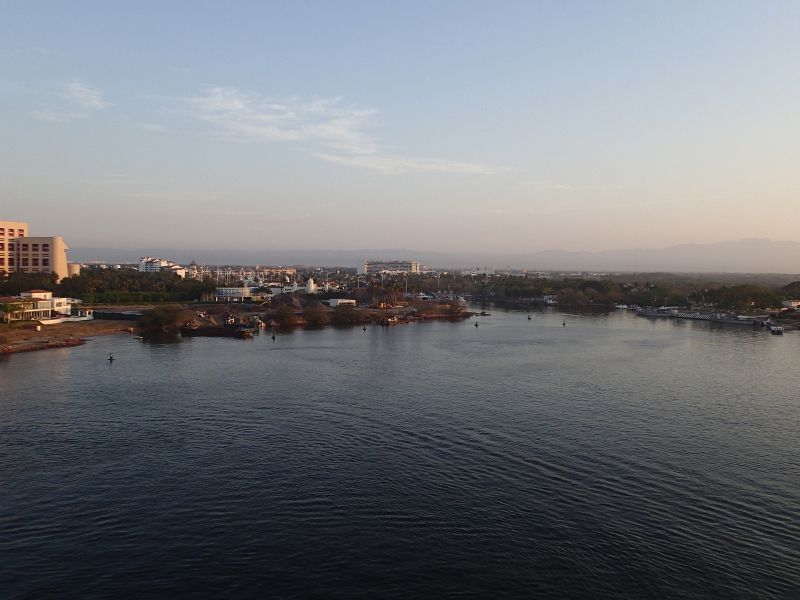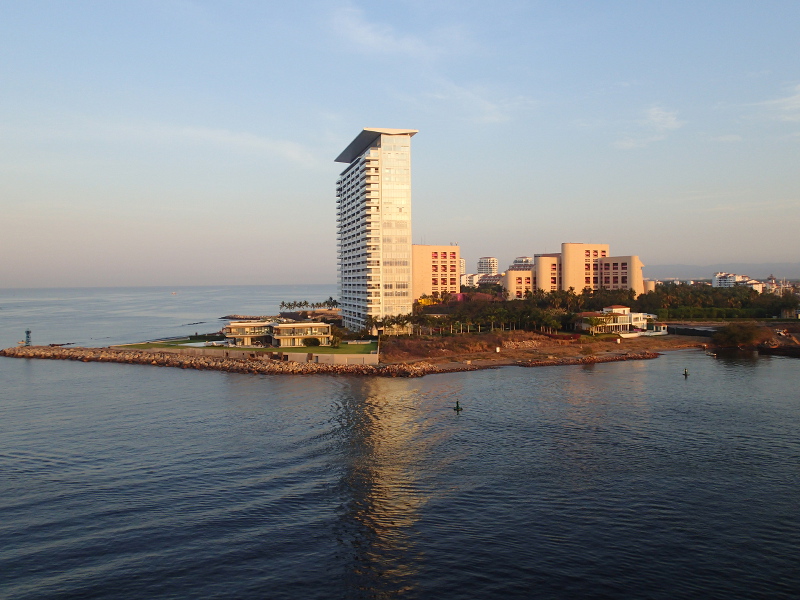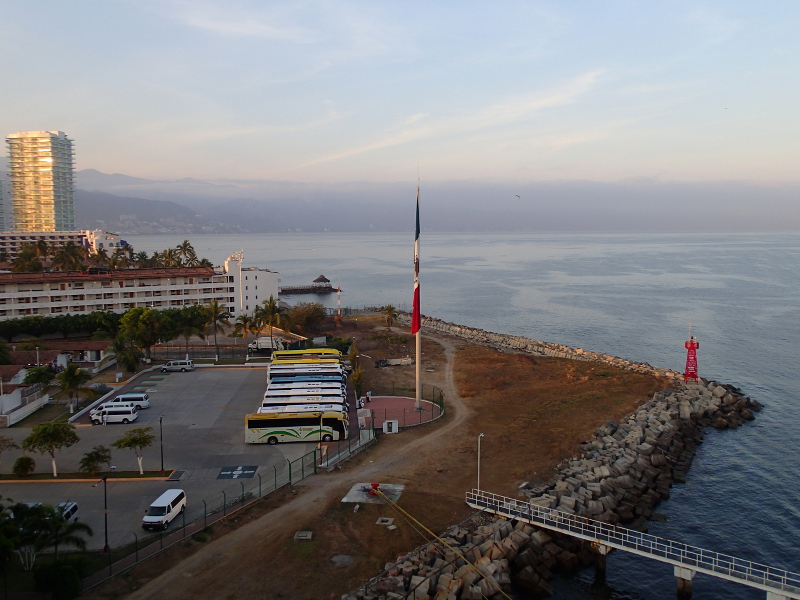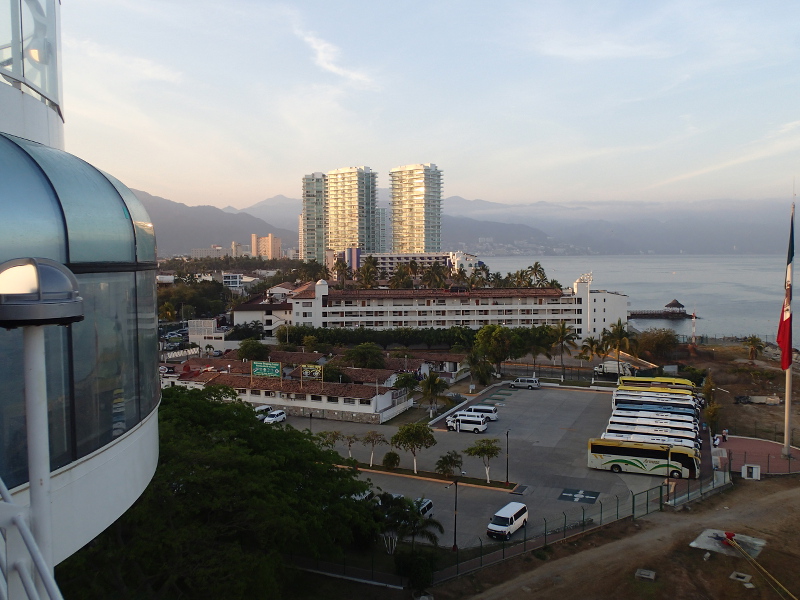 The mountains in the distance were beautiful.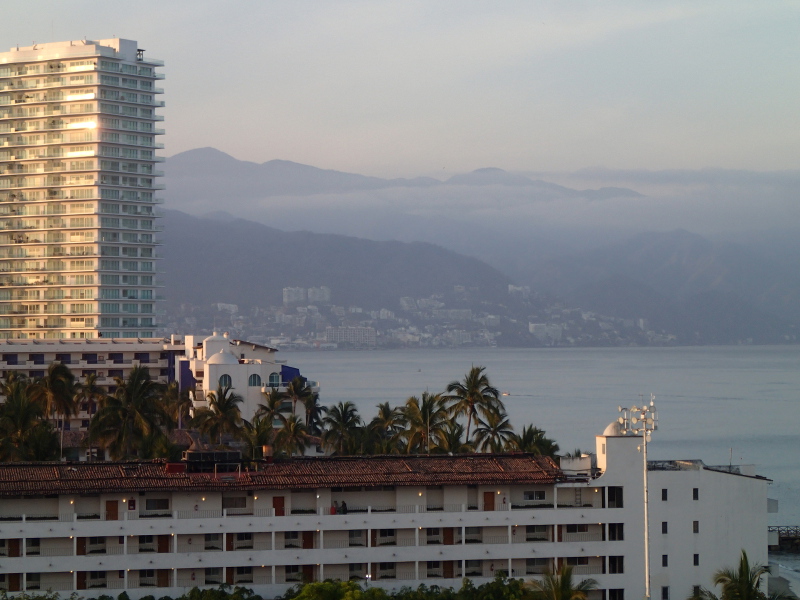 Nice ride!  I read in another trip report that this is Denzel Washington's yacht.  A Google search confirms this.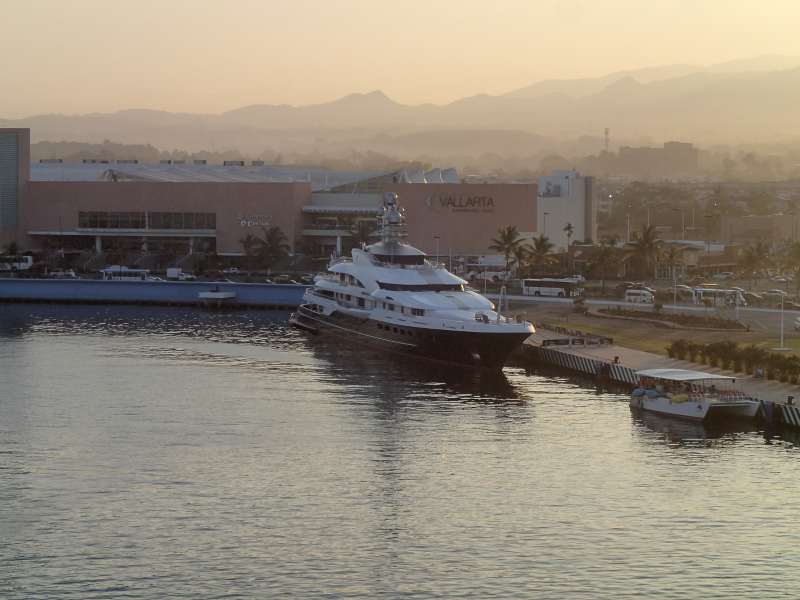 Here is the Walmart that everyone talks about and the crew members apparently love: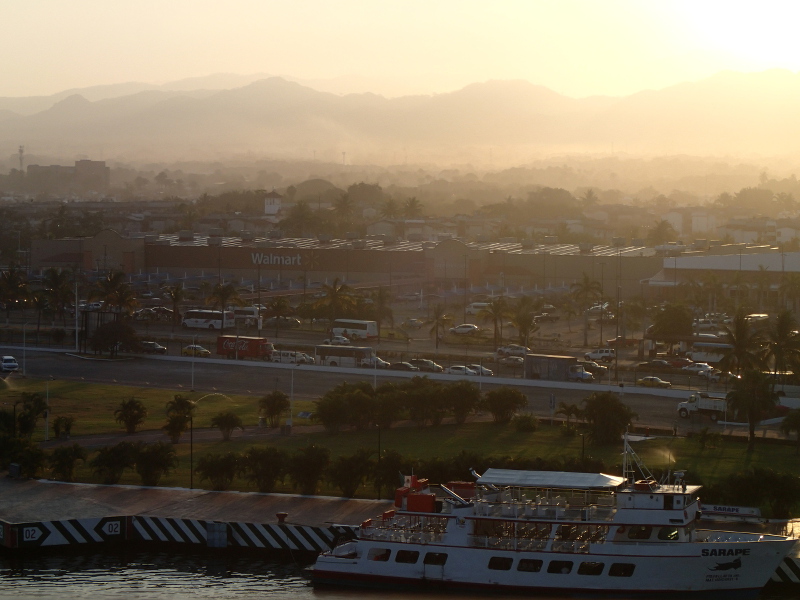 After breakfast we stopped by the rooms to grab our bags and then went to our meeting place, Azure, right at 8:15.  The room was already full and we appeared to be some of the last people there.  We checked in at the desk and were assigned to the Pinnochio group and received our stickers.  There were other excursions meeting there as well, so all of these people were not going to Las Caletas.  The only place we could find to sit down was way in the back corner of the room.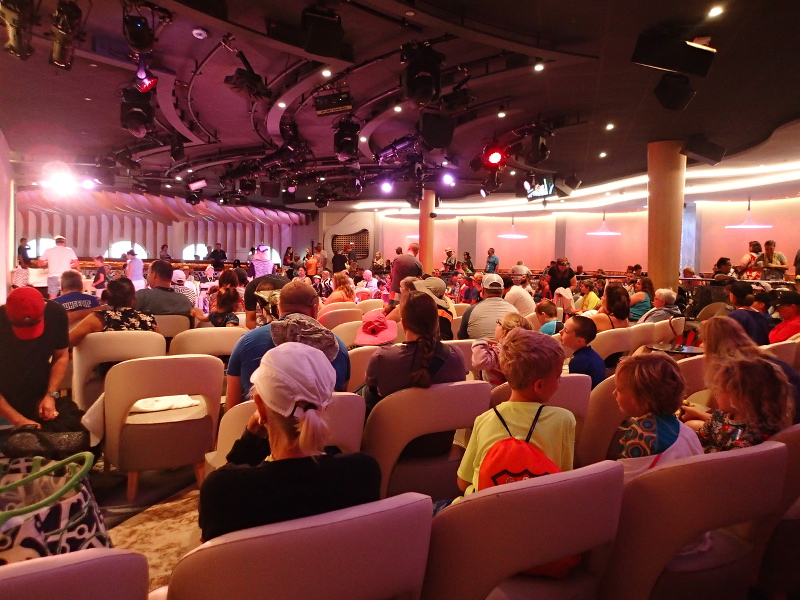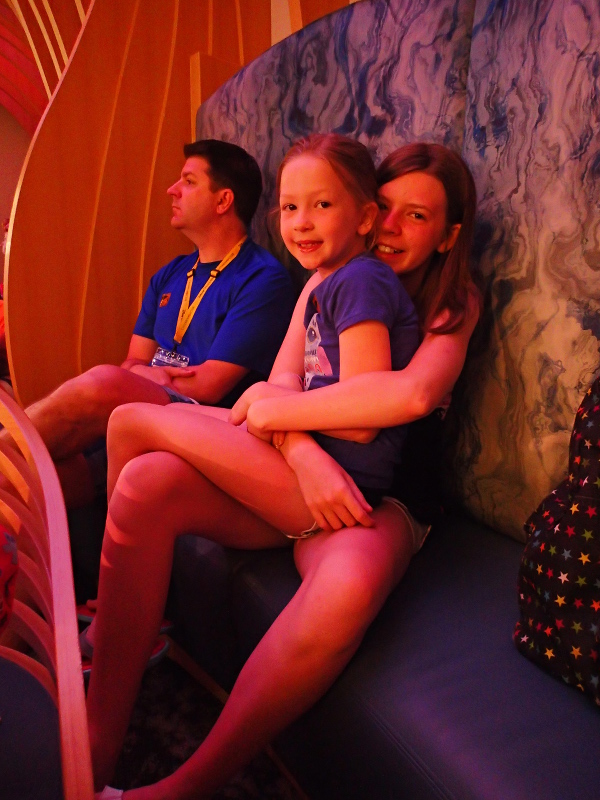 We didn't have to wait for very long, although I didn't note the exact amount of time.  When it was our time to leave, we followed the mob down the forward stairs to disembark the ship.  These guys were serenading us: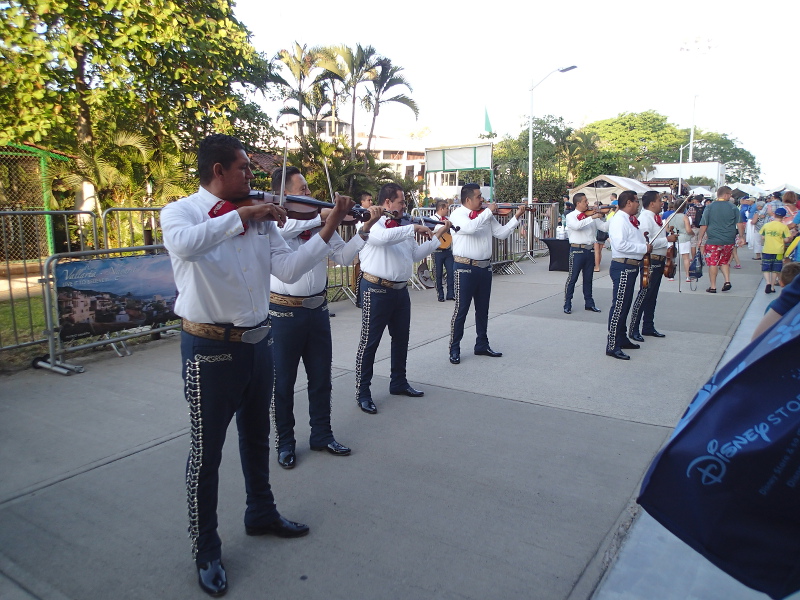 Here is the guy with the Pinnochio "paddle of power" that we were following: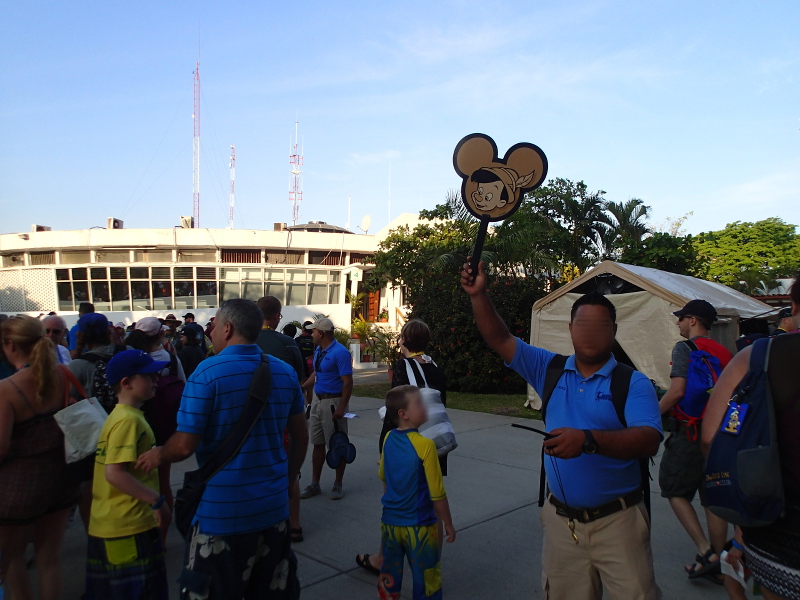 He led us to a certain area and told us to wait.  I took some pictures of our surroundings: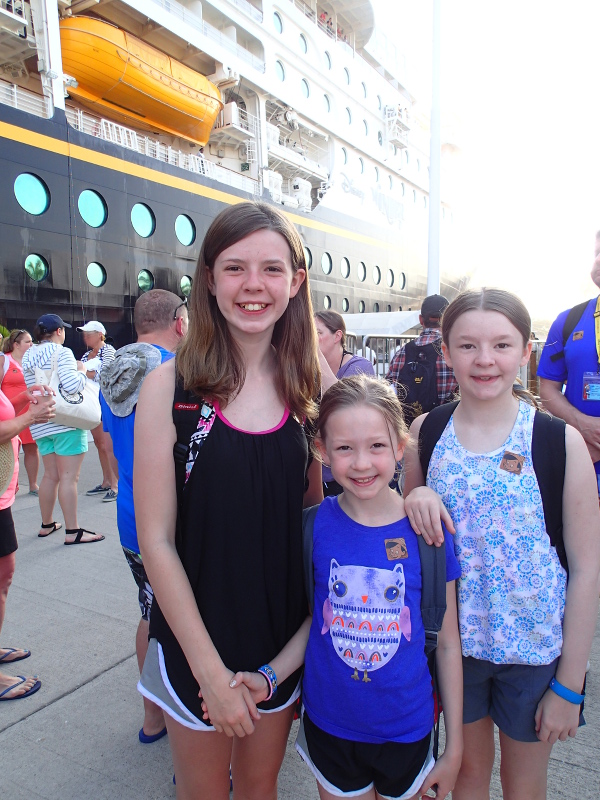 The ship maintenance was already underway.
There was a woman with a bird letting people take pictures.  She asked for a donation for some society that I didn't commit to memory.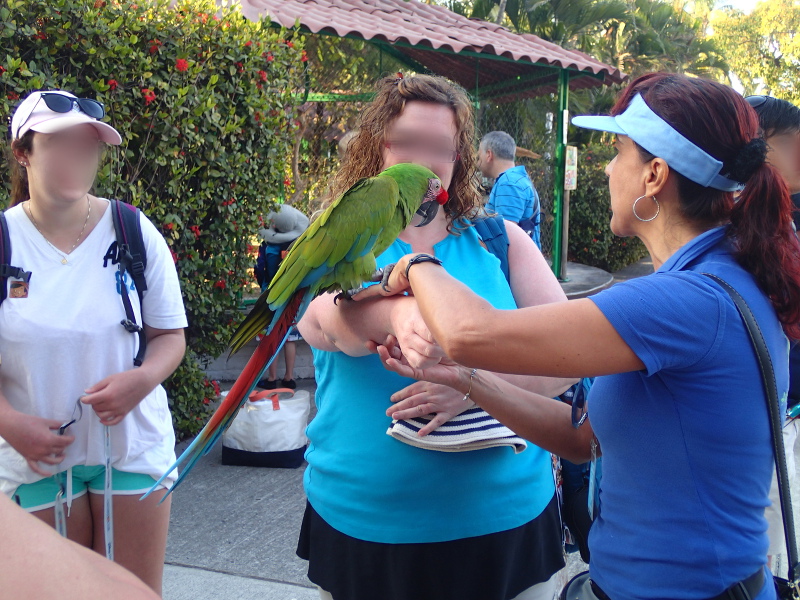 I gave her $3 and each of the girls took a picture.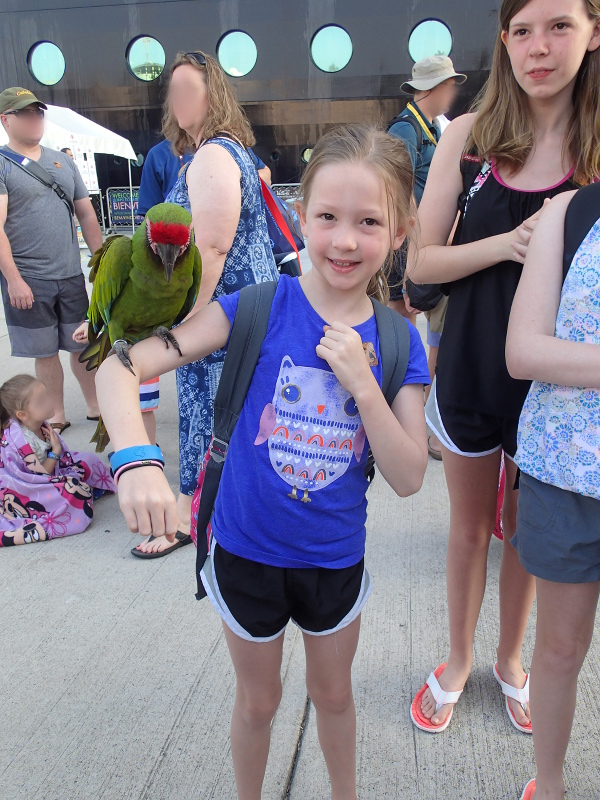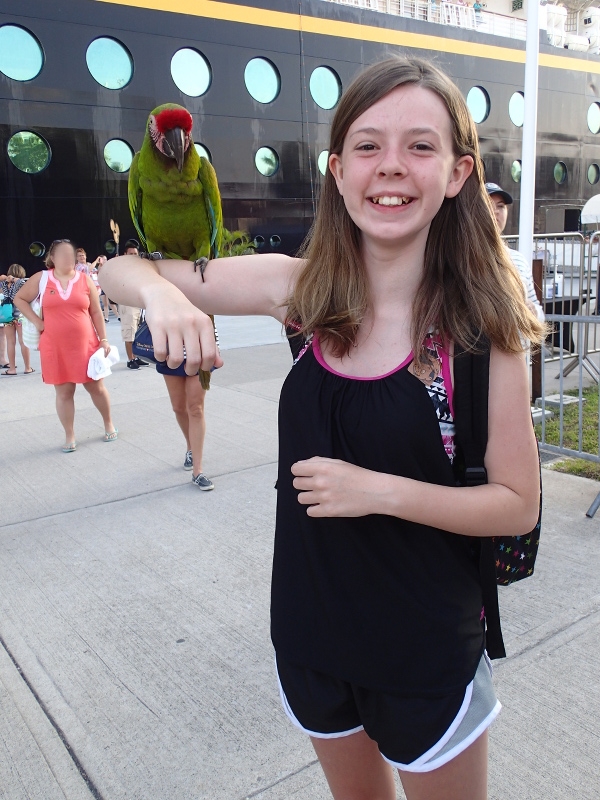 Right at this time we were told to start walking, but this one hadn't taken her picture yet.  I was about to tell her that it was too late and we needed to start moving so that we didn't get separated from the group, but the lady was so sweet and said that we could do it extra quick so we did.  I'm glad she encouraged us to do it.
We started walking and saw what I think was the taxi area:
This was our group walking towards our boat.  So far, I was so much more impressed with this excursion than our previous DCL excursions in terms of organization and wait times.  We have done two DCL excursions prior to this, and both involved some serious waiting around and lack of communication/directions which took away from the experience.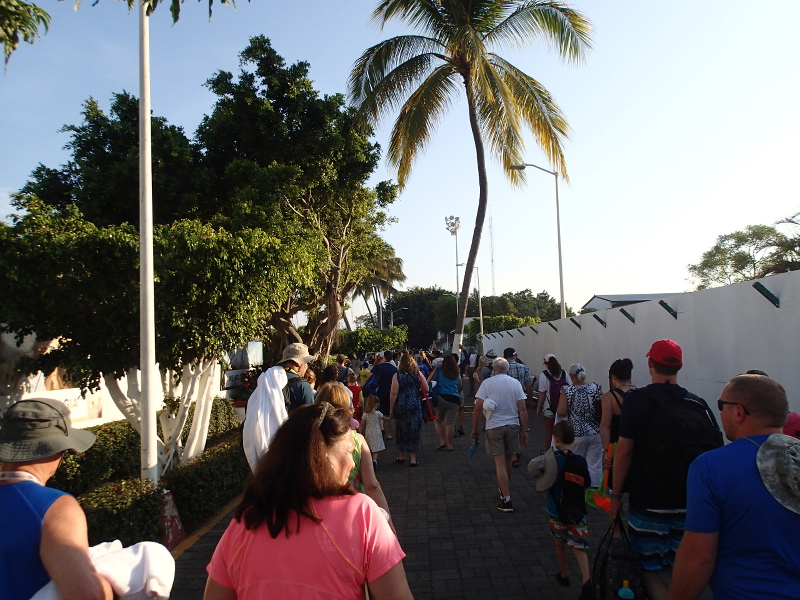 After a short walk we arrived at the dock where the excursion boats were.  You can see here just how close we were to the Wonder.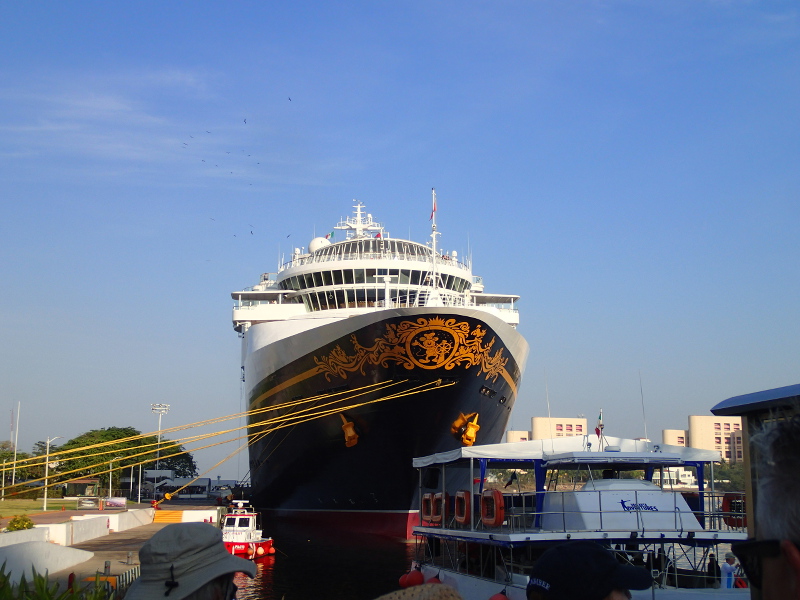 This was a different boat and I don't know where they were going.  Our boat is the one on the right.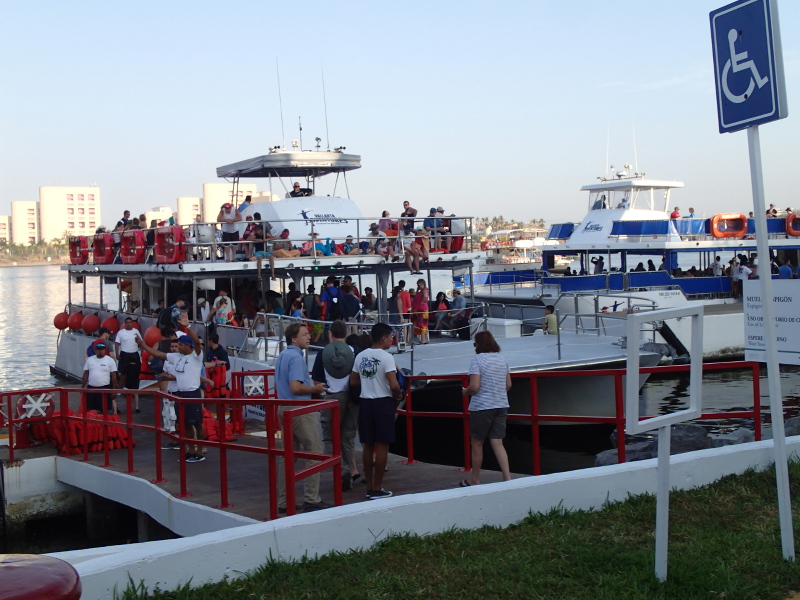 This was our boat: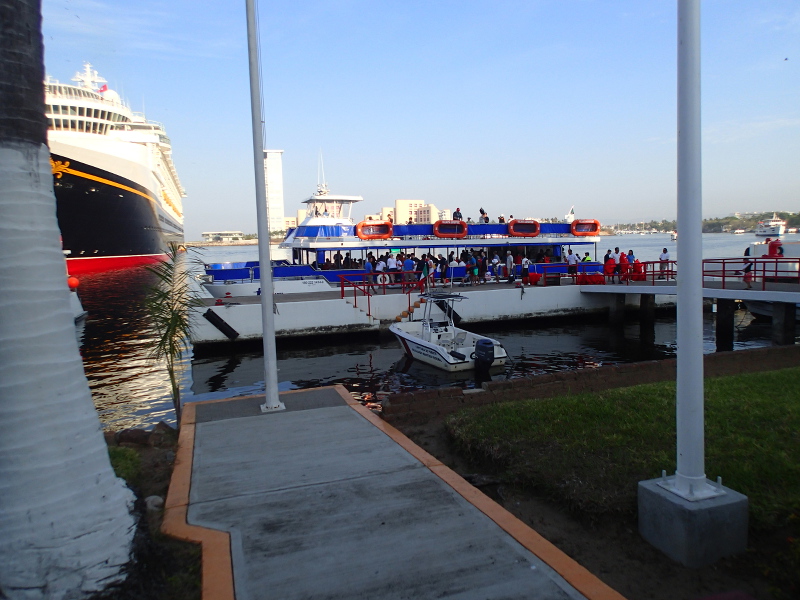 We had a magnificent view of the Wonder.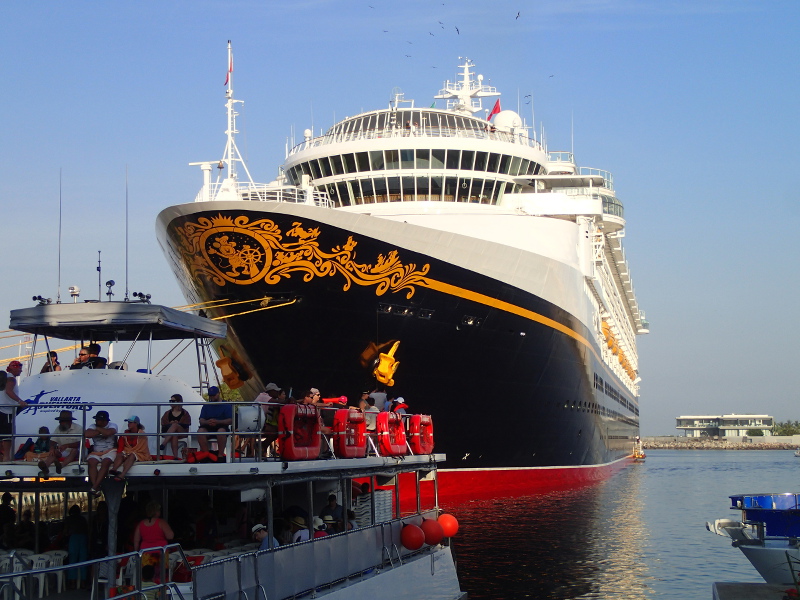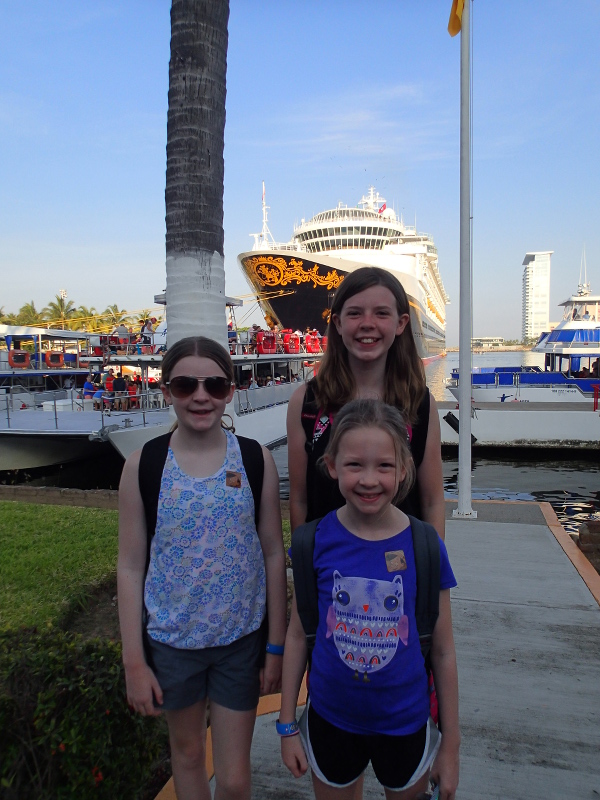 As we boarded our boat, they were handing out life jackets and each person was supposed to take one and keep it with them on the boat ride.  This seemed a little bit strange, but safety first, right?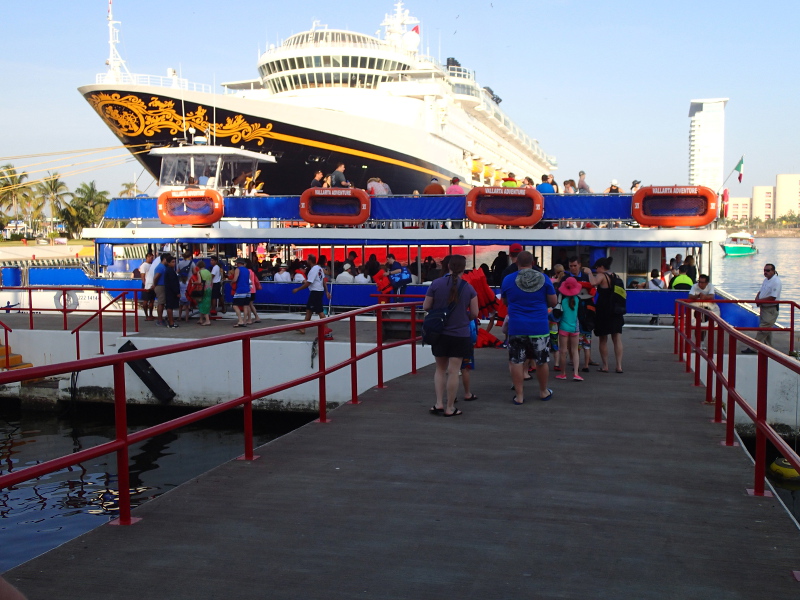 We must have been some of the last people to board because it wasn't very long at all until we started sailing away, getting an even better view of the Wonder as we passed.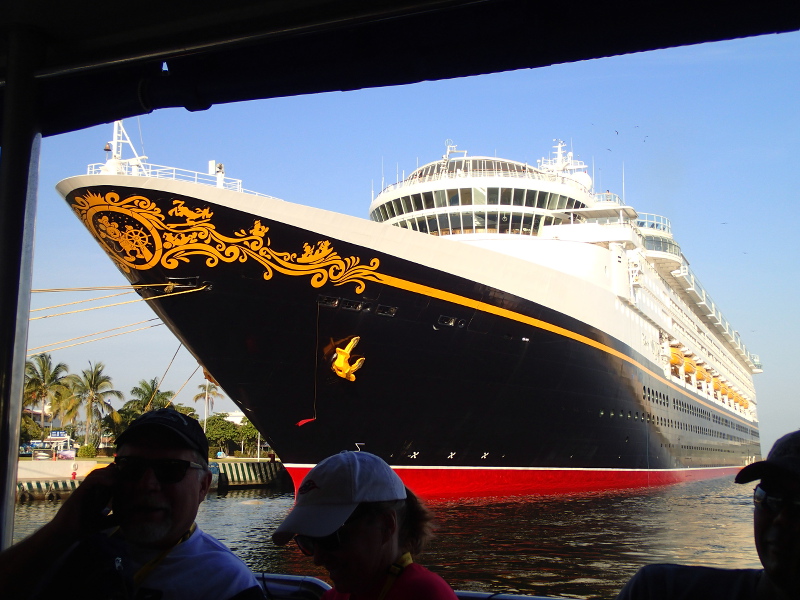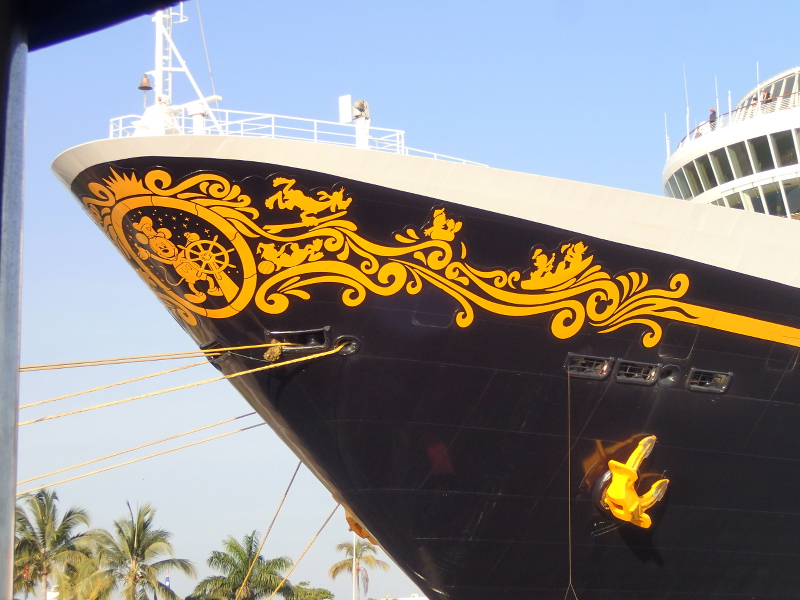 The crew immediately began walking around with juice, fruit and pastries which really impressed me.  This was the point that I realized this crew really had their act together, and the service only went up from here.  For the rest of the day I was blown away by the organization and efficiency of this group.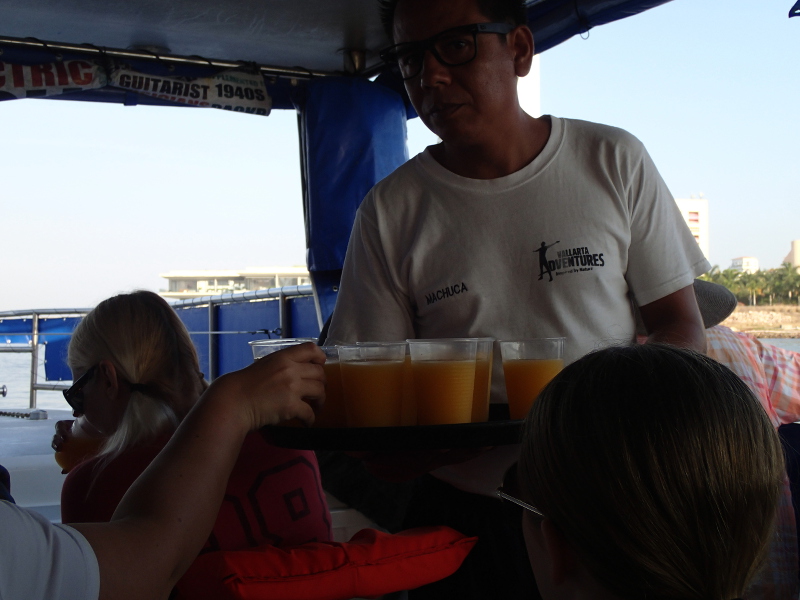 They even passed out plates for the fruit and pastries!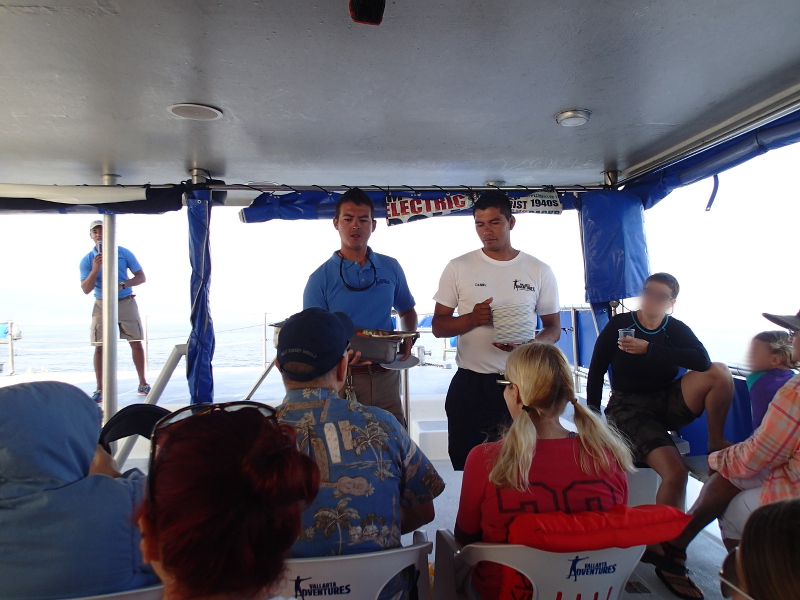 The boat ride to Las Caletas was about an hour, and the crew used every minute of the journey to both entertain us and inform us about what our day would be like at Las Caletas.  They clearly explained (with huge posters) what was included, what would cost extra, and they allowed us to sign up for things that required reservations or an extra cost.  They also told us exactly when lunch would be (12:50) and exactly when the boat would leave for the return (1:50).  They were so incredibly informative and efficient.  Because we did all of this on the ride over, it allowed us to get down to business having fun right when we arrived.  I didn't take specific notes, but I will share what I can remember.
The main things that pertained to us was getting our younger two signed up for the Kids Adventure Park.  There was no extra charge for this, but they do schedule each child for a certain time slot and give them a wristband.  This was for children ages 4-11 and included ziplining, a donkey ride, and a monkey encounter.  A crew member walked around the whole boat and signed up everyone who wished to participate.  Our girls were given a time of 10:15.
There were also activities available for an extra fee, and these are the ones I can remember:  spa services, sea lion encounter, stingray encounter, scuba, power snorkeling, and fly boarding.  There was no extra charge for snorkeling, although they did allow you to purchase your own snorkel but it was not required.
I didn't want to sign up for anything extra because this was already an expensive excursion ($101 ages 10 & up, $70 ages 0-9) and in hindsight I'm glad we didn't because we would not have had any free time on the beach if we had.
In addition to all of the information we were provided with some entertainment:
I can't remember what they were dancing to or why but you can tell that they were a really fun bunch that set the tone for an amazing day.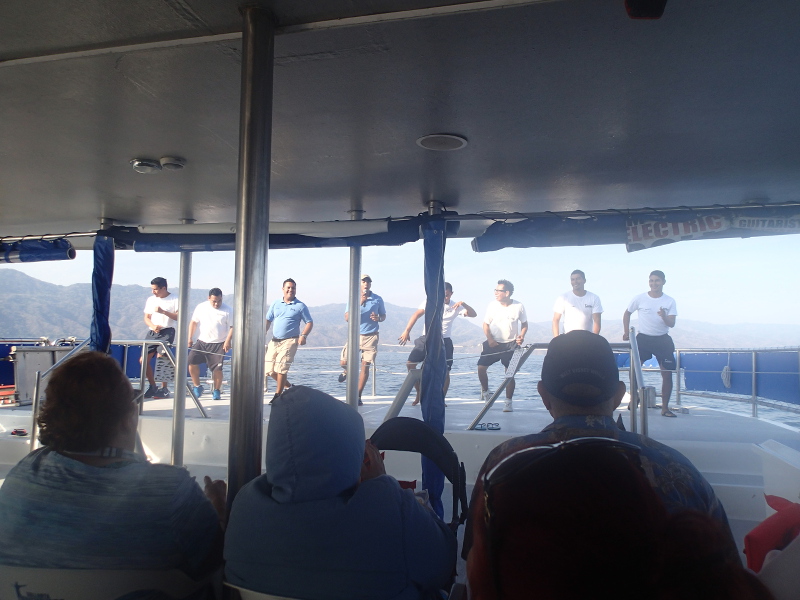 Before we knew it, we were pulling up to Las Caletas at 9:45.  It looked like paradise and (spoiler alert!) it was.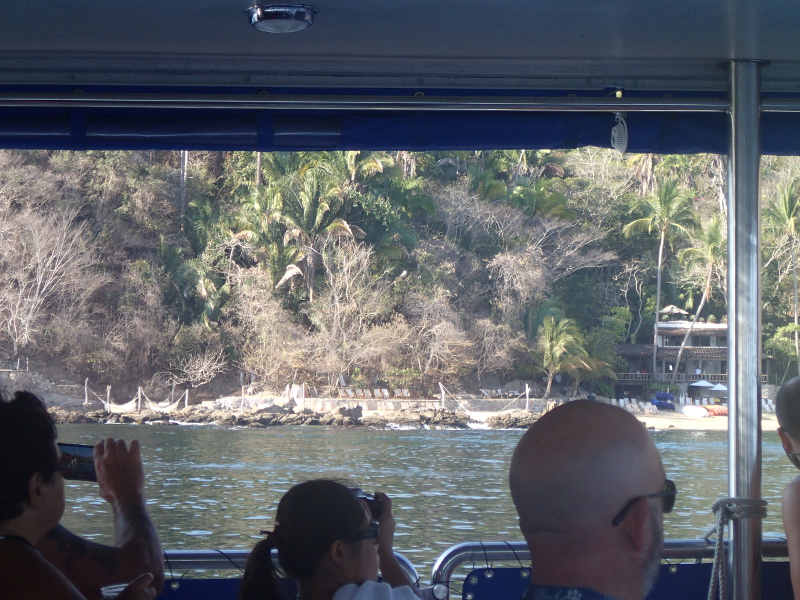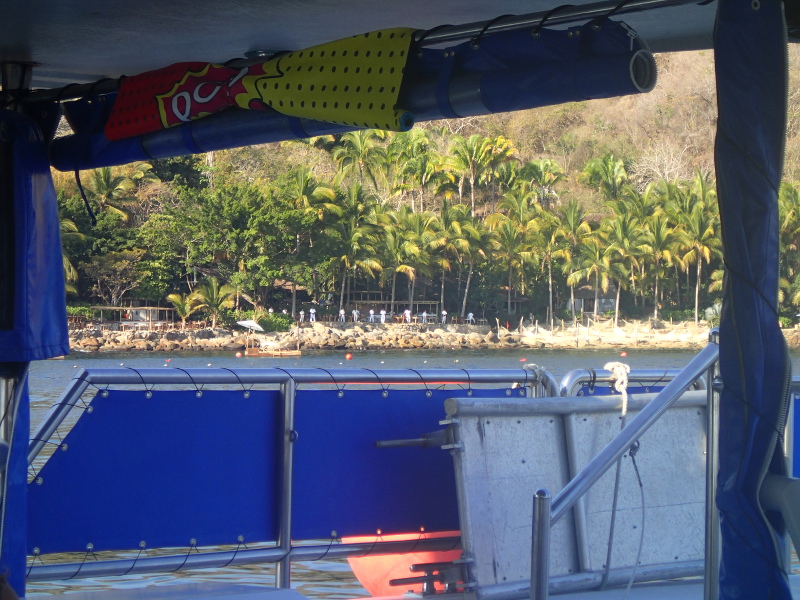 Getting onto shore was quick and we were directed down a path.  Everyone was in a great mood and ready for a fun day.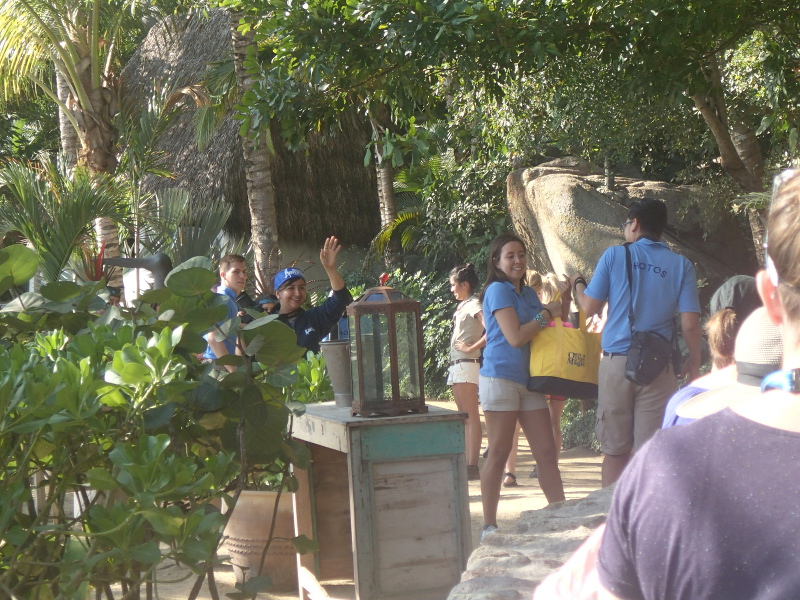 All throughout the day there were staff members everywhere you turned ready to help you with anything you needed or answer any questions.  They were all wearing blue shirts so they were easy to spot and they all spoke English VERY well.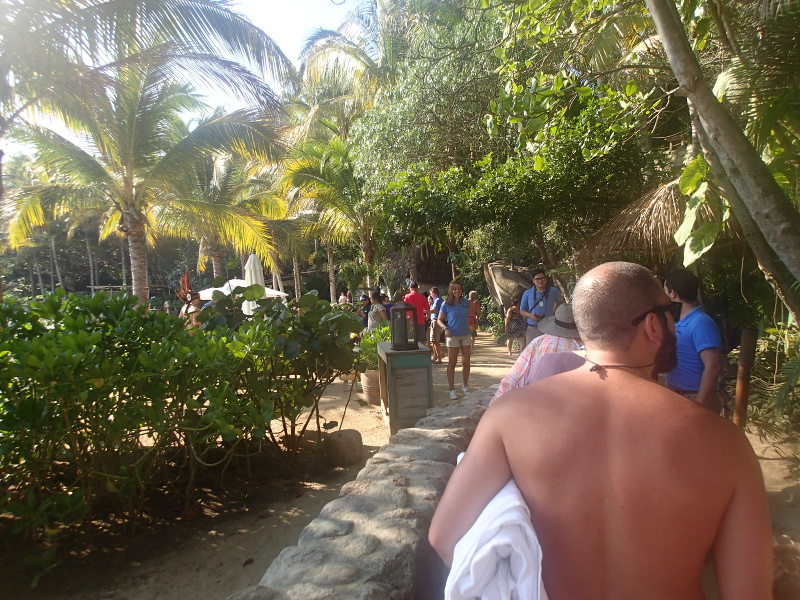 The first thing they we did was take a group photo with some "natives" and 2 birds.  This was one of the birds: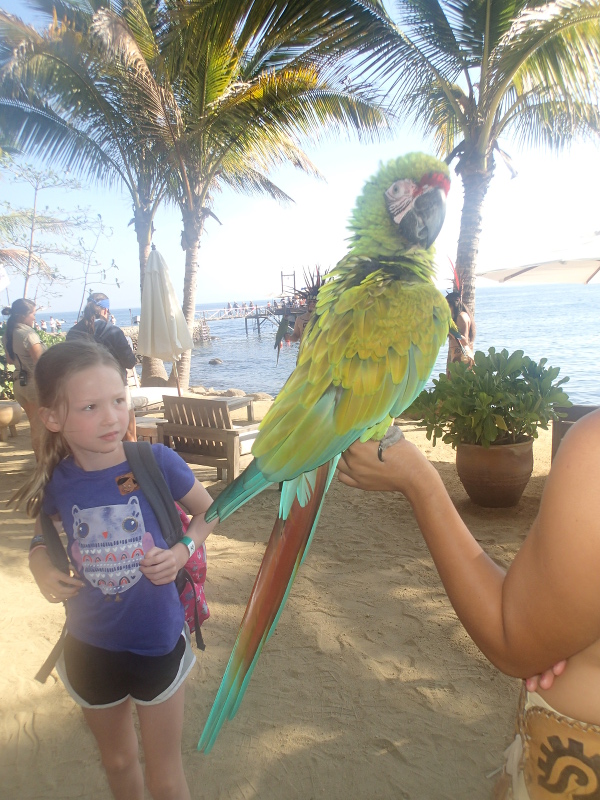 And these were the "natives":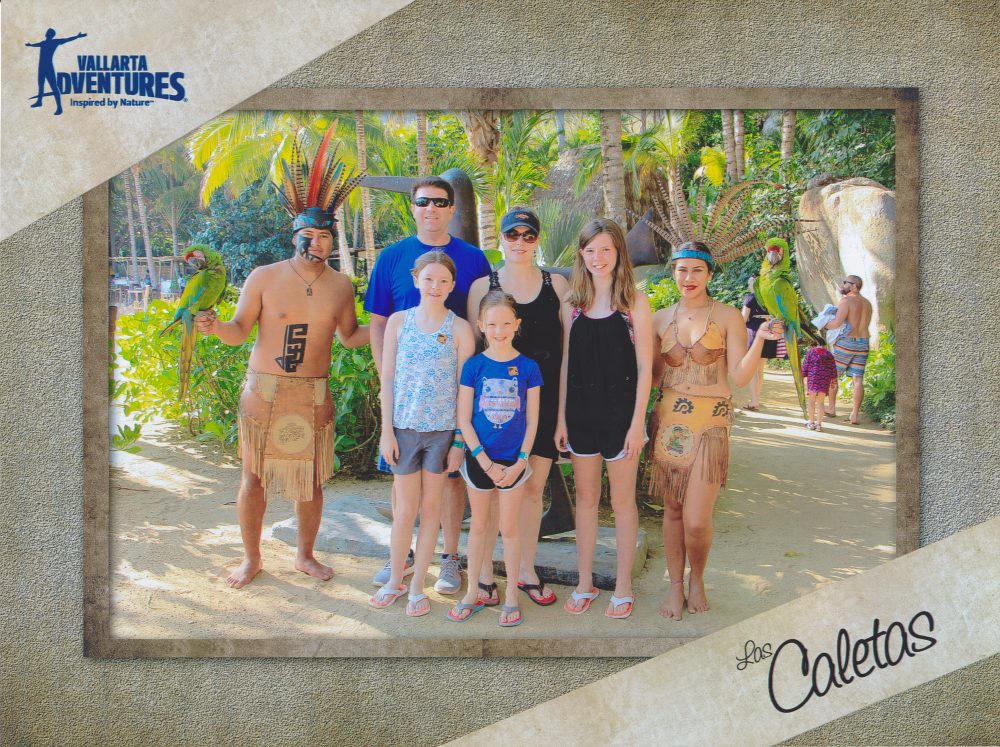 I love touristy pictures like this so we were getting off to a very good start.  It got even better a few minutes later when we continued down the path and a staff member pointed us to the right for a "welcome taco," or to the left for the beach.  I really wanted the welcome taco, but due to past experiences like this (I'm looking at you, Blue Lagoon!) I was anxious to quickly secure some chairs on the beach.  We declined the taco and made a beeline for the beach, which in hindsight was not necessary because there was plenty of seating.
While I'm thinking about it, I do want to mention that Las Caletas is not good, AT ALL, for those with mobility issues.  It does explain this on the DCL website in the fine print.  There are lots and lots of stairs that are carved out of the hills, steep, with no hand rails.  You have to take at least some stairs to get pretty much anywhere, and sometime lots of them.  You could not bring a stroller here either.  My parents are 70 and in good health and I think they would have struggled a bit with all of the stairs.
This was our view on our walk to the beach.  Plenty of hammocks, unlike at Castaway Cay.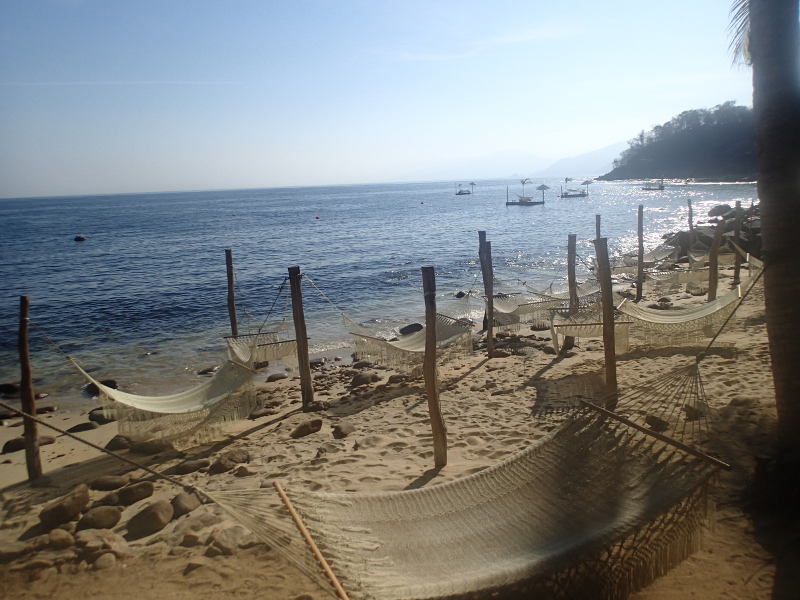 The girls were very intrigued by these island platforms and if/how people would get to them: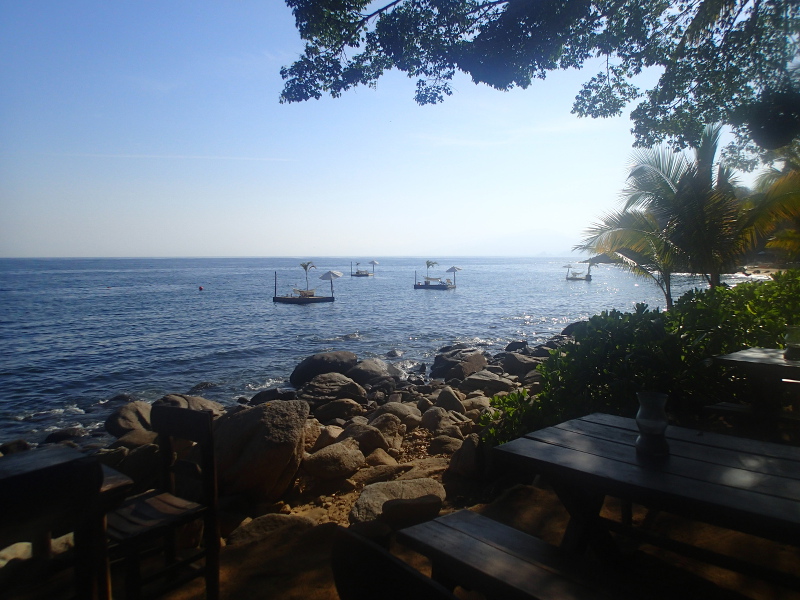 We arrived at the main beach area and easily secured some chairs in the shade.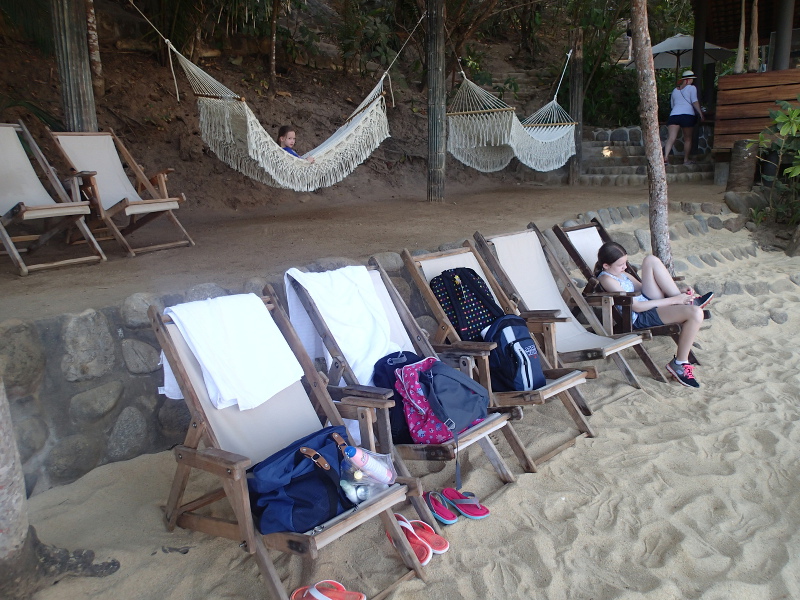 The girls had to check out the hammocks.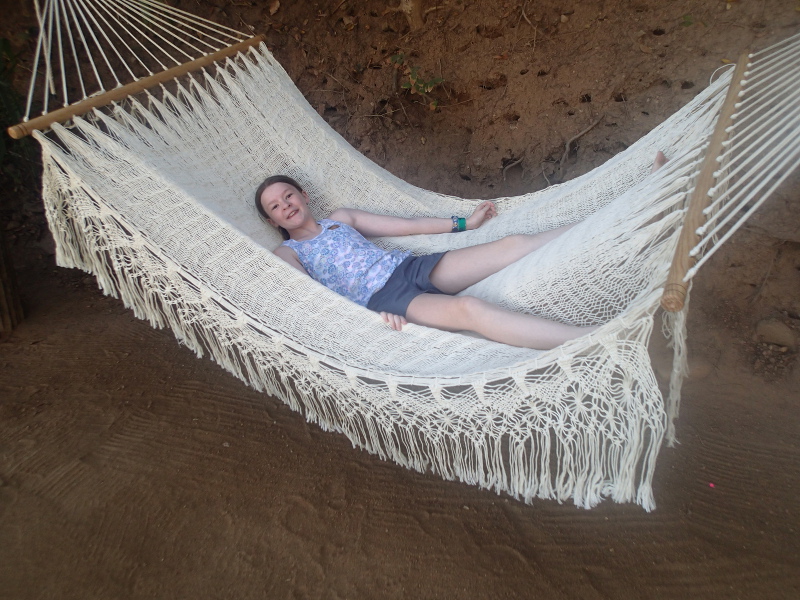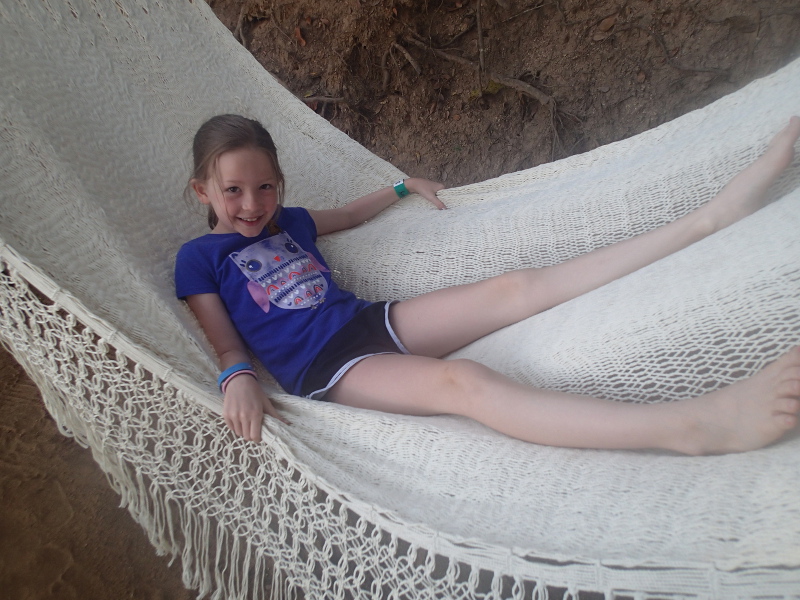 We only had a few minutes before our 10:15 appointment at the Kids Adventure Park and weren't quite sure where it was, so we decided to head on over.  We split up at this time, with myself taking the younger two and my husband and 12 year old heading over to the Teen Adventure Cove to check it out.  Reservations are not needed at the Teen Adventure Cove and they have zip lining, a pole stepping thing, a huge waterslide and "The Blob," which is a giant inflatable thing where one person sits on it and one person jumps onto it and sends the other person flying into the ocean.  I know that is a terrible description but you can see pictures of it by clicking on the links above.
Because of the instructions given to us on the boat ride over, we easily found the Kids Adventure Park.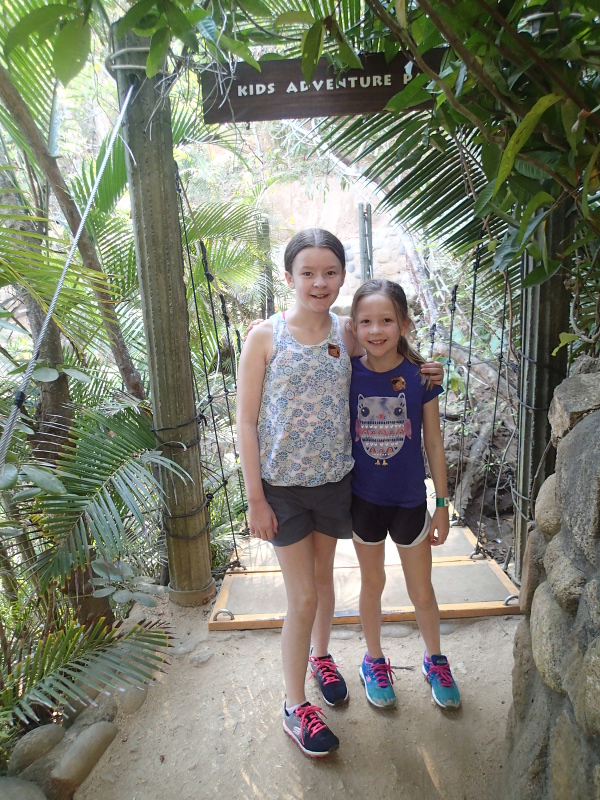 In the background of the photo below you can see an example of all of the stairs that I mentioned earlier.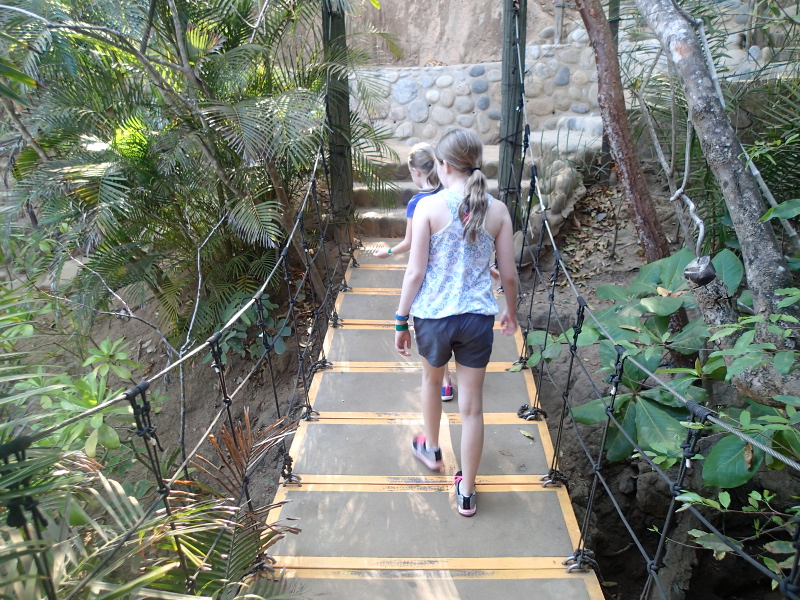 We were some of the first to arrive and the girls started getting their gear on.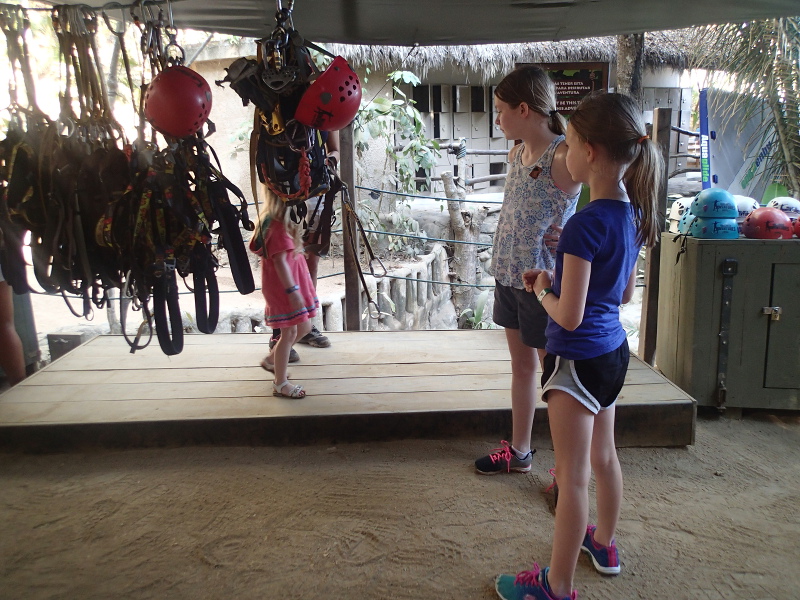 These ladies running our Kids Adventure were fabulous!  They were fun, professional, and very safety-conscious.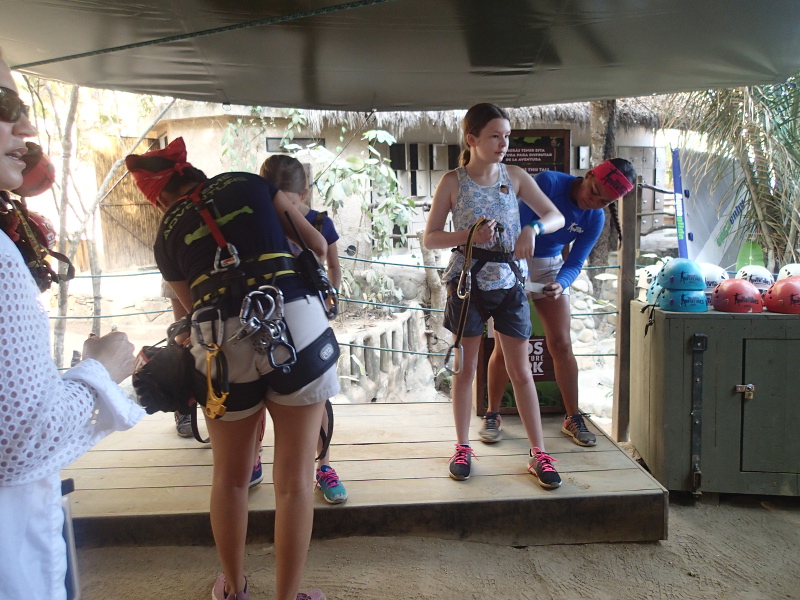 After all of the kids were set with their gear, the first thing they did was show the kids a tarantula in a basket.  The kids seemed impressed.
The parents were sitting on some benches behind the kids.  We had the option to buy a bandana for $5 to put between our kids' heads and helmets.  It was a nice offer but I declined.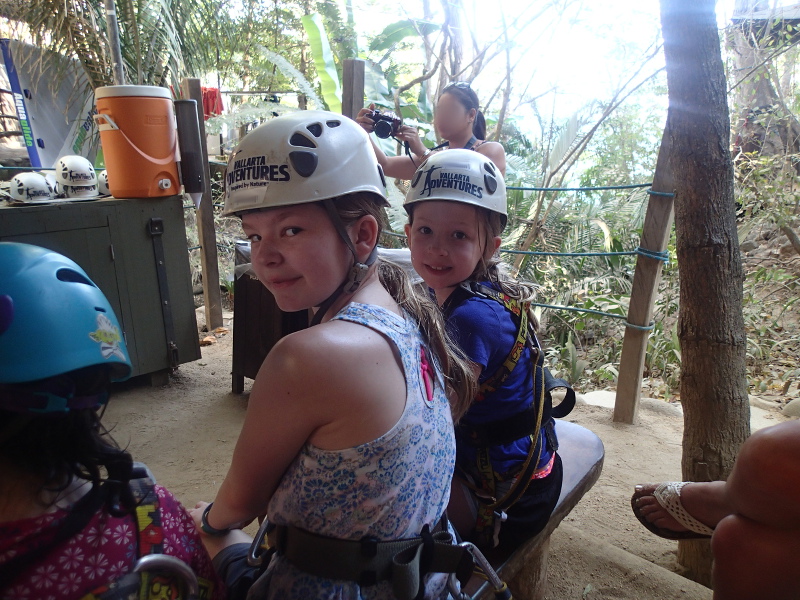 After the tarantula, our group went to the monkey enclosure.  The kids were inside the cage with the guides while the parents watched from below.
A photographer followed the kids around and took great pictures and video of the whole adventure, which we were able to purchase on the boat ride home (more details on that later).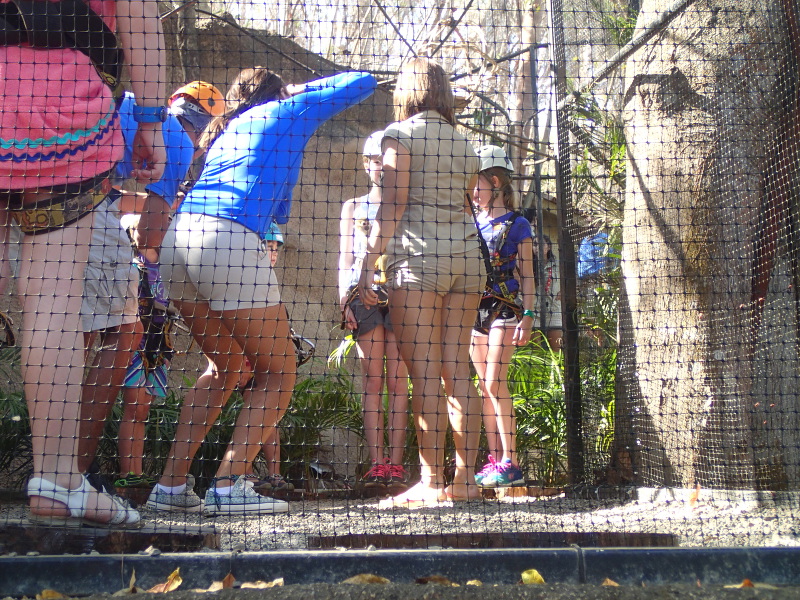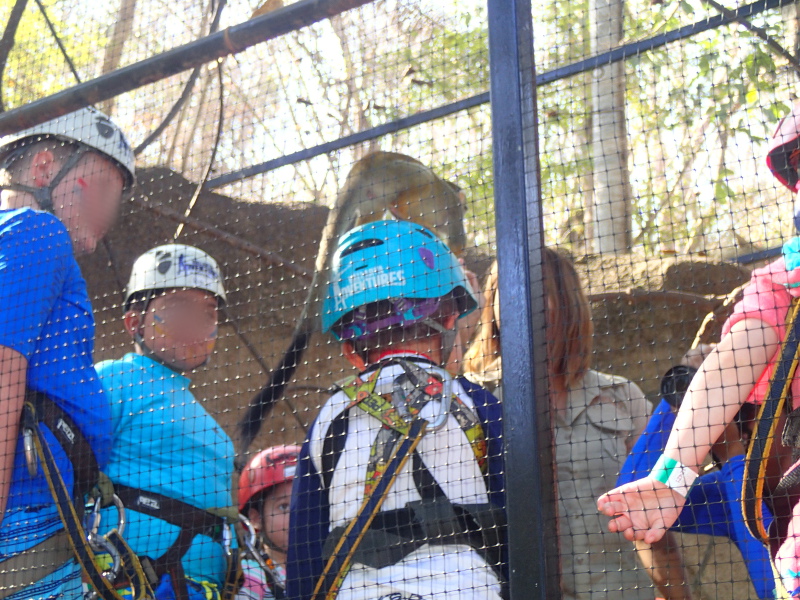 I ended up buying the pictures and will intersperse them with mine throughout this post.  Here are 2 of the monkey photos: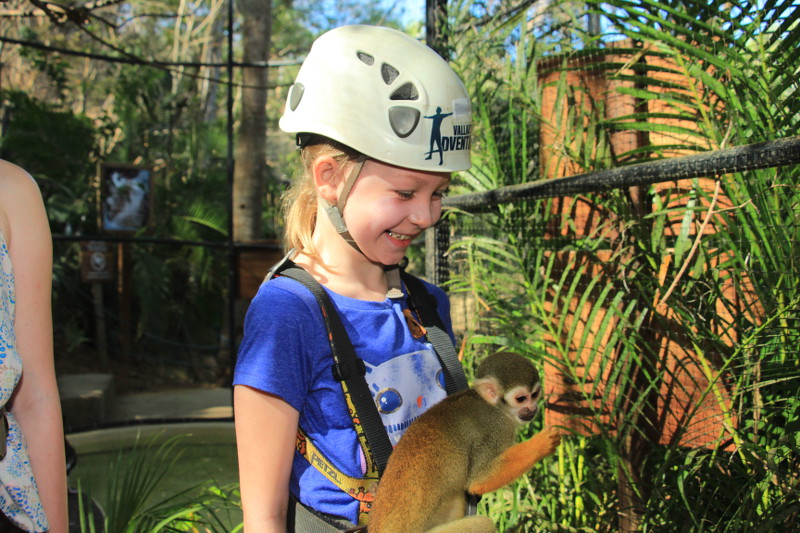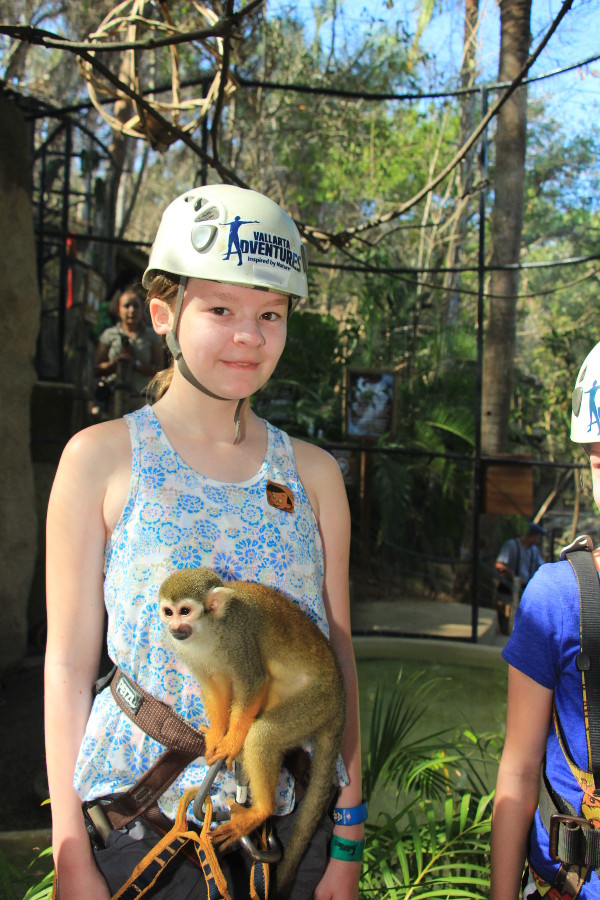 After the monkeys it was time for the donkey ride.  Each parent was supposed to guide the donkey for their child along the path, but since I had 2 kids, one of the guides helped me out and took the older child.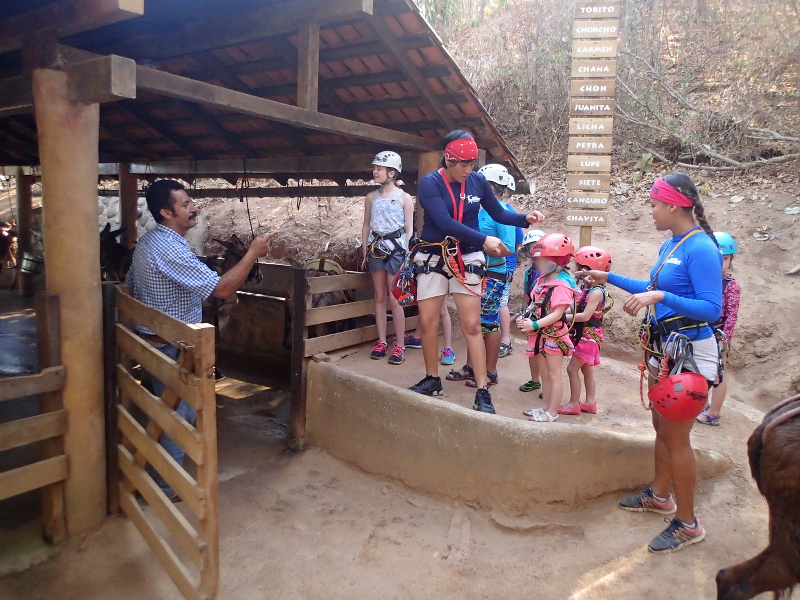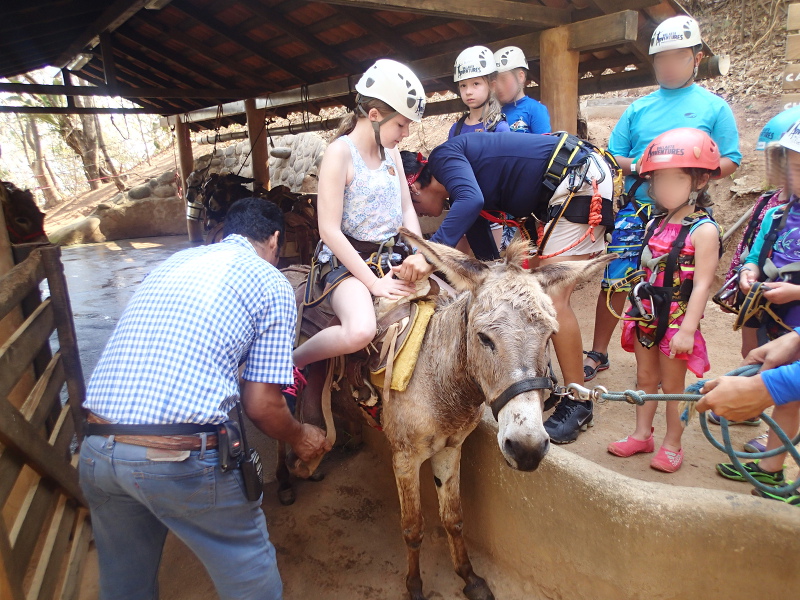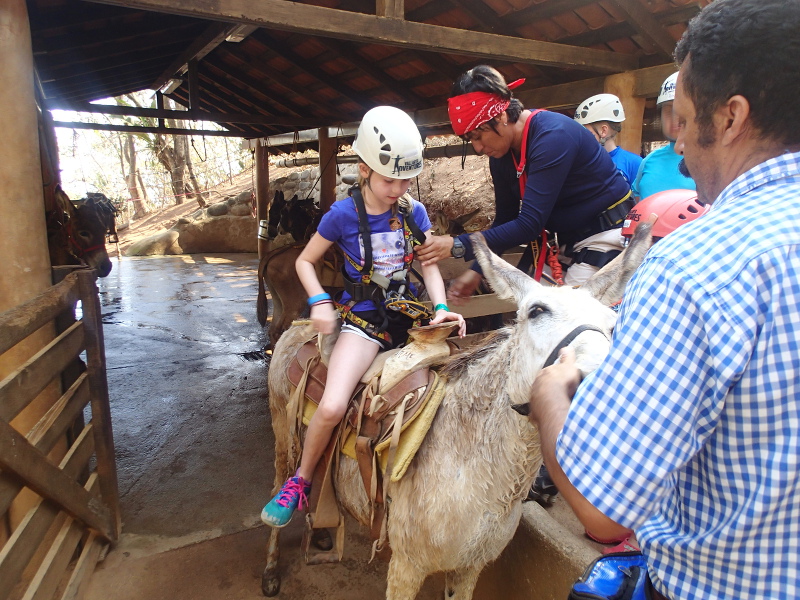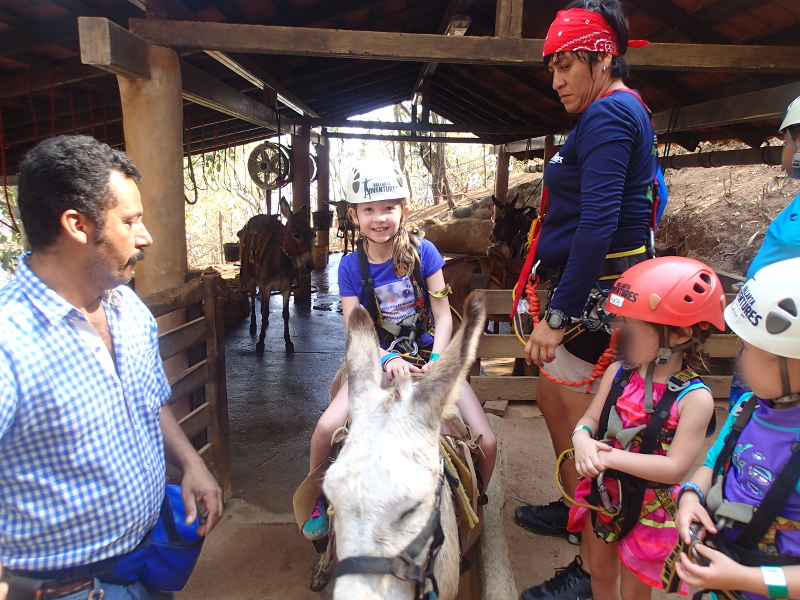 Here are some of the photos I purchased: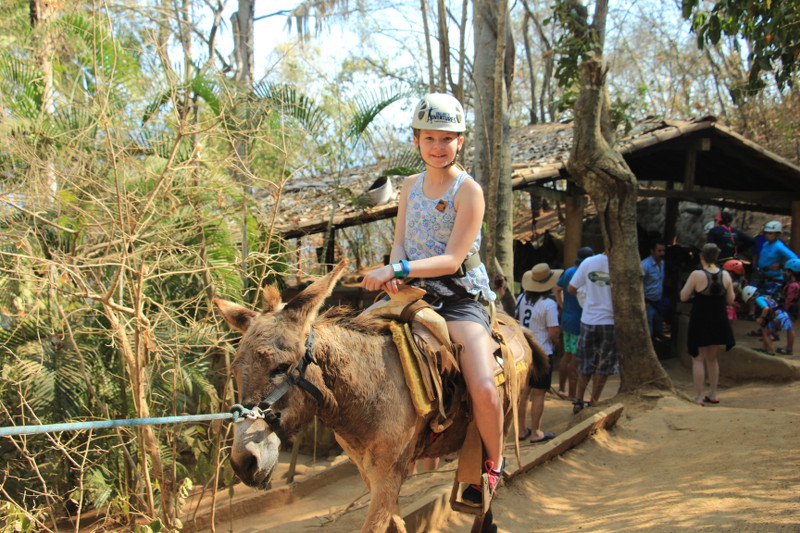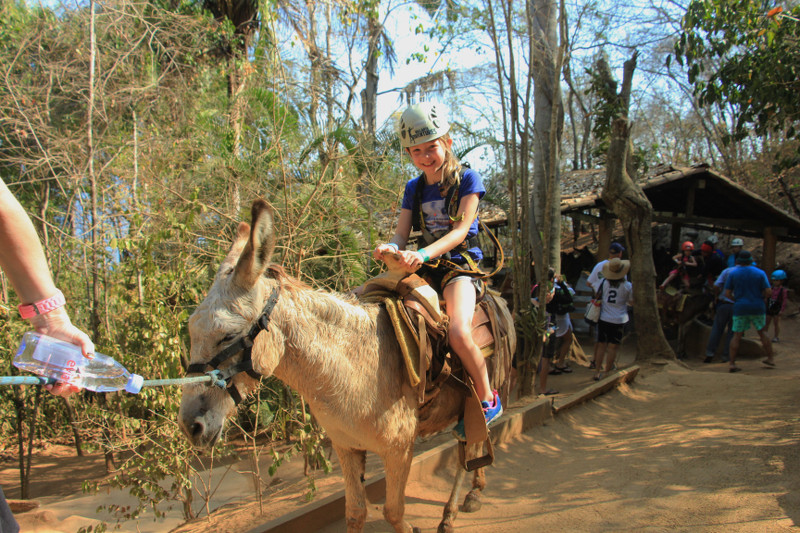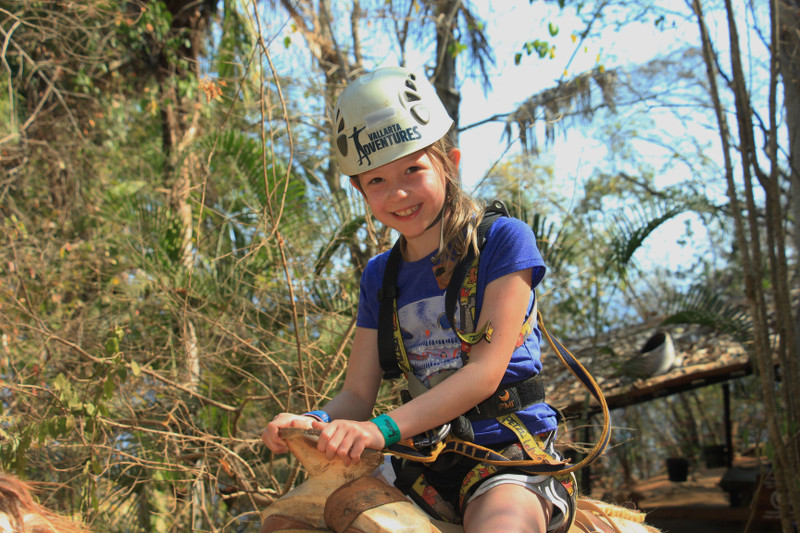 After the donkey ride, they had the kids do something with some pots of dirt.  I'm honestly not sure what they did because I walked up at the very end.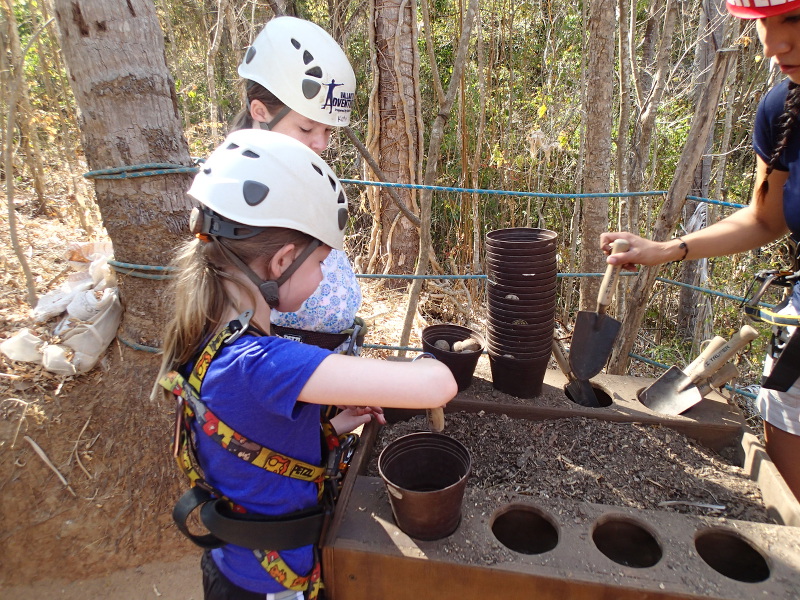 Next it was time to walk across a suspension bridge to get to the first zip line platform.  I took some pictures at this end: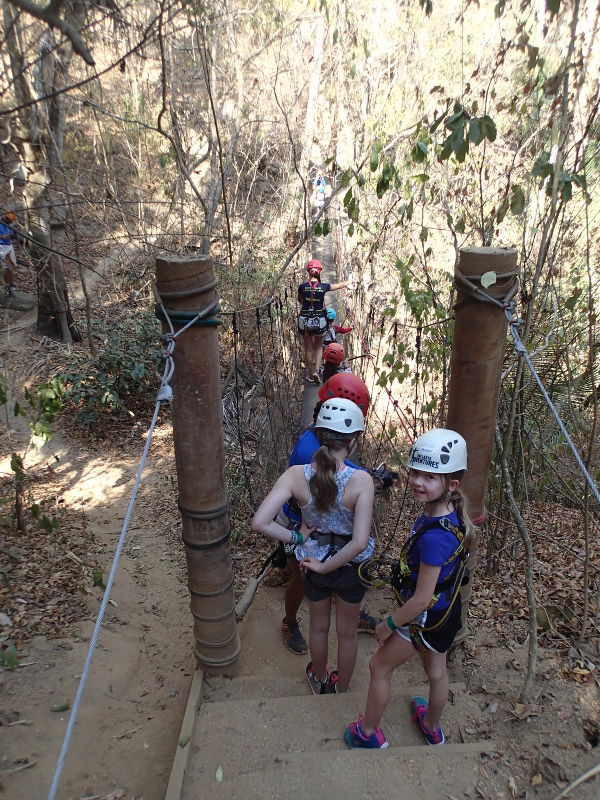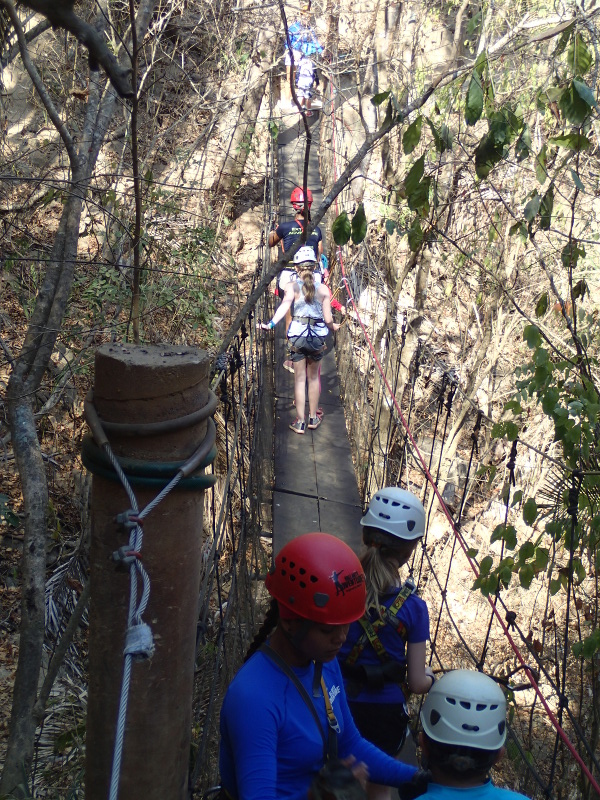 The photographer got some pictures at the other end: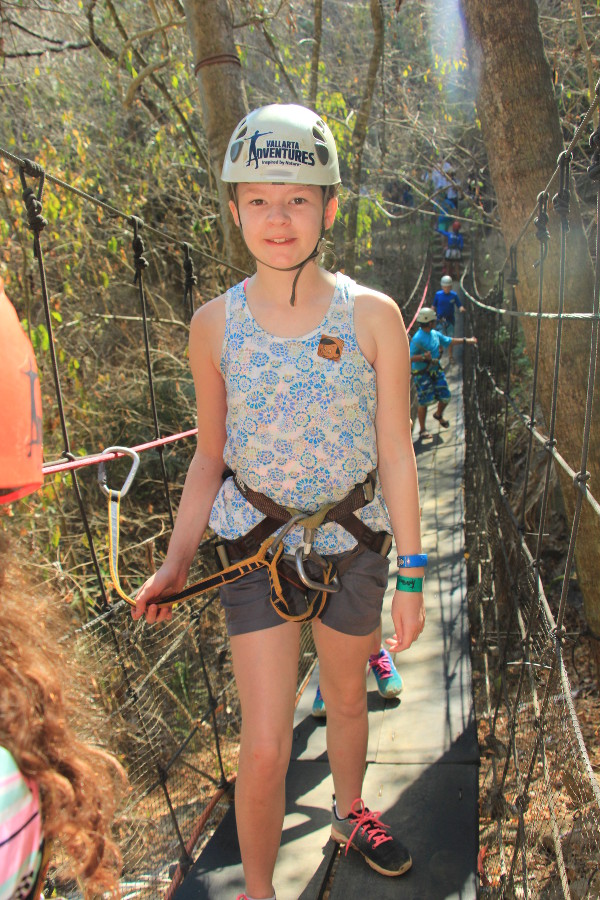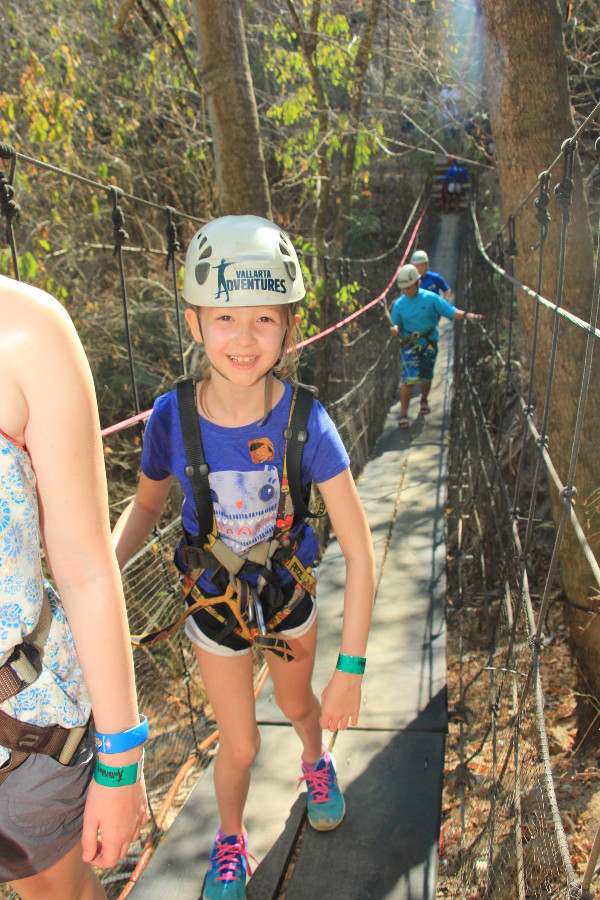 At this point the parents were pretty far away as the kids got ready for their first zip line.  It didn't make me nervous though as I had complete confidence in the guides.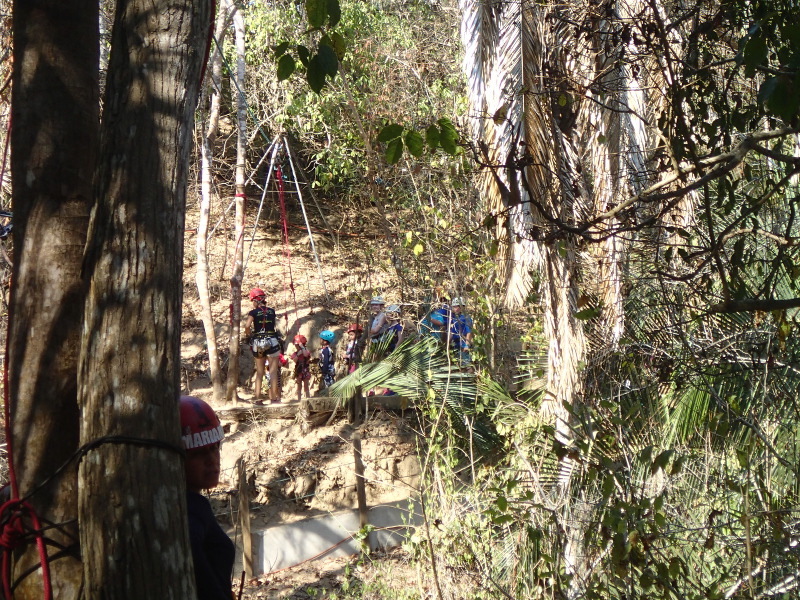 I took some pictures of the girls zip lining, but the photographer's were much better so I will only show you hers.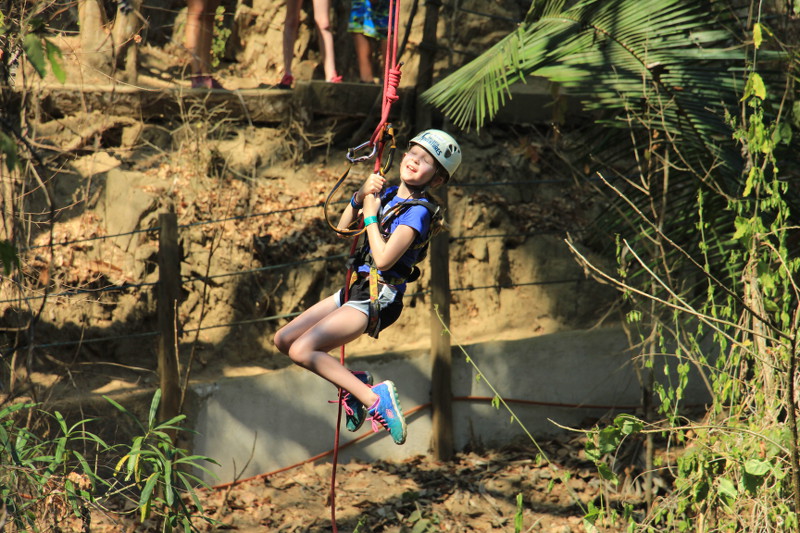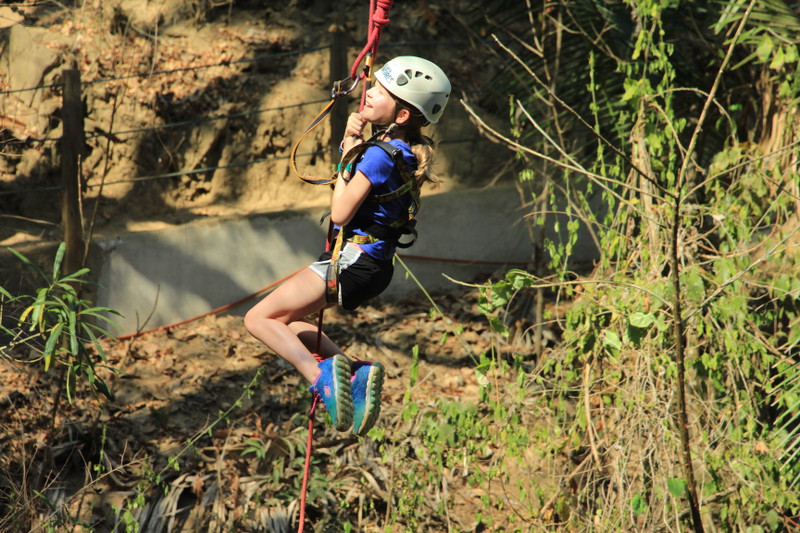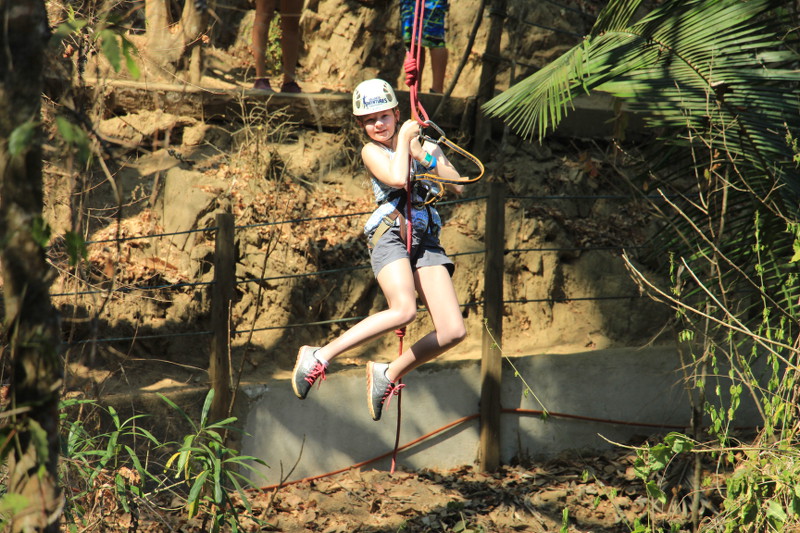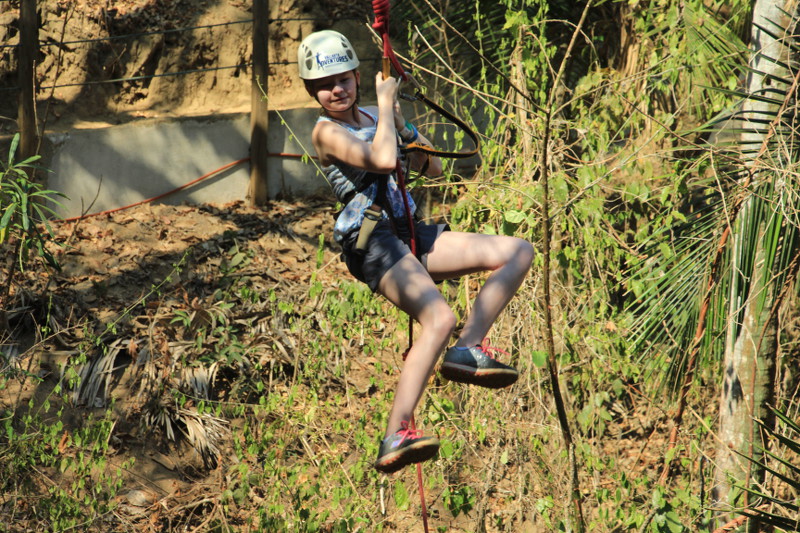 After everyone had their turn, they walked to another platform for the second zip line.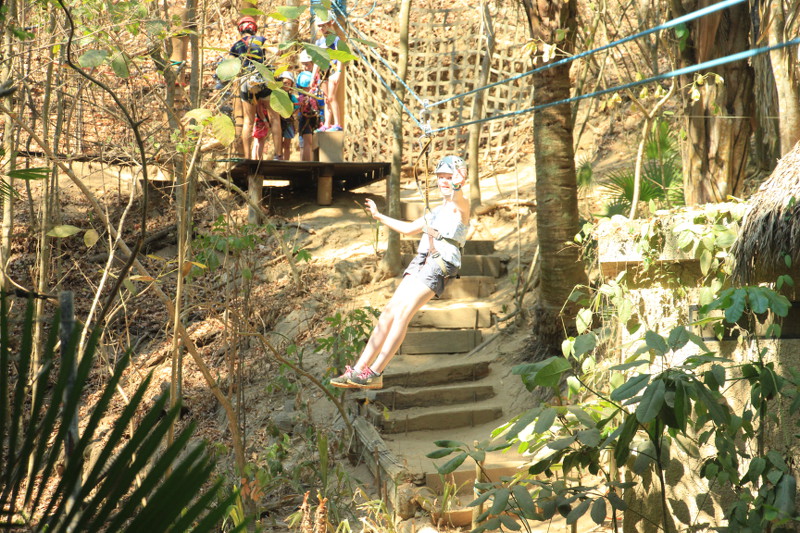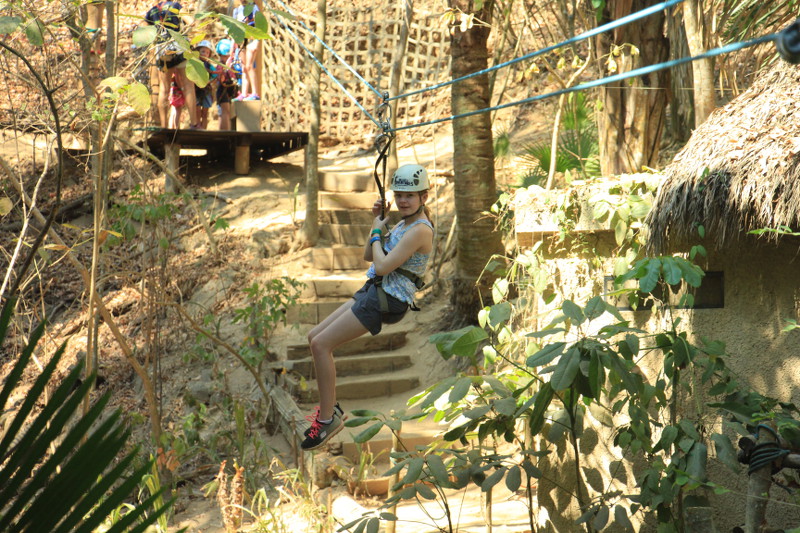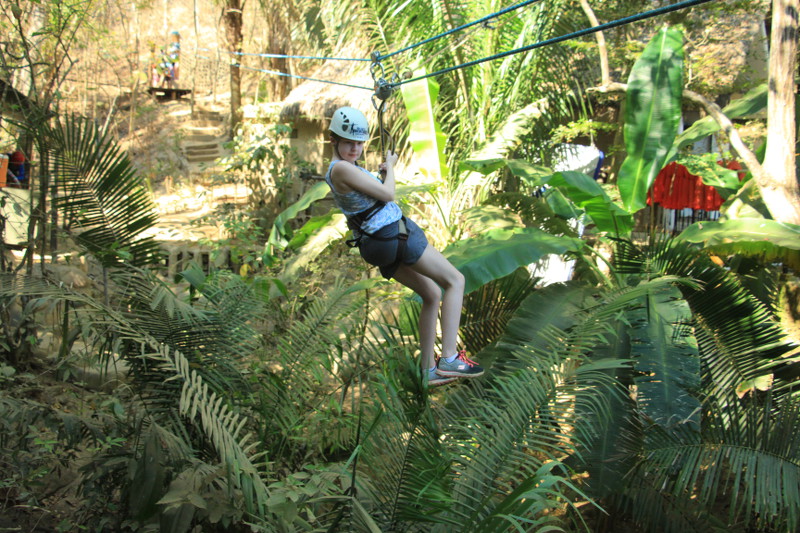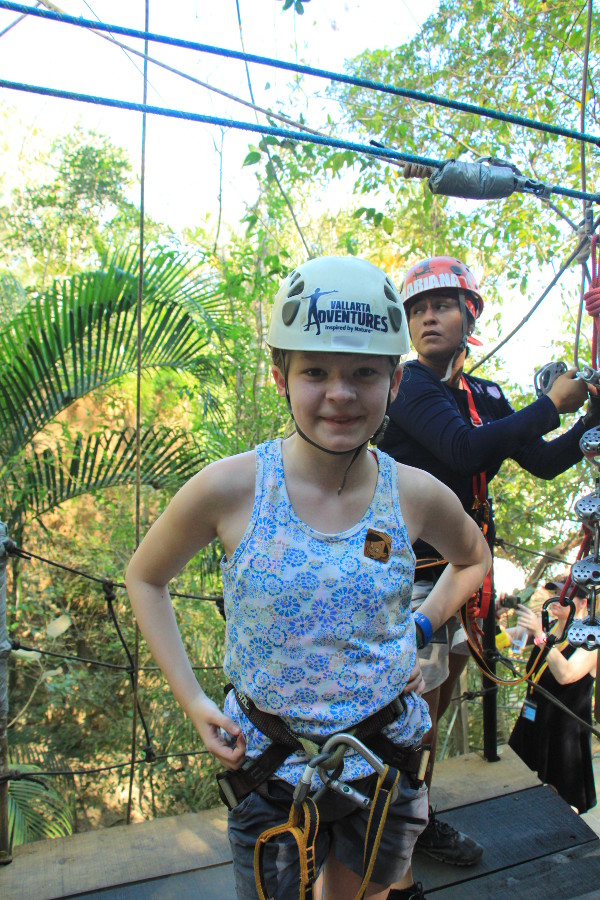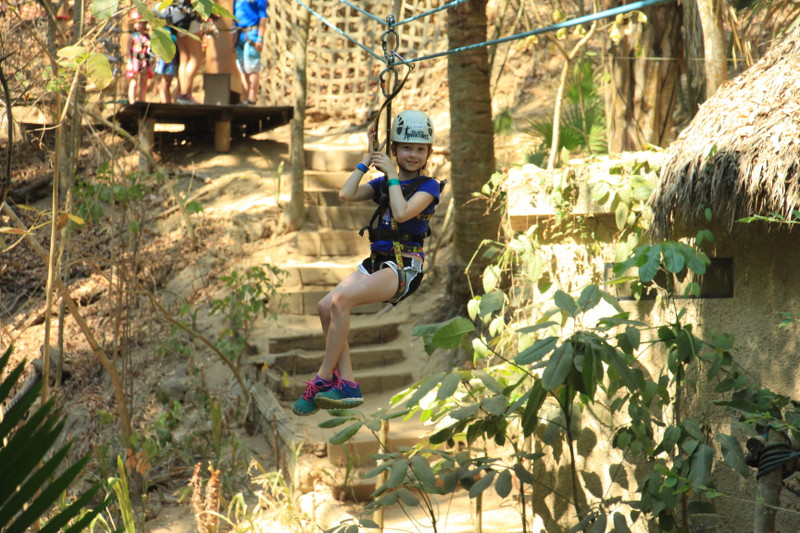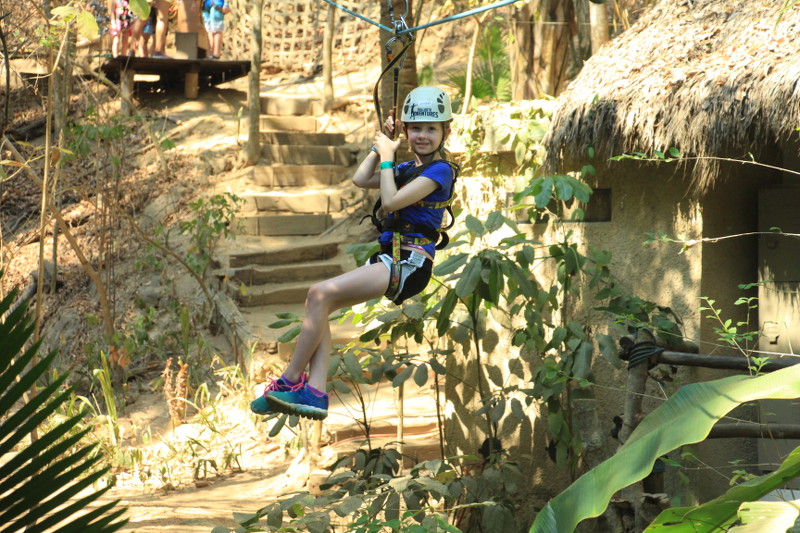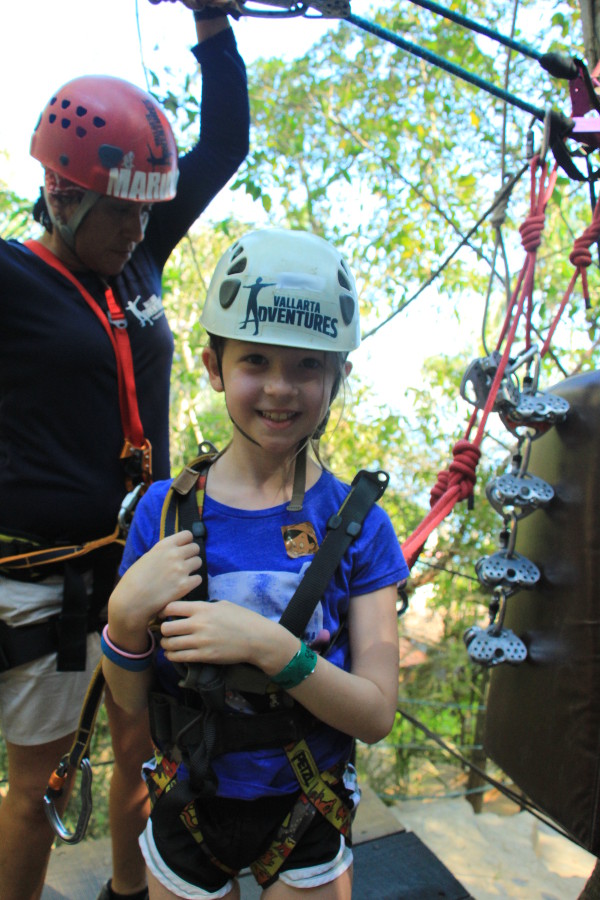 This concluded the Kids Adventure Park experience which ended up taking about an hour.  My girls loved it and I was very impressed with how well it was run.  They could not have been more prepared, professional, efficient, polite and most of all, fun.  I was also seriously impressed with their photography and videography.  This is the video that they already had ready for us on the boat ride back:
This post is getting pretty long so I'll stop here for part 1.  On Part 2 I'll pick up with us leaving the Kids Adventure Park for some beach time!
Up next:  Day 12 – Puerto Vallarta Part 2
.
As always, don't forget to like me on Facebook (click here) and follow me on Pinterest (click here) for all of the latest Disney Cruise Mom Blog updates!