Day 12 Part 2:  Puerto Vallarta
 If you would like to start this trip report from the beginning, click here.
Note: I do not feel right posting pictures of fellow cruisers who have not given me permission to use them on the blog, so I will blur out the faces of people in the background of my photos. I'm sorry if it looks funny, but I want to respect their privacy.
Also, anytime you see red text, it is a link to either product information or another one of my blog posts that gives more detailed information about that topic.
.
You can see this day's Daily Navigator by clicking here:  Navigator Day 12
When I left off in Part 1, the girls had just finished the Kids Adventure Park and we headed to the beach.  By this time it was 11:15, and lunch was at 12:50 so we only had an hour and a half.  That is absolutely the only negative thing I can say about this excursion – it was too short!  All aboard time was 3:45, presumably because that's what was needed to get us to Cabo San Lucas on time the next day.  However, I can assure you that we made the most out of that hour and a half – we had an absolute blast on that beach!!!  We would have loved to been able to stay longer though.
This was our view walking back to the beach: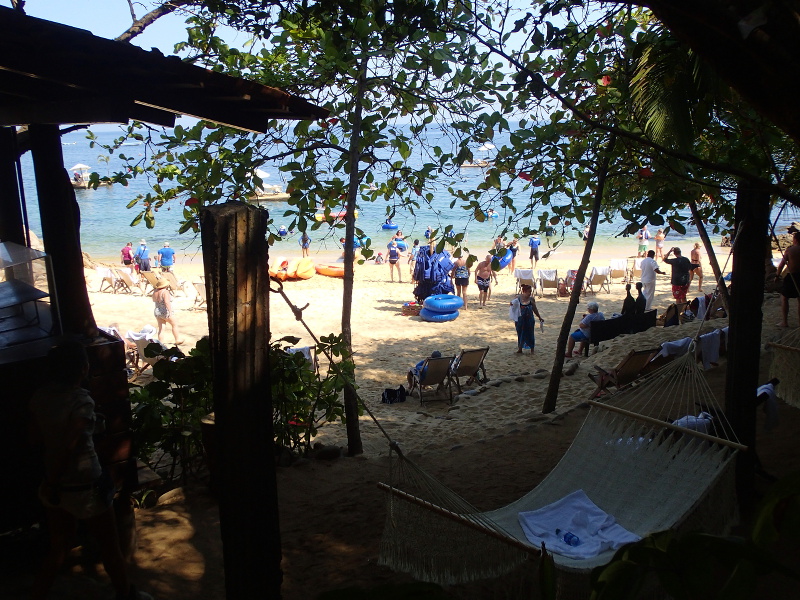 My husband and oldest daughter were not back from the Teen Adventure Cove yet, but the other two and I hit the ocean.  I thought that the water would be cold this early in the year, but it wasn't.  It was very comfortable.  This was looking down the beach in one direction: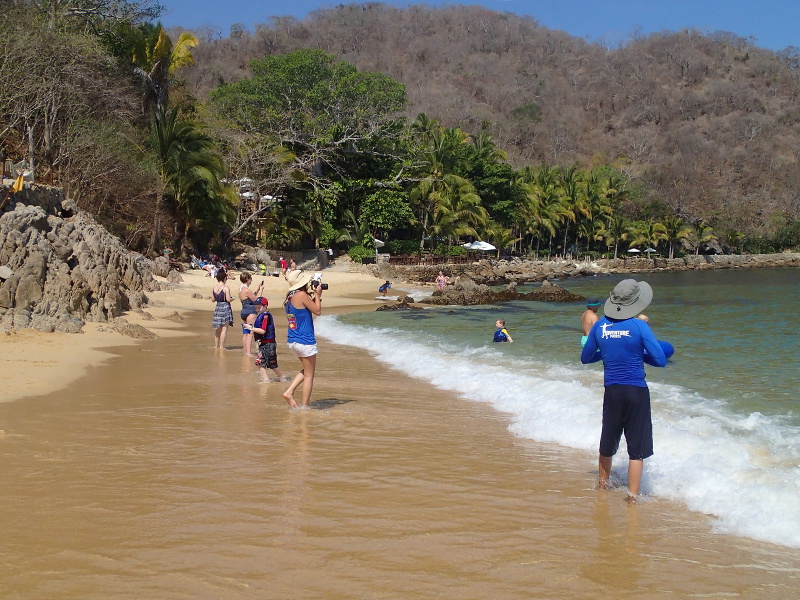 And the other direction: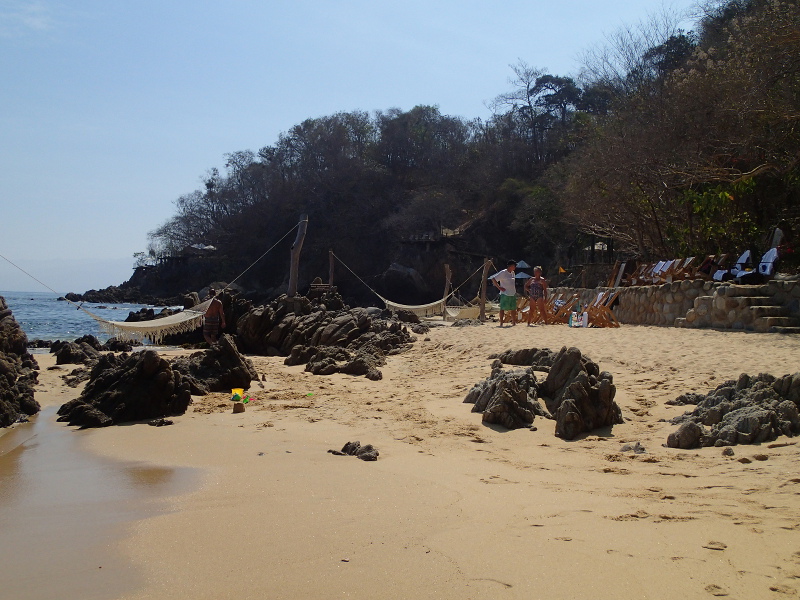 This was looking back towards the shore: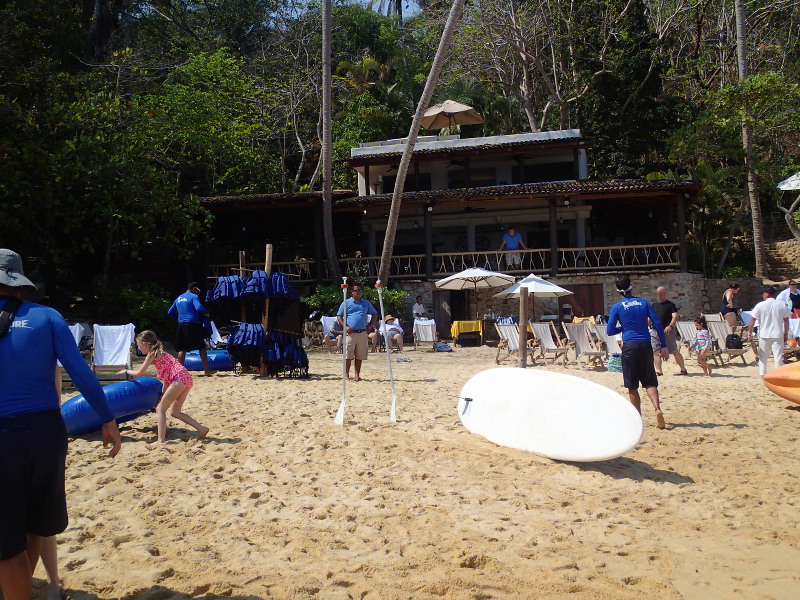 The tubes, paddle boards, and kayaks were all included in the cost of the excursion.  There were lots of employees (in the blue rash guards and polo shirts) to help you with them, get you a life jacket, and give you any instructions, if needed.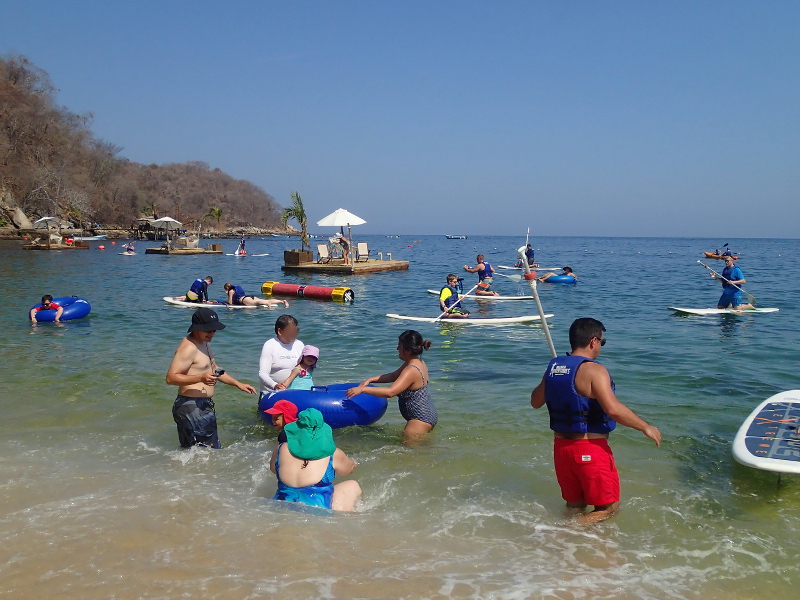 Everyone was in such a great mood and having a fantastic time.  It was paradise.  There were several photographers on the beach as well and they did a great job of being quick and not taking up too much of our time, yet still getting some really great shots.  Unfortunately, I didn't end up buying the beach photos they took (more on that later) but I saw them and they were really good.  I got plenty of beach shots of my own though.  One photographer asked us to jump in the air for a picture.  I love jumping shots like this, so I was really hoping it turned out well.  Unfortunately, our youngest has not yet mastered the jump and smile technique.  My 10 year old on the other hand has some excellent technique: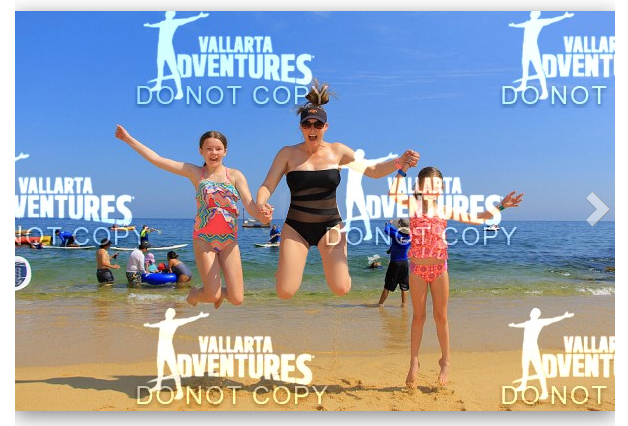 I didn't buy it, but downloaded the proof from the website later to show the girls.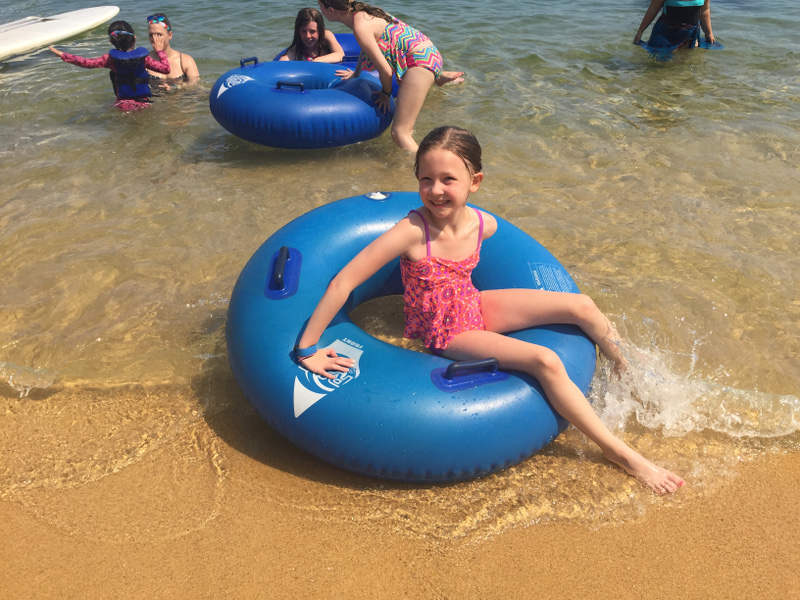 Here is a photographer trying to turn her around in the tube for a picture: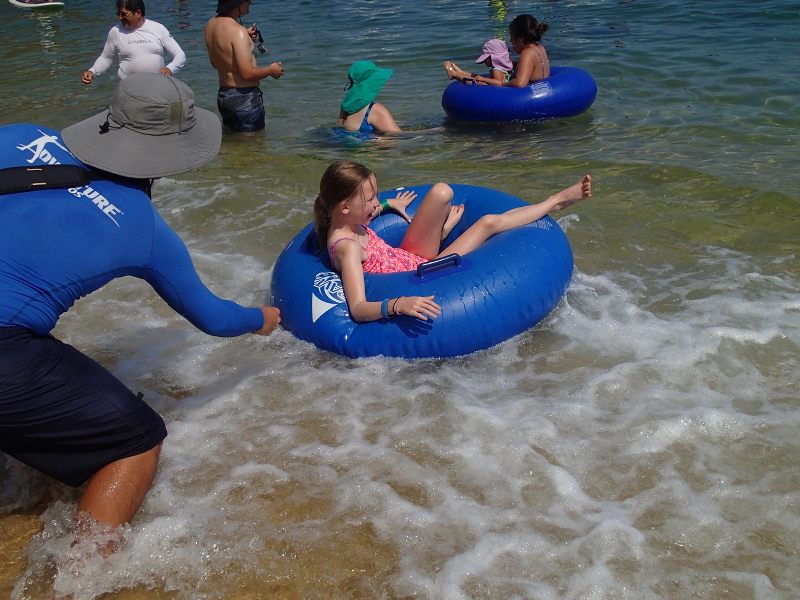 After a few minutes, my husband and daughter returned from the Teen Adventure Cove and said that it was fun.  It didn't sound quite as organized at the Kids Adventure Park, but they enjoyed it.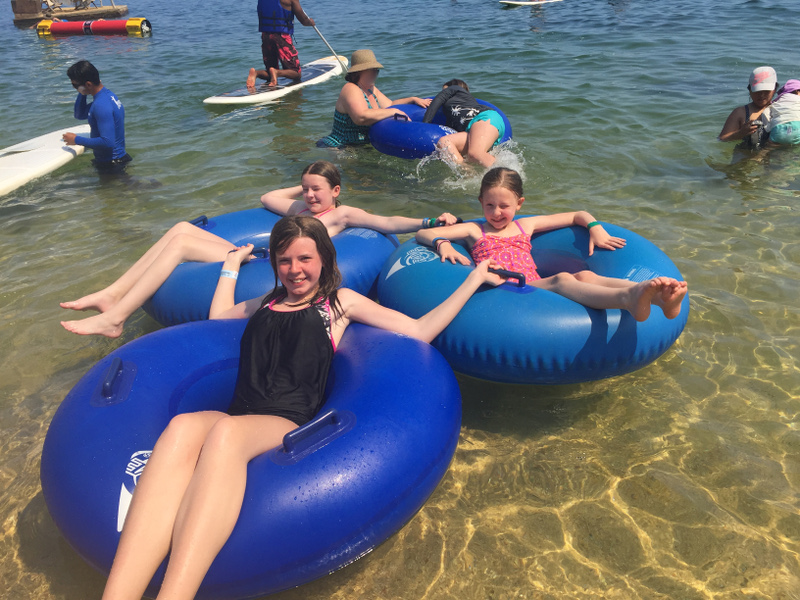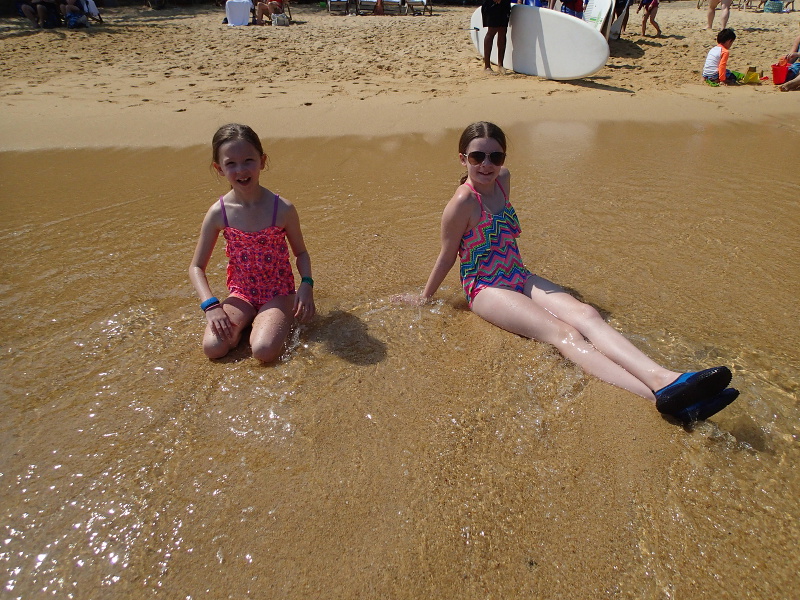 The beach was so gorgeous I just couldn't stop taking pictures of it.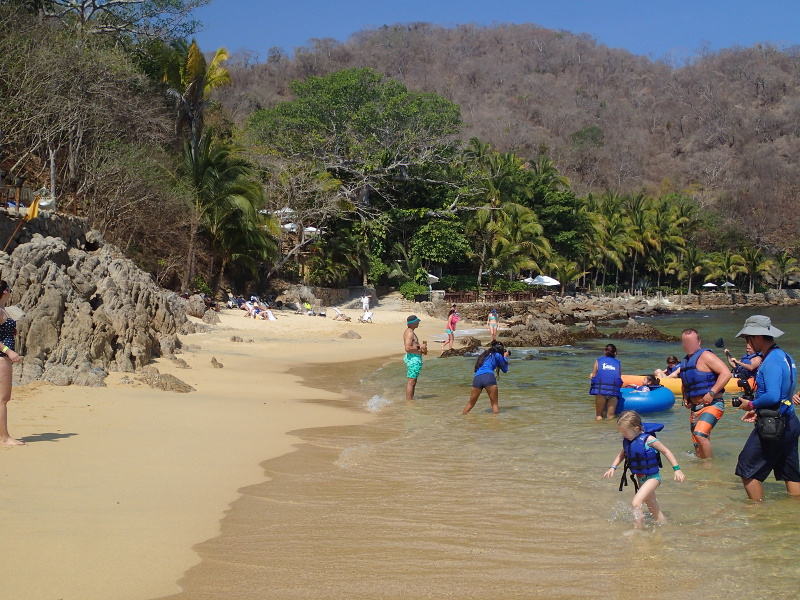 At one point I went back to our chairs to get something.  This was the view from our chairs:
We used our lockable KYSS bag to keep our stuff secure while we were swimming.
While I was there I noticed that there were waiters walking around bringing people drinks.  The price of the excursion included all food and drinks, even alcohol.  Their specialty drink was a passion fruit margarita.
Next the girls asked my husband and I to paddle board.  I agreed but under the condition that I was not going to try and stand up.  Here is my husband in front of me as we paddled out: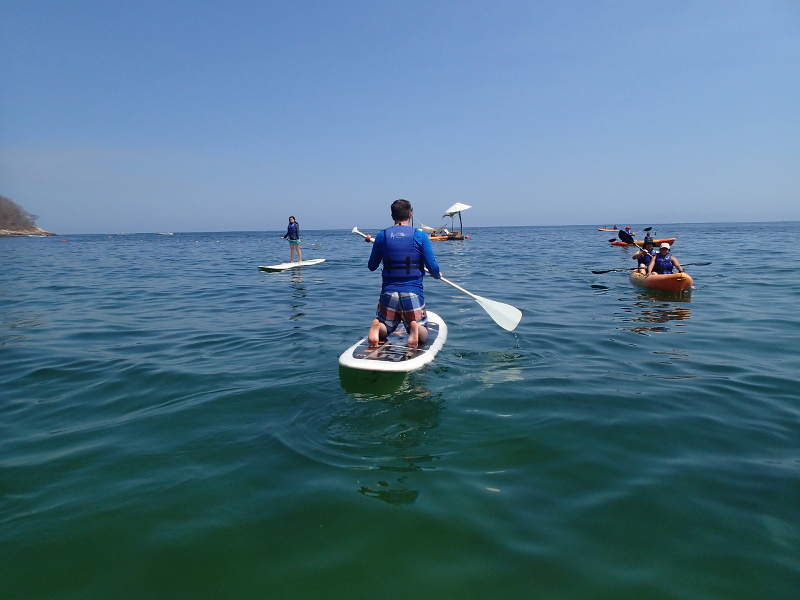 This was our view of the shore: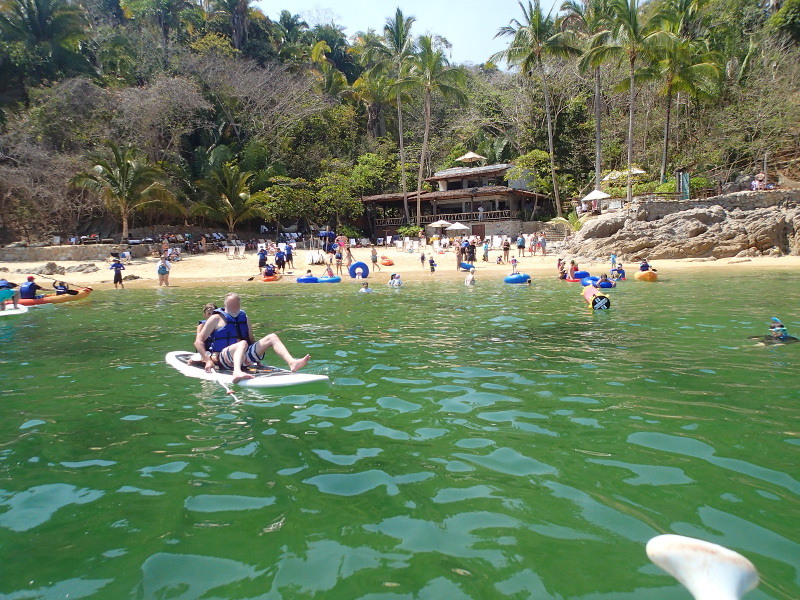 My husband tried standing up and only fell a few times.  He looks a little wobbly here: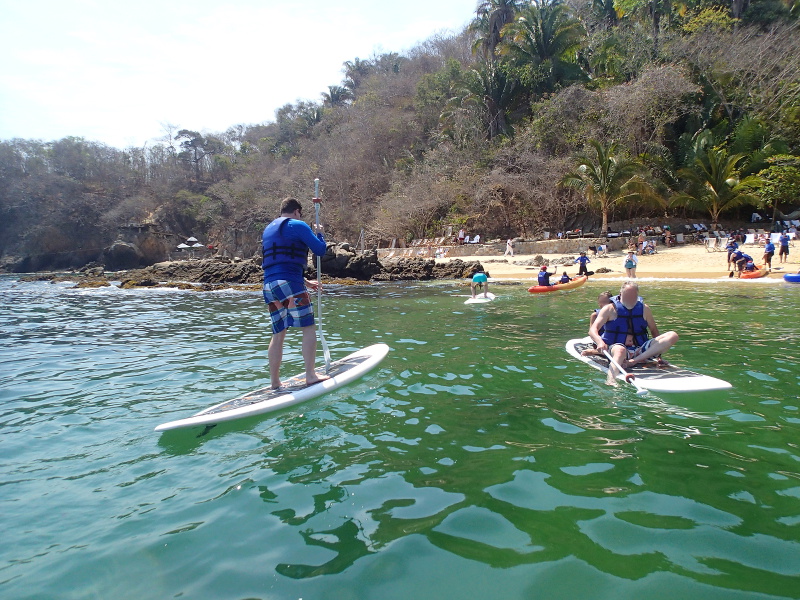 He looks a little more steady here: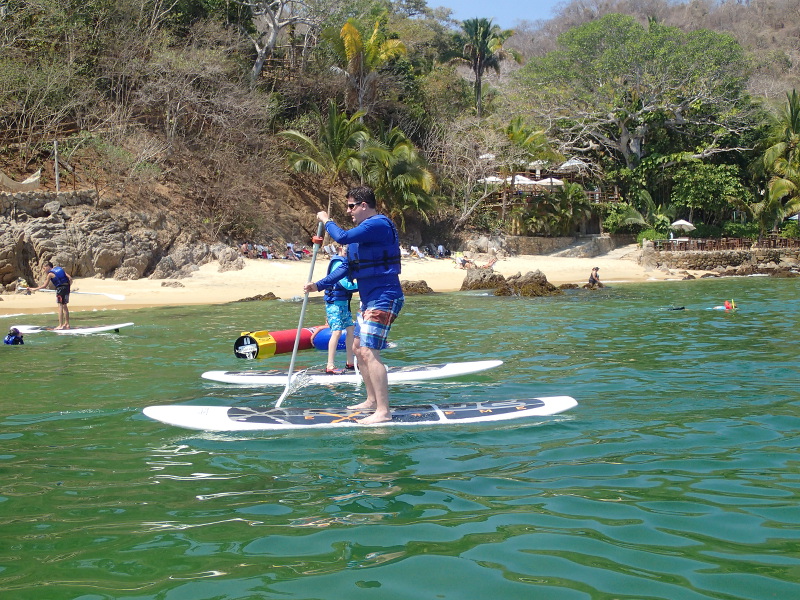 Success!  I think those are the girls watching us in their tubes.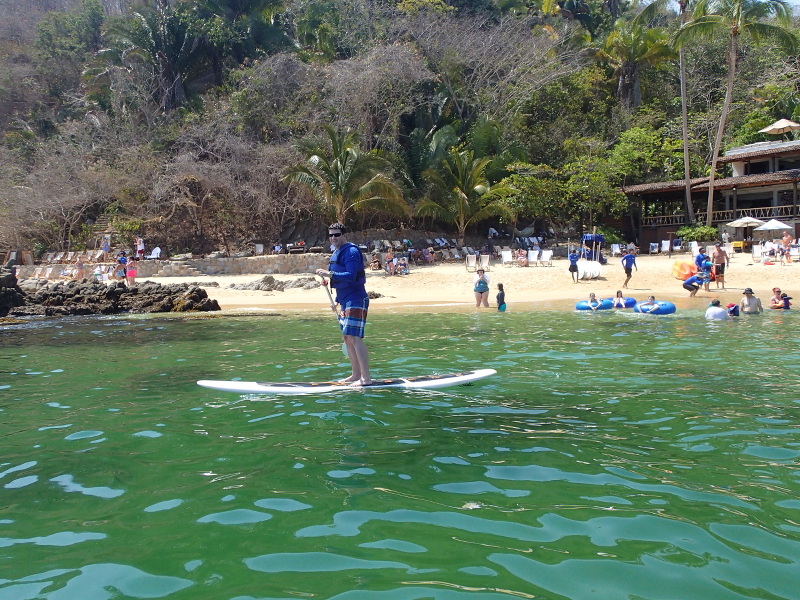 They swam out to meet us: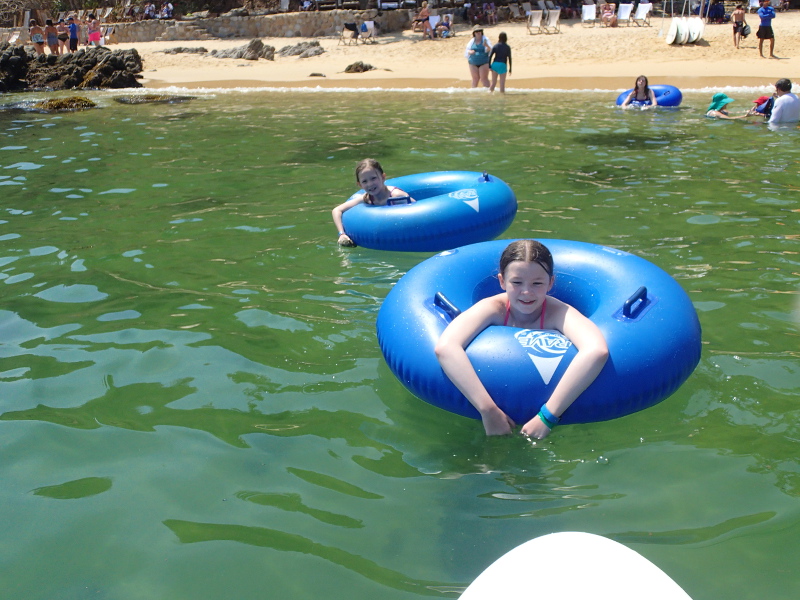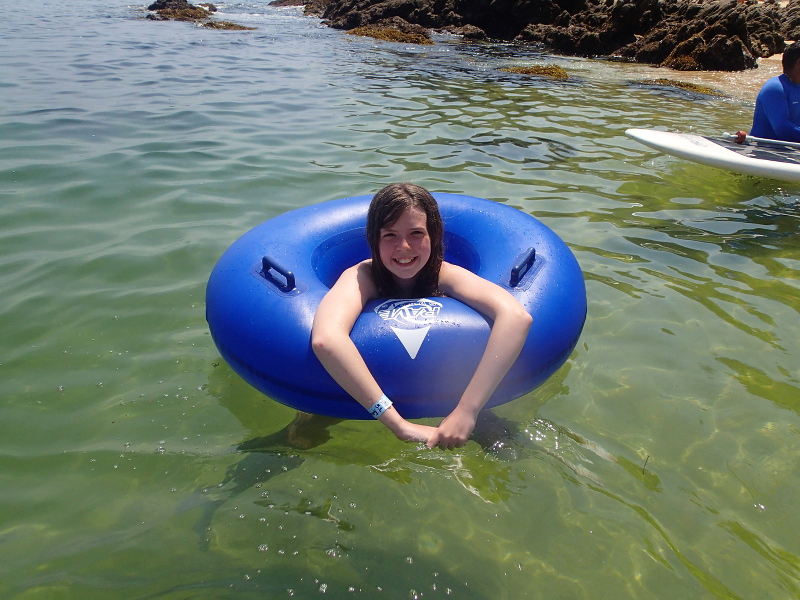 Then, two of them decided that they wanted to go for a ride on our paddle boards.  This one hitched a ride with me: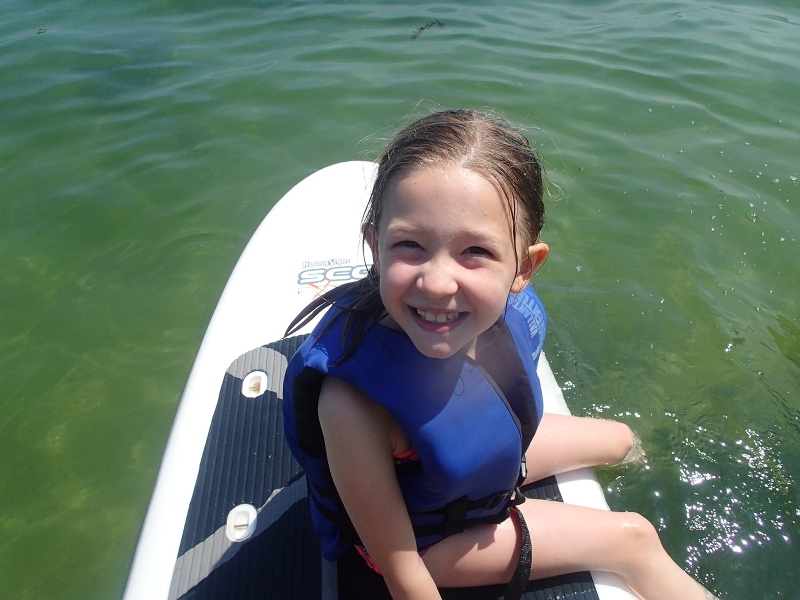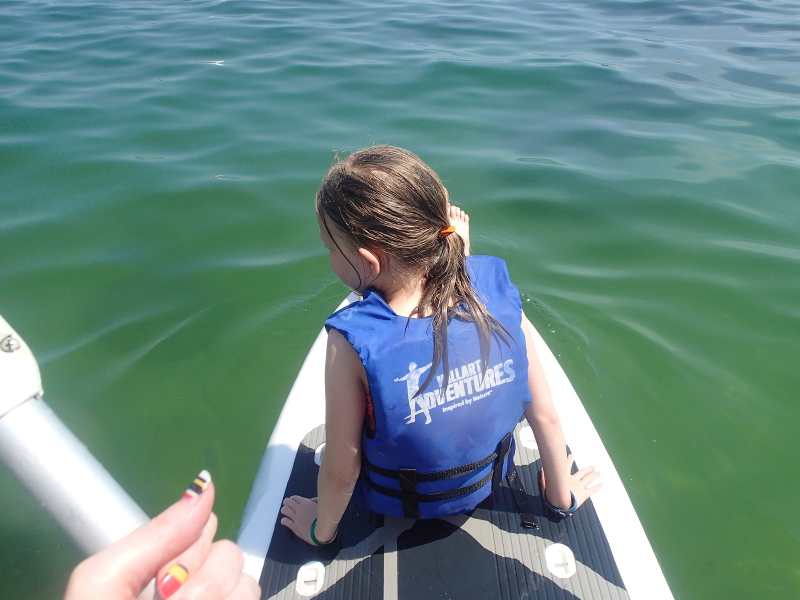 And this one hitched a ride with Dad: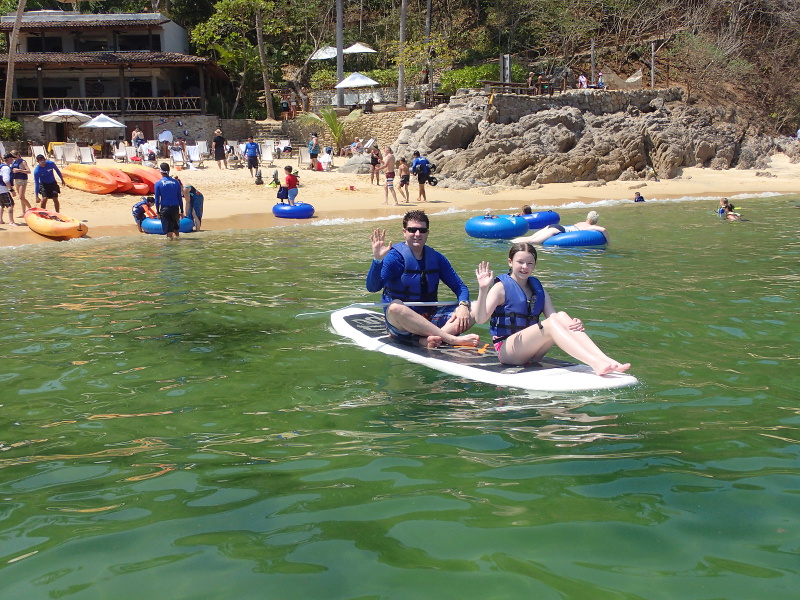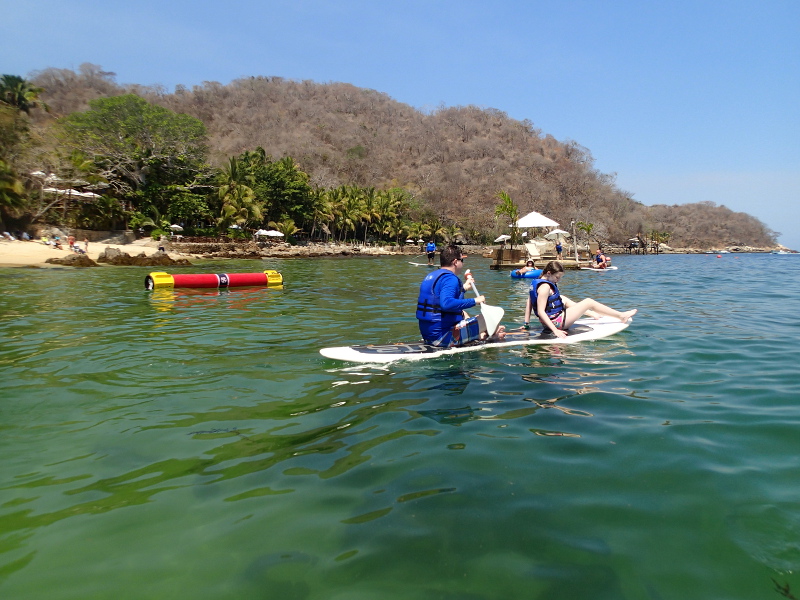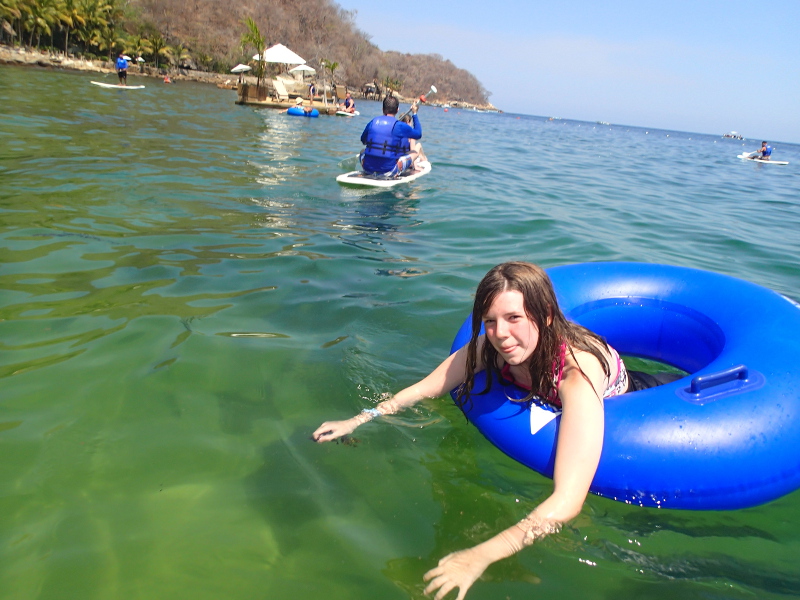 They asked us to try and get them onto one of the islands so we did: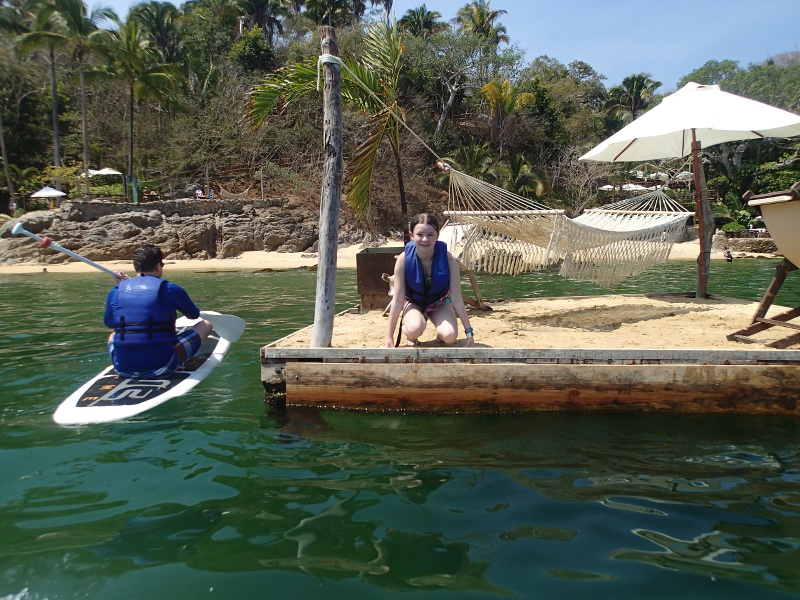 We made it!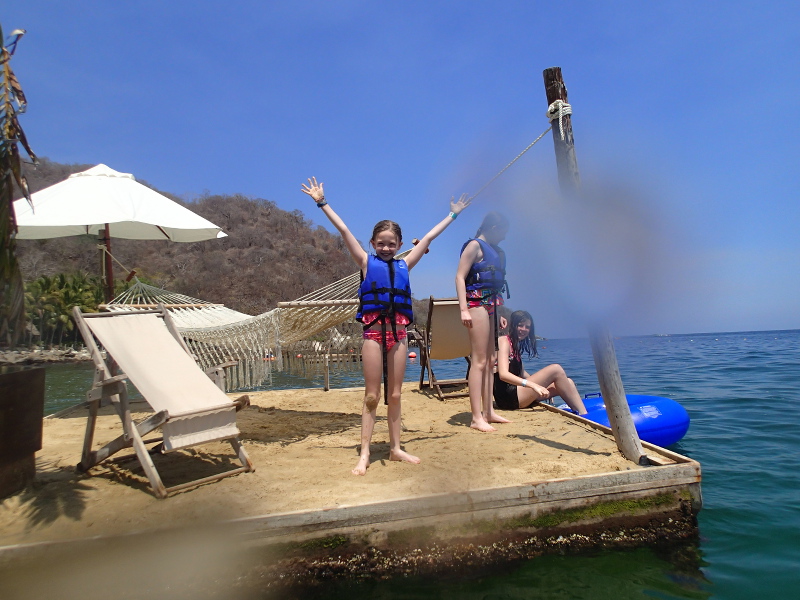 FYI, you can read about my waterproof camera here.
We had so much fun paddle boarding around.  We saw several pufferfish in the water, including a dead one.
I passed the camera off to my husband: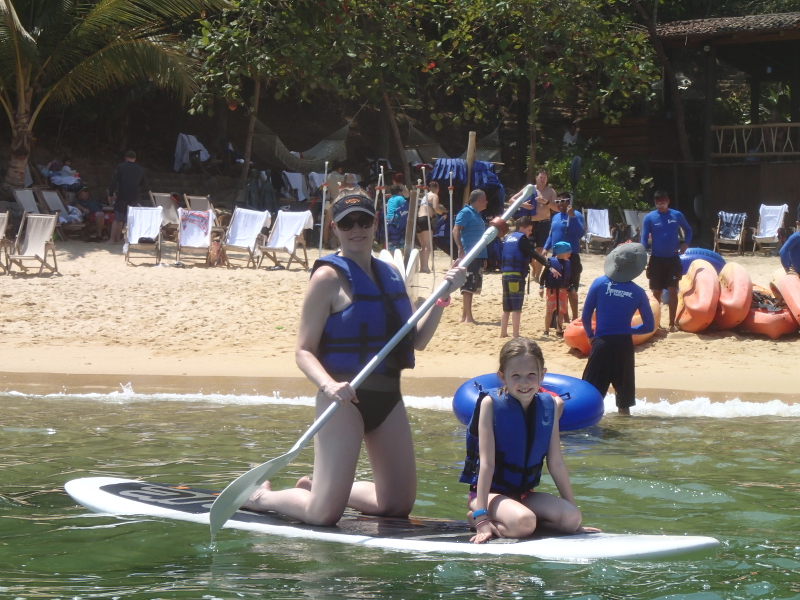 Another beach picture because it was just so beautiful: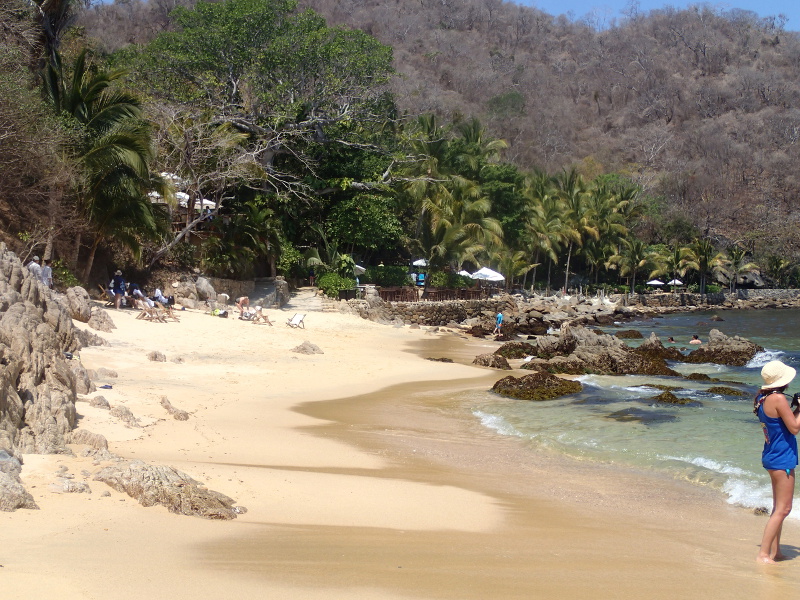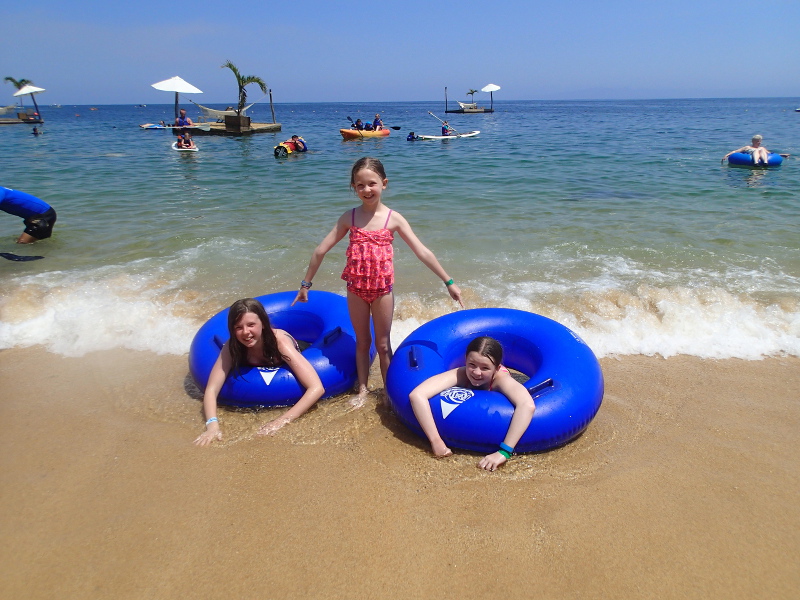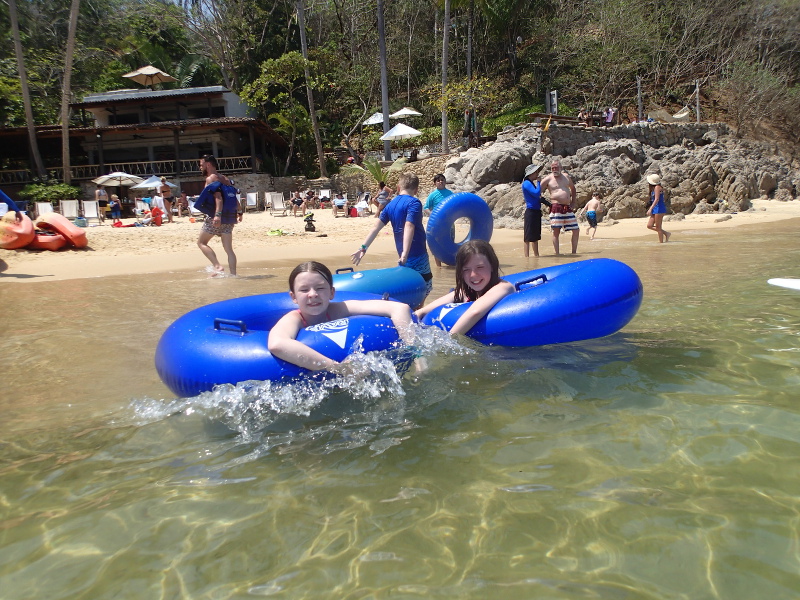 12:50 came way too fast and we reluctantly got out of the water and dressed for lunch.  They had given us explicit instructions on the boat ride over to bring all of our belongings with us to the restaurant and not to leave them on the beach.  We dried off, gathered our stuff and walked towards the restaurant.  There were several small dining areas, each with their own buffet, as opposed to one large one.  This really kept it from feeling crowded and it also kept the buffet lines short.  There were employees directing people to different dining areas depending on their party size.  We were shown to this lovely table for five: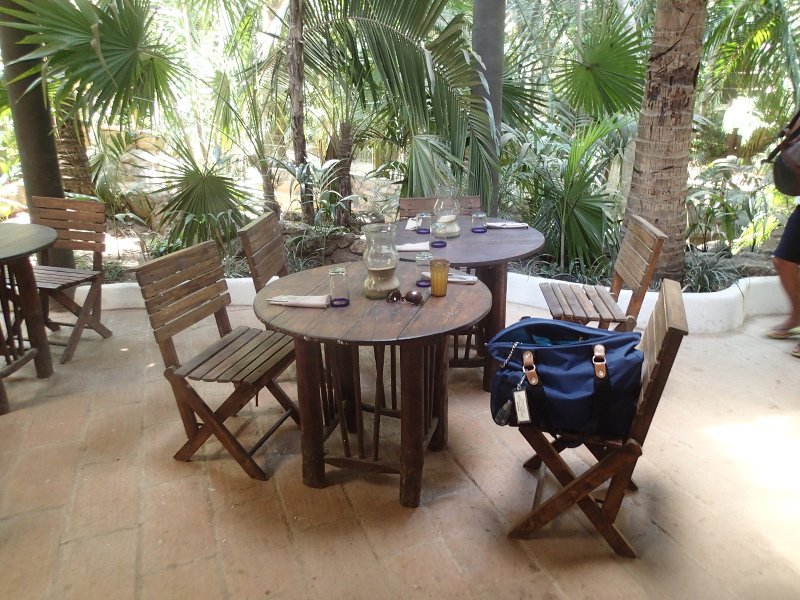 Sometime while paddle boarding I broke the nail on my index finger, ruining my DCL manicure.  🙁  I was able to somewhat fix it with a nail file back on the ship.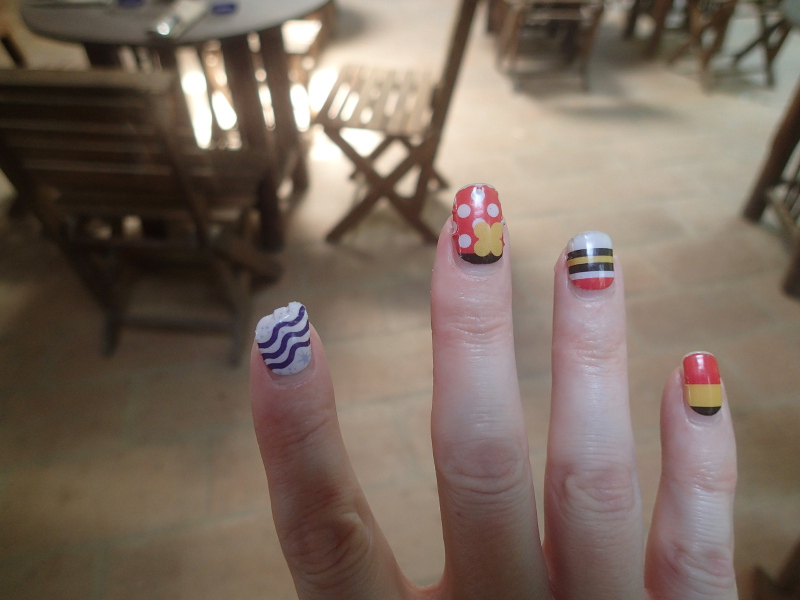 Right as we sat down, one of the girls needed to use the bathroom.  There happened to be one right next to us, and it was so nice!  There were even candles!  I was so impressed I had to take a picture.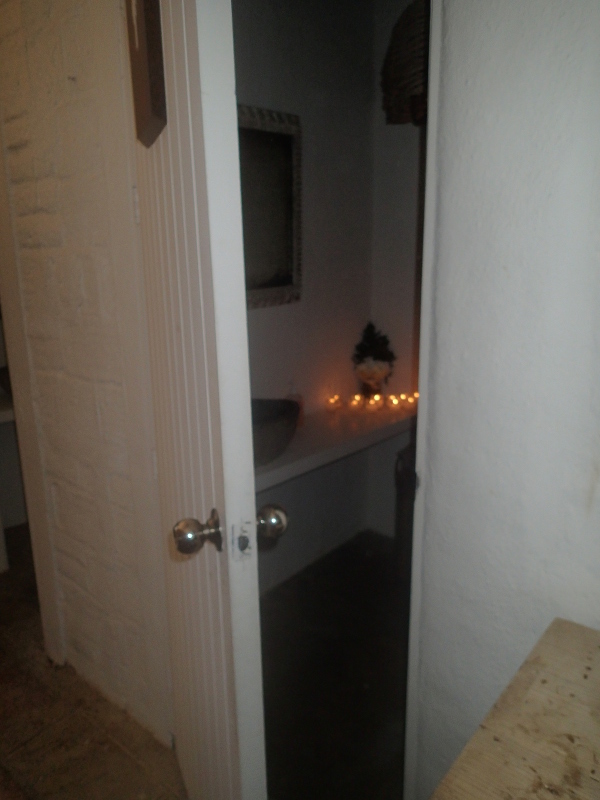 The food was ready so we got in line.  We were at the very back of the line here, and I don't think it ever got longer than this: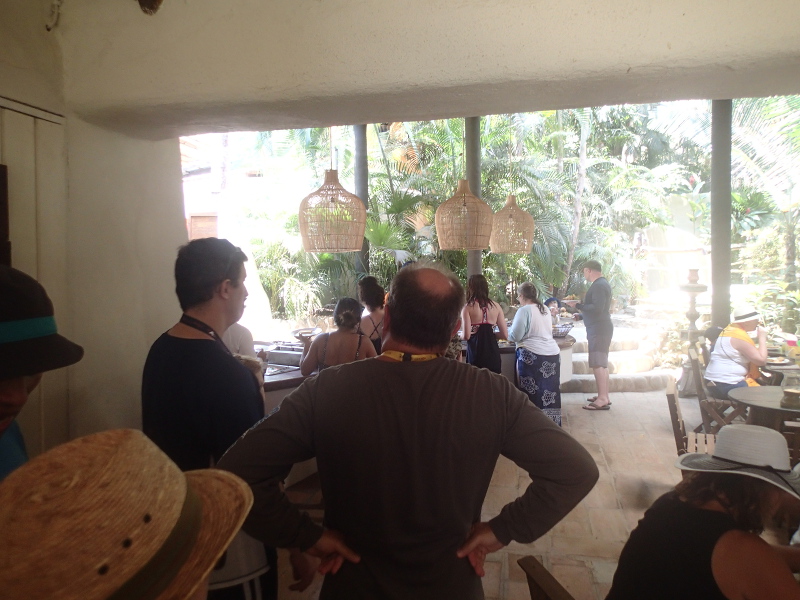 Here's two of my people digging in: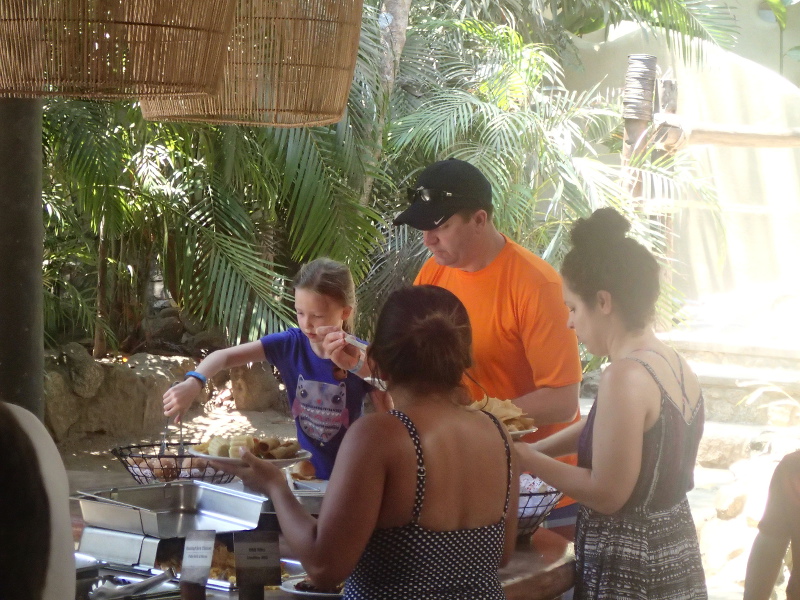 I thought the food was really good for a place like this that has to feed a large number of people all at once.  It wasn't the best Mexican food I've ever had (I'm from Texas though so my standards are pretty high), but it was still very good.  My girls actually loved it and they are typically picky eaters.  This was my plate: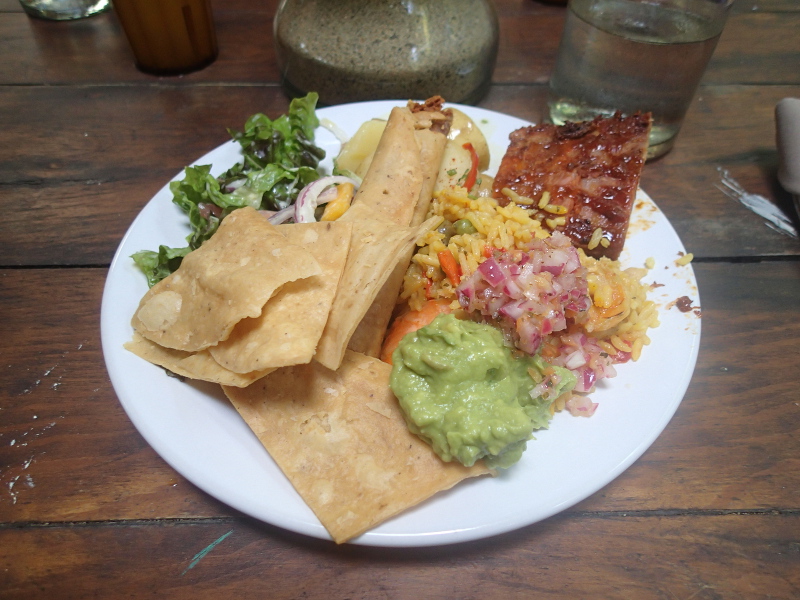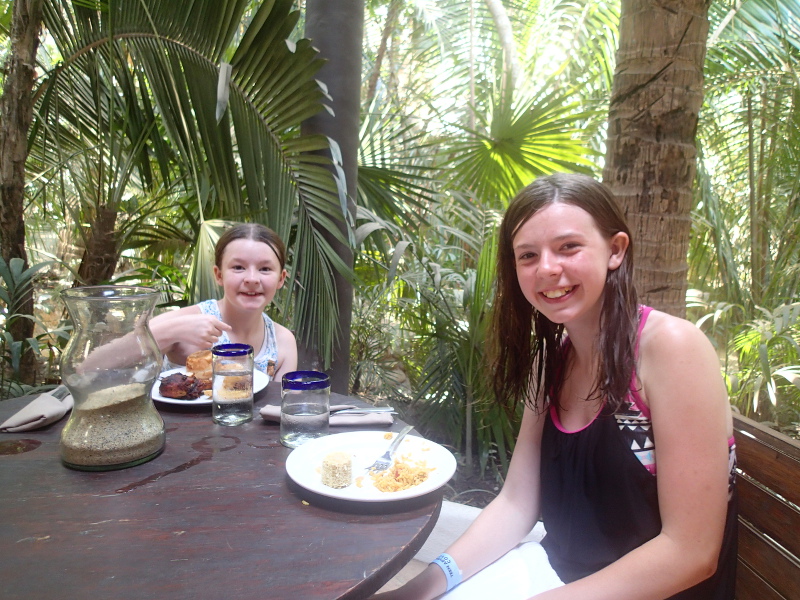 That's pure happiness right there: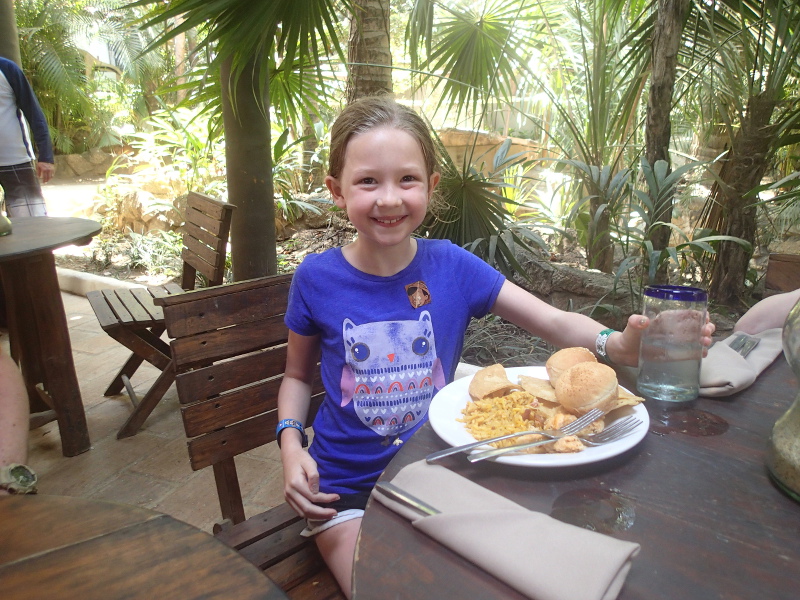 There were some flamingoes nearby: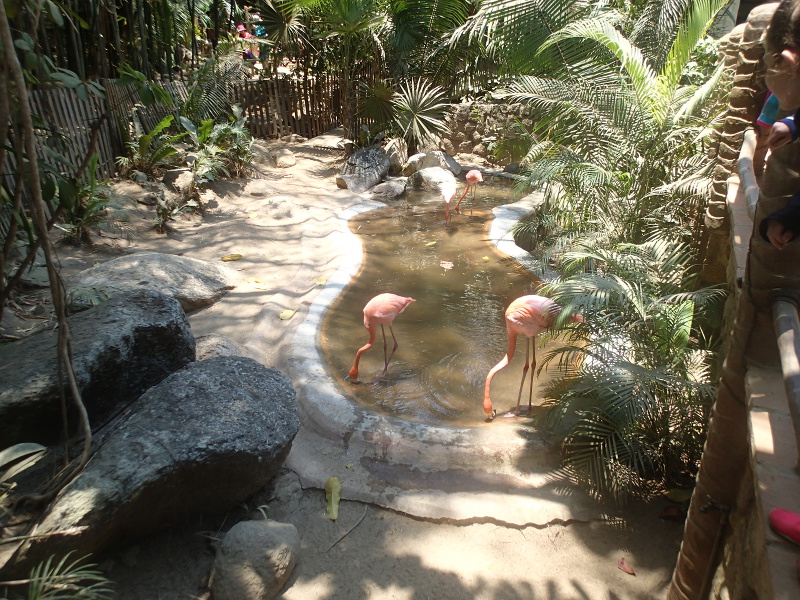 We absolutely did not want this day to end, but after we ate, the time had come to head back to the boat.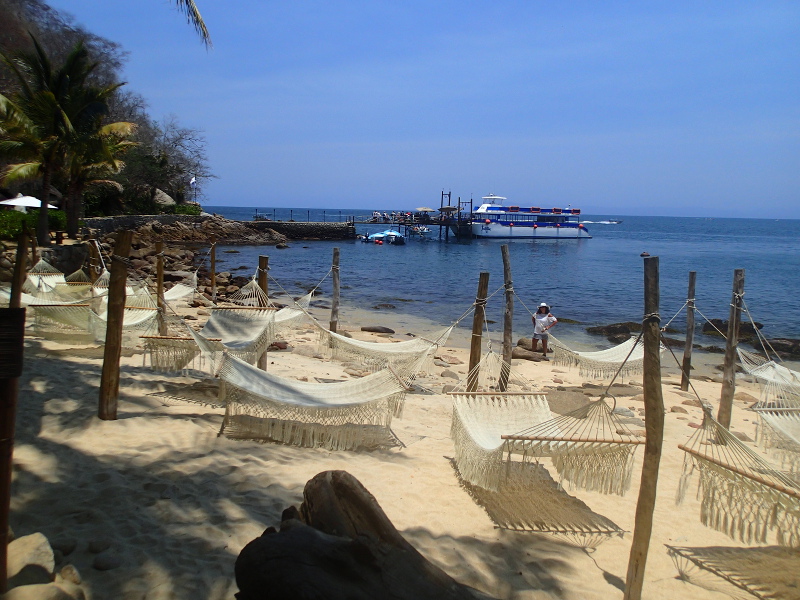 We passed the gift shop on the way back.  I regret not stopping to see if they had a magnet because I collect them when we travel.  I don't know how on earth I forgot but I did.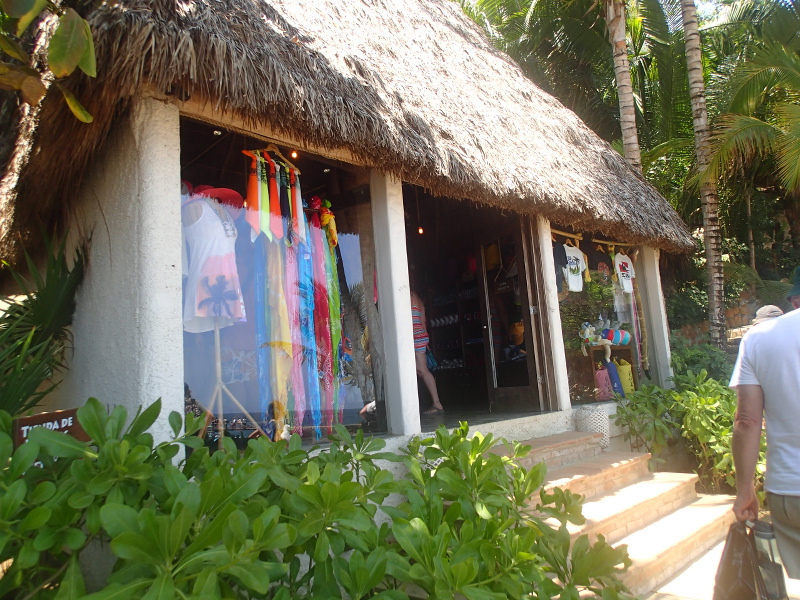 A line had formed to board the boat.  We took some pictures while we waited.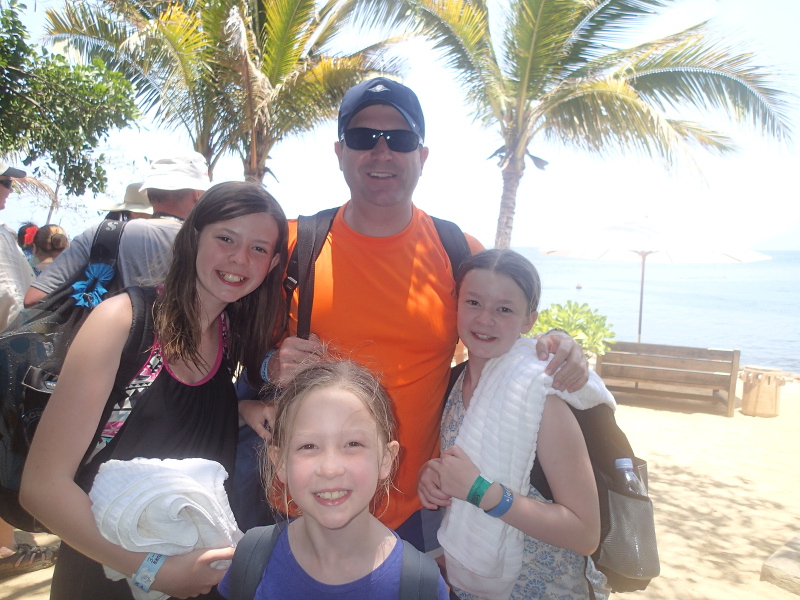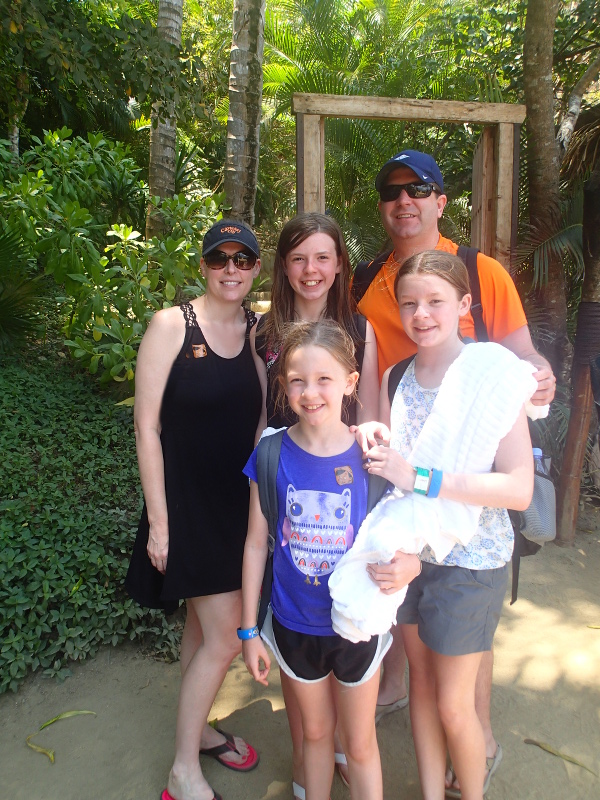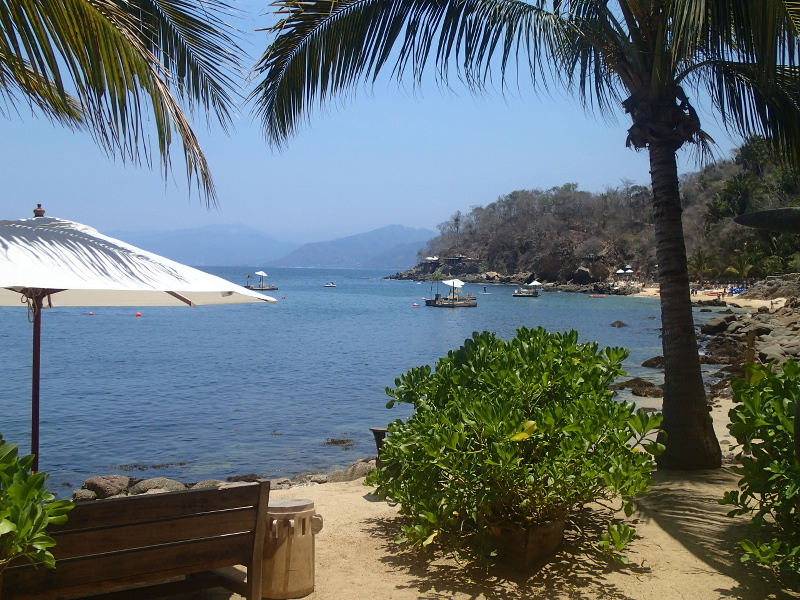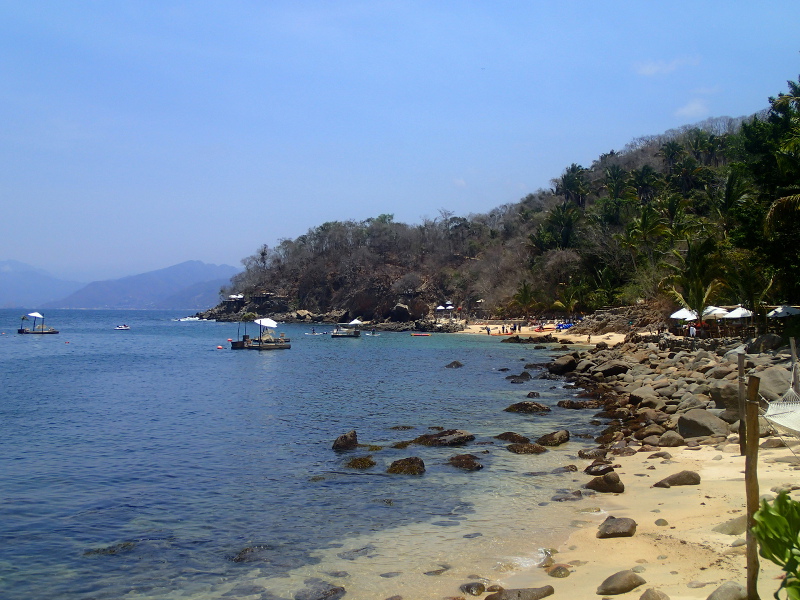 There were crabs on the rocks which were pretty cool:
I took these pictures after we boarded the boat.  Good bye paradise!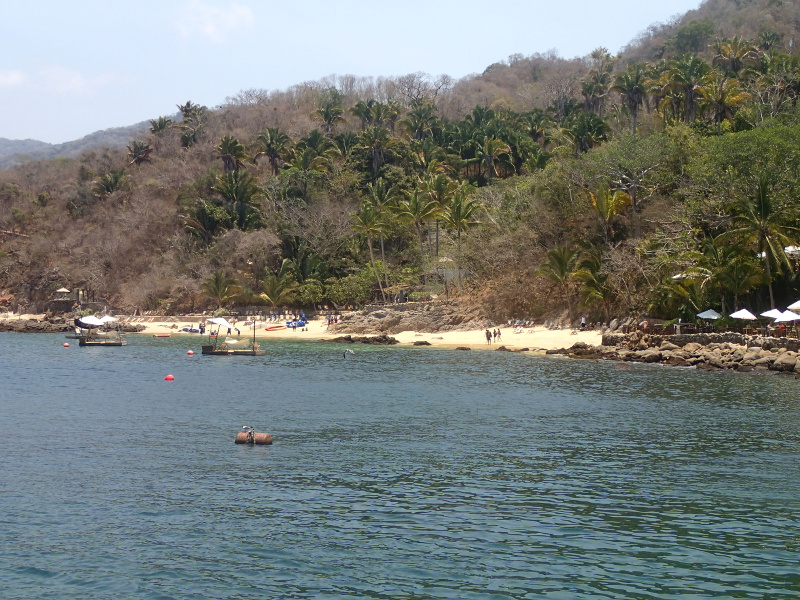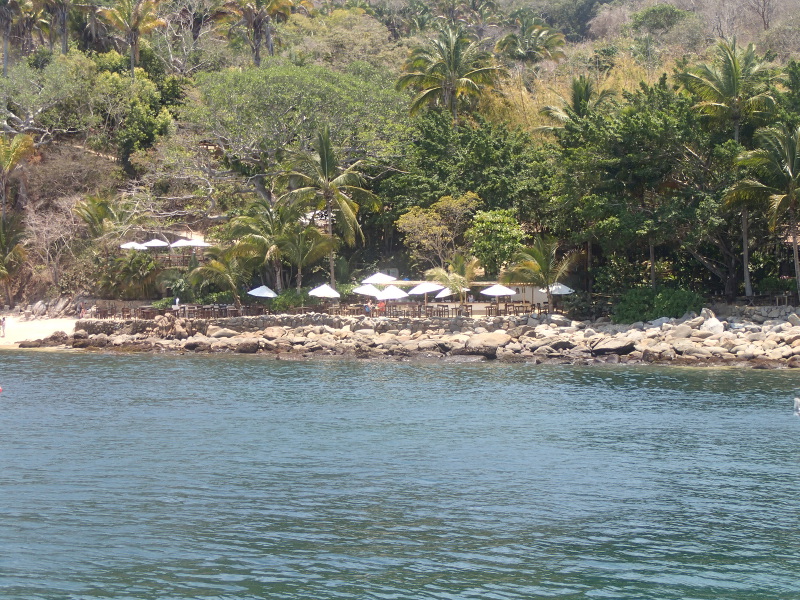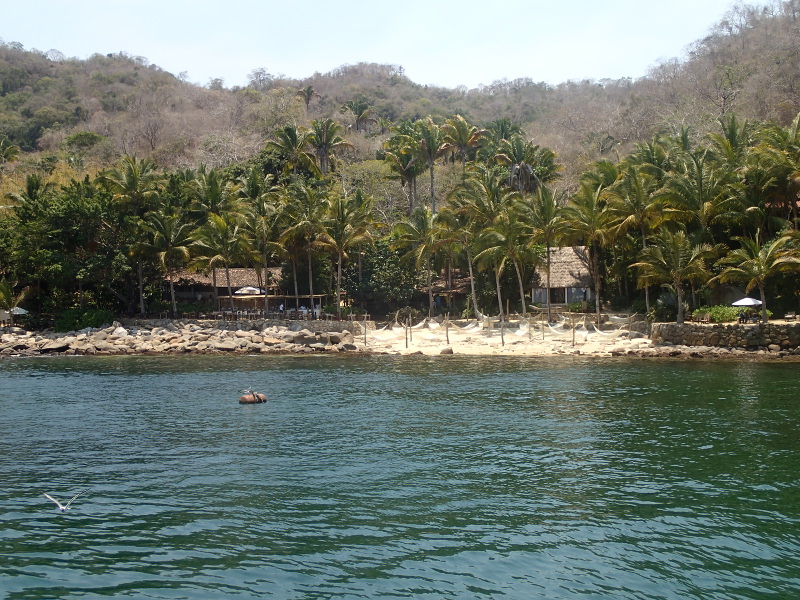 The girls were sitting next to the edge of the boat and saw a jellyfish in the water.  It was pretty big, probably 6-8 inches across.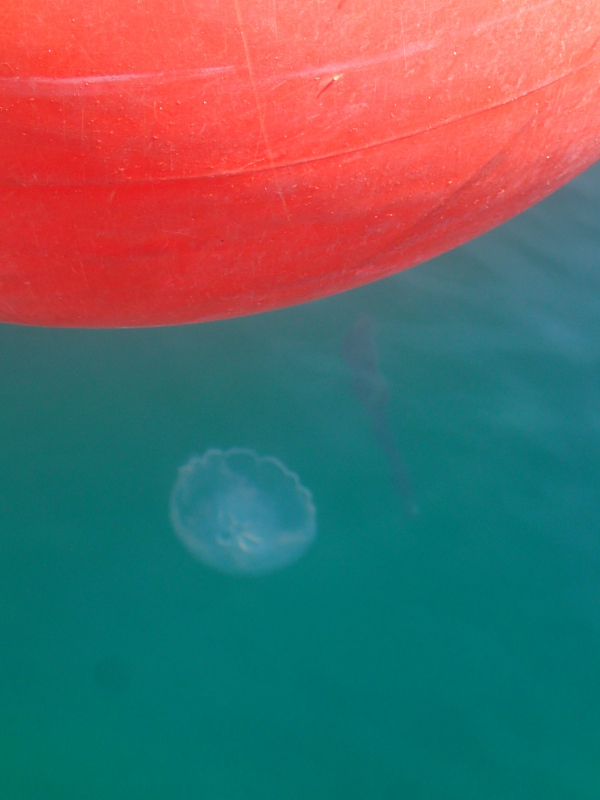 While they were watching it, two fish came over and started pecking at it.  The girls were concerned about this but I told them it was the circle of life.
I forgot to mention that we did not see any jellyfish while we were swimming, but there was a dead one on the beach that an employee picked up and showed all of the kids.  Apparently jellyfish are common around here so I am glad that we did not encounter one and have a repeat of our incident in Grand Cayman.  I did have my Wipe Away Pain in my bag though, so I was armed and ready.
All too soon, we were heading back to the Wonder.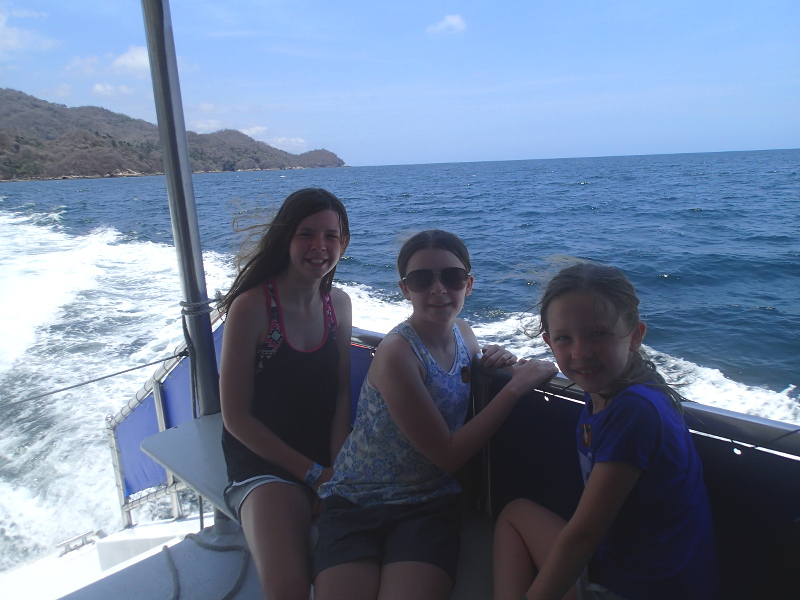 Right after we left, operation buy photos was immediately underway.  I was so impressed with how quickly they had grouped everyone's photos and videos together and had them ready to view.  There were several laptops set up for people to view and purchase photos.  This was one of them: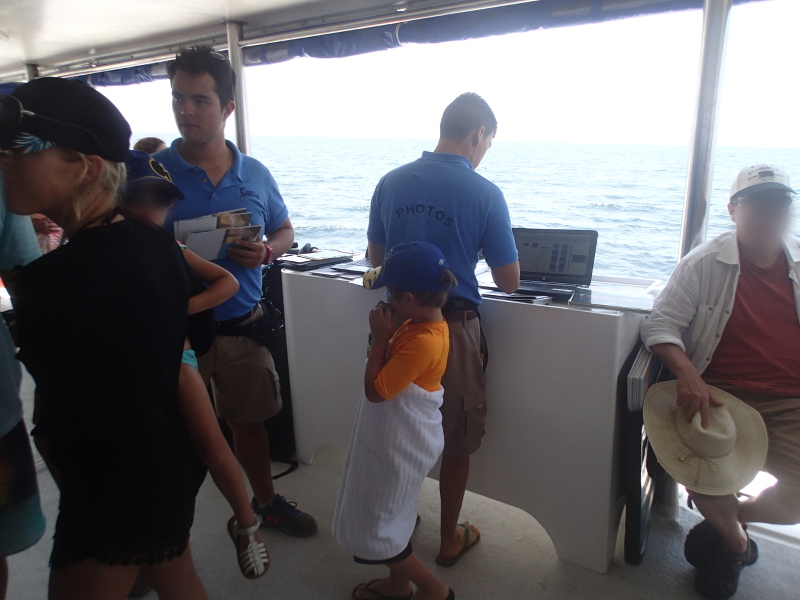 I can't even remember how they knew which photos were ours, but when it was my turn, the woman helping me opened up a folder on the computer and all of our photos were in it.  I was able to look through them and decide what I wanted to buy.  I can't remember how much the complete set cost, but I remember it seemed reasonable (maybe $150?) and I was going to buy all of them until I realized that I had not brought my credit card.  Ugh!  I ALWAYS bring a credit card when I leave the ship and this was the one time I forgot.  I only had $73 in cash, so I asked how many that would buy me.  She went and spoke with her superior and came back to tell me that for $70, I could choose between all of the Kids Adventure Park photos and videos, or all of the beach photos.  They had also printed out copies of everyone's welcome photo and that would be included as well.  Since I had taken my own beach photos but had not been able to see or photograph all parts of the Adventure Park, I chose the Adventure Park photos and video.  She downloaded them onto a flash drive for me right there.  I was impressed with the custom flash drive and case: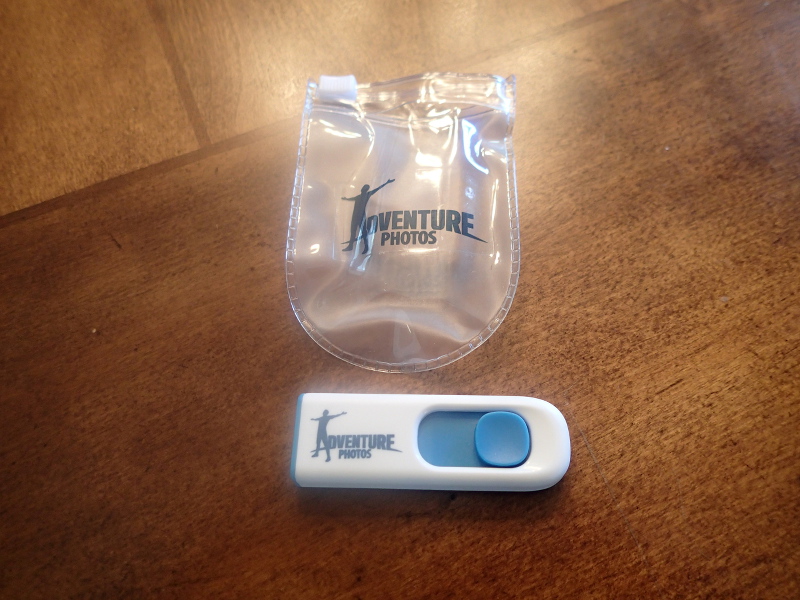 She was also nice enough to include this video of my husband doing the zip line at the Teen Adventure Cove:
Once I got home and viewed them all, I was very pleased with the quality and thought it was a great value for $70.
After I wrapped up the photo purchase, I looked around to see what was going on.  Remember the life jackets from the ride over?  Yeah, not a life jacket in sight for the ride back.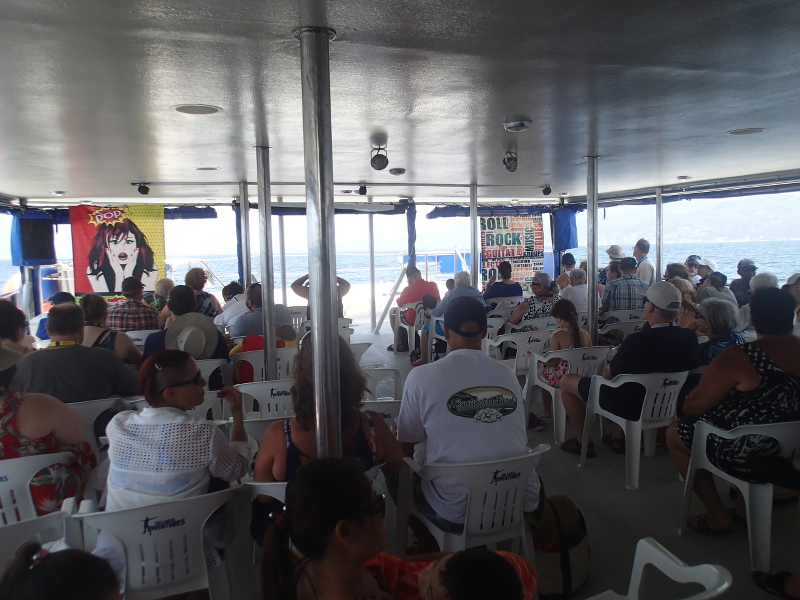 There were still complementary adult beverages: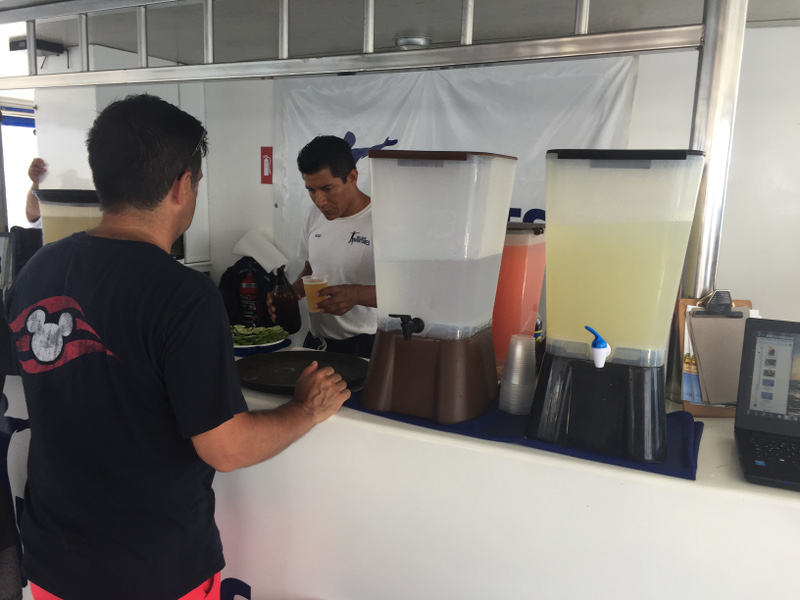 I noticed that most of the kids were wiped out: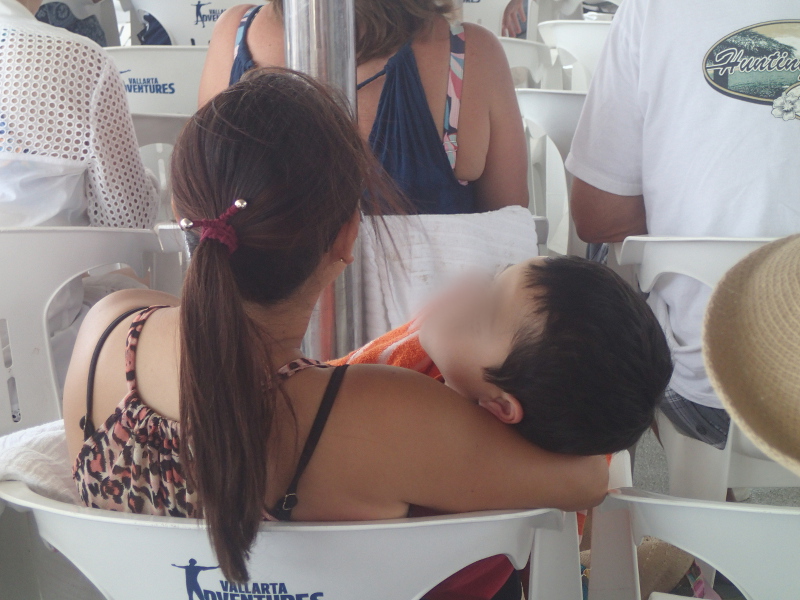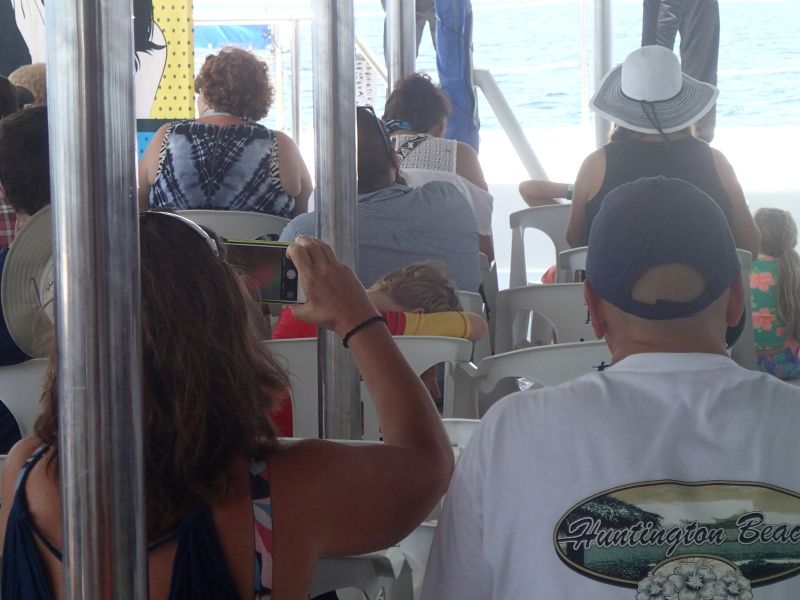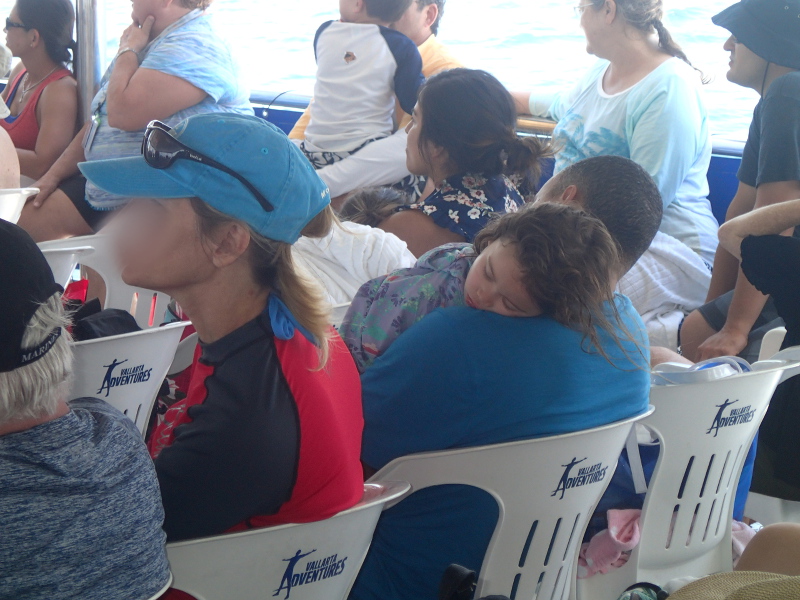 Mine were still awake for the time being: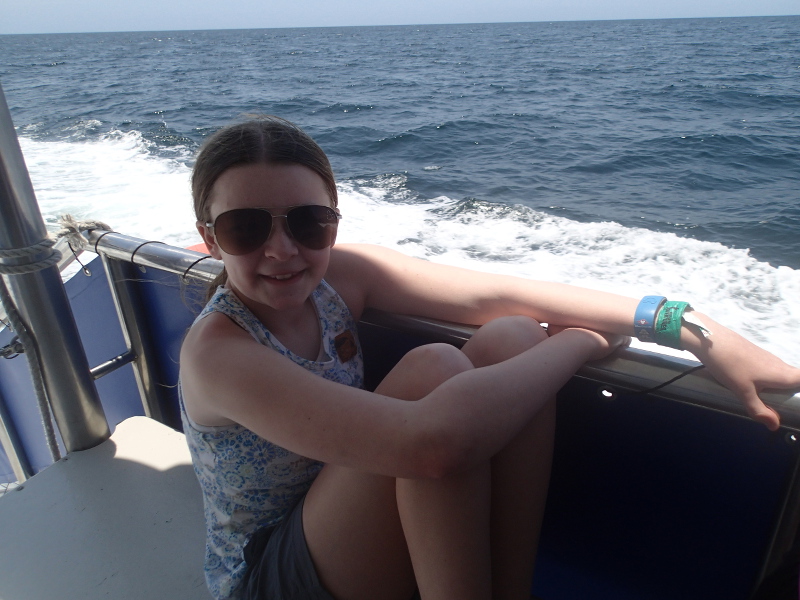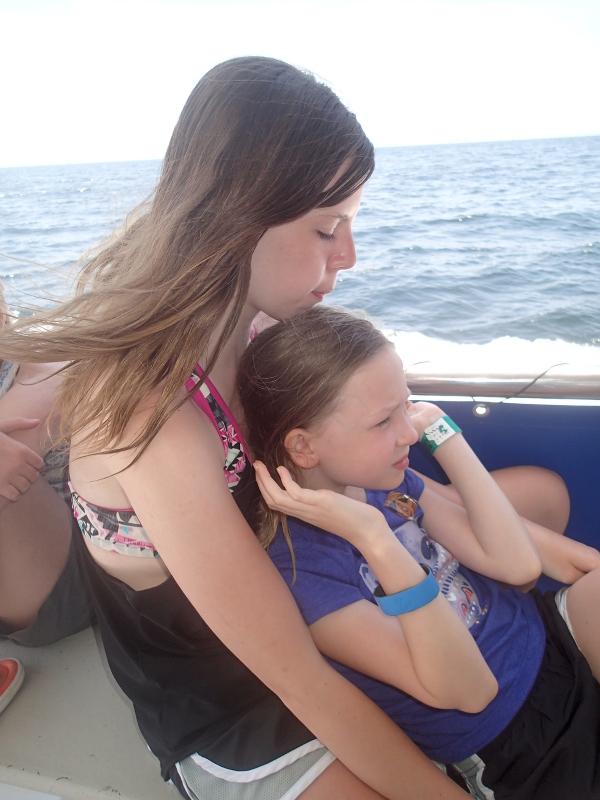 The scenery was beautiful: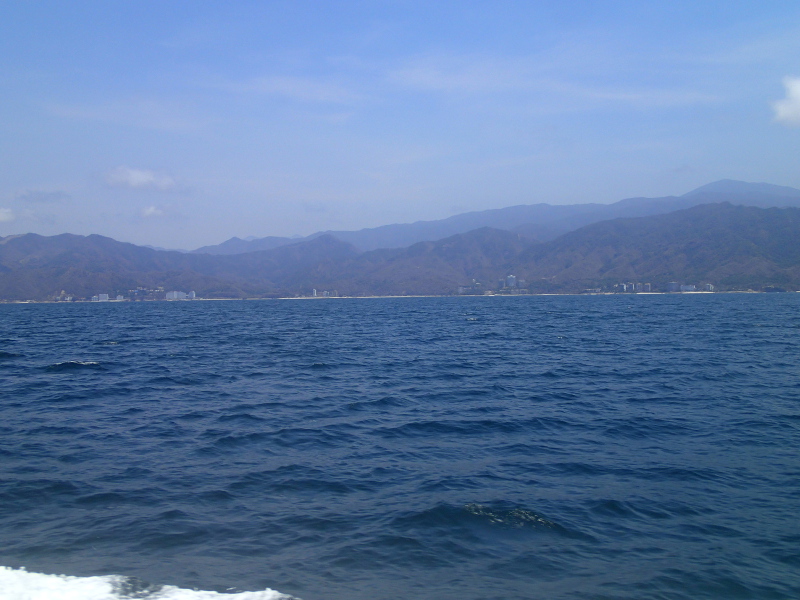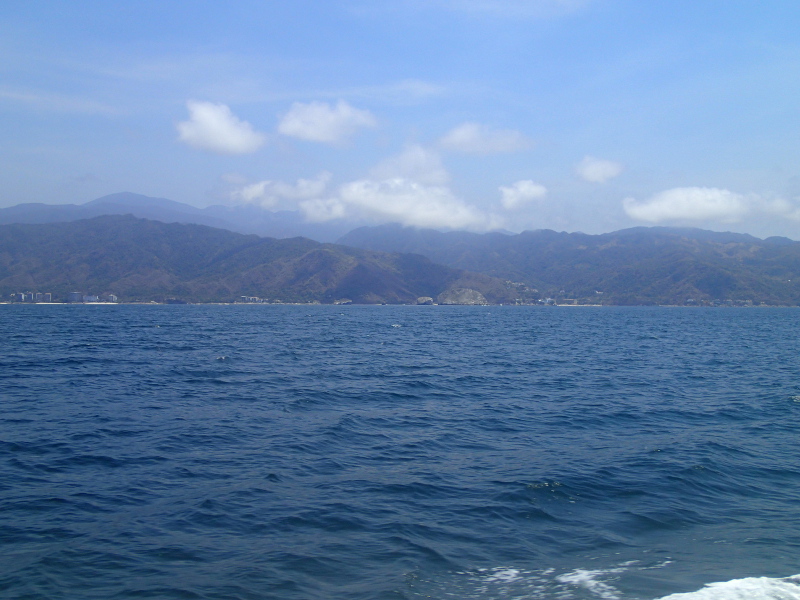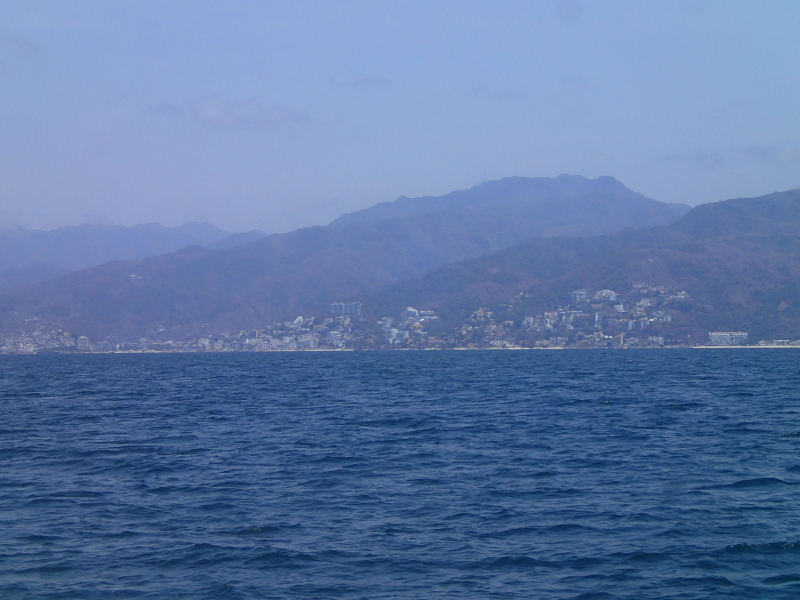 Next thing I new, the crew started performing an all out concert for us complete with choreography, wardrobe changes, wigs, and props.  I was impressed with the amount of time and prep that this must have taken.  They were actually pretty entertaining and I appreciated that they were trying hard to make sure we all had a fun time.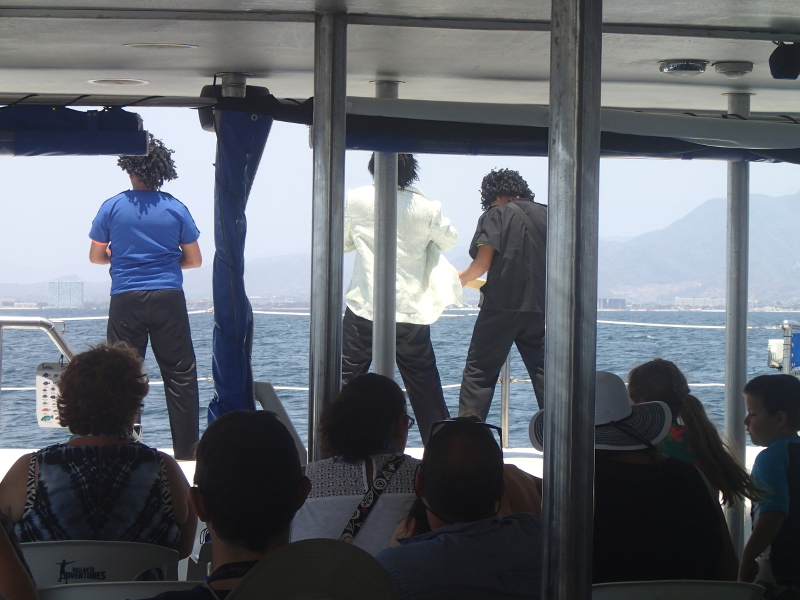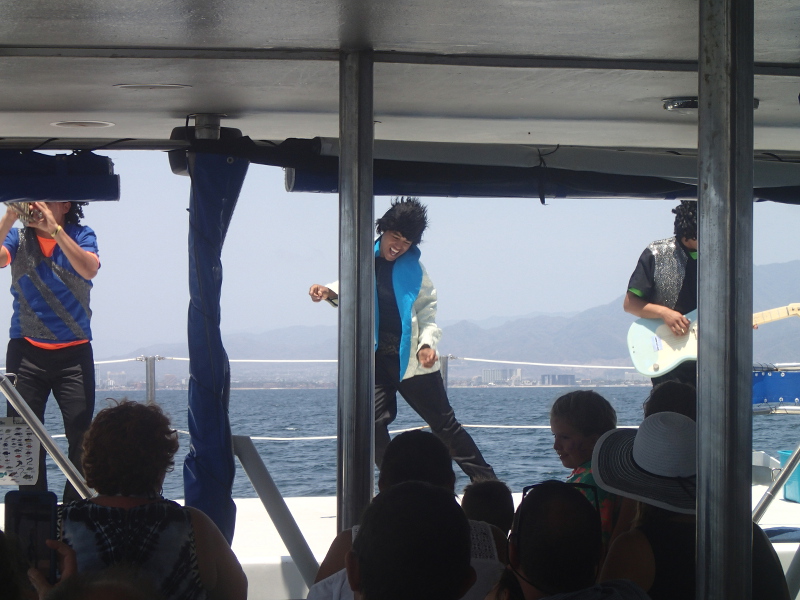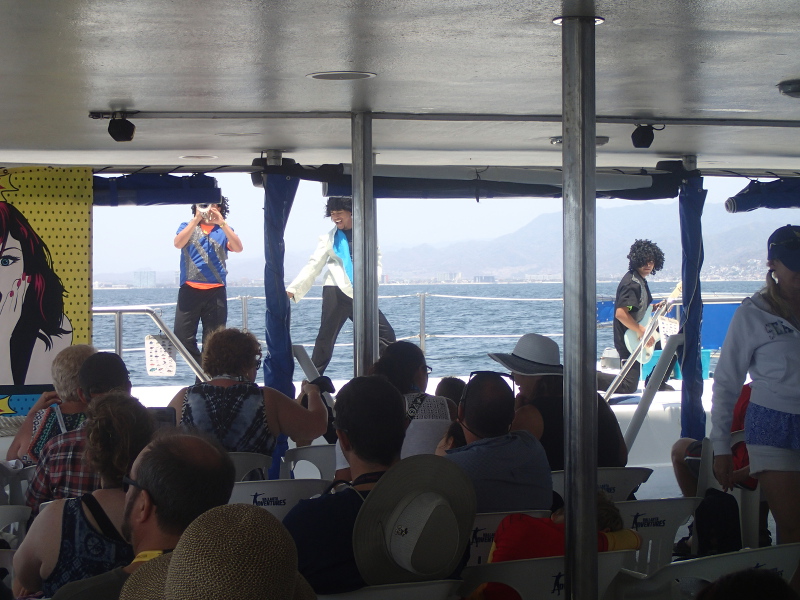 I don't remember what the songs were, only that they were popular American pop and rock songs.  I probably took way too many pictures of them, but for some reason I thought that I needed to take another one every time they did a wardrobe change.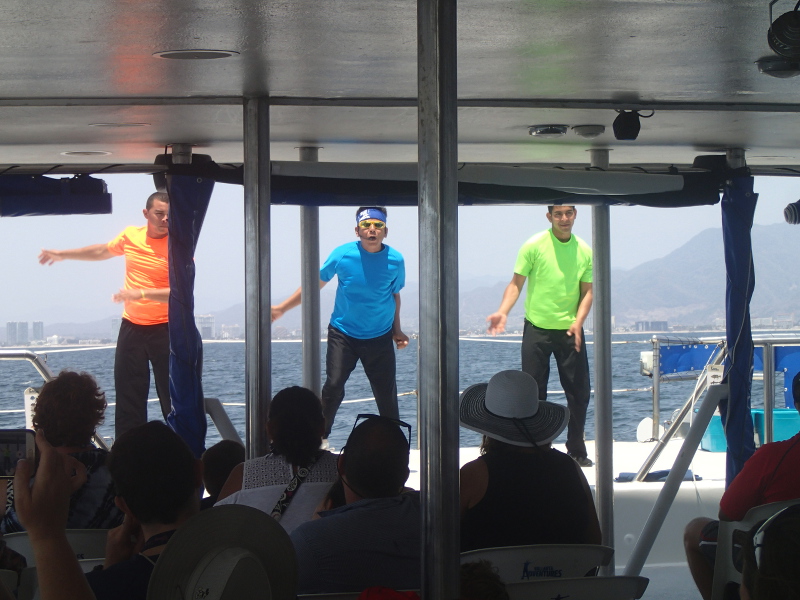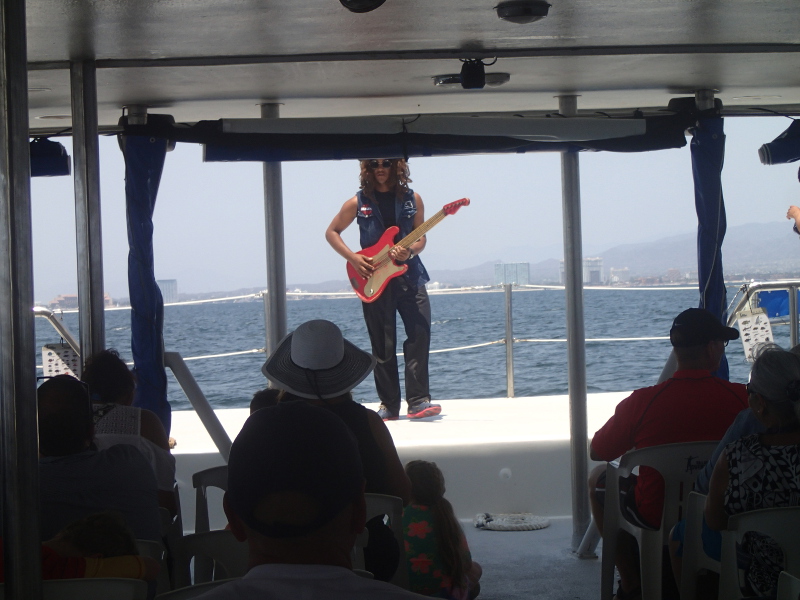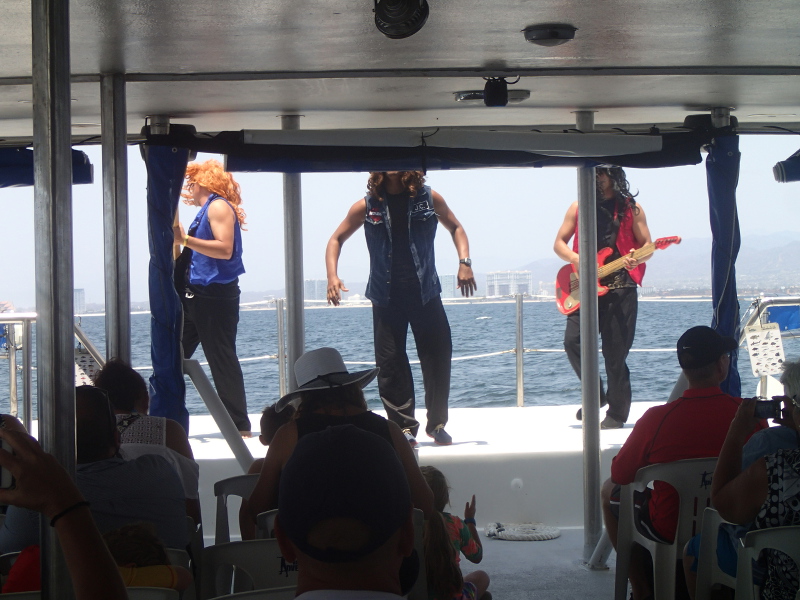 I really liked the preppy look: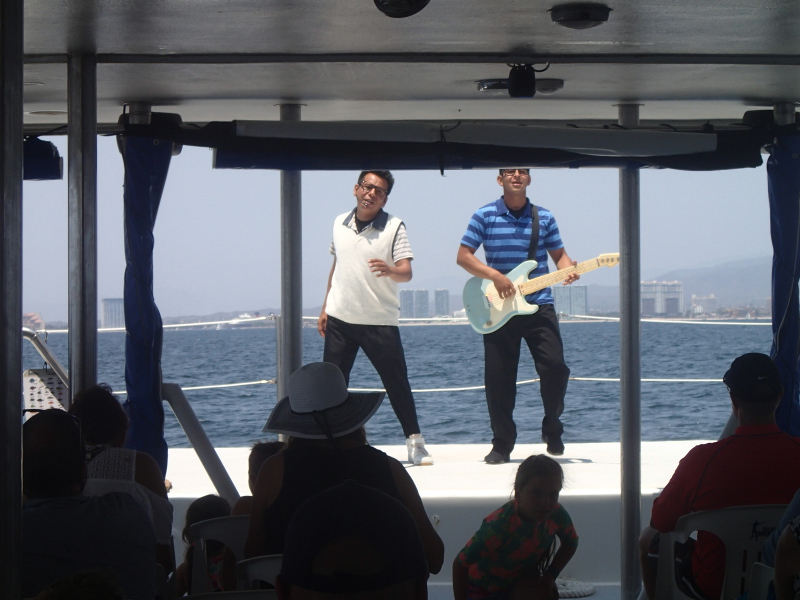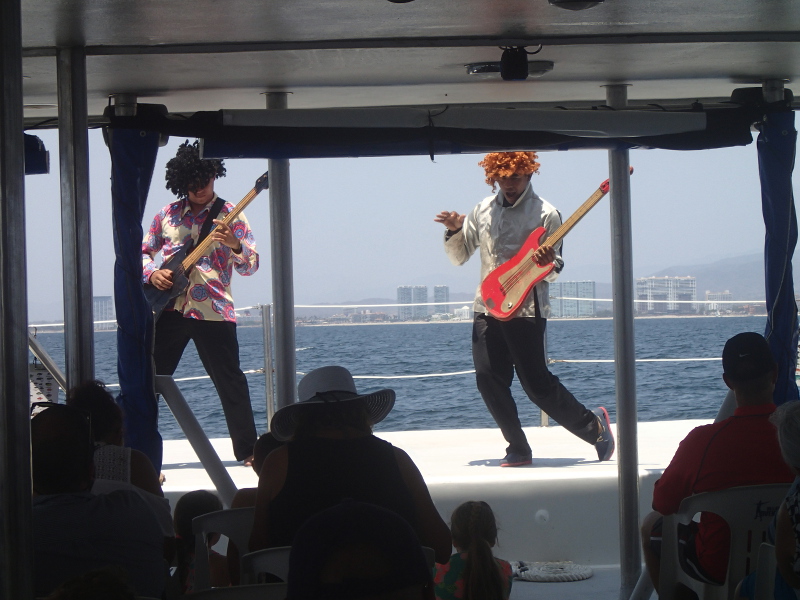 This one finally succumbed to the lull of the ocean, which I expected as she has a history of falling asleep on boats.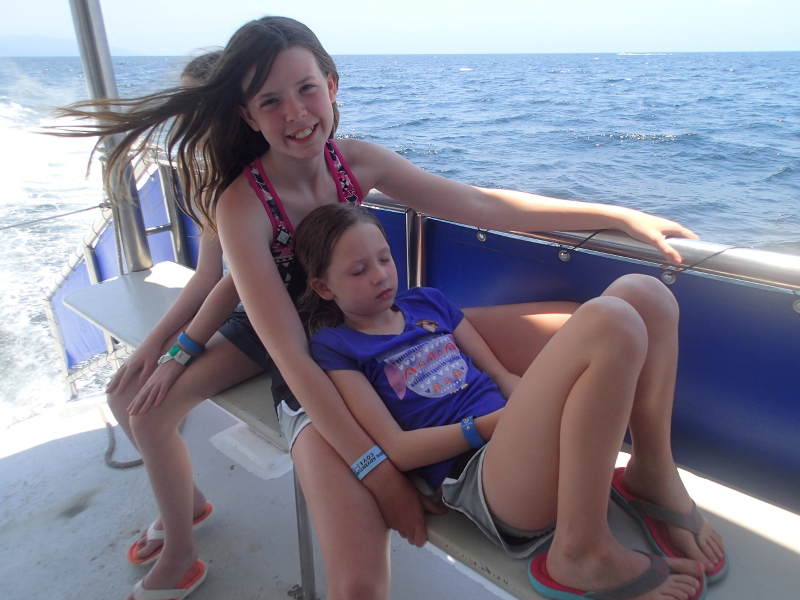 Here she is in St. Thomas: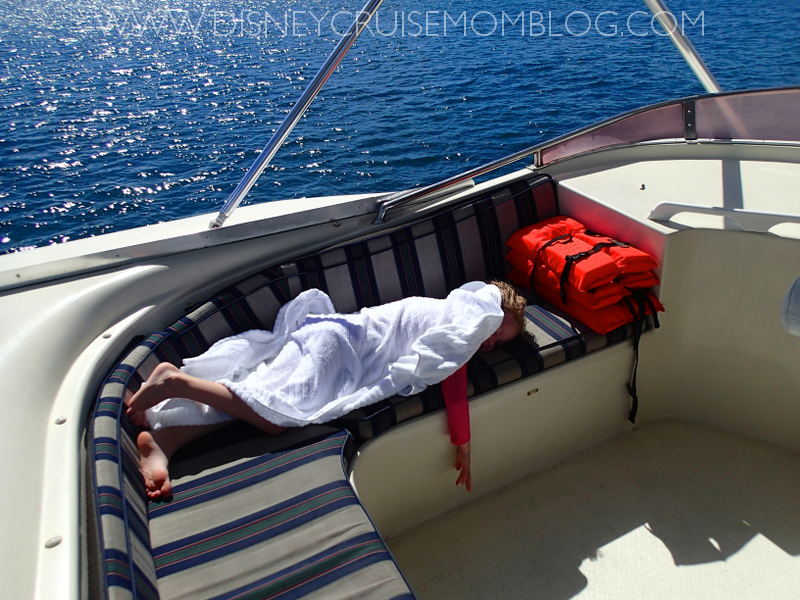 And St. Maarten: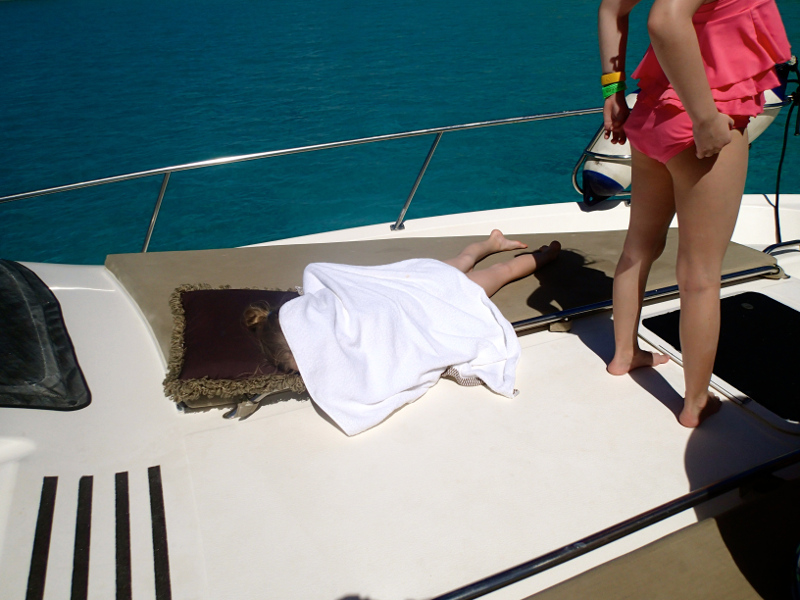 And Grand Cayman: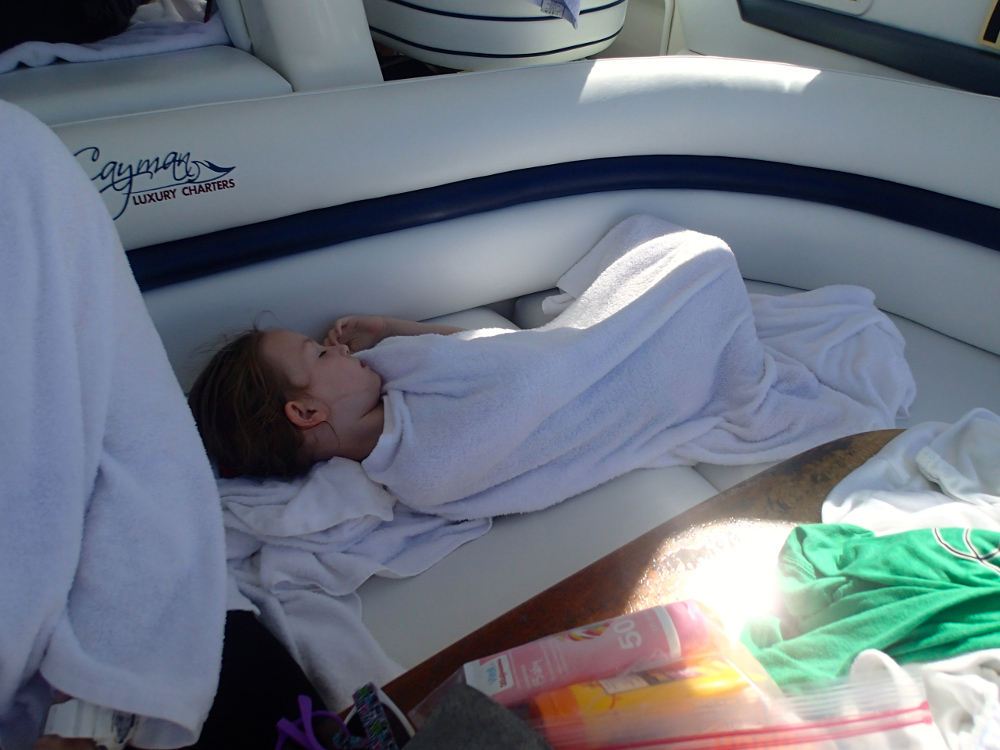 Anyway, back to the concert.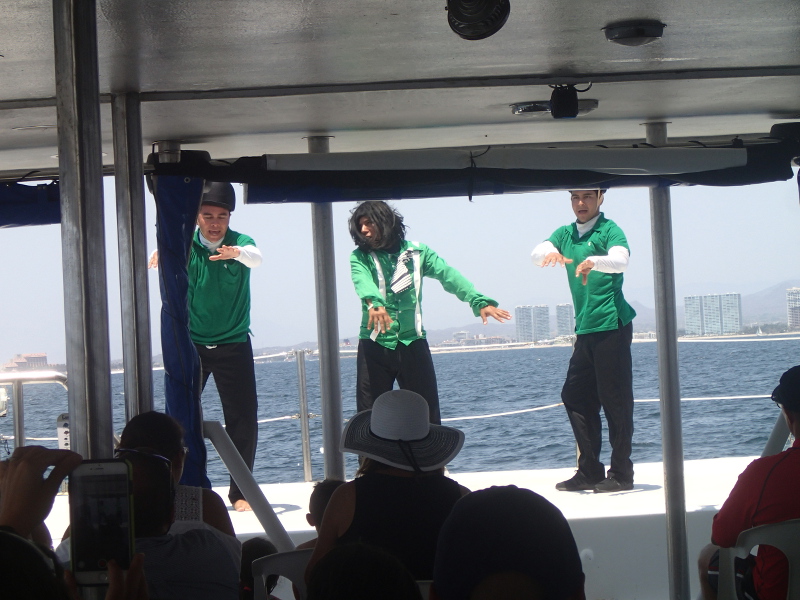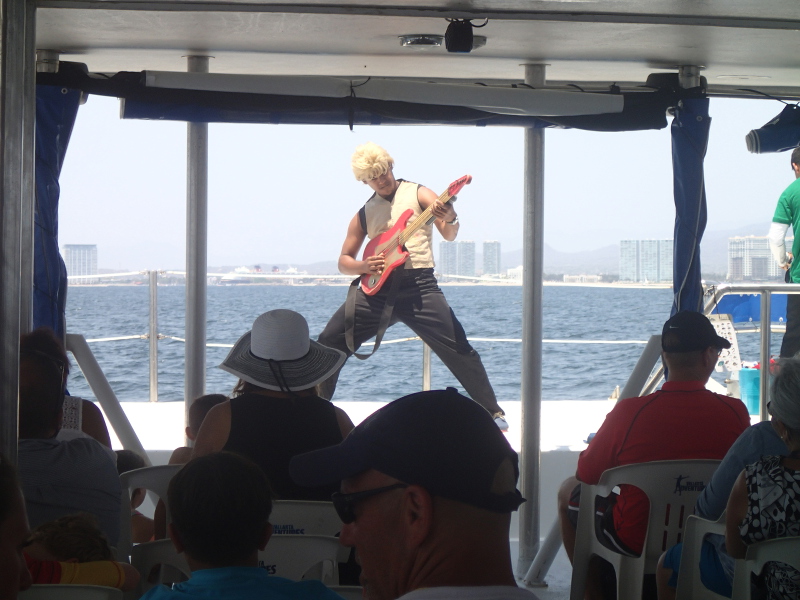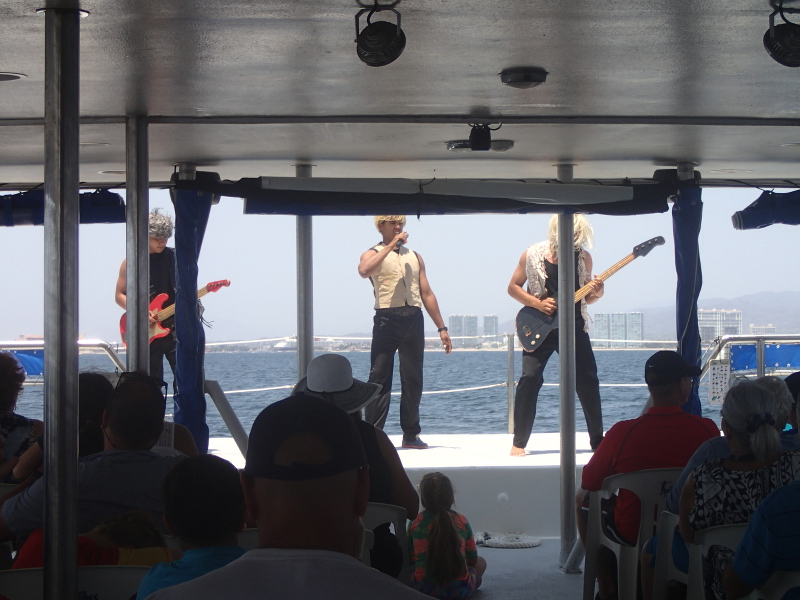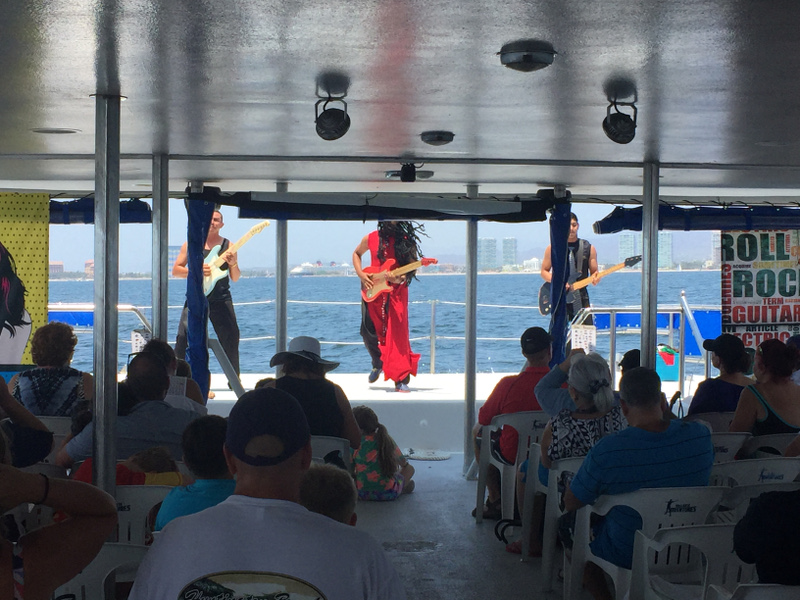 The dancing was very impressive considering we were on a moving boat: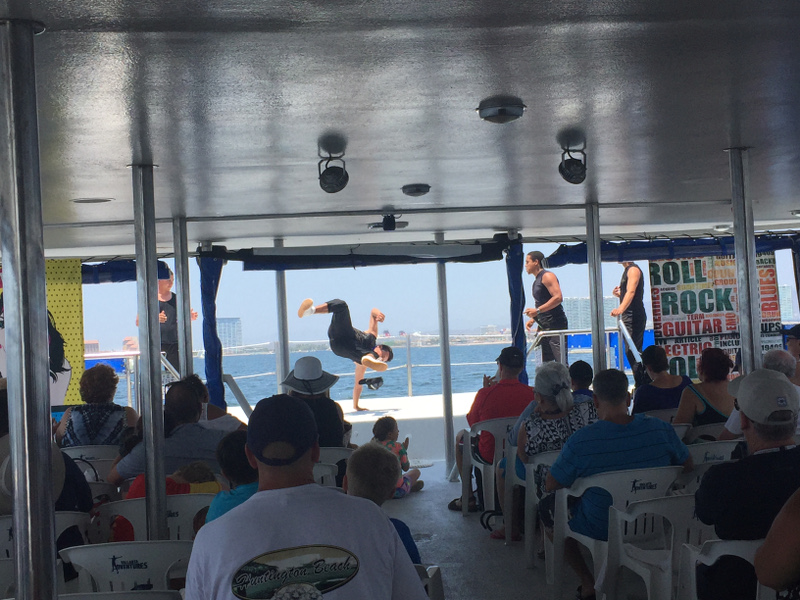 Eventually the guests got up and joined the fun.  If I hadn't been in the very back I probably would have joined them.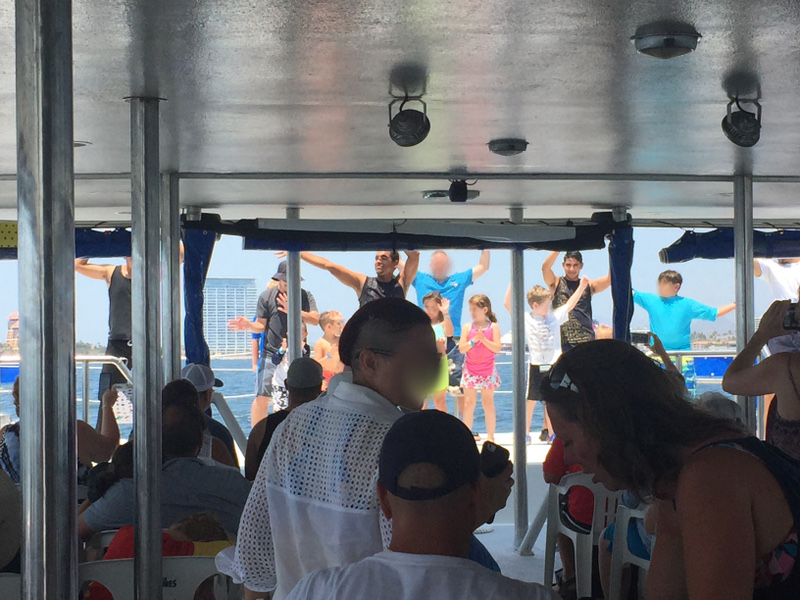 Before we knew it we were back at the Wonder.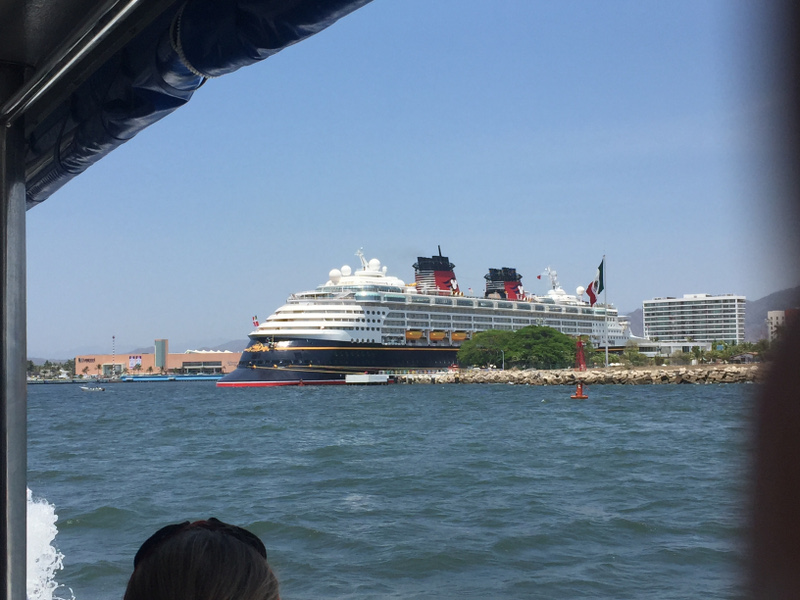 We had a close-up view of Denzel's yacht:
And a great view of the Wonder: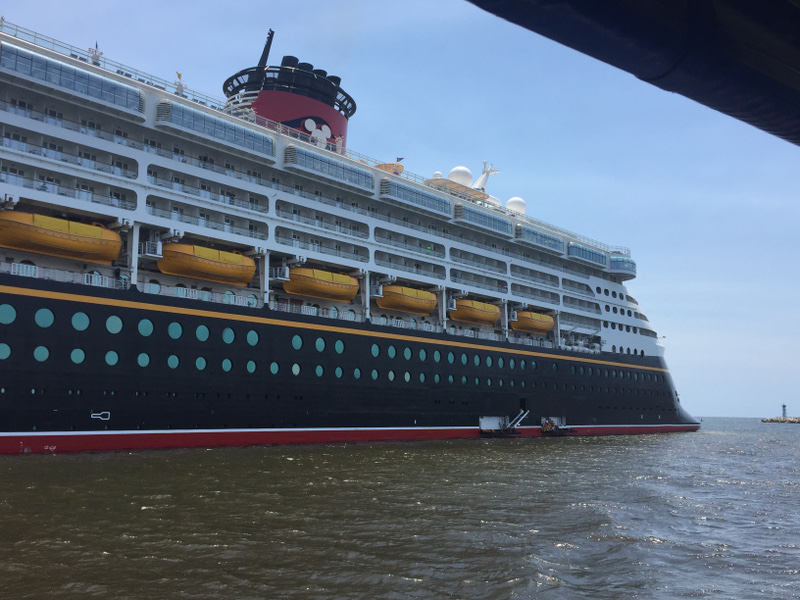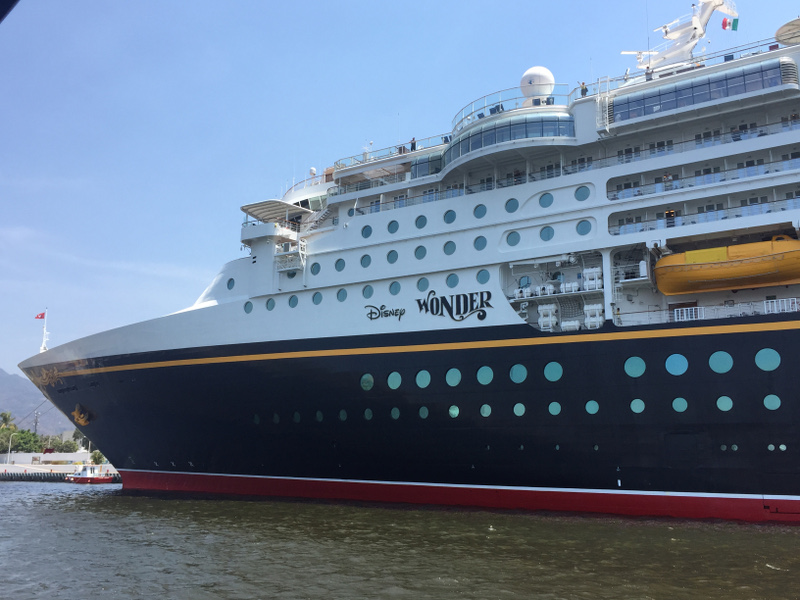 We left the boat and I dropped my remaining $3 into the tip bowl.  I would have left them more if I had it because they totally deserved it.  I know I probably sound like a broken record, but I was so impressed with this excursion and the crew.  This excursion was definitely worth the hefty price tag.
We had a short walk back to the ship.  It was 3:30 and all aboard was 3:45, so we didn't have time to walk around or do any shopping, just time for a few pictures.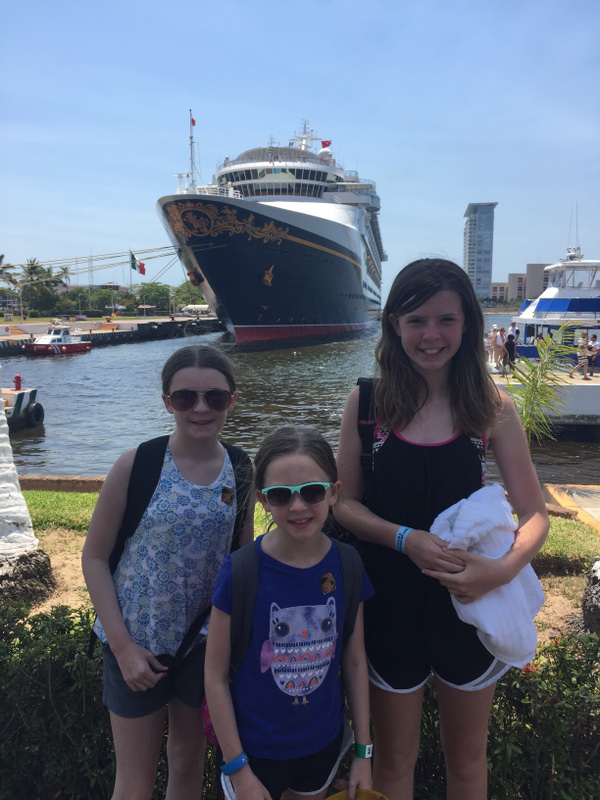 The port area was really very pretty.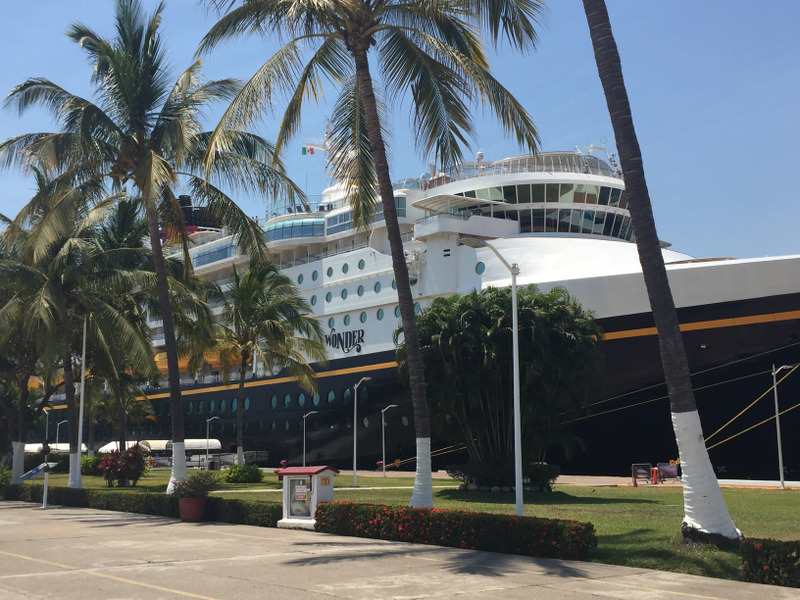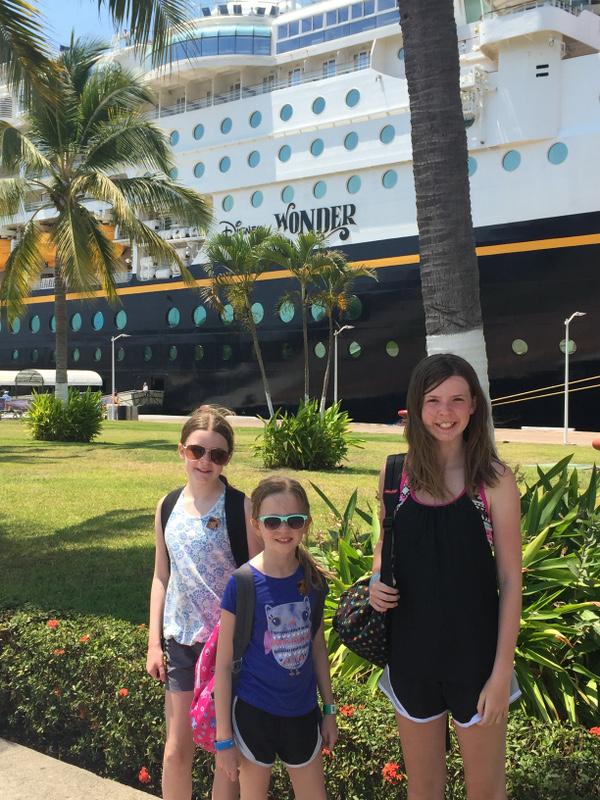 There was a decent line to get into the secure port area, but it moved quickly.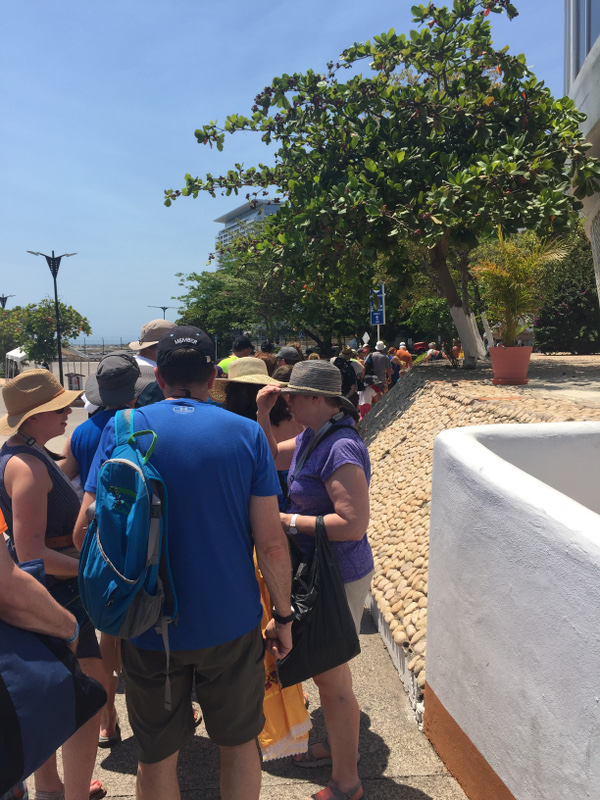 A quick selfie before boarding the ship: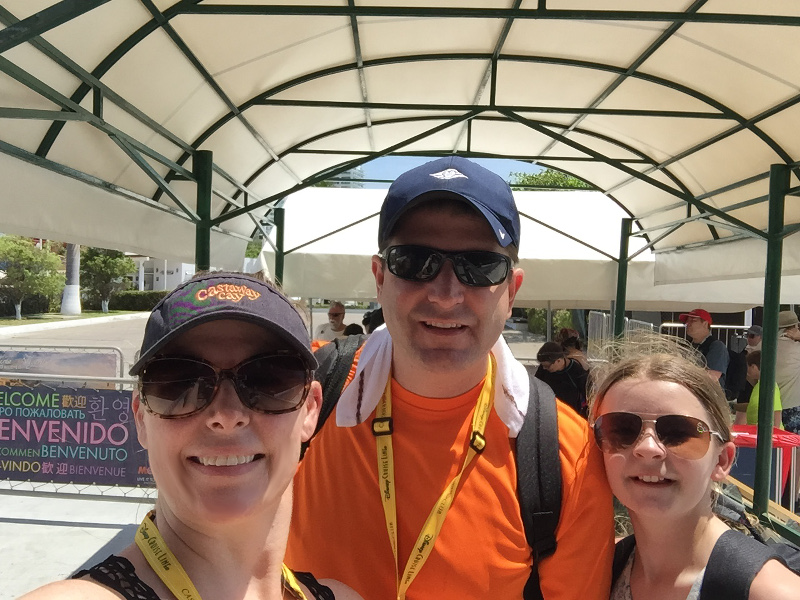 As always, the shade, ice water, and cold towels were much appreciated.  Also worth mentioning is that we saw Captain Robert walking briskly outside next to the ship.  He was walking towards the aft while talking on his phone.  He looked very serious and we noted that it seemed strange.  We would soon find out what he was doing.
When we arrived back at the rooms we discovered that we had been pixie-dusted with more magnets!  There were 2 for Guardians of the Galaxy 2, which was premiering the following day (May 5). There was also a Star Wars magnet since today was May the Fourth.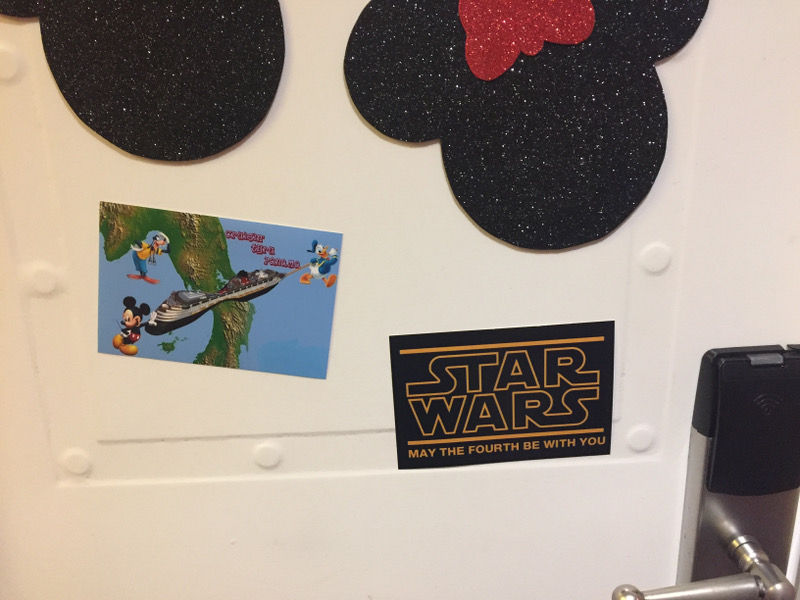 We dropped off our stuff in the room and headed to the pool to cool off and watch Lilo & Stitch on funnel vision.  While we were there, Captain Robert made a ship-wide announcement that there was an incident on the starboard side of the ship involving a cherry picker.  He explained that a cherry picker had fallen off the dock, was now wedged in-between the dock and the ship, and that our departure would be delayed while they figured out what to do.  Now we knew why Captain Robert had been walking around on the pier.  This was the best view I could get from deck 9, so I sent my husband down to deck 4 to get a better view.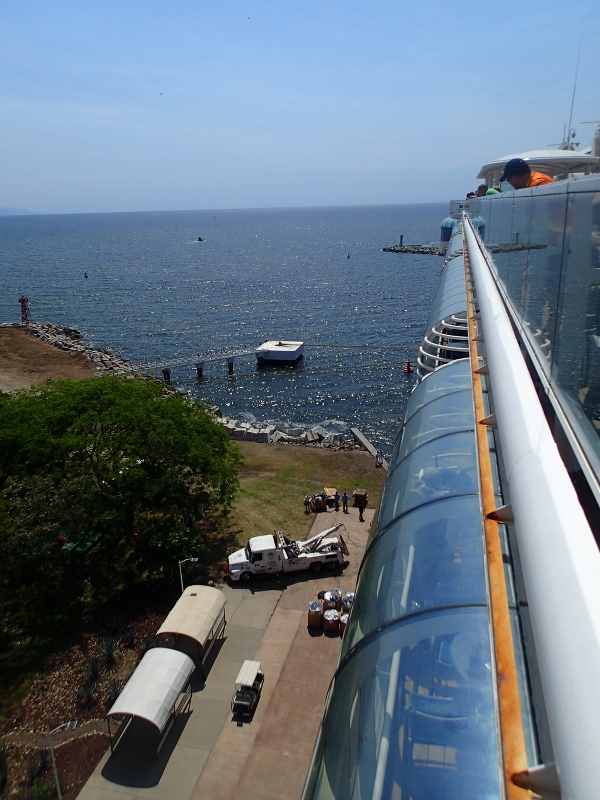 Here's what he saw: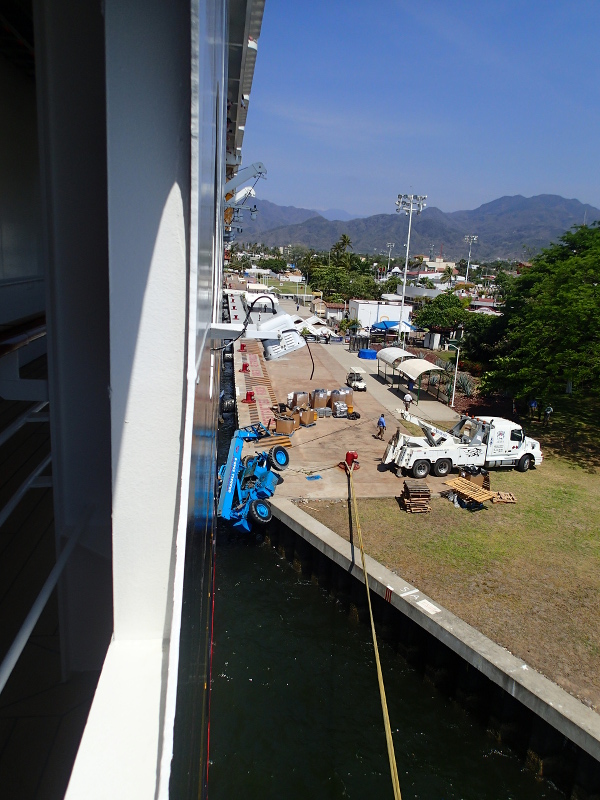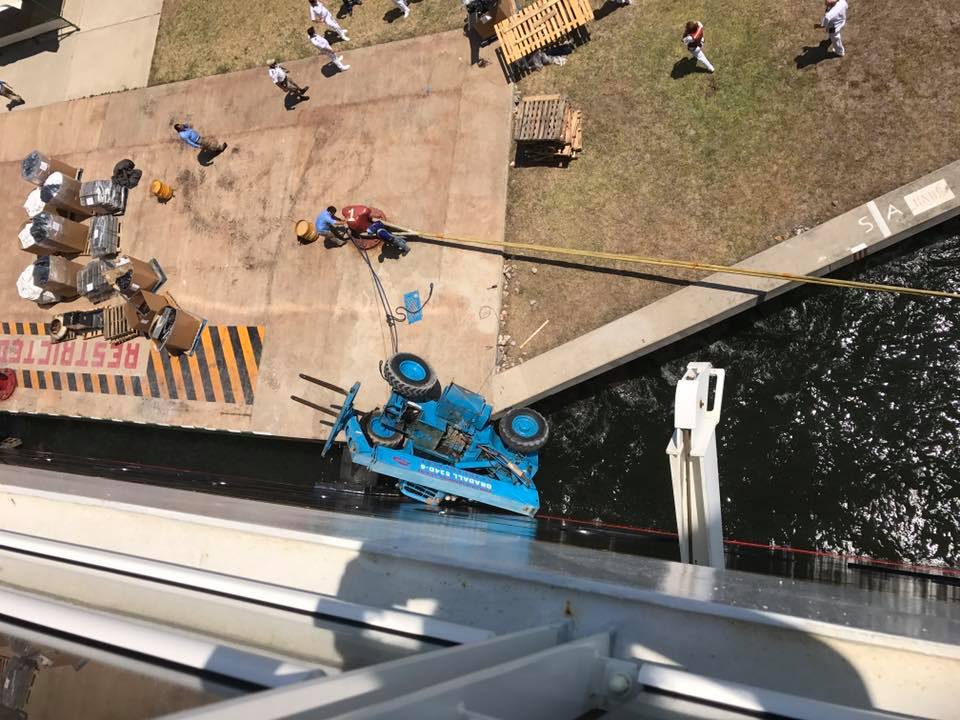 It appeared that they eventually secured it to a tow truck to keep it from falling into the water once the ship moved.  We ended up pulling away at 4:20, so not too much later than planned.  When we pulled away, we saw this: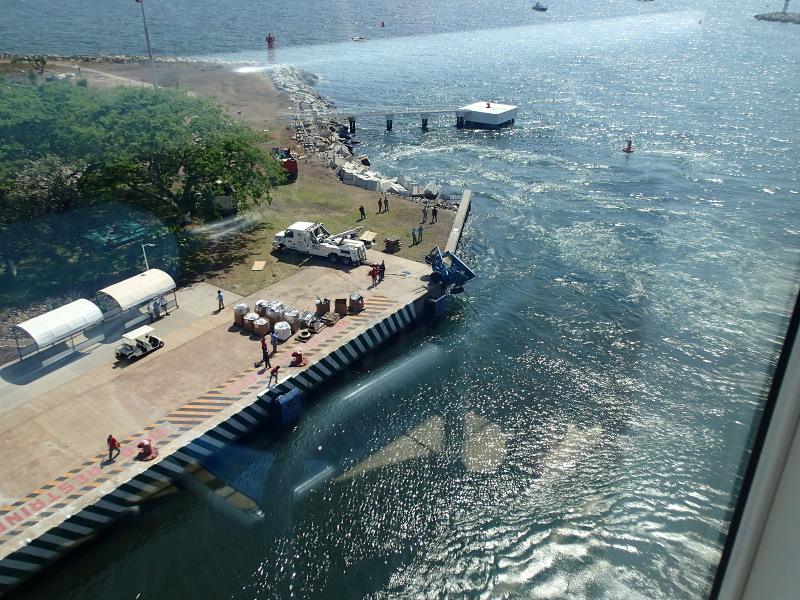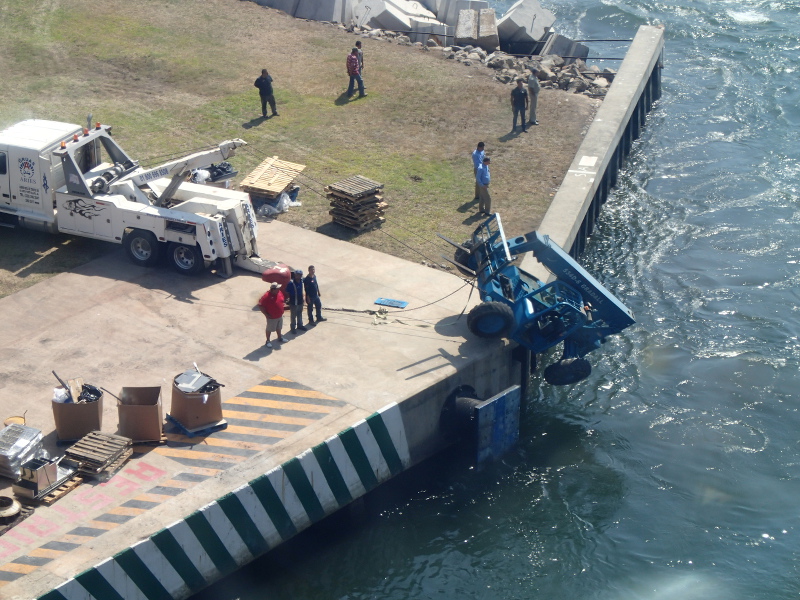 We couldn't hang around and see what happened next because we had another port to get to.  I took a few last pictures of Puerto Vallarta as we sailed away: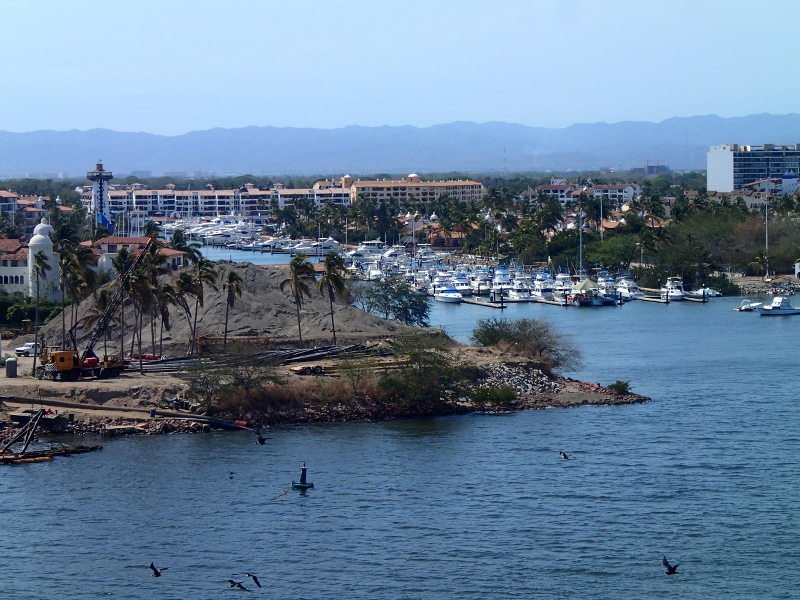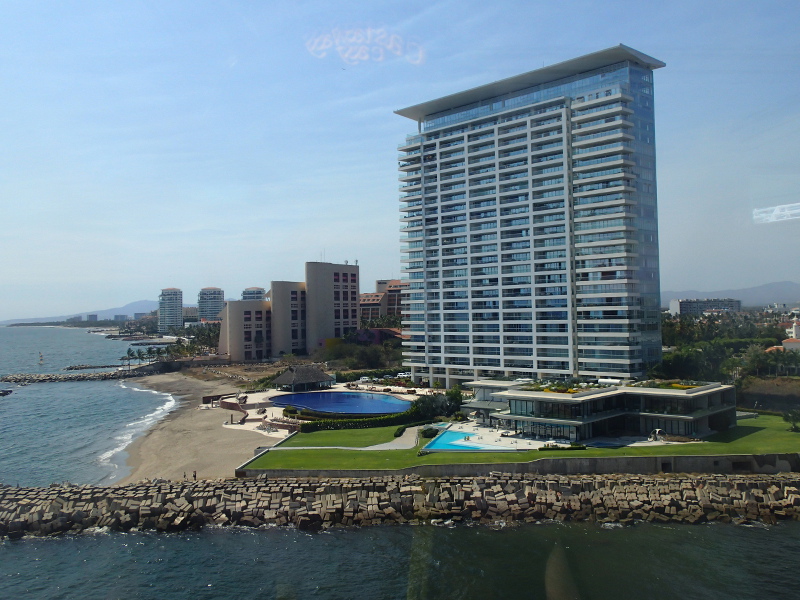 About 4:40 we headed back to the rooms to get showered and ready for dinner.  Dinner tonight was in Animator's Palate and it was the animation show.  When we arrived at our table, our papers and markers were waiting for us.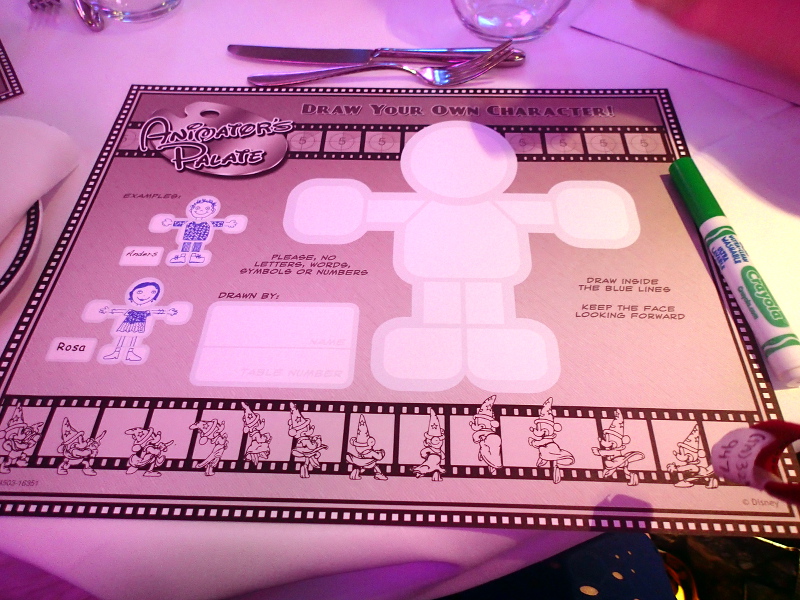 We quickly got to work on our masterpieces: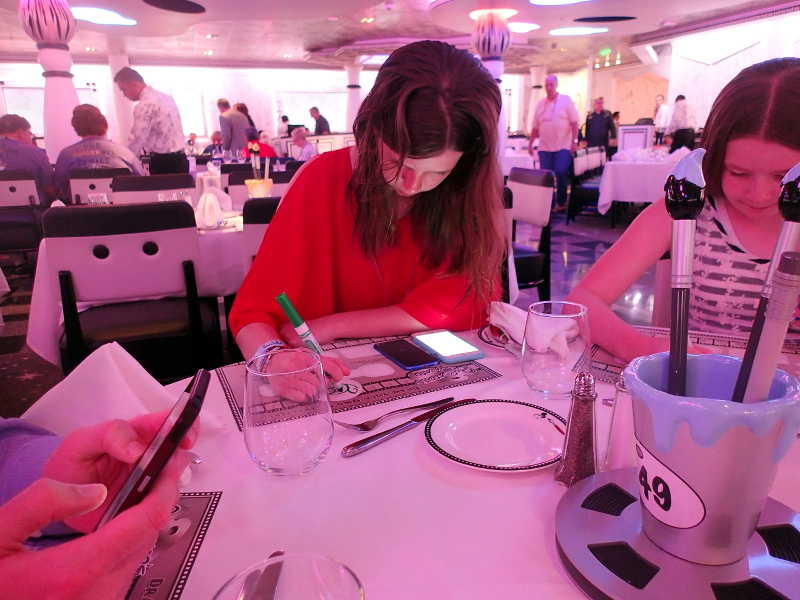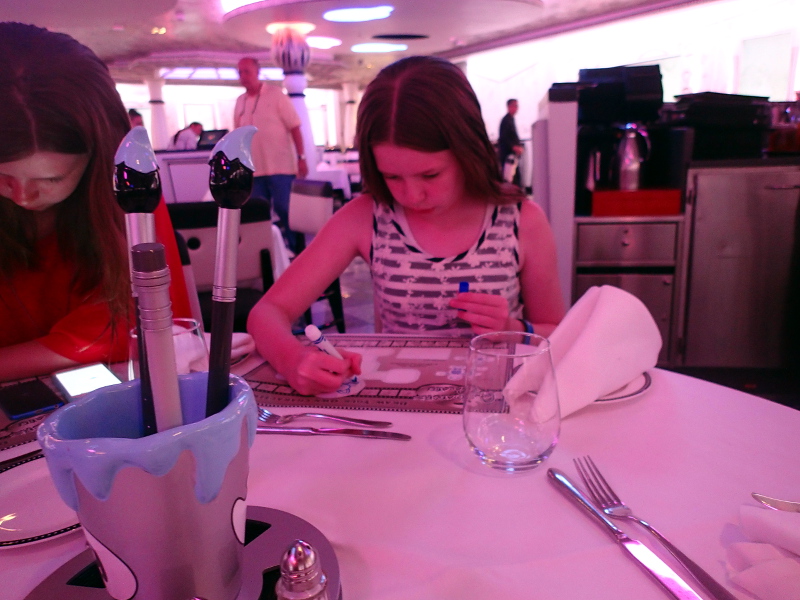 Tonight's menu was the Animation Show menu.  Because of the show, the menu is simplified and everyone gets the same appetizer and soup.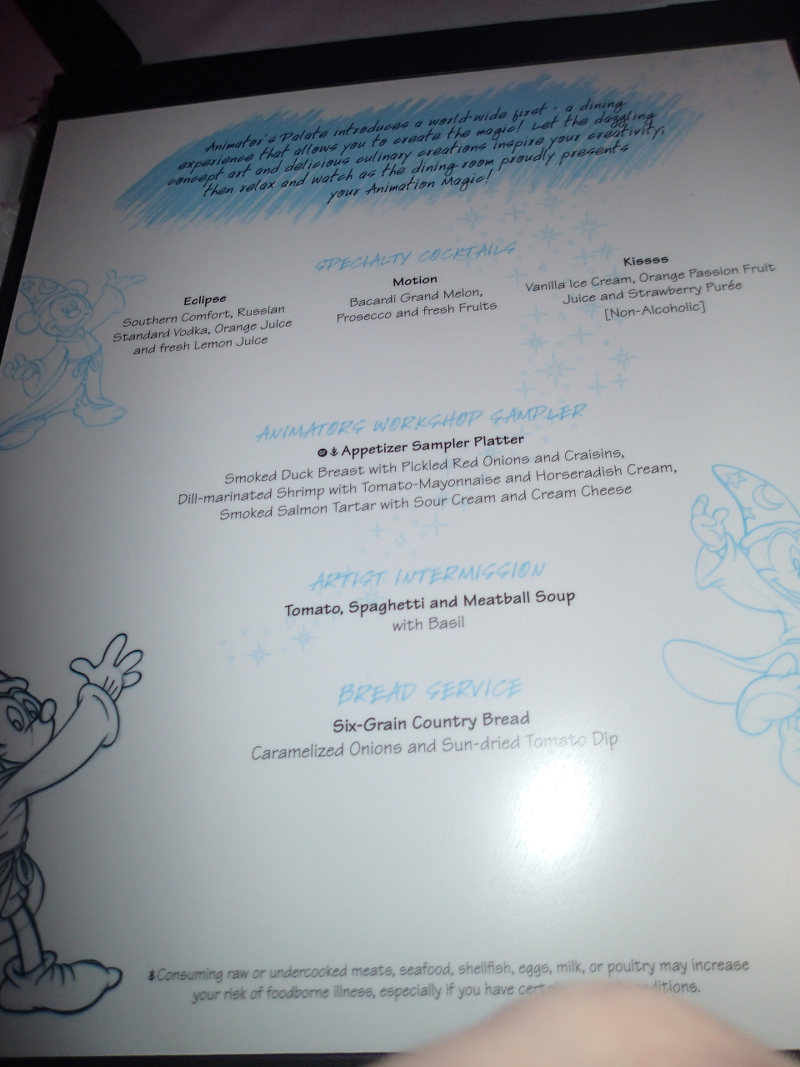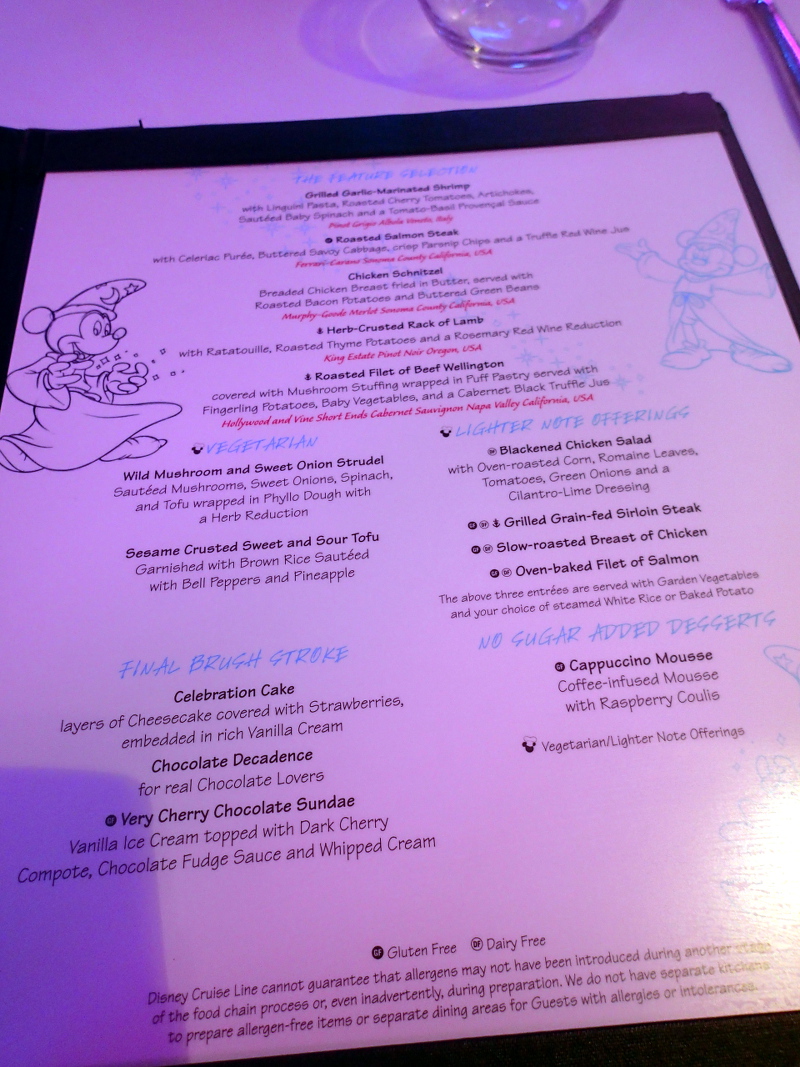 This was actually the appetizer from the kids menu.  I photographed it because it was so pretty.
This was the Appetizer Sampler Platter.  It was very good.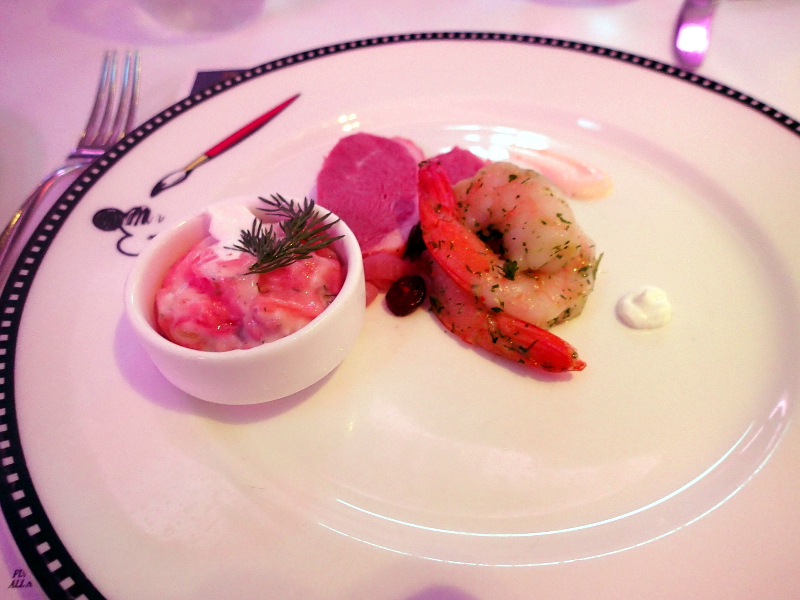 This was the Tomato, Spaghetti, and Meatball Soup.  It was okay but nothing special.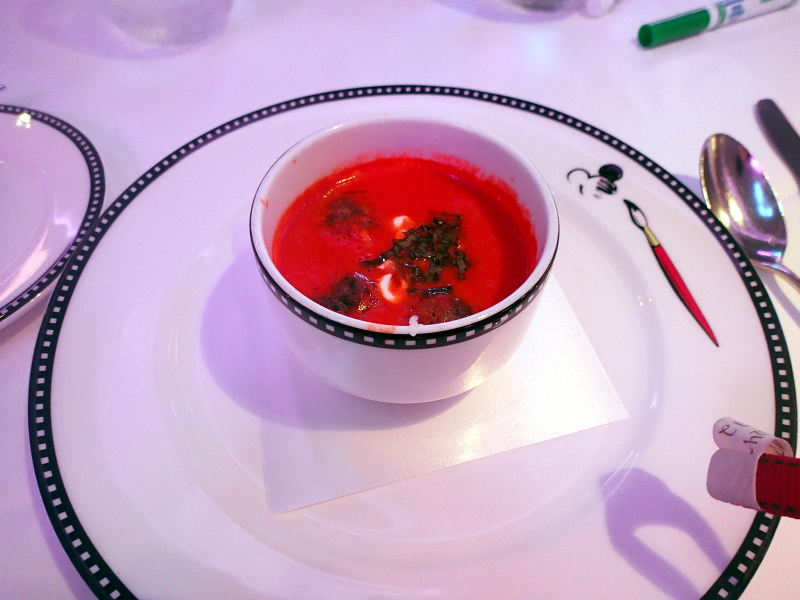 For my entree, I ordered the Roasted Salmon Steak which was very good.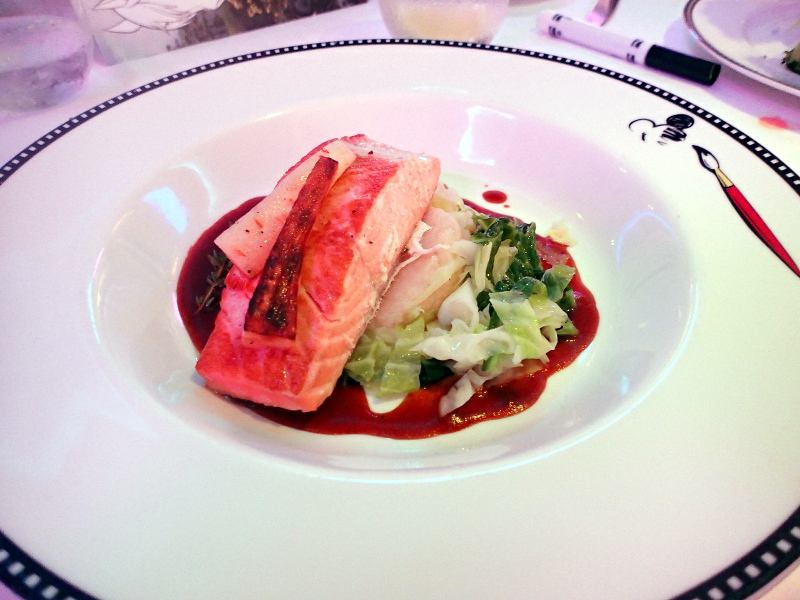 My husband ordered the Herb-Crusted Rack of Lamb.  I can't remember what he thought of it.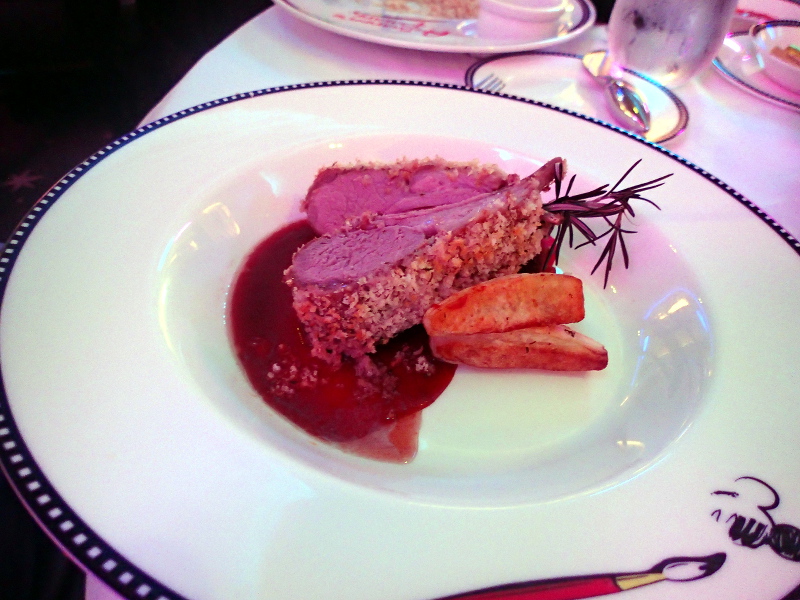 No picture of the dessert menu, and I can't find any online to identify these.  I do remember that they were very good.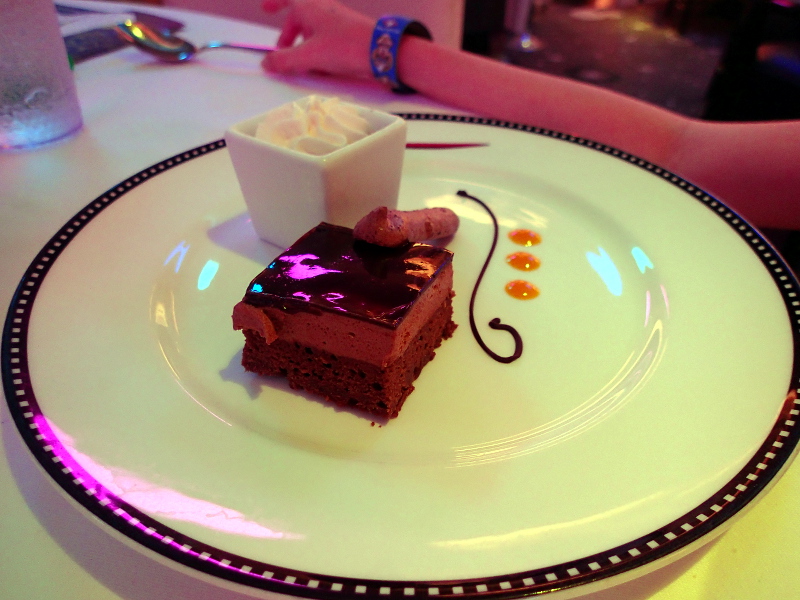 This was a chocolate mousse concoction:
Soon it was time to see our drawings come to life.  All 3 of these are ours except for the one second from the left: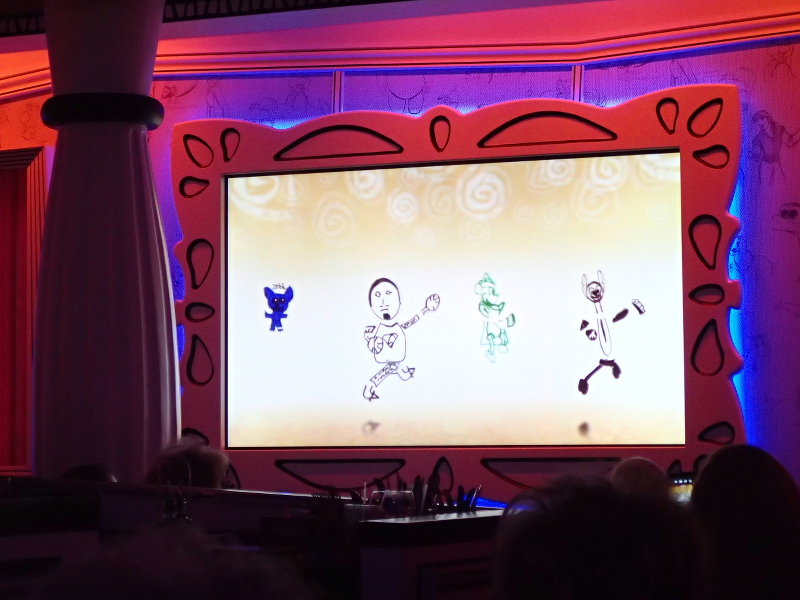 The green woman on the left is mine: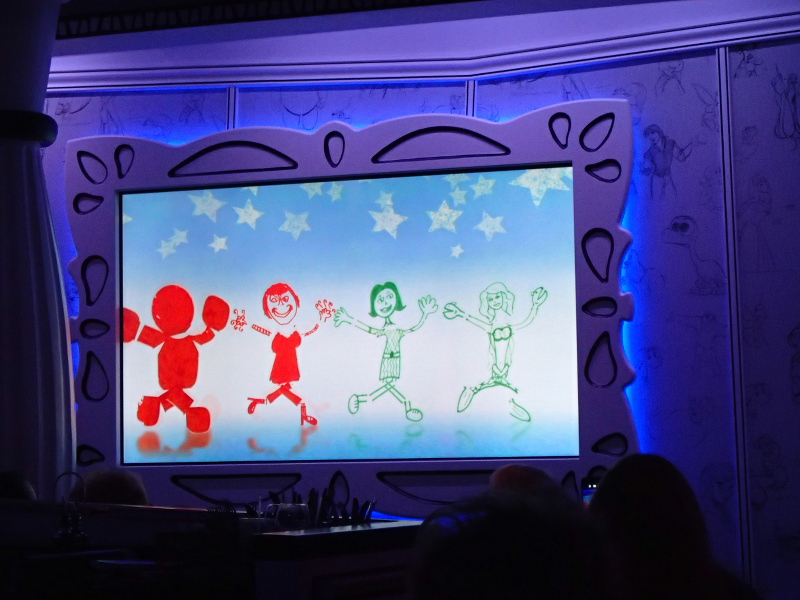 And the green Stitch is ours too: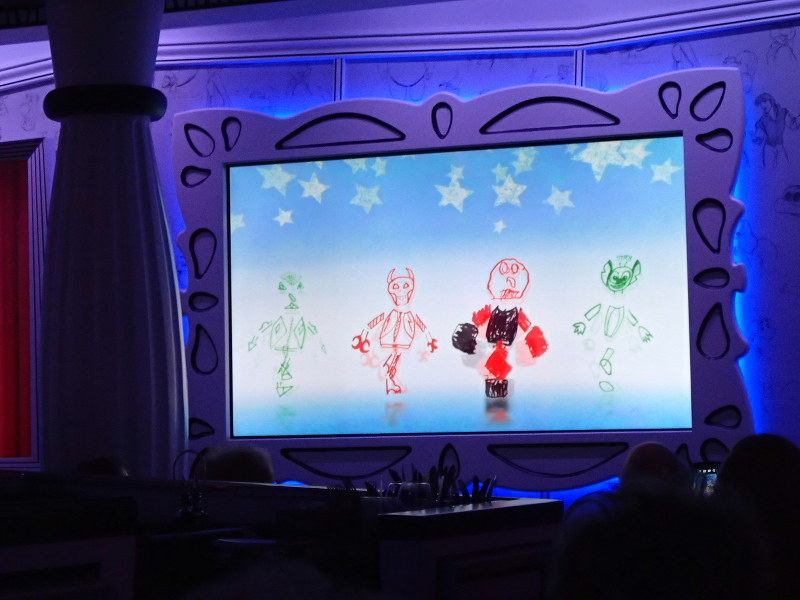 I don't remember them putting our drawings into movies like this the last time we cruised, but it's possible they did and I just don't remember.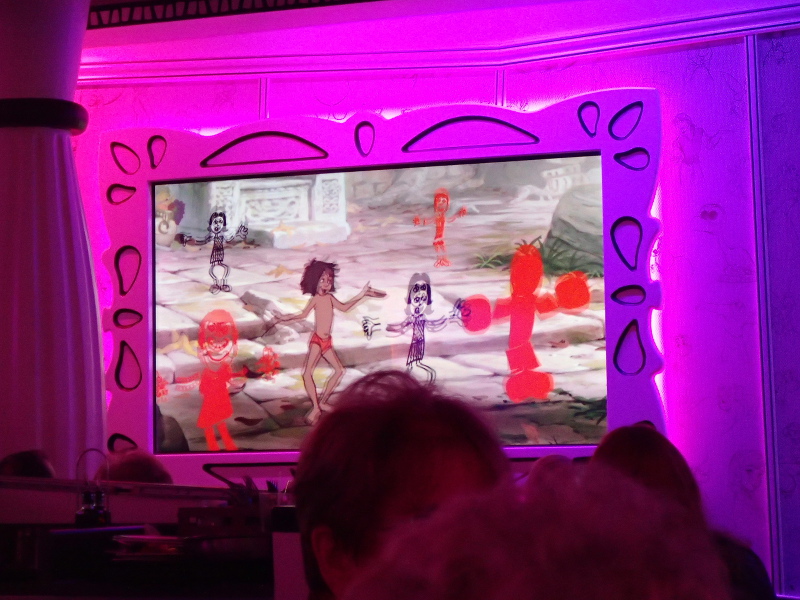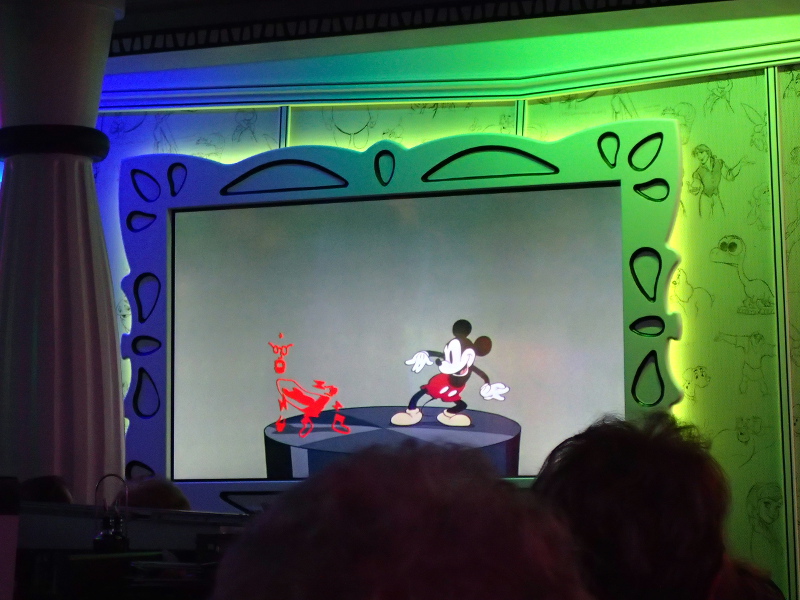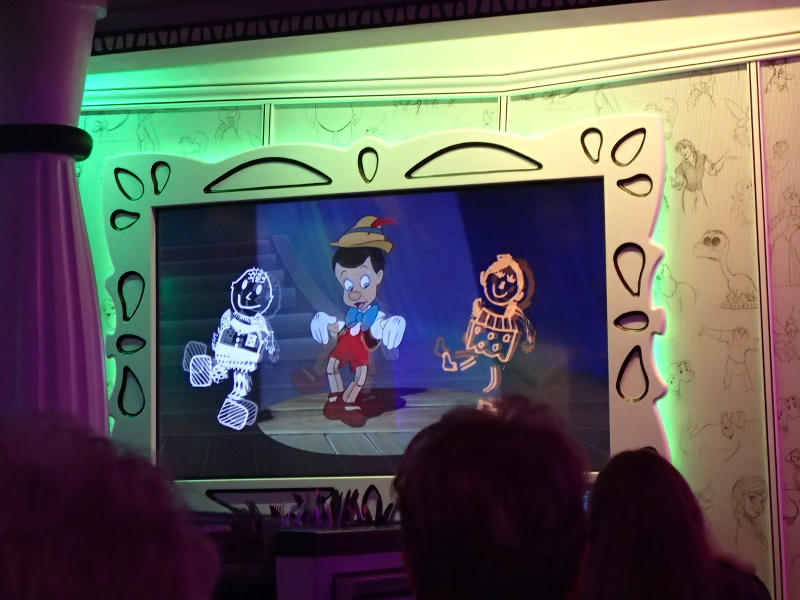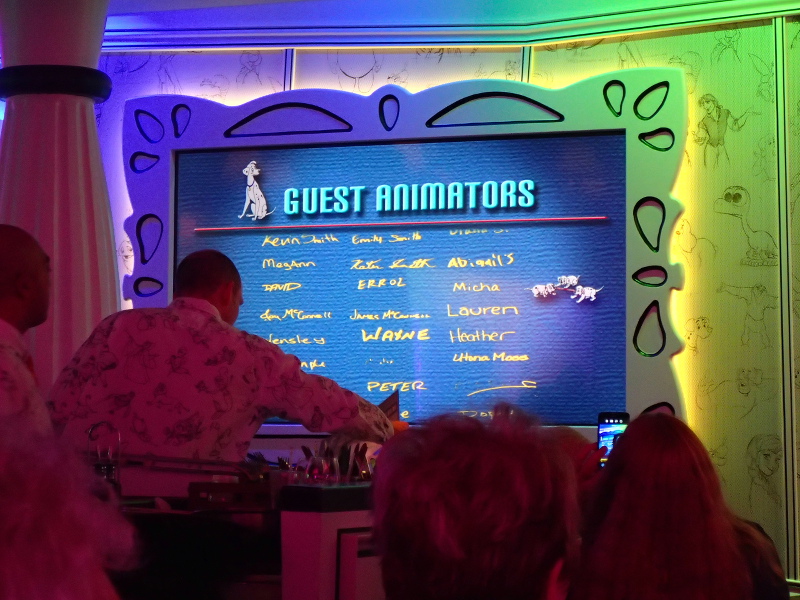 After dinner we must have walked through Preludes because I took this picture: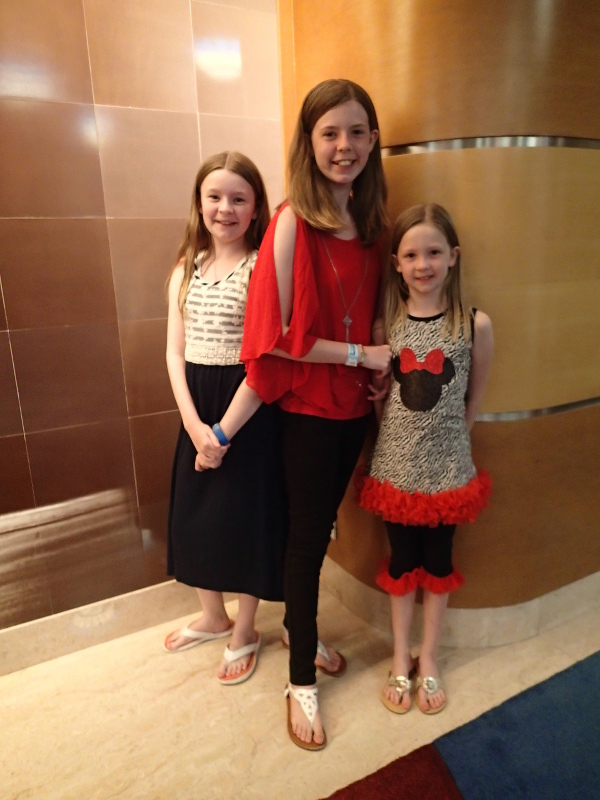 Next, we happened upon "Mainstage Cabaret" in Azure, which was a cabaret performance by the Mainstage performers.  They are a seriously talented bunch.  They would be disembarking the ship in San Diego at the end of their contract and a new team would be taking over.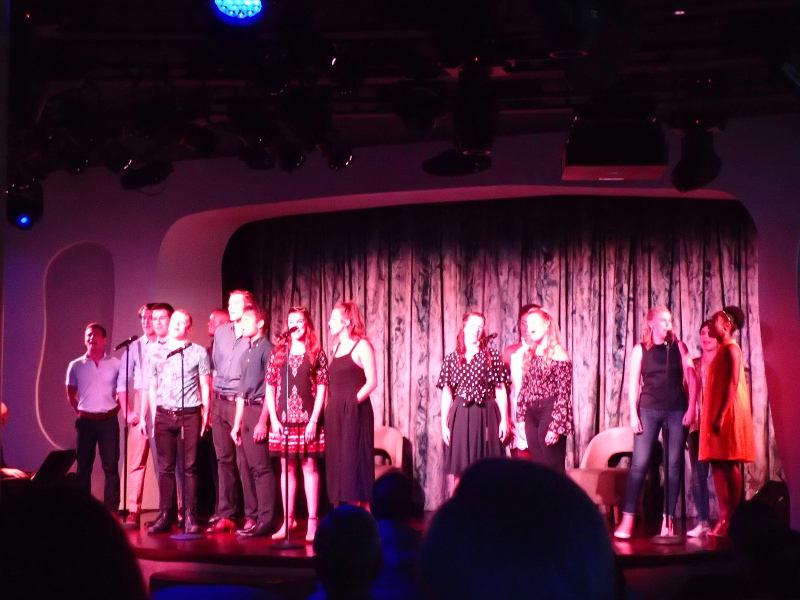 My husband and I enjoyed it very much, but this is what the girls thought of it: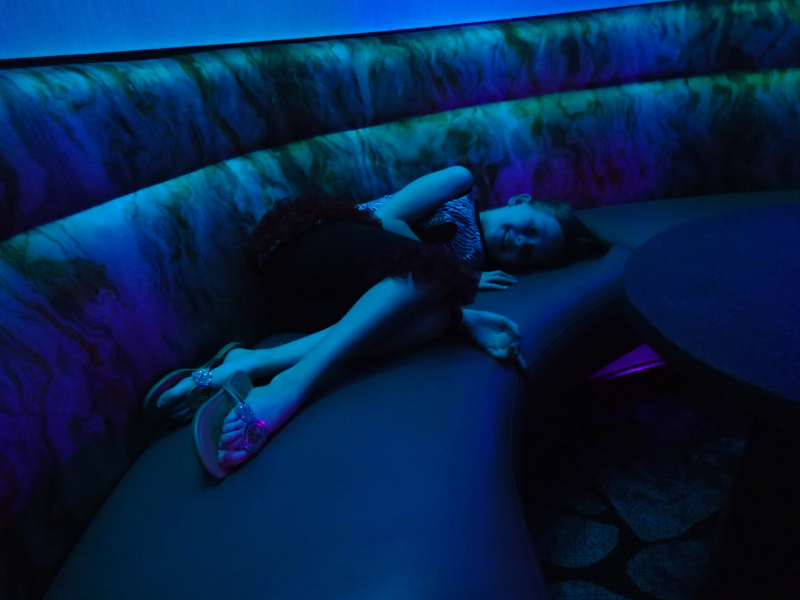 They were bored and decided to go back to the rooms.  My husband and I stayed for the whole thing and loved it.
After the show, we went back to the rooms and the girls wanted to go swimming.  We were skipping the evening show that night, "The Sounds of ABBA Fab", because we didn't think the girls would be interested.  I love swimming during the evenings on the ship, so I was all for it.
We got to the pool and it was very cool outside.  The girls said the pool water was warm, but they also spent a fair amount of time in the hot tub.  Mighty Ducks was on funnel vision, so I sat and watched that.  The pool guy was walking around handing out blankets instead of towels.  Check out the life guard:
There was a beautiful sunset, so I walked up to deck 10 to take some pictures.  It was spectacular!  These are unedited photos: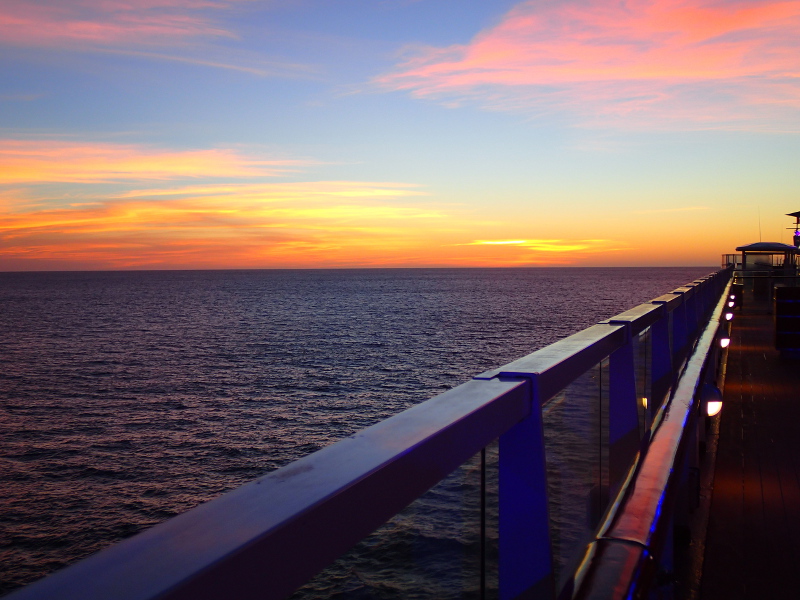 Our youngest was hungry, so we hung around until the pizza place opened back up at 9:30.  Once it opened, we grabbed a few slices and then went back to the room when the pool closed at 10:00 to get ready for bed.
This was our towel animal for the evening: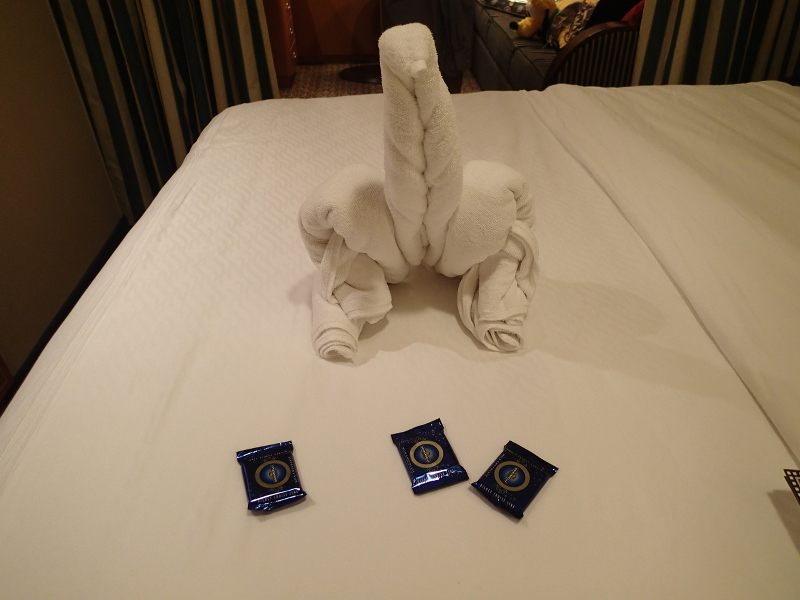 We also gained an hour of sleep tonight.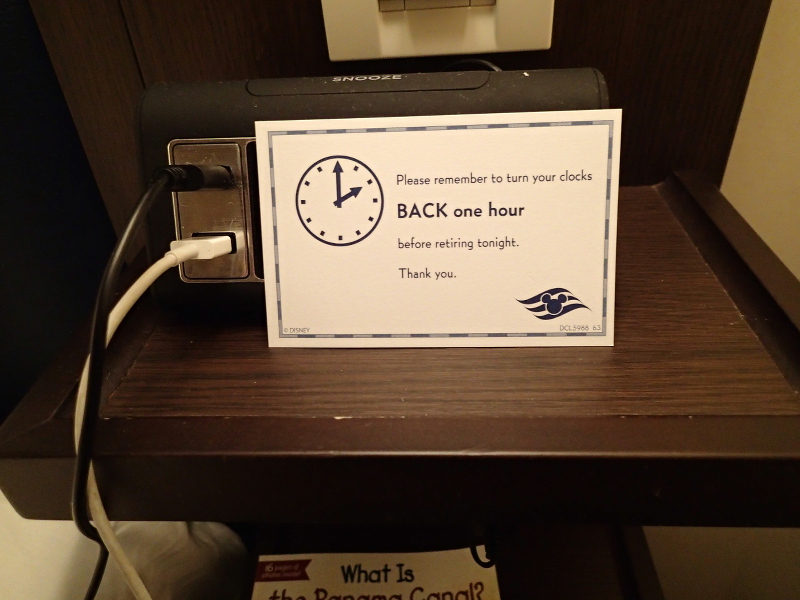 Up Next:  Day 13 – Cabo San Lucas
.
As always, don't forget to like me on Facebook (click here) and follow me on Pinterest (click here) for all of the latest Disney Cruise Mom Blog updates!
This post contains affiliate links, which means that if you make a purchase through my links, the seller will pay me a small commission for it at no additional cost to you. I am grateful for your support of this site in this way, so thank you!