Day 15:  Going Home
 If you would like to start this trip report from the beginning, click here.
Note: I do not feel right posting pictures of fellow cruisers who have not given me permission to use them on the blog, so I will blur out the faces of people in the background of my photos. I'm sorry if it looks funny, but I want to respect their privacy.
Also, anytime you see red text, it is a link to either product information or another one of my blog posts that gives more detailed information about that topic.
.
On the final night on the cruise the seas were very rough.  They were the roughest I have encountered in 8 cruises.  Walking around the room was tricky, and the closet doors were sliding closed and open, over and over.  There was a lot of creaking noises in our room, and I had to take all of the empty hangers and place them on the closet floor because they were banging together.  Thankfully, none of us get seasick so that wasn't an issue.
I set my alarm for 6:00 am so that we wouldn't be rushed getting ready.  We weren't docked in San Diego yet, and I could tell it was rainy outside.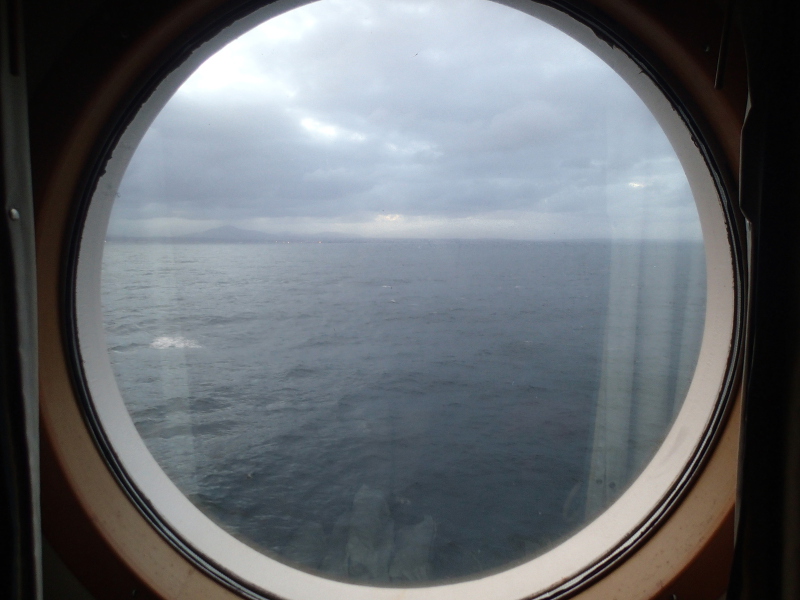 This worried me a bit because I had heard stories about cruisers standing in the rain in a very long taxi line at the San Diego port.  Oh well, what could we do?  Fingers crossed.
We all got up and got dressed, and then my husband went to Cabanas to get some food and bring it back to us.  We skipped our scheduled 7:00 am breakfast in the MDR and had let our servers know the night before that we wouldn't be there.  At 7:30 we left the room, with all of our luggage, and went to the atrium to wait for them to announce that express walk-off had begun.  I expected to hear the announcement about 7:45 and we wanted to be some of the first ones off the ship because we had an 11:40 flight.  This was 5 minutes earlier than DCL recommends, but it was the only flight we could find that would get us to the east coast before midnight.  I know that our bodies would have thought it was 3 hours earlier due to the time change, but my sister was kind enough to pick us up from the airport and I didn't want her to have to pick us up after midnight.
We got to the atrium and this was the scene: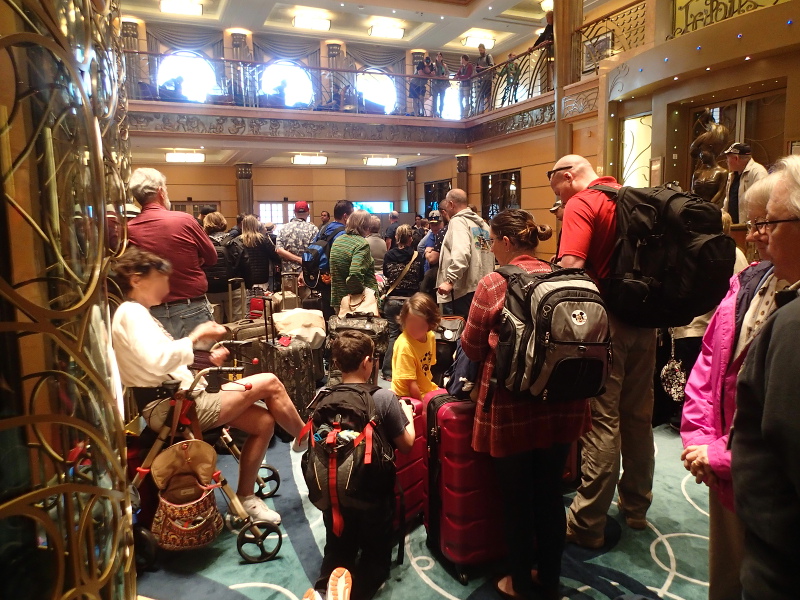 We found a spot out of the way and made ourselves comfortable while we waited.  Our server Levy was stationed at the entrance to Triton's so we got to wave at him one last time.
While we waited, my husband took my camera and went up to deck 10 to get some pictures of the port area.  I was glad to hear that the rain had cleared out.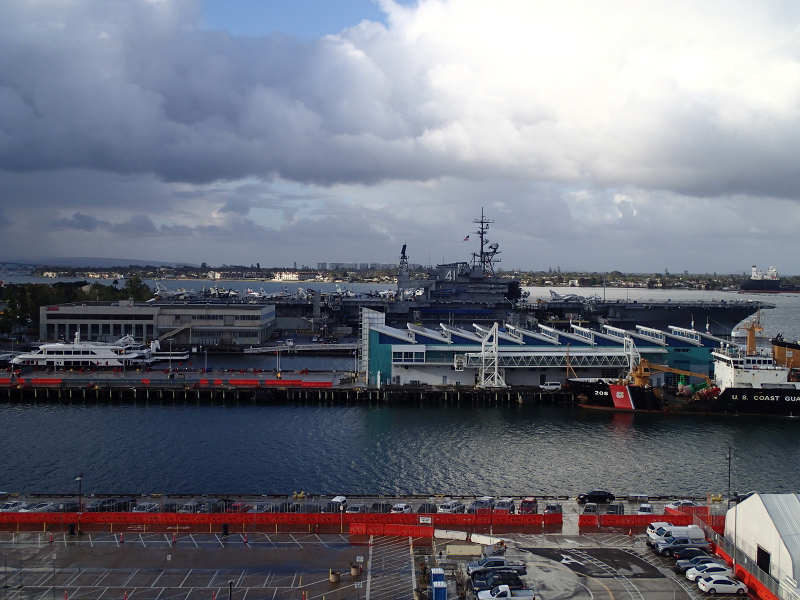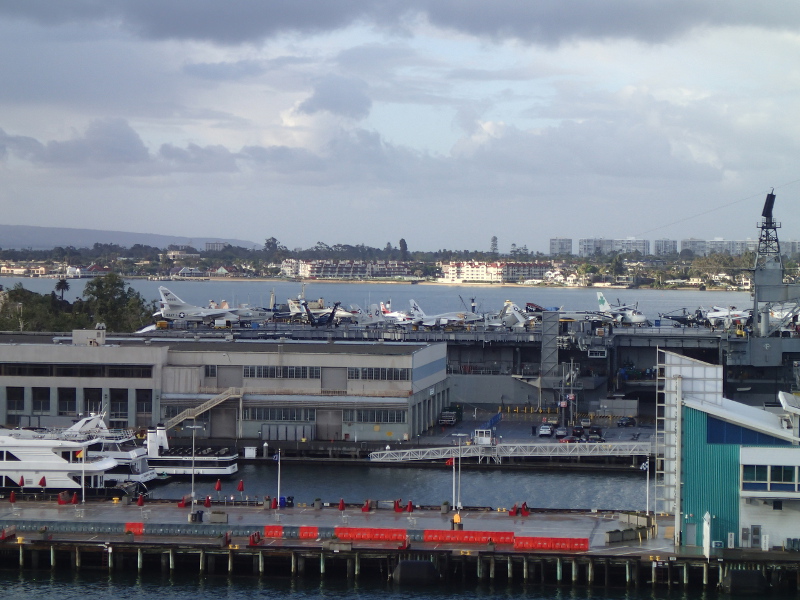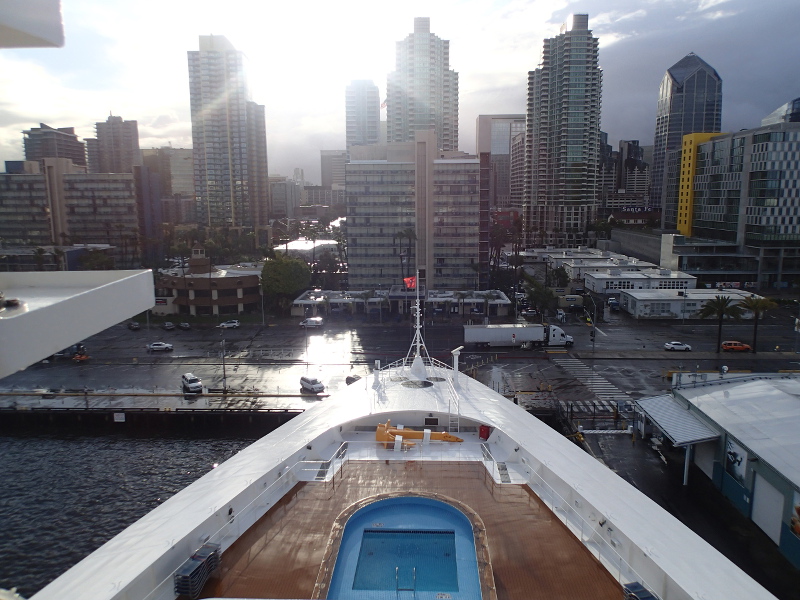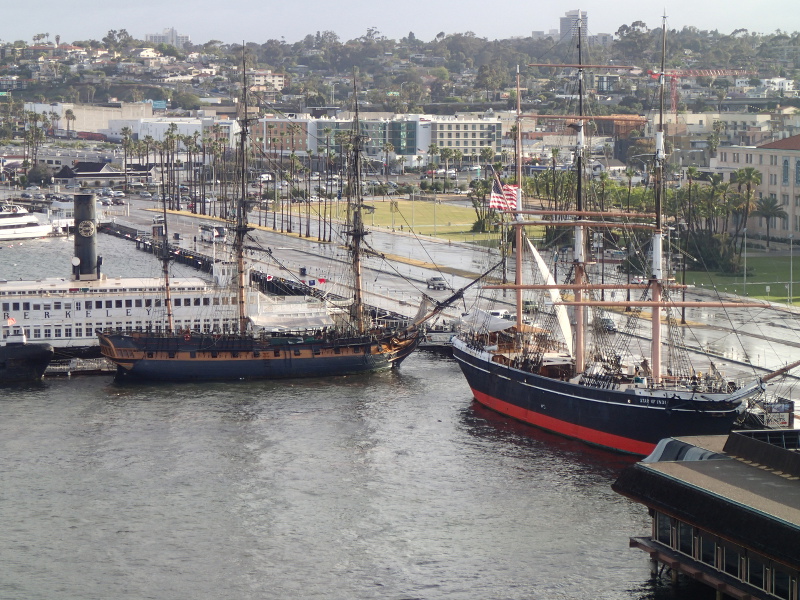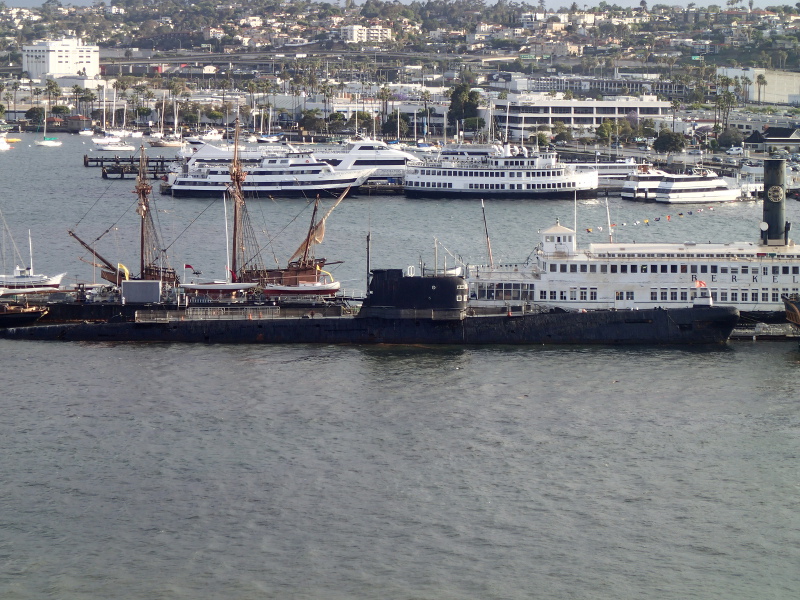 Another thing I did while we waited was go to guest services and get a copy of our onboard account statement.  We had been told that everyone would have one delivered to their room by 7:30, but our portion of deck 6 didn't get them.  They quickly printed me a copy at guest services.  They also had a box right there to drop off satisfaction surveys, so I put ours in the box.
We were all so sad that this day had finally arrived…..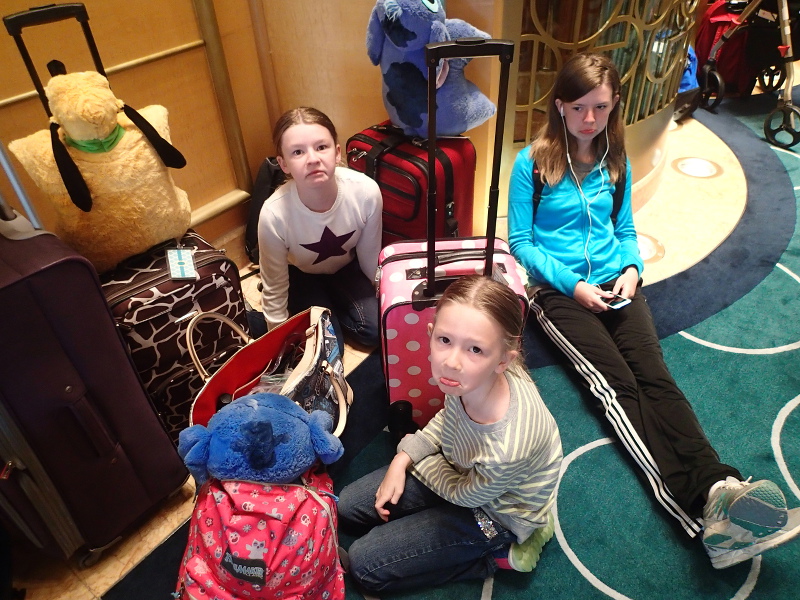 About 8:00, I was getting antsy that they hadn't begun express walk-off yet.  We soon found out why when a ship-wide announcement was made telling all non-US citizens to report to Azure immediately.  I knew what this meant because of a conversation I had with a British woman in the laundry room a few days prior.  All non-US citizens had been given written instructions to report to Azure on the final morning at 5:45 am to take care of customs and immigration matters, and customs authorities would not clear the ship until everyone had been processed.  Then, at 8:15, another announcement was made that called 2 people out by name.  I guess that these 2 people had ignored the specific instructions and were now delaying everyone from leaving the ship.  By the way, San Diego is the only port I know about that does it this way.
Anyway, these 2 people must have complied pretty quickly because at 8:20 am, we were allowed to leave the ship.  We got off as fast as we could as I had heard horror stories about hour+ long waits for a taxi here, so I wanted to be some of the first people to the taxis.  While we waited for an elevator we had a great view of luggage being unloaded from the ship.  This machine was exactly what had fallen against the ship in Puerto Vallarta, so I guess it is more of a fork lift than a cherry picker.  Captain Robert called it a cherry picker though.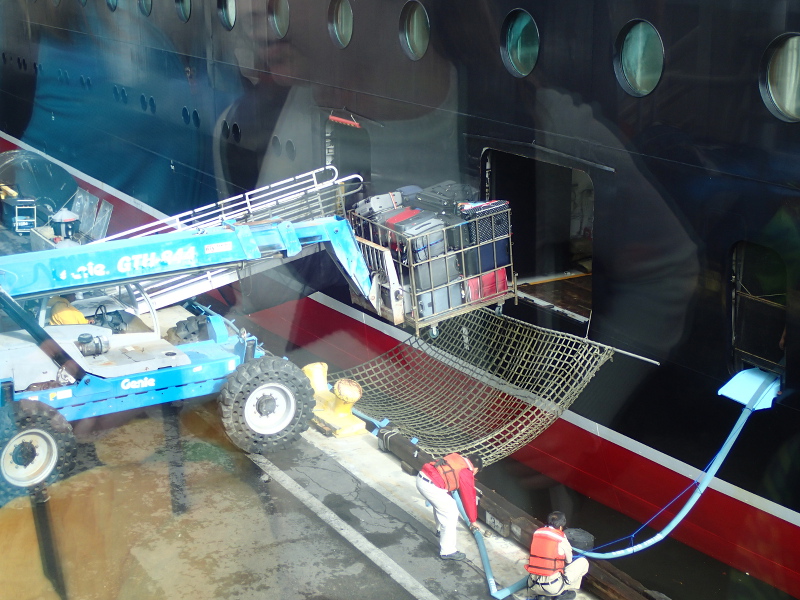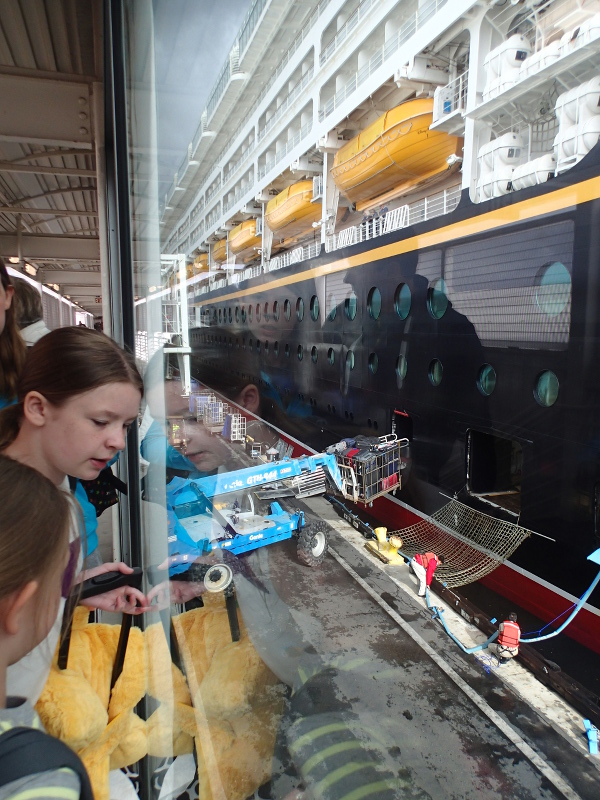 We breezed through customs with no wait and bolted to the taxi line.  This was the taxi area: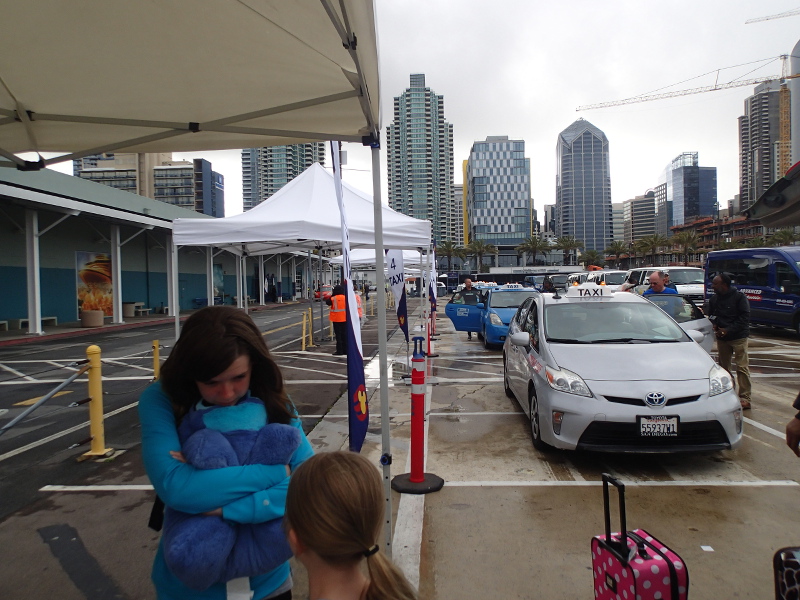 And looking back towards the ship: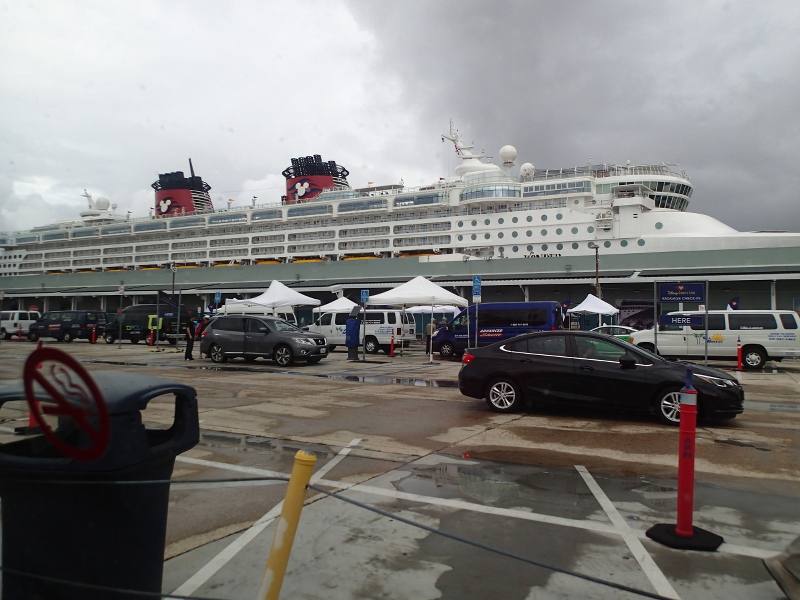 Even though the rain had stopped, I appreciated that they had some tents up just in case.  It was chilly and windy.  I was so glad that I had brought each girl one long sleeve shirt and one pair of pants.  They definitely needed them this morning.
We were some of the very first people to get to the taxi area, so we hopped right into a minivan and we were off to the airport.  The airport is very close to the cruise terminal.  It only took 5-10 minutes to get there, and that included stopping at several red lights.  I took this photo as we were almost to the airport.  You can see just how close the airport is: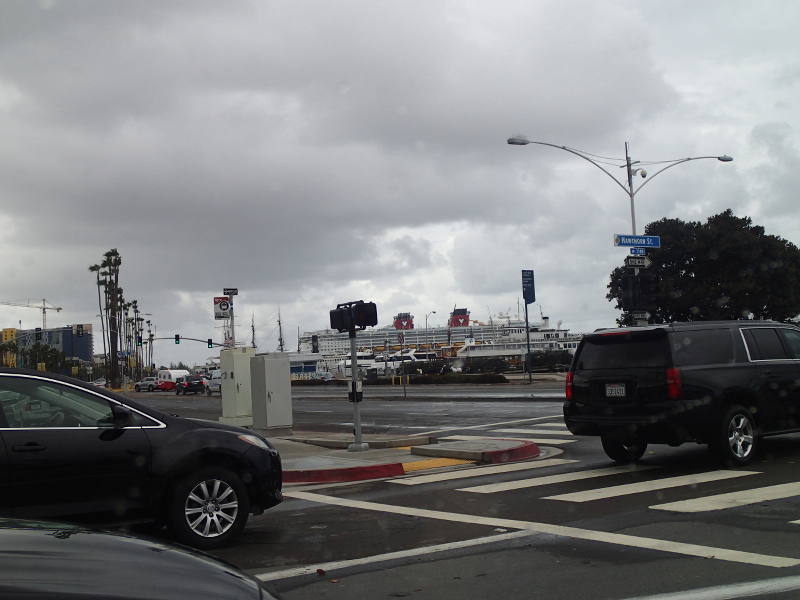 Our taxi driver dropped us off at the Delta curb and we went inside.  We got in line at the Delta counter and it was 8:52.  It took us 32 minutes to get off the ship and inside the airport.  Not bad!  For some reason we were not able to use a kiosk to get our luggage checked and print our boarding passes and we had to wait in line for about 10 minutes.  Then it was off to security.  The line was long but moved at a steady pace.  It took us about 30 minutes.  We were at our gate at 9:30 am.  I read online that shortly after we went through security, a computer glitch in security caused major delays and people began to miss flights.  It seemed like we got through just in the nick of time.
We had an hour and a half and we used this time to get some food and get reconnected to the outside world by checking emails and texts.  Our first flight was to Detroit, where we had an hour layover until our flight home.  Everything went smoothly.  On our second flight, we were treated to some beautiful clouds and a pretty sunset.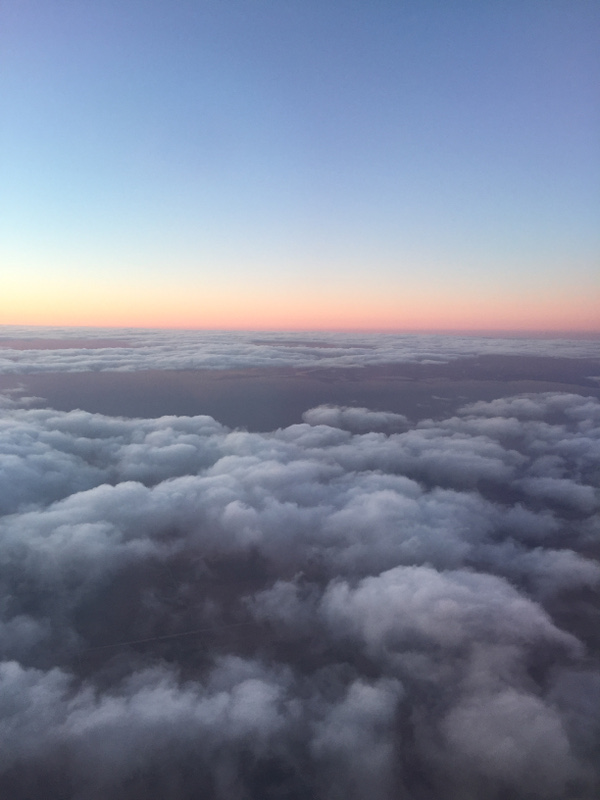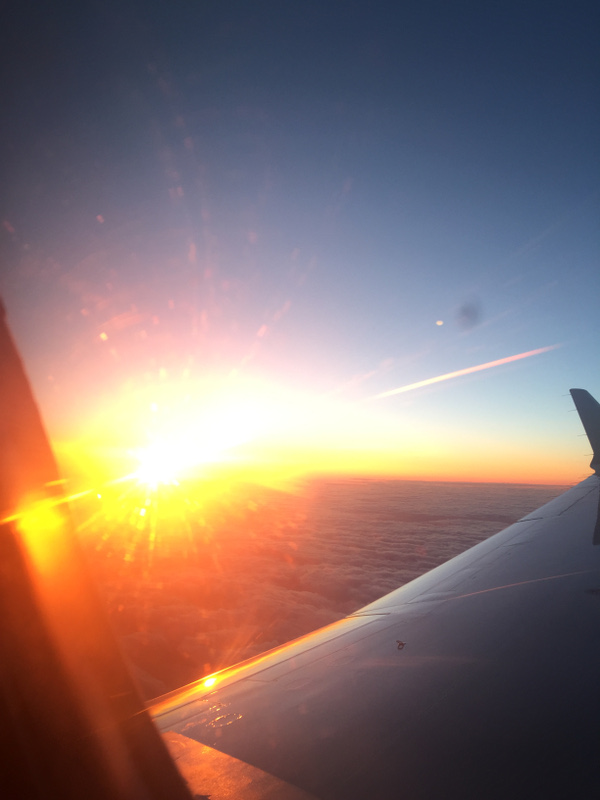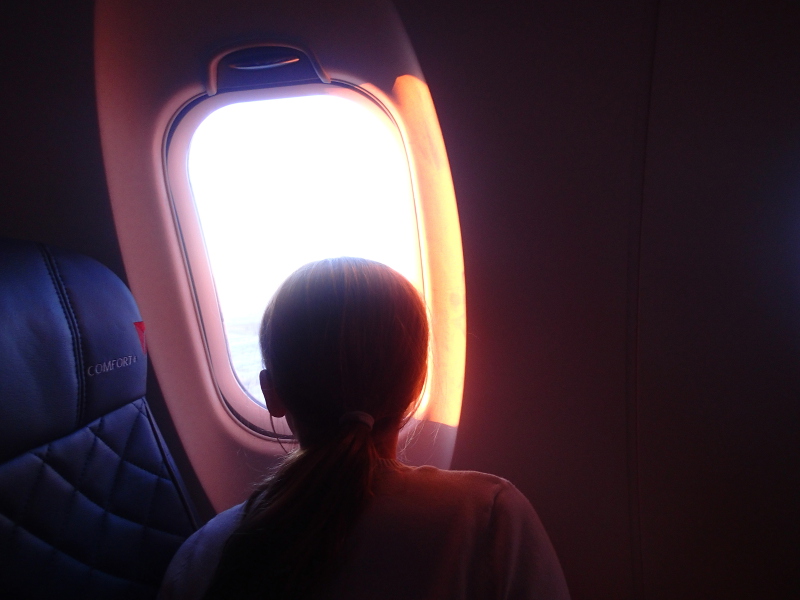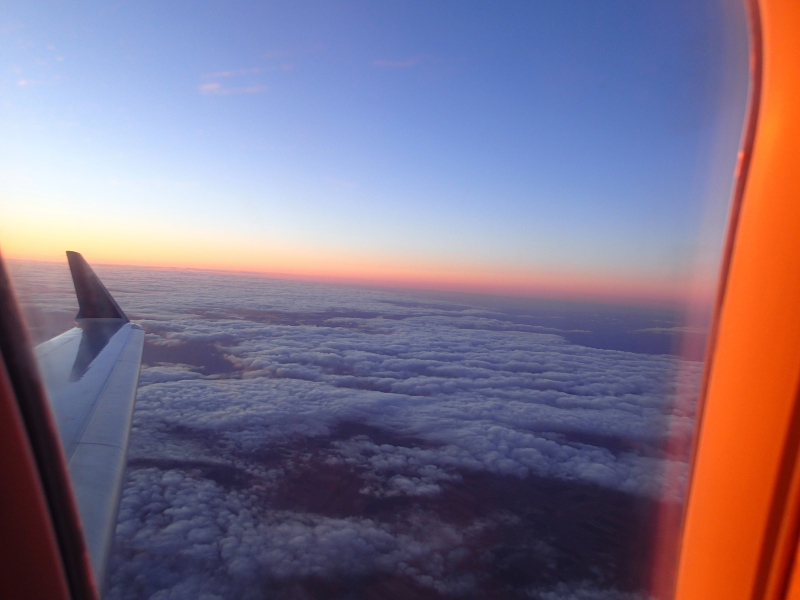 We arrived home on time and began the countdown to Alaska, which as of the date I posted this is 338 days (for a variety of reasons, we switched our reservation to the May 21, 2018 sailing after we got home).
A huge thank you to everyone who followed along on our adventures!  I know it was a long one!  In summary, I can't recommend this cruise enough.  It was absolutely incredible and I would do it again in a heartbeat.  I would love to do this cruise every year, but that would mean that we didn't take other vacations and that doesn't make much sense to me since there are so many new places that I want to see and experience.  Maybe we'll do this one again in a few years though.
.
As always, don't forget to like me on Facebook (click here) and follow me on Pinterest (click here) for all of the latest Disney Cruise Mom Blog updates!