Day 14:  At Sea
 If you would like to start this trip report from the beginning, click here.
Note: I do not feel right posting pictures of fellow cruisers who have not given me permission to use them on the blog, so I will blur out the faces of people in the background of my photos. I'm sorry if it looks funny, but I want to respect their privacy.
Also, anytime you see red text, it is a link to either product information or another one of my blog posts that gives more detailed information about that topic.
.
You can see this day's Daily Navigator by clicking here: Navigator Day 14
This morning I woke up about 7:30 and it was gray and dreary outside.  It matched our moods since this would be our last day on the ship.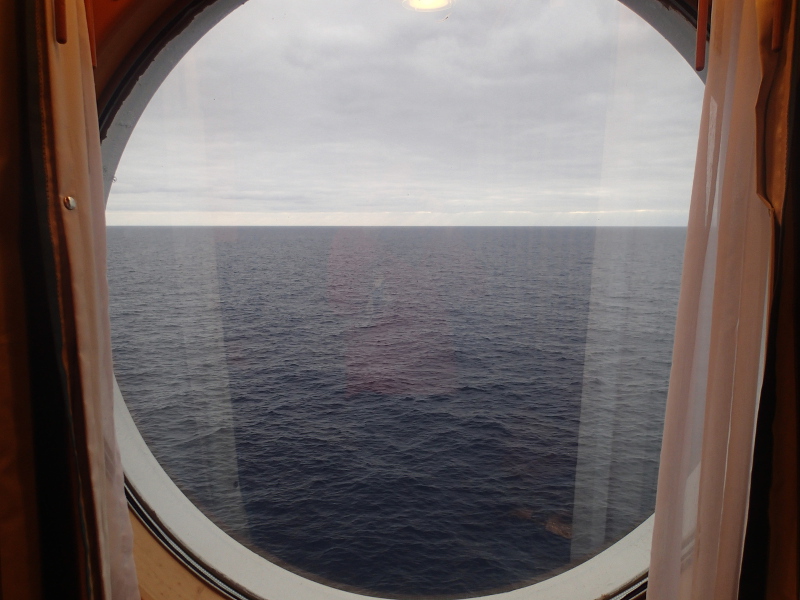 I watched the morning show and caught up on my trip notes.  About 8:30, my husband and I went up to deck 9 for some coffee for us and pastries for the girls.  On our way out, we saw Greg in the hallway.  He told us that he was leading the towel folding class that afternoon at 2:00 and he invited us to come.  He also told us that his contract was ending tomorrow and he would be leaving the ship to fly home to the Philippines.  He was so excited and it was really cute.
At 9:15 we went to Captain Puckett's final presentation, "WWII Plans to Destroy the Panama Canal."  We left the girls in the room watching TV.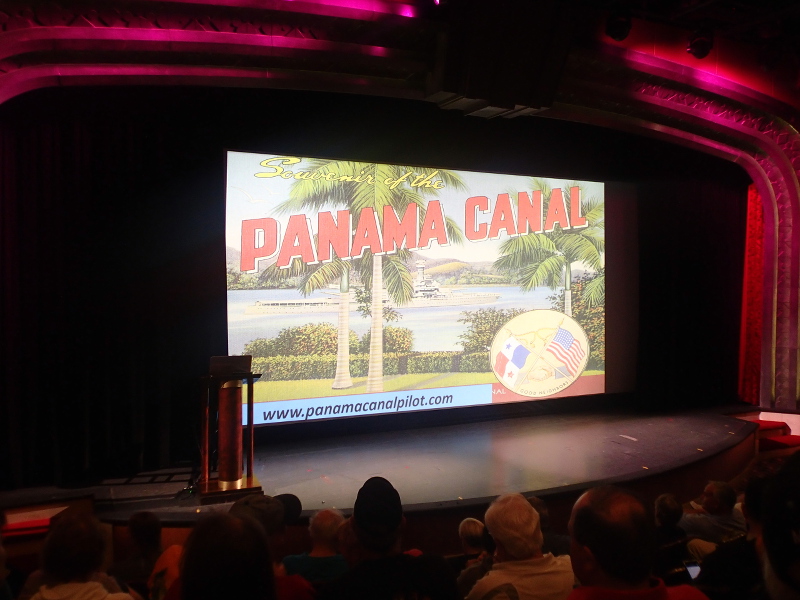 After the presentation, we went back to the room and found the girls watching Lilo & Stitch.  Greg had cleaned the room that the girls were not in and had left our customs form, luggage tags, and debarkation instructions.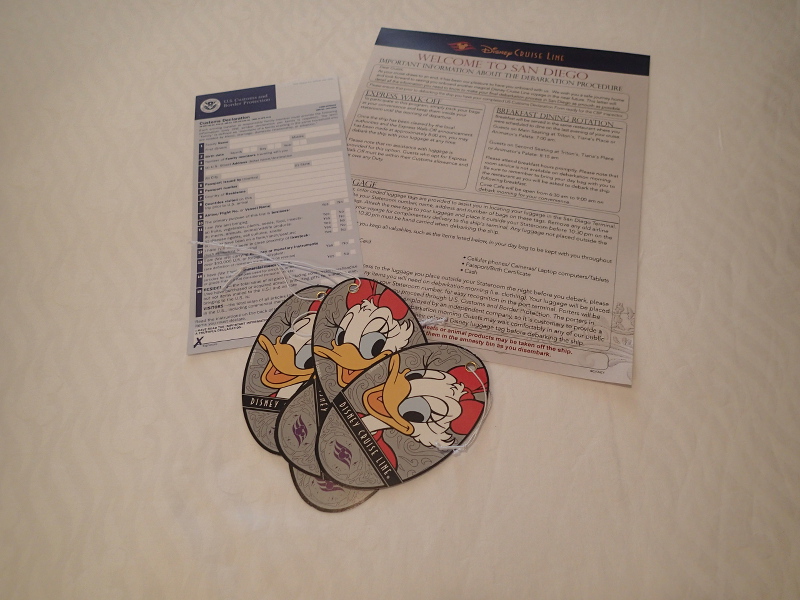 Here are the instructions in detail:  San Diego Debarkation Instructions
My husband was the only one who wanted breakfast so he went to Cabanas by himself and I told him we would meet him at the pool soon as the girls wanted to swim.  However, right after he left, the girls decided that they wanted to finish watching the movie.  So, I went up to the pool to let him know.  This is what it looked like: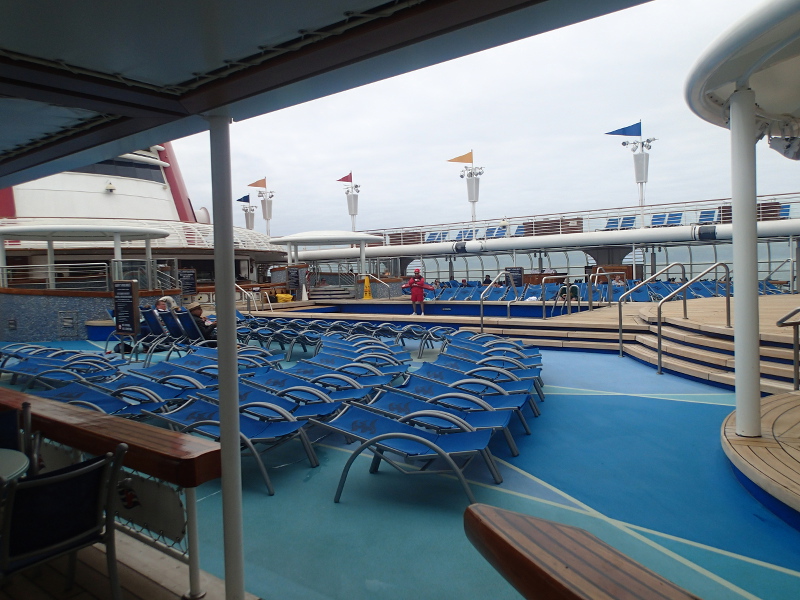 It was cool, windy, and the pool was deserted.  I went back to the room to start packing, and my husband showed up a few minutes later.  I asked him to take the girls swimming while I packed some more, so off they went.  On the way, they stopped by the Oceaneer's Club to turn in their wristbands.  I packed until about 11:30 and then went to join them at the pool.  Our girls were almost the only ones swimming.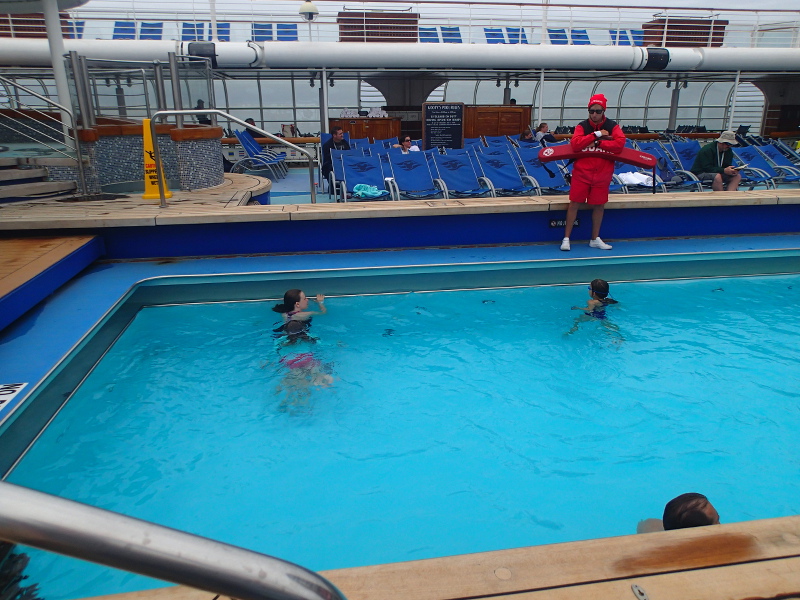 Ratatouille was on funnel vision.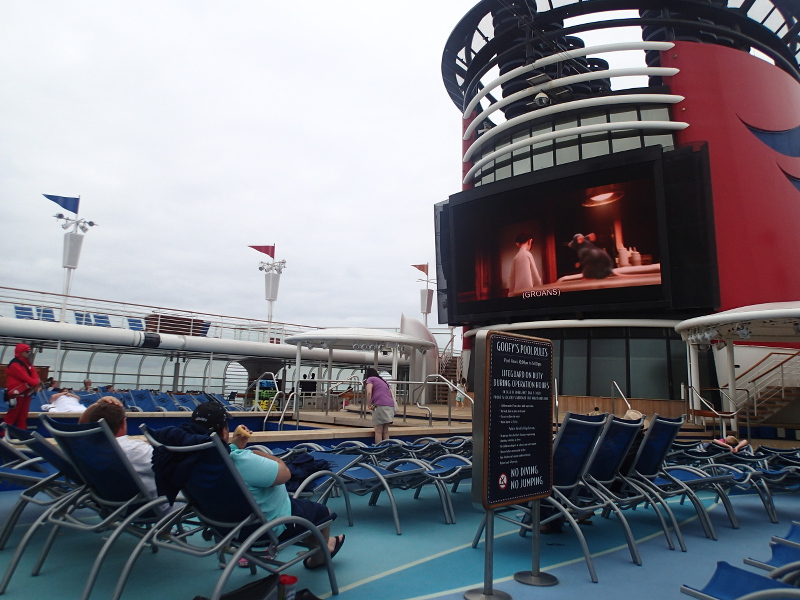 I had skipped breakfast so I was hungry for lunch.  I got a plate from Cabanas and brought it to the pool.  Today they had an Asian theme and it was really good.  The ice cream flavors today were blueberry and pina colada.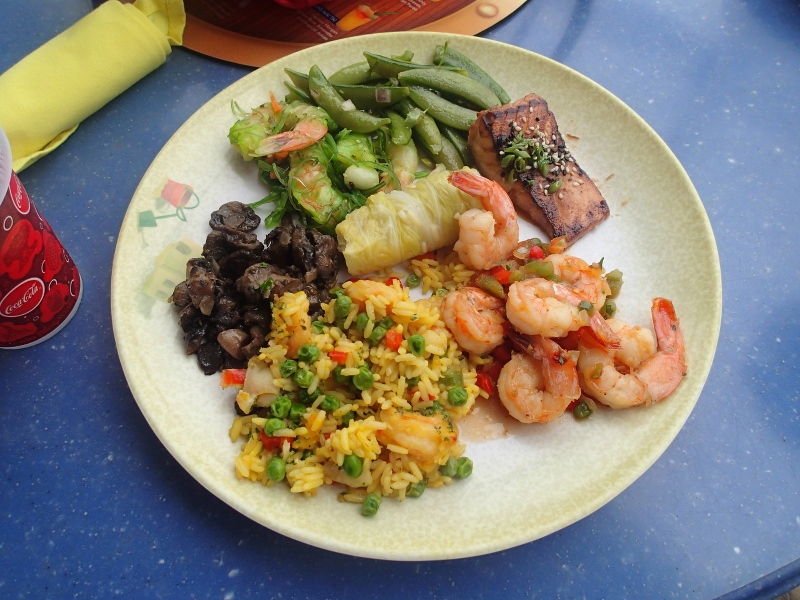 At 12:15 an ice carving demonstration began.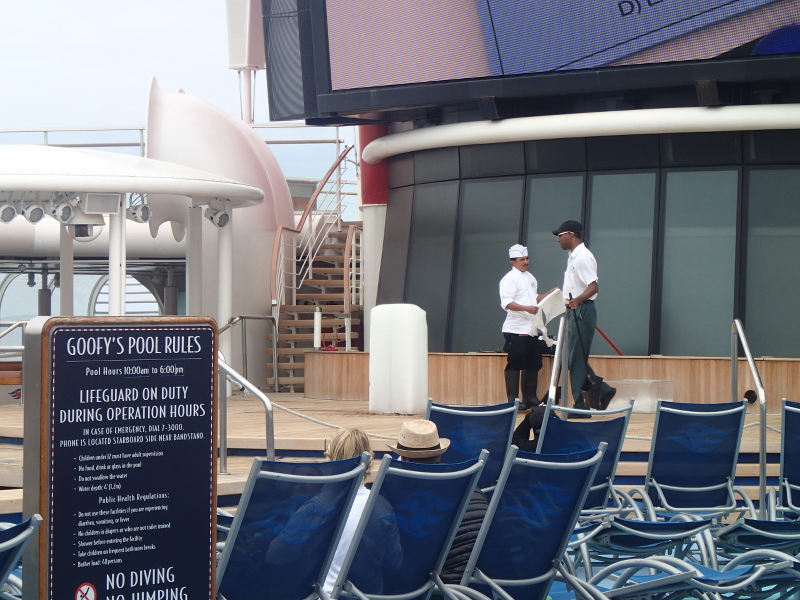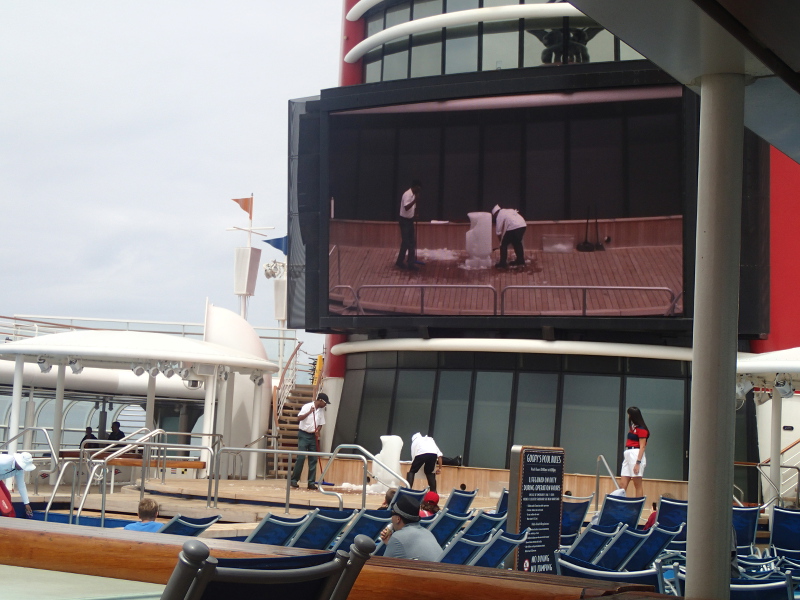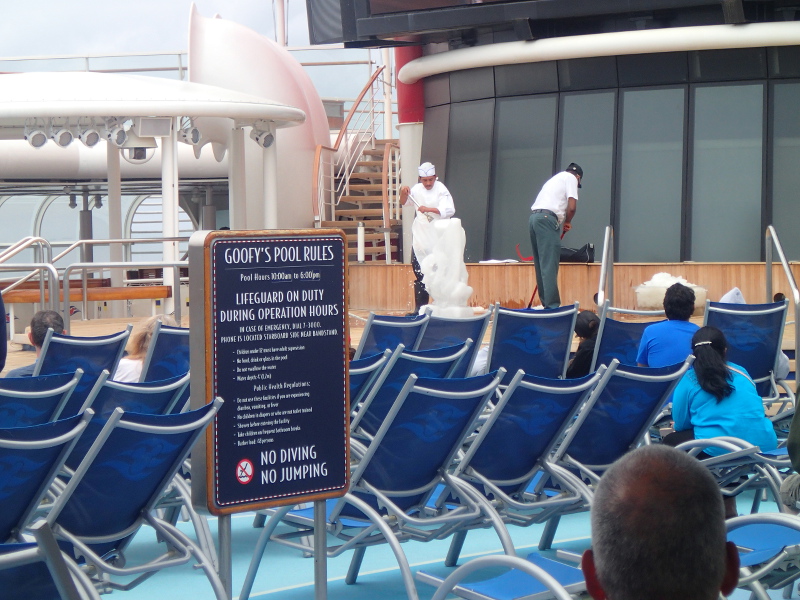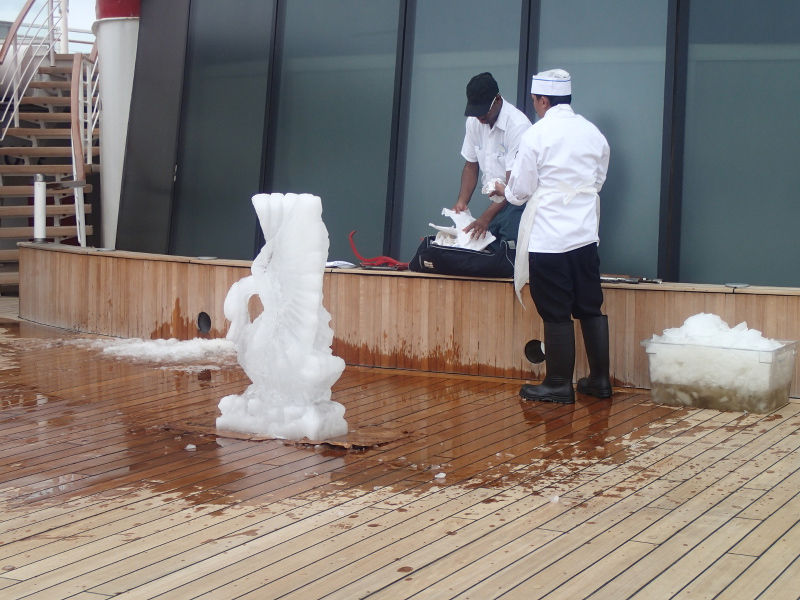 Because of the cool weather, they had started setting out blankets as well as towels.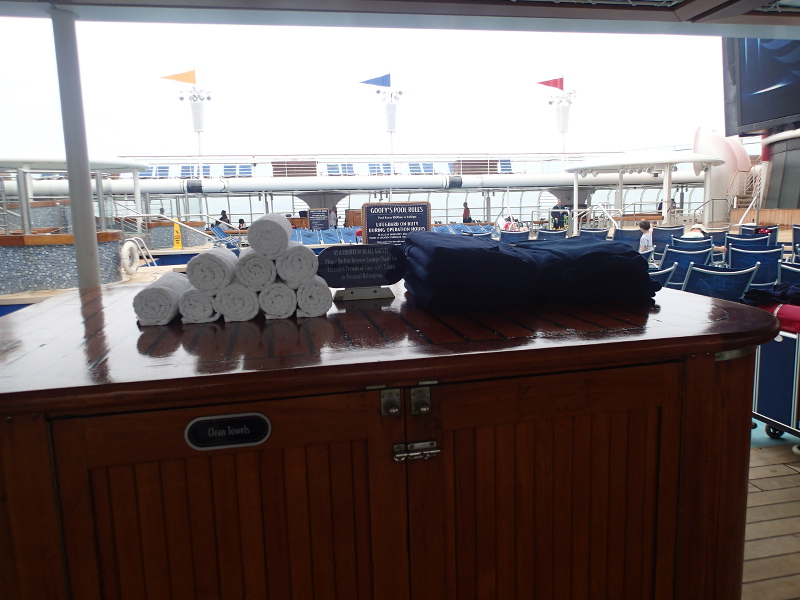 By this time our kids were the only ones still swimming.
As we sat near the pool we began to smell something amazing coming from the pizza counter.  We quickly identified the smell as pretzels!  We ran over and found that they weren't ready yet and a line was already forming.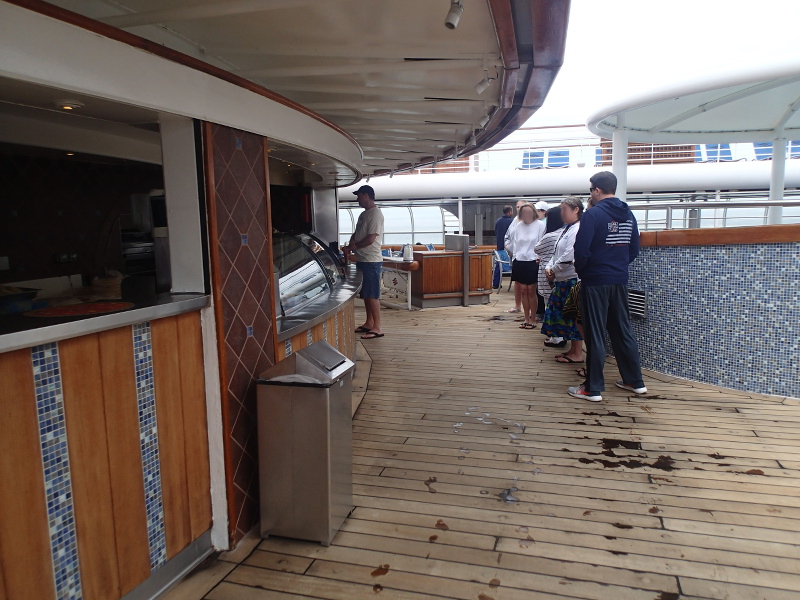 I was very surprised to find pretzels because I had asked the CM at the pizza counter a few days prior if there would be any on this sailing and was told no.  When they were ready, we chose one cinnamon and sugar stuffed with cream cheese and one plain.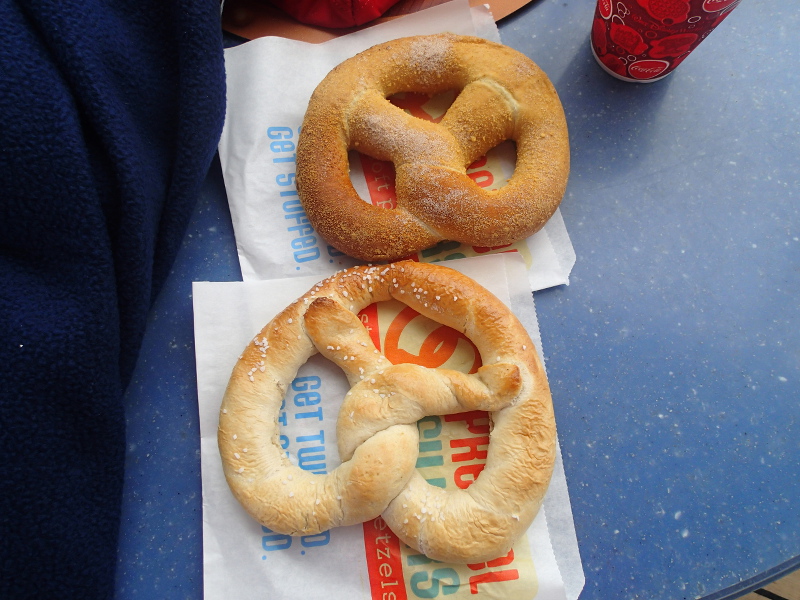 This is the stuffed one: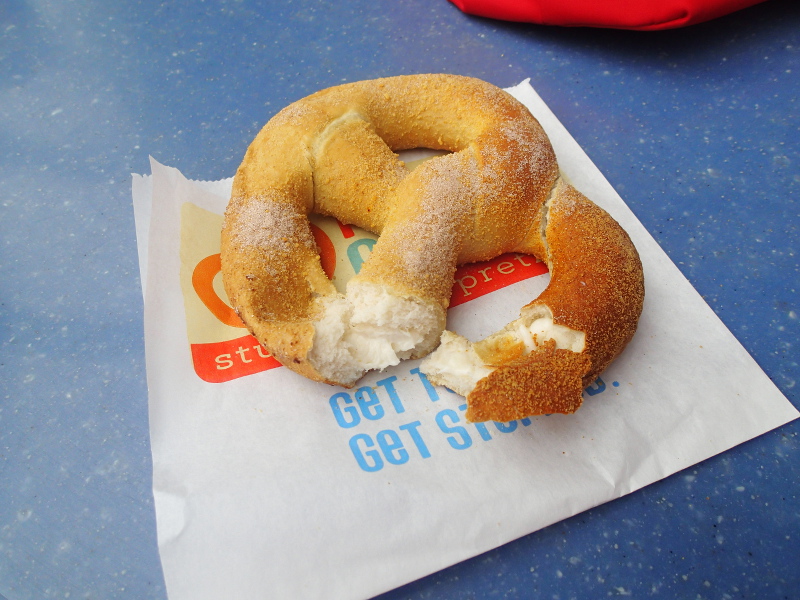 While we were enjoying our pretzels, Darren made a ship-wide announcement that there had been a lot of wildlife sightings today, including whales, so we should all keep a look out.  He also mentioned that in his 19 years with DCL, this sailing was by far the most wildlife he had ever seen.  I had seen lots of dolphins and sea turtles so far, but unfortunately I never saw any whales.  I also checked in for our flight about this time as it was just past the 24 hour mark.  The girls got out of the pool and ate some lunch as well.
At 1:00, we all went back to the rooms to get ready for the towel folding class at 2:00.  Even though we had done towel folding on a previous cruise, we still went to this one because we wanted to support Greg and also because the weather just wasn't very good, so it was a good day to do an indoor activity.  While we were in the rooms, I looked out the window and saw a group of sea lions swimming near the ship and jumping out of the water.  Once again, I wasn't quick enough with the camera.
At 2:00 we went to the D Lounge for the towel folding class.
Greg and another room host were getting the samples ready.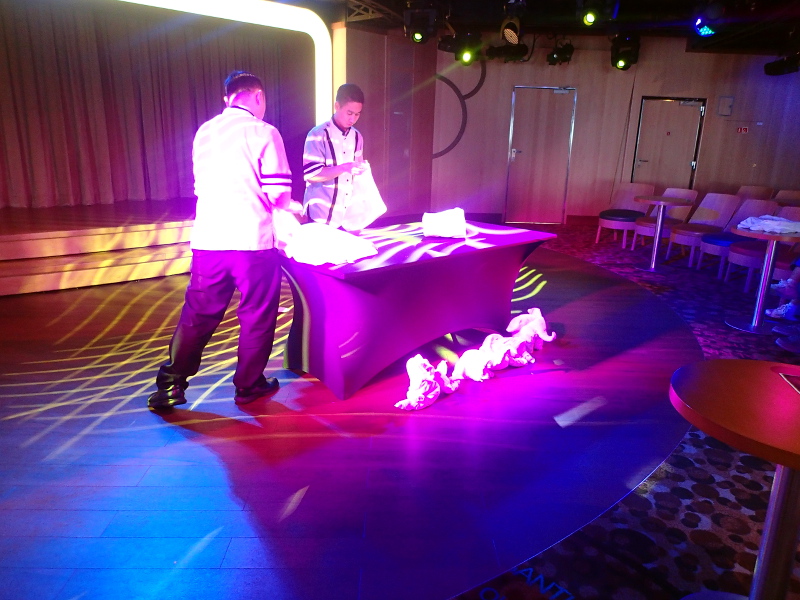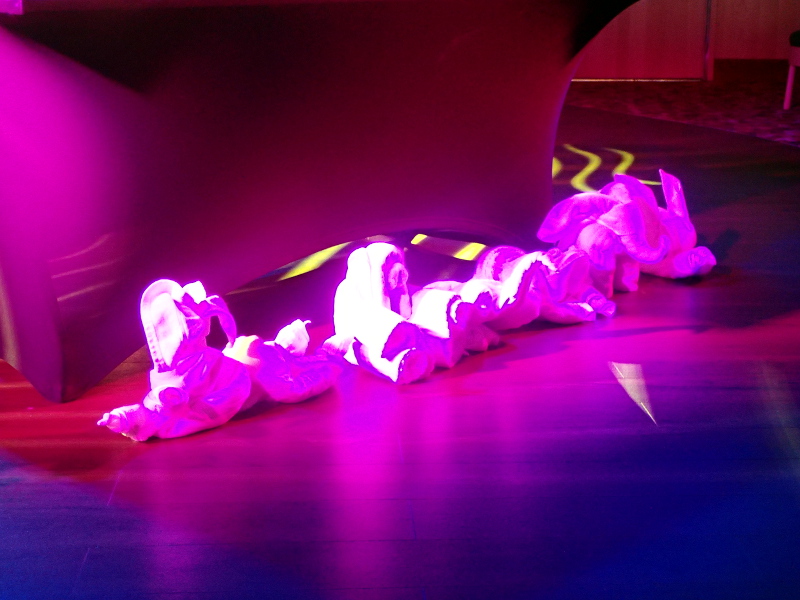 We grabbed our towels and waited for the class to begin.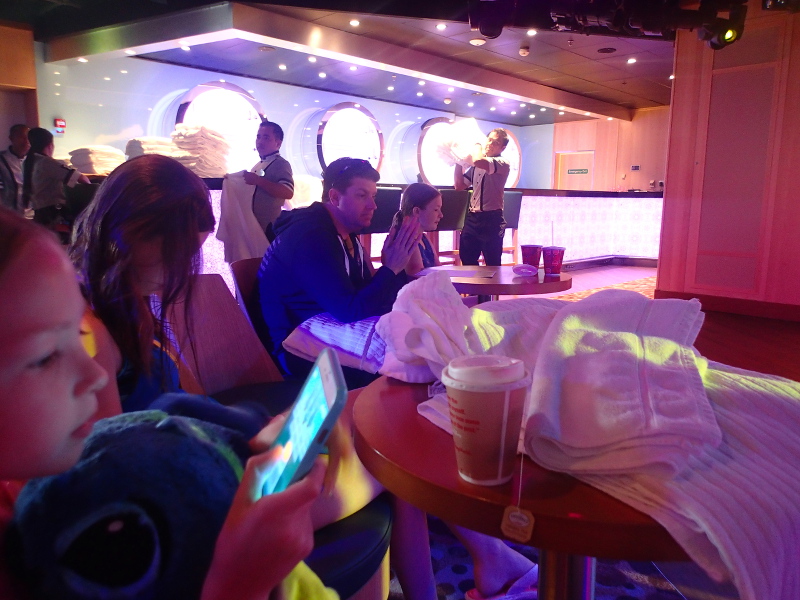 When it began, Greg made his grand entrance.  I thought it was awesome.
A lot of Greg's guests had come to watch him.  There were about 20 of us there and he called out each of us by name.  I was very impressed, especially since English is obviously not his first language.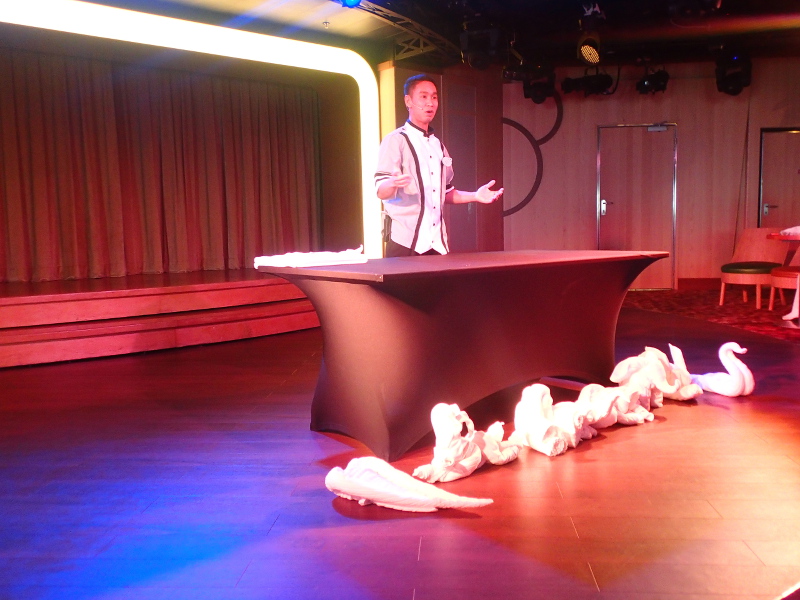 These were the instructions: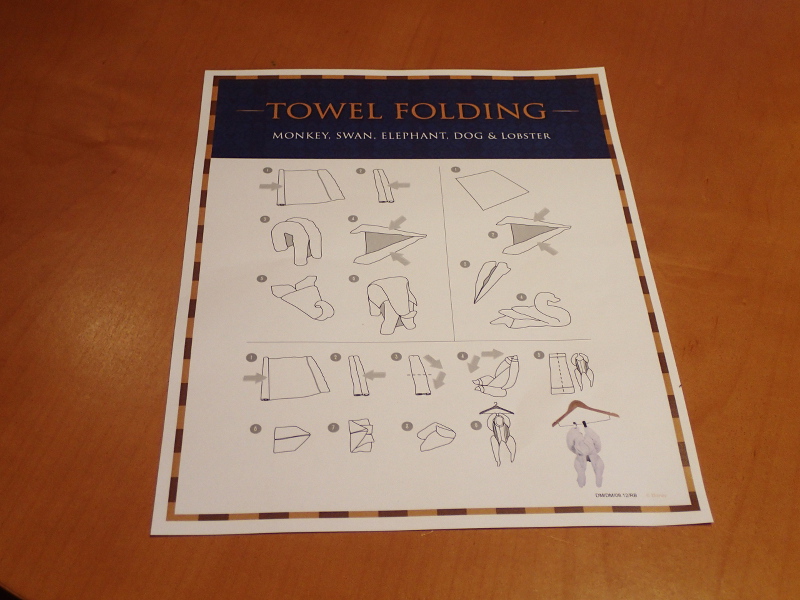 Greg was a great instructor.  Here are my creations: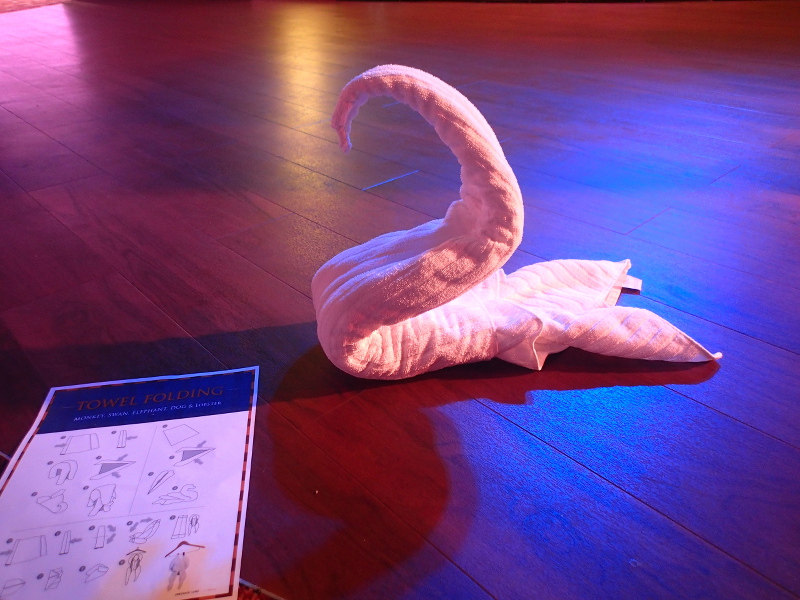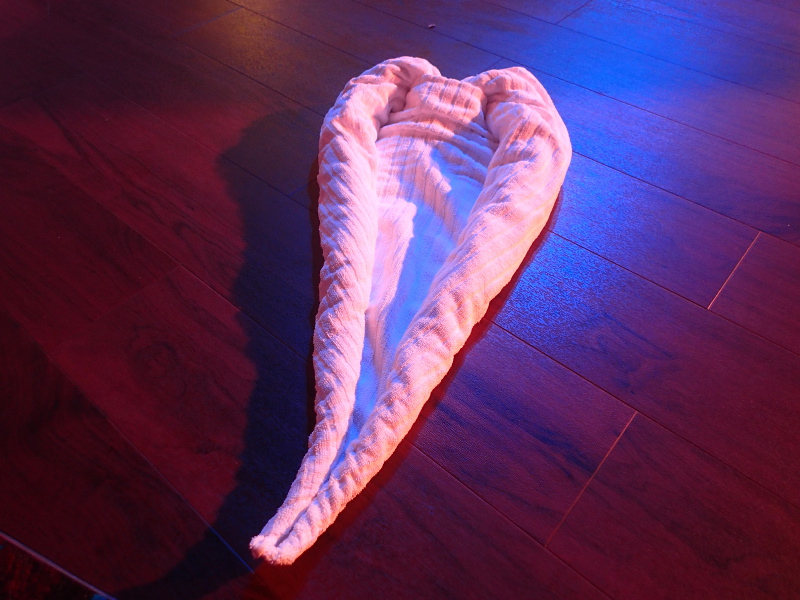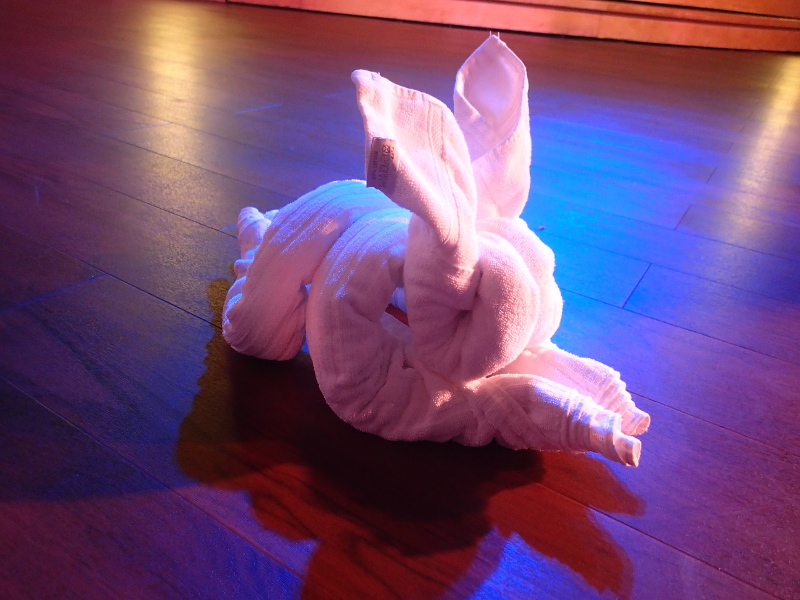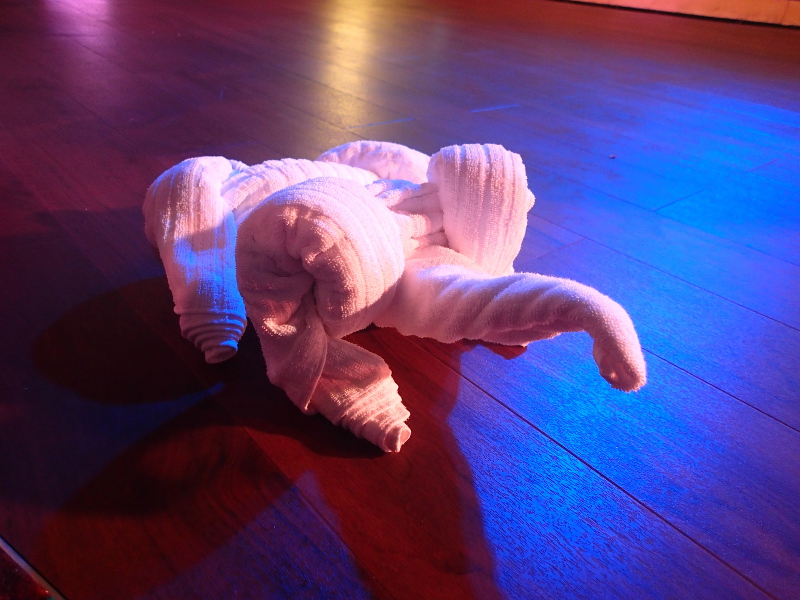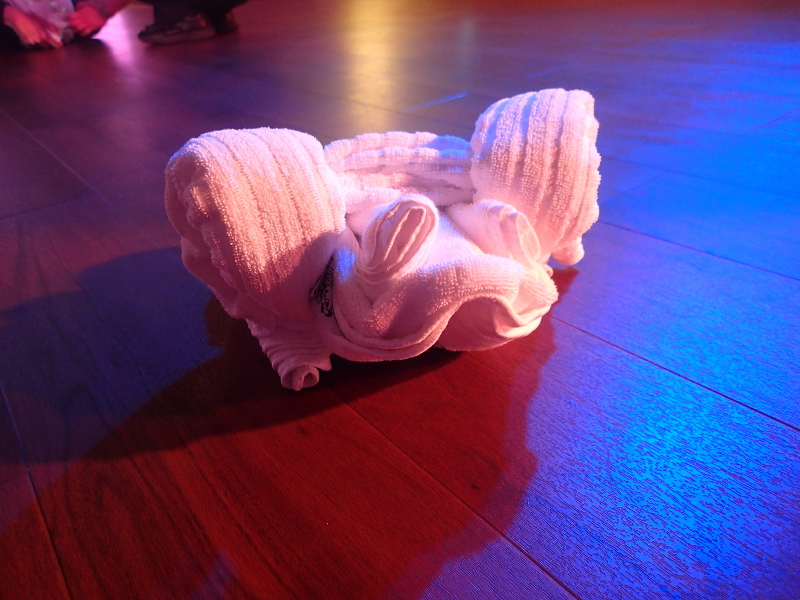 After towel folding, the girls wanted to go back to the pool to watch Princess and the Frog on funnel vision.  Once again, the pool was pretty much deserted.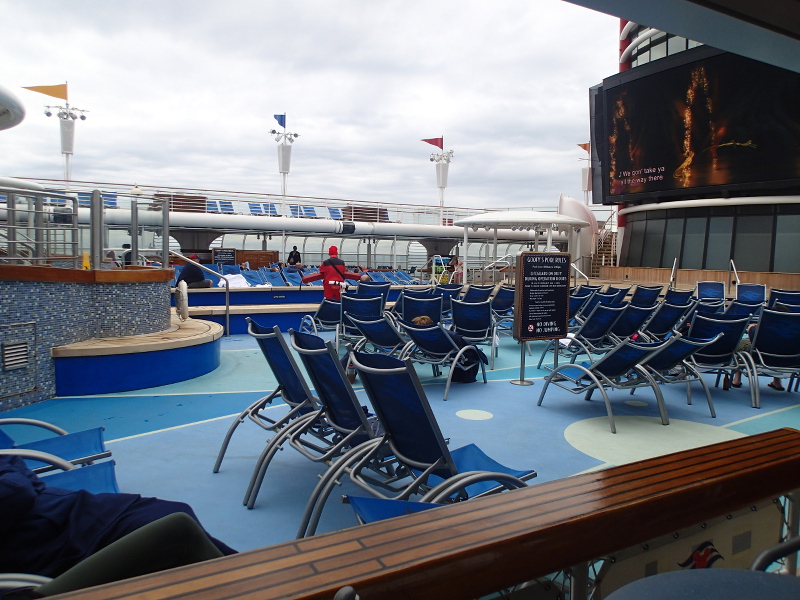 At about 3:30, our 10 year old and I went back to the room to get ready for talent show rehearsals.  When we got to the D Lounge at 4:30 for rehearsal, we learned that there were only two other acts signed up.  Santa was there to do a comedy/magic show and someone else had signed up to play the keyboard.  We waited for a while and that person never showed up, so it was just my daughter and Santa.  CM Tony, who was hosting the show, asked my daughter and Santa if they could lengthen their performances at all in order to make the show longer.  My daughter agreed to sing a second song, and Santa agreed to make his performance longer as well.  While we waited, I got a chance to chat with Santa and learned that he lives in San Diego and that he has a pretty busy schedule with his magic shows.  He said that he had a gig at 2:00 the next day, right after he got off the ship.
After rehearsals, it was time to gather everyone else for our final dinner.  On the way to dinner, we stopped by the Sea Treasures shop next to the Crown & Fin Pub on deck 3 forward.  It was full of Star Wars merchandise, and we picked up a few souvenirs for family back home.
Dinner tonight was in Triton's with the Land and Sea menu.  Levy told me that this menu was brand new and replaced the 'Til We Meet Again menu.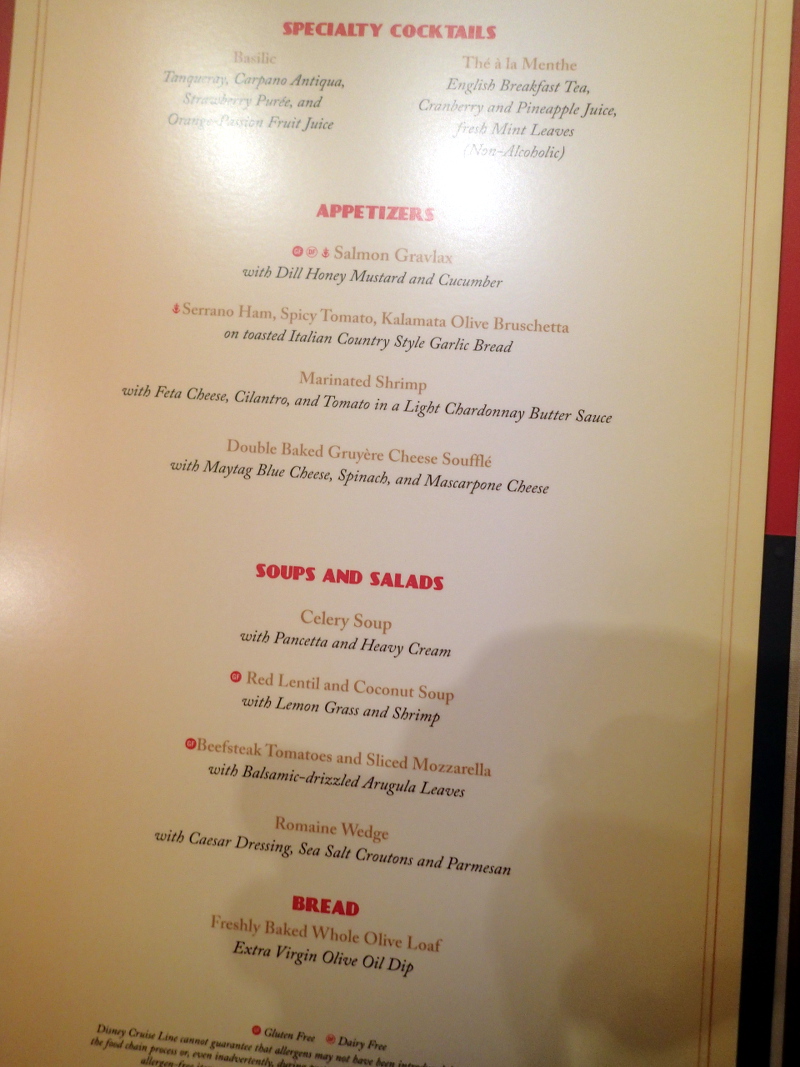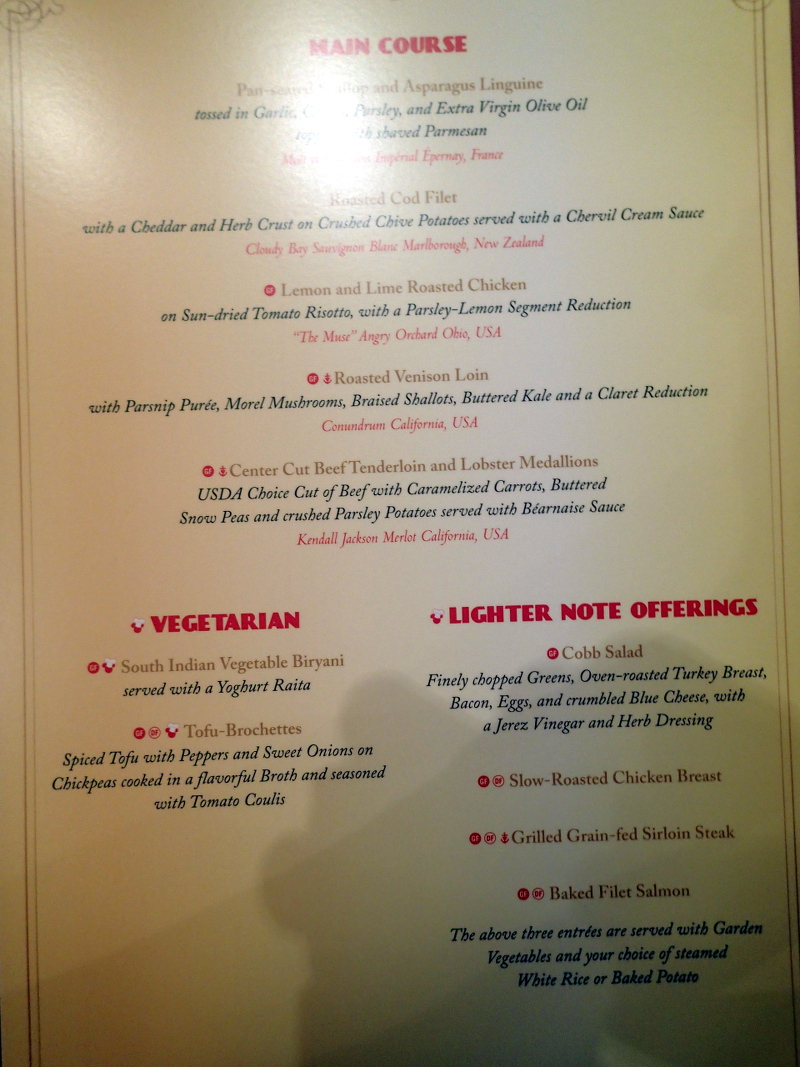 For our appetizers we both ordered the Marinated Shrimp which were very good.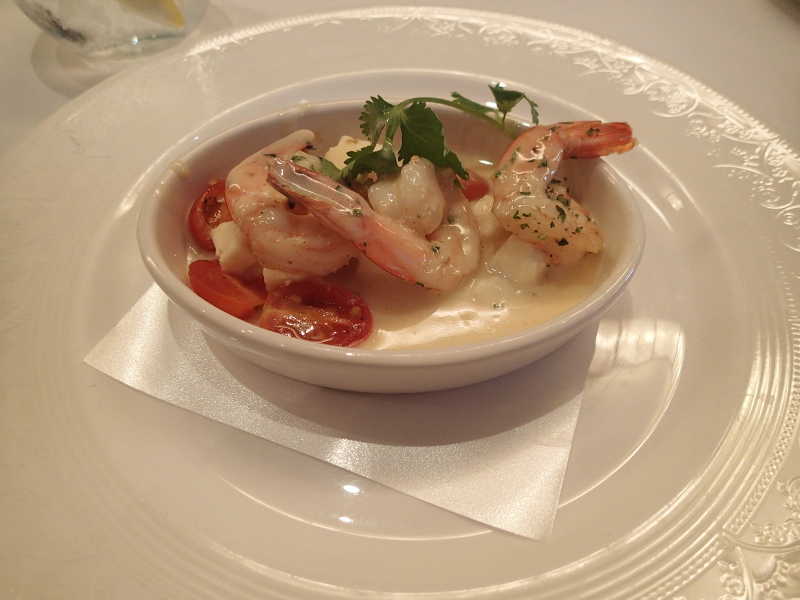 My husband chose the Red Lintel and Coconut Soup.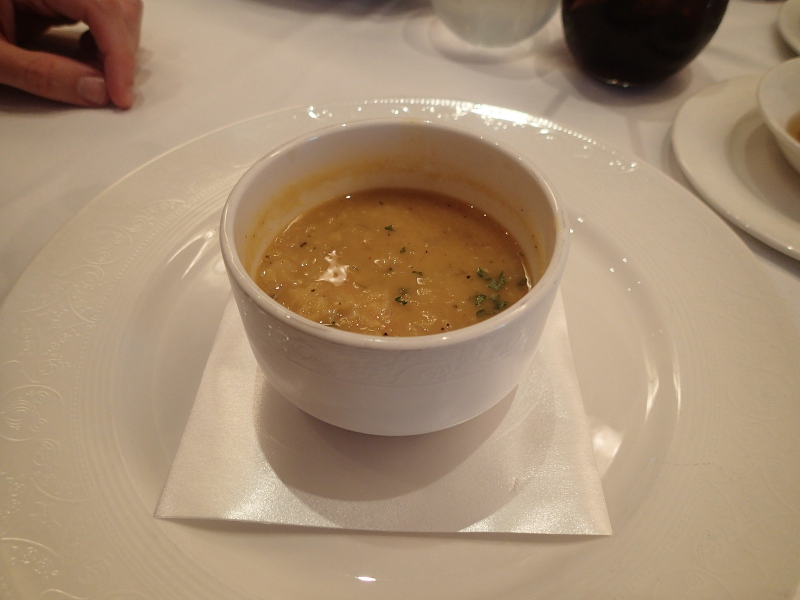 I ordered the Beefsteak Tomatoes and Sliced Mozzarella Salad and totally forgot to take a picture before I dug in.  It was great.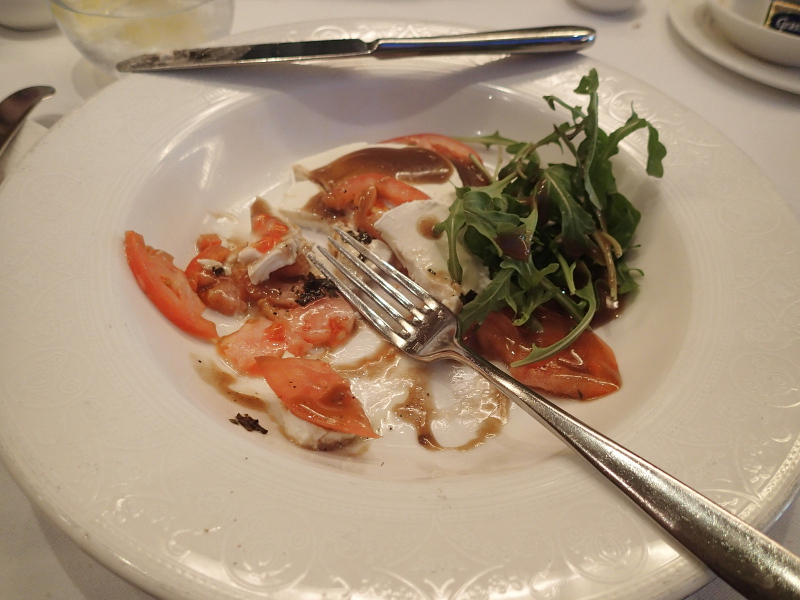 For my entree, I chose the Center Cut Beef Tenderloin and Lobster Medallions.  It was very good.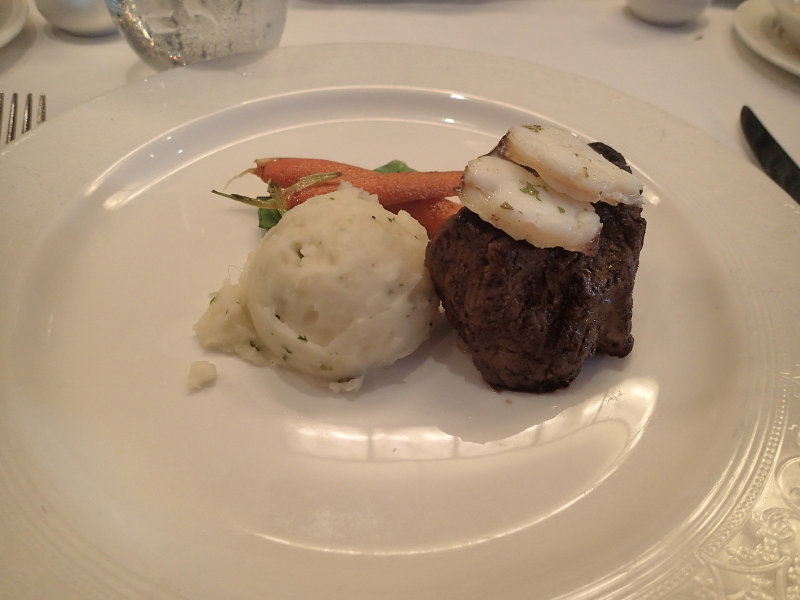 My husband chose the Pan Seared Scallop and Asparagus Linguine and he enjoyed it.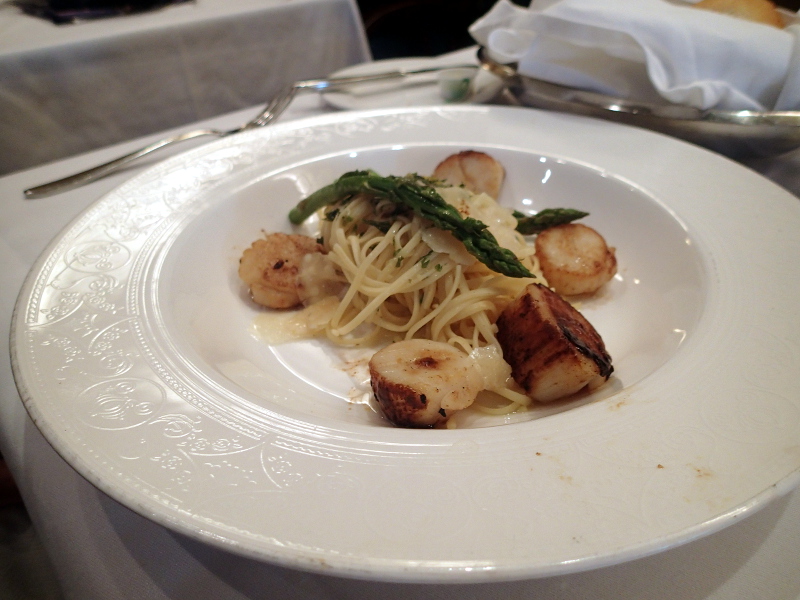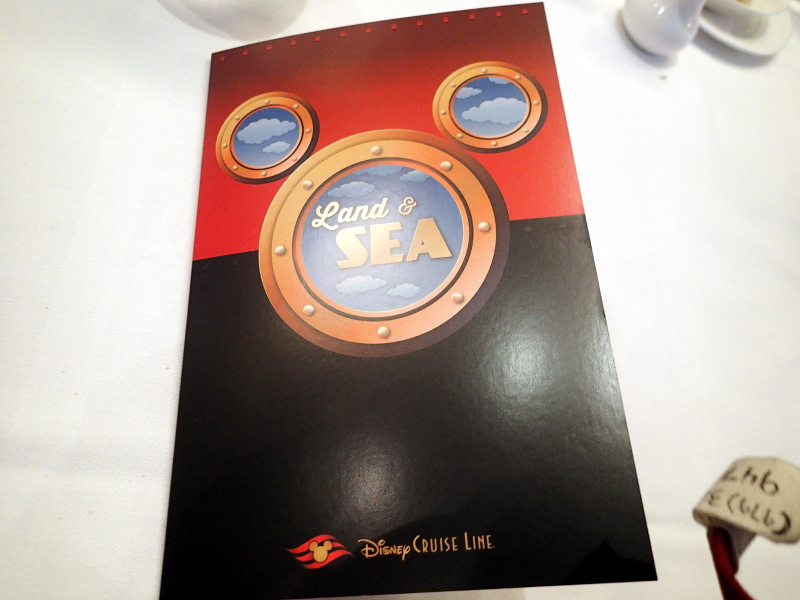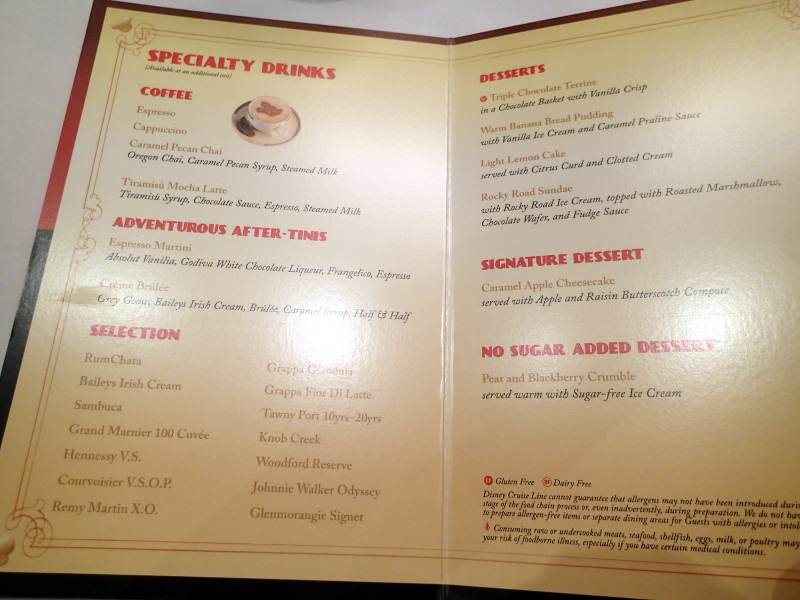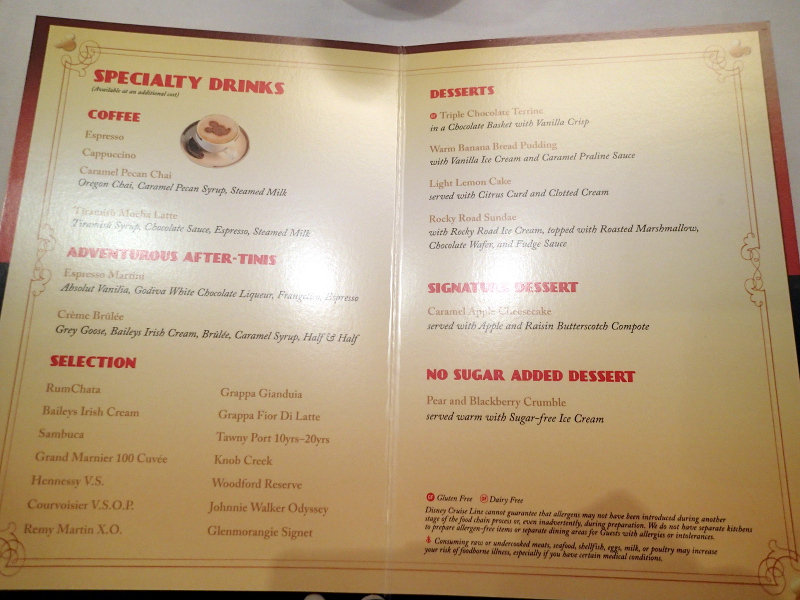 For dessert, I tried the Triple Chocolate Terrine which was fabulous.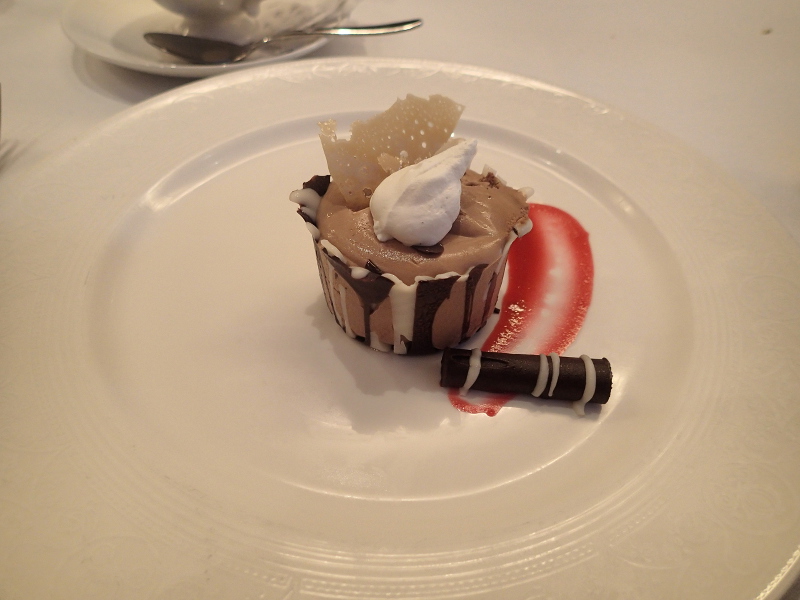 I also tried the Light Lemon Cake, and thought it was just okay.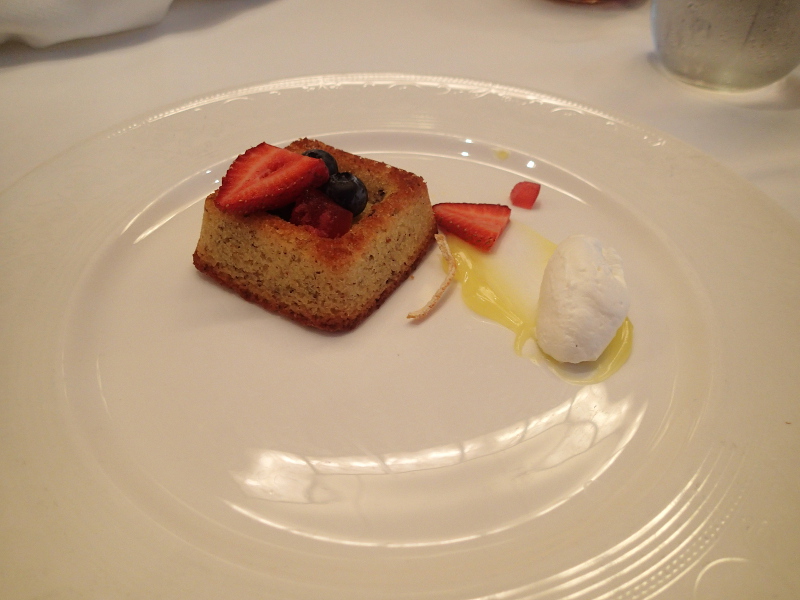 My husband chose the Rocky Road Sundae.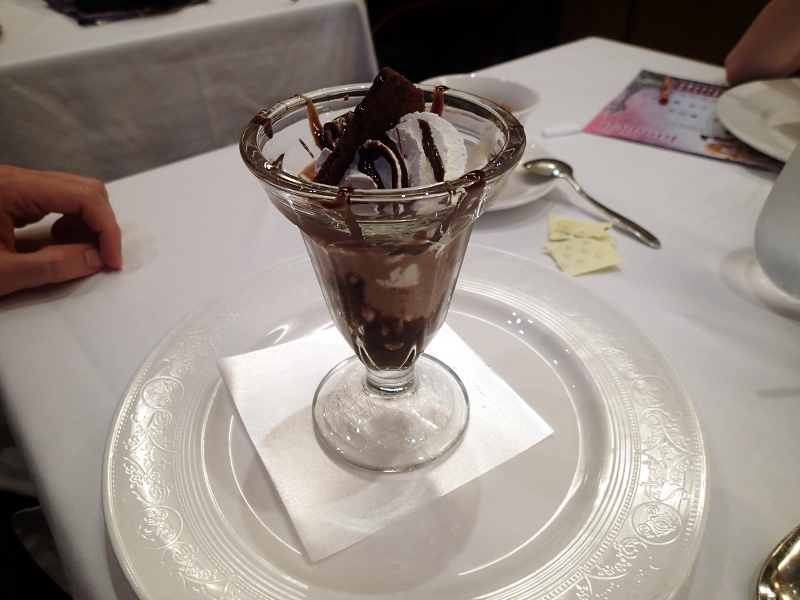 I did have one huge disappointment at dinner when I learned that the servers were not going to do the "It's A Small World" parade through the dining room.  They have done it every time we have sailed on the Magic and Wonder and I was really looking forward to it.  If your'e not familiar with it, here is a video I took a year and a half ago on the Wonder:
They were even wearing the vests and everything!  I regret not asking why they didn't do it.  Here was our amazing serving team: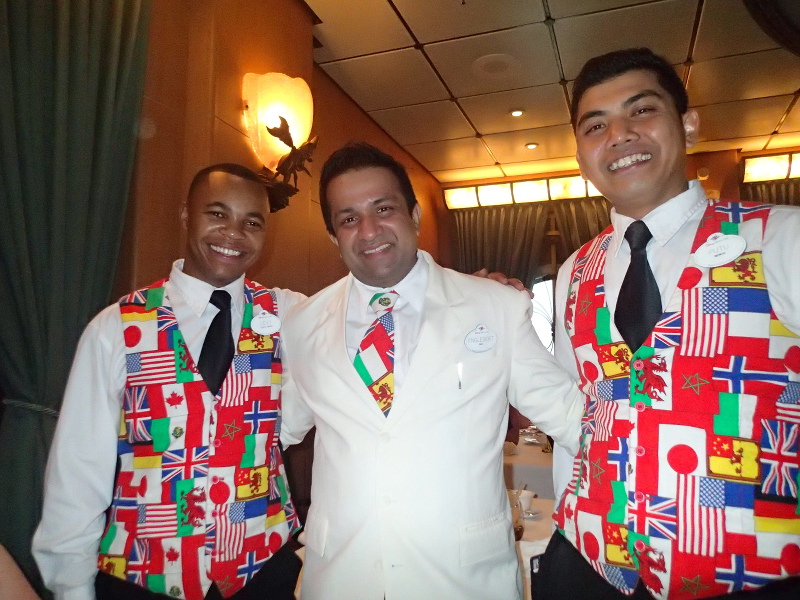 Levy, Putu and Englebert all gave us incredible service and I don't have a single complaint.  They really were outstanding.
We sadly left our last dinner on the ship and headed to the D Lounge for the Family Talent Show at 7:30.  On the way, Captain Mickey had no line so we took a quick photo.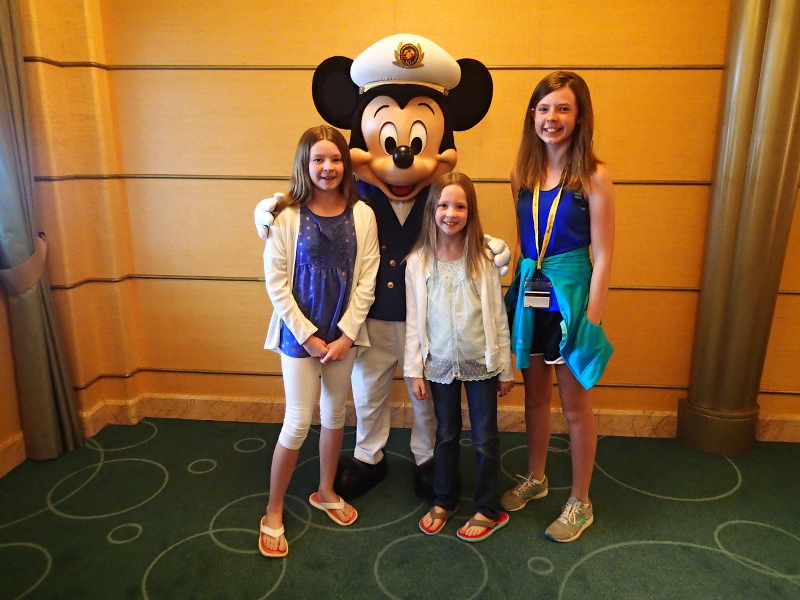 Tony was the emcee for the talent show and did a cute little introduction for both of the acts.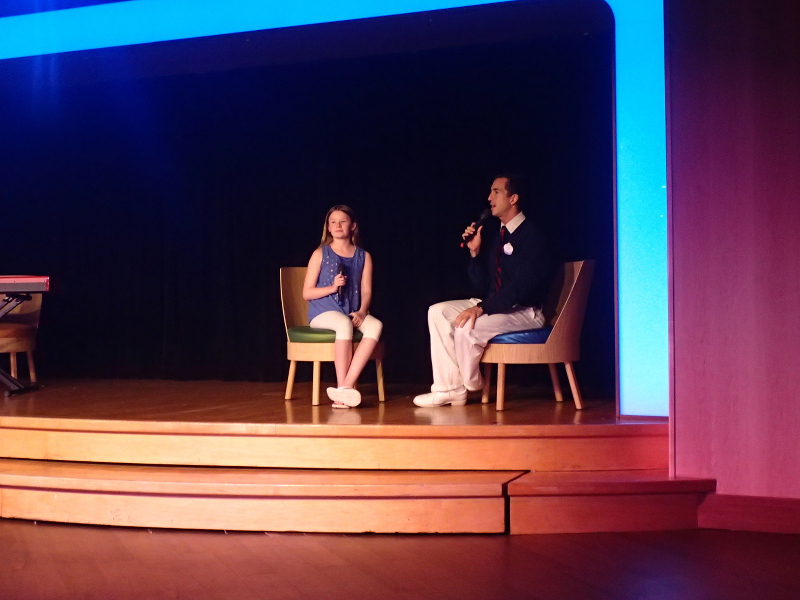 First, my daughter sang "Home" from the broadway show Beauty and the Beast.  Even though Chuck Wagner (who played the Beast on Broadway) accepted her invitation earlier in the cruise to come see her at the talent show, he ended up having a show at the same time in the atrium so he was unable to attend.  We were all bummed about that.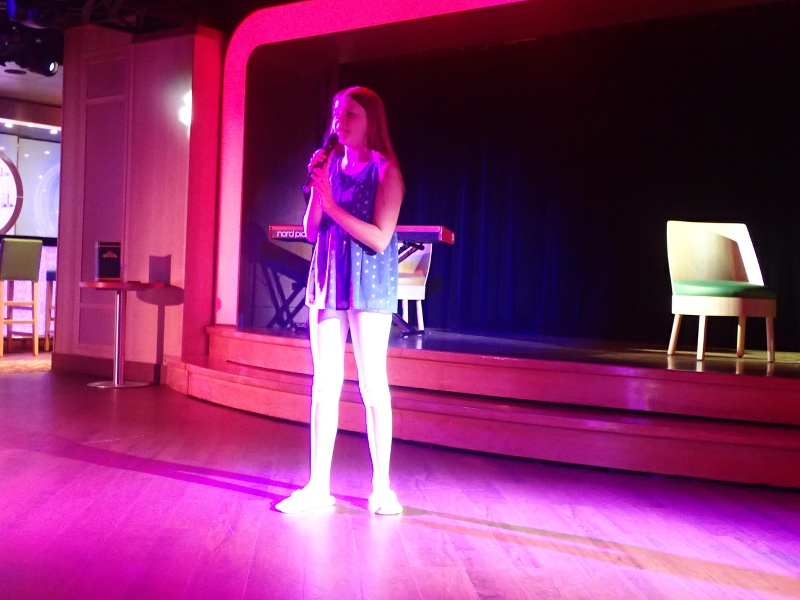 Next Santa did his comedy and magic act which was really good.  He did some pretty incredible magic tricks.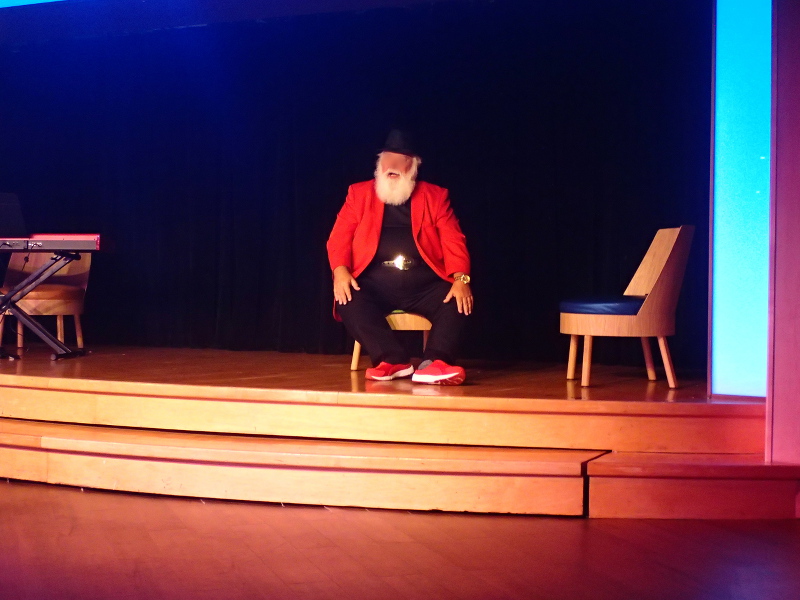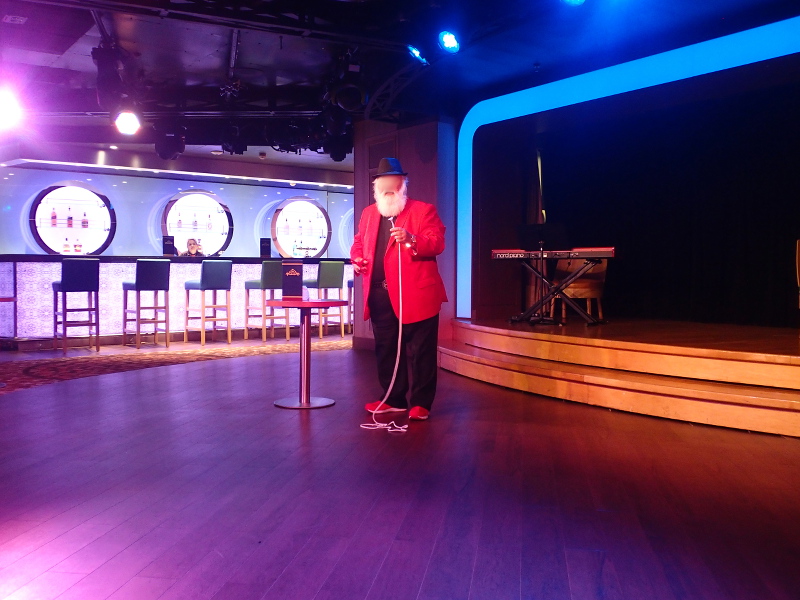 There was also an impromptu third performer.  A teenage boy from the audience asked Tony if he could play the keyboard and Tony let him.  I can't remember what song he played but he was good.
For her second song, my daughter sang "Part of Your World".  During rehearsals, Tony suggested incorporating the bar stool into the performance.  The hair brushing with a fork was her idea.
Afterwards, the participants received certificates and a DCL luggage tag.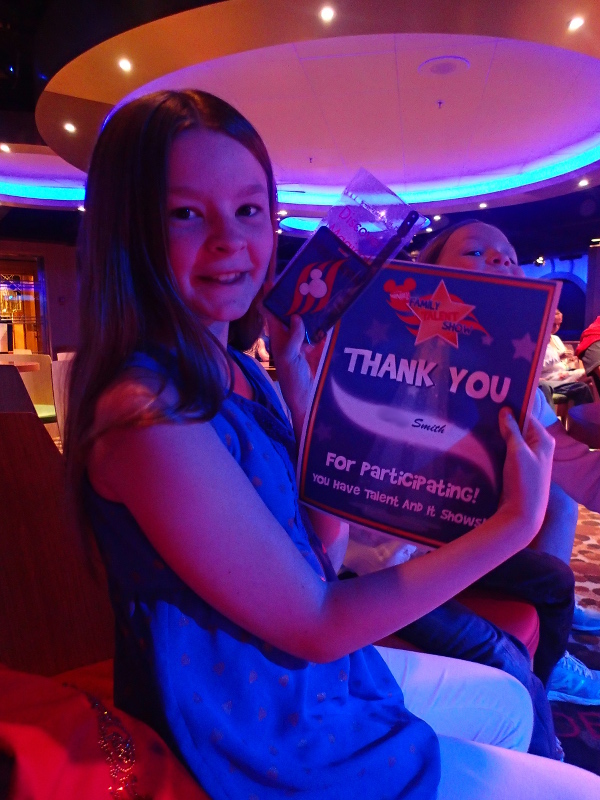 After the talent show we rushed to the Walt Disney Theater to get seats for tonight's show, "Dreams: An Enchanted Classic".  While we waited for the show to start we watched Tinkerbell fly across the curtain.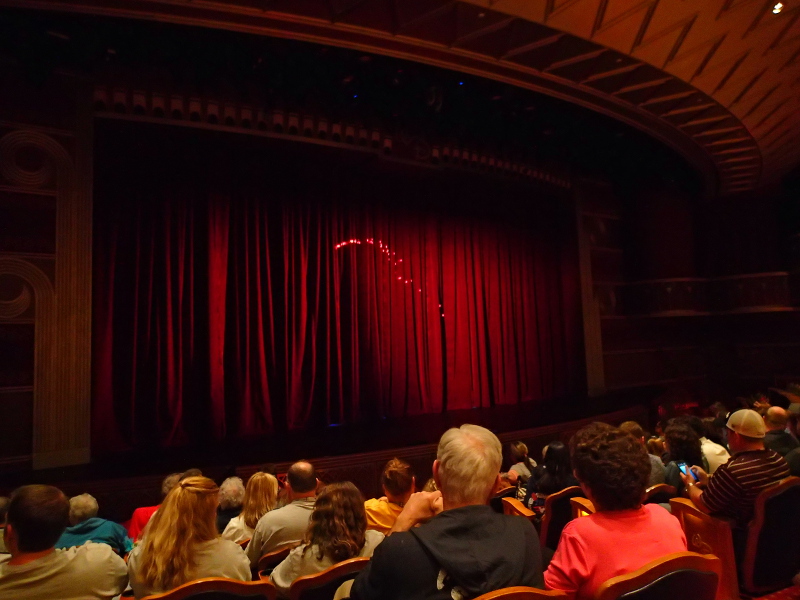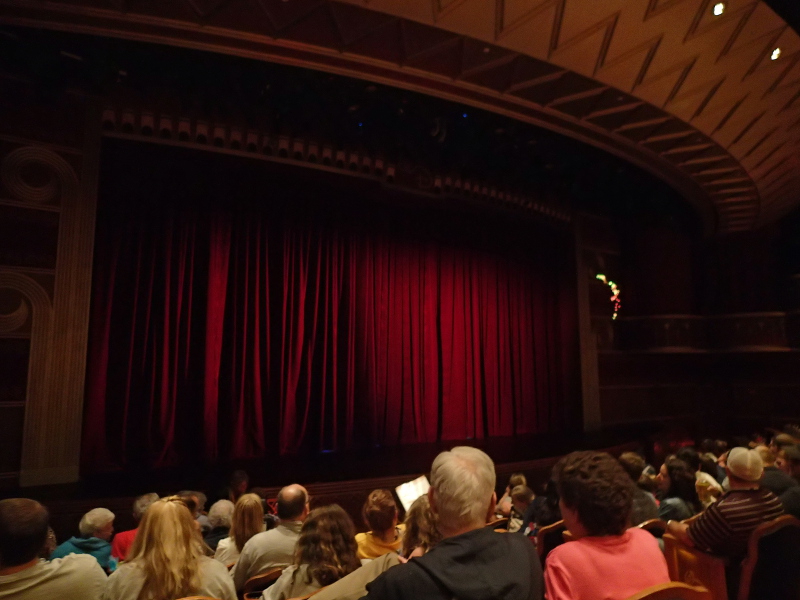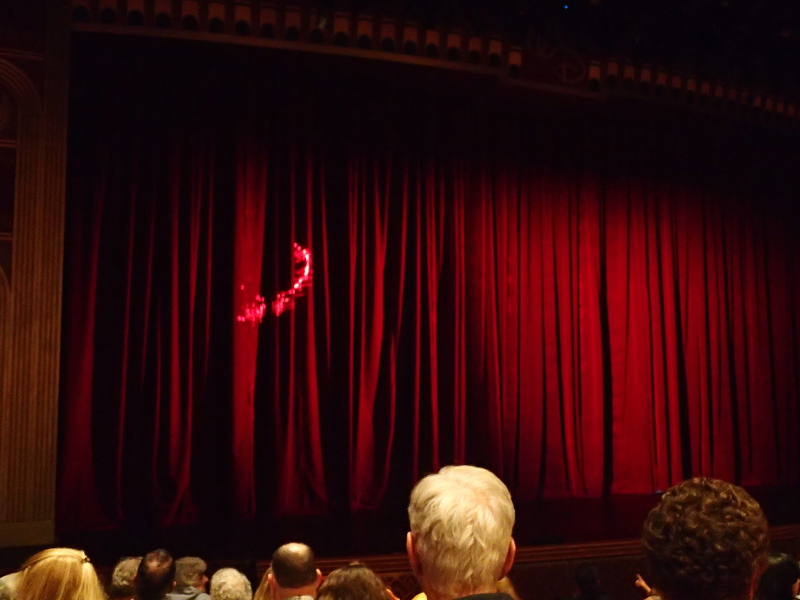 I also noticed how pretty the ceiling is.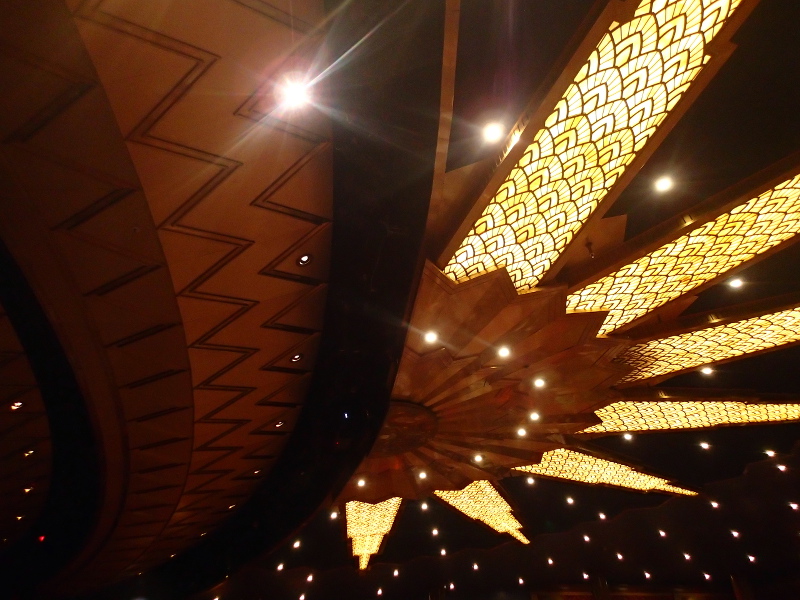 During the evening we noticed that the seas were getting quite rough.  We stumbled a few times walking up and down the theater steps.  It also affected the performers a little bit during the show.  Even so, the show was amazing as usual and it was really sad knowing that our cruise was coming to an end.  My husband and girls actually admitted that they were ready to go home, but I wasn't.  I think I could live on a Disney ship.
After the show we went to the gift shops and noticed that they had the new plaques from our crossing displayed.  They did such a nice job with the display.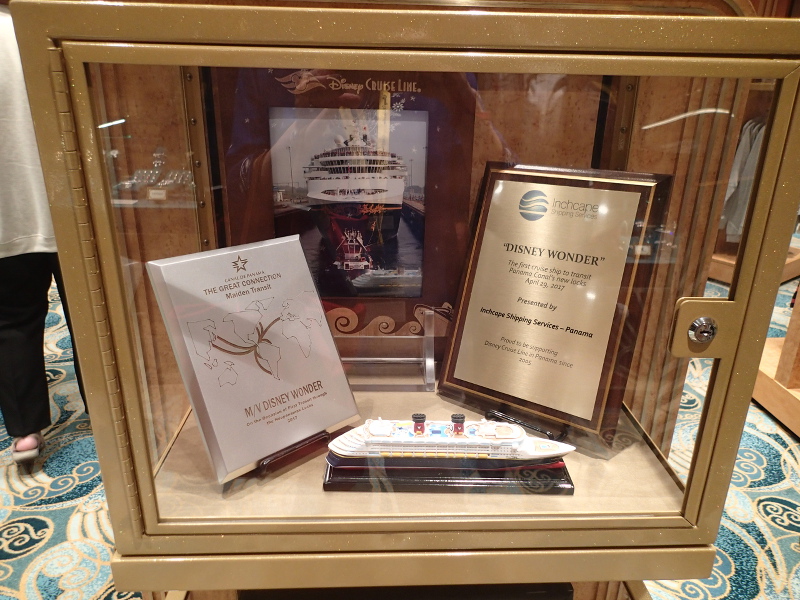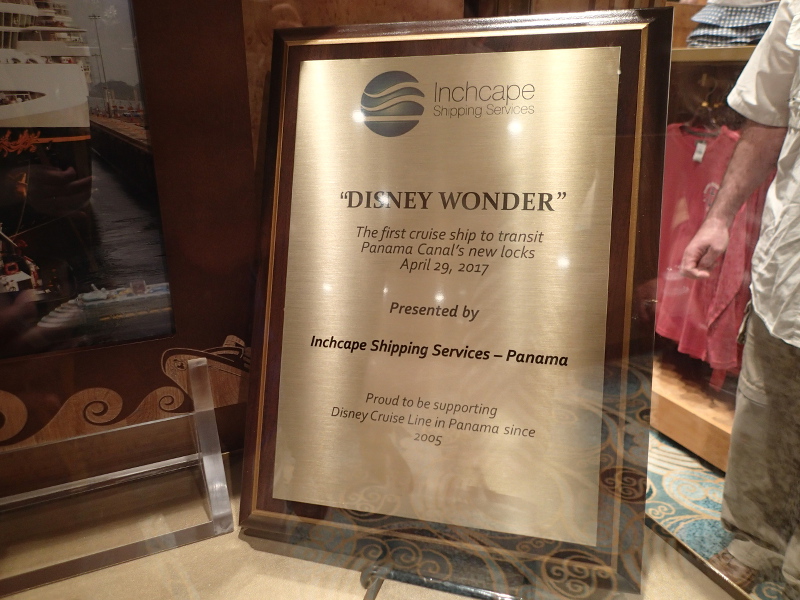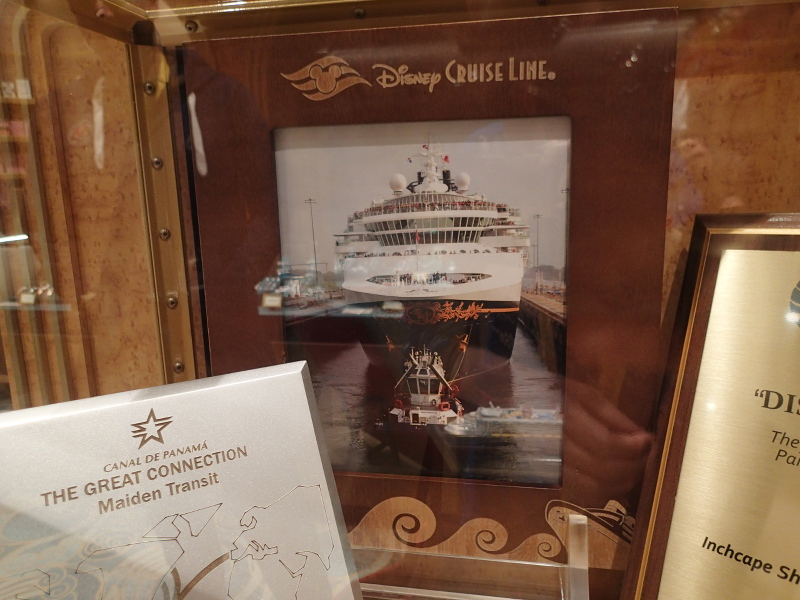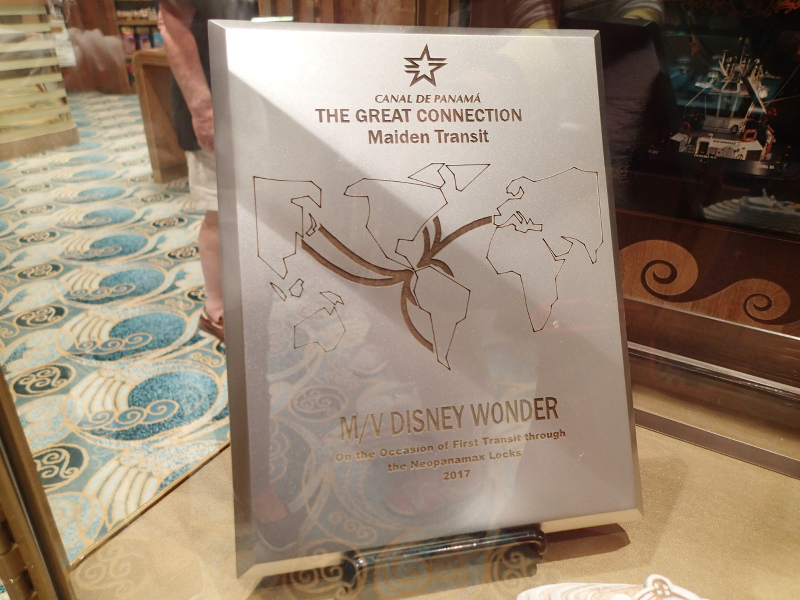 Next I went to Shutters to pick up my photos.  I got in and out of there as fast as I could and still overhead some heated discussions.
As much as I didn't want to, I ended up calling it a night so that I could finish packing.  We were going to do express walk off and carry all of our own luggage off the ship, so we didn't need to have our suitcases out by 10:30 thank goodness.  However, I still had quite a bit of packing to do.
This was our towel "animal" for the night: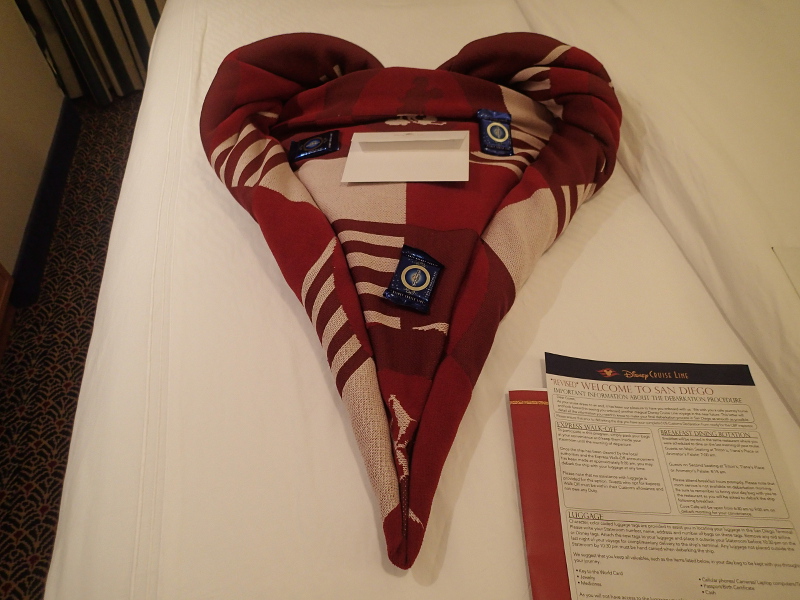 We were also delighted to find this lithograph commemorating our historic cruise.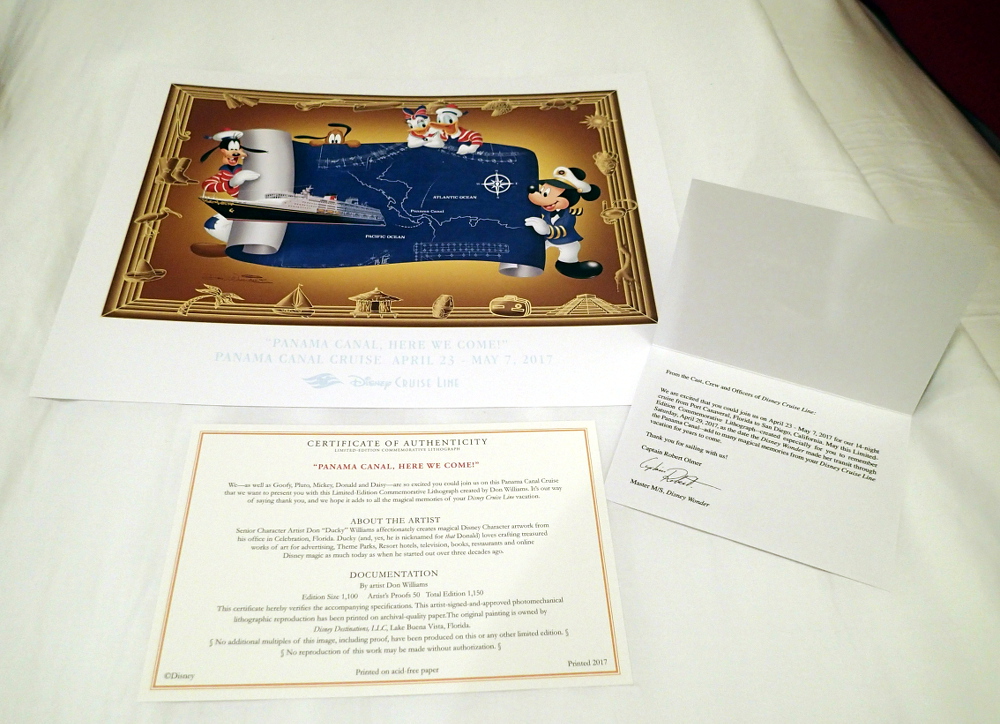 Up next:  Going Home
.
As always, don't forget to like me on Facebook (click here) and follow me on Pinterest (click here) for all of the latest Disney Cruise Mom Blog updates!