If you would like an introduction to Danielle or to start this trip report from the beginning, click here.
Day 9:  At Sea
First of all, here is today's Navigator: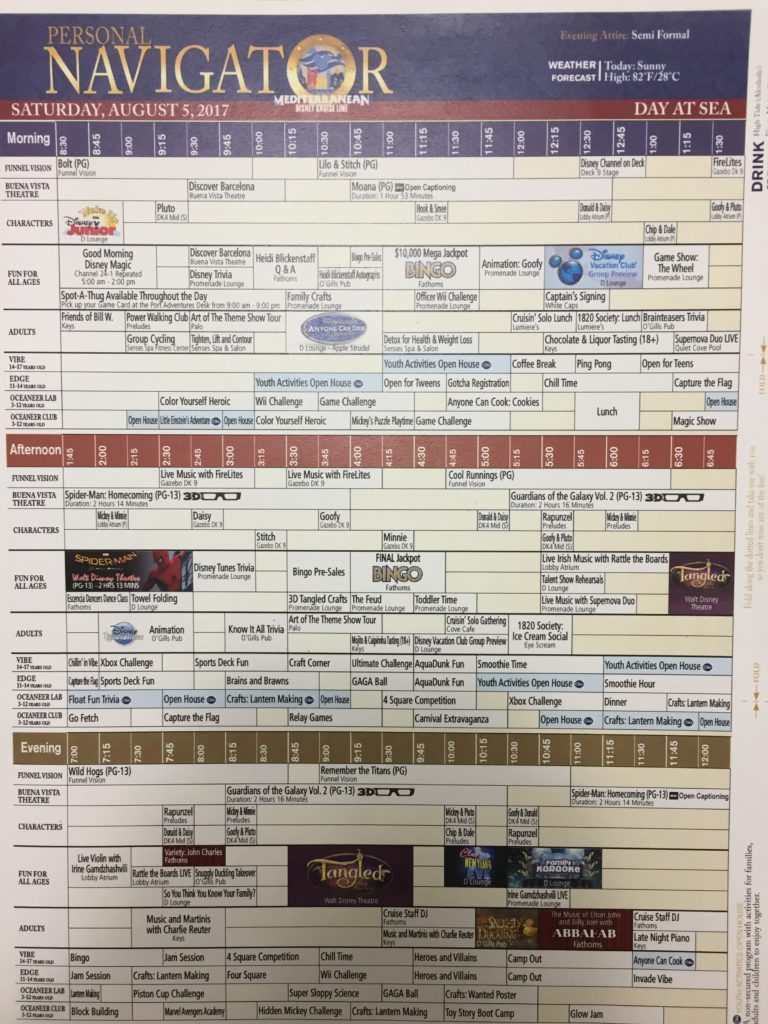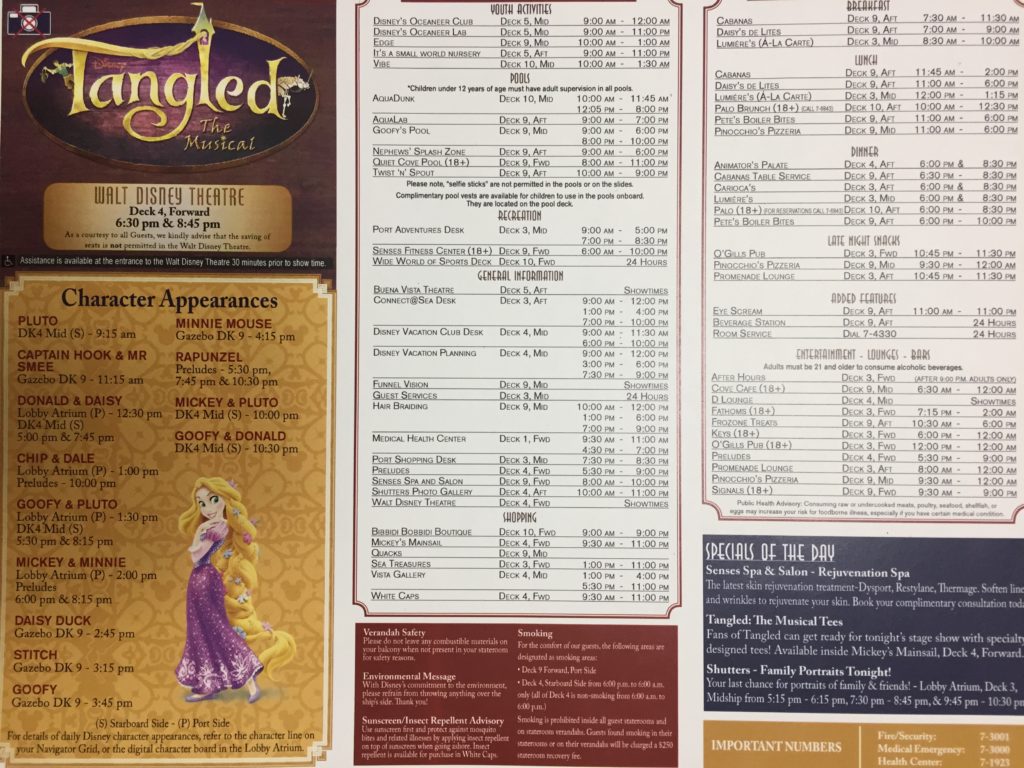 .
"Good morning cruisers.  If you haven't noticed yet, we have recently encountered a group of refugees that sent up distress flares.  We are currently working on contacting the local authorities to assist these refugees and have stopped our jets for the time being.  We thank you for your patience and will keep you updated as we gather further information."
It's not every day that you wake up on a cruise ship let alone a cruise ship that is at a complete standstill in the middle of the Mediterranean Sea.  I jumped out of bed and immediately raced to the top deck to see what cruise director Clayton was referring to.  That's when I saw it: a tiny, wooden, hand-painted life boat with eleven men crowded around each other.  They looked relatively relaxed now that they were being circled by a surrogate fairy godmother, the Disney Magic, but I can imagine that these men were fearing for their lives a short number of hours ago.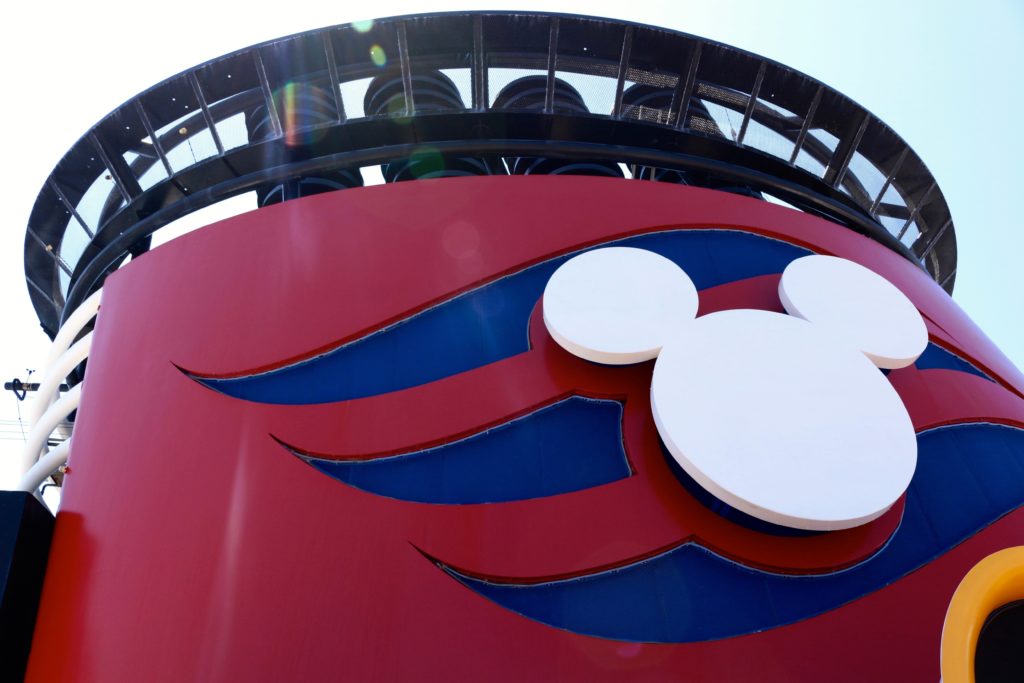 Passengers crowded on the starboard side of the ship as we watched the Disney Magic circle around this tiny boat.  For the safety of passengers, we were unable to bring these men aboard (you certainly never want a genuine Pirates of the Caribbean experience on a cruise ship), so we continued to circle them to ensure their safety.
Still in my pajamas, I ran back down to my cabin to switch out my lens and grab my camera (I honestly don't even remember if I remembered to grab shoes at this point).  My dad was using his binoculars, and I was using my telephoto zoom to observe the frightened faces of these men.  They were without water, without any means of communication with the ship or the outside world, and without a motor on their boat.  I wondered where their families were, and what the world they left behind must have been like.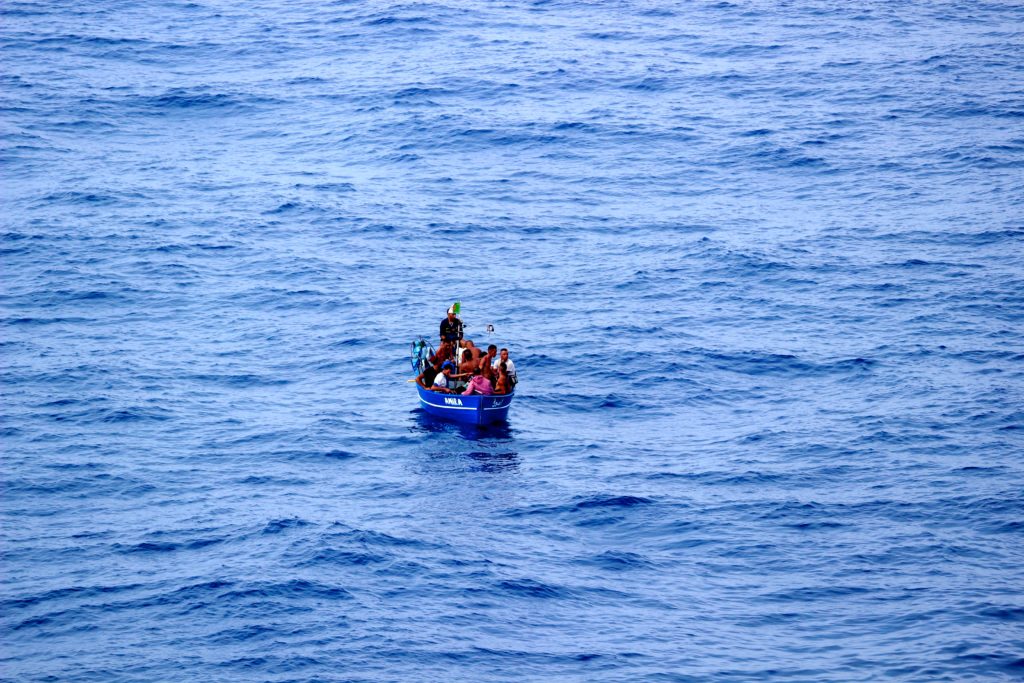 We originally assumed that this group of men was from Syria, but an Algerian flag flew on their small ship that couldn't have been larger than 15 feet long.  We observed them as they threw empty water bottles, bags, and the remainder of the contents of their boat into the sea.  What we originally assumed was littering, we later pondered if they were trying to increase the surface area of their visibility to assist with rescue attempts.
Clayton came on the overhead speaker several times over the course of the six hours to follow to give us updates, but they were all about the same message: "We have encountered a group of refugees that are in distress." "We have contacted the local authorities." "We will continue to circle these refugees until help arrives."
I desperately wished that I had a drone or some means to send food and water to these men.  One could only guess how long they had been stranded without help or a way to paddle back to shore.
The majority of passengers went about their business, attending brunches at Palo, enjoying the weather at the pool, or heading to the spa for a day of pampering, but I was mesmerized, curious about who these people were.  Where were their families?  What made them leave?  I faithfully stayed on the top deck, observing them for several hours, sometimes so worried that I wanted to cry.
Finally, an original message came overhead.  "Good afternoon, cruisers, we have made contact with the Italian Coast Guard who is on their way to rescue these refugees.  As soon as they arrive, we will begin to make our way to Palma de Mallorca (as if I cared about making it to Palma on time at this point).  We thank you for your patience as we assist these people."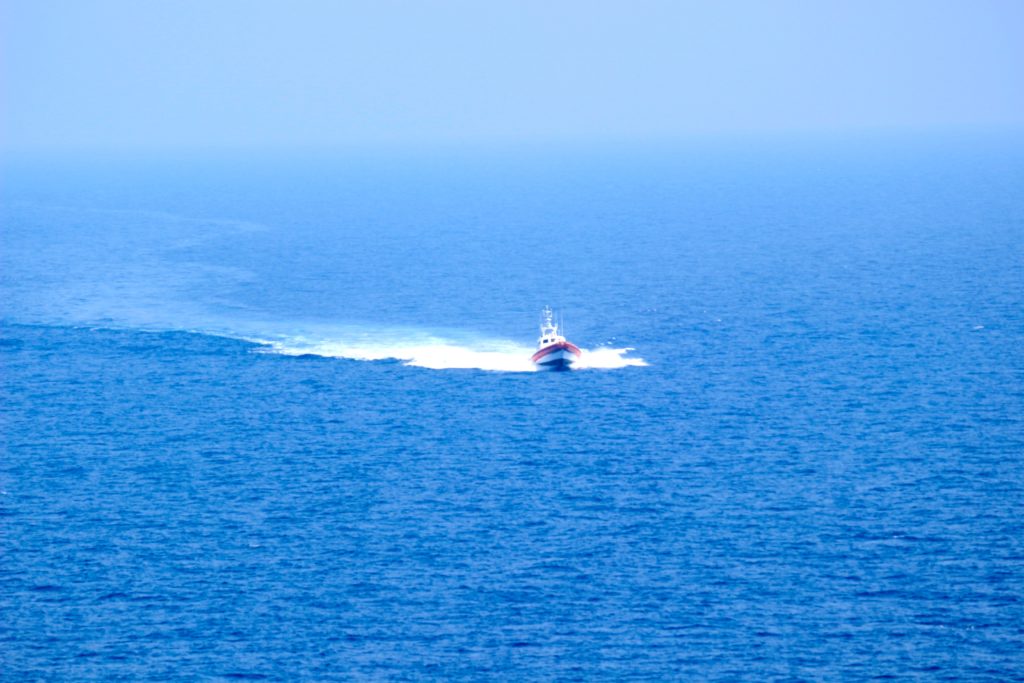 Two hours passed before we saw the Coast Guard rescue boat arrive.  Tears filled my eyes as I closely monitored the reactions of the refugees on the boat.  They turned to the Disney Magic as they shouted their words of gratitude towards us.  We blew our horn to the Coast Guard and refugees as we restarted our jets and set sail again.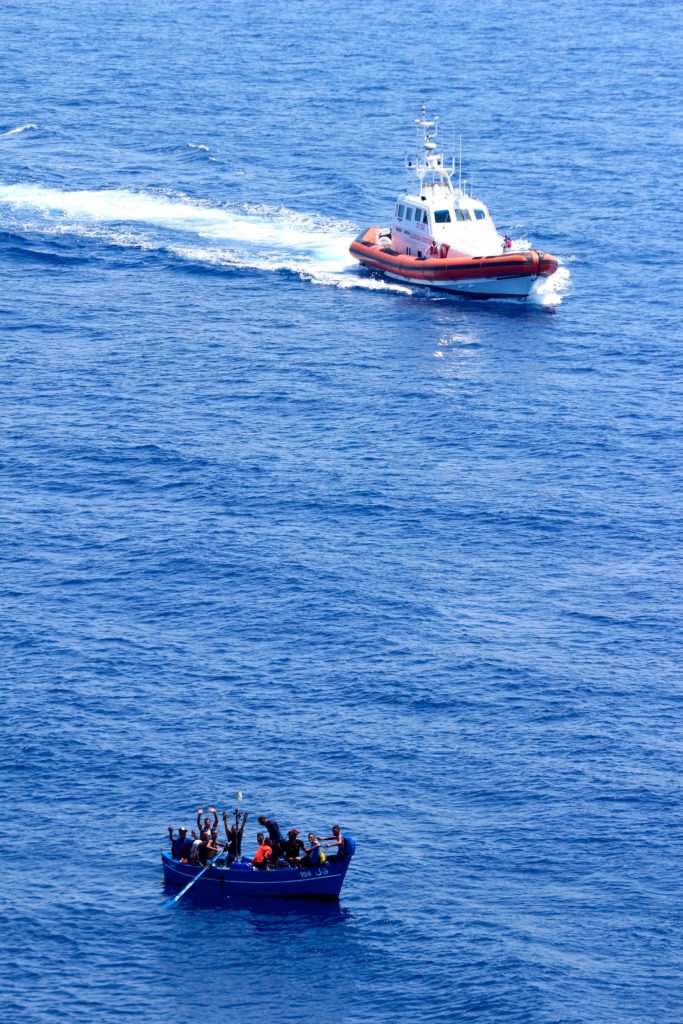 By the time the ship set sail again, it was 2:00 PM, and half the day was already gone.  My friends and I had spent the afternoon lounging by the adult pool and observing the situation as we discussed how much we were dreading saying goodbye after our last day.
My friends Matt and Jamie had been given free passes to the Rainforest Room at the Senses Spa as a compensation for their room flooding earlier during the week (whoops haha). Thankfully, none of their belongings were damaged and they were given another room, and it was nice to be able to experience the spa.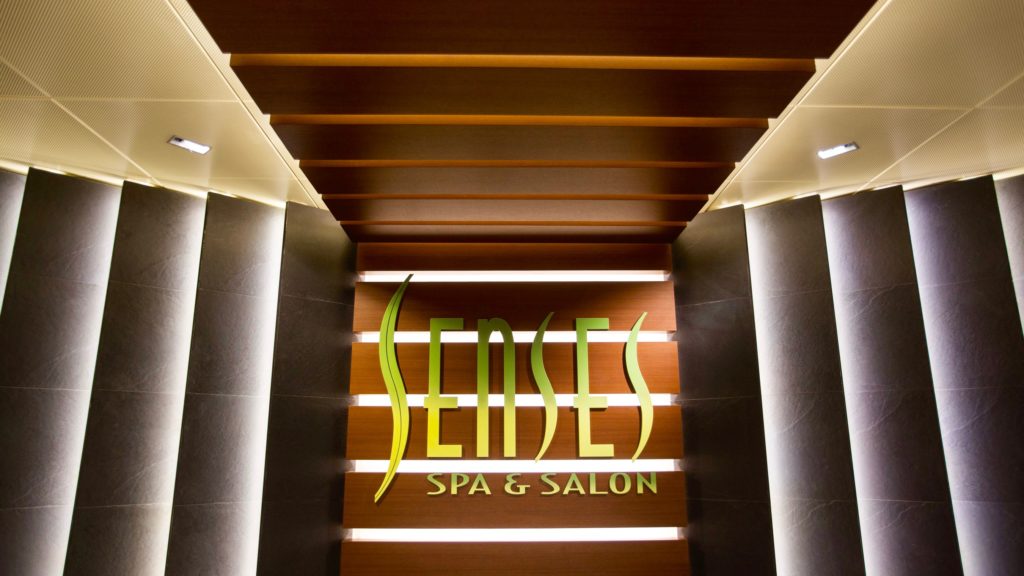 This was my first time ever visiting the Senses Spa, and I really did enjoy the Rainforest Room. Upon arrival, we were offered our choice of sugar scrub which included 6 different senses.  We then were escorted to the locker room where we were given robes to change into (we stayed in our bathing suits from the pool) and were pointed to the Rainforest Room. We were given bracelets that allowed us to come and go as we pleased all day.  We probably spent two hours in the rainforest room, but I will be completely honest with you, we kind of acted like children, spraying the hoses at each other and running in and out of the three different rooms that we had to ourselves (and loving every second of it).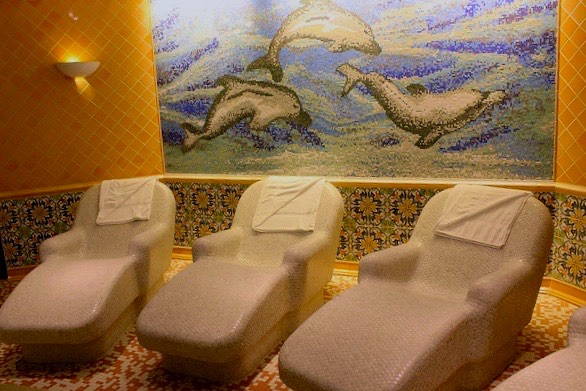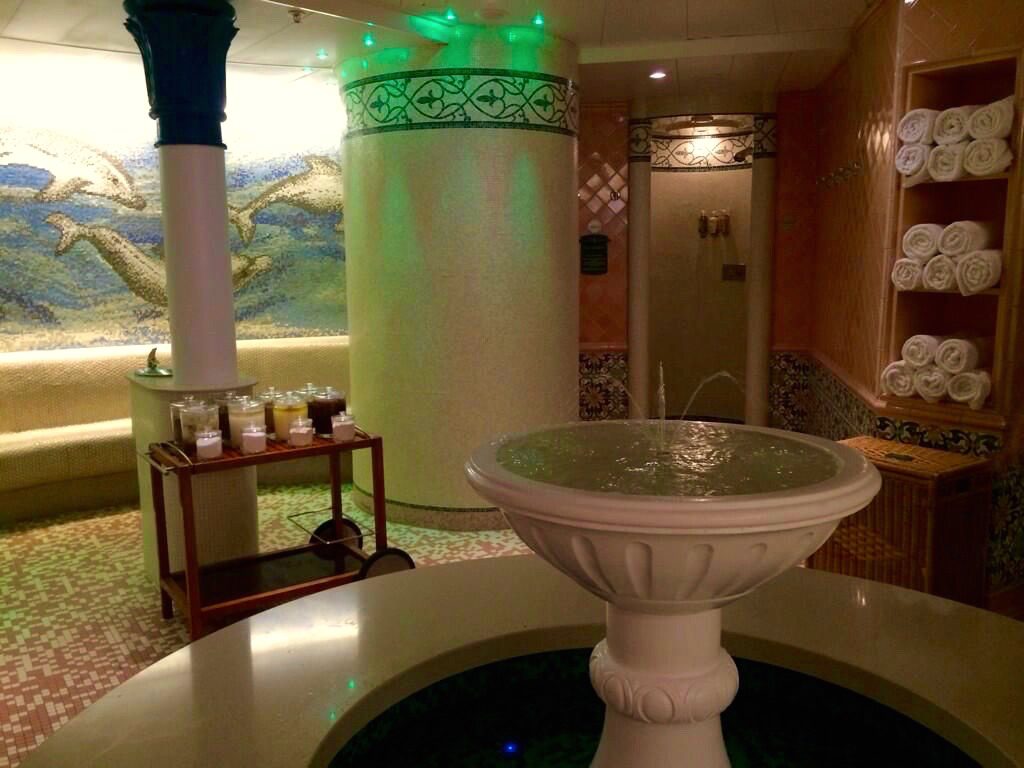 It was Tangled day, and the ship was decorated with "Snuggly Duckling" décor.  We left the spa just in time to get changed to go see "Tangled, The Musical".  I just love the attention to detail that Disney paid when incorporating a stage show based on a full length musical into every ship's itinerary.  Tangled can only be seen onboard the Magic, and you can see other musicals on the other ships including Aladdin (the Fantasy) and Frozen (the Wonder).  They even transformed O'Gill's Pub into the Snuggly Duckling!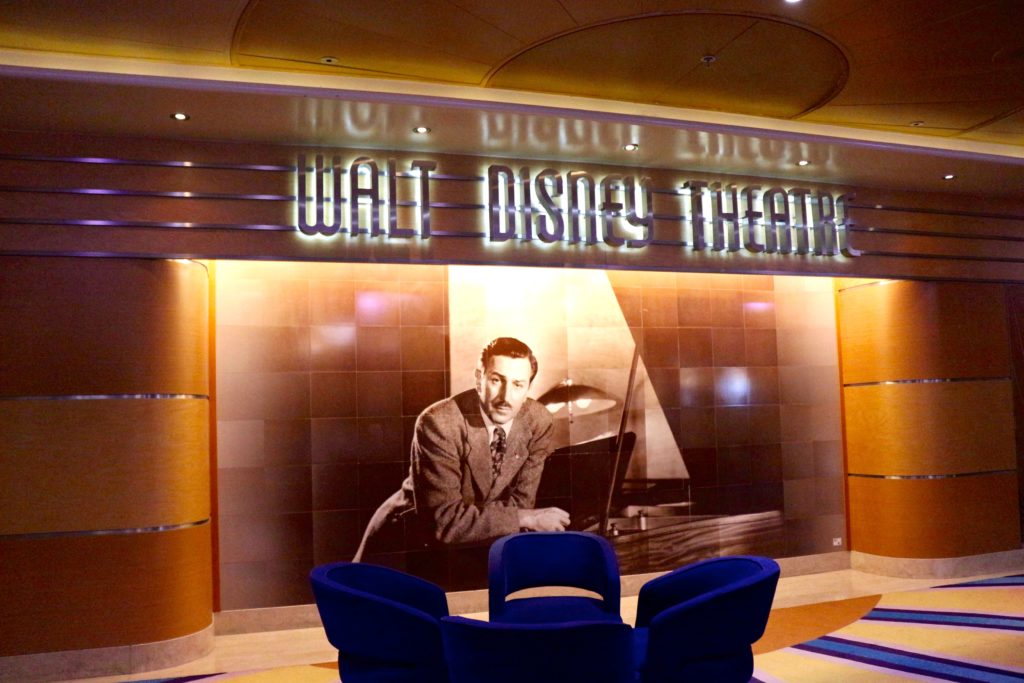 After the musical, I headed straight to dinner, where we enjoyed a great menu at Carioca's.  We spent the entire evening talking with Genesis about the goings on in our lives and his, slowly realizing that all too soon we would be saying goodbye again.  We swallowed back tears as we tried to put the sadness out of our minds and continued with our evening.
We went to O'Gill's Pub to play bingo at the "Snuggly Duckling," as a family, and then to Fathoms for the musical stylings of Abba Fab.  On our last cruise (British Isles), most of the entertainment was themed for the British Isles.  We did not experience any theme on this cruise, but we decided that the extra effort to keep all entertainment to a theme last time was due to the fact that our British Isles cruise was the inaugural sailing for that itinerary.
After the late night entertainment, I played cards with my friends for a short bit of time before going to bed in preparation for Palma de Mallorca.  I heard from my European friends that Palma is one of the most popular summer destinations for European families, so I was certain that I wanted to be well rested for our adventures to come.
Check back soon for the last addition to my trip report as my family divides and conquers one last time in Spain!
Up Next: Day 10
.
Danielle is a 23 year old Disney fanatic, ICU Nurse, and travel blogger from Nashville, TN.  When she is not traveling, you can find her snuggling with her 2 English bulldogs and spending time with her family of 7.  You can read more about her trips and adventures at www.daniellefarideh.com.
Instagram: @daniellefarideh
Facebook: www.facebook.com/daniellefarideh