If you would like an introduction to Danielle or to start this trip report from the beginning, click here.
Day 10:  Palma de Mallorca and Returning to Nashville
First of all, here is today's Navigator: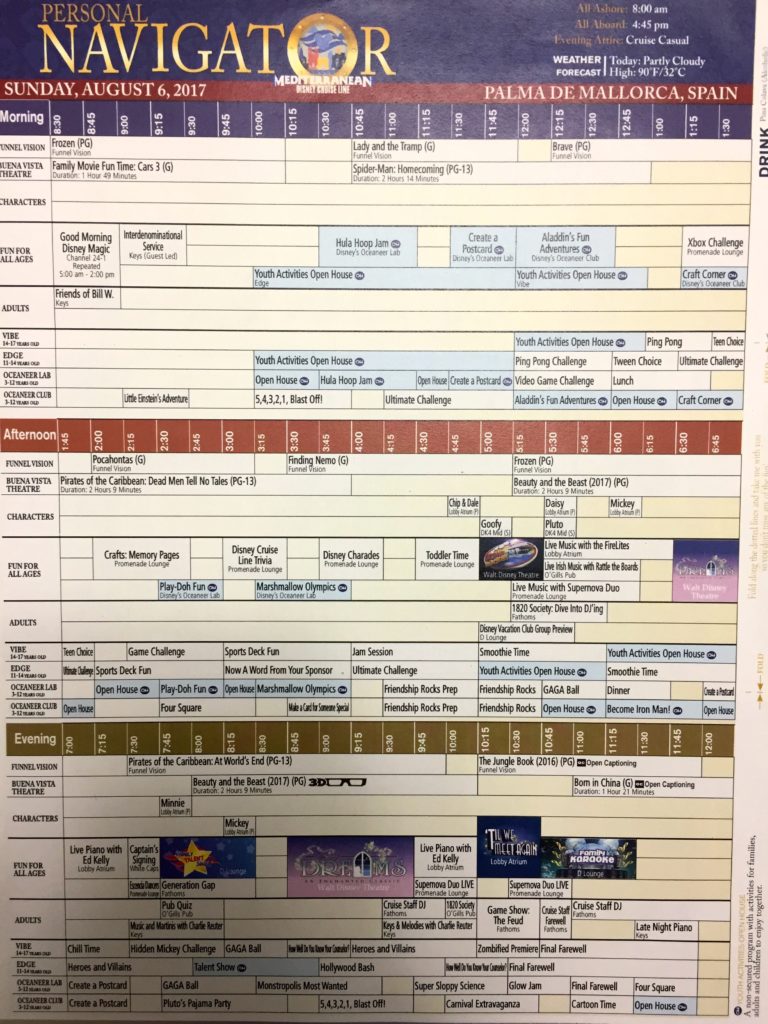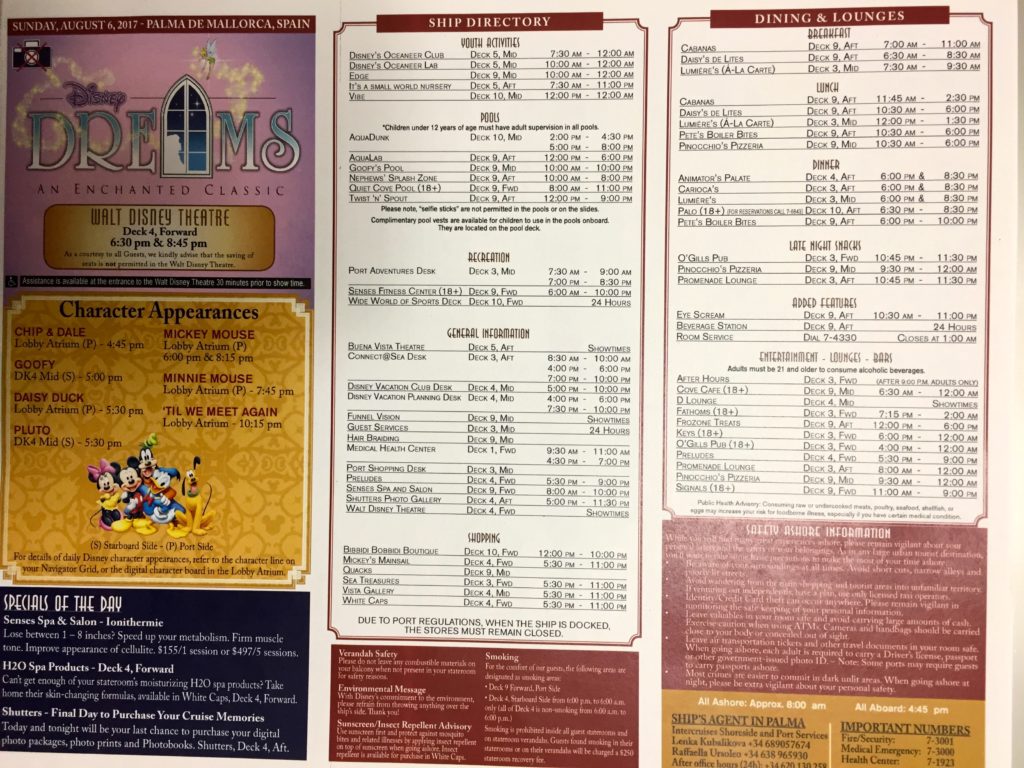 And port map: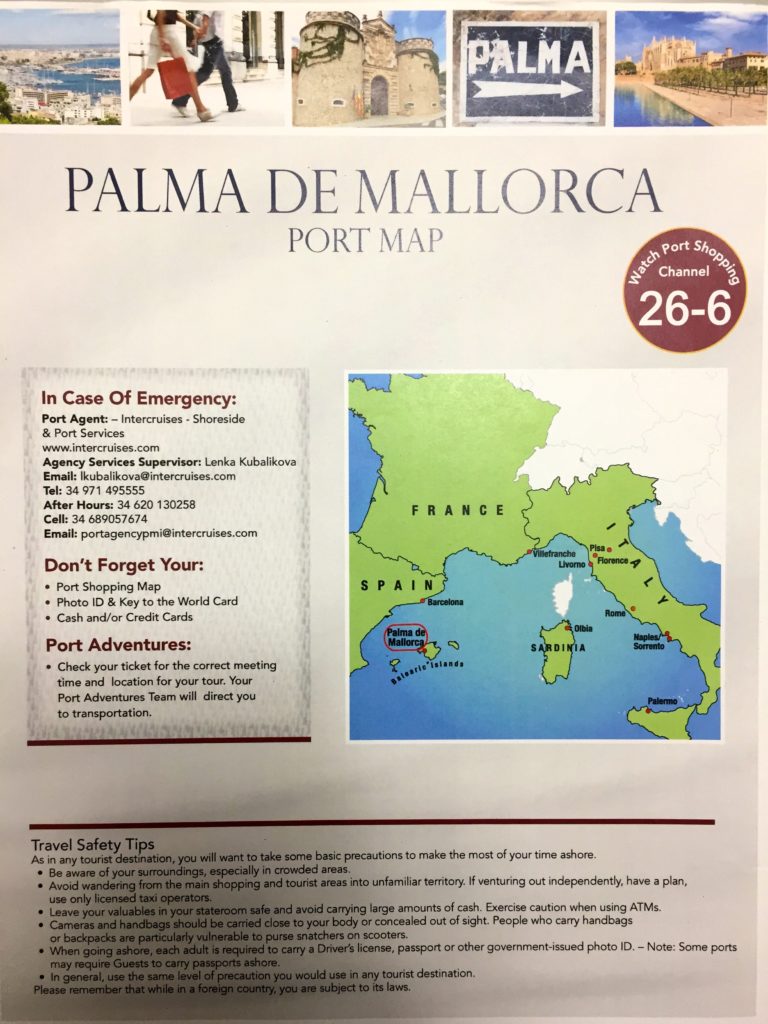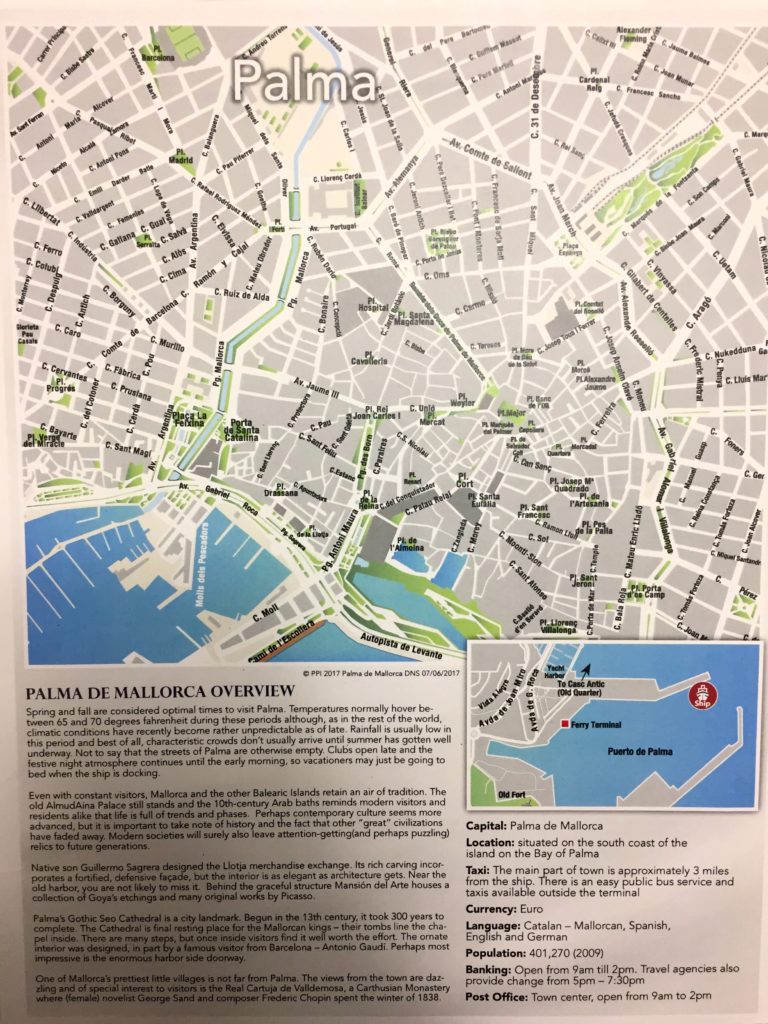 .
Well what they say is certainly true: all good things really do come to an end! After a night of some very rocky seas (they had to speed up the ship due to our 6 hour delay rescuing the refugees yesterday), we had finally arrived in Palma de Mallorca!
Palma is one of the most popular summer destinations for Europeans, with their airport being Spain's busiest airport in the summer months. After exploring this gorgeous city, it's very clear why so many people flock to this destination. The town was extremely friendly and clean, not to mention it included some of the most beautiful views of our trip.
On our last day, we decided to once again divide and conquer. So, while Christian and Madeline went on a horse back riding excursion, the rest of us opted for a more panoramic tour of this gorgeous city. Our excursion was called Palma City Tour (PM 02), and was organized through DCL's Port Adventures.
After we stepped off the ship, our first stop was this beautiful castle. Unfortunately, we arrived about 30 minutes before the castle opened for tours, but thankfully, we had this gorgeous view to stop and enjoy while we took pictures. Through the trees you could even see the ship!!  It was so bittersweet to see our gorgeous home away from home as we reflected back on the past 10 days.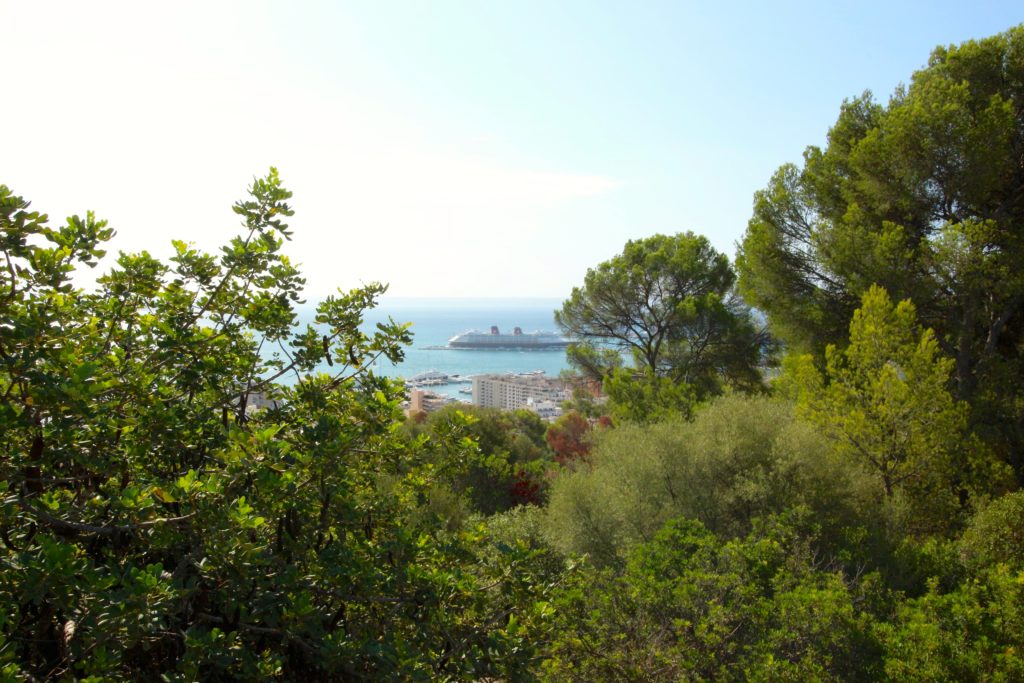 Finally, the castle opened for our tour, and boy was it worth the wait. It felt like Rapunzel's tower, and it was truly fairytale-esque. They were even setting up for a wedding here!!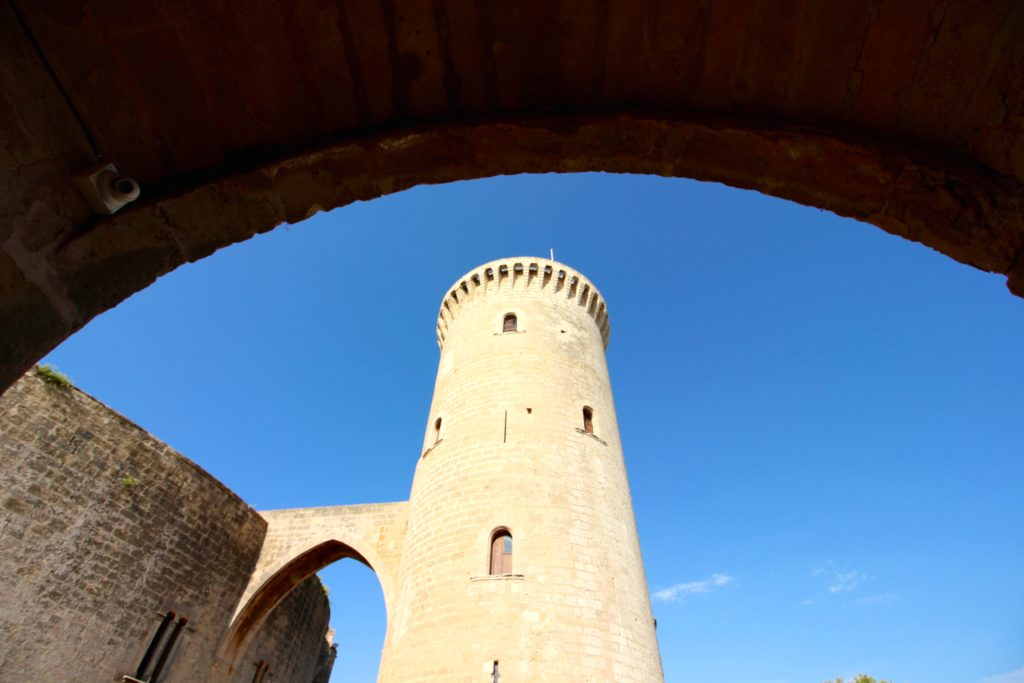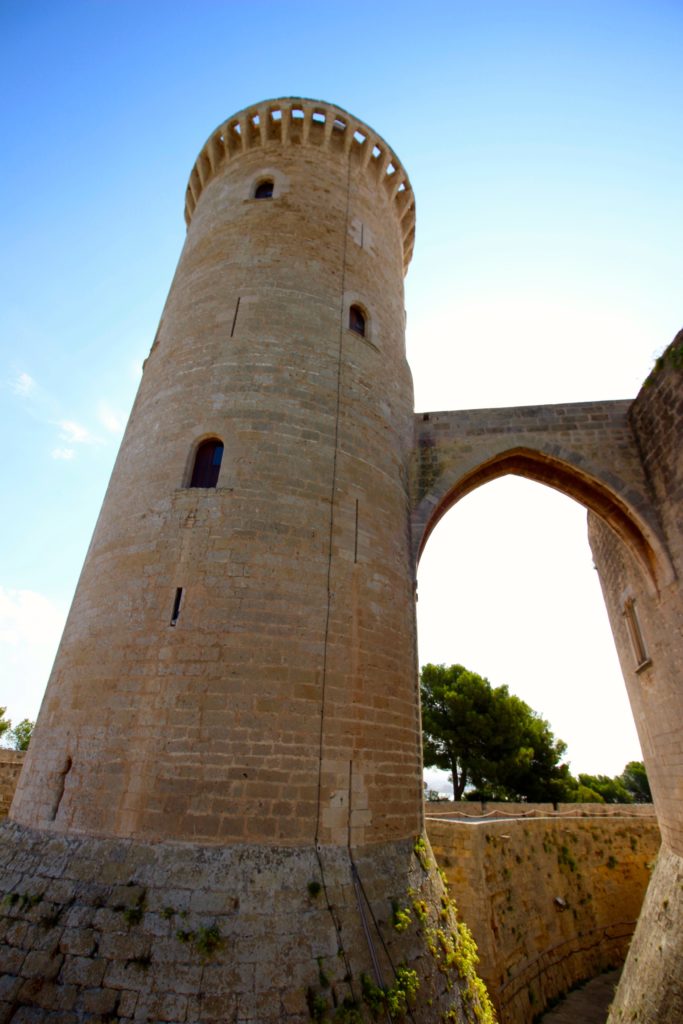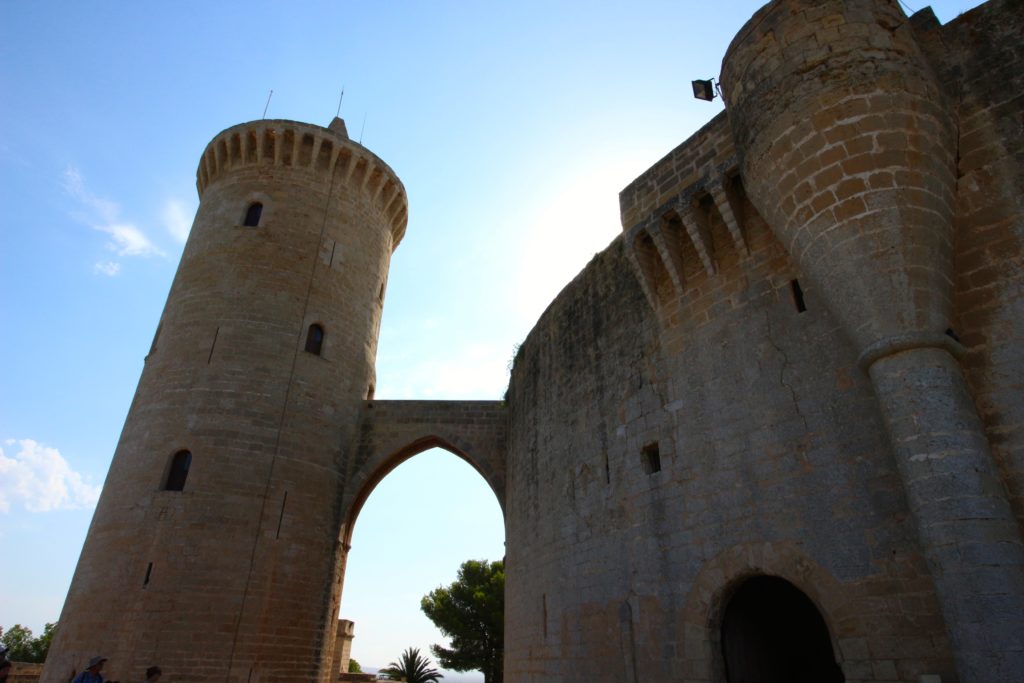 I am such a history geek, and live for photographing old doors while traveling. Clearly, I was in heaven as I admired these ancient doors and hardware.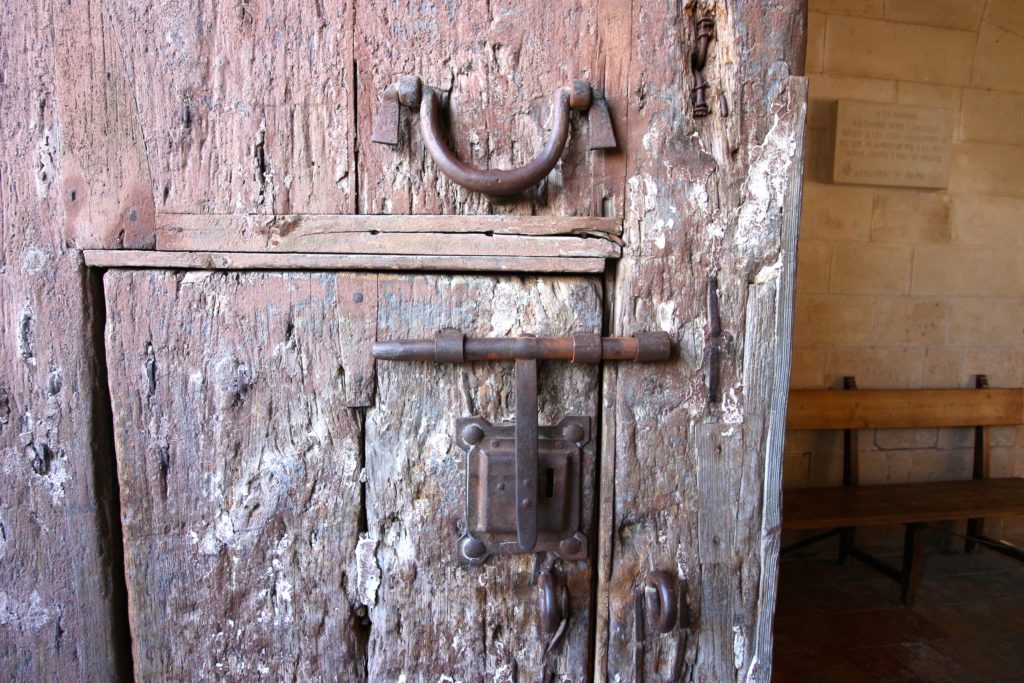 Here is the wedding they were setting up for! Can you imagine saying "I do" here?!  I recently got engaged and seriously wouldn't mind flying back out to Spain to get married in this real life castle!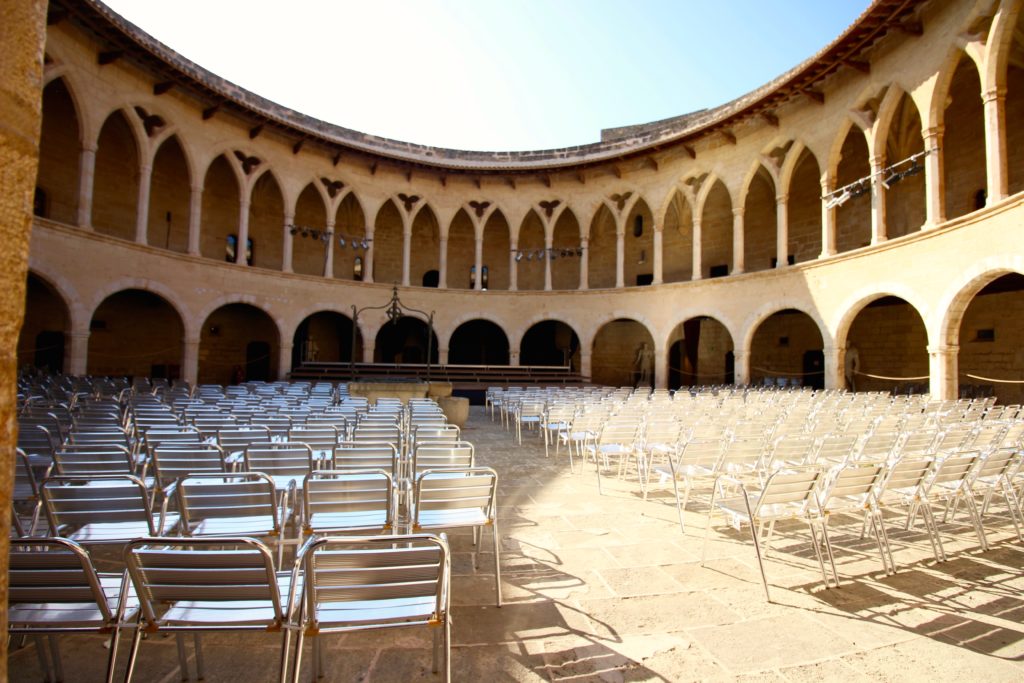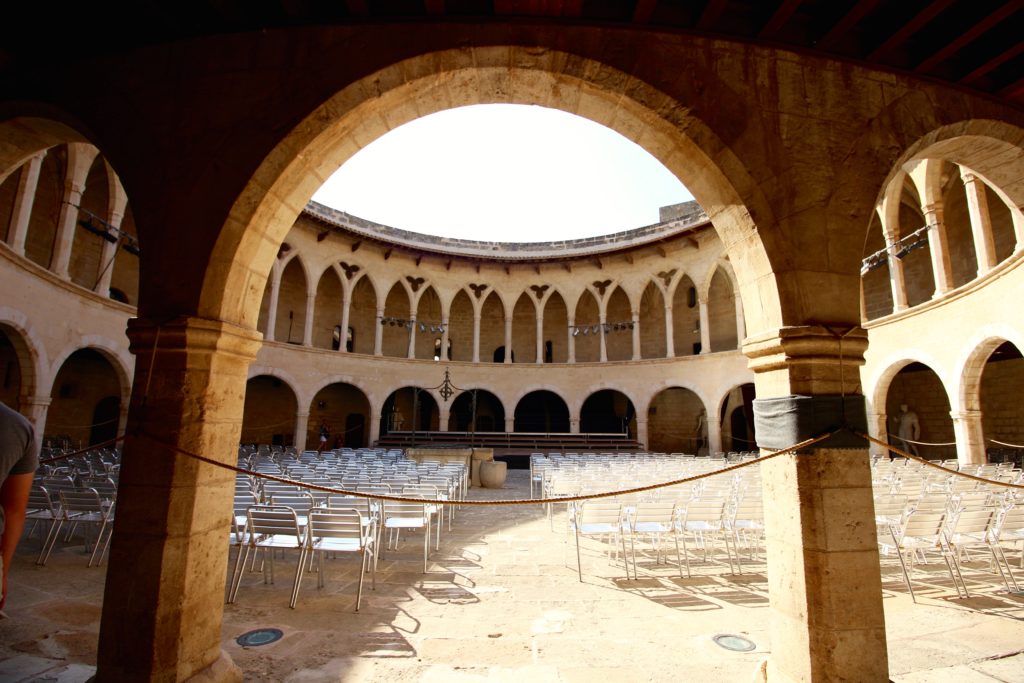 My favorite part of this castle was how clean it was. I felt like I could have eaten off the floor! Most ancient castles that I've toured are covered in dirt and graffiti, but they did such a great job at keeping this place well preserved.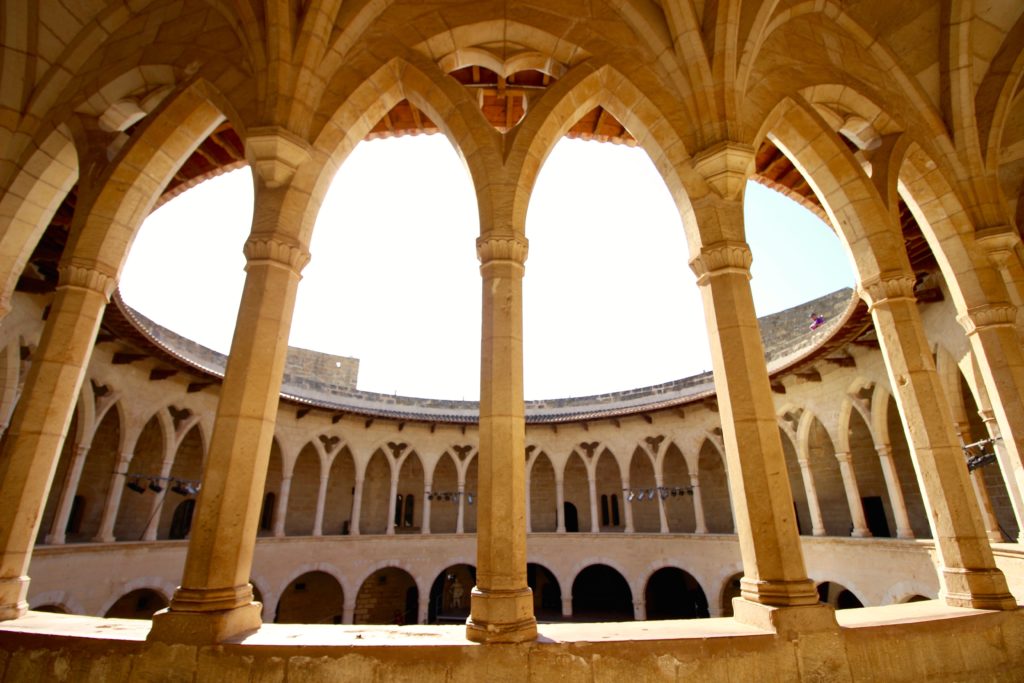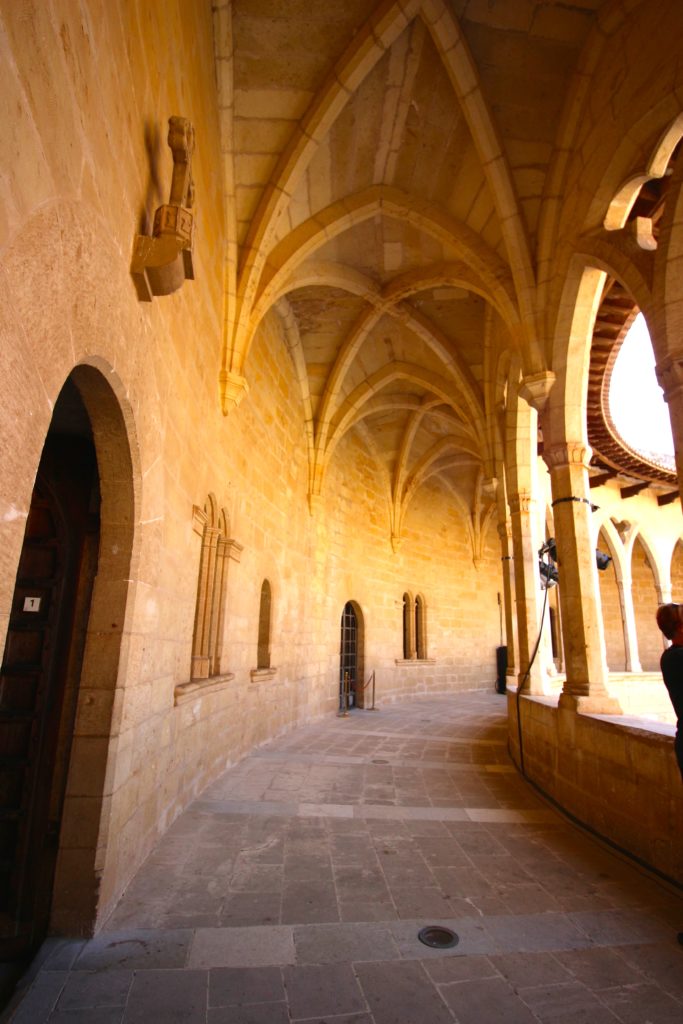 The best view of all was the view from the top! You could see for MILES around- just LOOK at the views that we were blessed with! It's clear why this site was chosen for this castle – it provided the Spaniards with a great advantage for defense as you could see enemies from all 4 corners of the earth.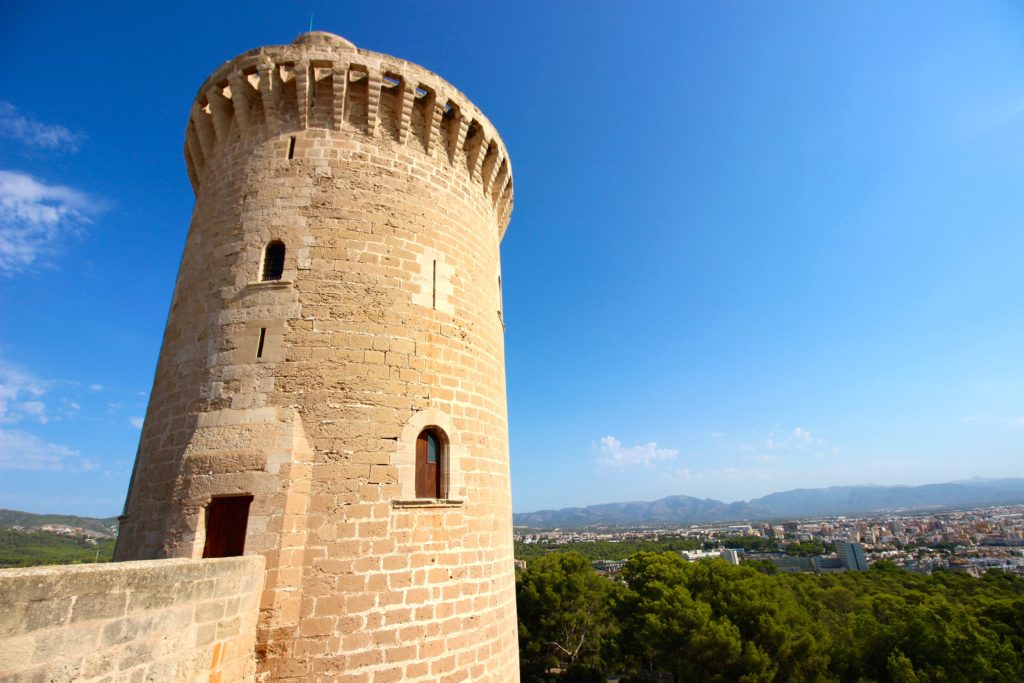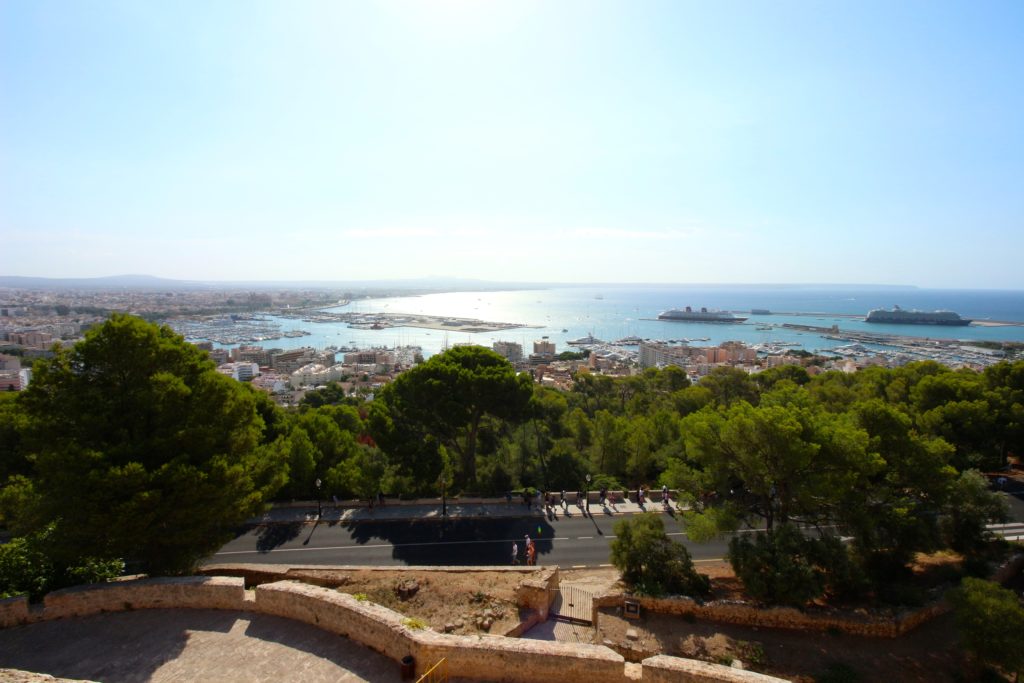 As we came down the stairs, I was thinking that we were finished with our tour, but we evidently were not. We walked through these rooms full of gorgeous marble sculptures and busts. I was so intrigued by the ancient writing and the well-preserved art.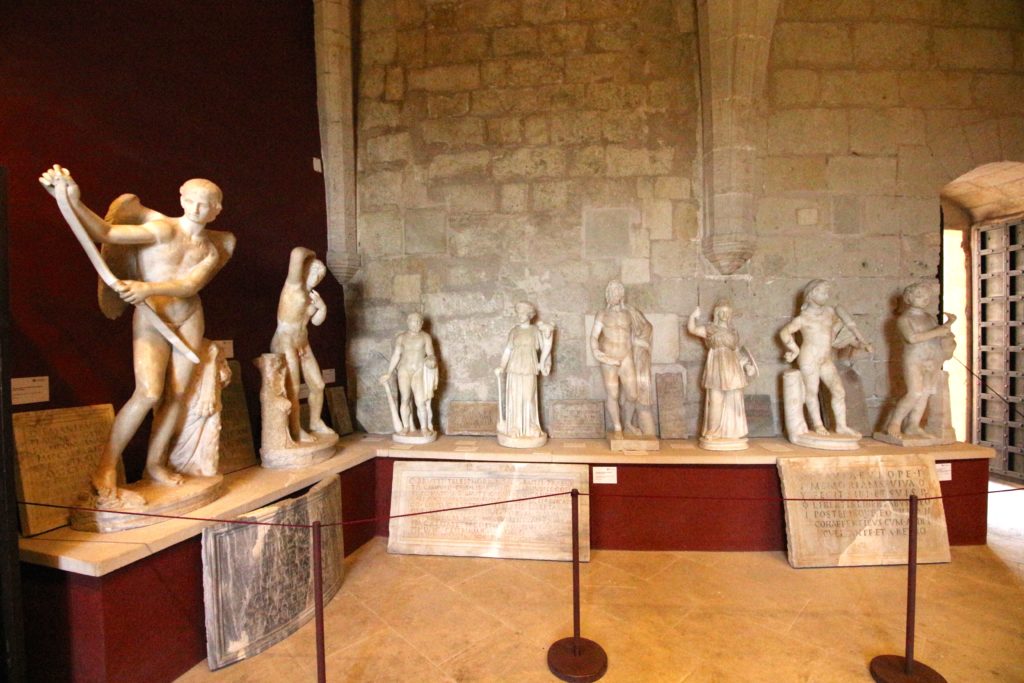 We left the castle for a short driving tour of Palma. The architecture is remarkably similar to that of Barcelona, but some other areas look like they would belong in Morocco. We learned that there is a great amount of Arab influence in Palma, which is very apparent as you walk around and notice the local customs and cultures. We passed this beautiful cathedral as we arrived to Uaradero, a café where we stopped for pastries and coffee as we enjoyed the surrounding coastal views.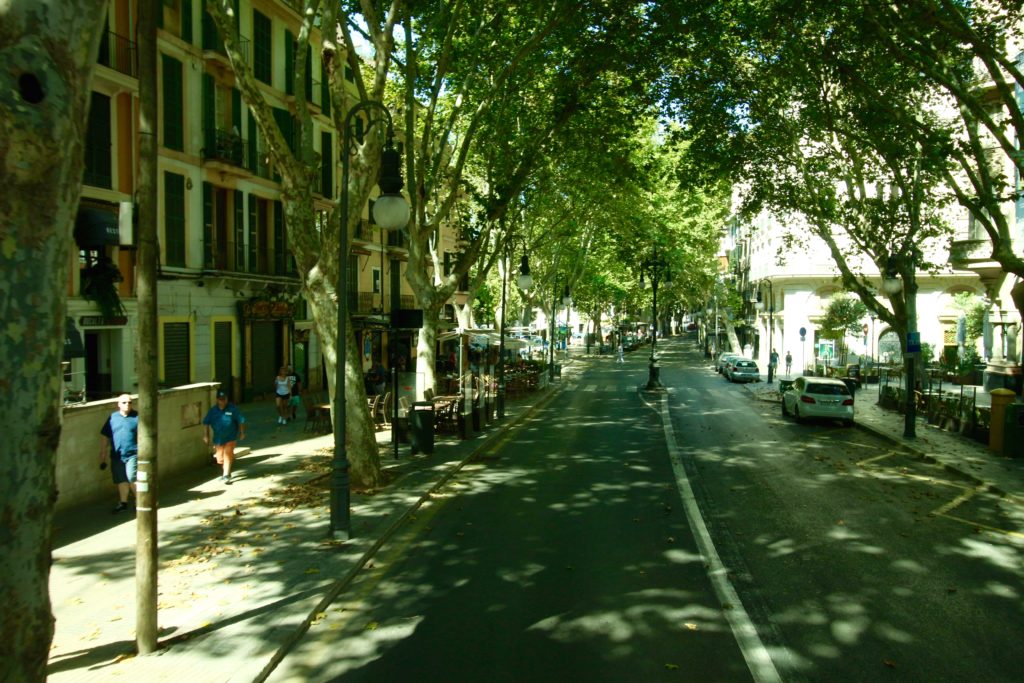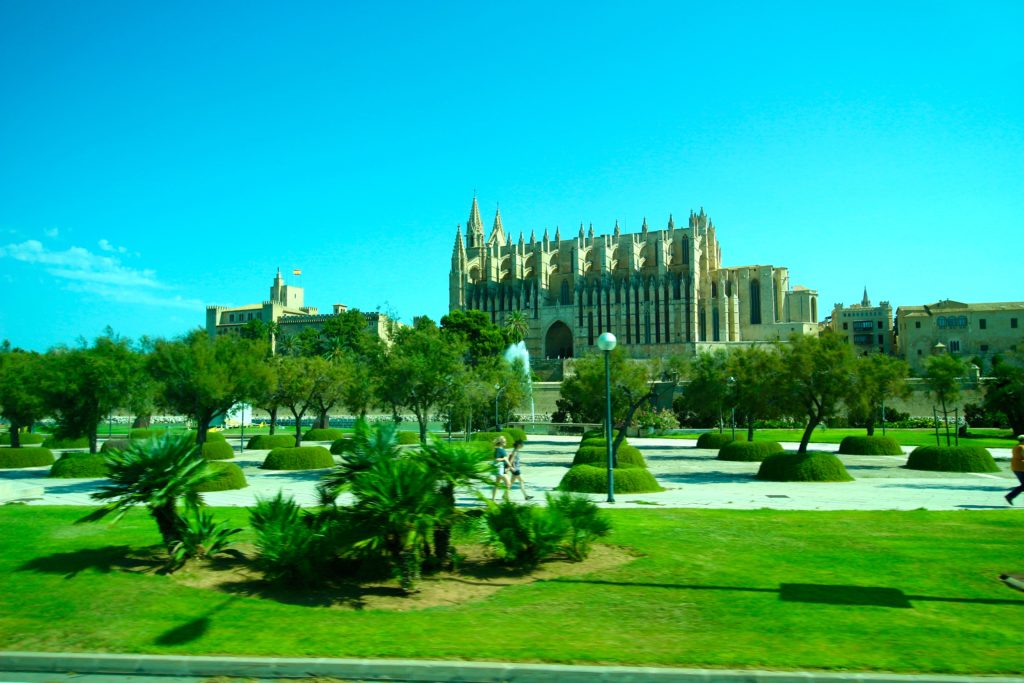 This restaurant serves every meal and delicious pastries (I will warn you though, they don't sell water, which was weird!). If you are looking for a place to peacefully enjoy a meal and have great cocktails with a great view, this is the place. It's very close to the bus station and is walking distance to the cathedral.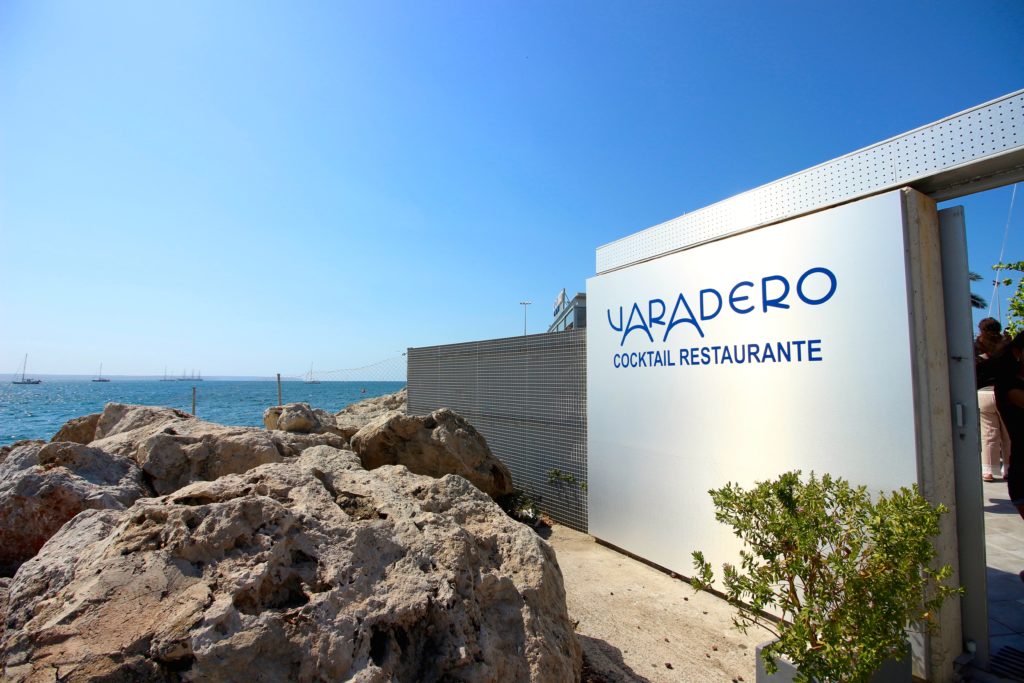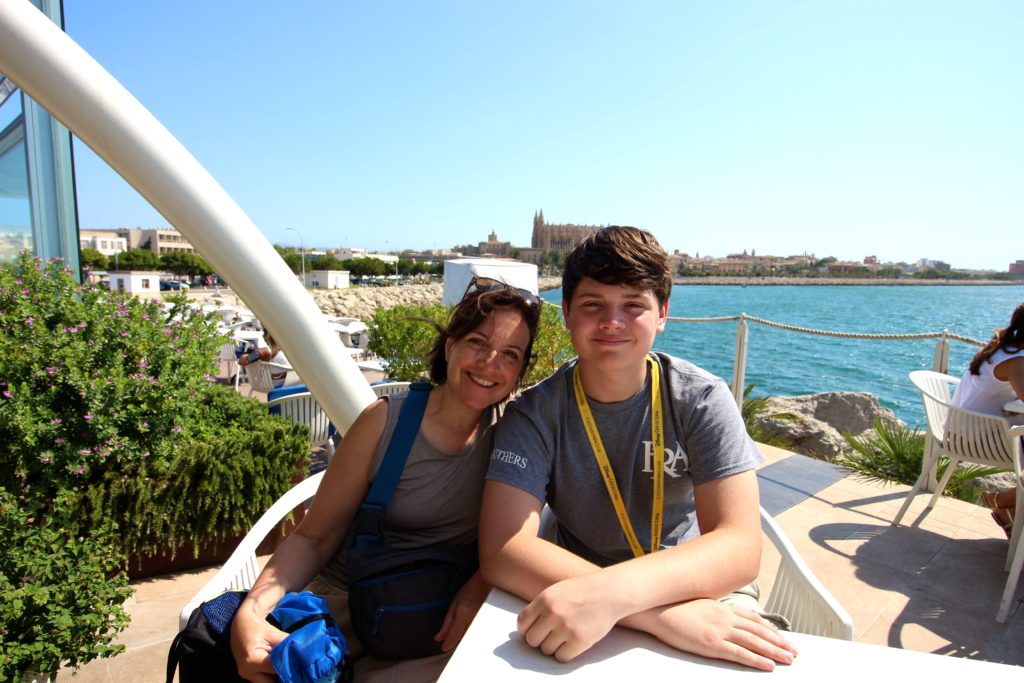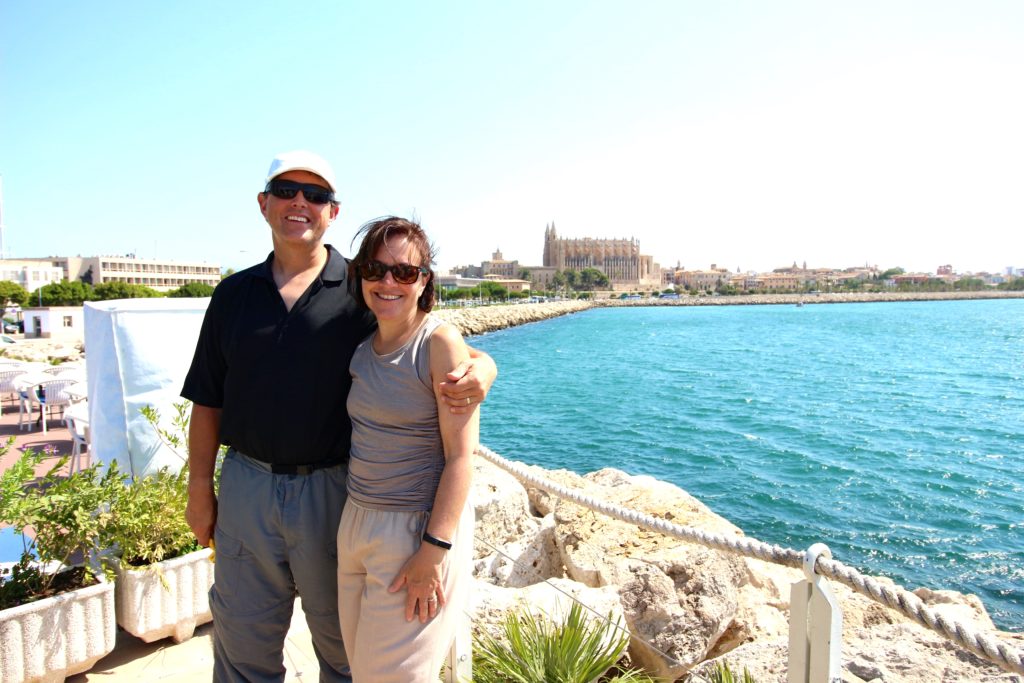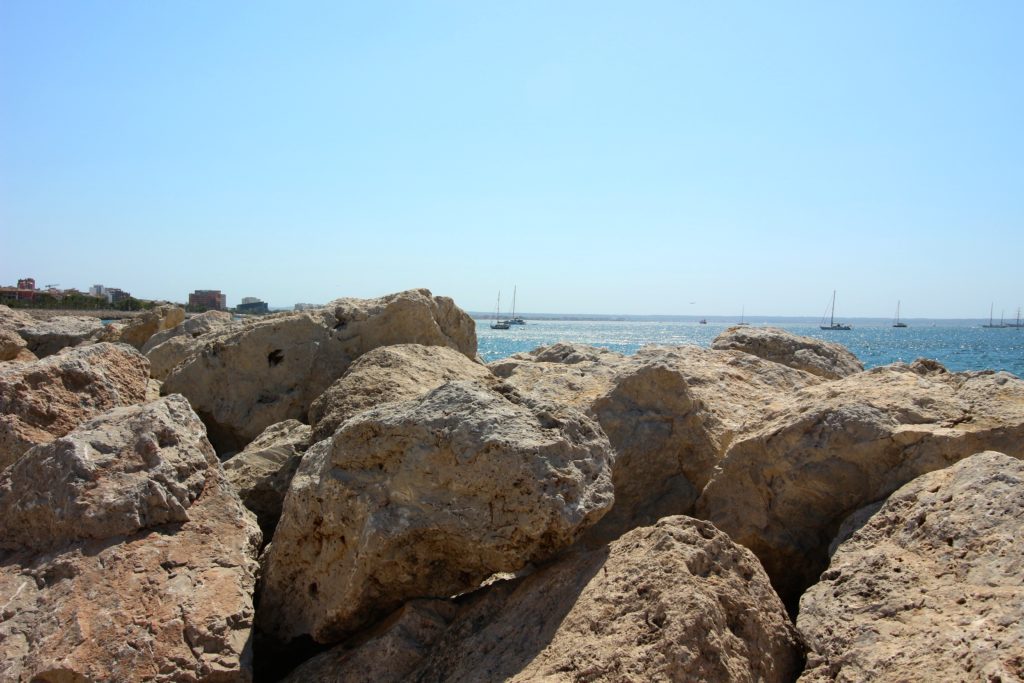 It was beautiful, with gorgeous gardens near the house of worship. We couldn't go inside the cathedral because there was a church service going on, but you can clearly see the combined Spanish and Arab influence that is unique to Palma.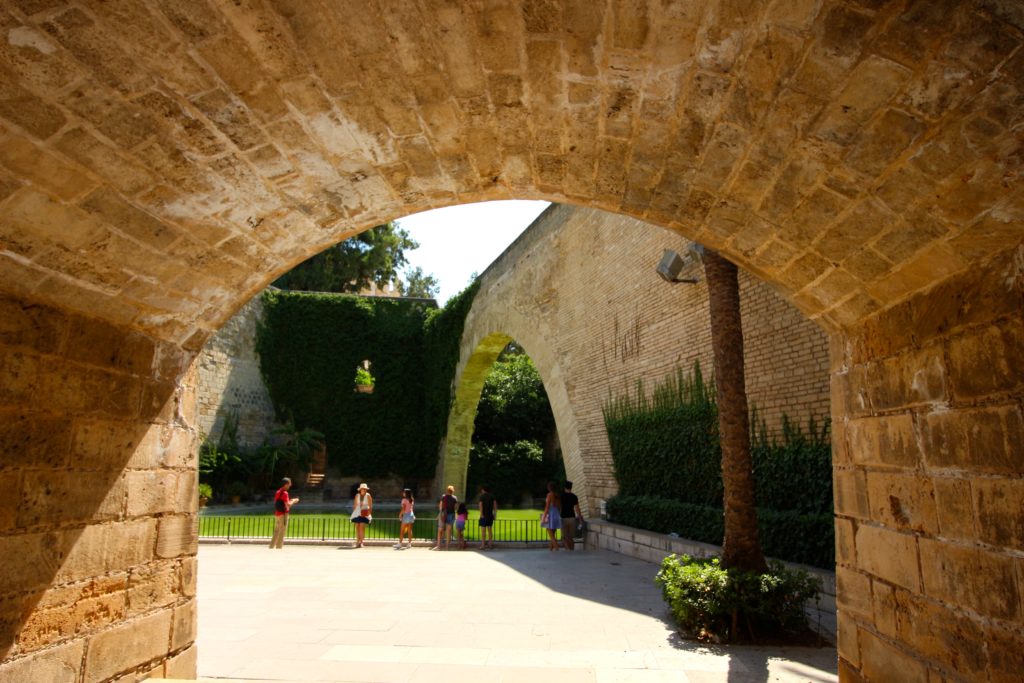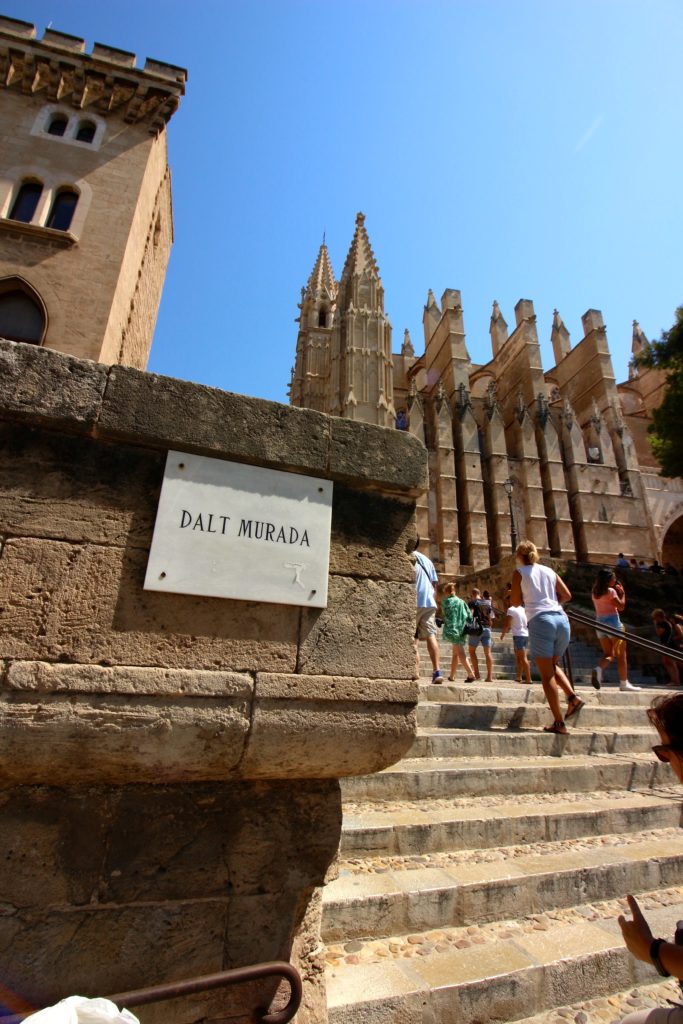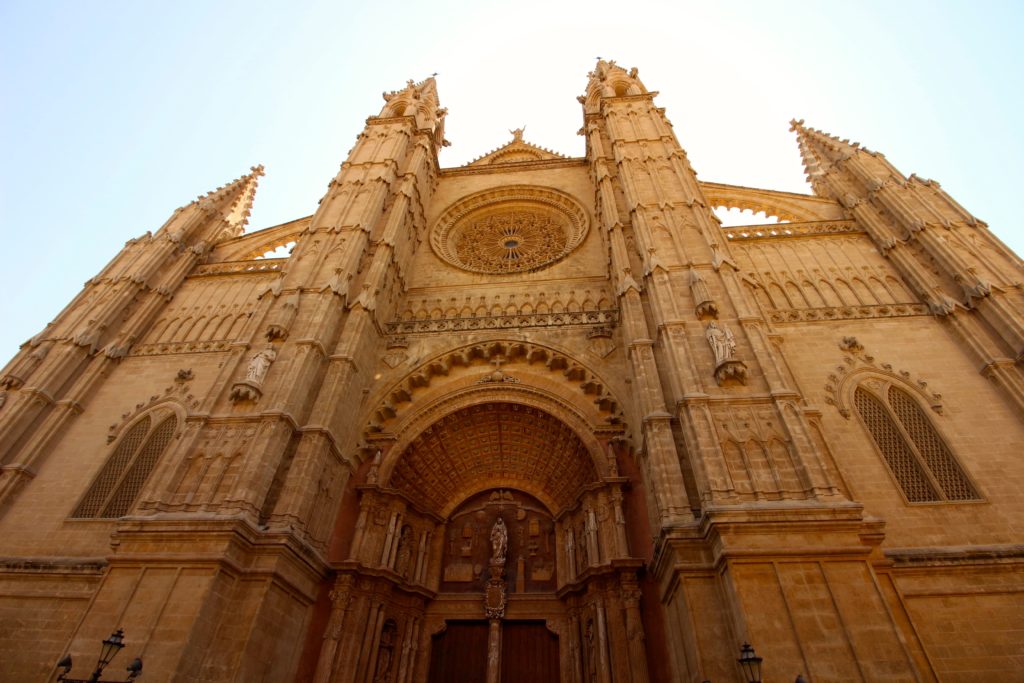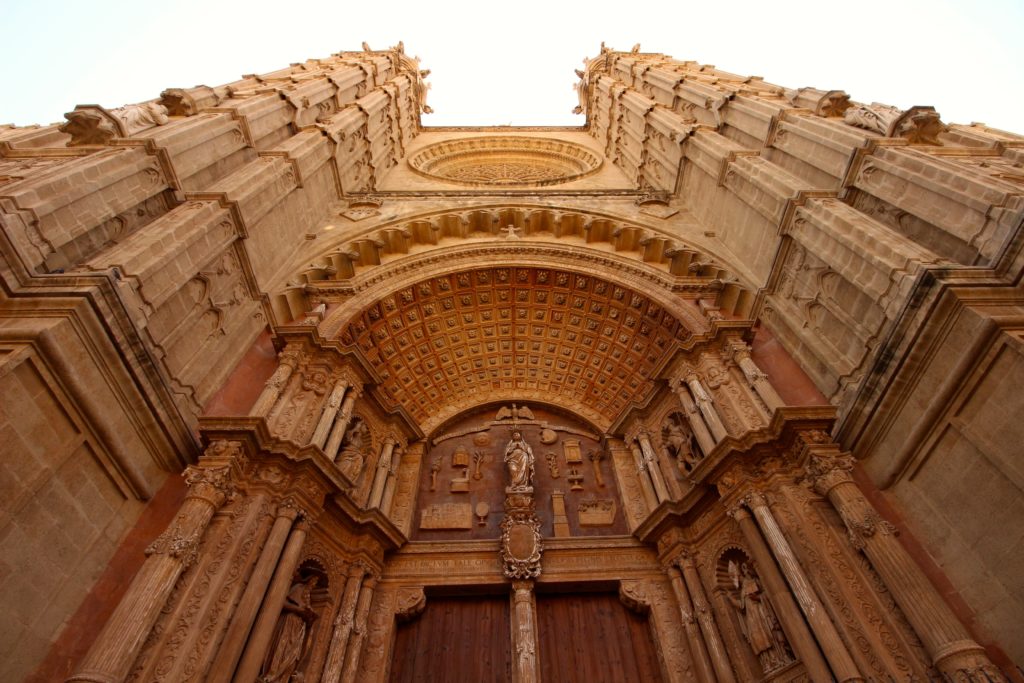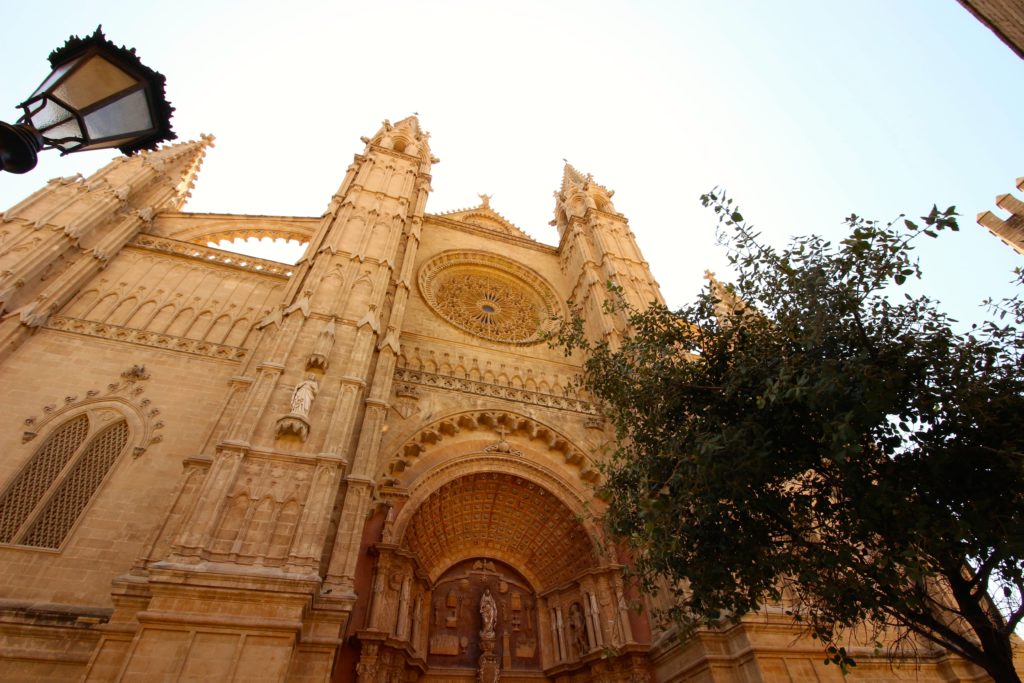 We then walked around the city as we admired the clean and beautiful architecture and streets. I didn't see a single piece of garbage on the street! Since it was nearly siesta time, which is "nap time" for Spaniards, the crowds were starting to thin and stores were starting to close. I loved walking around and admiring the street art, the ancient doors, and the unique menus advertised outside of privately owned restaurants.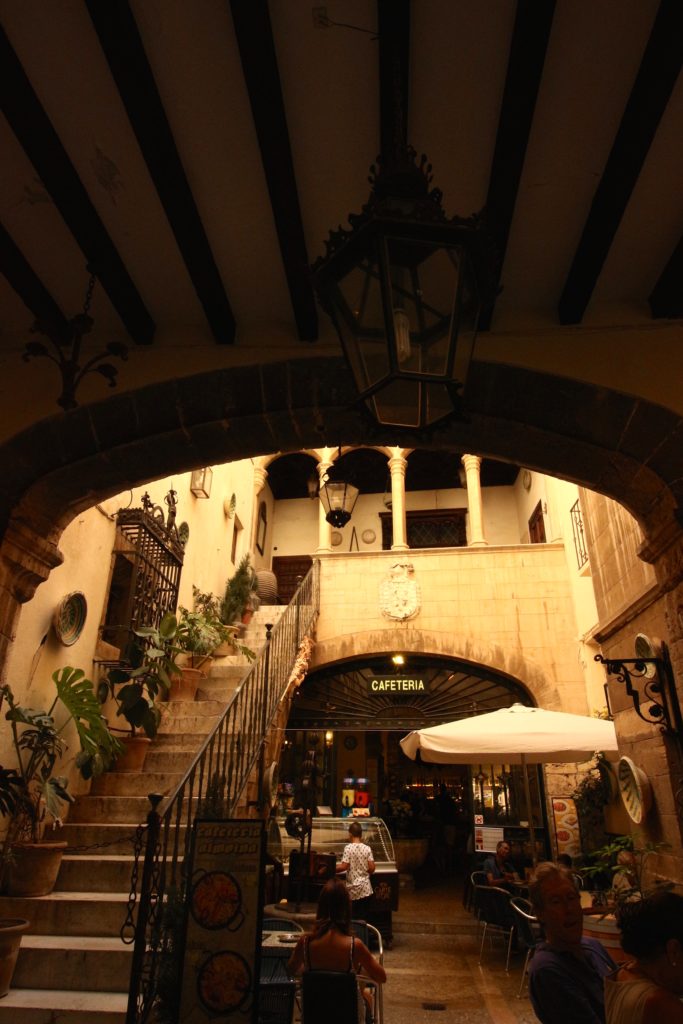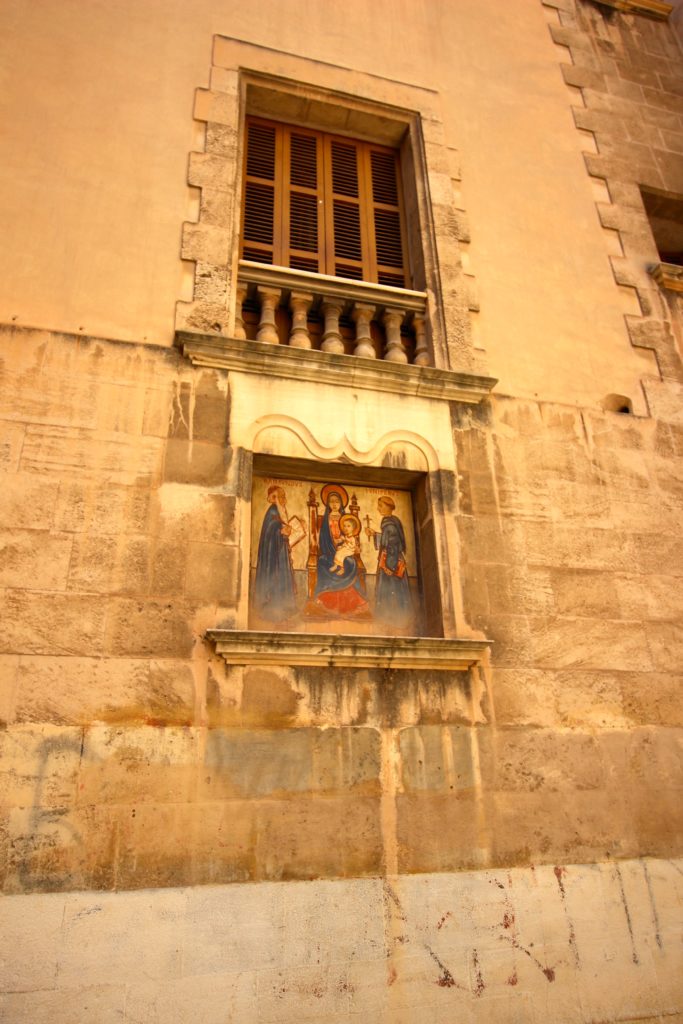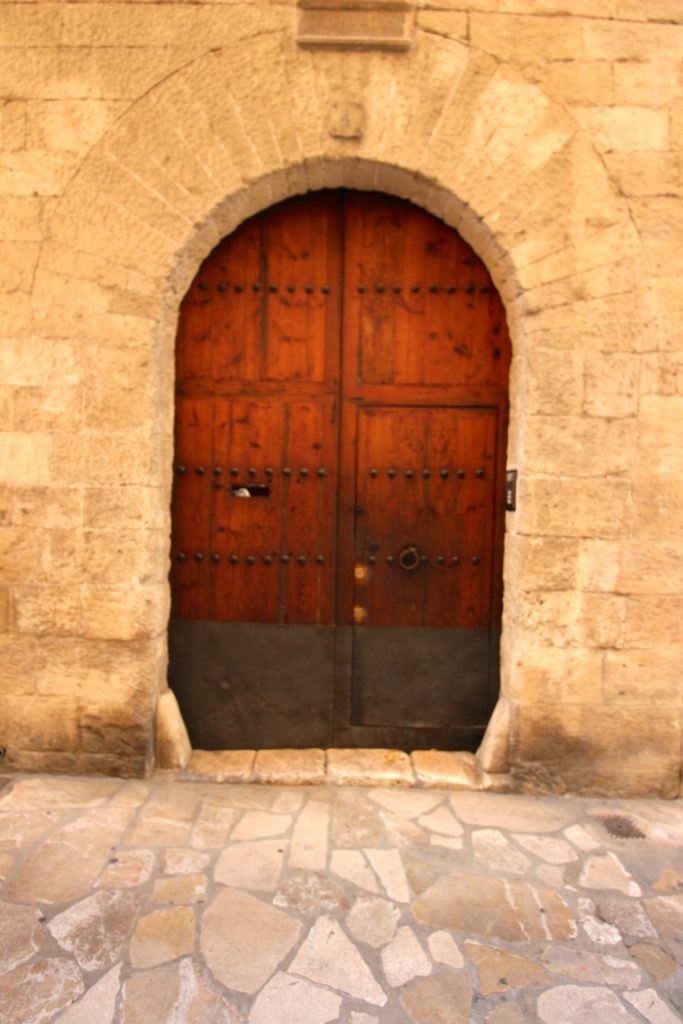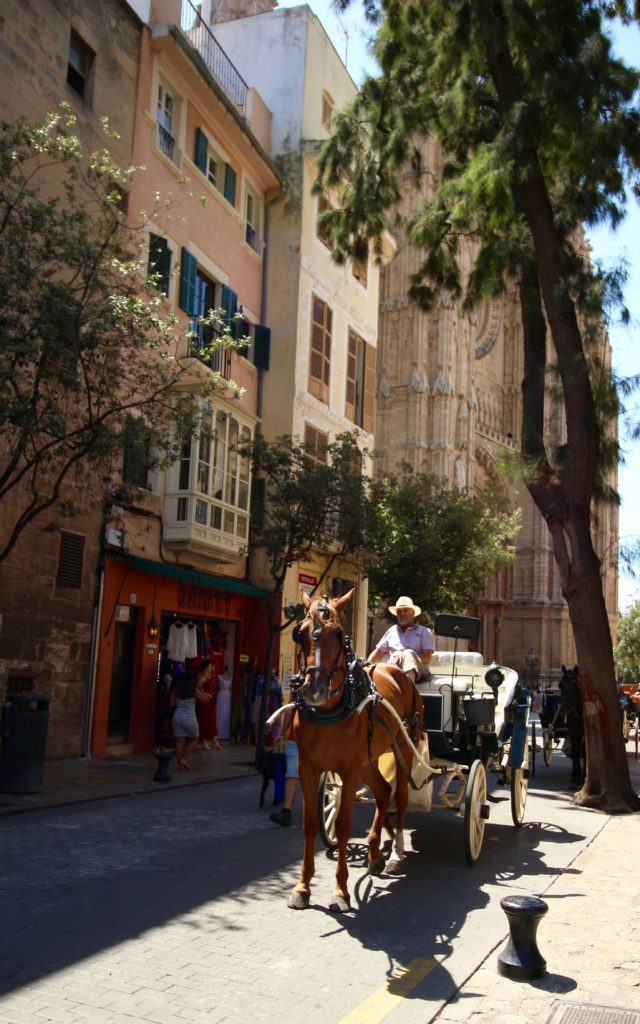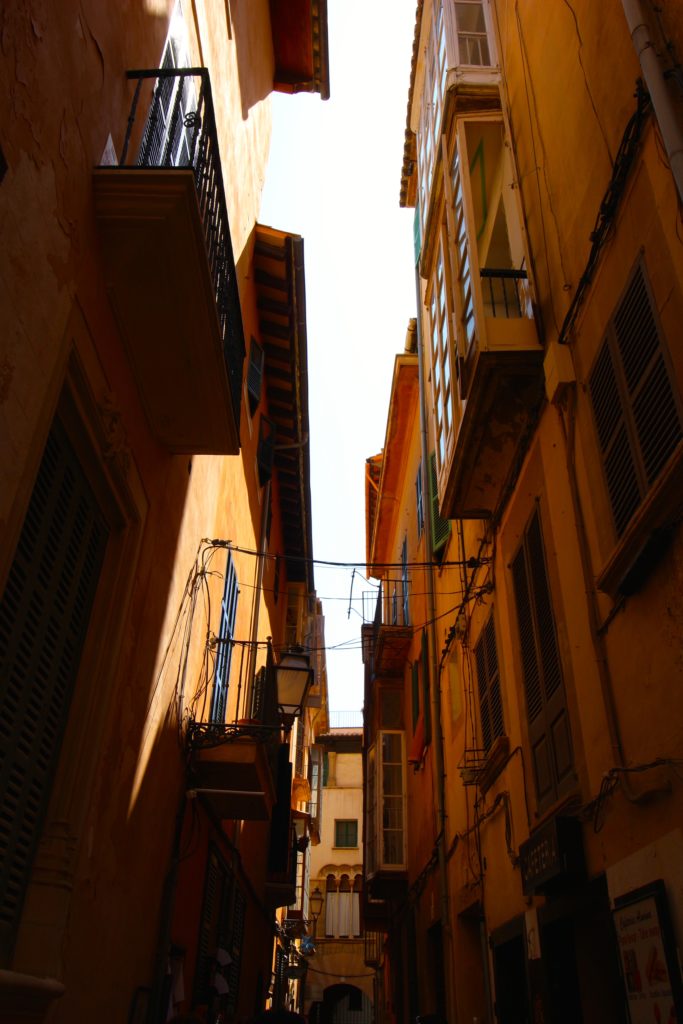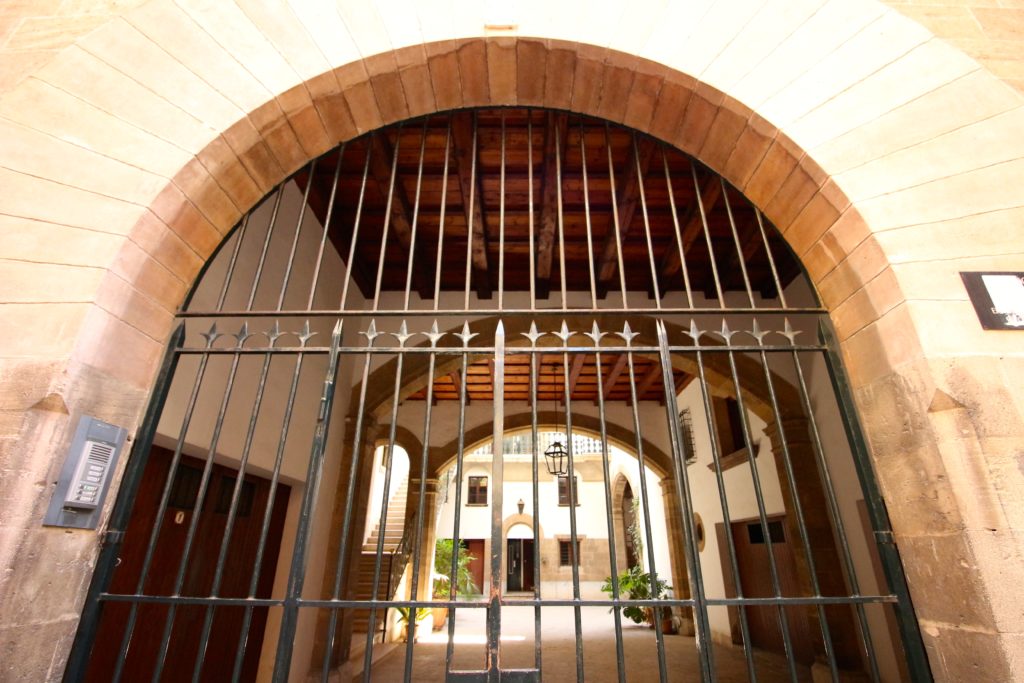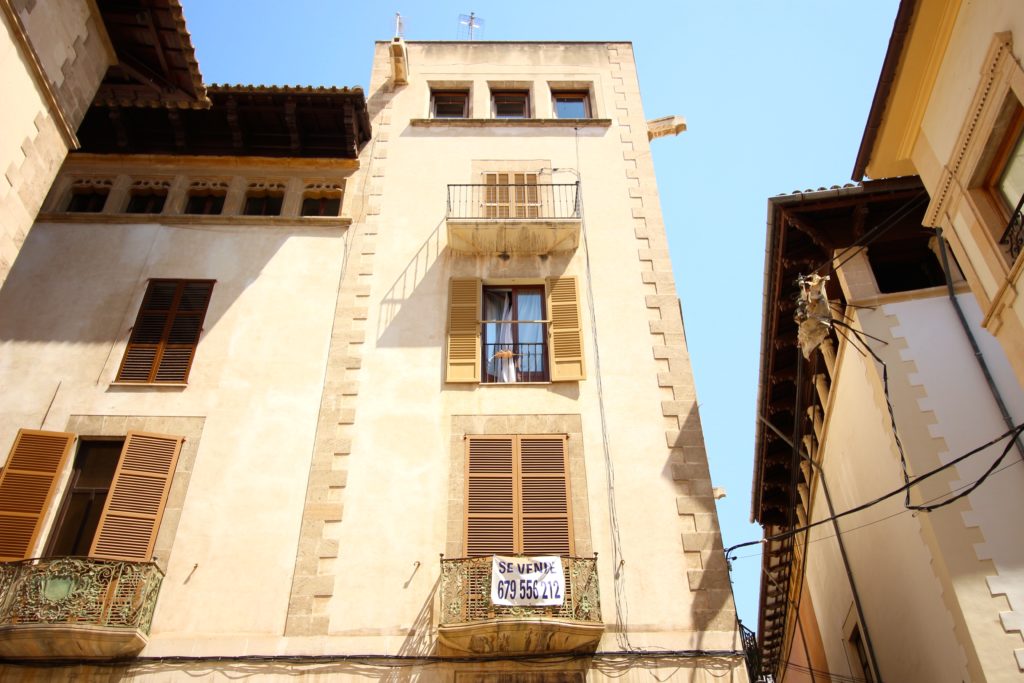 We saw so many people living and enjoying their lives, with street artists, vendors, and tour guides on horse carriages. Everyone looked so happy and peaceful.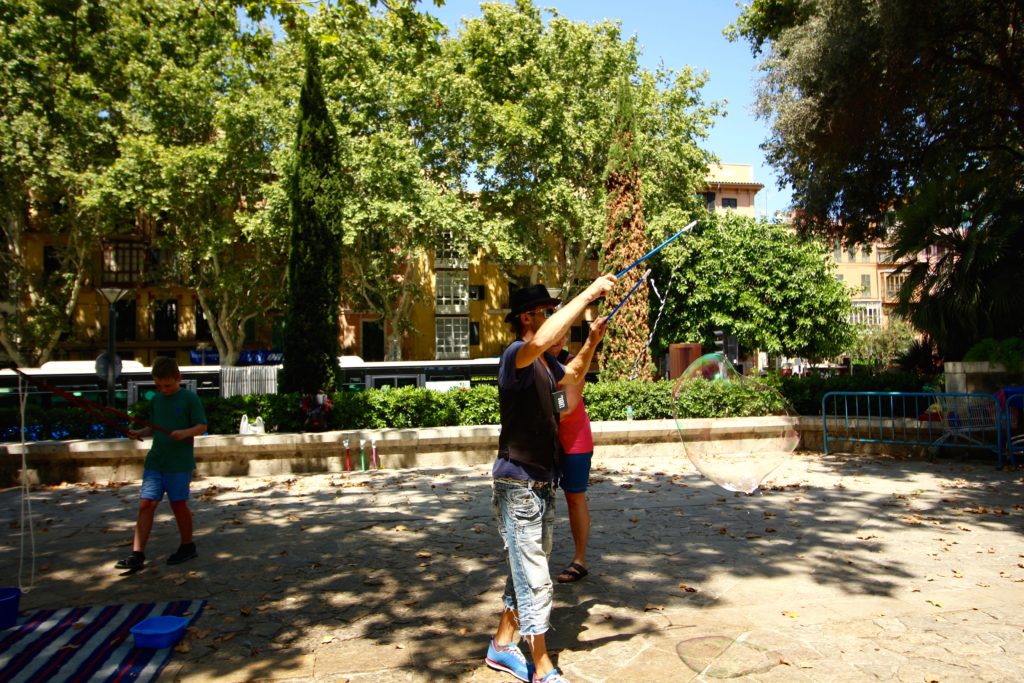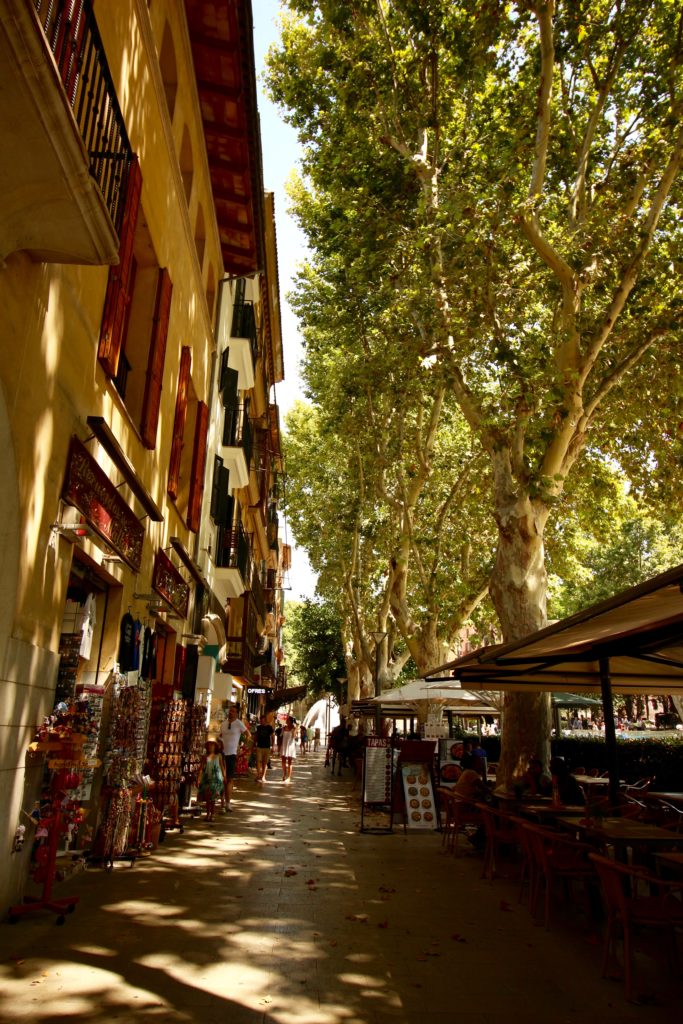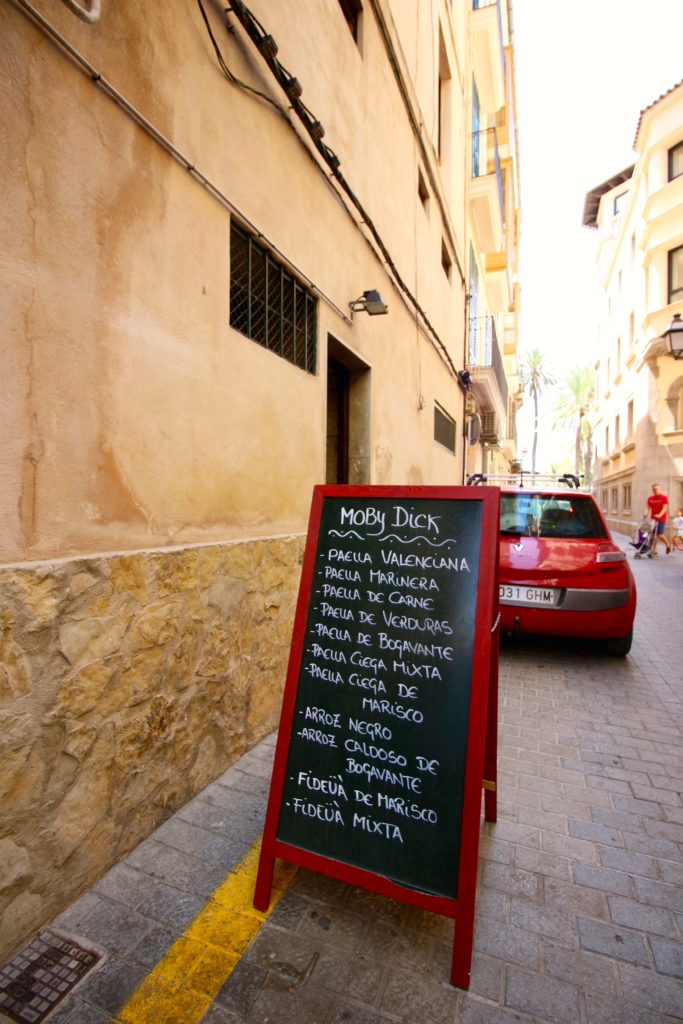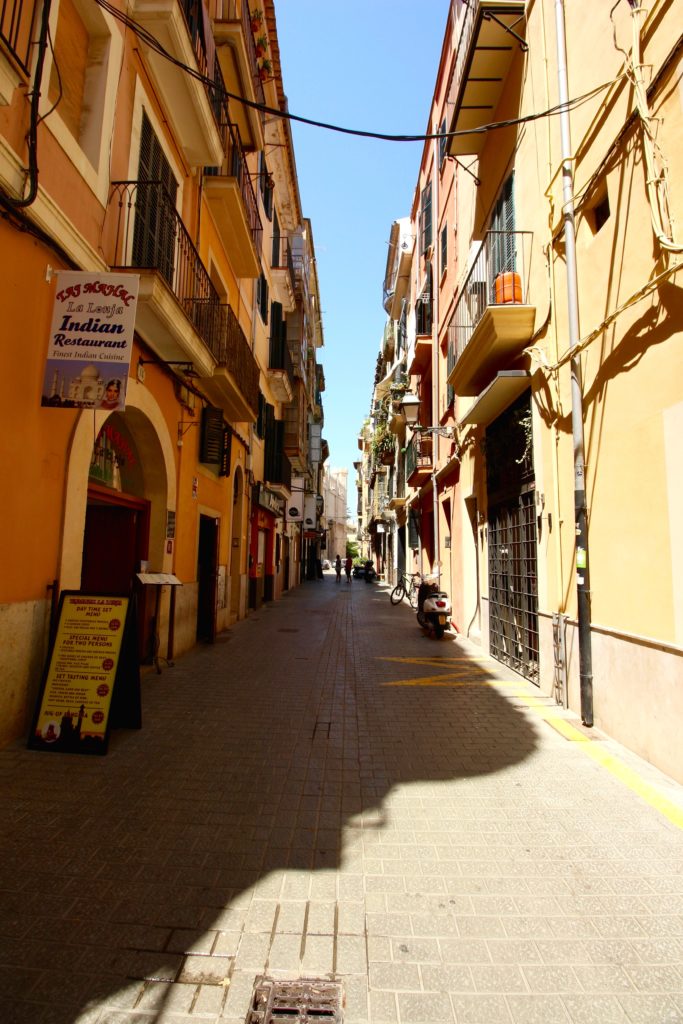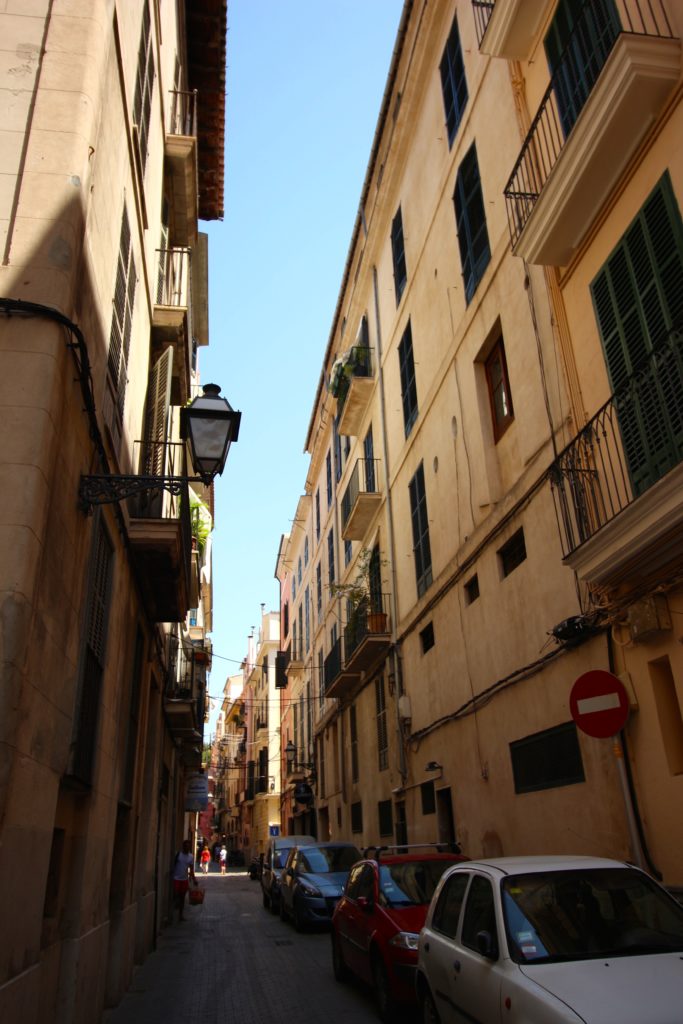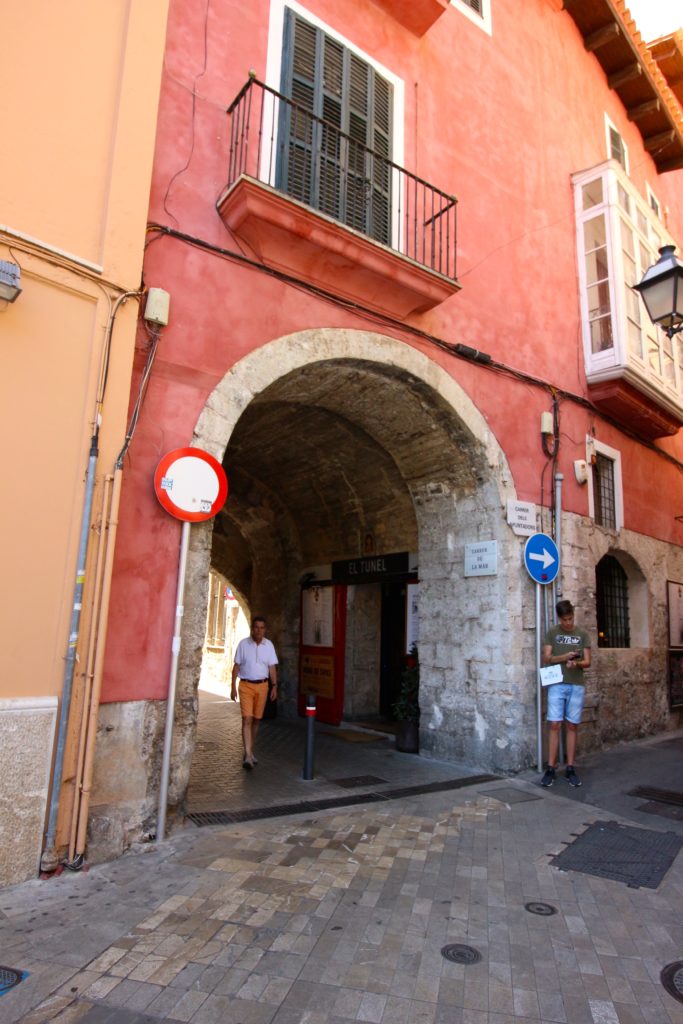 Thankfully, we caught the shops just in time. We were given an hour to shop, and my mom took the opportunity to look for pearls (a must-buy in Palma de Mallorca). You can get amazing deals on pearls and tiles here, and the pieces are simply beautiful!
We boarded the bus to head back to the ship for our early all aboard time, where I got this shot. It was perfect weather to be in such a beautiful place for the last day of our once-in-a-lifetime Mediterranean family trip.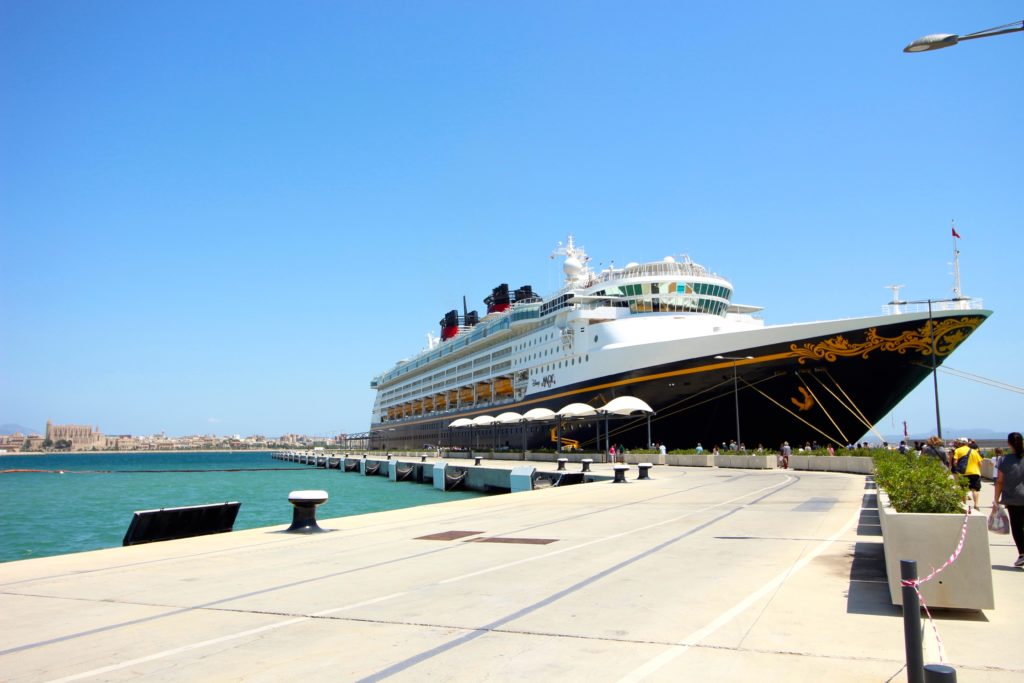 Random,  but we saw this security dog that was working with the Spanish Port Authority that just couldn't work any longer without a hug from his trainer and it was too adorable not to include in the trip report.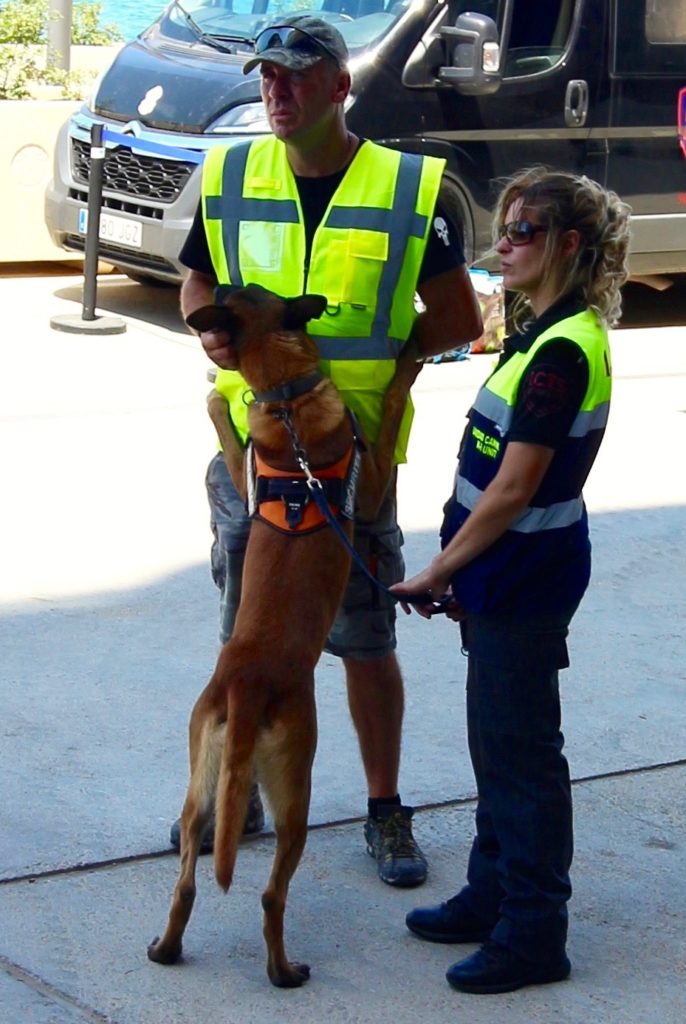 After we boarded the ship, we then heard about my sister and brother's day which included horse back riding on the beach. My brother is such a good sport and tolerated Madeline's new obsession with Moana for their entire excursion (as if he had a choice – he was the adult that escorted her off the ship). They did the Horse Back Riding at Rancho Grande (PM33) excursion through DCL's Port Adventures.
Before I share their photos and adventures, here's a little tip.  If you are planning on your child disembarking the ship without their parent (but instead with a sibling or grandparent, for example), be sure you have the minor release form filled out that designates a temporary guardian ashore, or they will not be able to leave the ship! We triple and quadruple checked with guest services to be sure this was done before we left Madeline in Christian's care in fear that they would have been denied leaving the ship.
For the most part, their excursion was pretty relaxed and was exactly what you'd think it would be: riding horses. Of course, my sister, who has a horrible habit of bringing random animals home without asking for permission (goats, ducks, dogs, etc.) somehow found a goat on their excursion, and texted my parents begging to bring it back to America with us.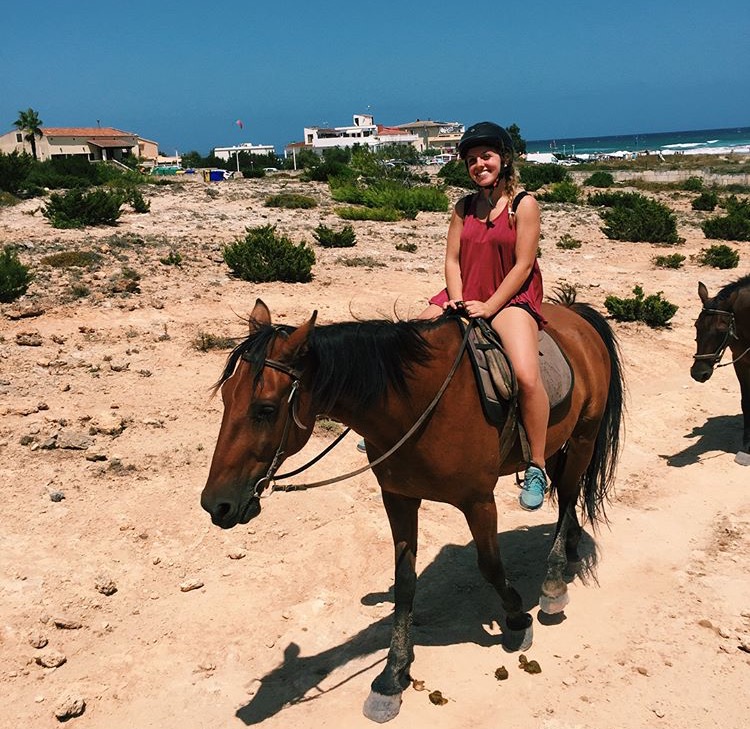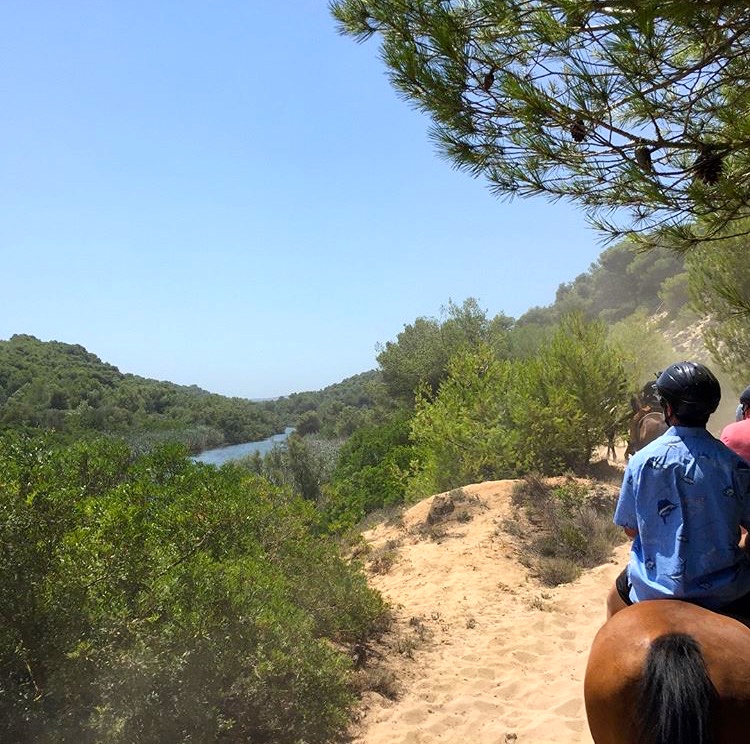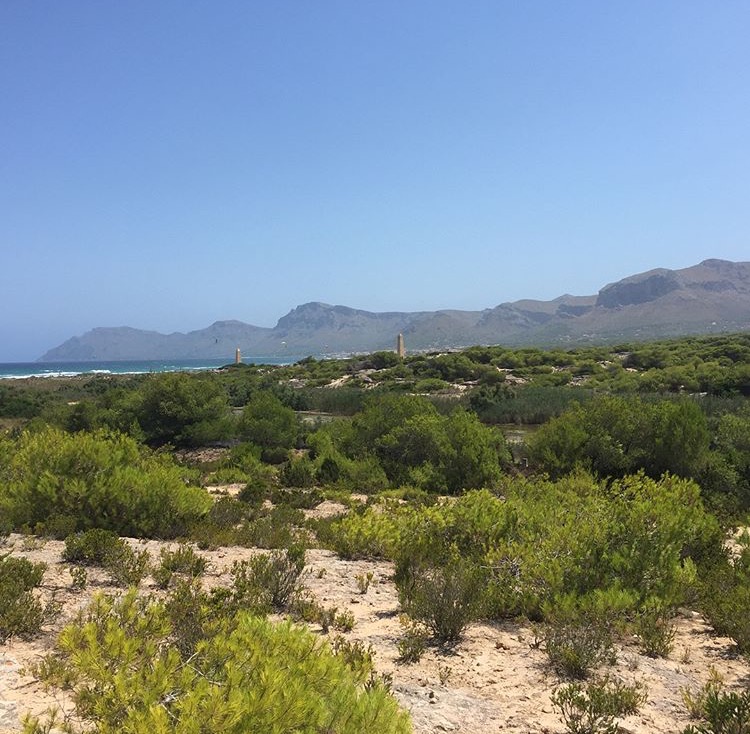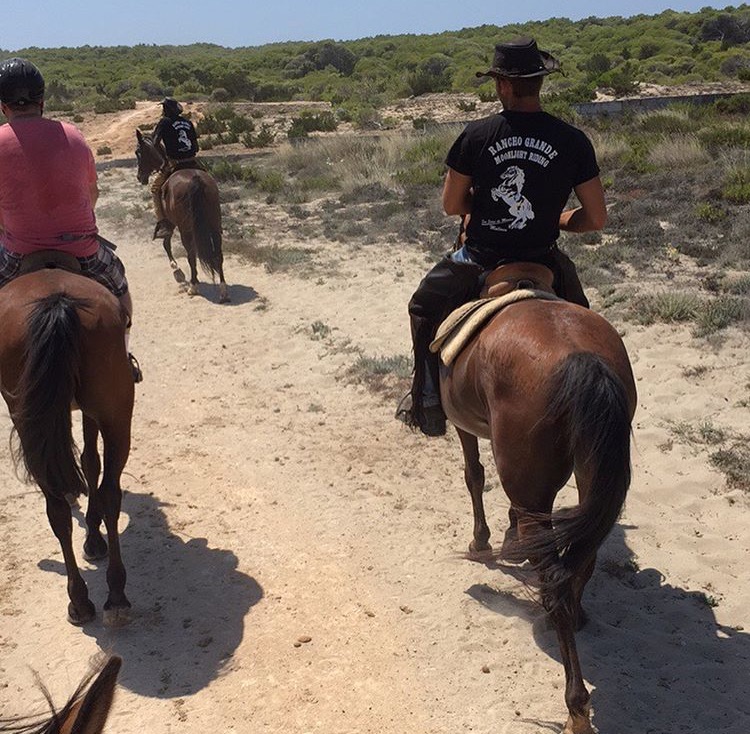 After we got back on the ship, the bulk of our afternoon included packing and preparing to fly home the following morning. After reading the news, we learned that there was a planned strike in Barcelona for airport security agents, so we last-minute planned to carry our luggage off and immediately jump on a bus to the airport. It was our plan to arrive 4 hours prior to our flight so we wouldn't miss our flight to the States. For this reason, we had to pack strategically, prepared to only check what was necessary.
That night was extremely bittersweet. Our family has a tradition of our parents announcing our next cruise at the final dinner, so we were very excited for what was to come. Everyone had a chance throughout the week to voice which cruise they were most interested in taking next year. We anxiously ate our dinner at Lumiere's, trying to forget that it was our last night with Genesis. After dessert, our parents surprised us by telling us that we will be taking the 11 night Caribbean cruise aboard the Disney Fantasy in June 2018 (the only ship we've never been on). We were so excited, thinking about all the exciting excursions we'd get the opportunity to take. As the dining room started to get packed up, we realized that this was really going to be goodbye for Genesis, as we would be skipping breakfast to hopefully avoid the security strike, and we would not be returning to the Disney Magic the following year.
There were a lot of tears as we hugged Genesis goodbye and promised to try to come back to see him. We went upstairs, made sure we were all packed, and were in bed before 10 PM. (Well, most of us… I stayed out with my friends prepared to just sleep on the plane).
5 AM came way too quickly, and we packed the remainder of our belongings and headed to Cabanas for some breakfast, prepared to walk off the ship with our luggage. For those of you that have never done this option, it's a great option if you don't want to surrender your luggage the night before or if you'll be in a hurry the morning of debarkation. We didn't even have time to make our scheduled breakfast time (since we were trying to race to the airport), which meant we missed our last meal with Genesis. We scarfed down breakfast at Cabanas and quickly got in line in the atrium to debark the ship. In a very Disney and bittersweet manner, Genesis appeared in the doorway of Lumiere's, waving goodbye to us, and came into the atrium to hug us goodbye one last time. It was the perfect ending to the perfect trip with crew that felt like family.
The remainder of our travel time felt like a blur. We buzzed through the Barcelona airport, going as quickly as possible and on overdrive. Even Layne knew what to do without being prompted. We checked our baggage and zipped through security just in time before the strike began (it was scheduled to begin at 9:00 AM – we got through at 8:50 AM).
We spent our morning in the Delta lounge (I slept for a solid 3 hours), and we boarded our plane from Barcelona to London. I immediately fell asleep before the plane had even finished taking off and slept for the full 6 hours.
Entering the country in JFK airport is one of my least favorite things about international travel. We experienced several delays in customs and with our flight, and our flight back to Nashville did not land until 11 PM – 3 hours later than originally scheduled. After such a long and memorable trip, we were sad for it to be over, but there is no greater sound (in my opinion) than hearing a flight attendant say "welcome to Nashville".
Two months later, I am so grateful for my experience with Disney Cruise Line and with this partnership with Disney Cruise Mom Blog. I hope that you have enjoyed reading my trip report and that it has inspired you to take adventures with your family! After studying abroad and visiting over 23 countries, I still firmly believe that cruising with Disney is one of the most phenomenal travel experiences on this planet. The family-like atmosphere that the crew provides, the stellar dining, and the 5 star service are why Disney is the best in the industry, and you will never regret deciding to cruise with Disney Cruise Line, especially when you use the extremely helpful content on this website to help you plan your trip!
Thank you so much for following along, and I hope that it inspired you to take a trip of your own! Feel free to continue to follow along with my adventures on my Instagram (@daniellefarideh) and blog!
Also, be sure and click here for a giveaway to commemorate the end of my trip report!
.
Danielle is a 23 year old Disney fanatic, ICU Nurse, and travel blogger from Nashville, TN.  When she is not traveling, you can find her snuggling with her 2 English bulldogs and spending time with her family of 7.  You can read more about her trips and adventures at www.daniellefarideh.com.
Instagram: @daniellefarideh
Facebook: www.facebook.com/daniellefarideh