I wrote a post about Palo brunch about 2 years ago, but things have changed a bit since then so I thought I would update everyone on our most recent brunch experience.  The older post is still worth reading for information about reservations, price, dress code, etc., but this post has the most current report on the food.  I also wrote about this recent experience in my trip report, but I wanted to give it it's own post to make it easier for people find without having to dig through a 14 day trip report.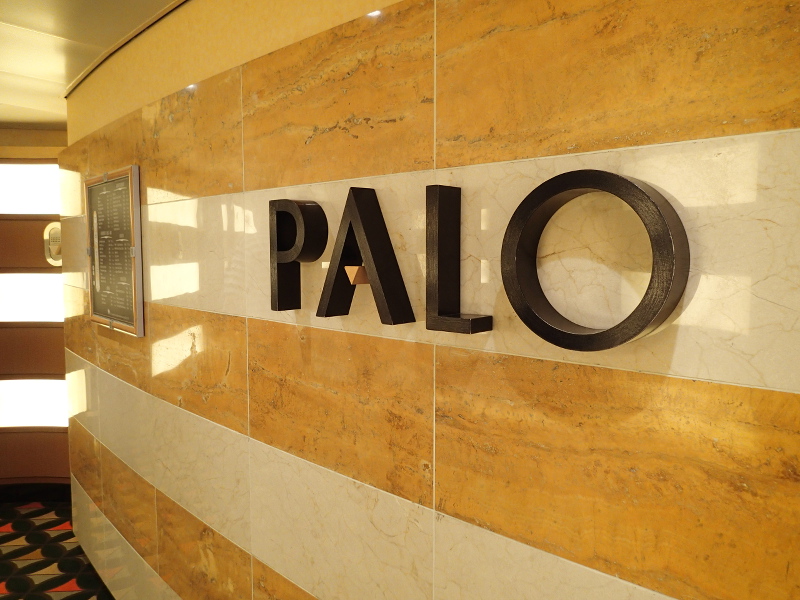 We ended up doing Palo brunch twice since it was a 14 night cruise, but were only able to reserve one online.  The other reservation we made onboard.  When we arrived in our room on the first day, our invitation for brunch the following morning was waiting for us: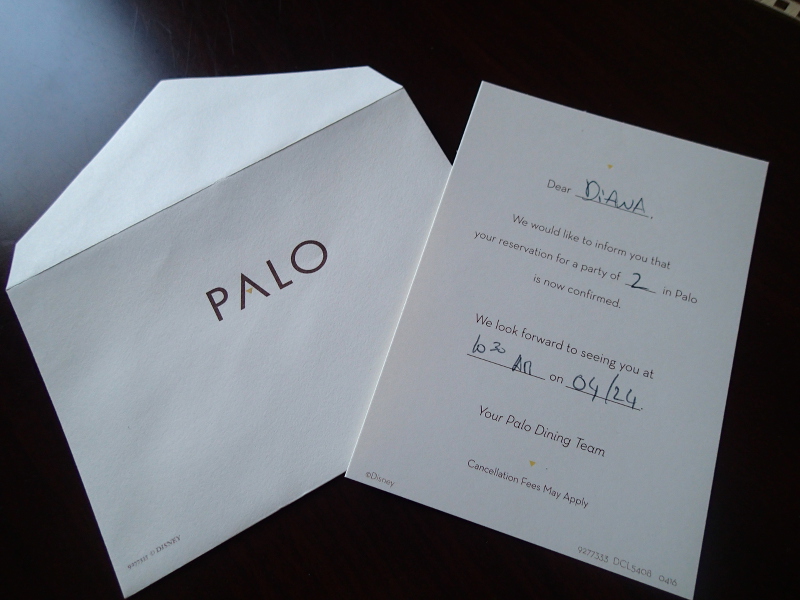 We arrived at Palo for our first brunch as were assigned Susana as our server.  We had never had her before and we LOVED her!  We had her for the second brunch as well, and she was almost certain she would be onboard for our Alaska cruise next summer.  We really hope to see her again.
Since we had last been to Palo, they had added a printed menu for brunch in lieu of the plated dish presentations near the kitchen.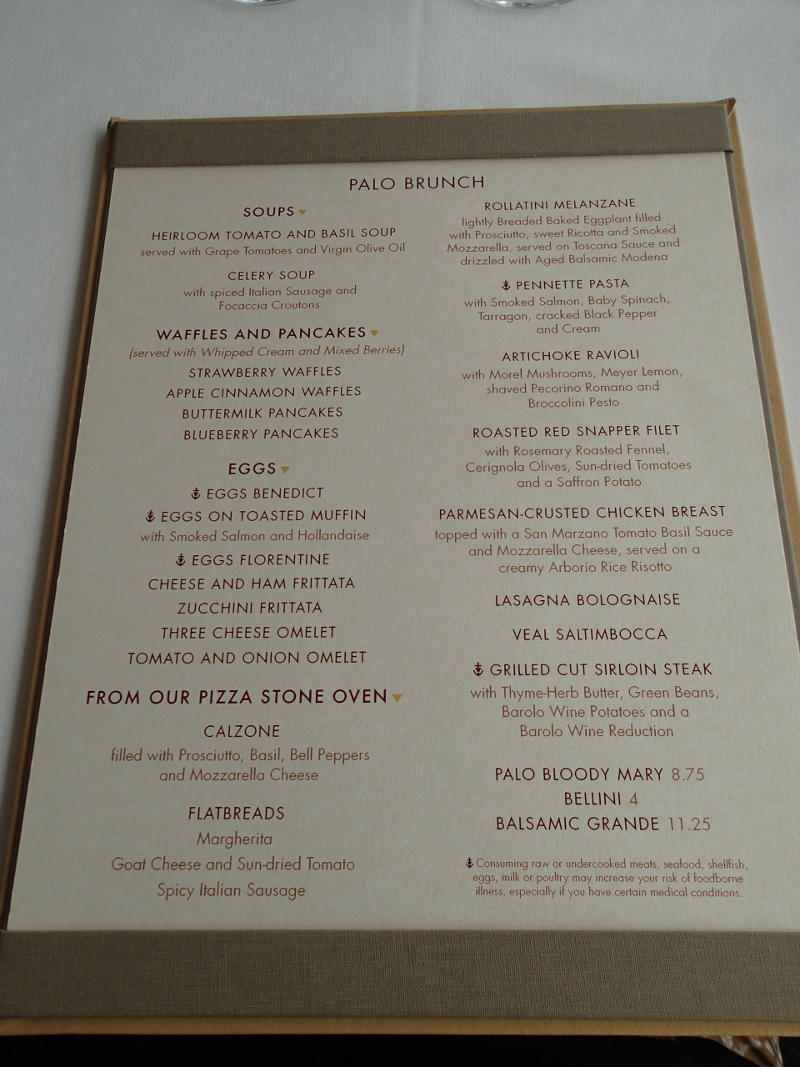 We headed for the buffet right away.  It seemed pretty much unchanged since our last visit a year and a half ago.  This table had some meat and veggie selections: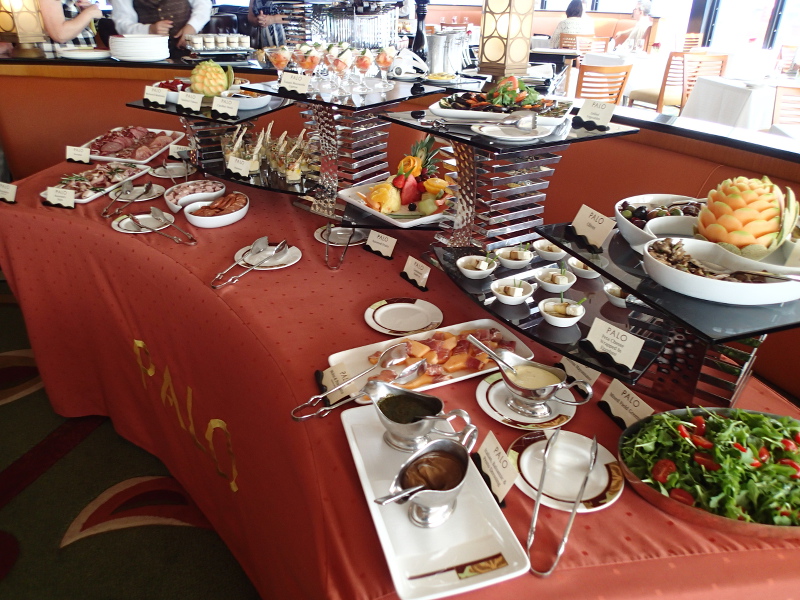 This was the bread and cheese table.  There was an additional cheese cart at the left end of this table but I didn't photograph it.  The cheeses are one of my favorite things about Palo brunch.  I love the fruit spreads that they serve with them (bottom center of the table).
This was the pastry table: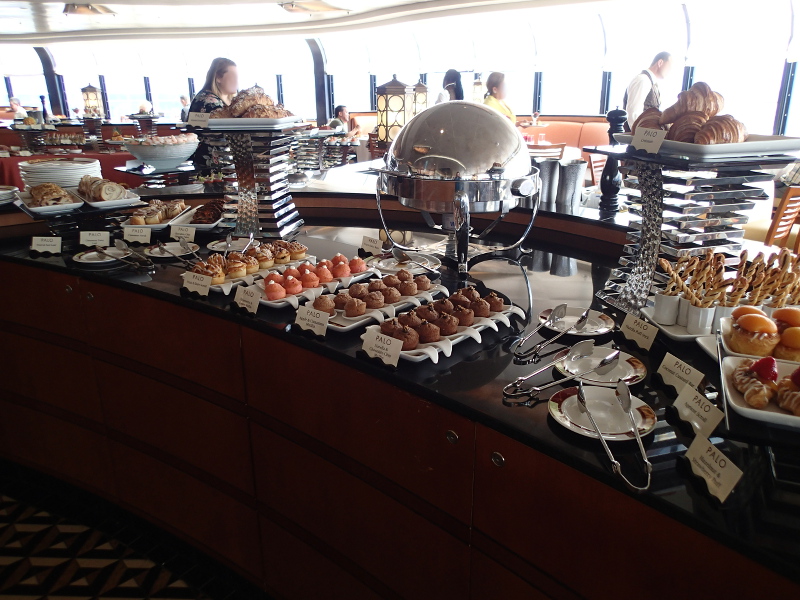 This table had mostly seafood selections, including caviar:
This was the dessert table.  I love how small they make everything so it is easier to sample many items.  These dessert are definitely a step above the ones served in the main dining rooms and Cabanas.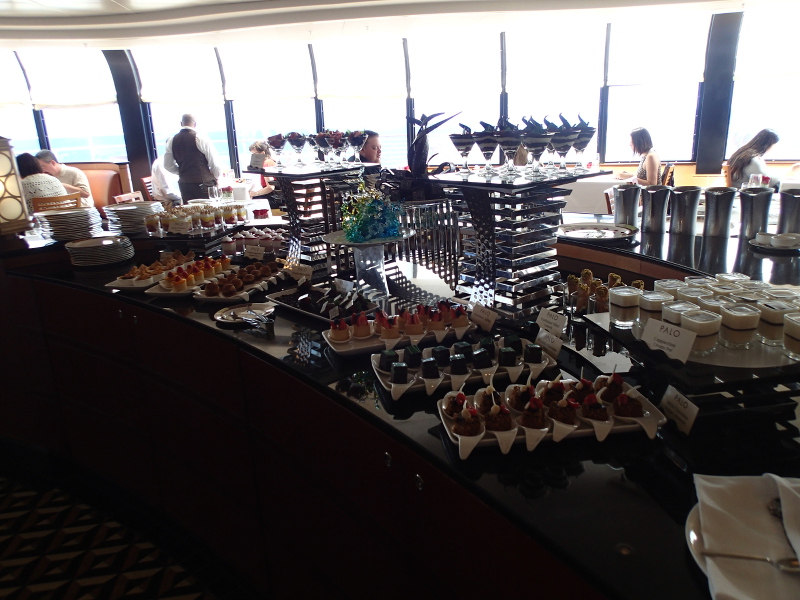 Some close-ups of the desserts: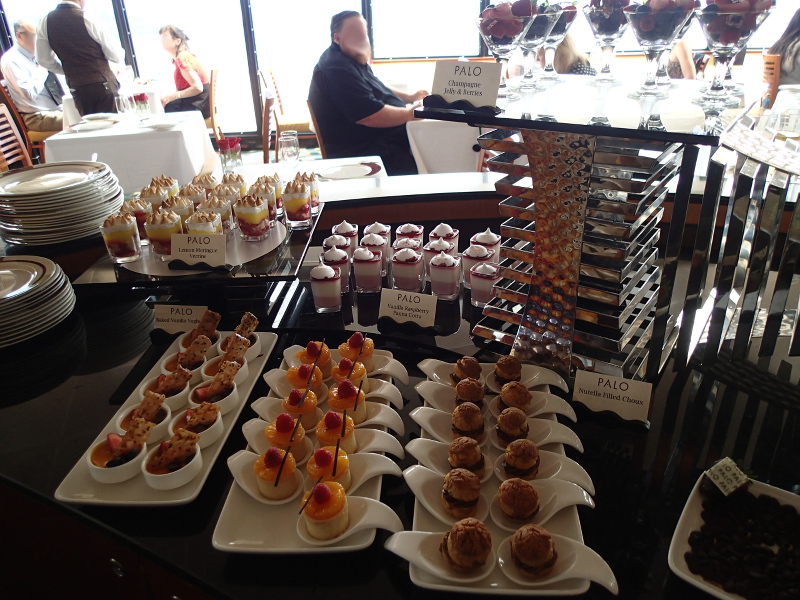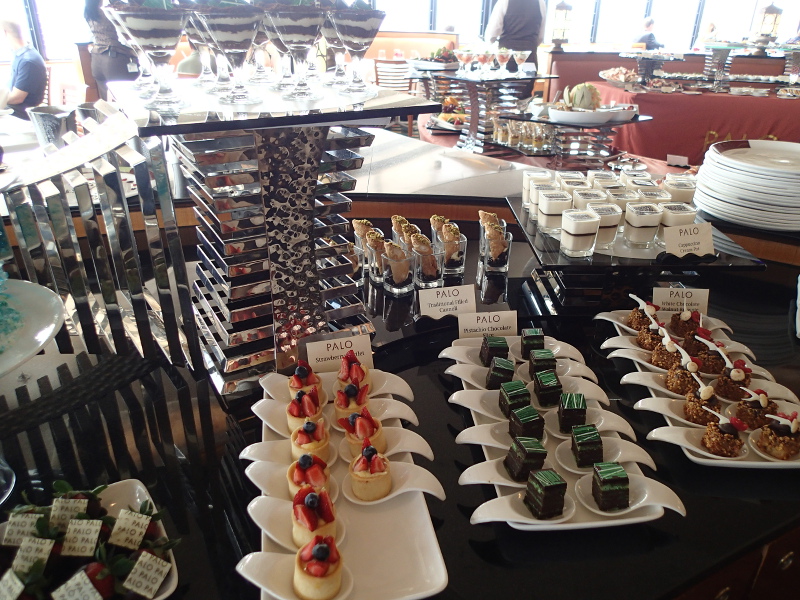 This was my first plate: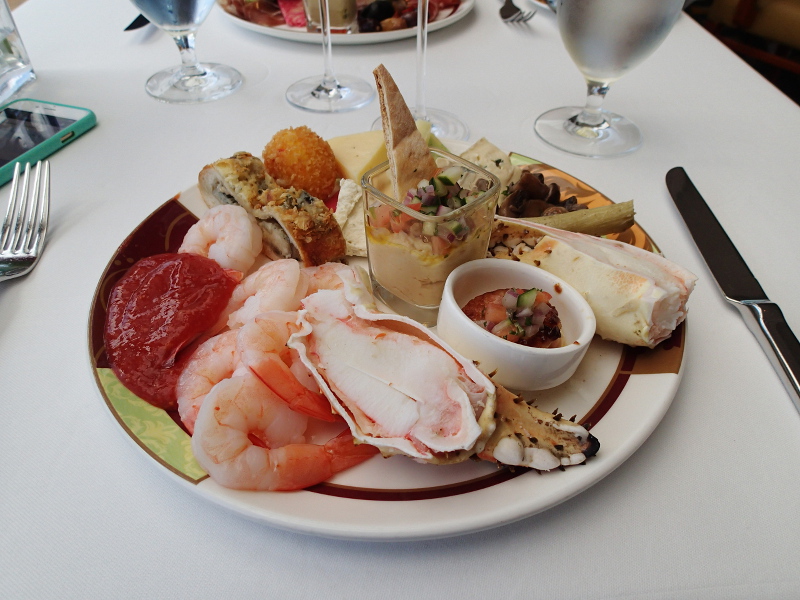 And my husband's: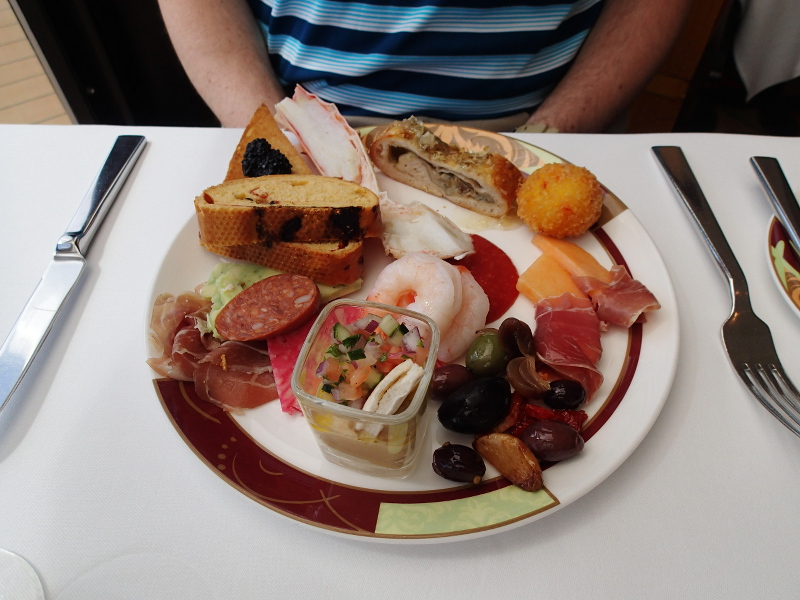 While discussing what to order from the menu, Susana overheard us discussing that the grape & gorgonzola pizza was not on it.  She offered to get one for us and we accepted.  I forgot to take a picture before my husband took his half.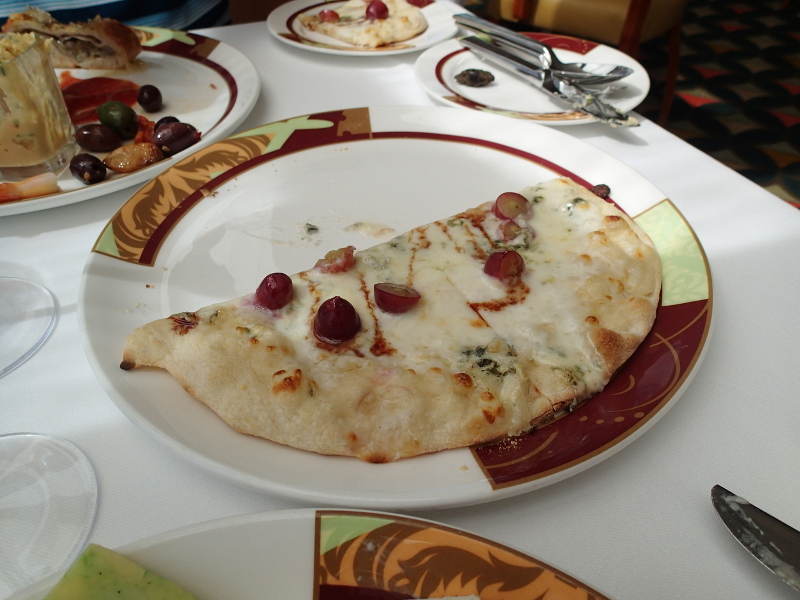 We also shared the Parmesan-Crusted Chicken Breast: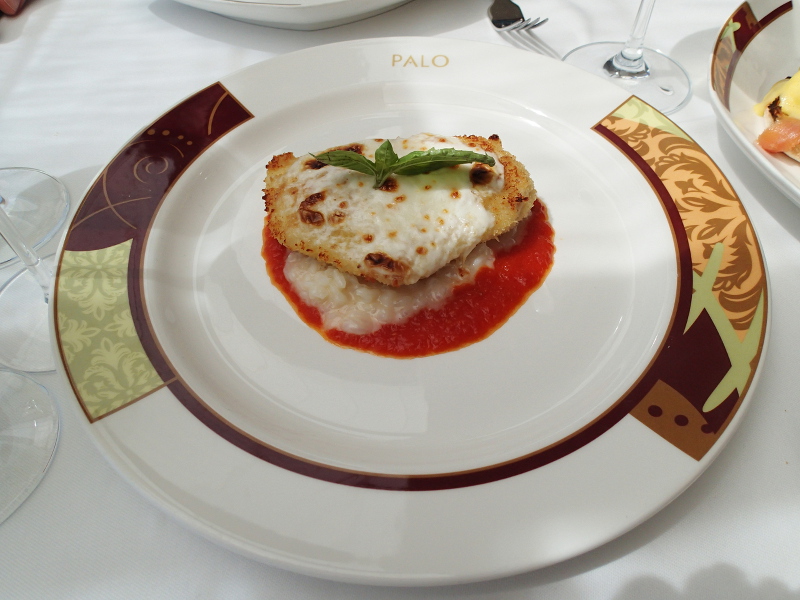 My husband ordered the Eggs on Toasted Muffin with Smoked Salmon and Hollandaise Sauce: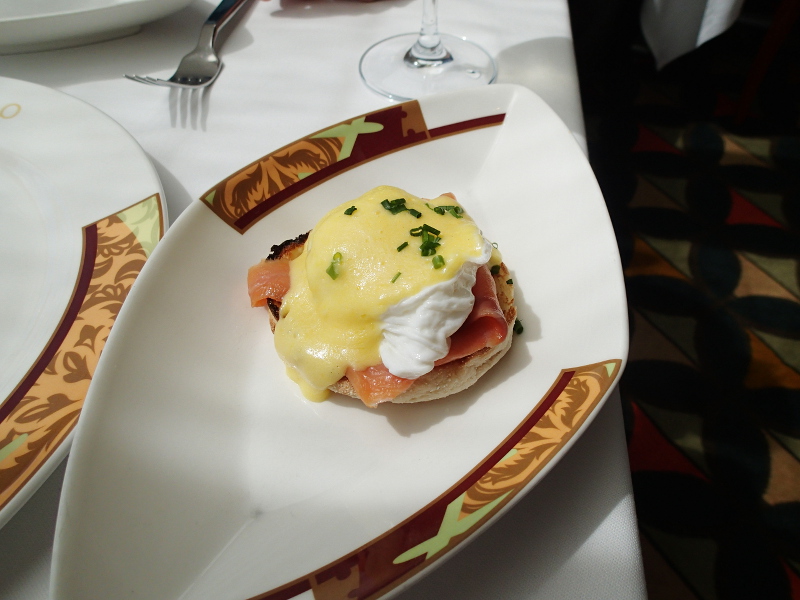 Everything was delicious and we soon waddled over to the dessert table.  This was my plate: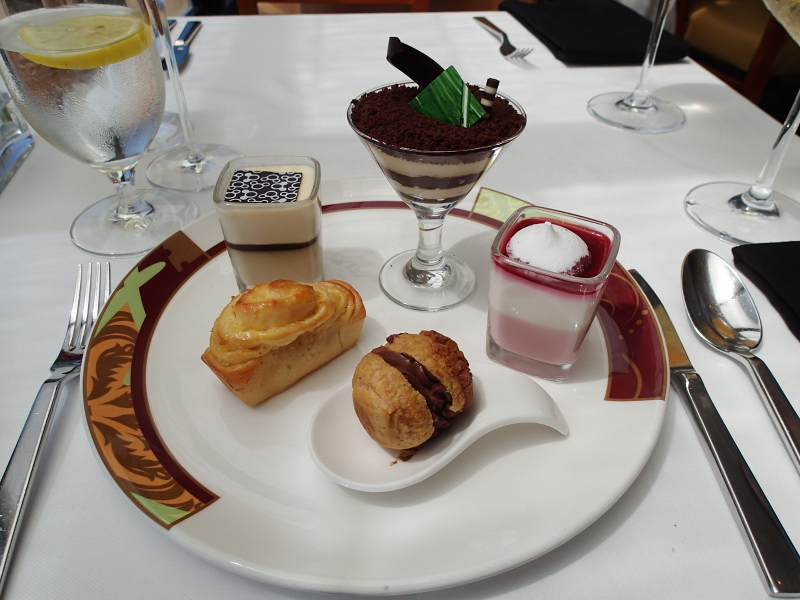 And my husband's: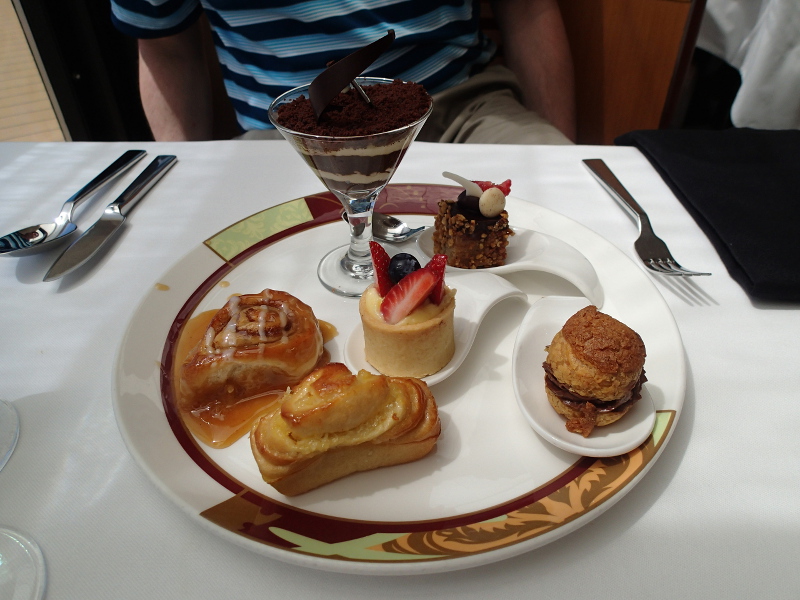 On our way out we made another brunch reservation for the following week.  I won't repeat the buffet photos, but these were our plates: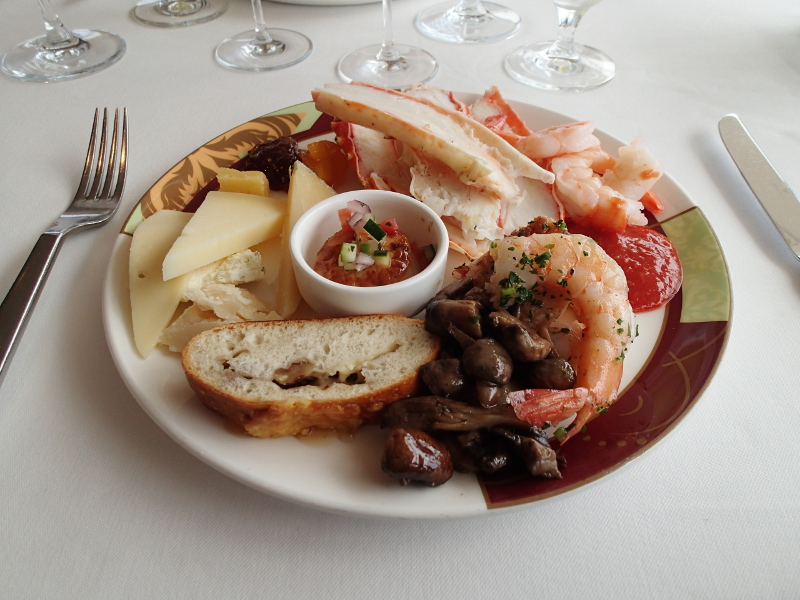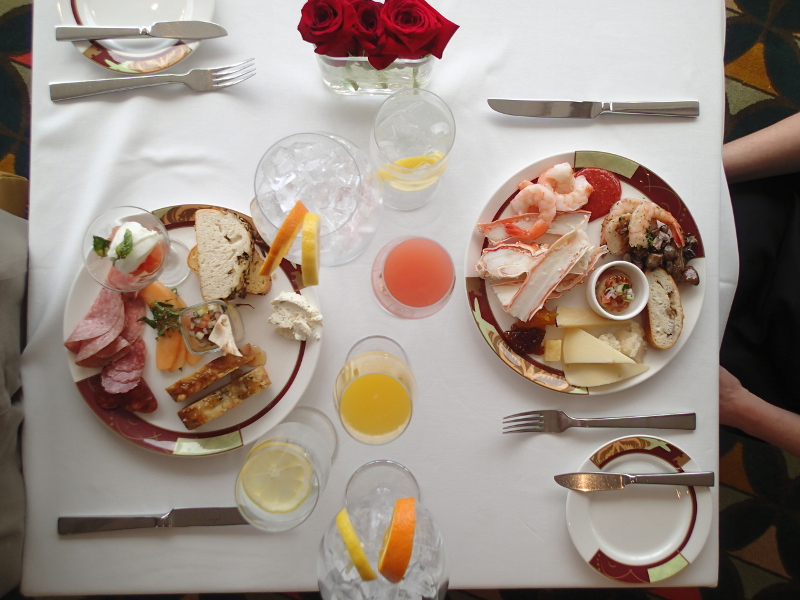 Remember how much I love the cheeses?  When my husband went back for another plate, I told him to get me some more of the soft cheese and fig preserves (right side of plate below).  It was  so, so good!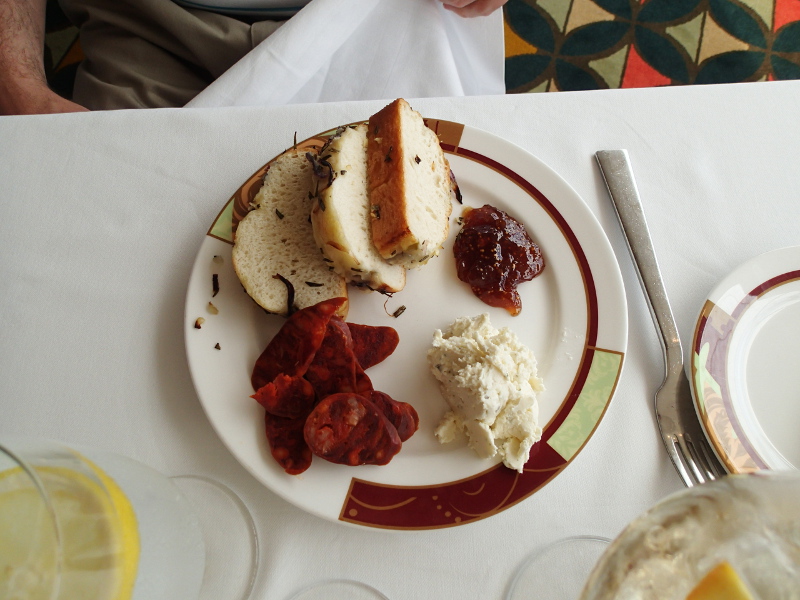 We decided to try different menu items this time.  This was the Rollatini Melanzane.  It was very good.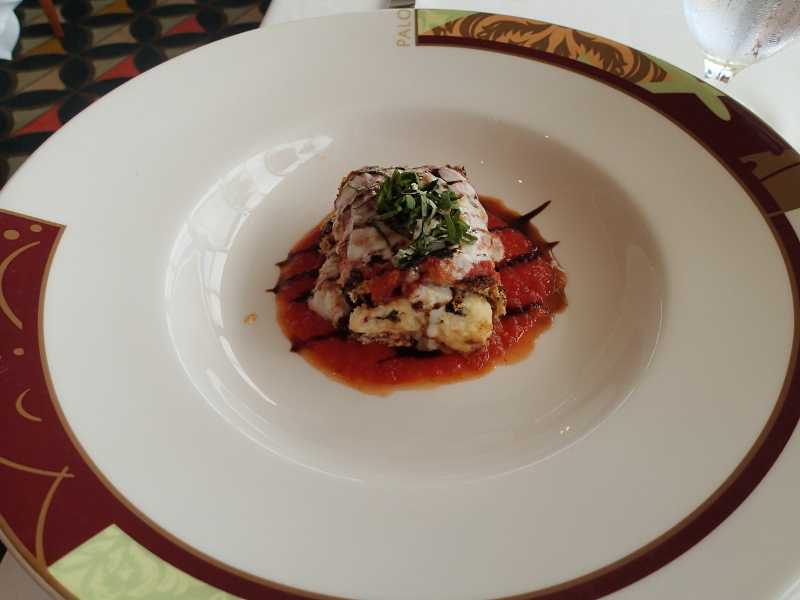 This was the Artichoke Ravioli which was incredible: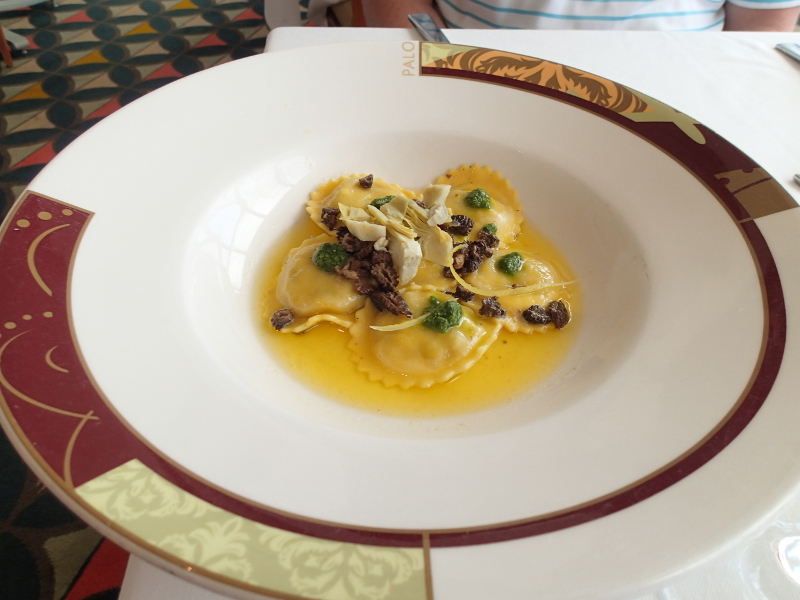 This was the Lasagna Bolognaise which was unlike any lasagna I have ever had.  It was light and fluffy, which sounds so opposite of what lasagna is usually like but that is the best way I can describe it.  It was delicious and not heavy or very filling at all.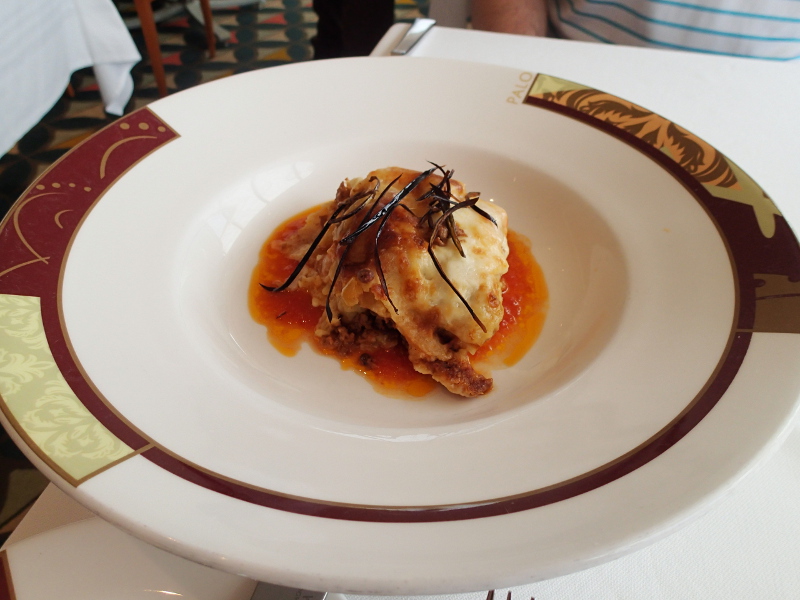 I can't remember if we made a trip to the dessert table or not.  I don't have any photos but maybe we did because that sounds so unlike us.  What I definitely remember is this concoction made just for us by Susana.  She said that it is her specialty and she makes it herself from items on the buffet and then sends it to the kitchen to be broiled.  It was stollen bread covered with whipped cream and berries, topped with a balsamic reduction.  It was so good!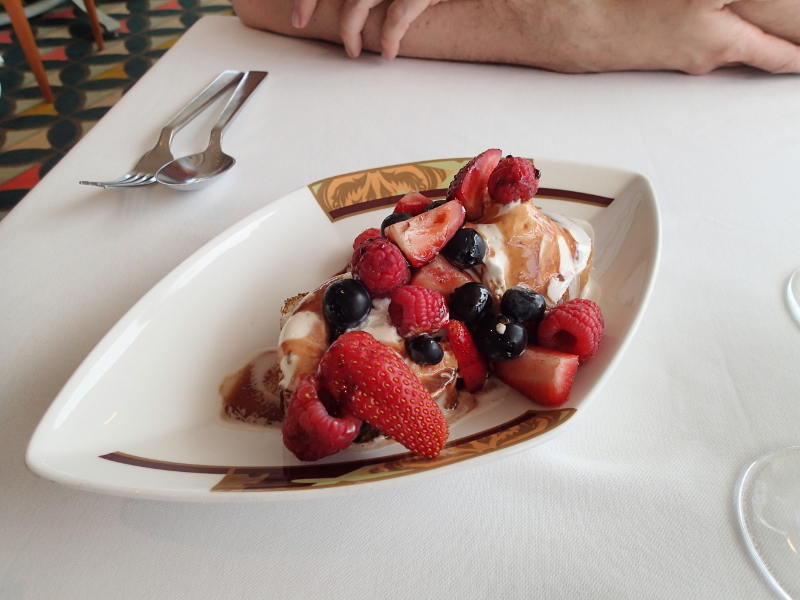 Like always, we waddled out of Palo for our last time on this cruise.  Palo brunch is one of my very favorite things about DCL and I look forward to it every single time.
.
As always, don't forget to like me on Facebook (click here) and follow me on Pinterest (click here) for all of the latest Disney Cruise Mom Blog updates!