Today we have another GIVEAWAY!  Today's giveaway is sponsored by Coleen Bolton, owner of Pop Culture Vacations and Stress Free Cruising, full service travel agencies that can help you plan any vacation.  This giveaway is for a $50 Disney gift card!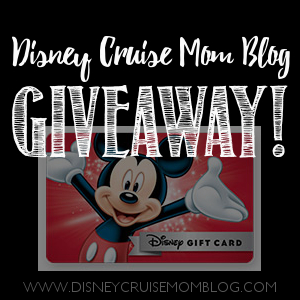 Here is a little bit about Coleen:
"Coleen took her first Disney Cruise in 2001 and that is when she realized her calling was to become a travel agent.  Now

16 years later

she still loves helping others make magical memories!  Over the years Coleen has sailed on many Disney Cruises, trying out all 4 ships and various itineraries.  Coleen won what she considers the best prize ever when she won a spot on the Disney Dream Christening event!  
After many years being affiliated with someone else's agency Coleen decided it was time to take the next step in her career and go off on her own and that is when Pop Vacations and Stress Free Cruising were born.  The Pop Vacations side of the agency specializes in vacations with a Pop Culture theme such as Theme Parks or tours to places you have seen in your favorite movies and TV shows.  The Stress Free Cruising side of the agency specializes in all things cruise.  Coleen and her team of agents are always happy to share their travel passion and expertise with each client to help them find the perfect vacation.   They are there for their clients through every step of the way and always stay on top of the newest offers to be sure their clients get the best price.  There are no fees to book with Coleen and each client also receives a gift for booking.  Coleen is also a big believer in giving back and each month chooses a charity to donate to so your booking with Coleen also helps others."
.
You can reach Coleen at:
coleen@stressfreecruising.com   877-798-0322
info@popculturevacations.com   877-335-6893
.
To enter the giveaway, use the Rafflecopter below.  Entries will be accepted until midnight (EST) Sunday night October 8, and the winner will be announced on Monday morning, October 9.  Good luck!