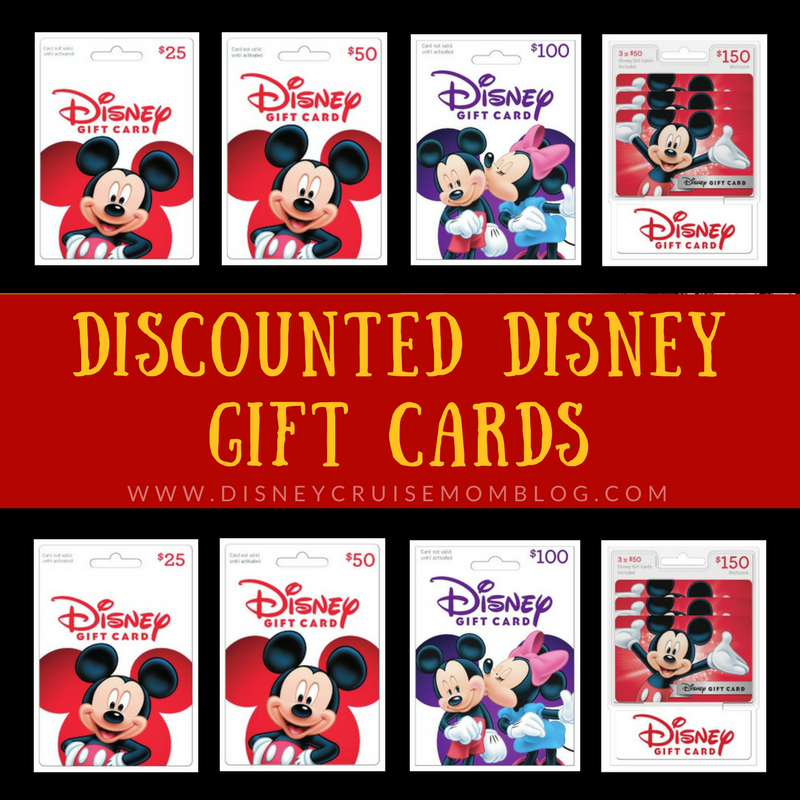 Did you know that there are ways to buy Disney gift cards at 5% off?  I know that doesn't seem like a very big discount, but when you are spending thousands on a Disney vacation or cruise, it can really add up!  There is even a way to combine smaller gift cards into larger ones (up to $1000 per card) to simplify paying for things.  Just go to disneygiftcard.com to manage your cards and combine them.
Here are the 3 methods I know about to save money on gift cards.  I'll start with my favorite:
BJ's Wholesale Club
On the BJ's website, you can buy Disney gift cards at 5% off without even having a BJ's membership.  This is why it's my favorite – anyone can do it.  I haven't personally done it yet, but I am tempted to try it for our next cruise.  I am curious if there is a limit to the number of cards you can buy in a single transaction.  If anyone knows, please share!  The largest gift card currently on their website is $100.  They will mail the gift cards to you with no shipping fee, though he reviews for shipping time are mixed.  Some say they came immediately, others took longer than promised.  So, give yourself plenty of time for them to arrive.
Sam's Club
Sam's Club sells Disney gift cards on their website, but you must have a Sam's membership to purchase them.  In fact, you must have a membership to even see the price of the cards on the website.  I don't have a membership, but I have read reports from people who do and they say that the discount is indeed 5%.  Right now, Sam's has a $500 gift card on their website, which would make combining gift cards online much quicker or even unnecessary.  Shipping is $0.99, and there is a limit of one $500 gift card purchase per day.  I don't know if there is a limit on the smaller cards.  If anyone knows about this, please share!
Target Red Card
Target Red Card holders get a 5% discount off all Target merchandise, including Disney gift cards.  They are usually available both in the store and online.  Right now, their website has $50 and $100 cards available and shipping is free.  I have read, however, that you cannot purchase a Disney gift card with a Target gift card though I have no firsthand experience with this.
.
If anyone knows any other methods for buying discounted gift cards, please let me know!  You can read about my other money saving/earning ideas here:
My Tips For Saving Money on a Disney Cruise
How I Maximize My Onboard Credit
Disney Cruise Guide to Freebies, Discounts and Upgrades
.
As always, don't forget to like me on Facebook (click here) and follow me on Pinterest (click here) for all of the latest Disney Cruise Mom Blog updates!