I should have written this post well before now, but considering the significance of today, I thought it would be an appropriate day to bring everyone up to date on how I have been doing since my battle with breast cancer.  If you haven't read my story yet, you can do that here.  I try to not get too personal on my blog because it is not a personal blog, it is a blog about traveling and cruising with my family and I try to stick to those topics.  But, I felt that it was important to share my story because I thought that other people going through a similar situation might find it helpful.  Over the last 2 years, many sweet readers have sent me messages asking how I have been doing, and I am so touched by that.  Today, as I reflect upon where I was exactly 2 years ago, I thought it would be the perfect time to give everyone an update.
First of all, I want to say that I am so, so grateful that my case was not as bad as what many, or even most, women battling breast cancer experience.  Mine was caught very, very early and I even had the "good" type that responds well to treatment, which is statistically not the case with women who get breast cancer in their thirties.  It is very hard for me to express the amount of gratitude I feel about this, and it's something I really  try to keep in the front of my mind every day.  I am incredibly blessed and lucky and I try my hardest not to let myself lose sight of that.
I don't want to spend too much time giving a detailed account of what happened in my particular situation because I detailed all of that when I originally posted about it here.  But, here is the Cliffs Notes version for those of you who don't have the time to go back and read the whole thing.  I was originally diagnosed 2 years ago, at age 38, with a small, non-invasive tumor that just needed a lumpectomy (day surgery) to be removed, followed by 6 weeks of radiation to ensure that it didn't grow back.  I had the surgery, and when the pathology results came back, it turns out that there was a lot more cancer there then they had thought (during the surgery they took out larger samples to test than the biopsy did), and some of the stuff they found was the invasive type.  Once again, it was a very small tumor but this totally changed the plan.  There was too much of it to do a second lumpectomy, and I was told I needed a single mastectomy but after talking with my doctors, I opted for a double mastectomy followed immediately with implant reconstruction.  The recovery from this surgery, as well as the reconstruction process (4 months in my case), was brutal.  It was a 7 hour surgery that caused my lungs to partially collapse.  I had to take narcotics for months on end which wreaked havoc on my system.  I had surgical drains coming out of the sides of my body for 6 weeks that I had to empty and measure twice a day and made showering and sleeping very difficult.  I could go on and on but I think you get the picture.  It was just a very physically difficult recovery.  On top of this, my husband had accepted a new job in another state (and resigned from his current one) about a week before my diagnosis, and he had no choice but to move and start his new job in order to keep our health insurance.  He was able to be with me for the first 11 days after the surgery, and then every other weekend after that.  Thankfully I had lots of friends and family close by that stepped up and helped me out with the girls (who were 5, 9, and 10 at the time).  We home school so my mom and mother-in-law took over as teacher for about 2 months.  I couldn't have done it without them.
During the mastectomy, they also removed a lymph node to check it for cancer.  Thankfully they did not find any, which meant that I did not have to do chemotherapy.  I am now considered cancer free!
When I posted my last update about 18 months ago, not long after I had finished the reconstruction process, I was at a turning point in my journey.  Up until then, 100% of my focus was on the physical recovery from the surgery and getting through reconstruction.  I was always in the moment and just focusing on getting through each day instead of looking at the big picture.  In hindsight, I think it was actually easier than what I was getting ready to experience.  Soon after, my focus had to shift to living life as a cancer survivor and all that entails.  For me, that had been an emotional journey that has been just as challenging as the physical recovery.  Learning to live with and accept the fact that the cancer could come back is difficult.  I do struggle with fear and worry even though the rational part of my brain knows that fear and worry change nothing.  My biggest fear is that my daughters could lose their mother as children and that thought just crushes me.  Some days are better than others, and over the last 18 months I have definitely turned the corner to having more good days than bad.  For me, it is all about focusing on how fortunate I have been up to this point and pushing the fears aside.  I remind myself daily that there are thousands, if not millions, of people who would give anything to be in my place and just be grateful for that.
So, in a nutshell, I am now cancer free and more grateful for my outcome than I can express.  My heart breaks for women who did/do not have it as "easy" as I did.  I hope my experience encourages women to be proactive about cancer screenings and pay attention to their health.
Since no blog post is complete without photos, I have pulled a few from the last 2 years that were taken during this journey.  In hind sight, I wish I had more photos of me during this time period but as I am the designated photographer, I am too often the one behind the camera.
This is the only photo I can find that was taken during the first month following my mastectomy, which is my medication schedule and drain measurement chart.  My husband handled this during the first 11 days that he was still in town, and then I took over.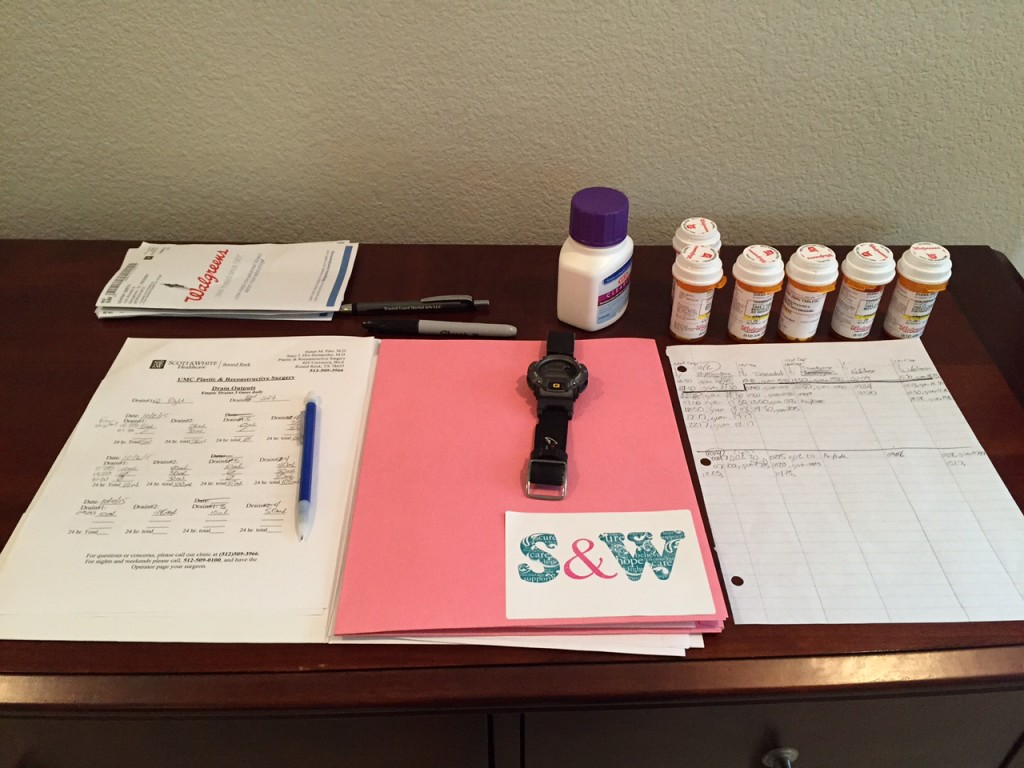 The first photos of me post-mastectomy are from our cruise on the Disney Wonder in November of 2015 (trip report here).  It was 5 weeks after my surgery and although the cruise had been booked for over a year, we really didn't know if I was going to be able to go until a week or two before.  It was hard knowing that we might have to cancel at the last minute (we did have trip insurance which was purchased before my diagnosis, thank goodness), but we stayed optimistic and it all worked out.  I started feeling somewhat human again about 1 week before the cruise, and other than taking it easy (only got off the ship at 1 out of 3 ports) and not being able to swim, I managed to have a really good time.  I did have to rest daily, which I don't normally do, and I still had my surgical drains which were uncomfortable and difficult to hide, but it was truly the perfect getaway for our family after the turmoil of the last 2 months.  On the drive to Galveston, we saw this and took it as a sign that we were destined to be on this cruise and forget about our troubles for a week.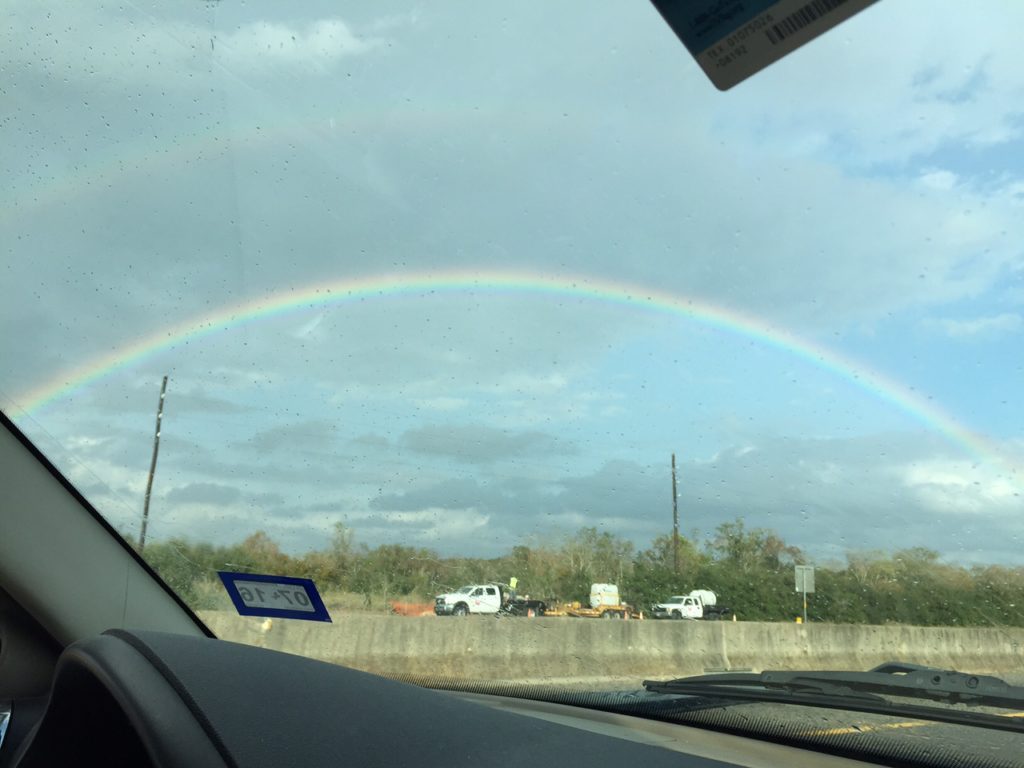 This was taken as we left our hotel room to go to the terminal and board the ship.  I have tissue expanders here that were being filled with fluid weekly in order to create room for the implants.  They had already been filled a few times so I am not as flat here as I was right after the surgery.  I wore lots of cardigans on this trip to hide the surgical drains on my sides.  I ordered this style from Amazon in several colors to wear on the trip, and I still wear them today.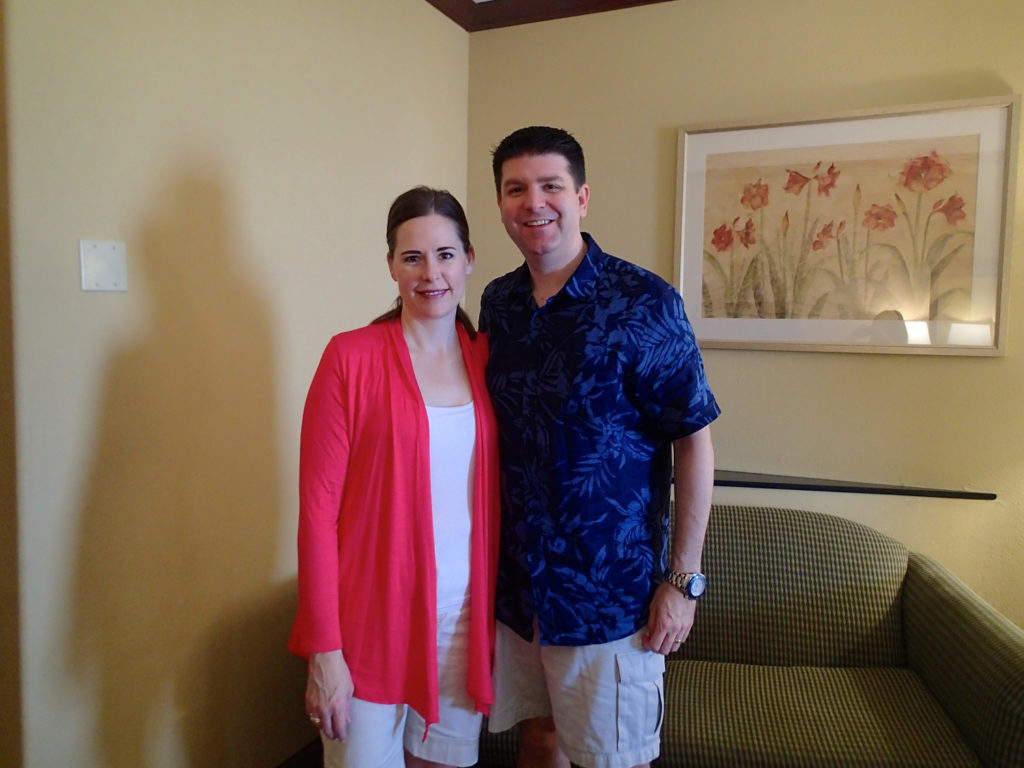 Here we are on formal night.  Luckily, I already owned a little black dress that hid my drains.  Side note that most of you ladies will relate to – this was the first time I had worn something strapless and not had to keep tugging it up all night!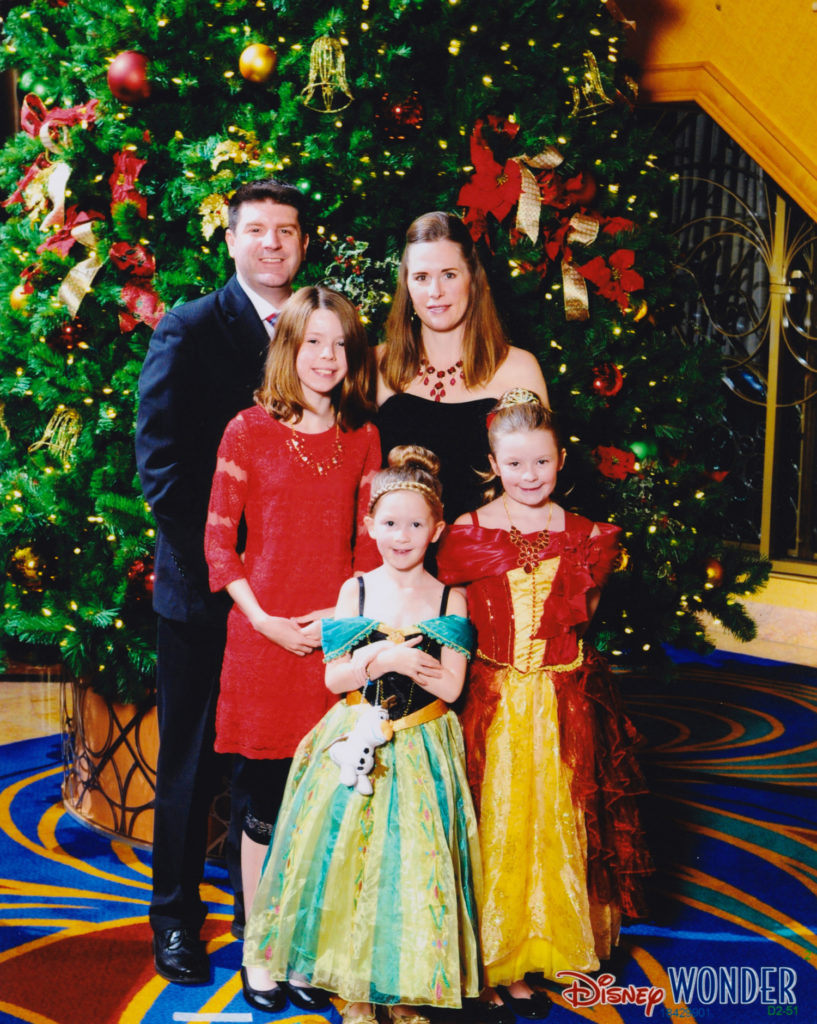 The only time we left the ship was in Grand Cayman, which we spent with Cayman Luxury Charters (excursion report here).  Because there was a photographer with us, I actually have pictures with me in them!  I couldn't get wet because of my incisions and drains, but I was able to find a ruffled swim suit that hid my drains and let me at least feel like I was participating in the fun.  My tissue expanders had just enough fluid in them to fill out my suit thank goodness!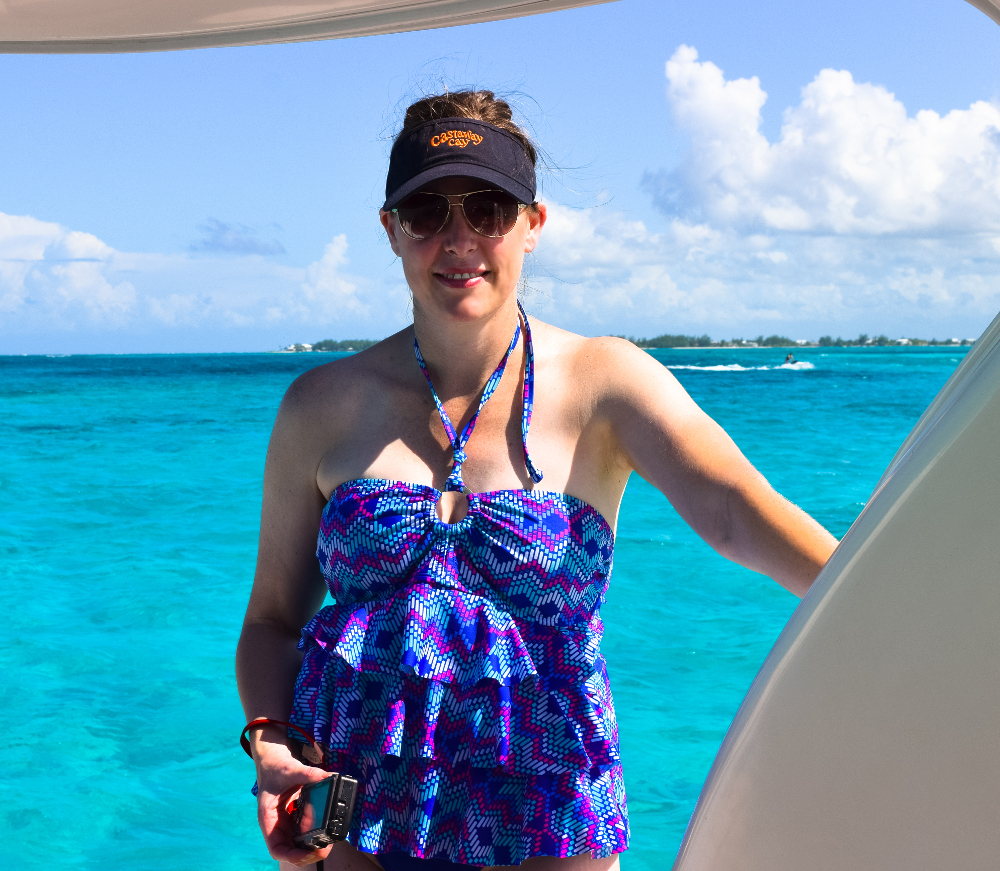 Getting a ride to shore: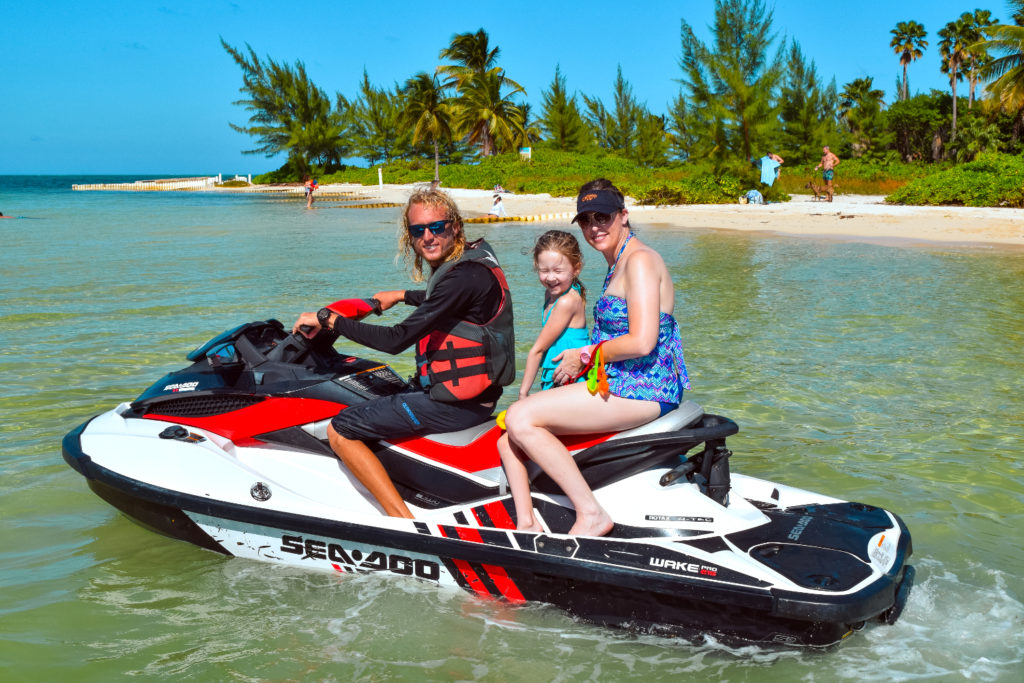 Not the most flattering view of my lower half, but I just love this picture.
After we were back on the ship in Grand Cayman, we saw this rainbow from our balcony, which reminded us once again that there can be beauty after a storm.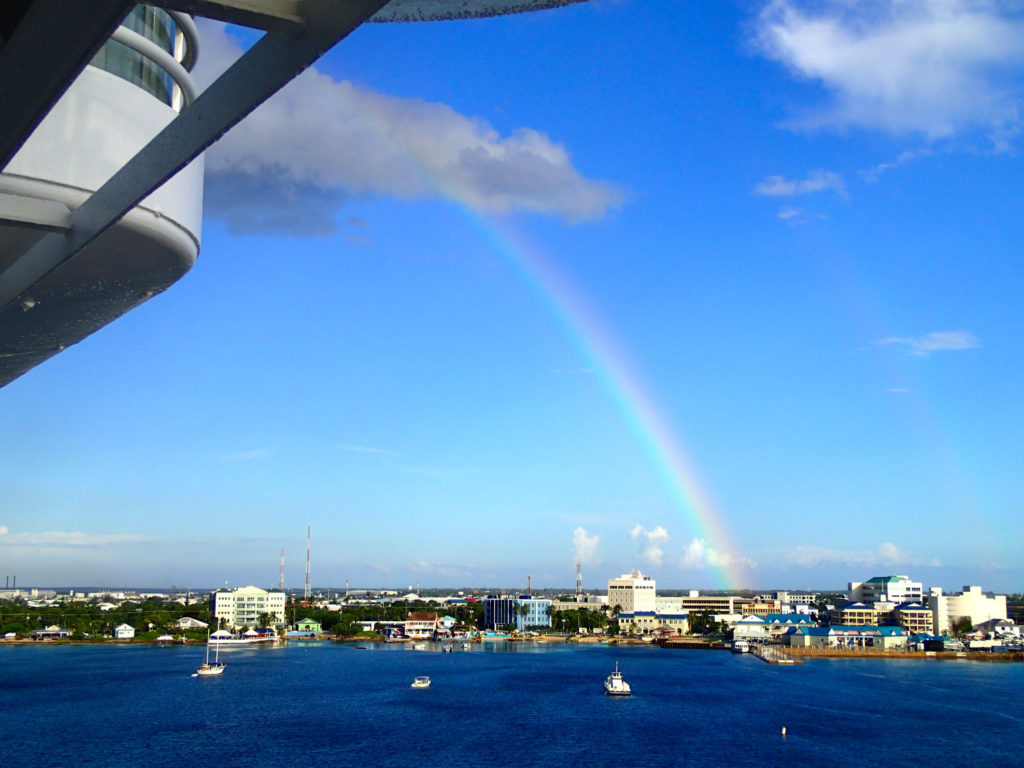 Later that month, we spent Thanksgiving in Asheville, NC and had a great time.  I still had my tissue expanders here but they were close to being full at this time.  I think I only had them filled a few times after this: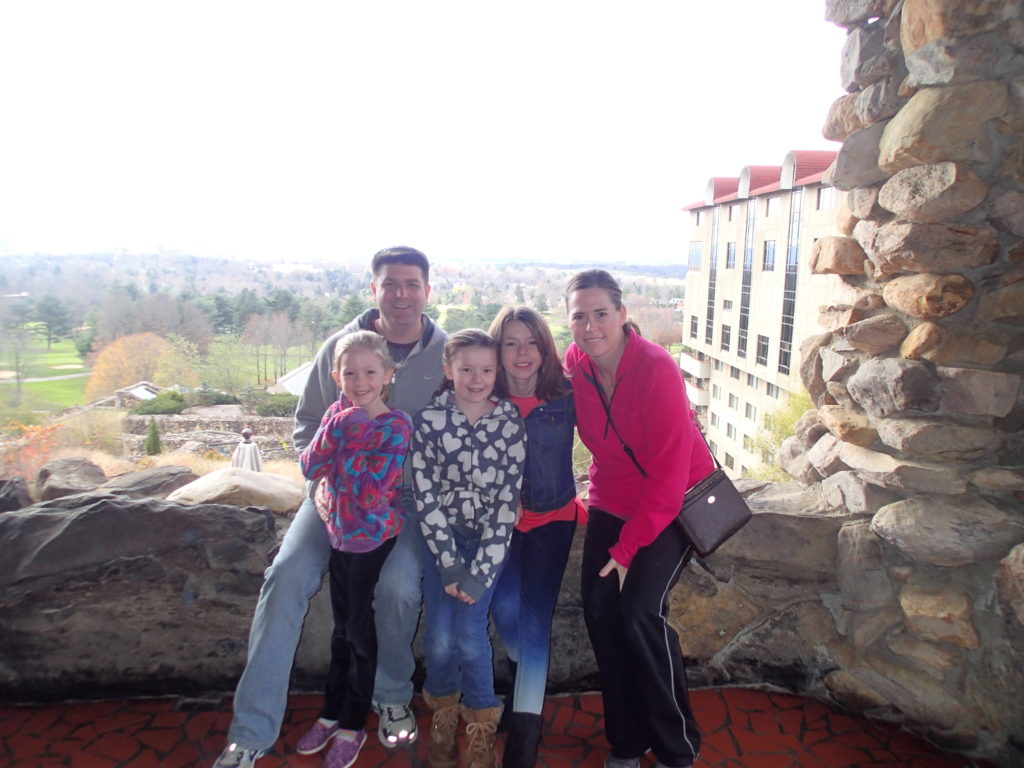 This is the last photo I could find that was taken before my reconstructive surgery in which the tissue expanders were removed and replaced with implants.  This was just a few weeks before the surgery: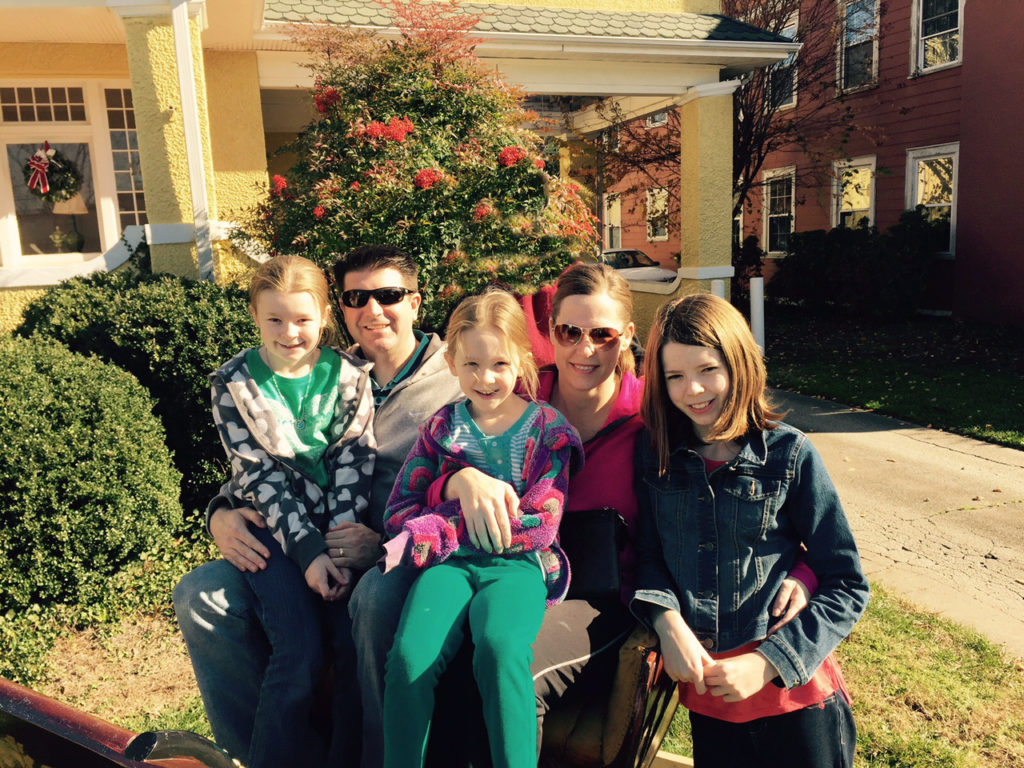 Thank you to all of you who have sent notes of kindness and encouragement.  Reflecting on this journey has been therapeutic for me and I'm glad you followed along.  Hopefully my story can help someone else in some way.
.
As always, don't forget to like me on Facebook (click here) and follow me on Pinterest (click here) and Instagram (click here) for all of the latest Disney Cruise Mom Blog updates!
.
This post contains affiliate links, which means that if you make a purchase through my links, the seller will pay me a small commission for it at no additional cost to you. I am grateful for your support of this site in this way, so thank you!